Disclosure: Some of the links in this article may be affiliate links, which can provide compensation to me at no cost to you if you decide to purchase a paid plan. We review these products after doing a lot of research, we check all features and recommend the best products only.
KEY POINTS
30,000+ creators have launched their online teaching businesses using Graphy.

Build a custom website by using the extensive template library.

Sell globally with PayPal or Stripe, or use local payment providers like Instamojo or RazorPay.

Improve your workflow with unlimited integrations like Zapier and Pabbly.

Create niche-based, private communities or Create an open community for your audience to meet and interact.
Use coupon KULWANT20 to grab a 20% discount on annual plan.
Finding a platform that solves the problems of Indian trainers and coaches is quite hard.
Having so many platforms available in the market, it's always difficult to select the best which caters to all of the requirements, and on the other hand very easy to manage as well.
..and above all, it must be affordable too.
Having seen such major confusion in the Indian market, we are going to review a great platform that will help you to launch your course with minimal effort.
Let's get started.
We are going to review Graphy (formerly Spayee) today.
This has been recently acquired by Unacademy, which makes it one of the must-try products as they are the top player in the Indian online education economy now.
Graphy is a feature-rich LMS that promises to fulfill all your needs as an educator. It offers everything you need to create, publish, market, and sell your courses.
But how does it accomplish all this? Is it difficult to use? More importantly, is it worth the price?
This comprehensive review should help answer all those questions and more.
Graphy Review 2023: The Key Features
The Course Builder
To create a course, all you need to do is navigate to the "Content" menu from the panel on the left and click "Courses." From here, you can click on the "Create Course" button on the top right.
You can then enter the title of the course and the instructor's name in the text fields and also choose to ship the course data on memory cards to your students. Bear in mind that your students will only be able to view the course on mobile and tablets if you enable this option.
When you click "Submit," you will be navigated to the Course Builder. Here is where you can add chapters and their content and set up how your course will work. You can add your course's cover image from the button in the top left corner.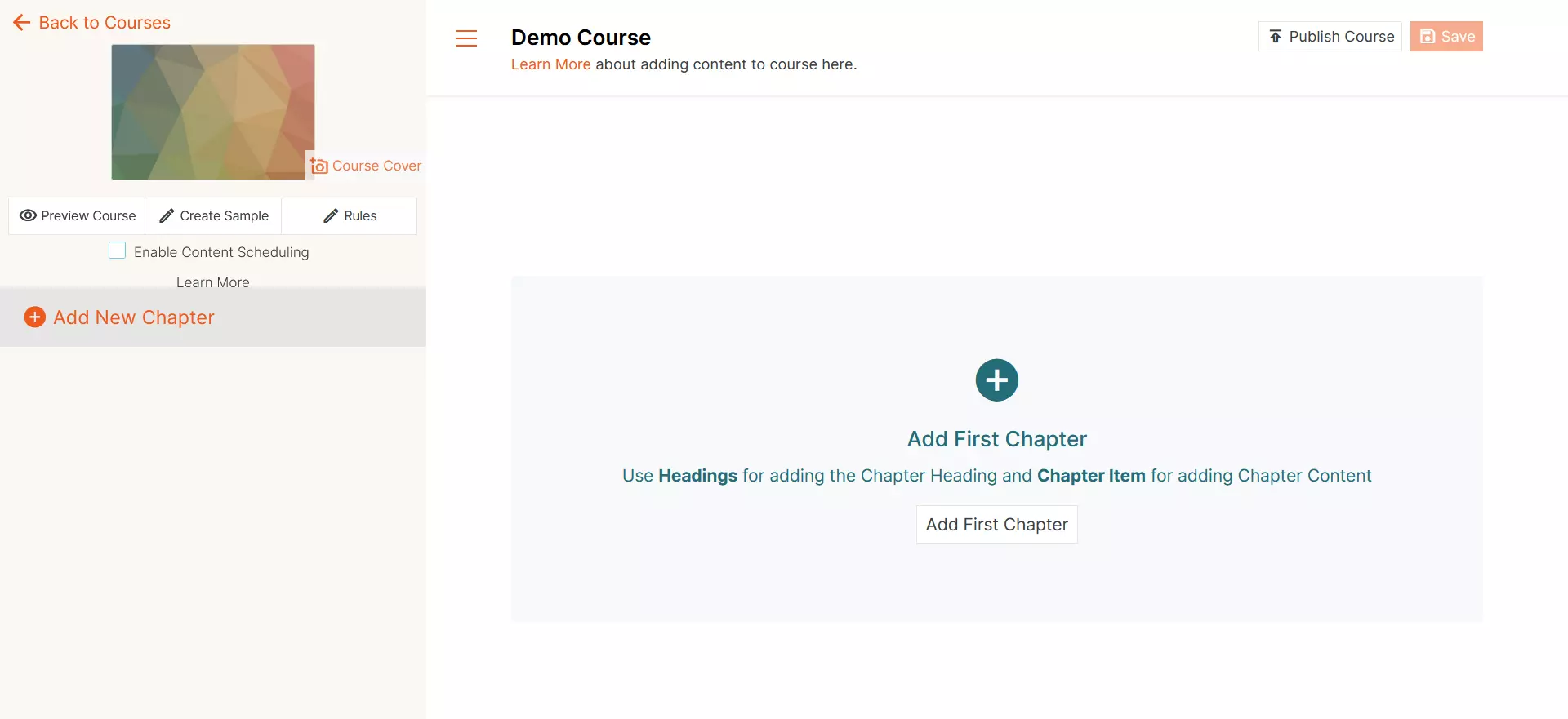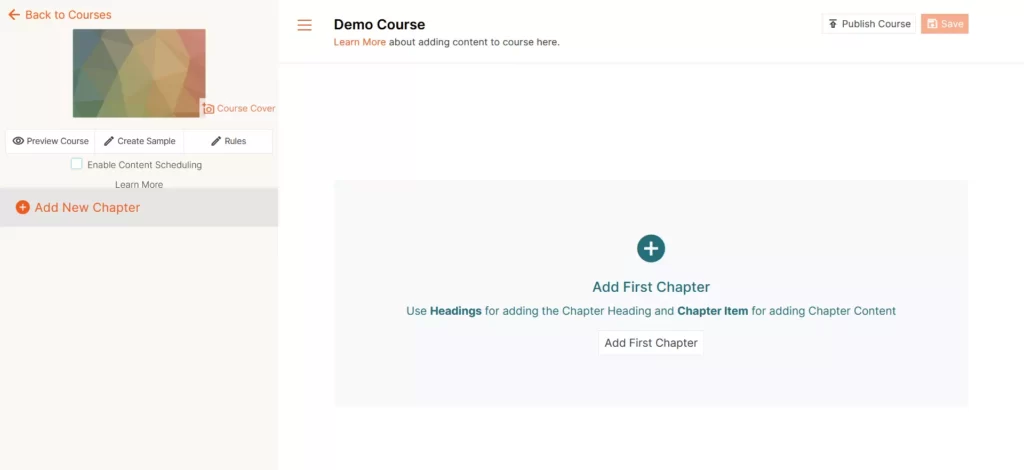 You can add chapters using the "Add New Chapter" button on the left. The popup menu will offer you the choice to upload content in various formats, including: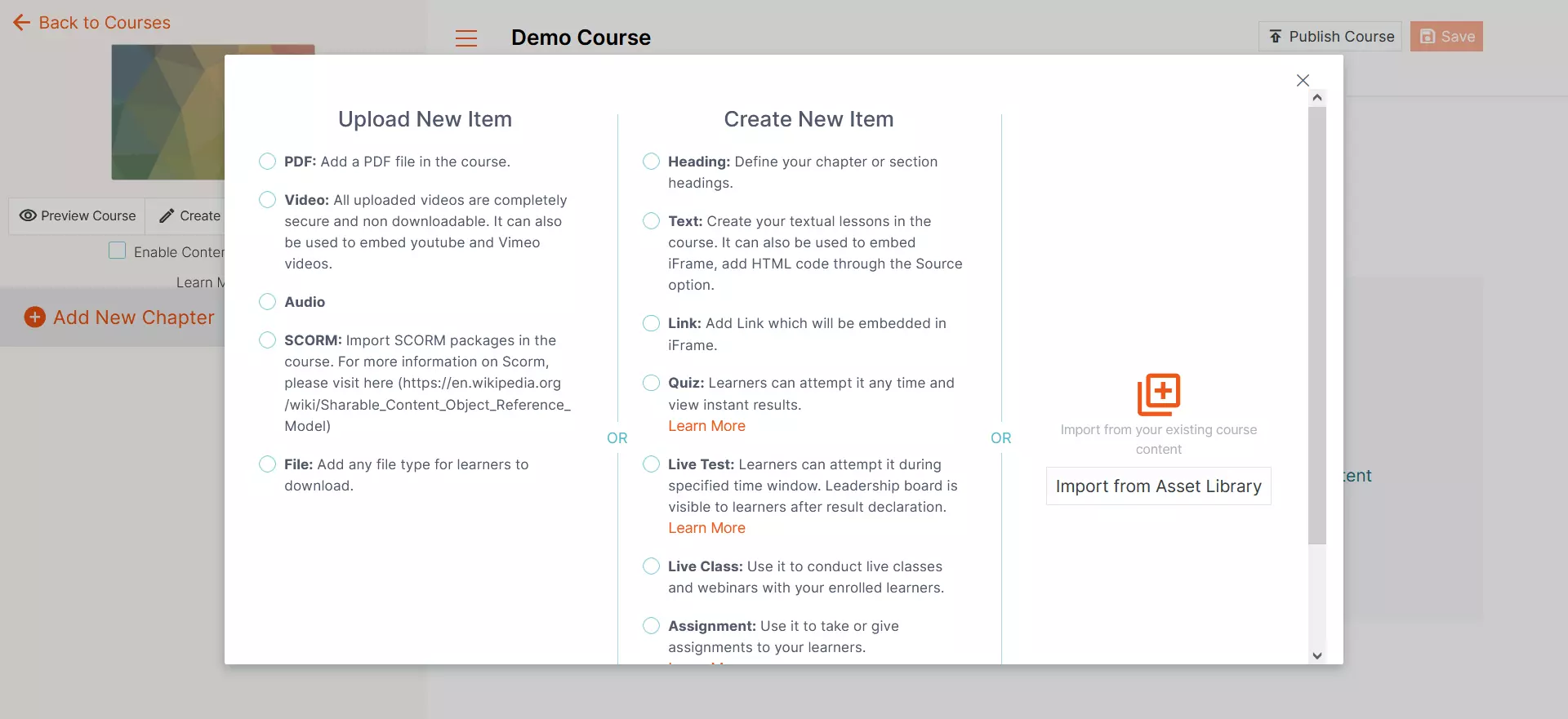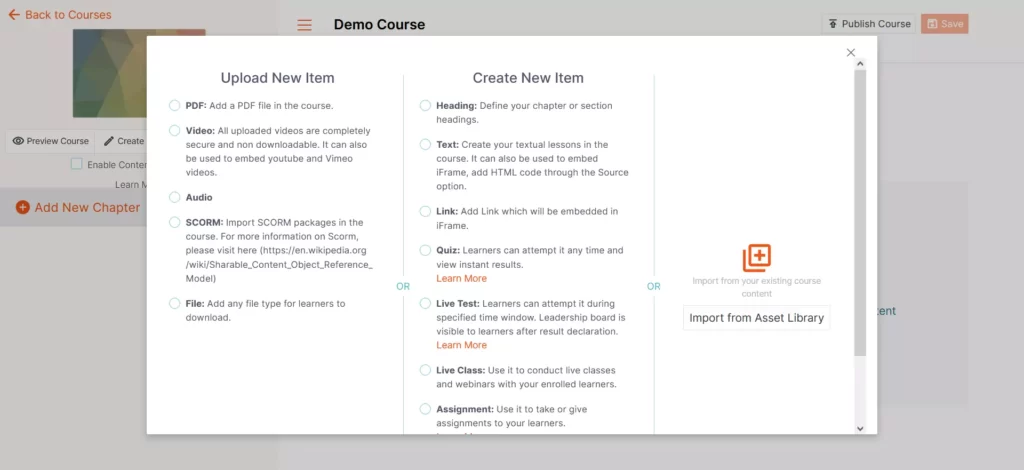 Graphy also enables you to integrate forms to collect information of any kind from your students.
Furthermore, you can add content from other courses using the "Import from Asset Library" button. You can save a lot of time and effort using this feature if you have content from another course that is relevant to a new course.
Here's a detailed overview of the content types Graphy offers:
You can add a heading for a chapter and define chapter items under it.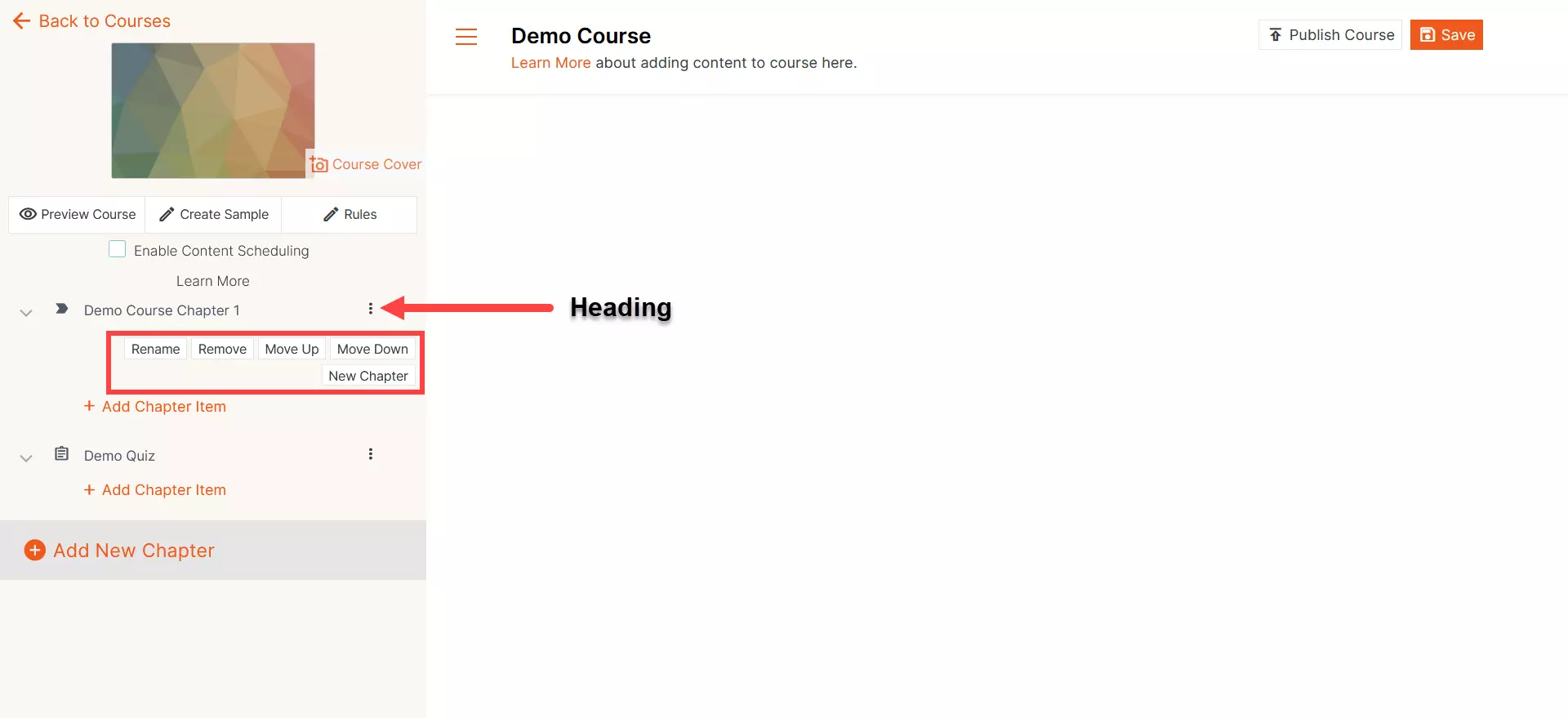 Note: Every chapter and chapter item you add can be renamed, moved, and placed in another section of the course and be defined as a "Prerequisite," meaning your students will not be able to progress ahead unless they finish that part of the course completely. For obvious reasons, the prerequisite option is not available for headings.
You can offer your course's material in the form of text, and if you choose to, enable sharing (make the text copyable). You can also choose to always make the text available to your students or only make the material available for a limited time.
The full-featured text editor allows you to write your course's material without any limitations. You can also embed YouTube, Vimeo, or Dailymotion videos into the content.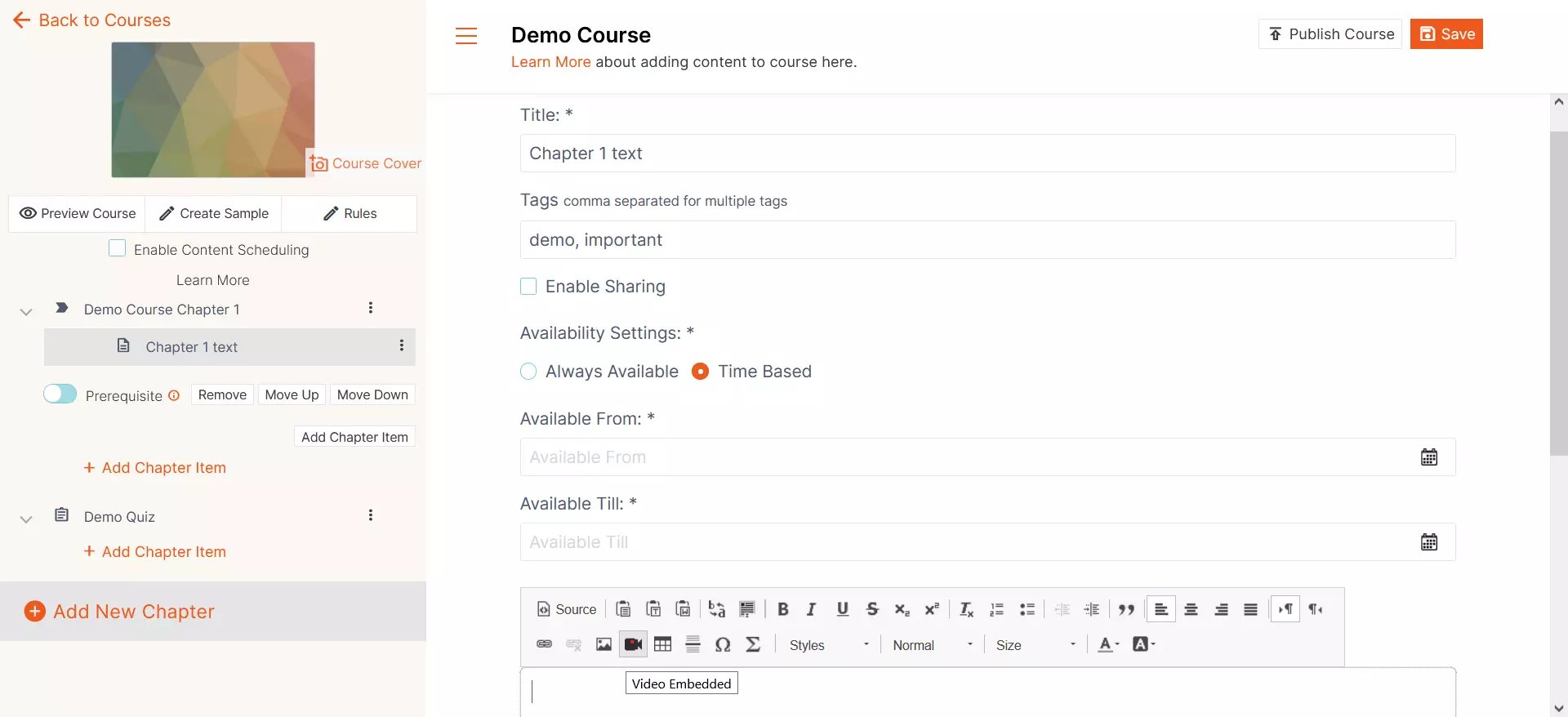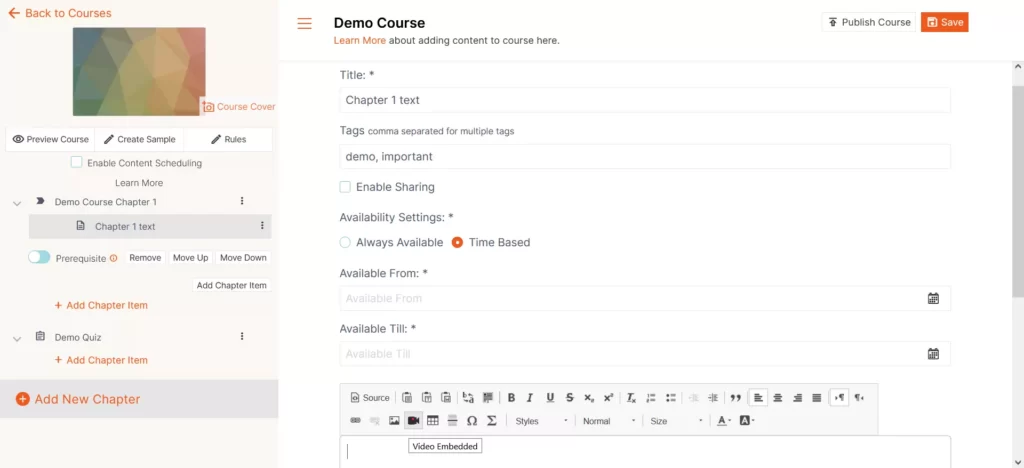 You can add a link to any website and give it a title. Links can be made available indefinitely or for a limited time.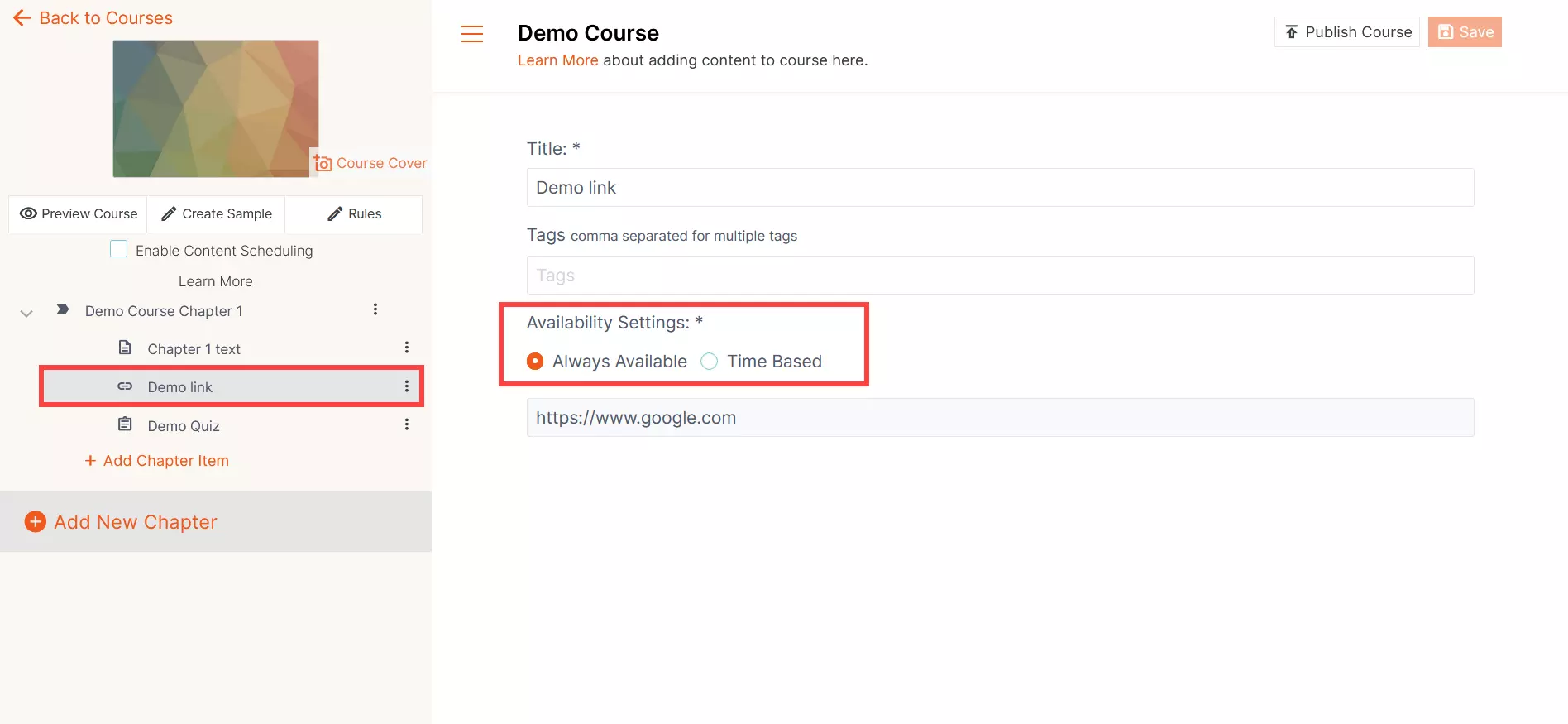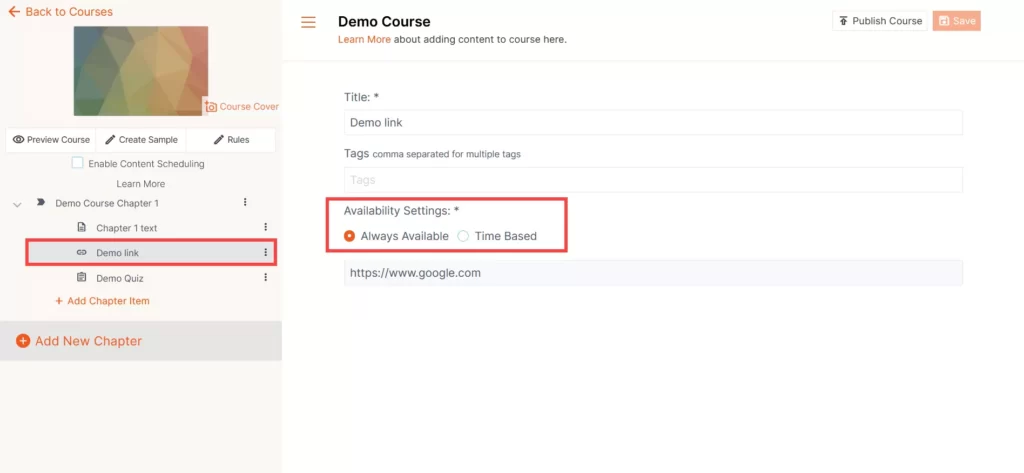 Note: Adding tags to content types enables you to segregate topics easily.
You can set time limits to quizzes, set a limit for retakes, add quizzes in languages other than English, and set Graphy to show questions automatically based on filters you set. Graphy also offers predefined quiz templates such as Neet UG Pattern 2021, which can help some instructors mimic exams that they may be training their students for.
As the name suggests, a live test is a test that your students will be able to attempt for a limited time. Graphy also provides a leadership board that ranks students based on their performance. This encourages healthy competition and inspires learning.
The predefined templates available for quizzes are also available for live tests. Additionally, the editing options are the same as quizzes for live tests. You can add instructions, provide a scientific calculator, generate results in different ways, group questions by sections, and import questions from a question bank.
Users can also upload questions from a document.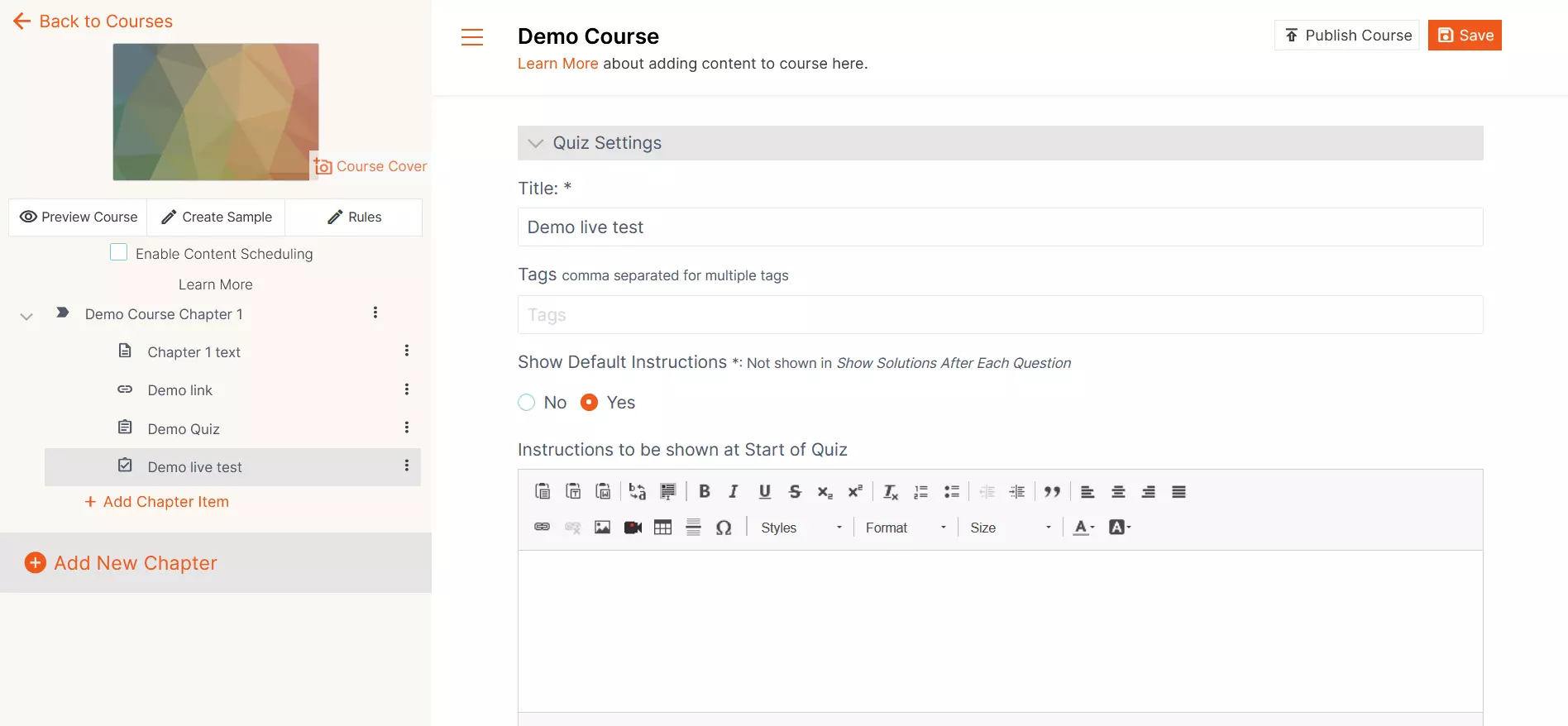 With this option, you can create a live class or webinar on Zoom or go live on YouTube and teach your students. You can also create and add your own Zoom meeting link.
The course builder allows you to add pre- and post-class messages for your students to see. You can also provide students with a recording of the session for later reference.
Your learners can be notified of the live session via email, mobile push, and web push notifications. Adding a thumbnail for the session is as simple as uploading the image. Bear in mind that the number of learners who can join your sessions depends on your plan.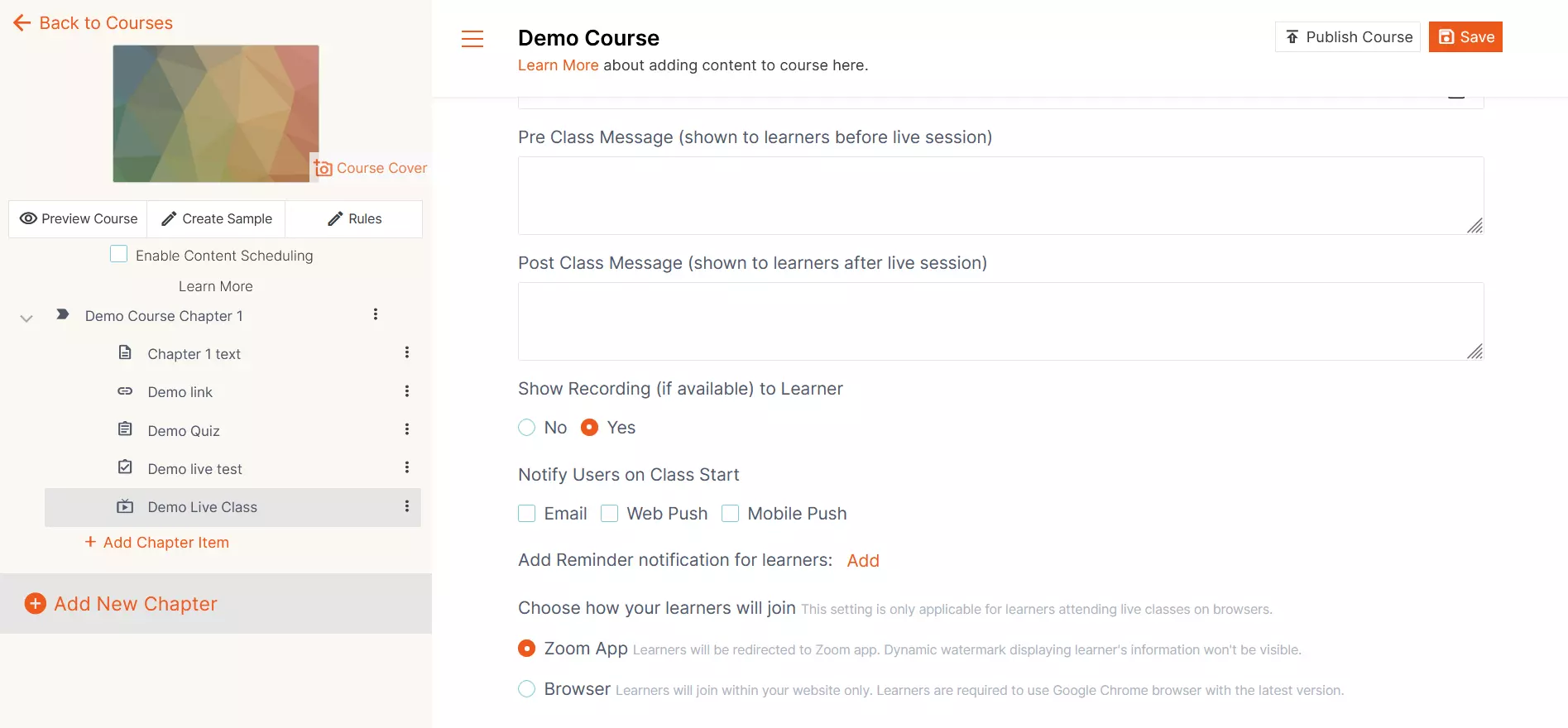 Assignments are different from live tests and quizzes in that your students have a lot more flexibility with how they answer questions. You can upload a PDF file of the assignment for your students and set Graphy up to notify you via email when your students have turned in their assignments.
Adding instructions and confirmation messages is as simple as typing them into the appropriate fields.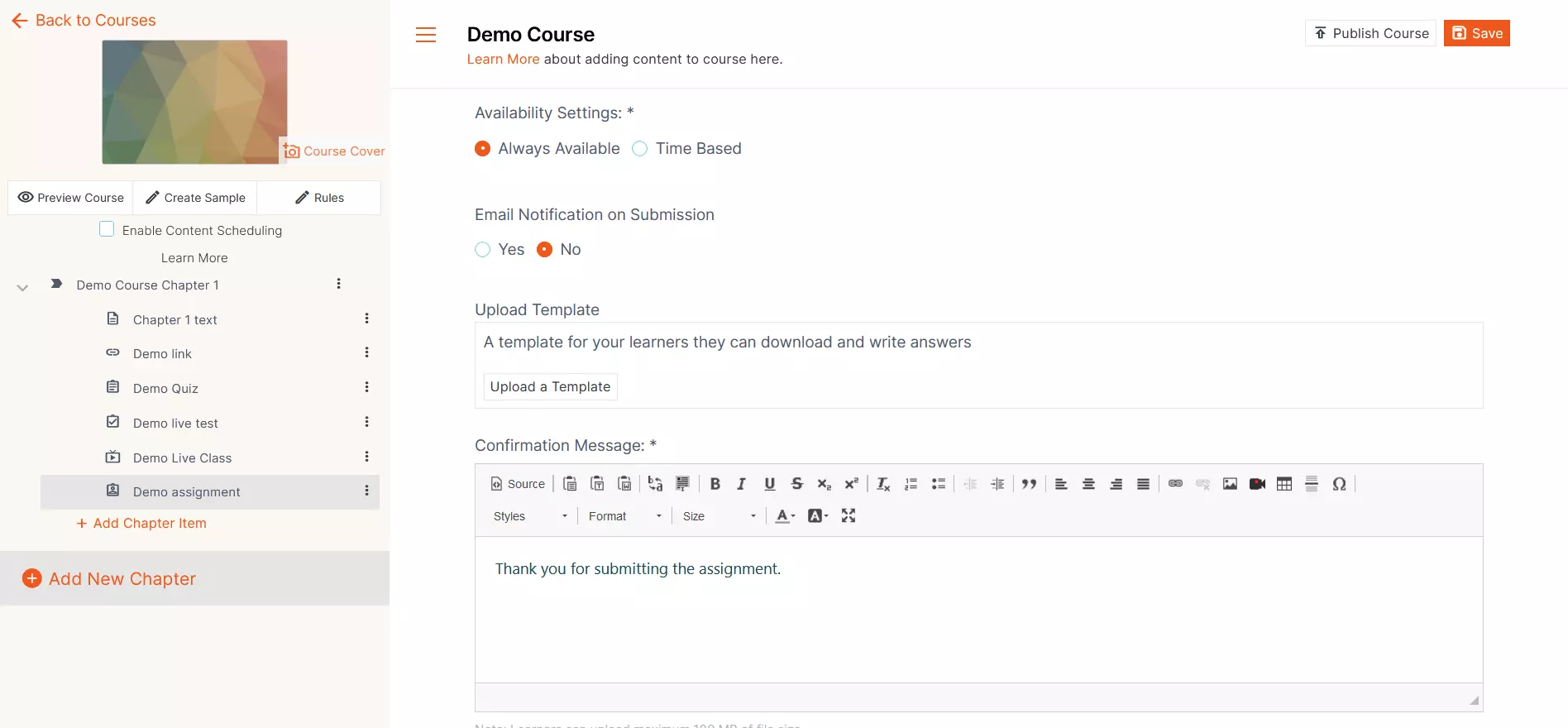 The forms feature is one of the most impressive features of Graphy. You can add a form to any chapter of the course, alter its availability, and build a form as you see fit using the integrated form builder. The several options offered gives you a lot of flexibility with what kind of information you can collect.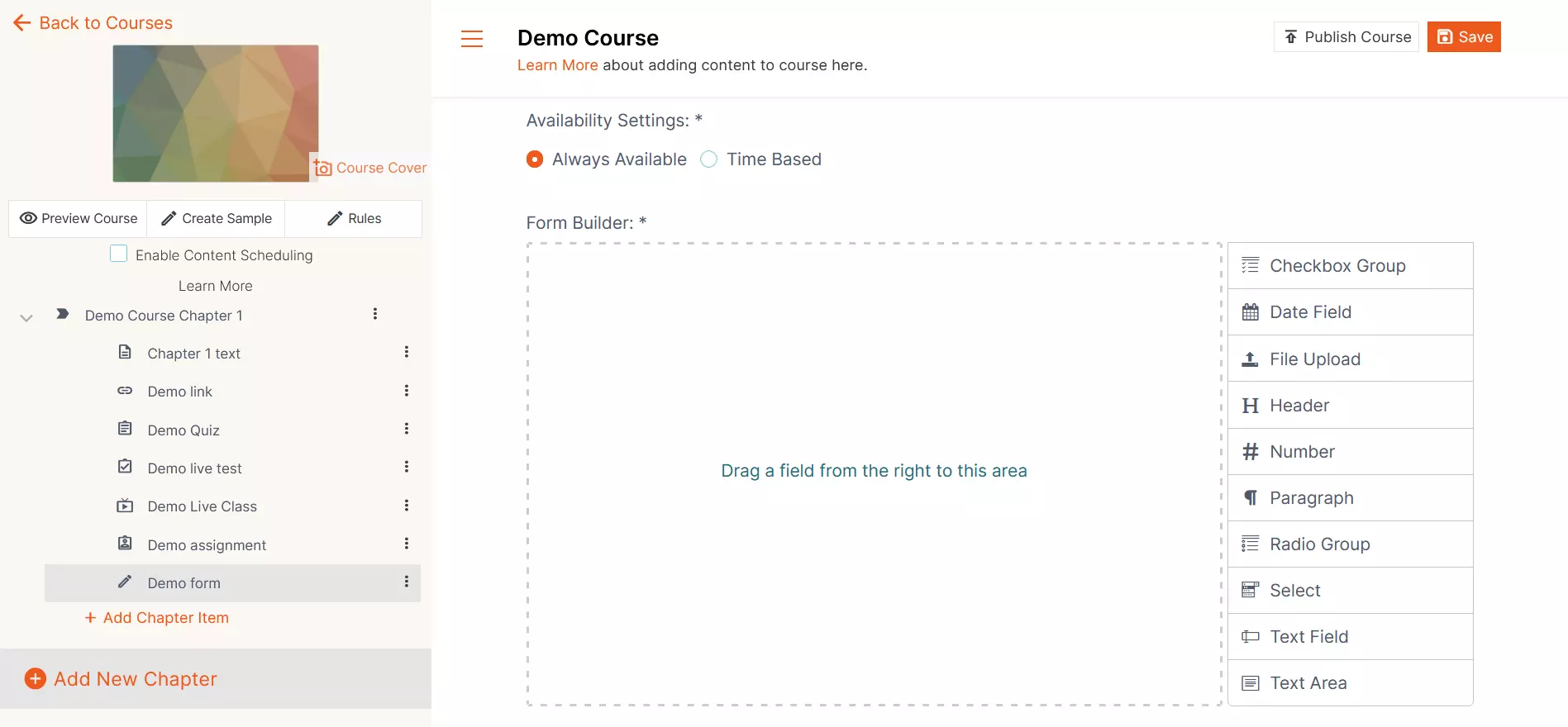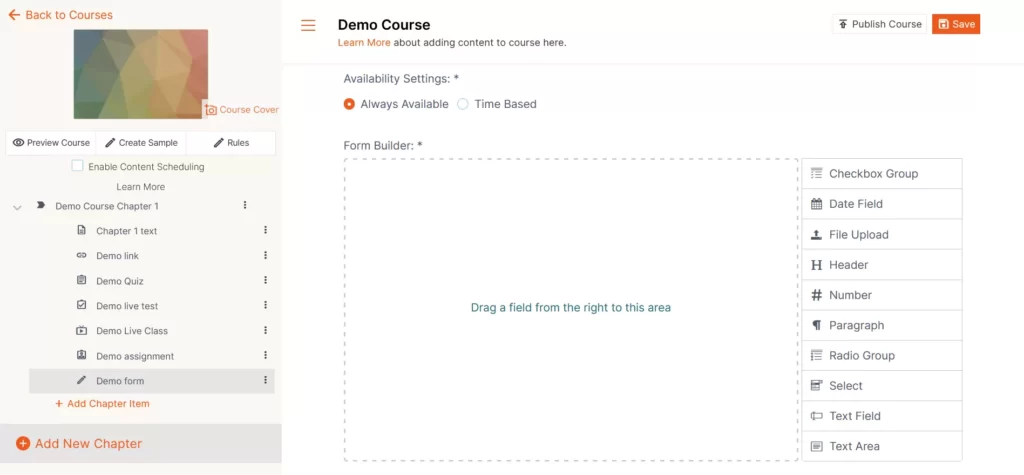 Graphy allows you to provide your learners with a PDF file. You can upload it from your computer or Google Drive, or if the PDF is available on another website, add the URL to the PDF that your students will be able to view directly on the platform.
Like other addable content items, you can enable sharing for PDFs. You can also choose between making the file permanently available or offering it for a limited time.
What impressed us is that Graphy allows you to add a dynamic watermark to your PDF to prevent your work from going uncredited.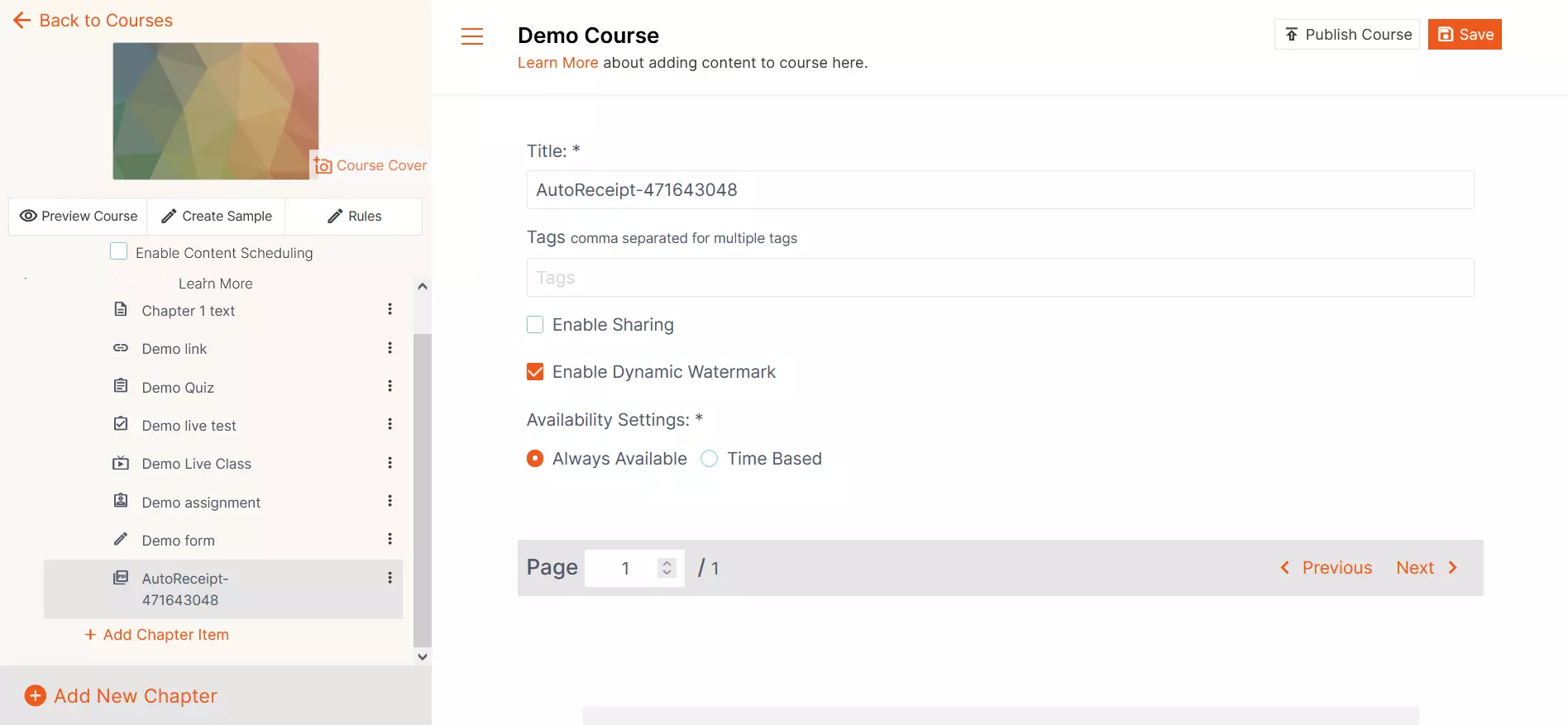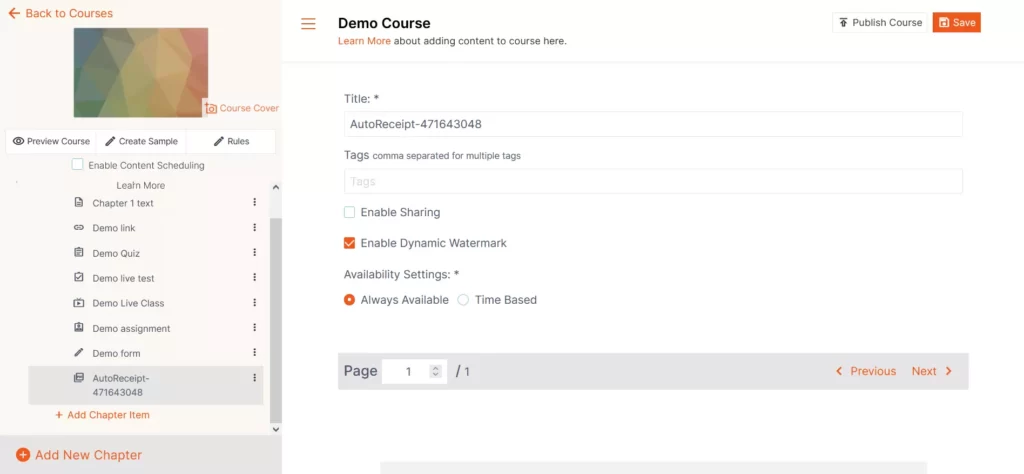 The "Preview Course" button will show you what your course will look like.
Graphy stores the video learning material you upload securely and ensures that it remains non-downloadable. You can also upload videos via Google Drive and Dropbox or add them to your course by uploading them to YouTube, Vimeo, or SproutVideo and adding the link.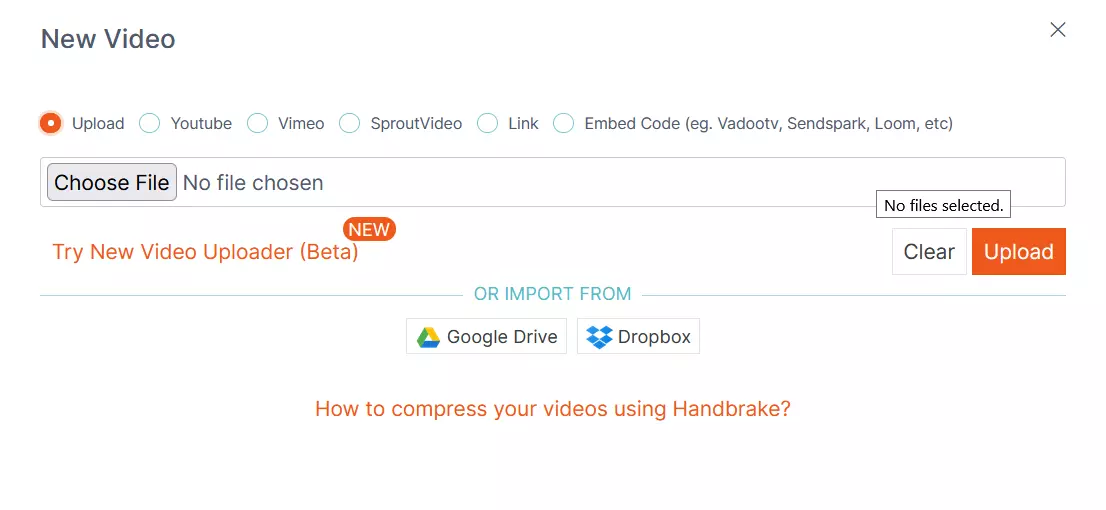 Like any other content type you can add in Graphy, you can set tags to the videos you upload. Further, you can also enable dynamic watermarks, add a description, set the video to autoplay, and change the availability settings of the video.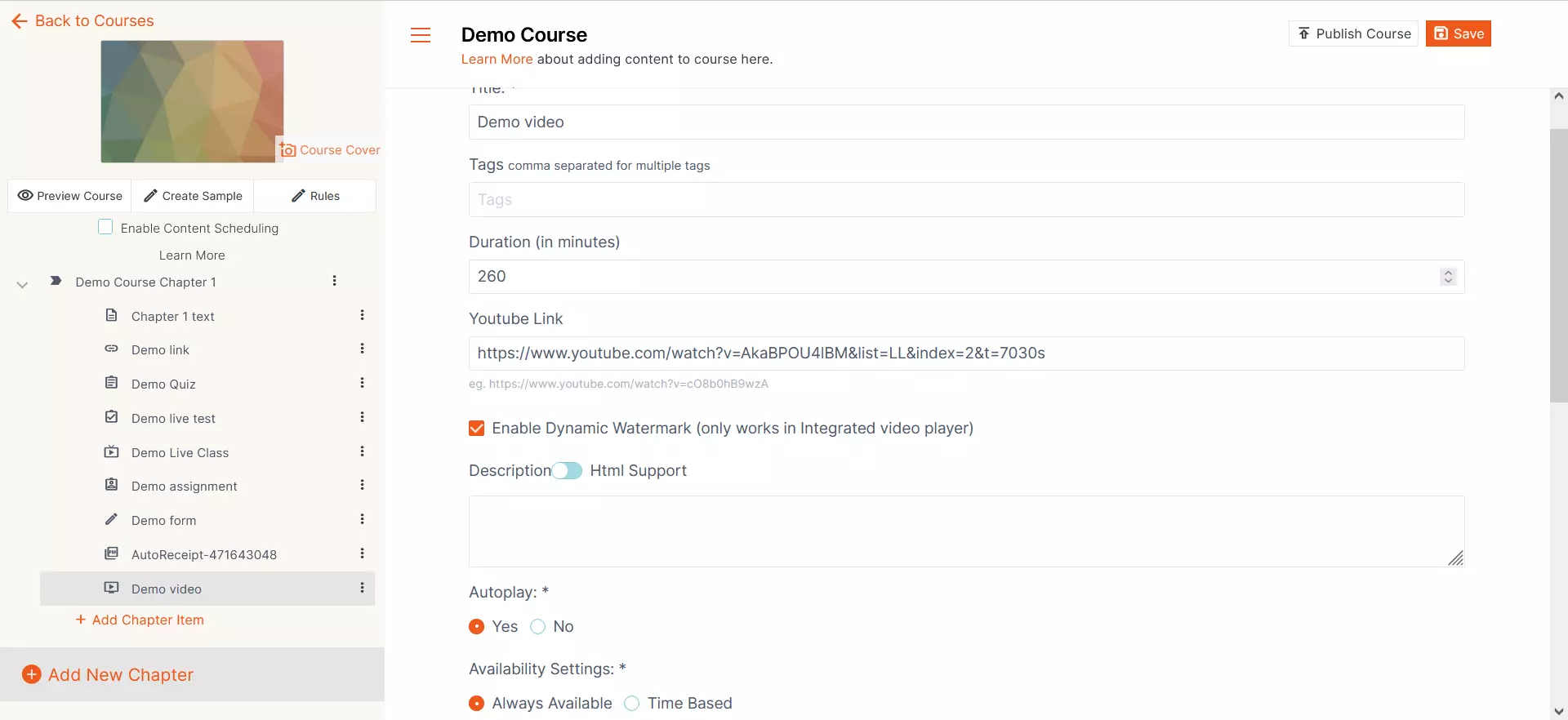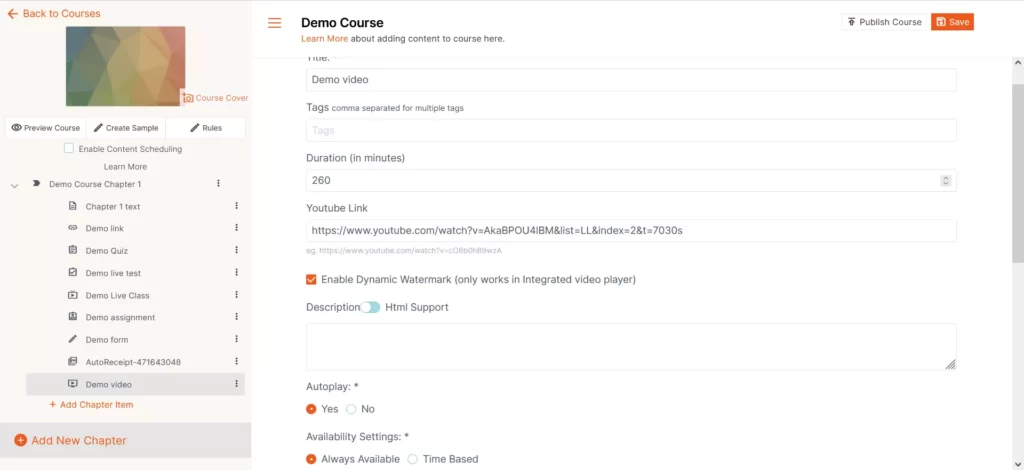 In some circumstances, teaching your learners by instructing them with just your voice can be extremely effective (for instance, in a meditation guide). Graphy allows you to upload audio files up to 200MB.
A lot of the features that Graphy offers for videos are also available for audio files.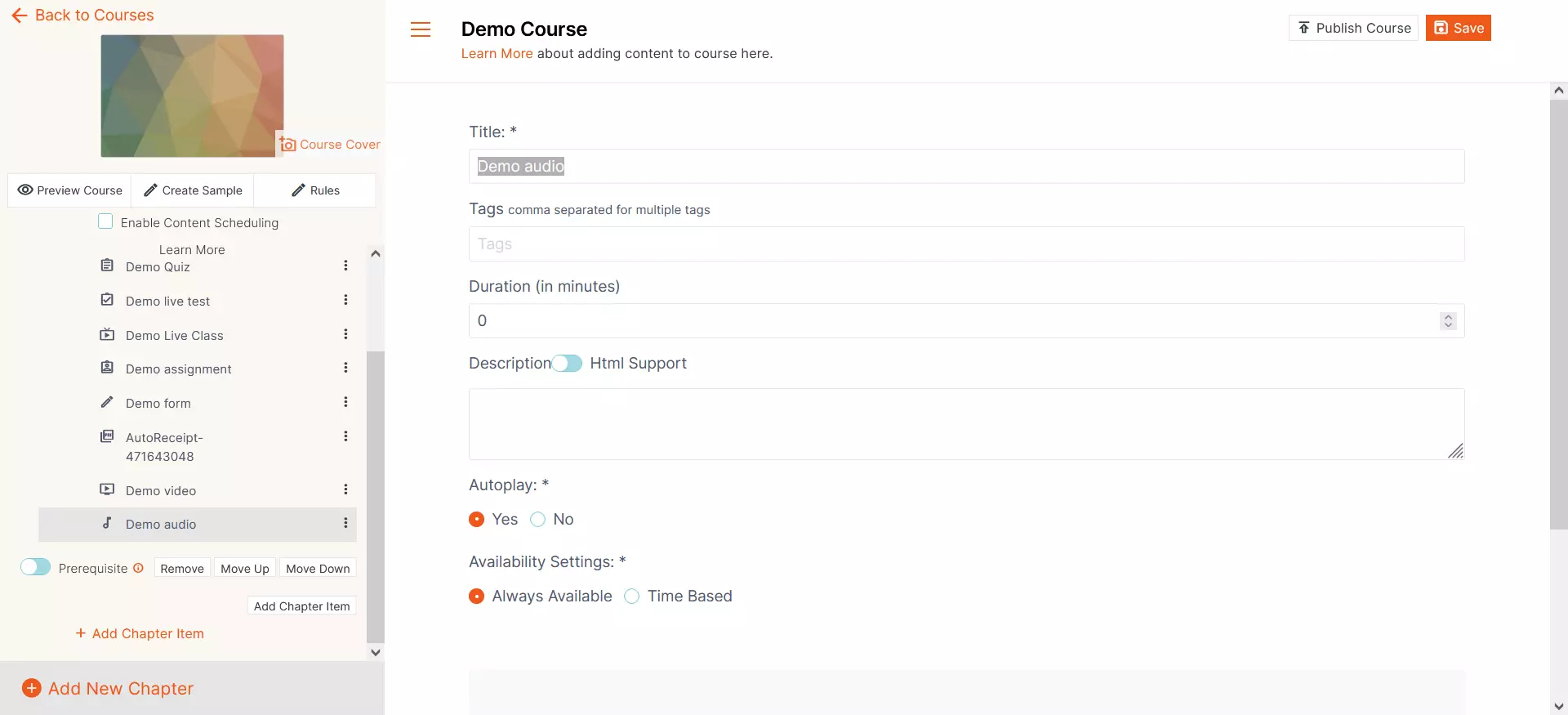 If you've built a course already using another offering tool and want to distribute it using Graphy, all you need to do is upload your course's SCORM file.

One of the best things about Graphy is that you can upload any other type of file that you think will help your learners. Graphy allows you to upload files as large as 1GB.
This option can be very helpful if you're teaching how to code and want your learners to have access to some sample files.

You can add tags to files, alter the availability settings, and add a description for the file to help your learners understand how to use it.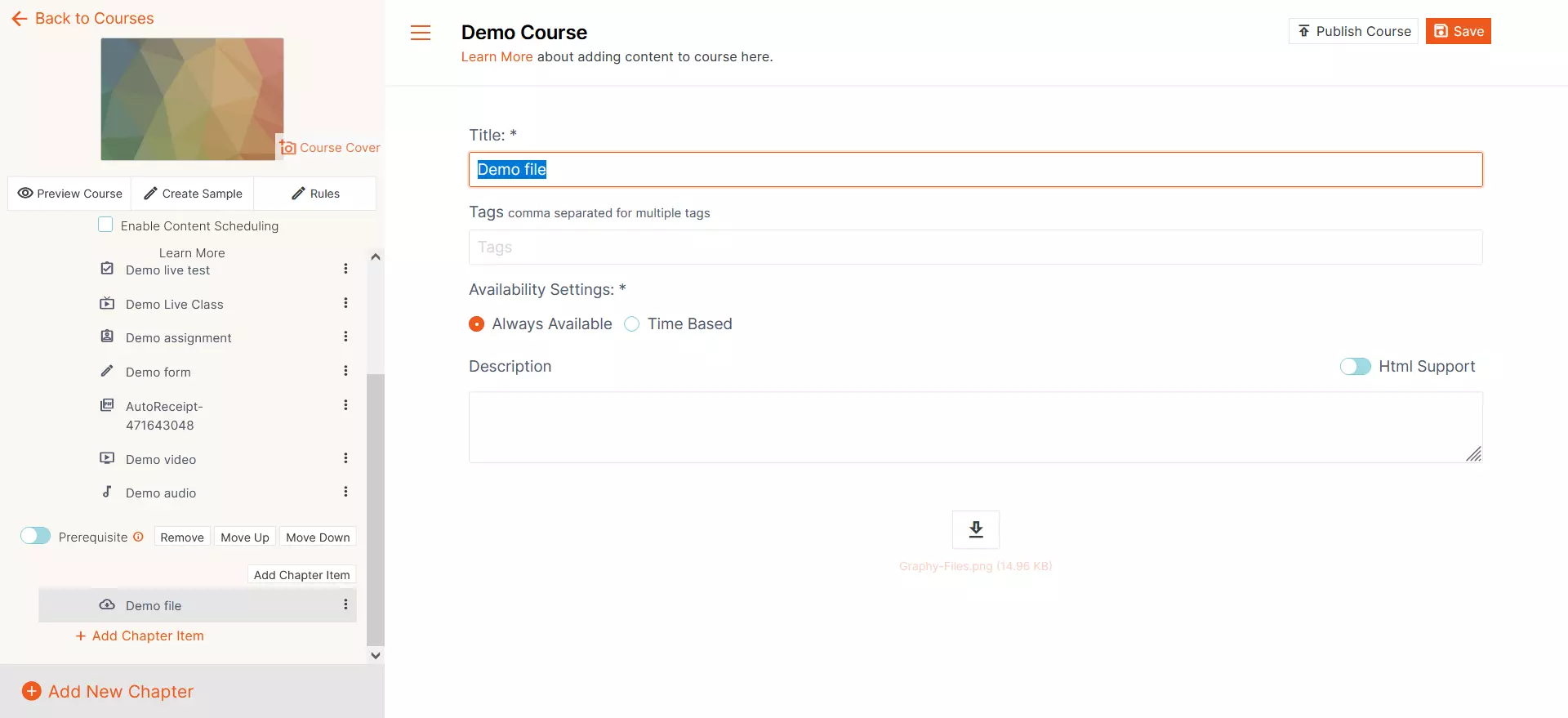 Now that you understand all of the different ways in which Graphy allows you to build a course, here's a quick look at the other features of the course builder:
If you've designed your course in a way that requires your students to go through it in the same order, you can toggle the "Enforce Sequential Learning Path" option under the "Rules" button on the left.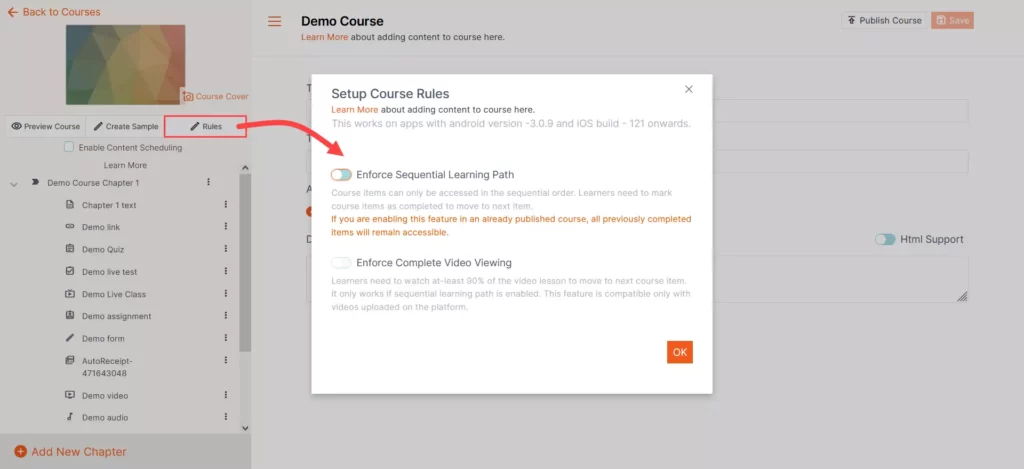 You can also use the "Enforce Complete Video Viewing" toggle to force users to watch at least 90% of your video lessons before allowing them to move to the next lesson.
Bear in mind that if you publish a course and later toggle this option on, learners will be able to access the videos that they have previously completed.
If you want to give prospective learners a taste of what your course offers, you can make some parts of your course accessible for free as samples.
All you need to do is click the "Create Sample" button on the left. You can then check the boxes on whichever parts of your course you want to offer as samples.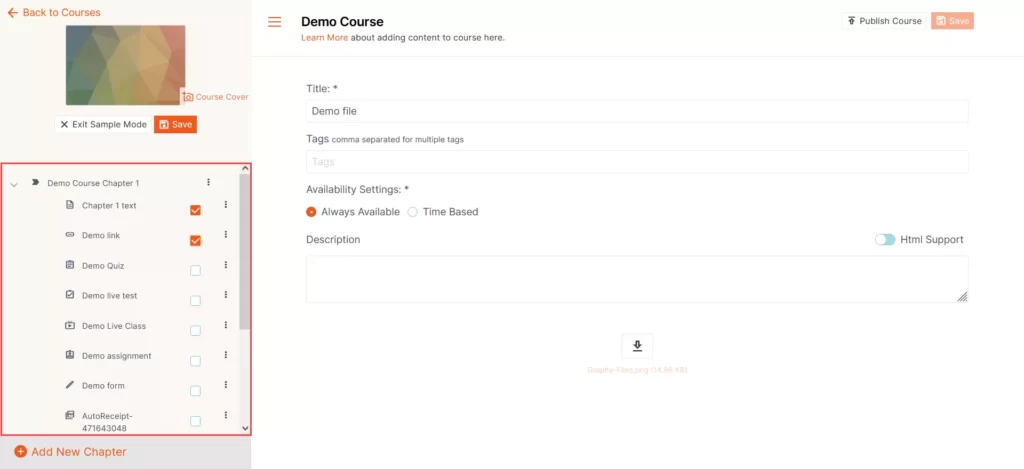 If you don't want your learners to be able to access all the material right as they buy it and want them to take their time to absorb your lessons, you can toggle the "Enable Content Scheduling" option.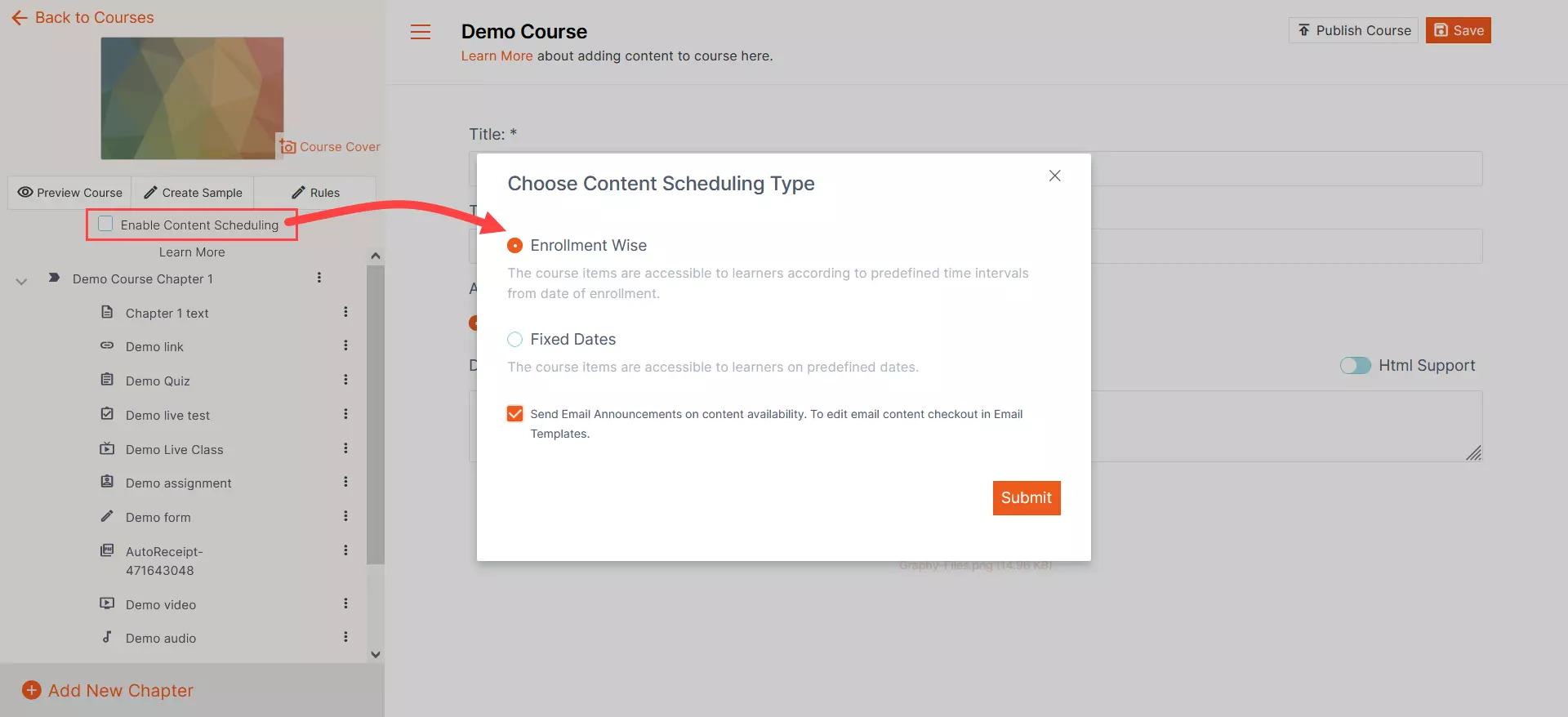 You can give your learners access to your course at set time intervals – like one chapter a day. Alternatively, you can set fixed dates to give all of your learners' access to parts of your course.
With Graphy, it is easy to set up reminder emails for your students when the course's content gets unlocked for them. This is as easy as checking the "Send email announcements on content availability" box under the content scheduling popup.
After you've set up your course, you can preview it using the "Preview Course" button, and if you think it's ready for the world to see, click the "Publish Course" button on the top-right.
One of the best things about Graphy is that you can save the course without publishing it and continue working on it later.
Use coupon KULWANT20 to grab a 20% discount on annual plan.
Setting Up Other Aspects of a Course
After creating your course using the course builder, you can set up its many different aspects by clicking on the "Details" button under the course in the "Courses" section under Content.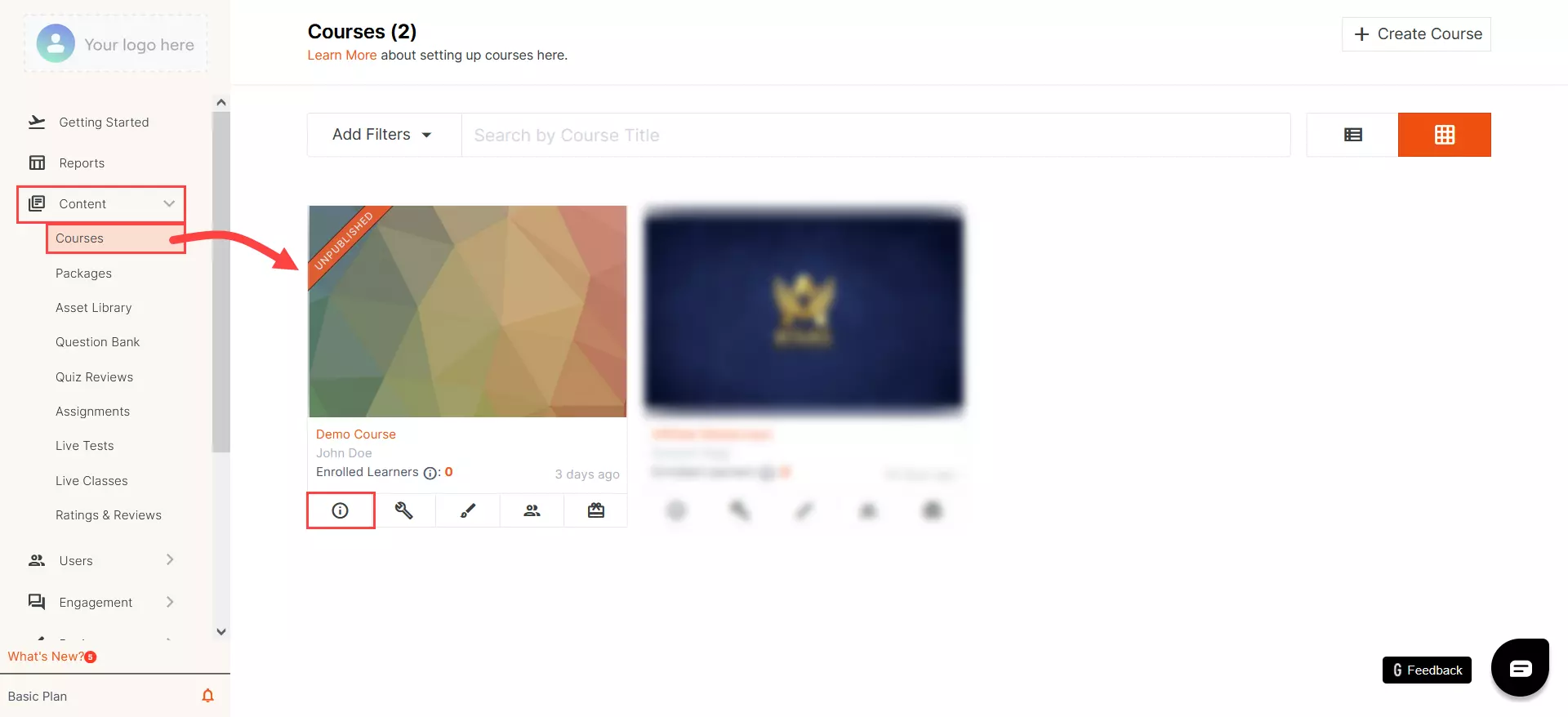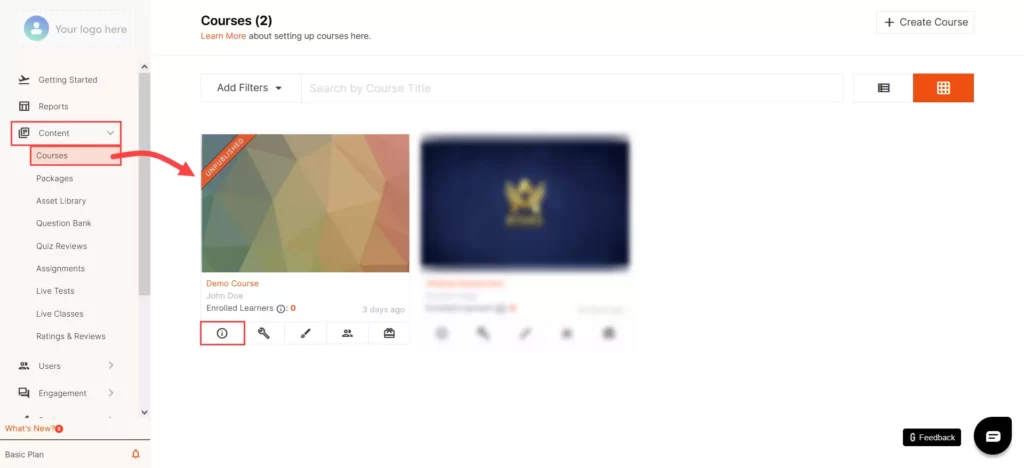 Clicking on the button will navigate you to the "Information" page in a new tab in your browser. The "Details" section will allow you to: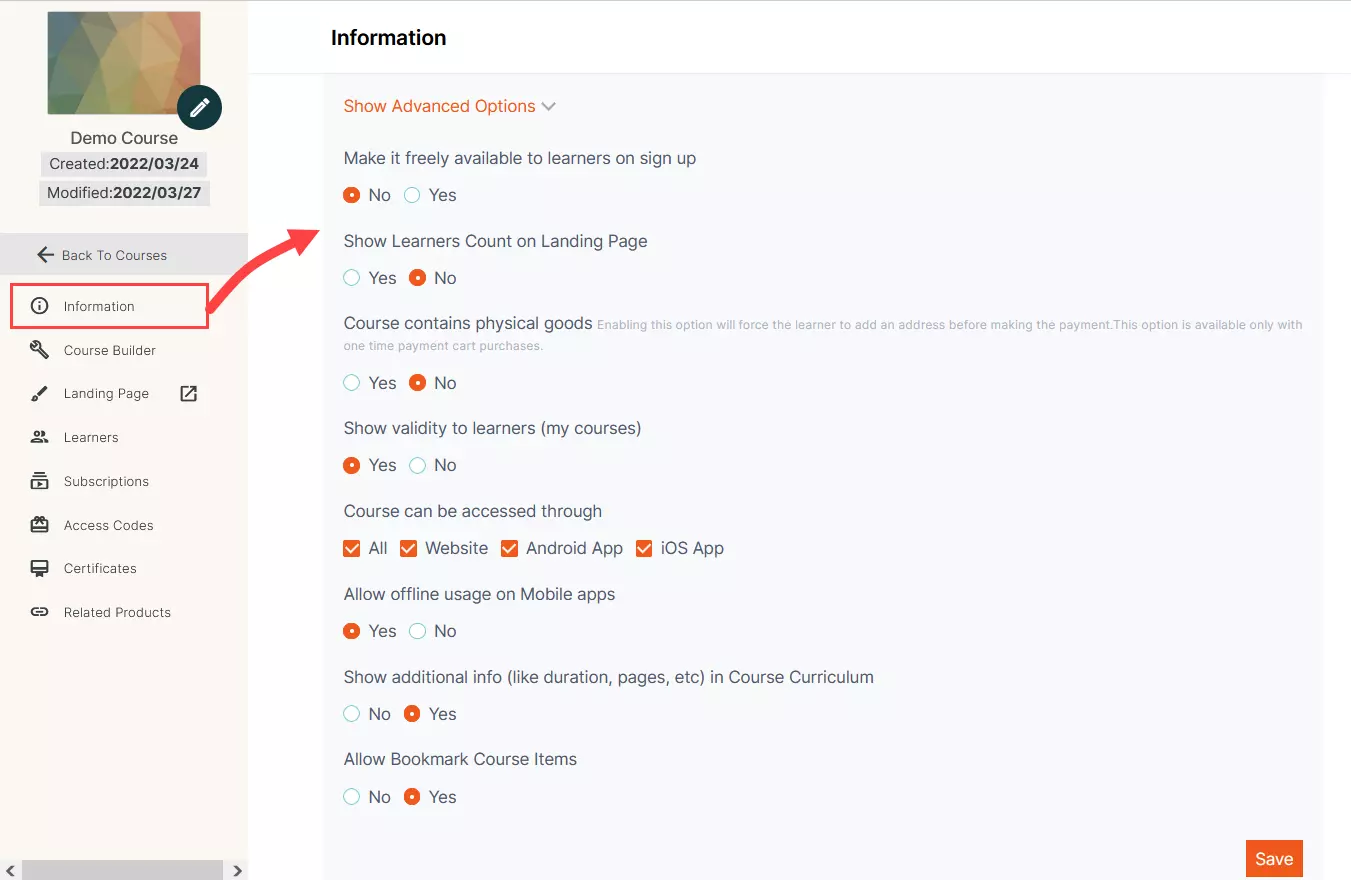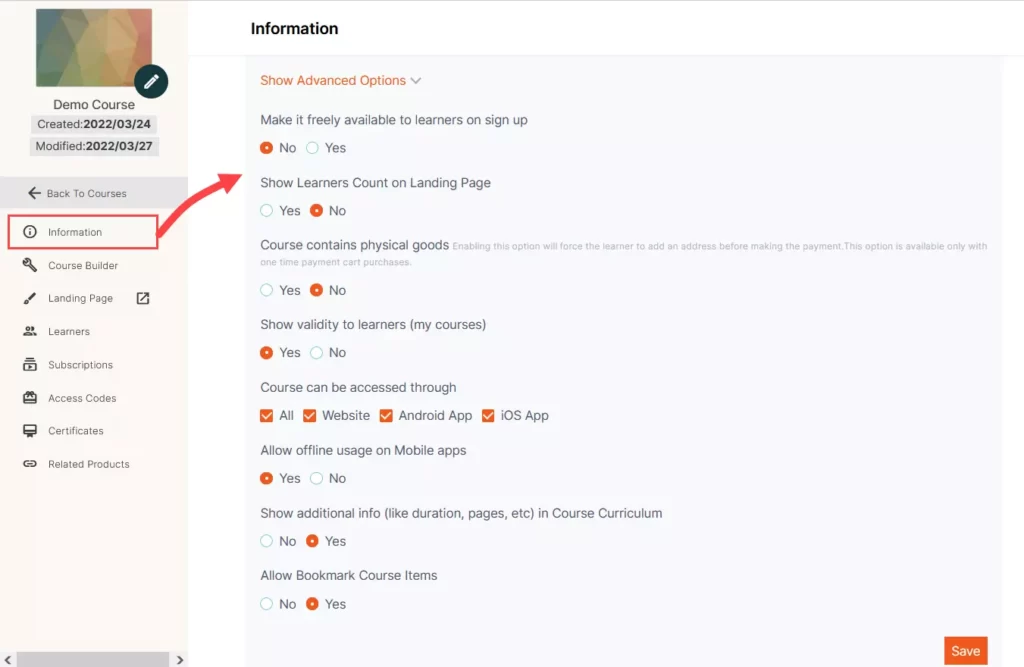 Under the "Pricing" section, you can choose where visitors can buy the course from, set the pricing of the course, change the tax settings, set cashback options for your learners, and also toggle course purchase options as you see fit.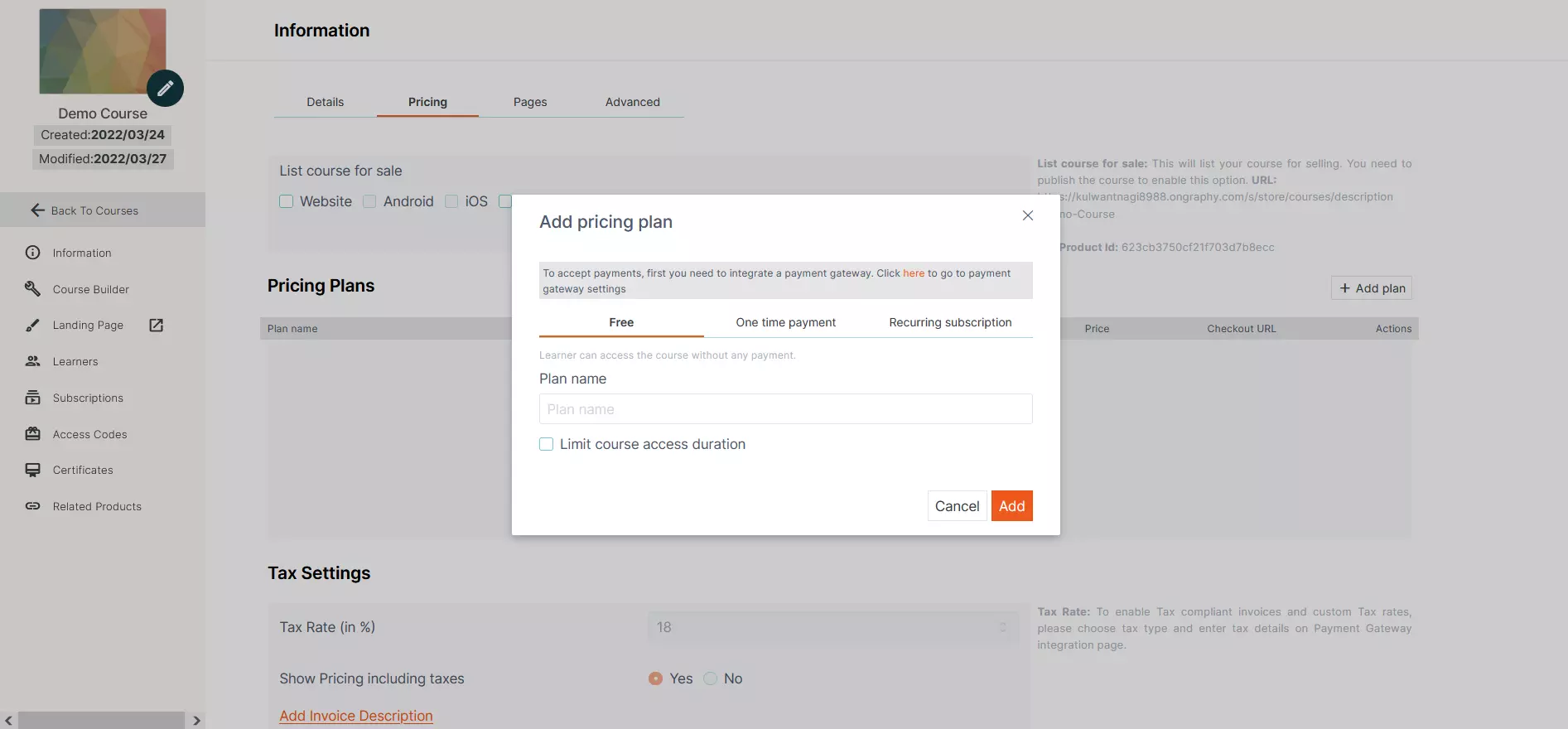 Under the "Pages" section, you can set the course's URL, SEO description, keywords, and all the other details you want on the course's landing page. Graphy will automatically populate the course's landing page with the information you provide.
You will also find fields to set up your course's success page under "Pages."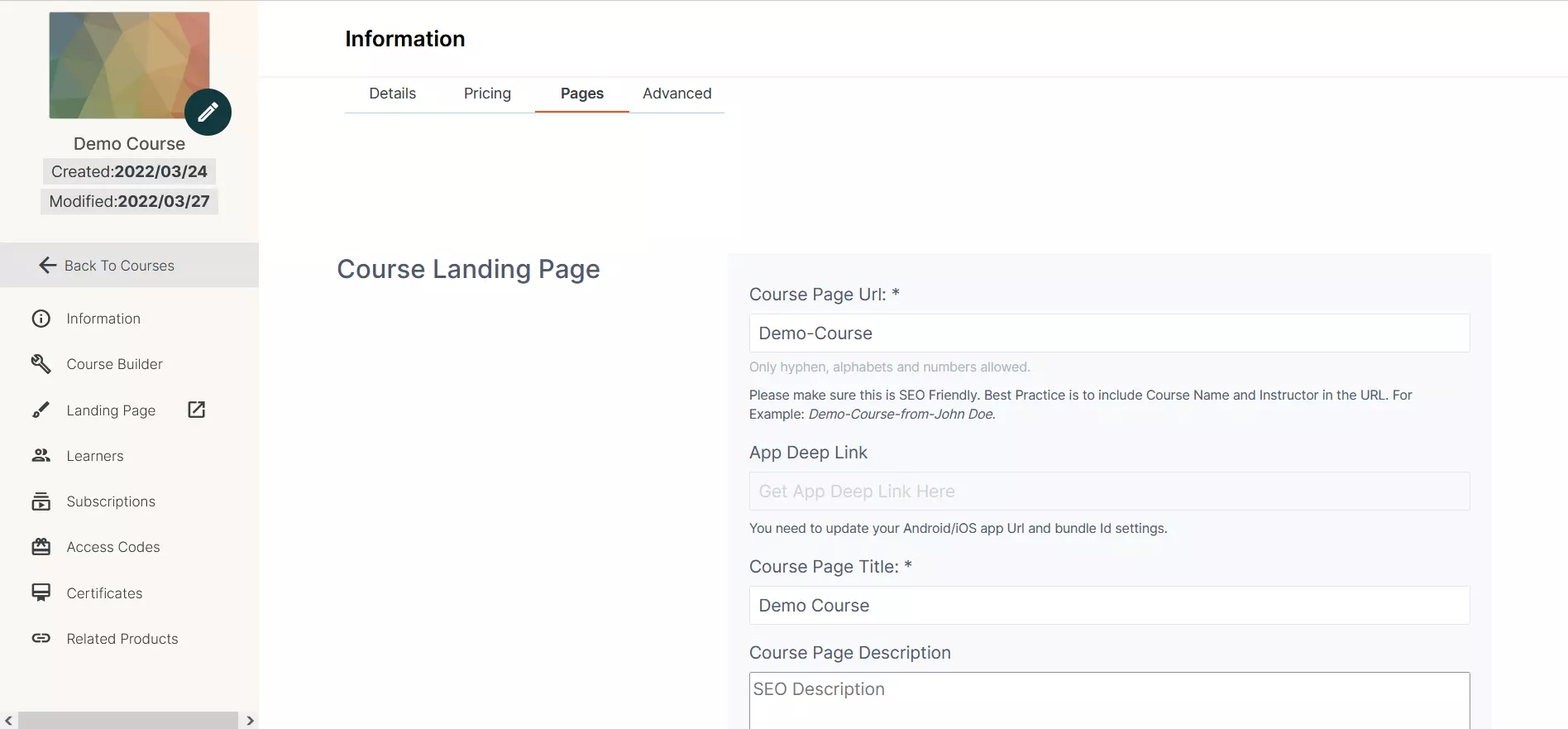 The "Advanced" section on the "Information" page allows you to set up a custom welcome email for your students. Bear in mind that the email editor only allows you to make simple text emails, and you cannot add fancy graphics to it.
Note: Graphy integrates with Mailchimp, and you will be able to use all of its features in conjunction with Graphy.
You can also make a copy of the course or delete the course from this section.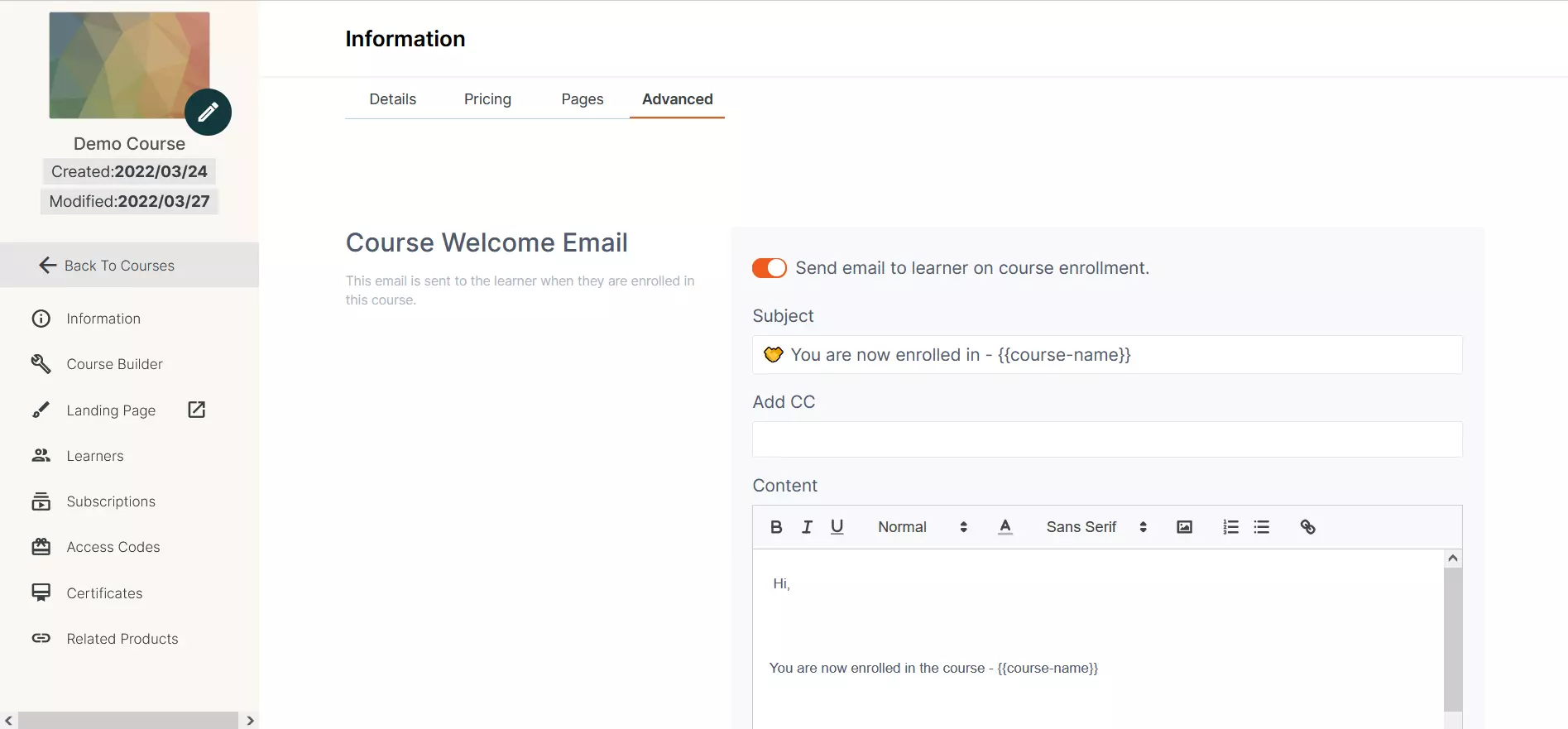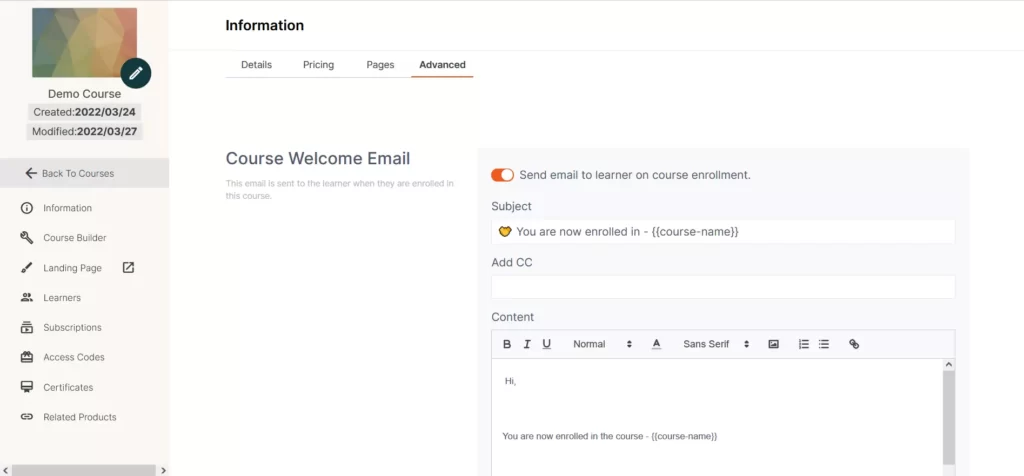 You get access to a lot of other features below the "Information" button. The landing page builder is one of them.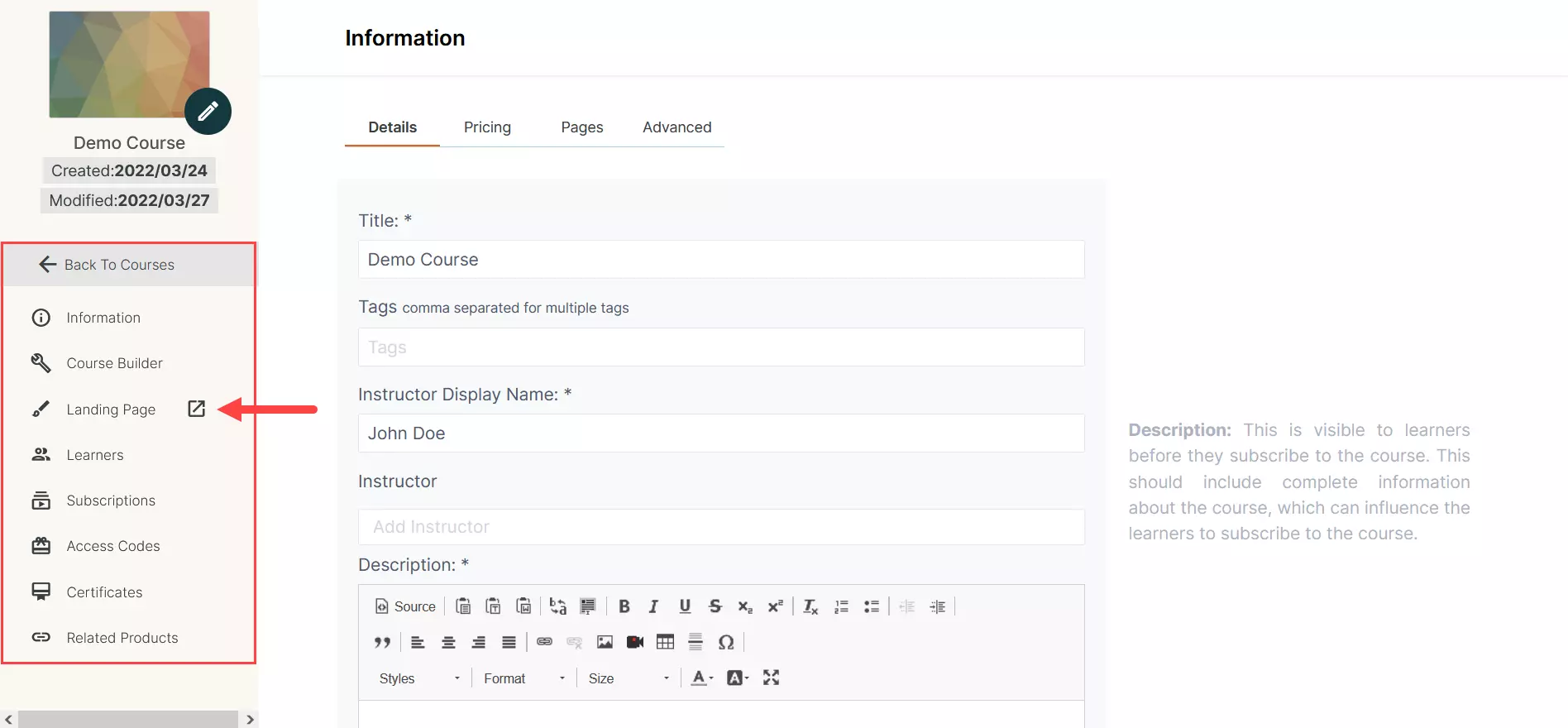 The default landing page comes with several sections with the content populated according to the text you fill in the "Pages" section.
You can also customize the landing page by clicking on the text you want to edit. A text editor will pop up, and you can make the text look like you want it to.
Clicking the settings icon on the bottom will open up a "Box Settings" popup. You can use it to change the size of the box, the position of the text, the color of the box, and the animation of the content.
The buttons on the top enable you to see what the landing page will look like on other devices.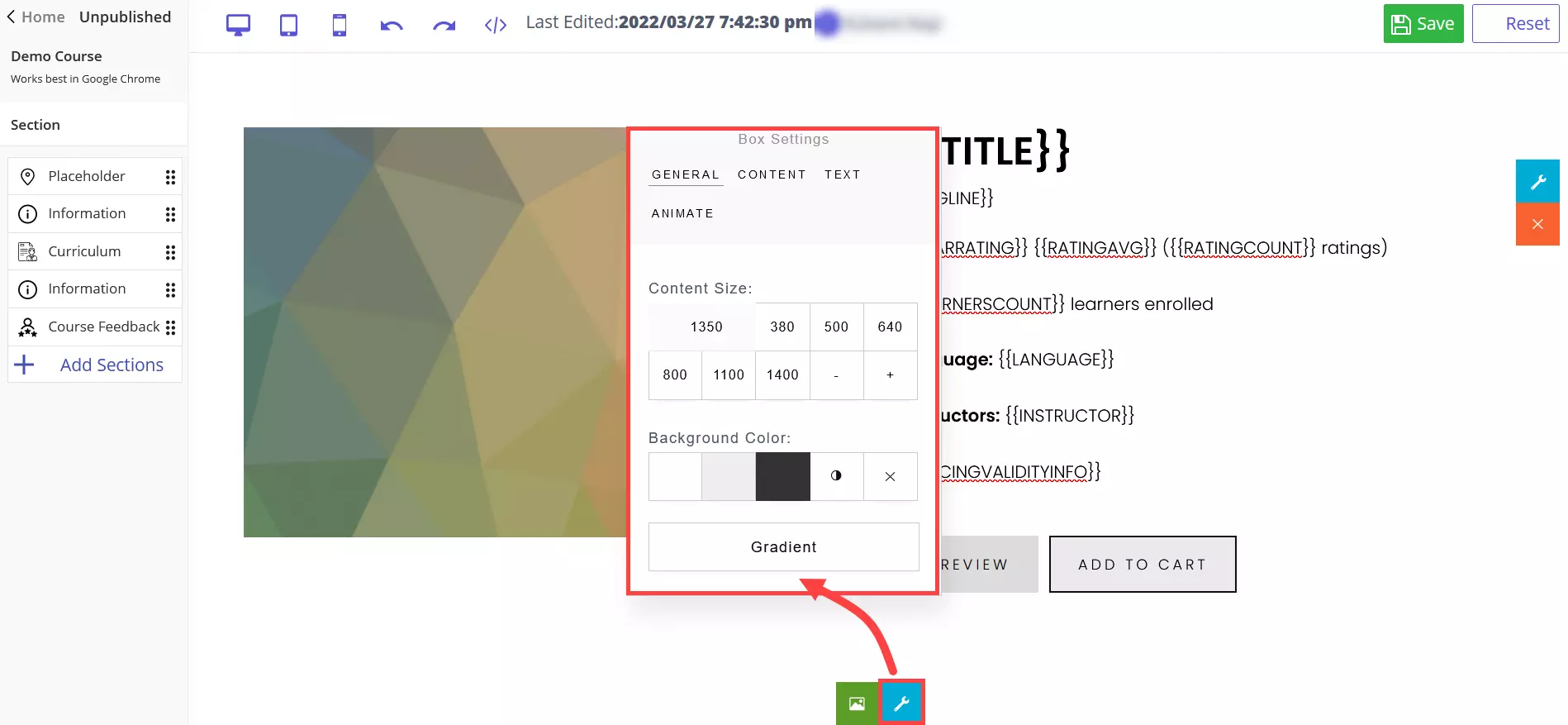 The builder also allows you to add sections to the page. Besides headers and footers, the builder enables you to add sections such as sliders, videos, testimonials, products and services, pricing, contact information, and more.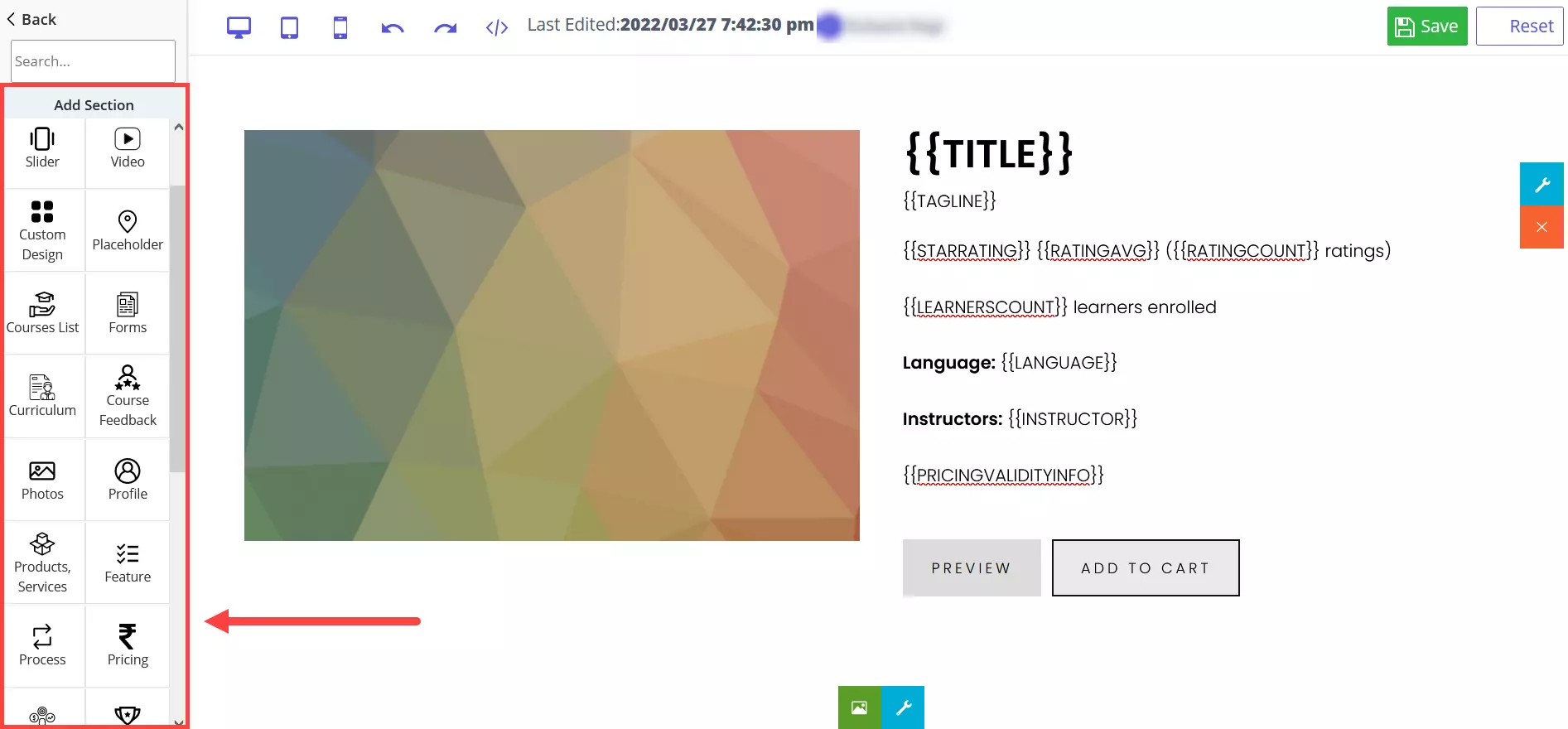 As mentioned earlier, several options are available for courses that you can play with. You can access these from sections below the "Information" section.
The "Course Builder" button will navigate you to the course builder, where you can make changes to your course.
The "Learners" button will show who has signed up for your course, their email, enrollment date, and other information such as status and expiry.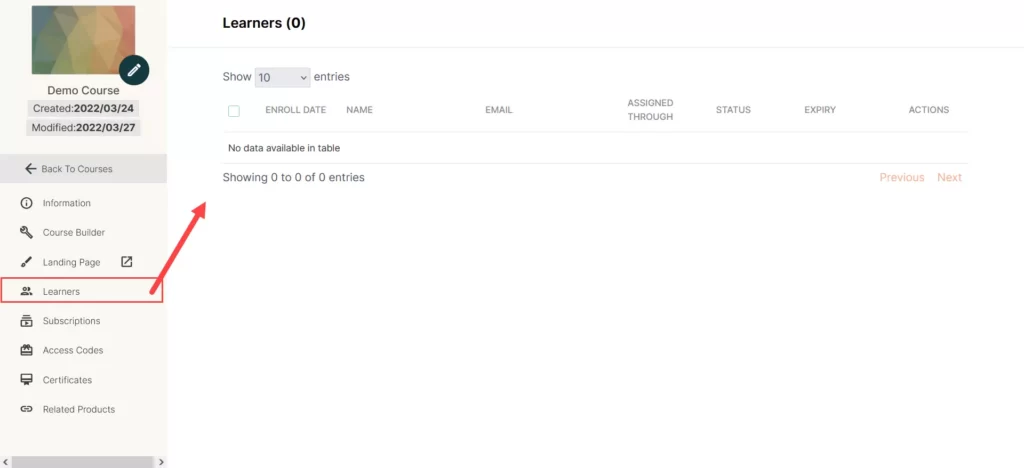 The "Subscriptions" section will show you the list of subscribers, their plan, their respective billing dates, and other details such as status and action.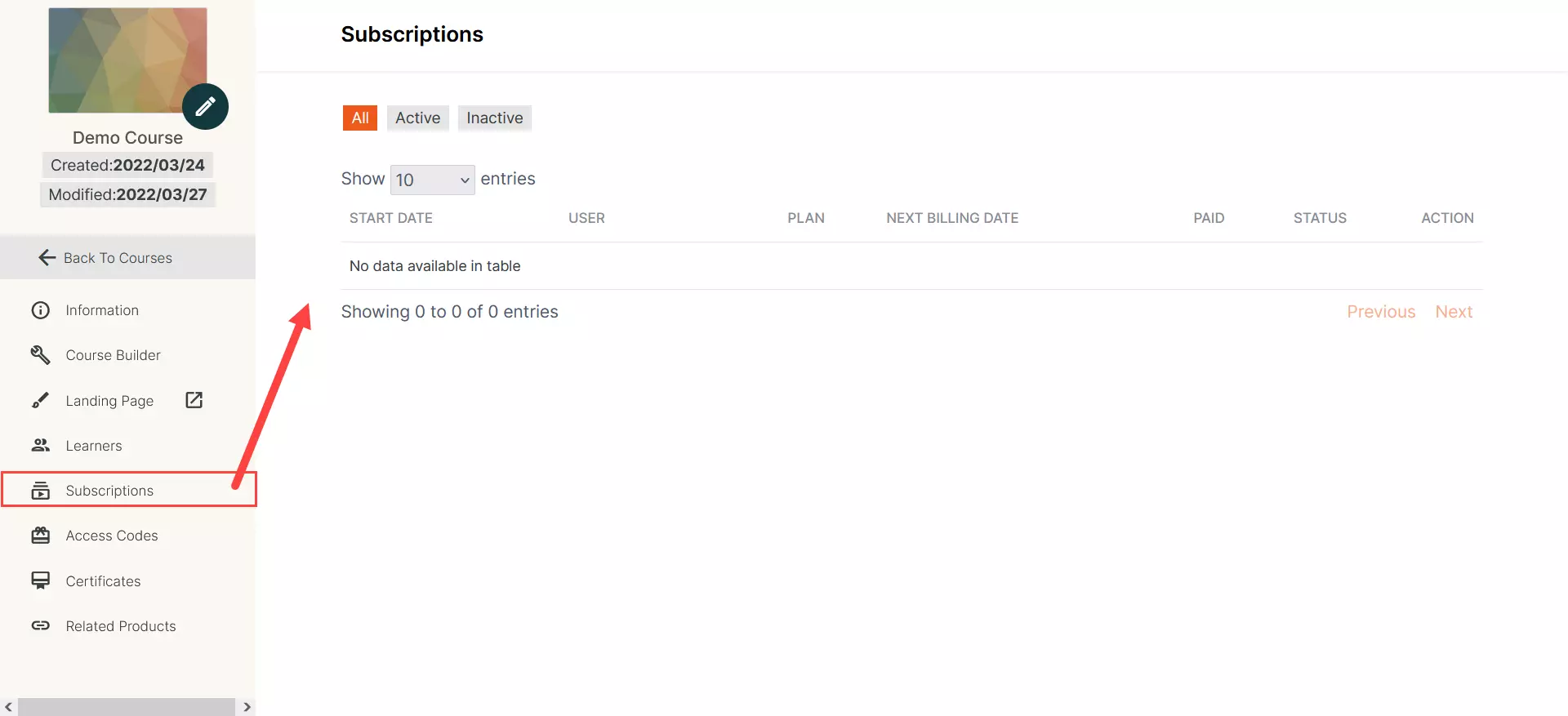 The "Access Codes" section will enable you to add and track the access codes you offer to your learners. You can give away access codes when promoting your course on social media.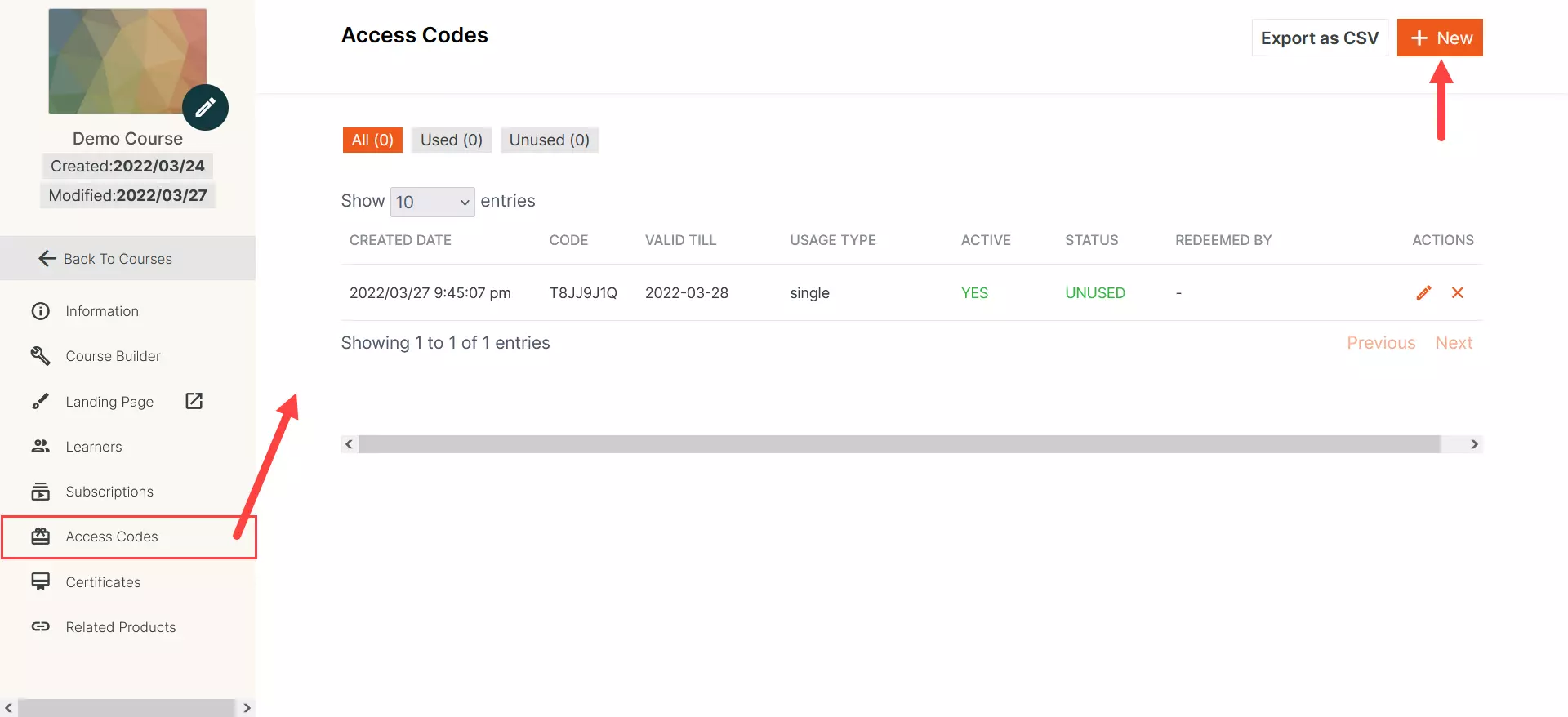 Toggling on certificates in the "Certificates" section will enable you to provide your learners with certificates when they finish your course. The section features options allowing you to customize the serialization of the certificates, the issuance type, and the type of certificate you want to offer.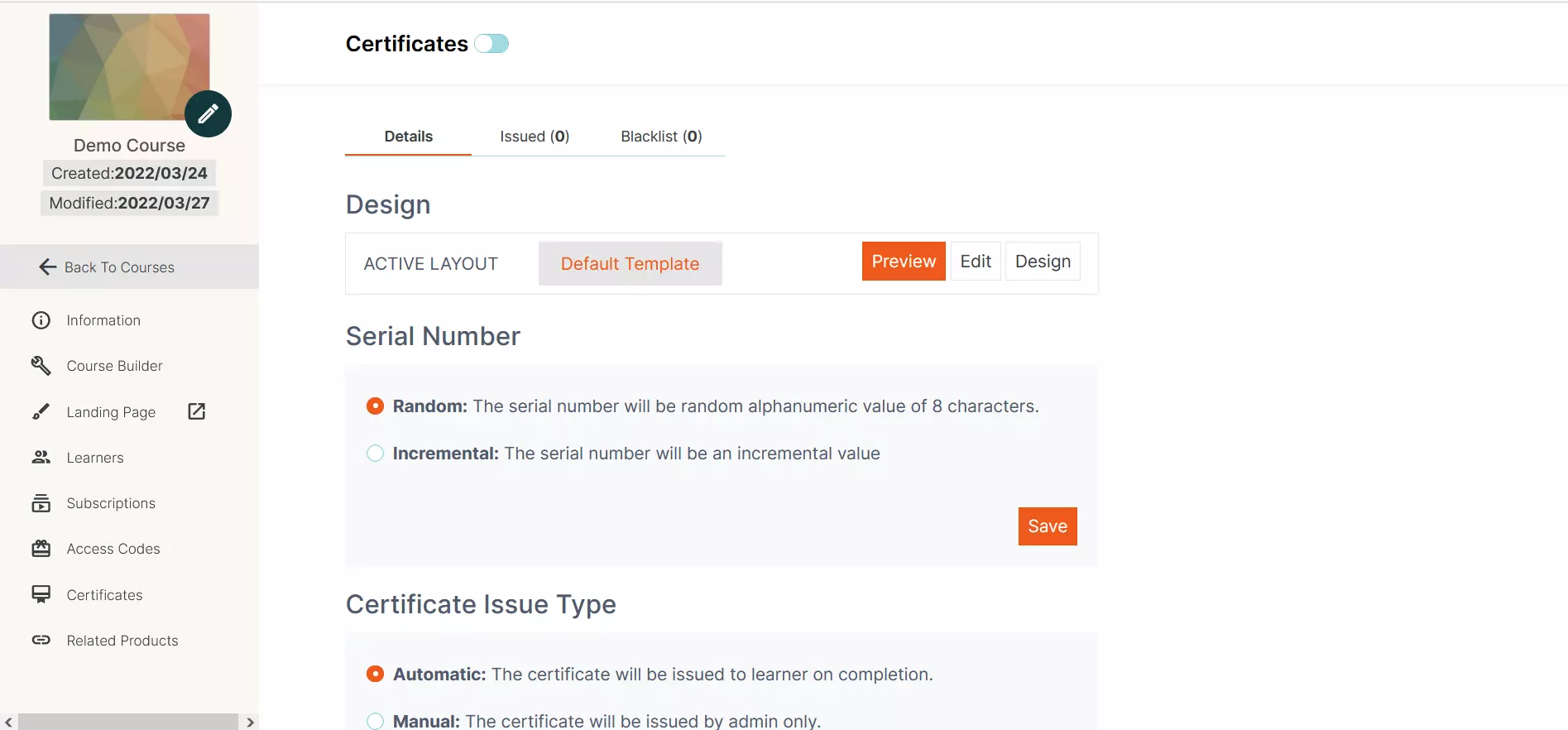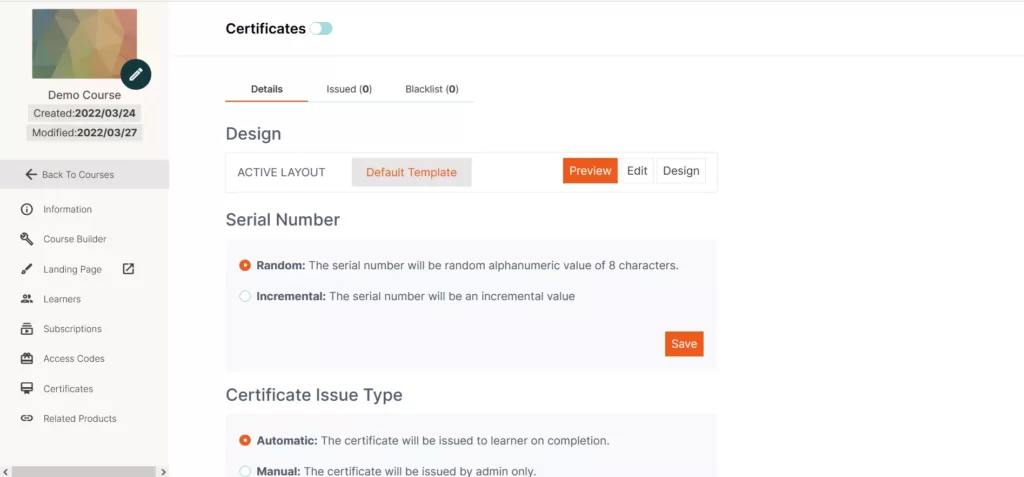 You can also check which of your students have earned their certificate and blacklist learners from getting a certificate if they haven't fully met the course's completion requirements.
Clicking the "Edit" button under the "Design" section of the "Certificates" page will navigate you to the certificate editor. The editor will allow you to change the text, add your signature, and add a background image to your certificate.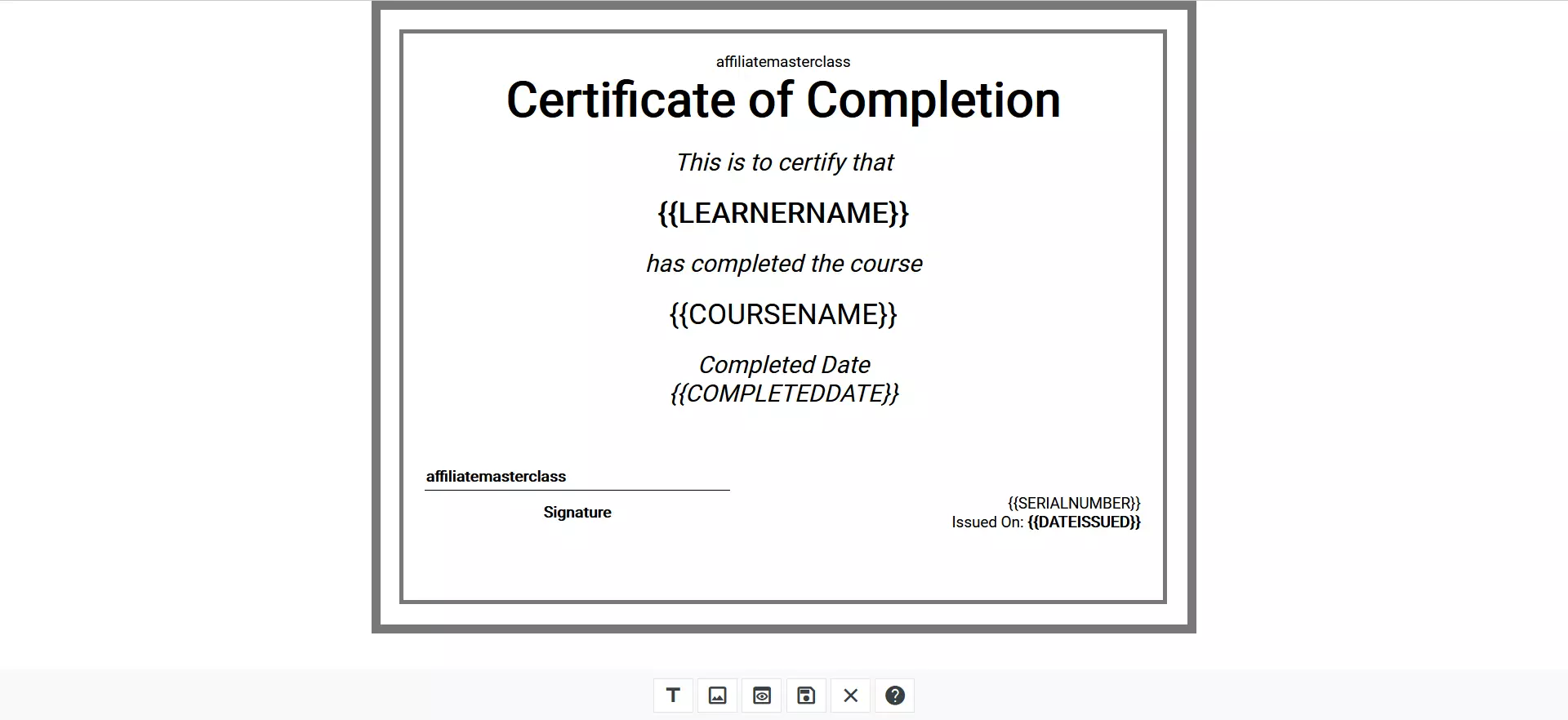 If you have some HTML knowledge, you can use the "Design" button to customize the certificate to your liking.
One of the most unique things about Graphy is that it allows you to sell products and services in addition to courses. You can add a message to show your learners on the cart page and add and remove products from the "Related Products" section.
Packages
You can bundle and offer two courses to your students by making a "Package" in Graphy. Instructors often offer packages at a discounted rate to make more profits and sell more material.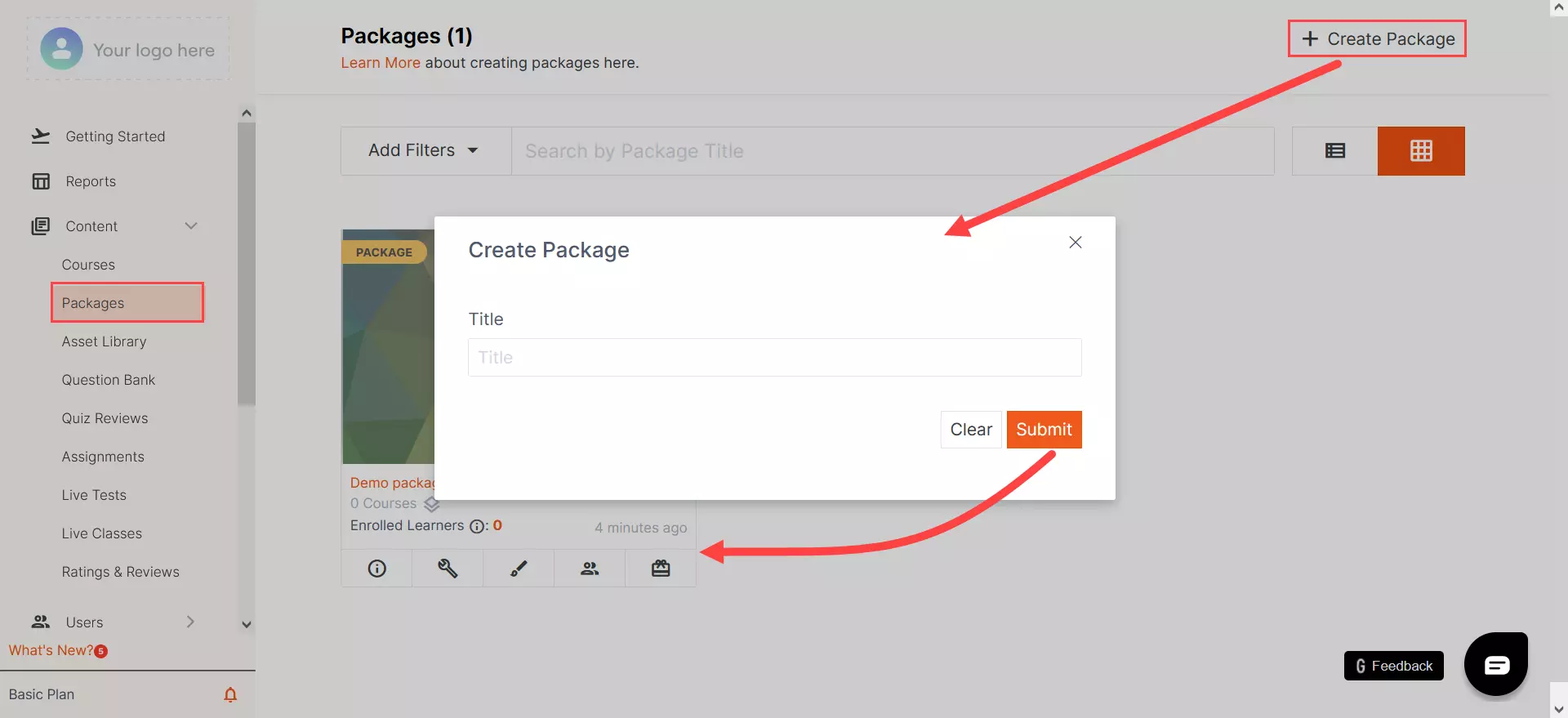 You can add and manage your packages by pressing the "Details" button underneath it.
The information section will offer you all the same controls that the information section for courses provides. You can edit the name of the course, change the pricing, design the landing pages, and take a look at the list of your learners.
One section that's different from the packages section is the "Package Builder" section. This is where you can add your published courses and design the package for your learners.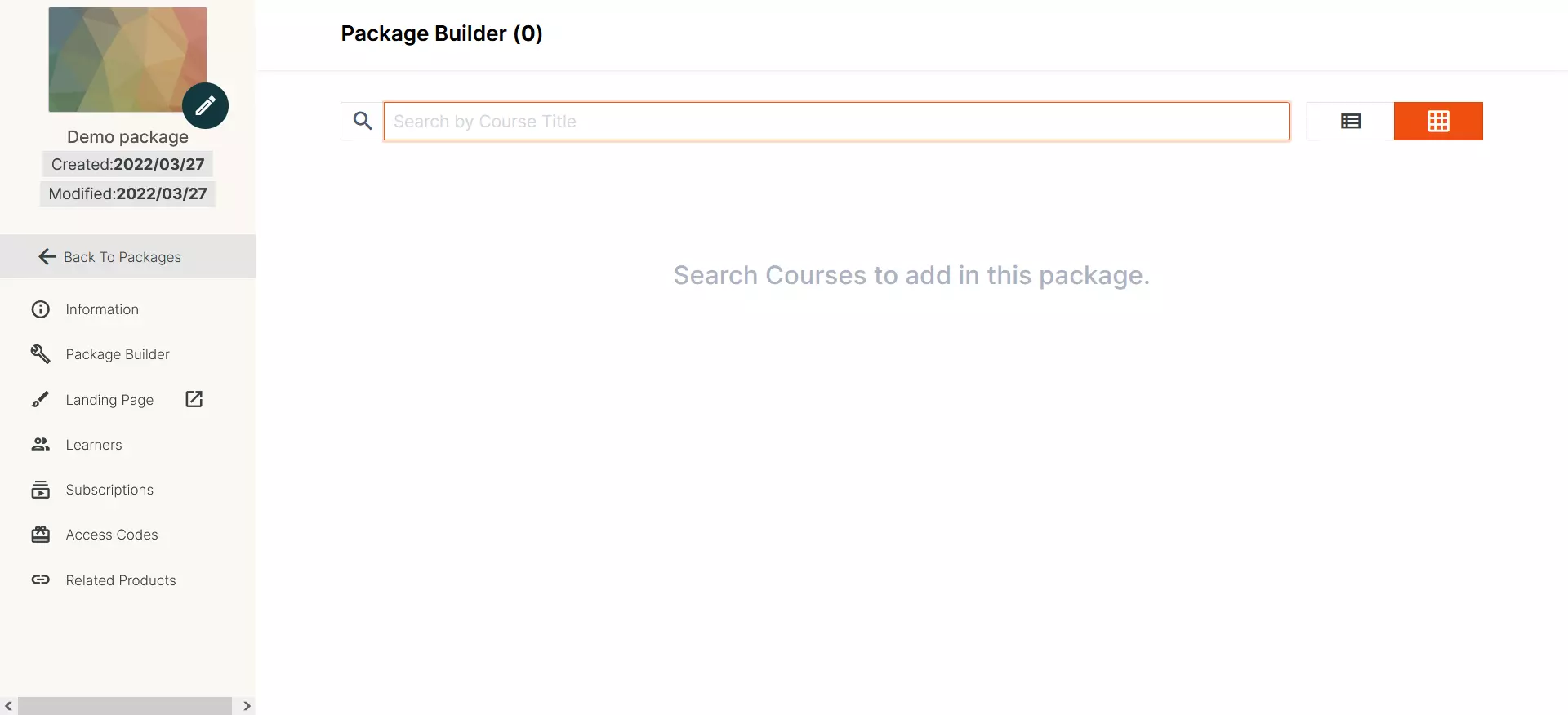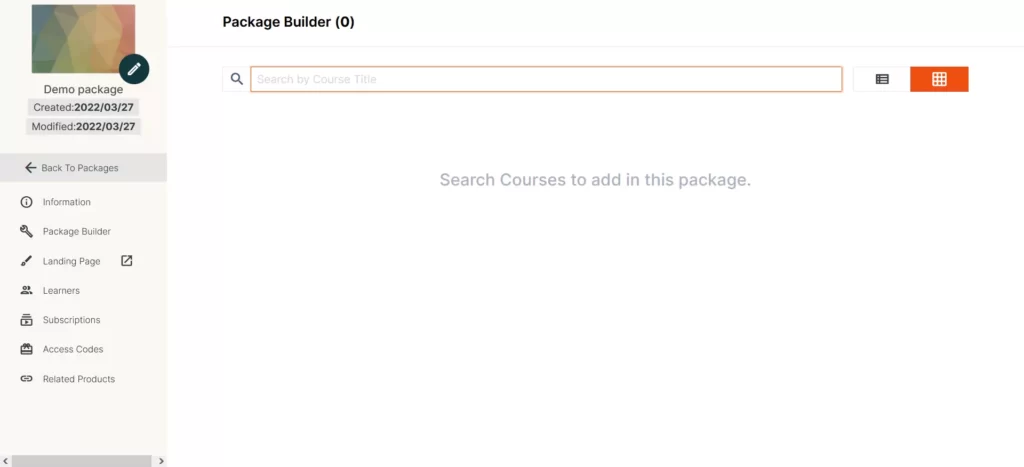 Asset Library
The "Asset Library" section under "Content" gives you access to all assets you have uploaded across courses. You can search for the asset you're looking for by name or use the many filters provided to find the asset you're looking for.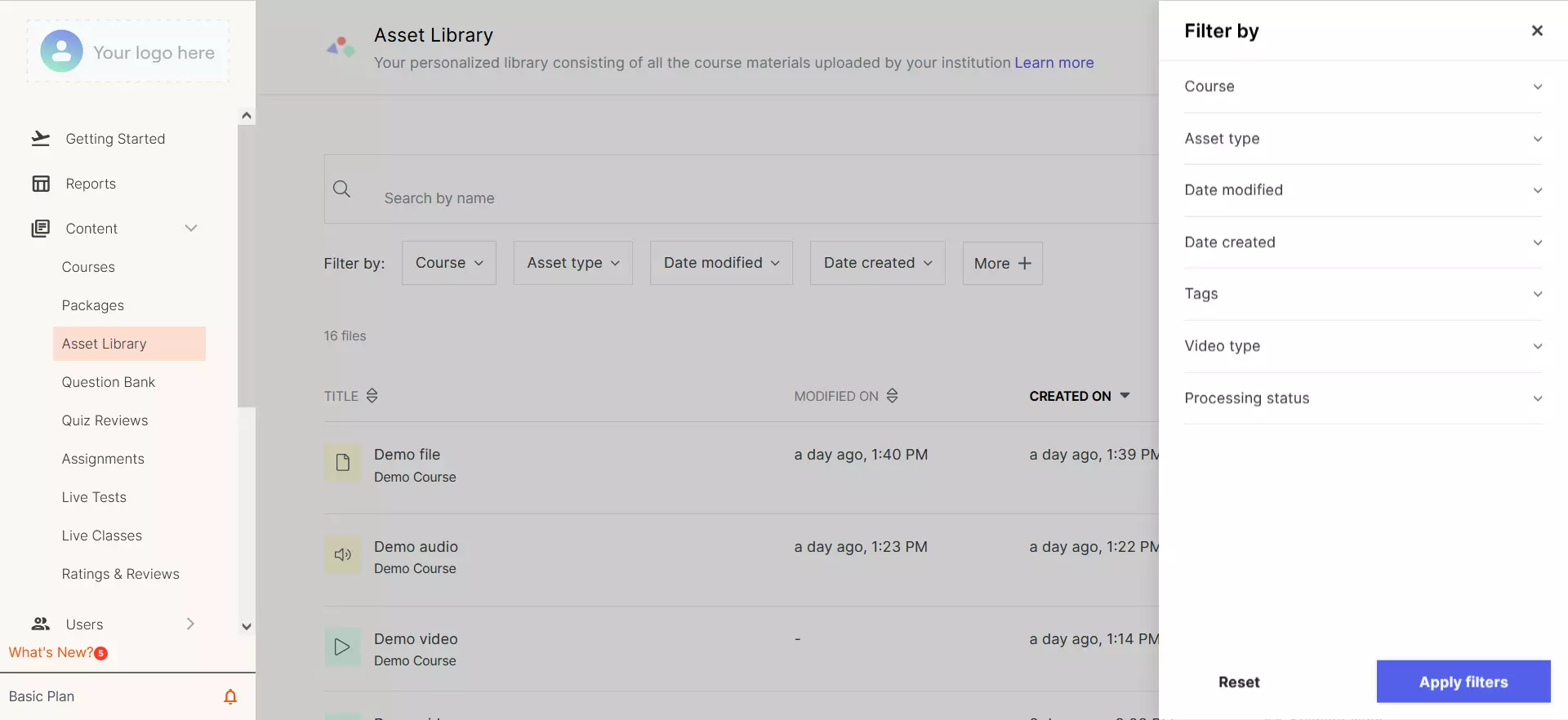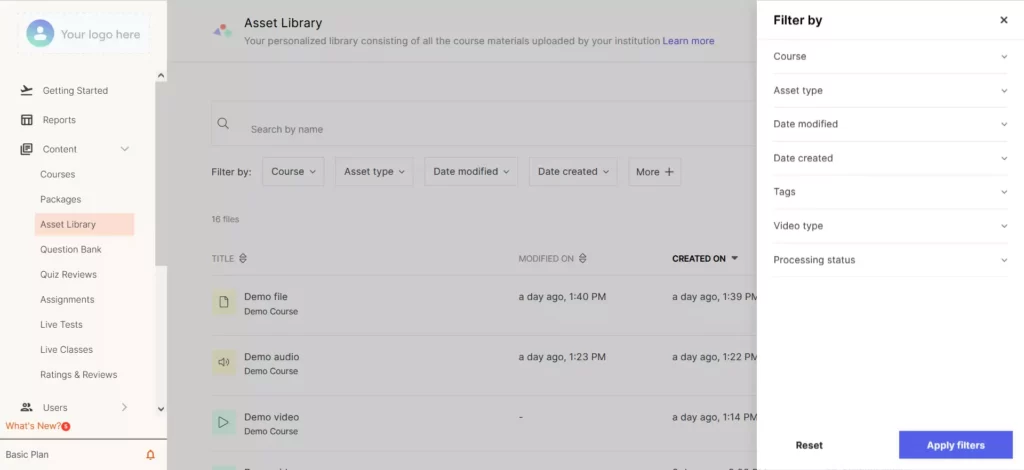 After you find the asset you're looking for, clicking on it will allow you to see the details of the asset. Graphy also makes it easy for you to edit the asset – clicking on the "Edit" button will navigate you to its settings. You can also download the asset by clicking "Download."
Question Bank
The "Question Bank" section under "Content" allows you to search through the questions' you have added across courses. The section also enables you to upload questions in the .docx, .html, and .xls format. You can also add questions by clicking the "New Question" button on the top right.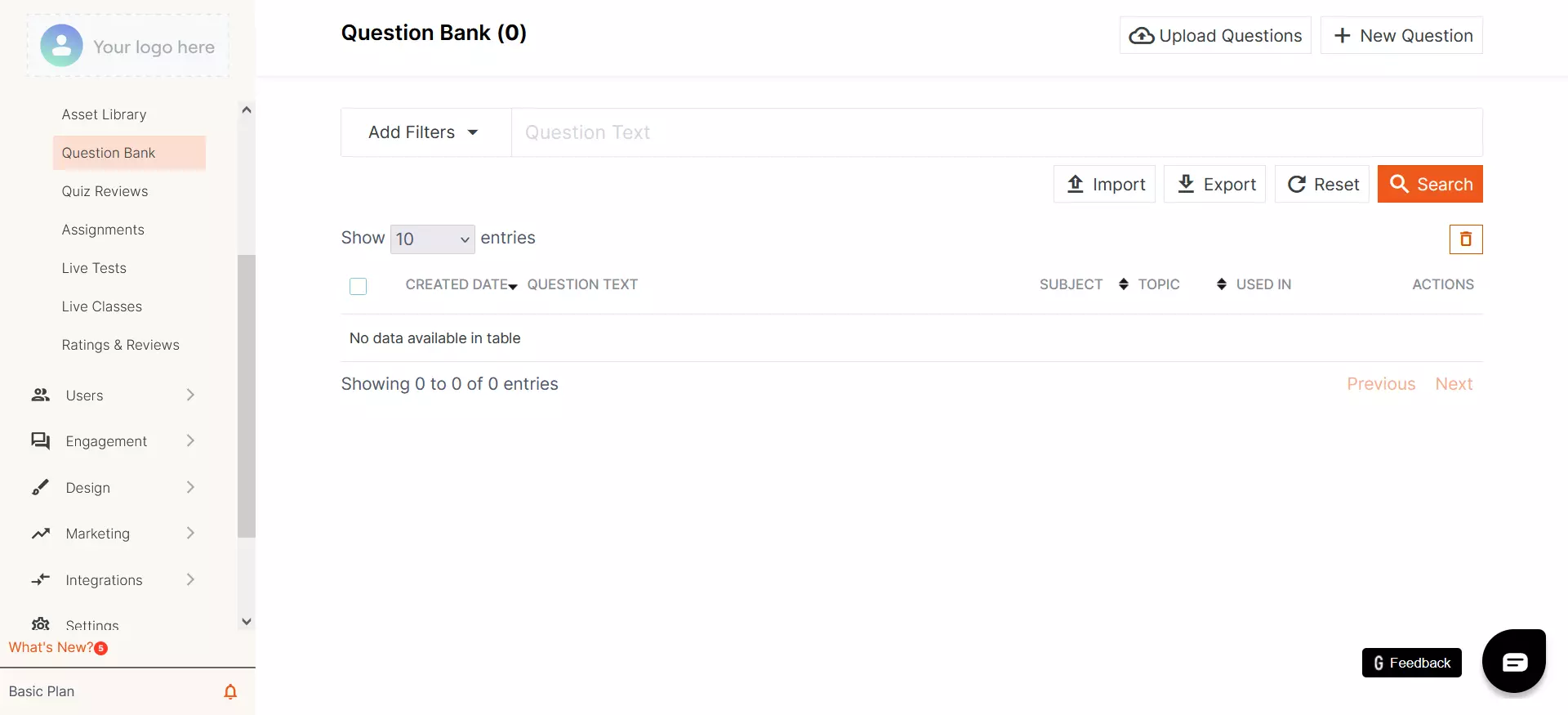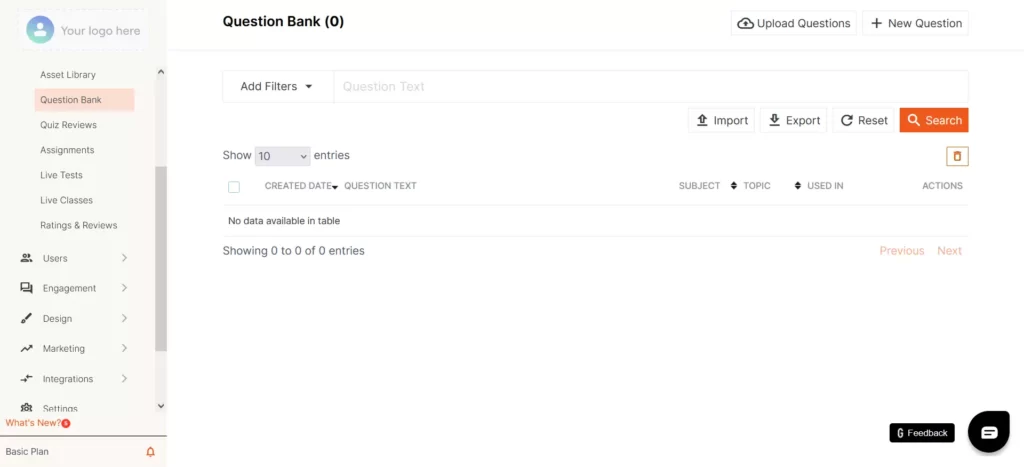 Searching through questions is easy with the text field and search button, and you can also mark and delete questions in bulk. Importing and exporting options make managing the material you've provided to your students easier.
Quiz Reviews
Also present under "Content," like the Question Bank section, this section allows you to review the quizzes you've provided your students.
You can review your students' answers by clicking on the "Review" button in the "Actions" section.
You can then go through your student's answers and mark them accordingly.
Assignments
The "Assignments" section enables you to go through the assignments your students have submitted. You can search through the assignments using the search box. Graphy will show how many assignments are available for review, how many you've reviewed, and how many you've rejected.
Clicking on an assignment will navigate you to the "Assignment Submissions Manager." You will see all the details of the assignment and also all of the students' information here.

Live Tests
Live tests are available for a fixed time window and allow you to test your student's abilities. You can either manually generate the results of these tests or schedule them to be generated automatically. After the results are declared, your students will see the leadership board.
The "Live Tests" section under the "Content" section gives you access to all the live tests you have created. You can search through them and click on the "Results" icon under "Actions" to see the details about the test.
You will see the list of all the students who attempted the test and information such as the marks obtained, the number of questions attempted correctly and skipped questions.
The Leaderboard will show you the rankings of your students, and you can find your students' data in the "Submitted Attempts" and "Unsubmitted Attempts" sections.
Clicking the "Generate Results" button will instantly generate the results for all of your students. They will receive their results in their email and will also be able to see them in their Graphy account.
Use coupon KULWANT20 to grab a 20% discount on annual plan.
Live Classes
The Live Classes section gives you access to all of your previously conducted and scheduled live classes. From this section, you can find the live classes you have scheduled for later and click on the "Launch" button under "Actions" to go live and begin teaching.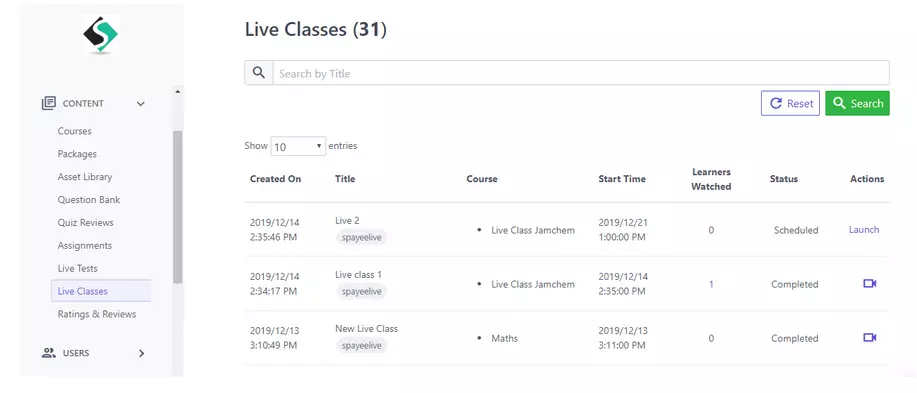 Ratings & Reviews
This section allows you to see all the reviews your customers have left you. Graphy does not show any reviews on your course unless you approve them from this section. This allows you to keep fake reviews off your course.
With this section, you can approve or reject posts and even mark them as "featured" if the review was particularly accurate. Graphy also allows you to disable ratings and reviews from your courses completely.
User Management Features
All of Graphy's user management features are available under the "Users" tab. You can go through your list of learners and add more learners to your courses manually from the "Learners" section. The section also allows you to import learner data with .xls and .csv files.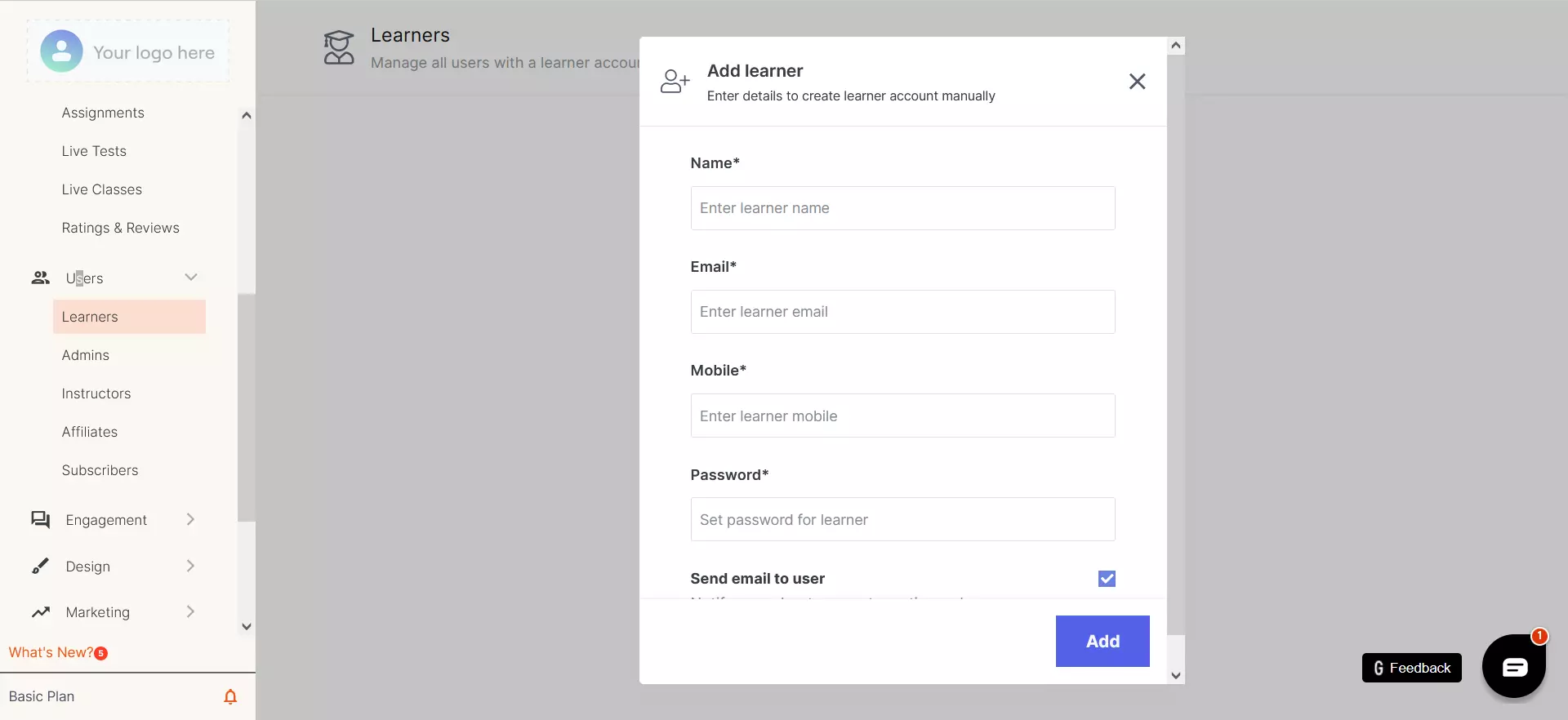 The "Admins" section allows you to add super and sub-admins to your Graphy account. A super admin has access to all the settings of your Graphy account. On the other hand, you can manually authorize the areas that a sub-admin has access to.
You can also search through the list of your admins with ease.
The "Instructors" section allows you to add and manage your instructors. To add an instructor, you must enter their name, email address and set a password for them.
You can then set the permissions for the instructor and limit how much of your Graphy account they can access.
One of the features that most impressed us with Graphy is the Affiliates section under "Users." You can work with affiliates to help you sell your course and pay them a commission for every sale they drive.
The "Add Affiliate" button will enable you to assign affiliates, set commission rates, grant them access to specific courses you want them to market, and more.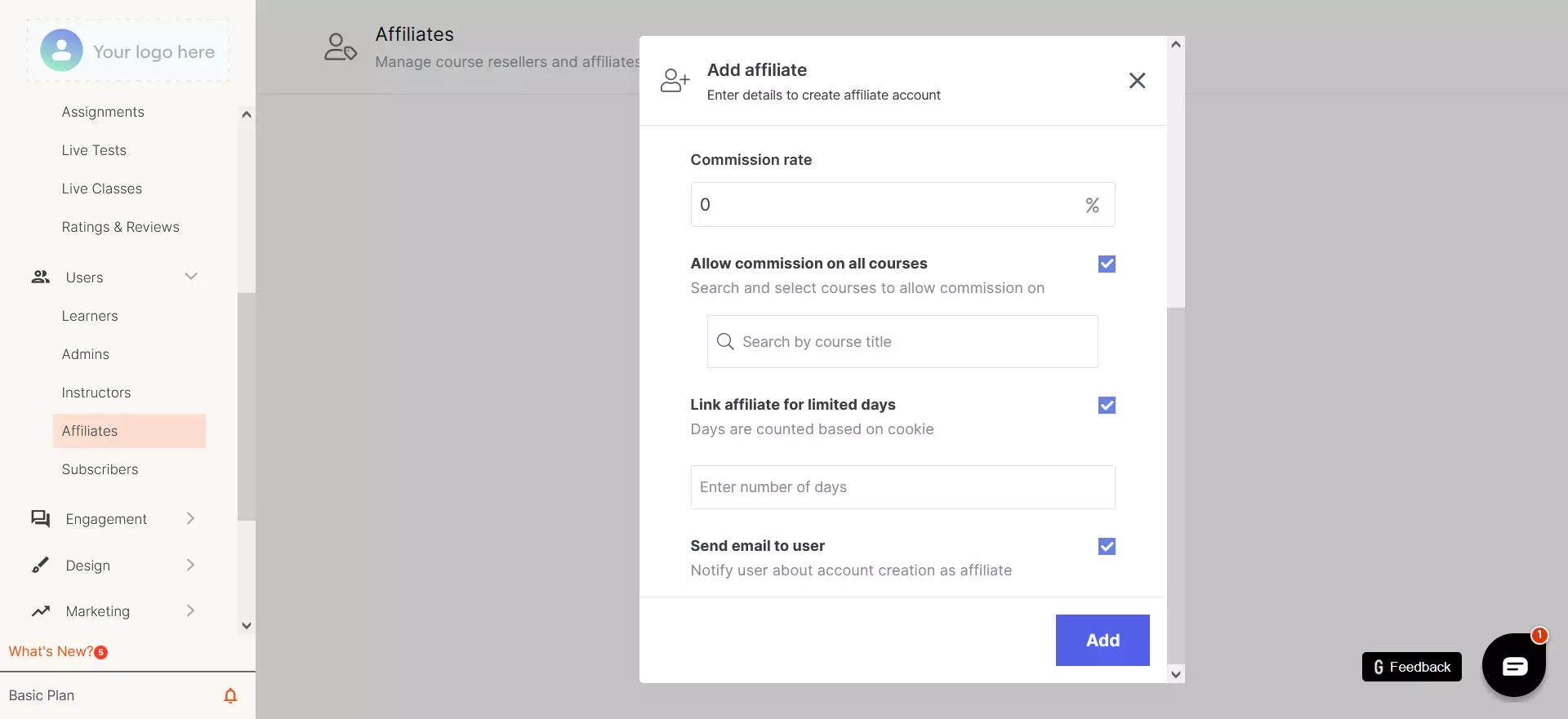 The "Subscribers" section gives you access to all the users that have left you their emails from the forms you've integrated into your courses and landing pages.
You can export this data and create a mailing list for marketing with the data.
Engagement Features
You can find a "Public Forum" section under "Engagement." The public forum is open to anybody that joins Graphy. The posts you make here are visible to everybody, whether they're your learners or not.
Instructors can disable their public forum if they don't want to use it, but there are many benefits to using it. Your posts can start discussions and make you look like more of an authority figure on the platform.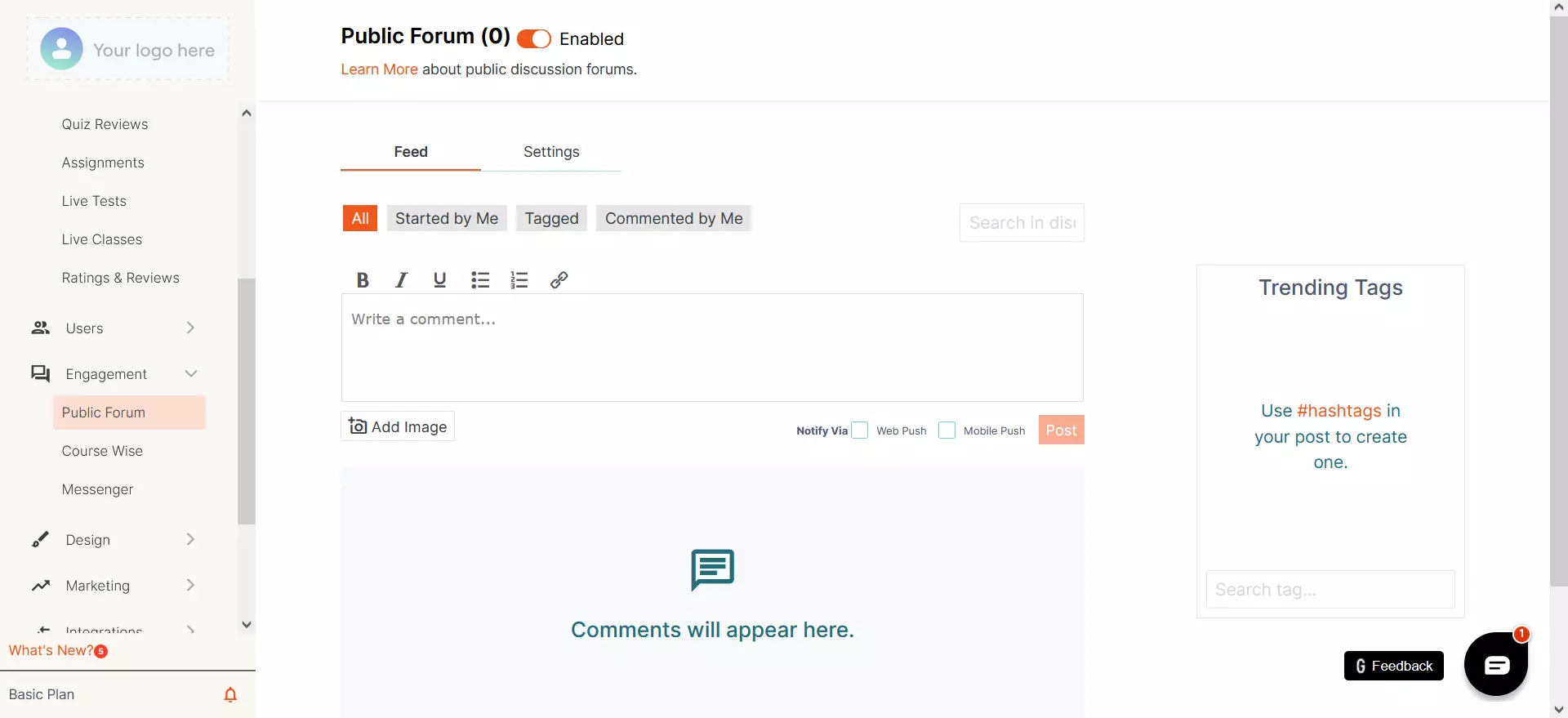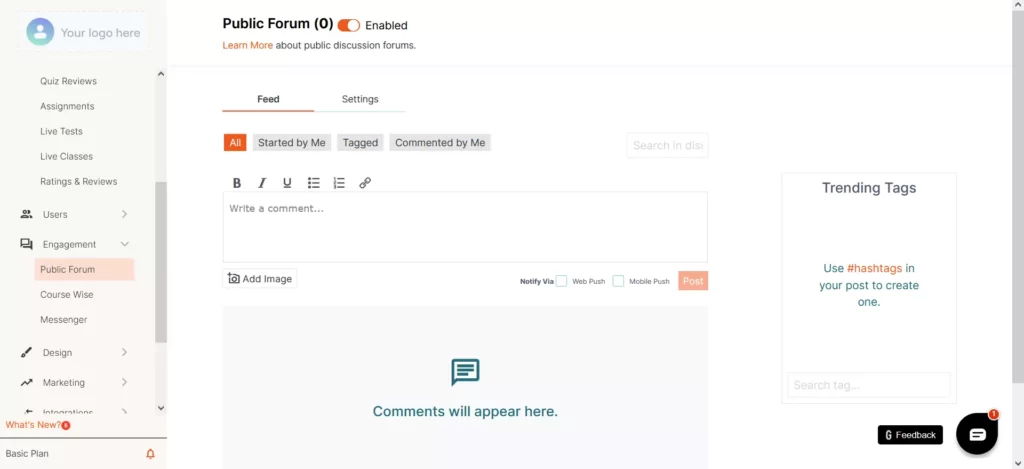 The post editor gives you a lot of flexibility with how you can design your posts. Furthermore, you can add hashtags to your posts to allow your visitors to continue the discussion at any point in the future.
The "Course Wise" and "Messenger" sections available under Engagement allow you to communicate with those enrolled in your course and individual students or groups of students, respectively.
Design Features
Graphy makes it easy for you to customize how your webpage looks on the Graphy platform. You can choose a theme, customize the URLs of your pages, change the look and feel of the pages, add keywords to your pages for improved ranking on search engines, and more. Adding custom scripts is also easy with the options available under the "Website" section.
The "Page Builder" section gives you the ability to add custom pages to your Graphy website. Adding a page is as simple as clicking the "New Page" button on the top right and setting up the URL.
The "Mobile Apps" section gives you control over what your visitors will be able to see on your profile when they visit it from their phones. You can control whether your visitors see blogs, landing screens, the about us section, and more.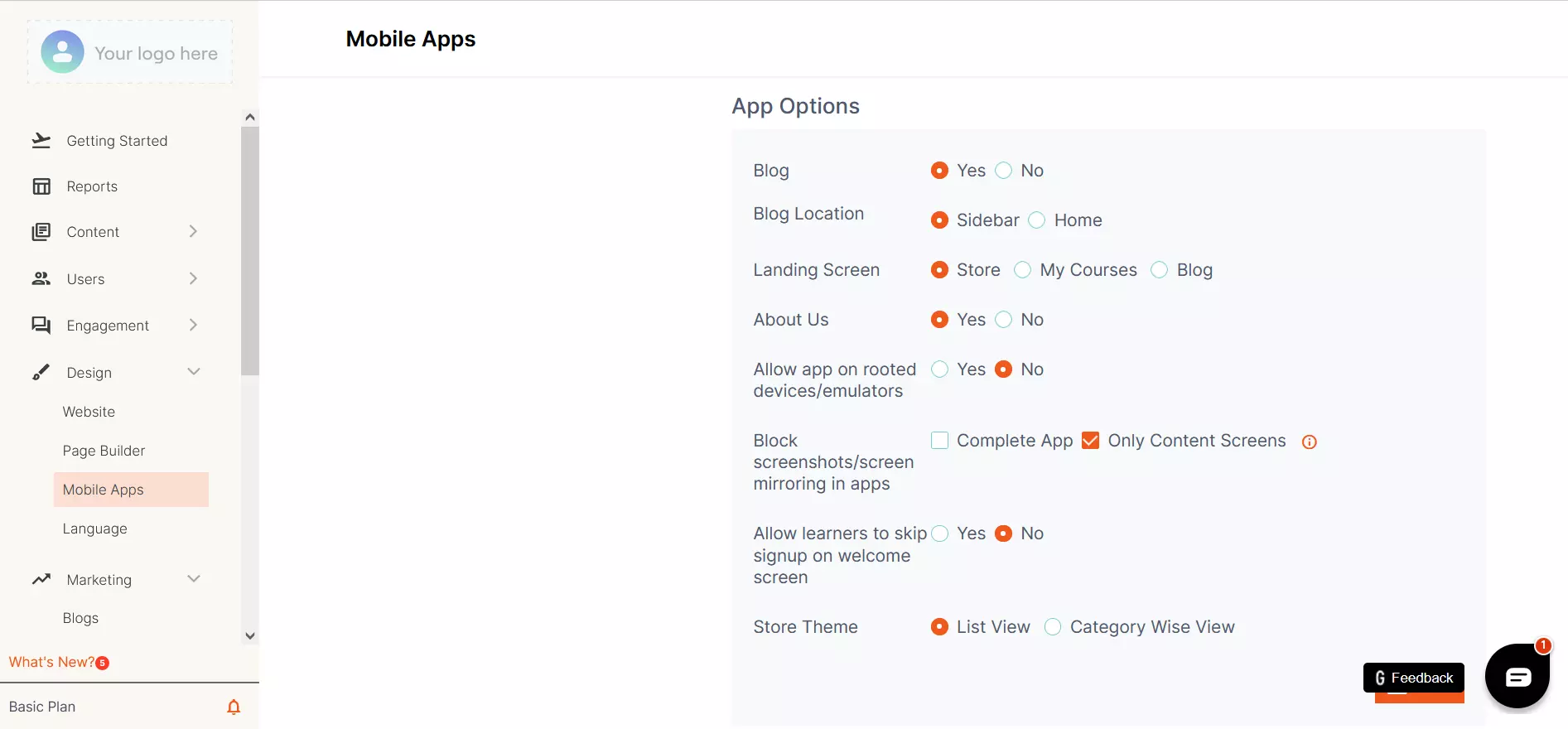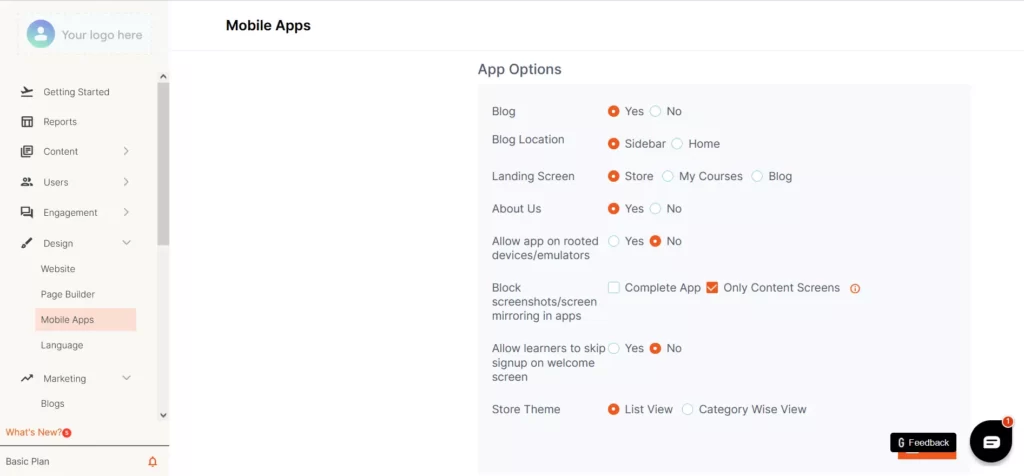 The "Language" section allows you to set up your page's default language and add text in other languages on your pages. This function is in beta at the time of writing and is only available for websites. It will later be added to the mobile apps.
Marketing Features
Graphy allows you to do everything from adding blogs to promo codes for your courses from the "Marketing" tab.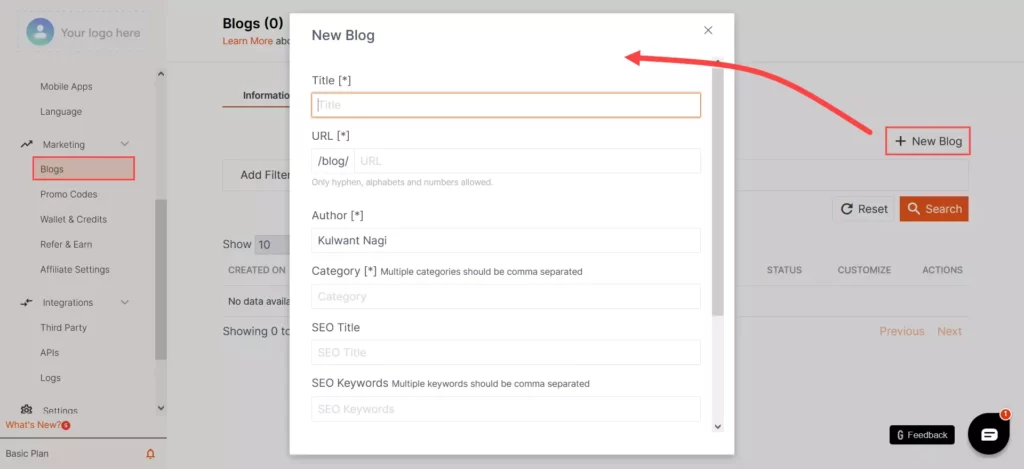 The "Wallets and Credits" section gives you the ability to convert the money your learners pay into "credits" or "coins." You can make it so that your learners earn credits (think cash back) on the courses they buy.
Your learners can then use the credits they have to pay for other courses that you make.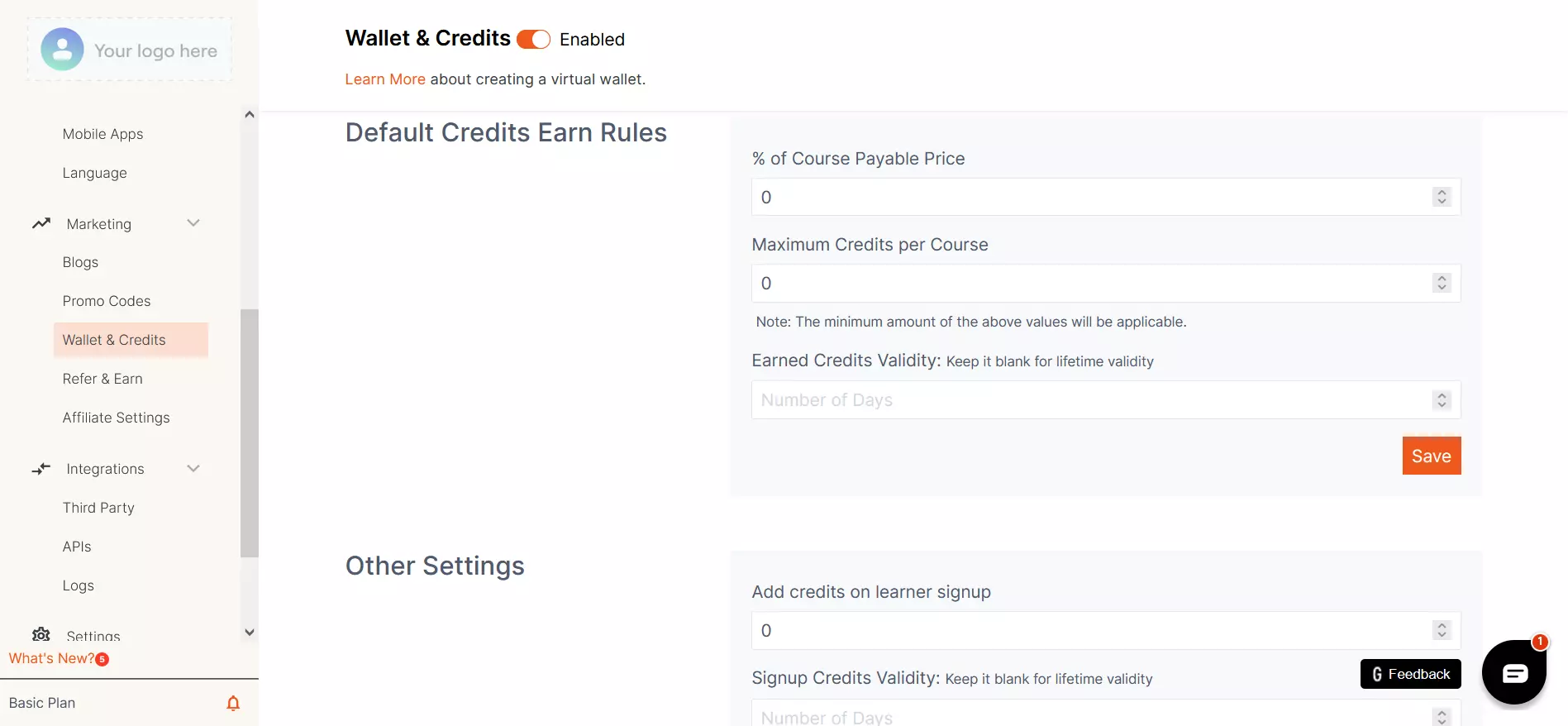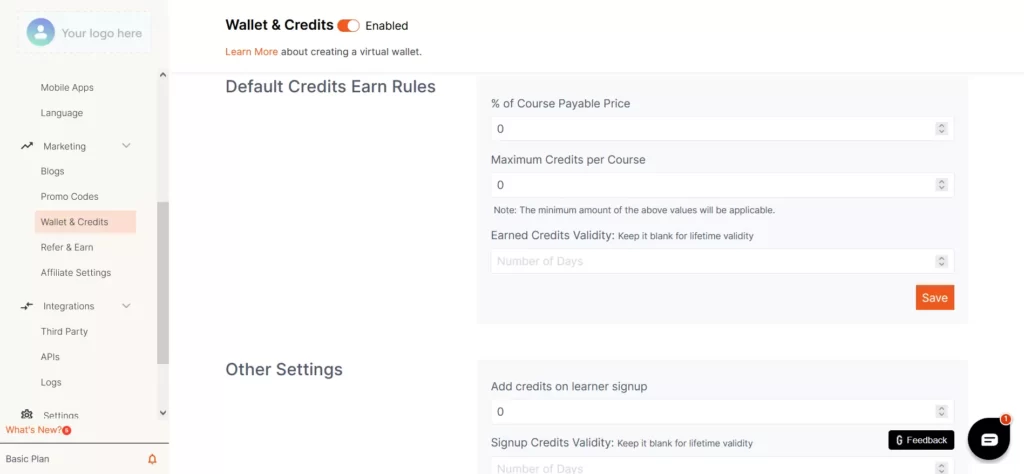 The "Refer and Earn" and "Affiliate Settings" sections allow you further control over how much your affiliates and customers can earn by helping you sell more courses.
Integrations
Graphy integrates with everything from Google Analytics and Zapier to Mailchimp and WhatsApp. You need to add the appropriate ID or API key under the "Integrations" section.
Reports
The Reports section will give you all the details you need at a quick glance. It shows everything from the total revenue to transactions and learning time. It also tracks the bandwidth and usage for you, which we found quite impressive.
Pricing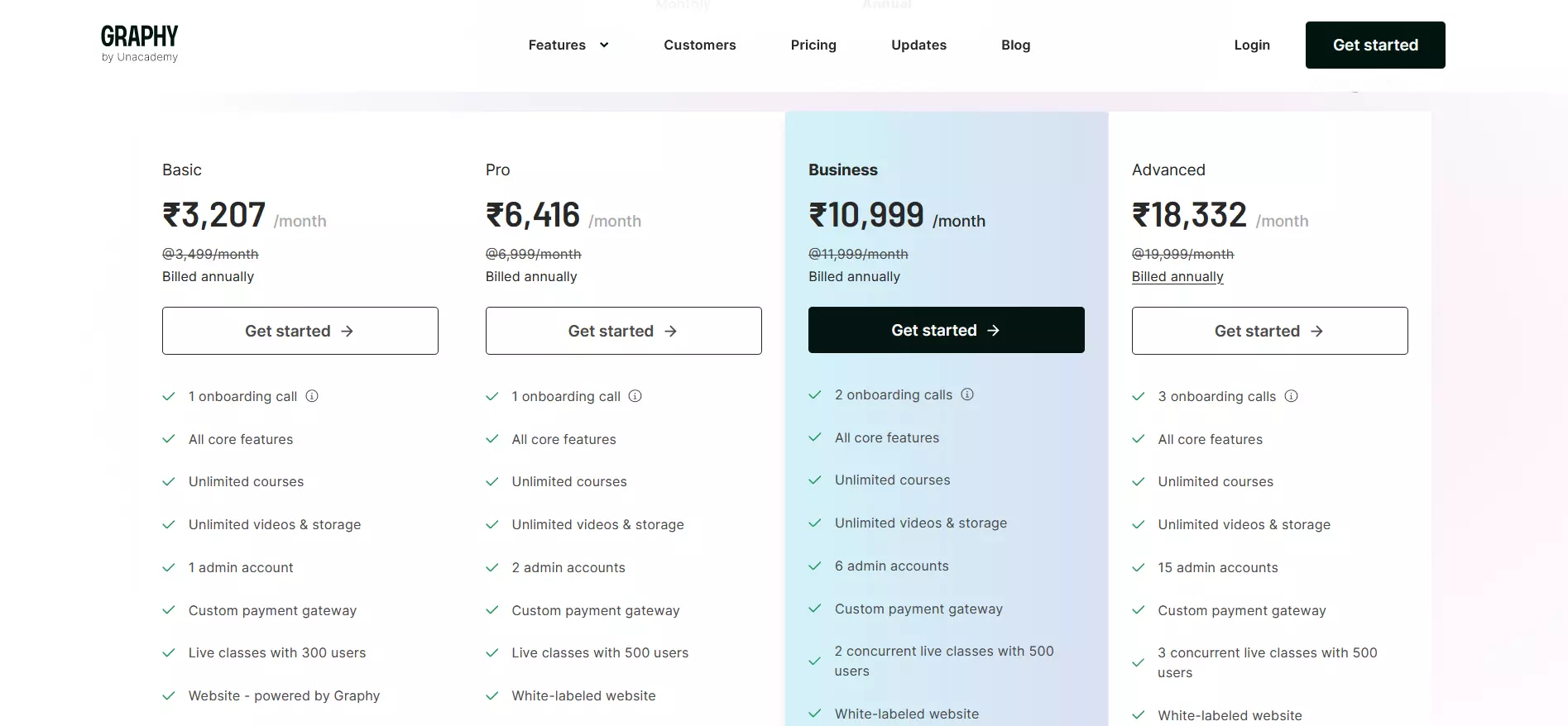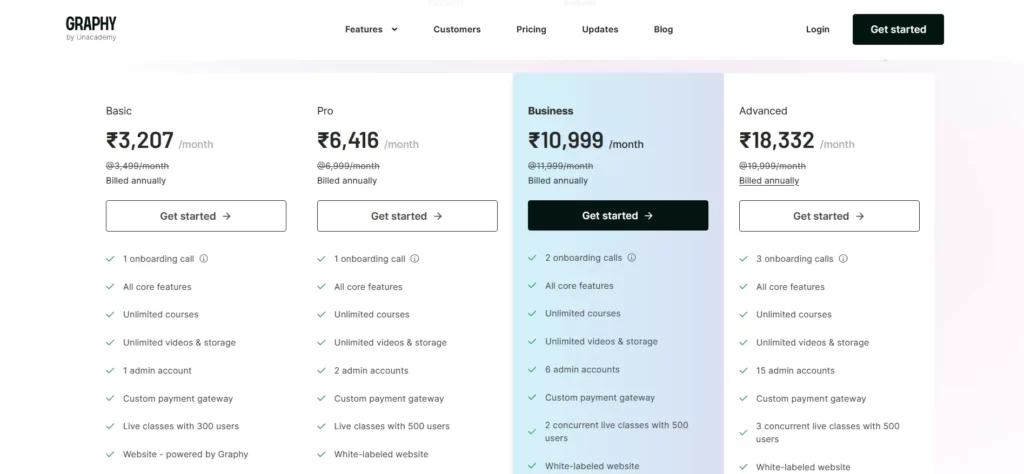 Graphy's plans have wide gaps between them, but the more expensive plans also offer more features that an instructor would need at a higher level of earning.
The limits to live classes, number of learners, and admin accounts are set fairly. The top-tier plans boast features such as a white-labeled app, SSO, and API integrations.
Use coupon KULWANT20 to grab a 20% discount on annual plan.
Conclusion: Is Graphy Better than Teachable?
While Graphy does not have a free plan, the offered plans are cheaper than Teachable.
Furthermore, Graphy provides many different ways for you to communicate with your students, including personal messaging.
Teachable will charge you a 5% fee on every transaction, but you won't need to pay any such fees with Graphy. With a larger spread of features, more affordable plans, and no extra costs, Graphy is undoubtedly the better pick.
Check this: 10 Best Online Course Platforms
Use coupon KULWANT20 to grab a 20% discount on annual plan.