Disclosure: Some of the links in this article may be affiliate links, which can provide compensation to me at no cost to you if you decide to purchase a paid plan. We review these products after doing a lot of research, we check all features and recommend the best products only.
Seeing the latest online learning shift, everyone is becoming a trainer and launching their courses and training online.
Everyone wants to start their career with the best platform and is interested to know about the best online course platforms.
With advancing technologies there are a lot of positive changes you observe around in terms of business, advertising, marketing and even learning.
Anyone sitting in a bedroom in India with a smart electronic device can access information or gain knowledge from a teacher coaching in London through online courses and projects.
It is now possible to reach the farthest corners of the world with the help of telecommunication and machine learning.
The changing role of education and knowledge with enhanced tech devices has given a breakthrough to online teaching and coaching with interactive projects and new ideations with online courses.
Creating and sharing knowledge bases around the world for cultural, scientific and even artistic topics has never been this easy for teachers and professors from any part of the world.
But is it that easy to create and manage an online course? Yes, and we are here to show you how!
Online courses can be easily created and featured through Online Course Platforms which is a Learning Management System (LMS) that helps in providing the access to digital classes where the user can create educational and knowledgeable content with video and audio, text, images, presentations, PDFs and other interactive projects.
Types of Online Course Platforms
Online Course Platforms are further divided into categories of features and for the purpose, the platform is created which are as follows;
Standalone Course Platforms
Standalone course platforms refer to the creation of online courses and content for one website under your brand. These platforms don't sell or advertise any other courses and study material and the marketing and user attraction i.e. the customer traffic is also managed by the proprietor.
Under this platform, it is easy to build your own brand and grow organically without sharing any profits or sales but the drawback can be again the limitation for driving traffic to your page or website and marketing your content.
All-In-One Course Platforms
An all-in-one course platform refers to a website or platform where you can create and sell online courses while also managing the content as these course platforms also provide a content management system (CMS) and a portal for customer relationship management (CRM).
These platforms open a world of seamless workflow for the user as they can collaborate and integrate websites or tools with their customers, investors, co-founders, partners and staff with ease while maintaining consistency. However, such interfaces need de,ep learning and knowledge to navigate around.
WordPress Course Options
WordPress is a flexible forum traditionally used for creating blogs and websites but with its diversity, it now also offers a space for creating online courses with sharp plugins. This particular option for generating online courses needs more technical attention and core knowledge and hence can be a little challenging.
The options can be created from many tools and themes available on WordPress and they are promising alternatives but might not have the same interactive interface or form building as that of standalone course platforms or other platforms.
Marketplace Course Platforms
Marketplace course platforms or shared course platforms provide the services of custom content authoring, publishing and management for online courses.
The USP for these platforms is that they offer a competitive marketplace for all teachers and coaches to sell their content and courses under their niche with other courses in the same place for customer diversity.
These platforms can be highly competitive and the courses created and sold here need intense research and development which can be time-consuming. A marketplace platform model also helps in understanding your competitors' content and in return creating a unique course.
Best Online Course Platforms compared 2023
Graphy – Best platform for Indian coaches.
Kajabi – Best for Content Management System
Podia – Best Online Courses Developer
Teachable – Best Free Plan
Thinkific – Best Community Builder
Learnworlds – Best Interactive and Intuitive Learning System
Kartra – Best Affiliate Marketing System
Systeme.io – Best Sales Funnel Campaigns
Teachfloor – Best Cohort Based Course Creation
New Zenler – Best Centralized Management System
Xperiencify – Best Gamification of Courses
Our Top Picks
Unlimited hosting without any limitations to storage space.
Customizable blueprints and interactive dashboard for unified control
Drip content and one-click optimization for affiliate marketing

40+ integrations with payment gateways, sales and marketing automation, scheduling, management
Money-making sales pages with our flexible page editor and conversions pixel support

Hosts unlimited files and videos
Public or invite-only affiliate program with just a few clicks
Assessment of certification and licenses.
Provides interactive content with learners portal.
Best Online Course Platforms in 2023
Check the list of top trending online course platforms in the market below.
Graphy is the platform that allows you to host several live sessions, launch new courses, and grow your community. No matter what you are creating, a course, email subscribers list, or a website, it is yours. Not only that, but it is also a perfect place to share knowledge with others.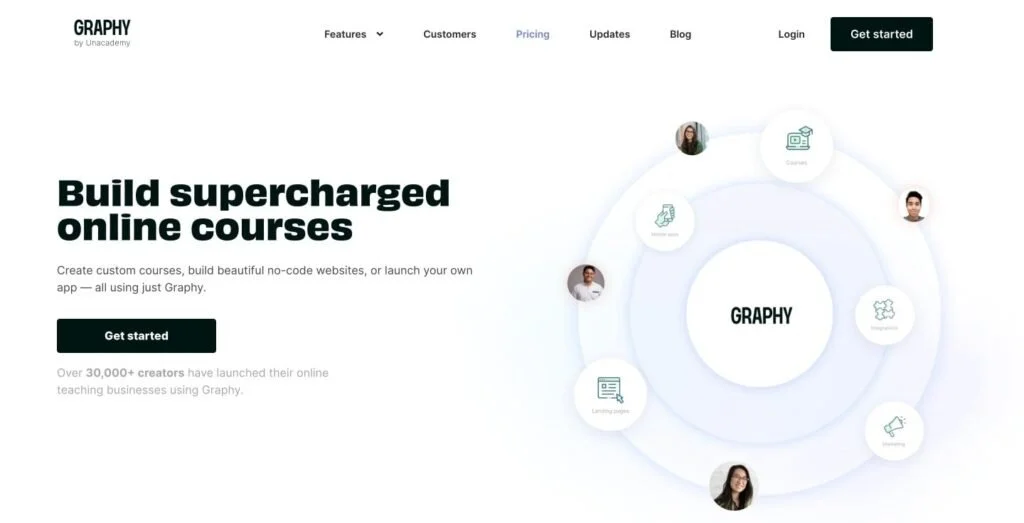 Key Features
Pros
Live teaching experience
Maximize your revenue
Unlimited audience members
24 X 7 chat support
Cons
No student attendance feature
No video hosting options
Pricing
Graphy has 4 interesting pricing plans, each with higher features and additional add-ons.
Basic: $54/month and $648 if billed annually.
Pro: $109/month and $1308 if billed annually.
Business: $182/month and $2184 if billed annually.
Advance: $320/month and $3840 if billed annually.
#2. Kajabi
Kajabi is a unified platform for creating and selling online courses while managing your content and customer relationship with advanced systems and collaborative features all under the same umbrella. Rated as one of the best online training platforms giving so many features.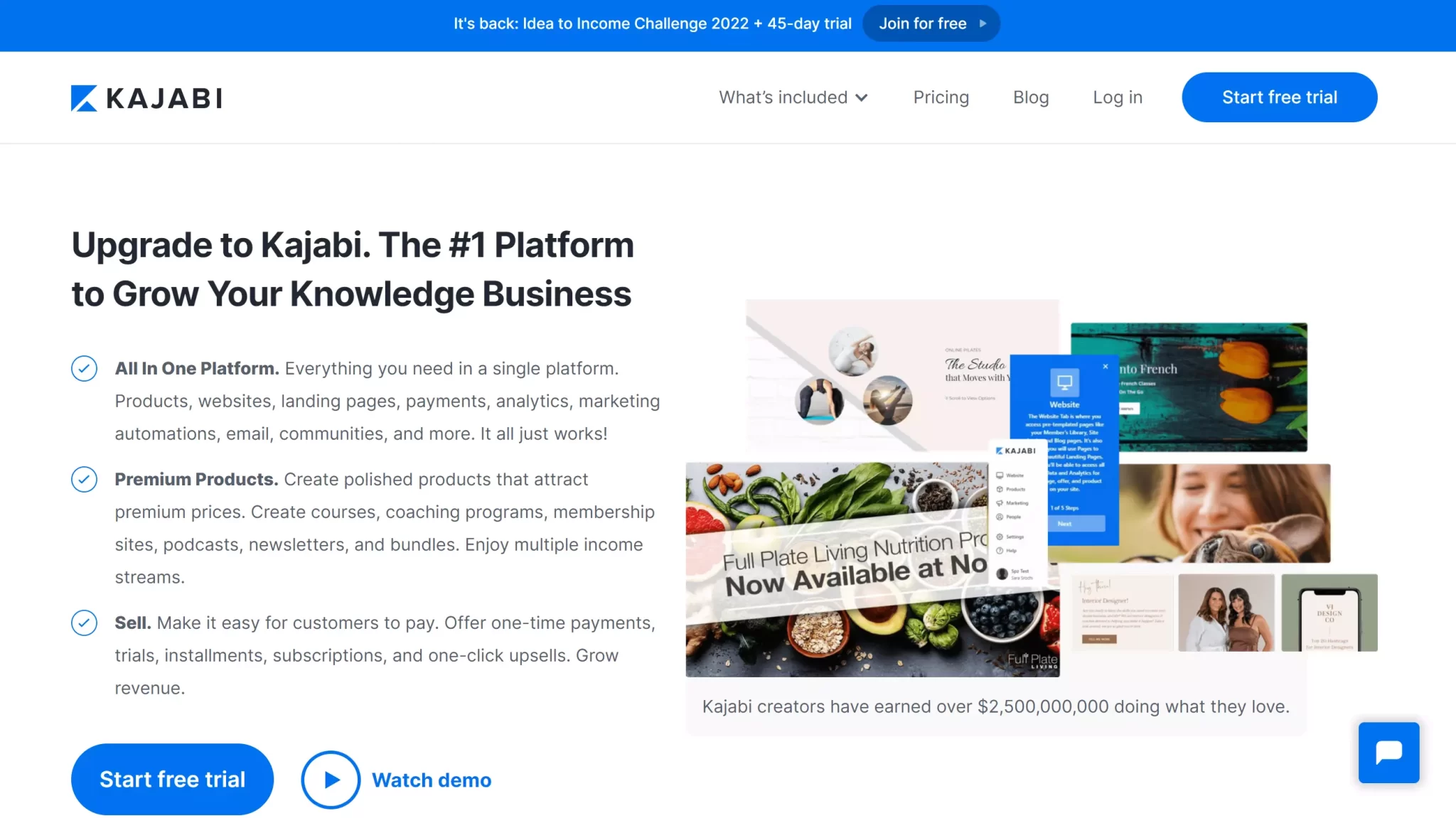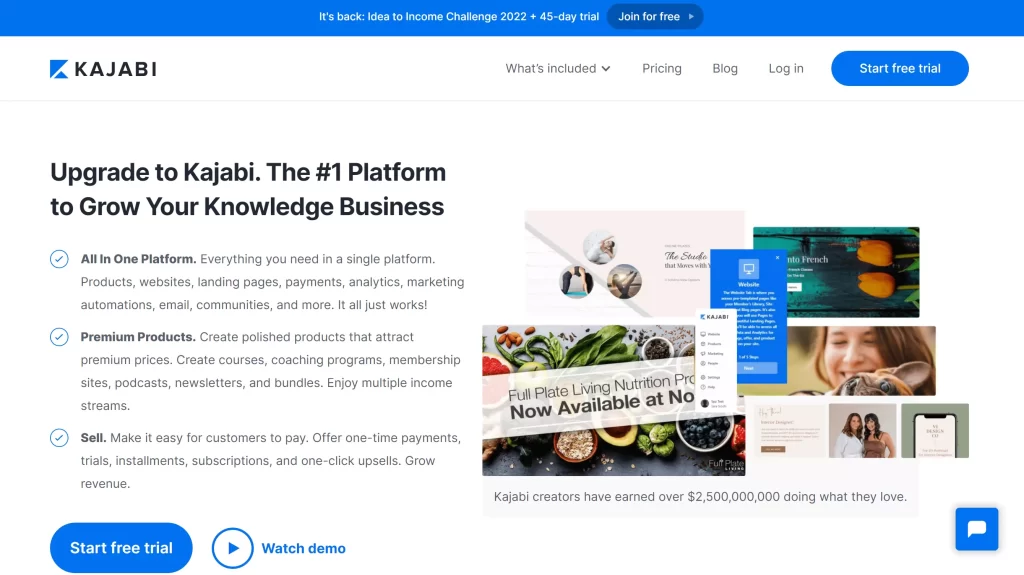 Key Features
Pros
Unlimited hosting without any limitations to storage space.
Advanced auto-scaling for fast visitor tracking and management.
Customize and embed forms for high conversion rates.
Provides drip content and course insights. 
Cons
No API Integrations
Kajabi is slightly costlier than the other platforms.
Limitations for active members with basic plans
Pricing
Kajabi offers 3 plans according to the usability of the content and number of members.
The Basic Plan: $149/month or $119/month if billed yearly for 10,000 contacts, 1 admin and 1000 active members.
The Growth Plan: $199/month or $159/month if billed yearly for 25,000 contacts, 10 admins and 10,000 active members.
The Pro Plan: $399/month or $319/month if billed yearly for 100,000 contacts, 25 admins for 3 websites and 25,000 active members.
#3. Podia
Podia is an all-in-one online learning platform for the generation of content and courses while creating a market to sell them under your own brand with a standalone courses platform and managing analytical reporting for the same all in one place.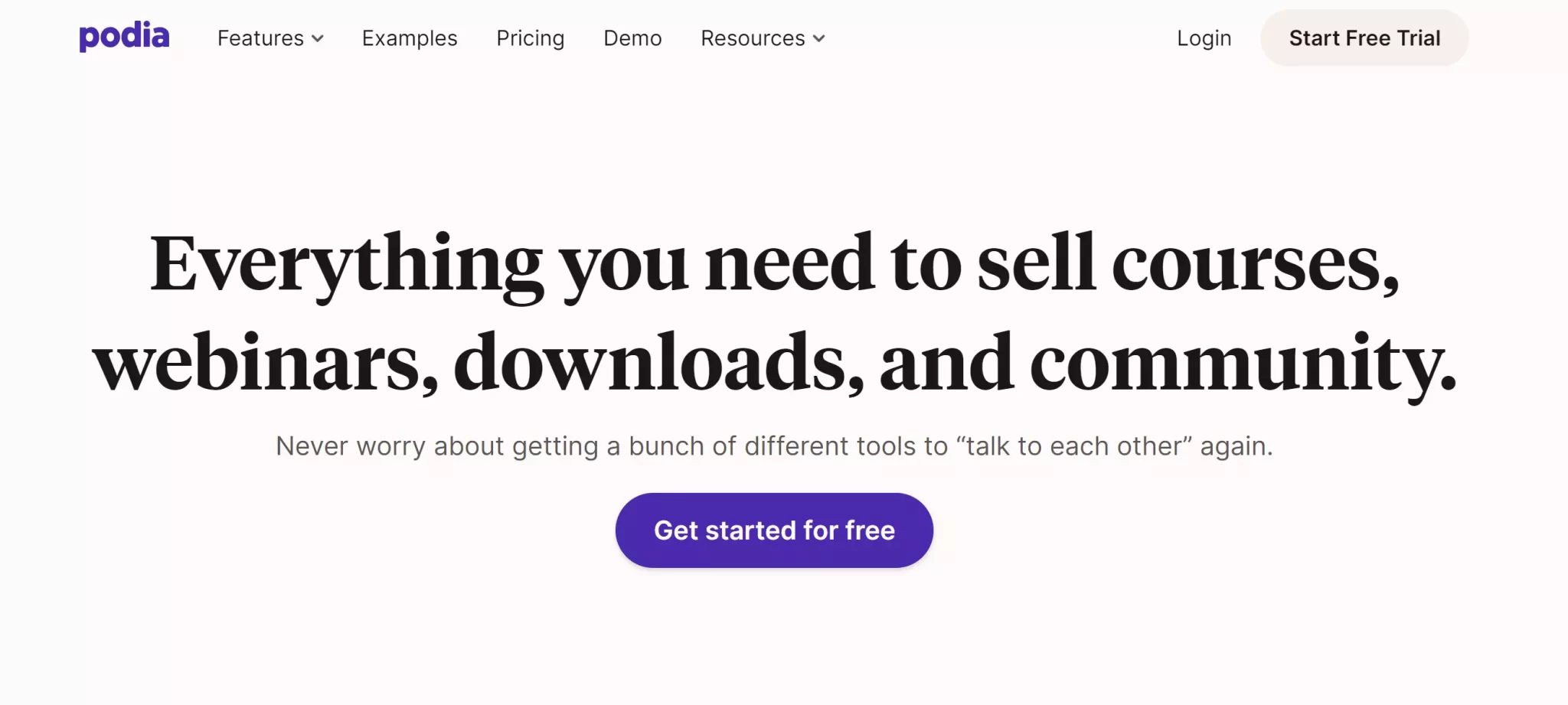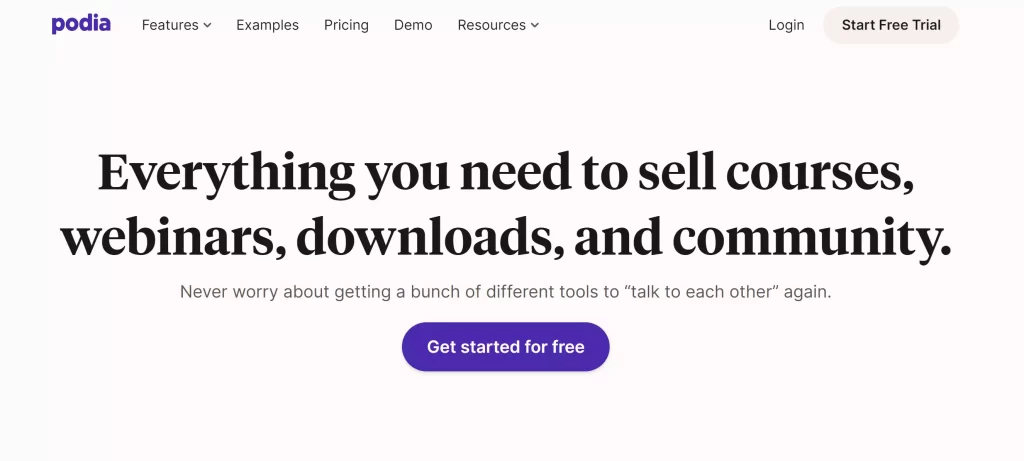 Key Features
Pros
Built-in course authoring, publishing and management.
Provides interactive content with learners portal.
Content library and user management.
Cons
Lack of collaboration tools
Limitation of multi-hosts and on-demand webinars.
Pricing
Podia offers three plans, each with added features as you progress towards the higher add-ons.
The Mover Plan: $39/month and $390 if billed annually.
The Shaker Plan: $89/month and $890 if billed annually.
The Earthquaker Plan: $199/month and $1990 if billed annually.
For the Mover and the Shaker Plan to add a teammate you need to pay $20/month and with the Earthquaker Plan, you get 5 included.
#4. Teachable
Teachable is an awesome online course platform where you'll have access to everything you could ever need to create and sell online courses and coaching—the stress-free platform makes it easy—tech skills or no tech skills.
It's one of the best online course platforms with certificate and you can generate a certificate as soon as student finishes the course.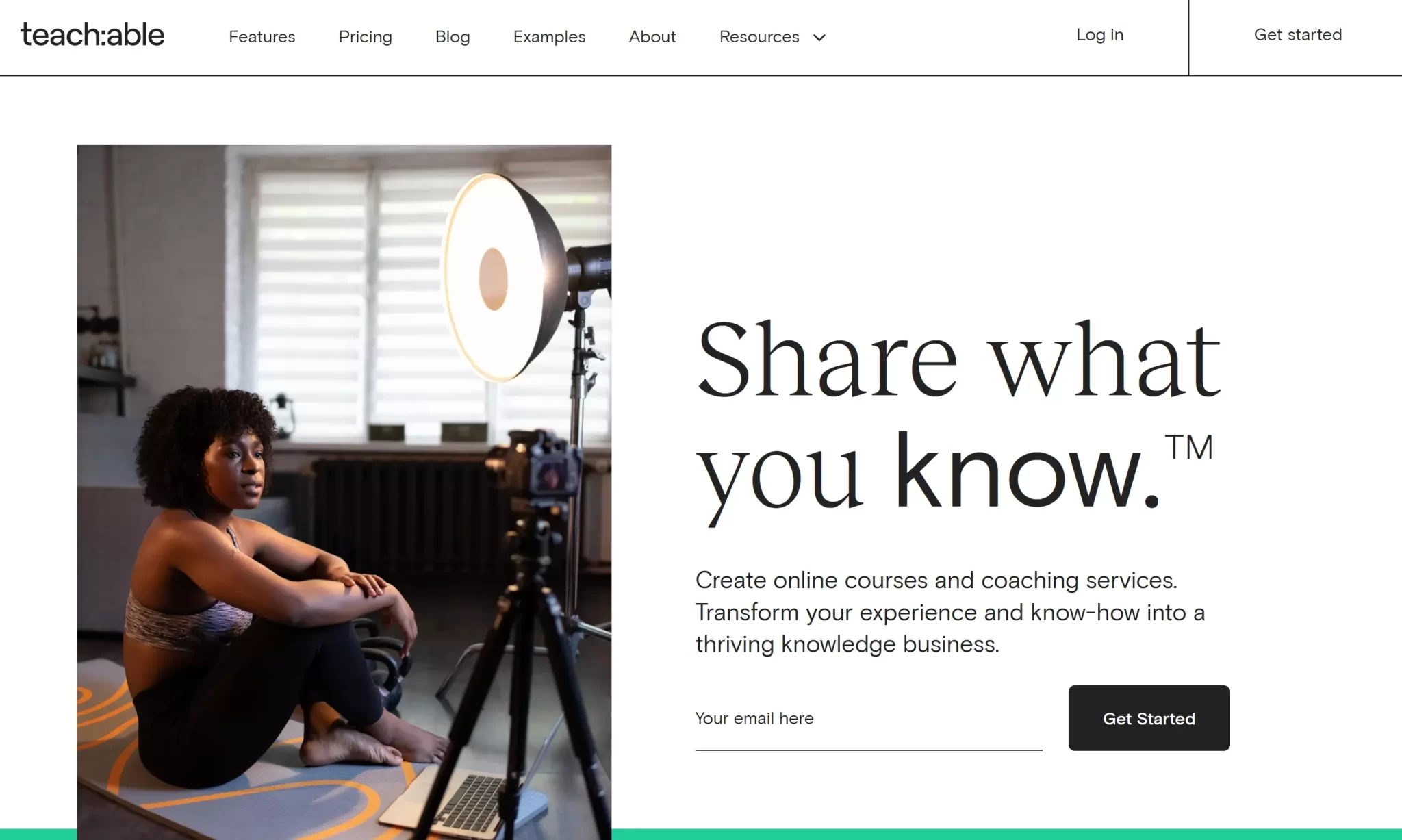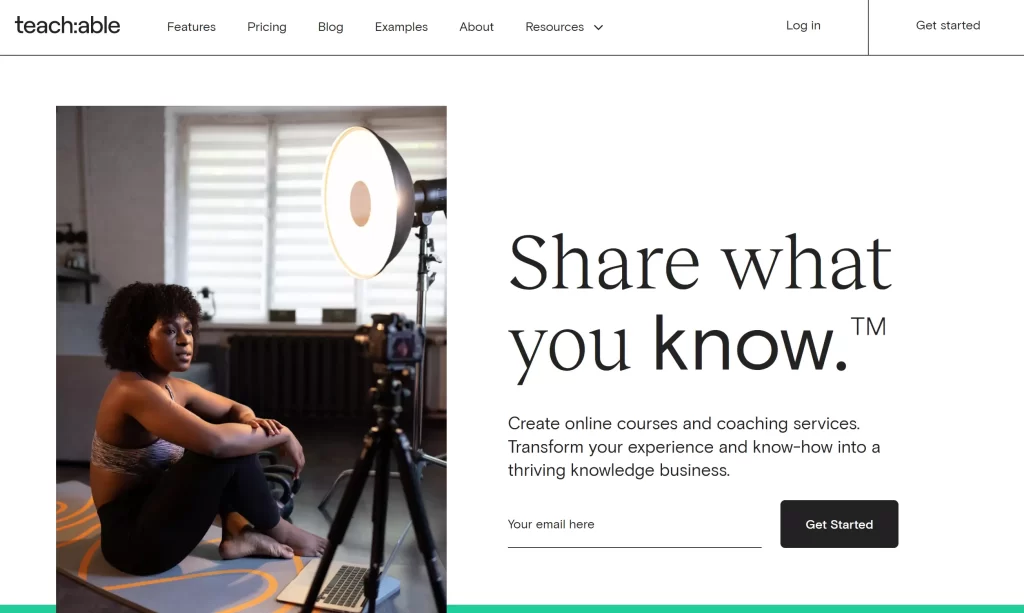 Key Features
Pros
Assessment of certificates
Built-in course authoring and blended learning.
Real-time data reporting and broadcasting
Self-paced courses and training administration
Cons
Lack of analytical reporting 
No feature of single sign-on
Pricing
Teachable offers a free plan with unlimited students and courses with three-tier structured plans.
Basic Plan: $39/month or $29/month if billed annually
Pro Plan: $119/month or $99/month if billed annually
Business Plan: $299/month or $249/month if billed annually
#5. Thinkific
Thinkific is a platform that helps in creating, marketing and selling your expertise with a single platform through online courses and multimedia projects with total control of your brand and business.
Key Features
Pros
Provides API Integrations
Class scheduling and certification and licensing
Self-paced courses and provision for single sign-on
Provides gamification of content
Cons
Lacks multimedia support 
Limitations in user management 
Pricing
Thinkific also provides a free plan with unlimited students but has limitations for courses and also provides three other paid user plans.
Basic Plan: $49/month or $39/month if billed annually
Pro Plan: $99/month or $79/month if billed annually
Premiere Plan: $499/month or $399/month if billed annually
#6. Learnworlds
Learnworlds is an online course platform for creating, selling and promoting your online courses and it also aids at monetizing your skills, experiences and your audience with boost usage, satisfaction and retention for professional and compliance training, continuing education, and employee/customer onboarding.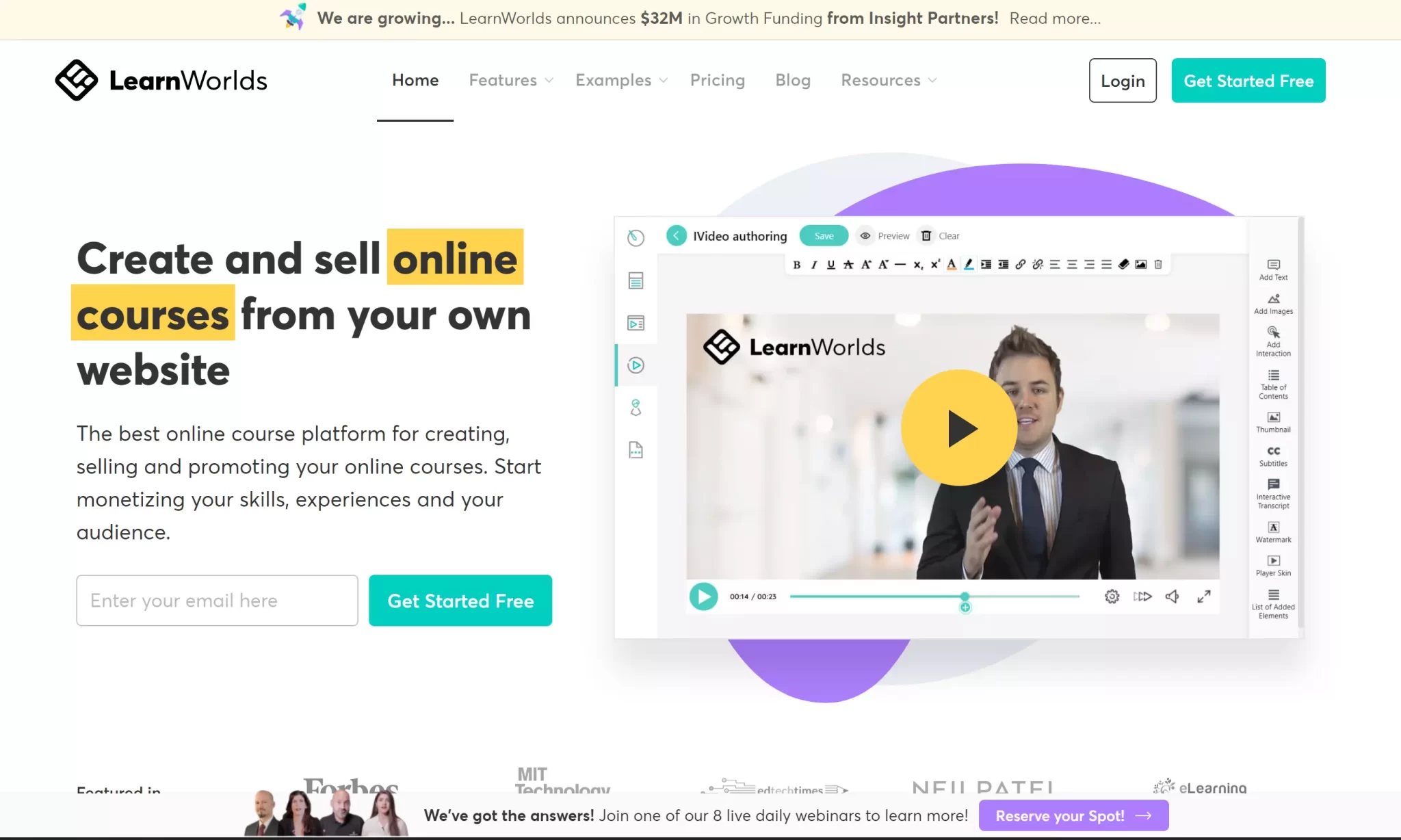 Key Features
Pros
Built-in learning management system (LMS)
Various content publishing options
Drag and drop builder with customizable templates
Instructor-led interactive course content and learning 
Cons
Lacks gamification of content 
Limitation of a CRM system
No blended courses or learning.
Pricing
Learnworlds provides four different user-paid plans under its pricing.
Starter Plan: $29/month or $24/month if billed yearly
Pro Trainer Plan: $99/month and $79/month if billed yearly
Learning Center Plan: $299/month or $249/month if billed yearly
High Volume and Corporate Plan revolves around the idea of creating a customized plan for an enterprise or a large scale business which is again billed accordingly.
#7. Kartra
Kartra is a one-stop platform for all your required features and tools such as online courses creation, community builder, online interactive projects, sales and marketing funnels, among others in one place.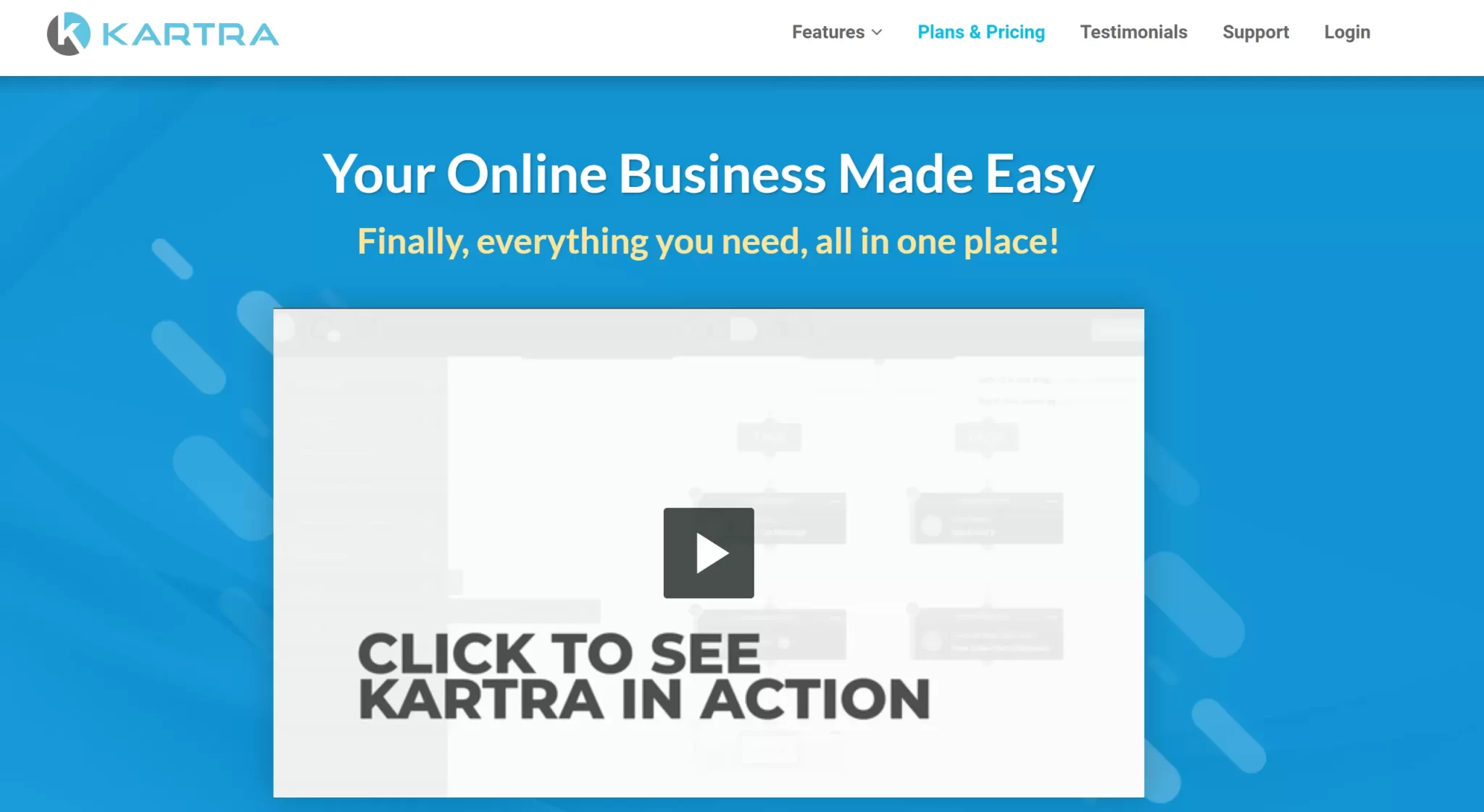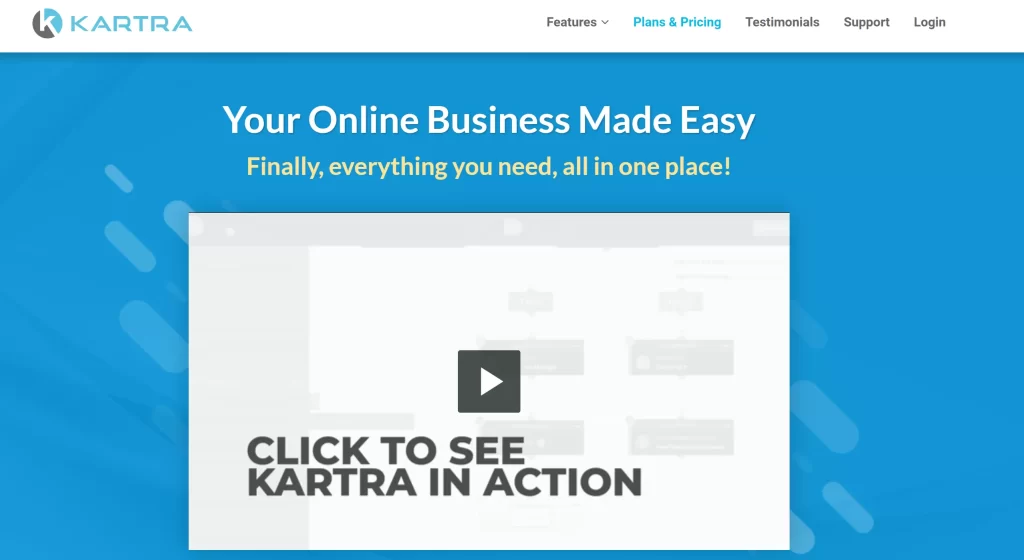 Key Features
Pros
Provides A/B Testing 
API Integrations with Kajabi, Google Calendar, Stripe, PayPal, among others.
Affiliate management and CRM services.
Campaign scheduling, tracking and management.
Cons
Lack of multi-channel communication and live chat.
Limitations in real-time updates and pipeline management.
Pricing
Kartra provides four plans with all present features but the latter plans give you more access to unlimited features.
The Starter Plan: $99/month or $79/month if billed annually for 1 custom domain and 2,500 leads.
The Silver Plan: $199/month or $149/month if billed annually for 3 custom domains and 12,500 leads.
The Gold Plan: $299/month or $229/month if billed annually for 5 custom domains and 25,000 leads.
The Platinum Plan: $499/month or $379/month if billed annually for 10 custom domains and 50,000 leads.
#8. Systeme.io
Systeme.io is a cooperative platform that assists in creating websites with various editing and software tools and automating conversion rates with landing page and sales page creation and maintaining marketing affiliation as well as creating online courses, all in one place.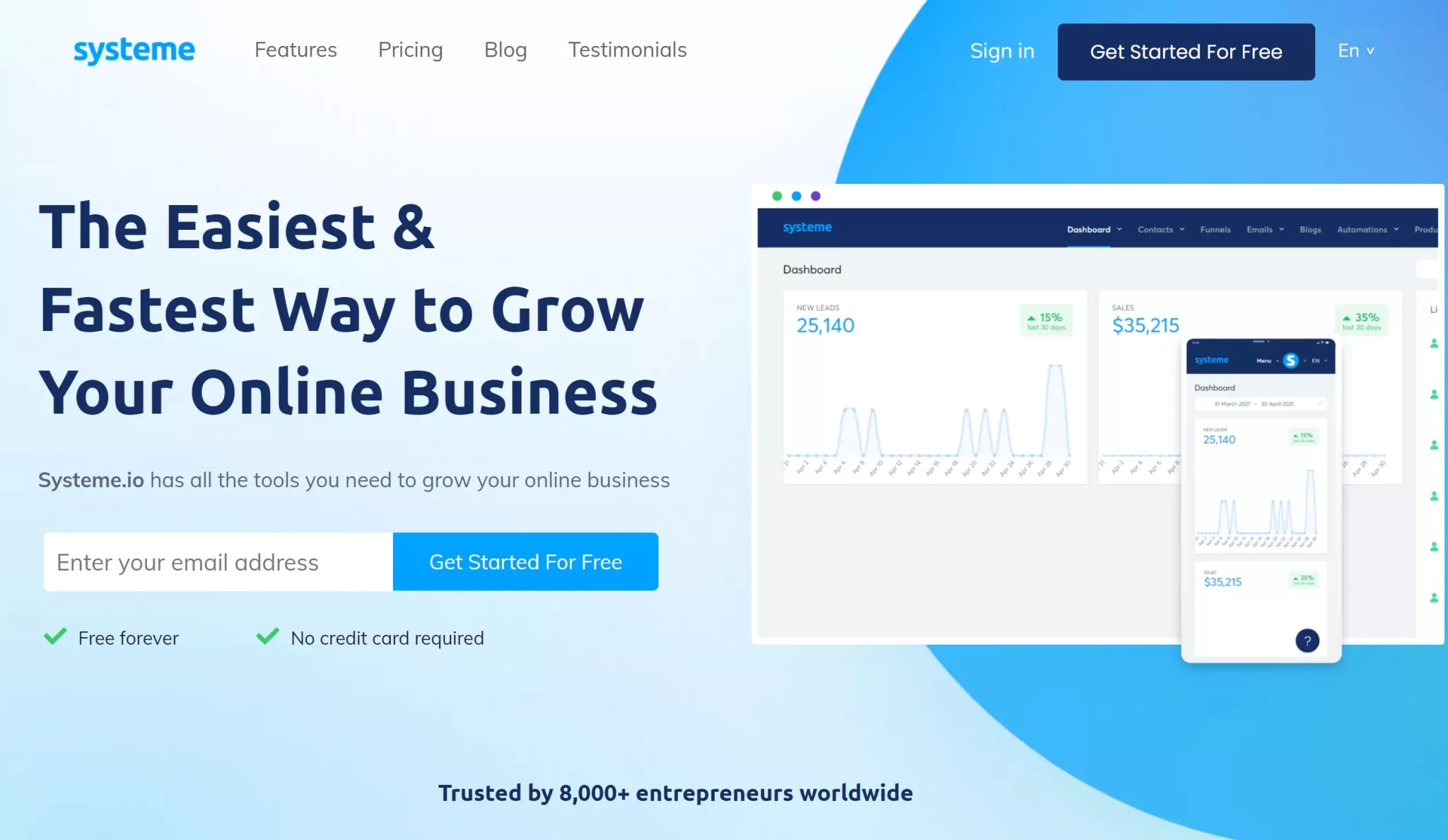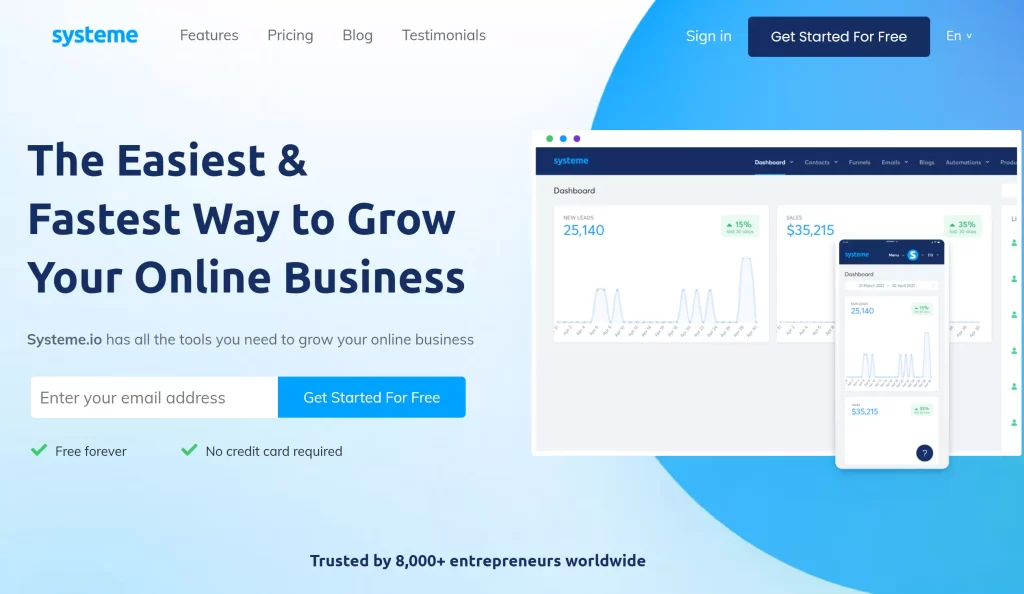 Key Features
Pros
Drag and drop editor for website building
Sales and marketing funnels for high conversion rate 
Affiliation program management
Integrate your course access with payments from your sales funnels and websites
Give timed access to your course via our drip feature
Cons
Limited customization
No Third-Party Integration
Complex site navigation
Pricing
Systeme.io offers three different paid plans;
Start-up Plan: $27/month for 5k contacts and 10 funnels
Webinar Plan: $27/month for 10k contacts and 50 funnels
Enterprise Plan: $97/month for 15k contacts and no limit funnels
Free Plan: 2k contacts and 3 sales funnels/month.
#9. Teachfloor
Teachfloor is a cohort-based course platform that helps create and sell online live courses under your own brand through live classes on Zoom, collect online payments, and manage your students.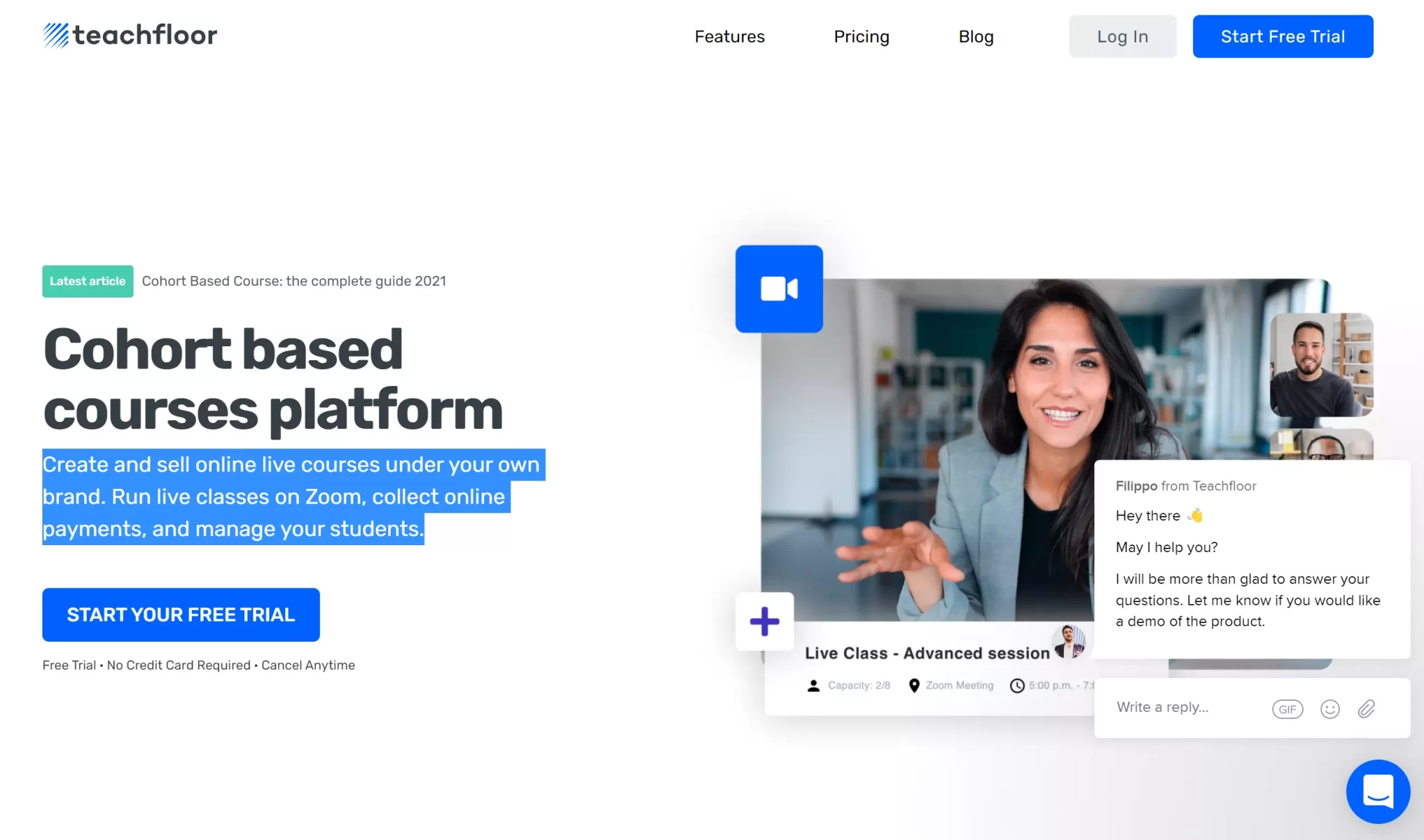 Key Features
Pros
Curriculum builder for the ease of scheduling 
Provides an interactive dashboard for analytics 
Collaboration tools for multi instructors
Peer reviews and student reports
Cons
Lack of gamification of content
Limitations in sales and marketing automation
Pricing
Teachfloor only offers one paid plan for a recurring subscription and one for custom planning for enterprises.
The Pro Plan: $99/month or $79/month if billed yearly.
The Business Plan offers customization of features according to the requirement of the business or enterprise and is calculated on the same basis.
#10. New Zenler
New Zenler is a course platform that provides everything you need from Course Creation, Marketing Funnel, Email Automation to Community without needing to hire designers, developers, or marketers.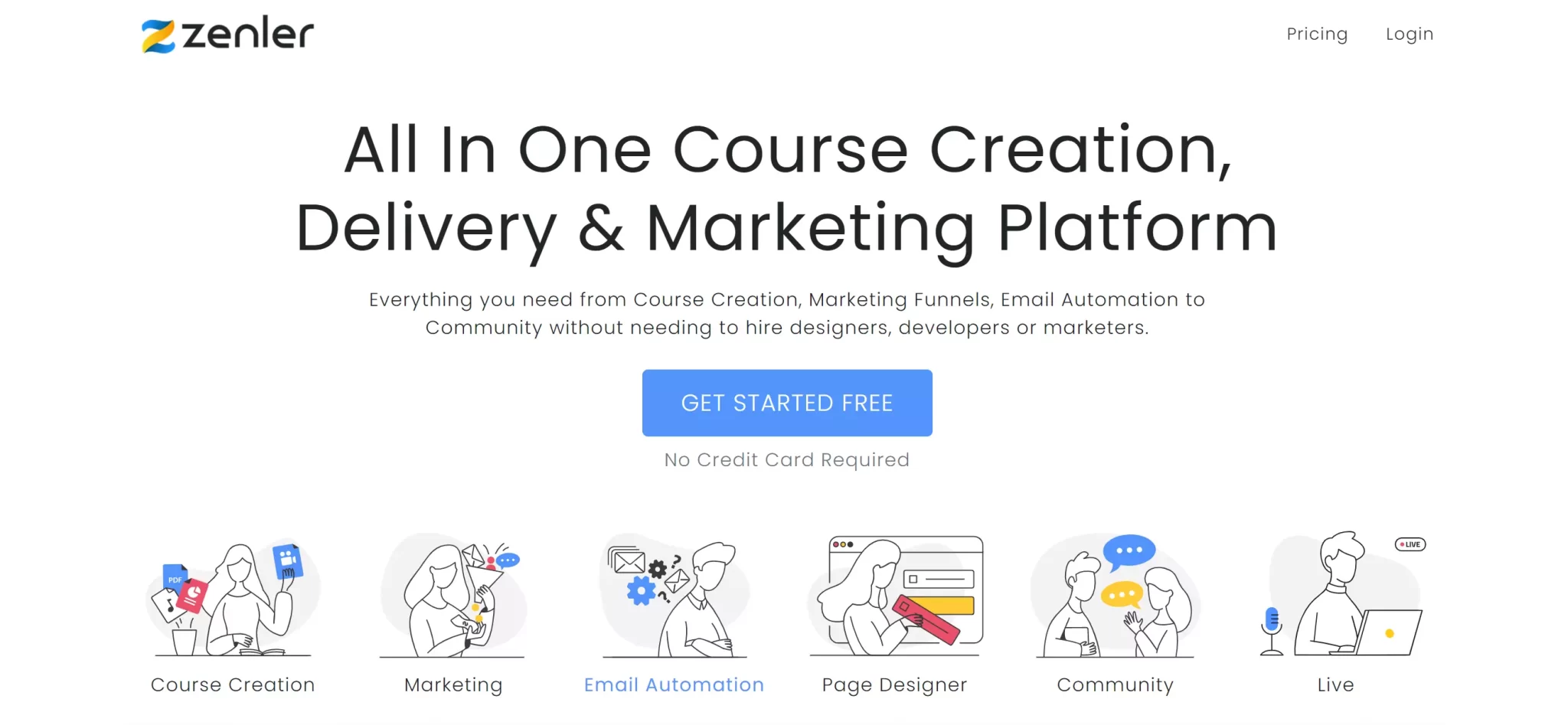 Key Features
Pros
Provides advanced tracking system
Centralized control for the user
Page editor with diverse and powerful tools
An optimized and well-managed community-building 
Cons
A steep learning curve even with an automated system
Lack of mobile application features
Pricing
New Zenler offers two plans that can be billed annually and monthly according to the requirement of the user.
The Pro Plan: $67/month or $647/year with all present features.
The Premium Plan: $197/month or $1447/year with all present features.
#11. Xperiencify
Xperiencify is a course platform that uses an experienced engine to create courses where the experience engine is like an automation system that can create a unique & customized experience for each and every student in your course.
Key Features
Pros
The experience engine provides a deep learning management system 
Provides a powerful built-in CRM system 
Gamification of content enhances the user experience as a whole
The reach out tool optimizes the engagement of the students or audience. 
Cons
The navigation can be technical which creates a learning curve for the user
Hindrances in course creation and learning 
Limitations in API integrations 
Pricing
The Xperiencify course platform offers two paid plans and one customizable plan for enterprises and corporate businesses starting at $499/month with all the present features.
The Launch Plan: $49/month and $42/month if billed annually.
The Growth Plan: $149/month and $117/month if billed annually.
Features to look for in a Course Platform
With the above list of course platform developers, it is reasonable to say that every platform brings in something new for the user to create and sell their online course. However, the following are the fundamental features that a user or creator must look for in the online course platform.
It is vital for the user to have easy access to the developed and created content as it can benefit in scheduling and creating drip content. When you have space hosting of many members it is important for the course platform to offer an agile contact and member management to keep a track of the progress, subscription, payment and feedback.
Course platforms should provide the ease of creating and navigating content because it creates an easy pathway to attain desired information from the site. Seamless interface creation of online courses is also crucial for the members and audience because at the end of the day they are the actual users of the content and should not face any difficulty.
In order to make your course and content irresistible, it is important the course platform provides the features of powerful page editors and form builders with customizable templates and forms. With the help of these tools, you can create engaging content within no time.
When we talk of establishing a system that can help us create, sell, market and manage online courses we are talking of a broader group of partners and members involved. Collaboration tools help in interacting, sharing and exchanging information with the customers, subscribers, partners, investors and co-founders all under the same label.
Integrations are the best tools to interact with other applications and websites over the widespread network of CRM (Customer Relationship Management) systems, LMS (Learning Management System) systems, CMS (Content Management System) systems, payment gateways, scheduling sites, social networking sites and space hosting sites and many more that can help in creating a connection for the exchange of information.
Comparison of Best Online Course Platforms
While choosing the best online course platforms, always consider your basic requirements. See what you need the most in your platform and how do you want to serve your students.
With many online learning platforms, it's always difficult to select the best, but here is a quick comparison table for you.
Platform
Key Benefits
Kajabi
Provides a range of content creation and management tools.
PodiaOffers a range of online courses creating tools and features.
Teachable
Best features and tools with unlimited students and courses for a free plan.
Thinkific
Provides best integrations for community building and engagement.
Learnworlds
Offers an intuitive learning and management system.
Kartra
Best marketing and sales automation and affiliation system.
Systeme.io
Provides a set of features for creating sales funnels.
Teachfloor
A cohort-based course developer and content management system.
New Zenler
Offers a unified platform for campaign, content and marketing management.
Xperiencify
Provides features of gamification and experience engine to create content and online courses.
Check this: Best CRM Software and Tools
FAQs
Q1. How do I create an online course?
Creating an online course is now easily possible with the assistance of an online course platform where you can use the interactive dashboard and widgets to generate courses. From creating to selling the course in the market, the course platform can help you through and through.
Q2. How Much Do Online Course Platforms Cost?
Online course platforms offer different features and hence can cost a diverse range of pricing starting as low as $24/month to as high as $399/month depending on your plan. Some platforms also offer free plans with unlimited students and courses.
Q3. What Kind of Features Do Online Course Platforms Have?
Online course platforms provide a wide range of interactive and powerful editing features such as page editor, drag and drop builder, form builder, drip content, sales and marketing funnels, online payments, communities and much more.