Disclosure: Some of the links in this article may be affiliate links, which can provide compensation to me at no cost to you if you decide to purchase a paid plan. We review these products after doing a lot of research, we check all features and recommend the best products only.
What if you had the best product line in the world, but no one wanted to buy it? What if your service quality was so good that it could make a big company shame, but no one came to see it? What if you launched a fantastic business and no one heard about it?
Creating a fantastic company is only the first step. Next, marketing is required to attract clients. A great marketing strategy guarantees that you're reaching the target audience. It also strengthens your brand, cultivates a loyal customer base, and boosts your return on investment.
Companies and marketers alike learned to adapt as a result of the pandemic. A webinar software rescued many events from being pushed during physical barriers and community lockdowns, although virtually.
However, with the increased number of webinars, finding the best webinar software platforms has become a new difficulty. In addition, there are dozens of different platform options on the market today, so deciding which one is ideal for your needs can be challenging.
We've covered 11 different possibilities in this post to help you find the appropriate match to allow you to test the waters without risk.
Best Webinar Platforms 2023 (Compared)
Demio: Hassle-free webinar software
WebinarJam: Best for large businesses
ClickMeeting: Browser-based webinar platform
Livestorm: Best for ease of use & automation
GoToWebinar: Reliable and professional webinar tool
EverWebinar: Best suitable for small and medium enterprises
GoToMeeting: Practical all-around business software
Zoho Meeting: Best alternative to Zoom
Zoom: Webinar Light and free tool
WebinarNinja: Best for training or coaching
Easy Webinar: Live and automated webinars
What is Webinar Software?
Like a seminar or convention, a webinar allows businesses to bring together many individuals over the internet. First, you'll need to discover a webinar platform that will enable you to share your presentation with online users to organize a session.
This webinar software allows you to construct your own virtual online conference rooms for you and your attendees to observe and follow the presentation. During the presentation, speakers can share their desktop screens, files, and any open programs on their PC or mobile device with their audience.
It's worth noting that webinars aren't the same as ordinary marketing videos in that the audience can see your presentation in real-time. Furthermore, the presenter and the audience can interact, resulting in beneficial information.
Whether you are looking best webinar platform for education or to host a virtual conference, we are going to share all affordable and low cost webinar platforms in this article.
Our Top Picks
Best Overall

WebinarJam

Best webinar platforms to do automated webinars.

Affordable

Demio

One-stop solution for live and recorded webinars.

User Friendly

ClickMeeting

Provides a safe cloud storage for backups.
11 Best Webinar Platforms of 2023 (Reviewed)
Demio
Demio is a one-stop-shop for both live and recorded webinars. Demio also comes with several built-in promotion features for marketers.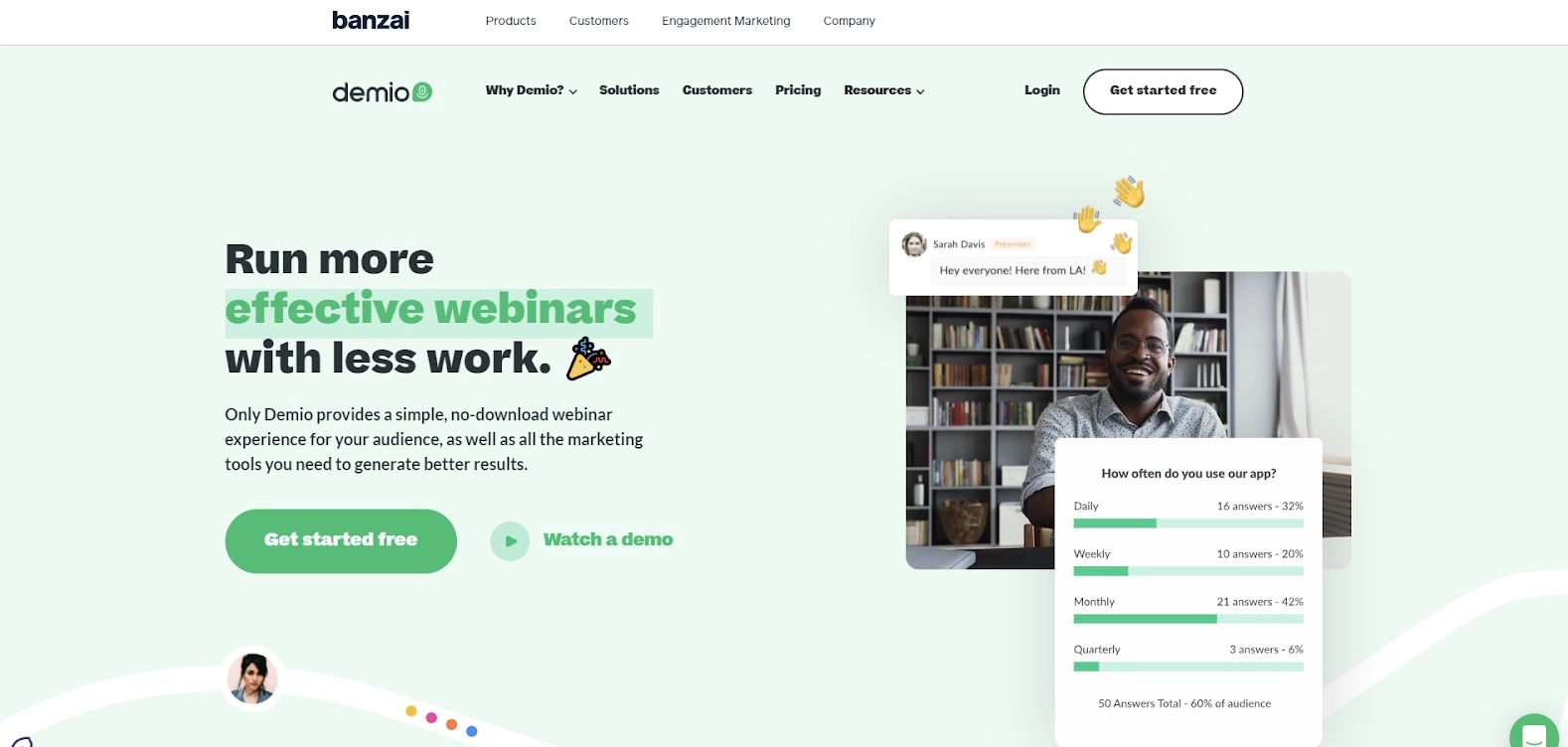 Features
Pros
100% browser-based (no software to install) — works with all browsers and devices
On-demand webinars that are both live and automated
It's straightforward. It only takes a few minutes to set up.
It's so contemporary, and it's so enjoyable
After the event, send all registrants a link to the webinar recording.
Cons
You'll have to upgrade from the Starter Plan if you need more than 50 live participants.
Pricing
Give Demio a try with a 14-day free trial.
For a 50-person attending room, the Starter Plan is $34 per month.
Growth Plan: $69 per month for a 150-person meeting space with customized branding.
Business Plan: $163 per month for 500-person conference space and four hosts.
WebinarJam
If you have little to no technical understanding of virtual meetings, WebinarJam is the most refined webinar hosting platform for you.
Moreover, it's a user-friendly evergreen webinar platform! With just $1, you can receive a 14-day trial. It allows you to broadcast directly to a YouTube channel. It also contains a password-protected meeting room.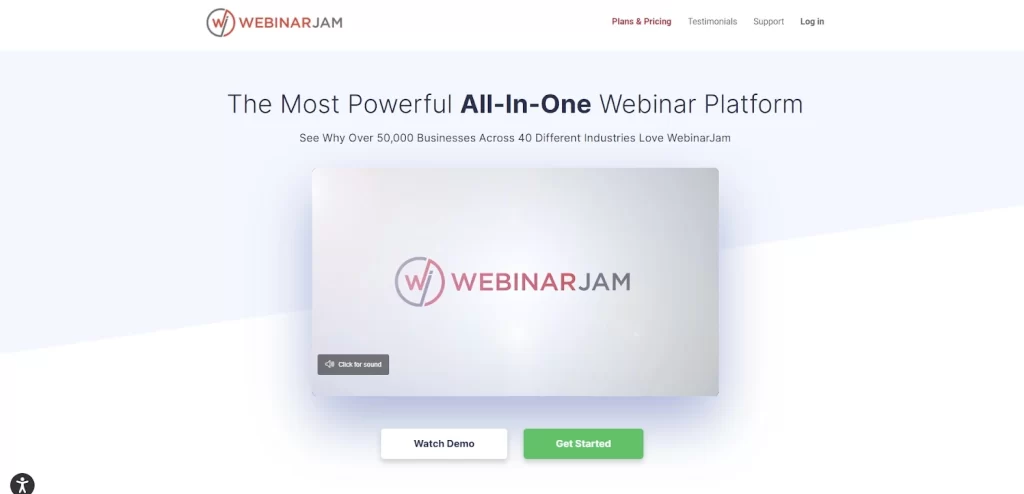 Features
WebinarJam's auto-record option is a fantastic winner, apart from the live broadcasting. It implies that every webinar you host will produce evergreen content for your webinar strategy, which you can replay using EverWebinar.
Pros
It's simple – setting up your webinar can take as little as 60 seconds.
Private messages and advanced chat with moderators
The capacity to convert an attendee into a presenter for a short period
It uses the latest web technologies in browsers, operating systems, and devices.
The possibility to have mid-webinar pop-up offers
The webinar is automatically recorded and replayed for attendees.
Cons
Great for live webinars, but you'll need to get EverWebinar as well if you want to conduct automated on-demand webinars.
Some users have complained of video and sound delays of up to a few seconds.
Some larger firms may complain about the lack of connectivity with third-party AV software.
Pricing
Basic Plan: $499 per year ($41.58 per month). This subscription includes up to 500 attendees per webinar, three presenters, and 24-hour support.
Professional Plan: $699 per year ($58.25 per month). The pro plan increases the number of participants to 1,000 and the number of presenters to four.
Premium Plan: $999 per year ($83.25 per month). This package is for organizations that rely extensively on webinars for online marketing. It will feature up to six speakers and a 5,000-person webinar audience.
ClickMeeting
ClickMeeting, another dedicated webinar software, provides all of the features you'd expect at this time. But, again, the lack of an automated relay option is the central issue; nonetheless, webinars can be recorded and shared. It's the best webinar platform for small businesses and new trainers.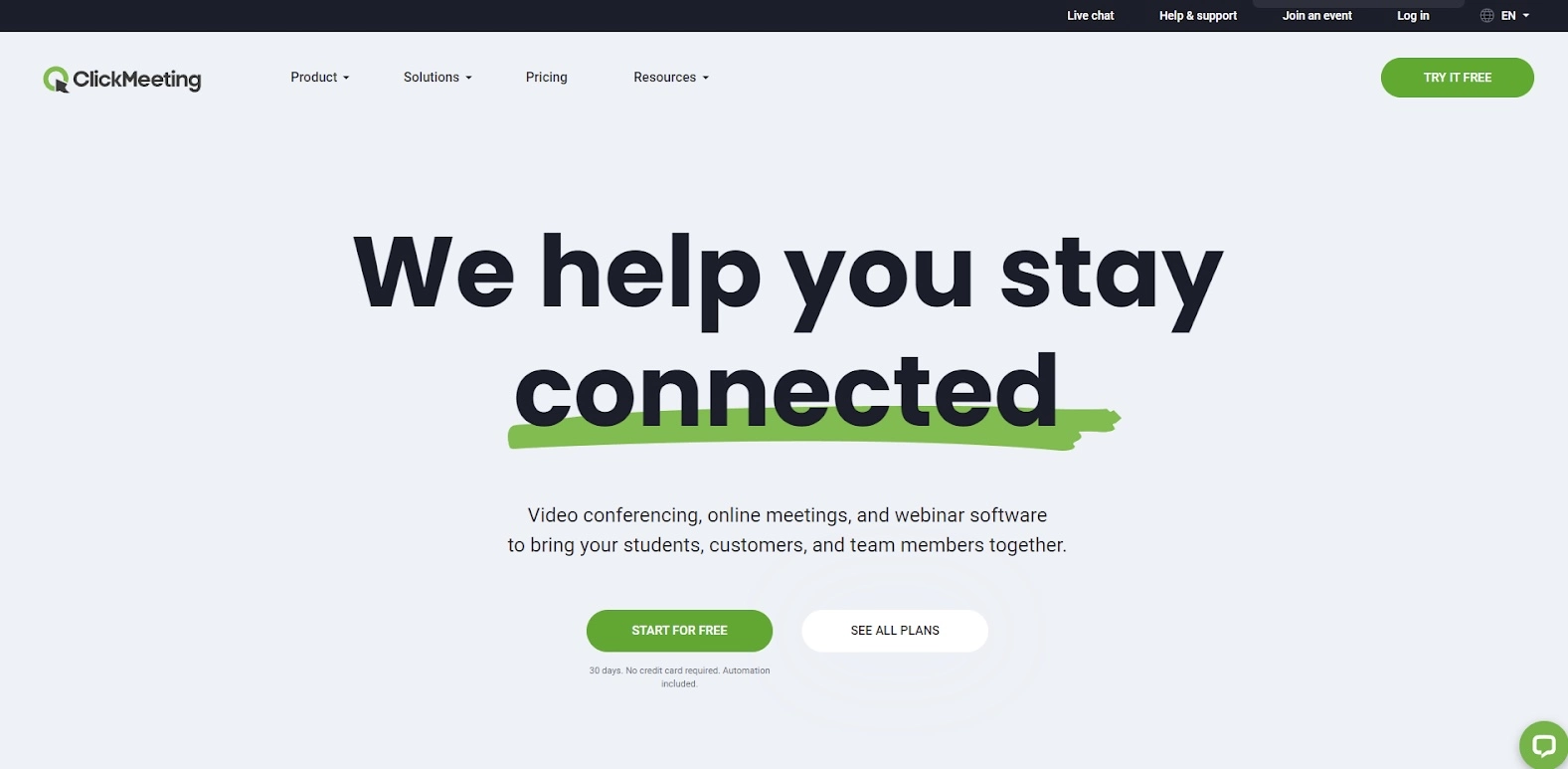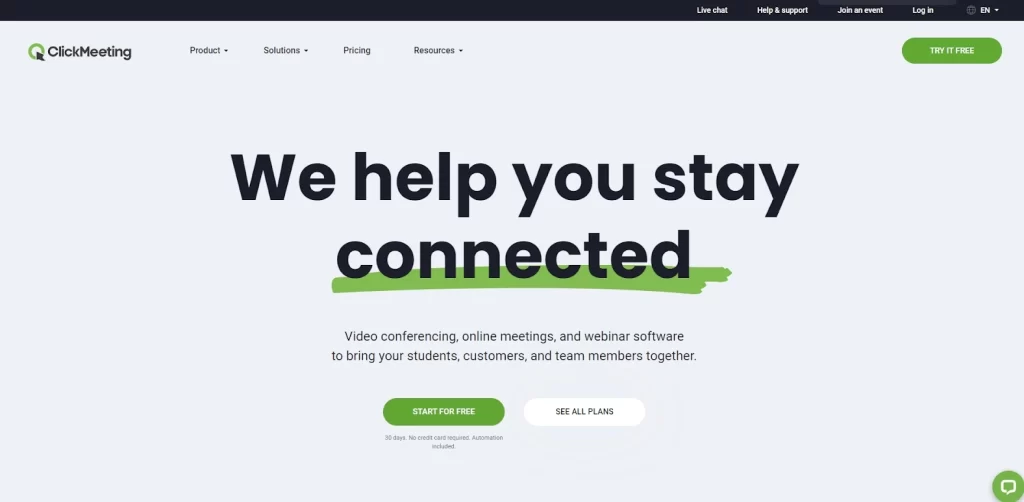 Features
ClickMeeting provides the top webinar technology with a run for their money, with features you won't find anywhere else. How useful they are to you is mainly dependent on your needs.
Pros
Step-by-step setting
Provide automated and on-demand webinars.
Complete conversion to WebRTC+HTML5 (instead of Flash)
Enhanced Screen sharing
Audio-video
Option for duplicating events
Translation of chat messages
Waiting room with a schedule
ClickMeeting excels in providing templates for many business types 
Cons
Recurring meetings are not possible to schedule.
There will be no breakout sessions.
Pricing
Plan for a live webinar with 10–1,000 people: $30–$309/month
Plan for a 10–1,000-person automated webinar: $45–$359/month
Custom pricing for enterprise plans with up to 10,000 guests
Free trial for 30 days
LiveStorm
Livestream generally serves large corporations and educational institutions with already established relationships with their target audience. They offer limitless storage and automatic recording and storage of any form of a cloud-based webinar.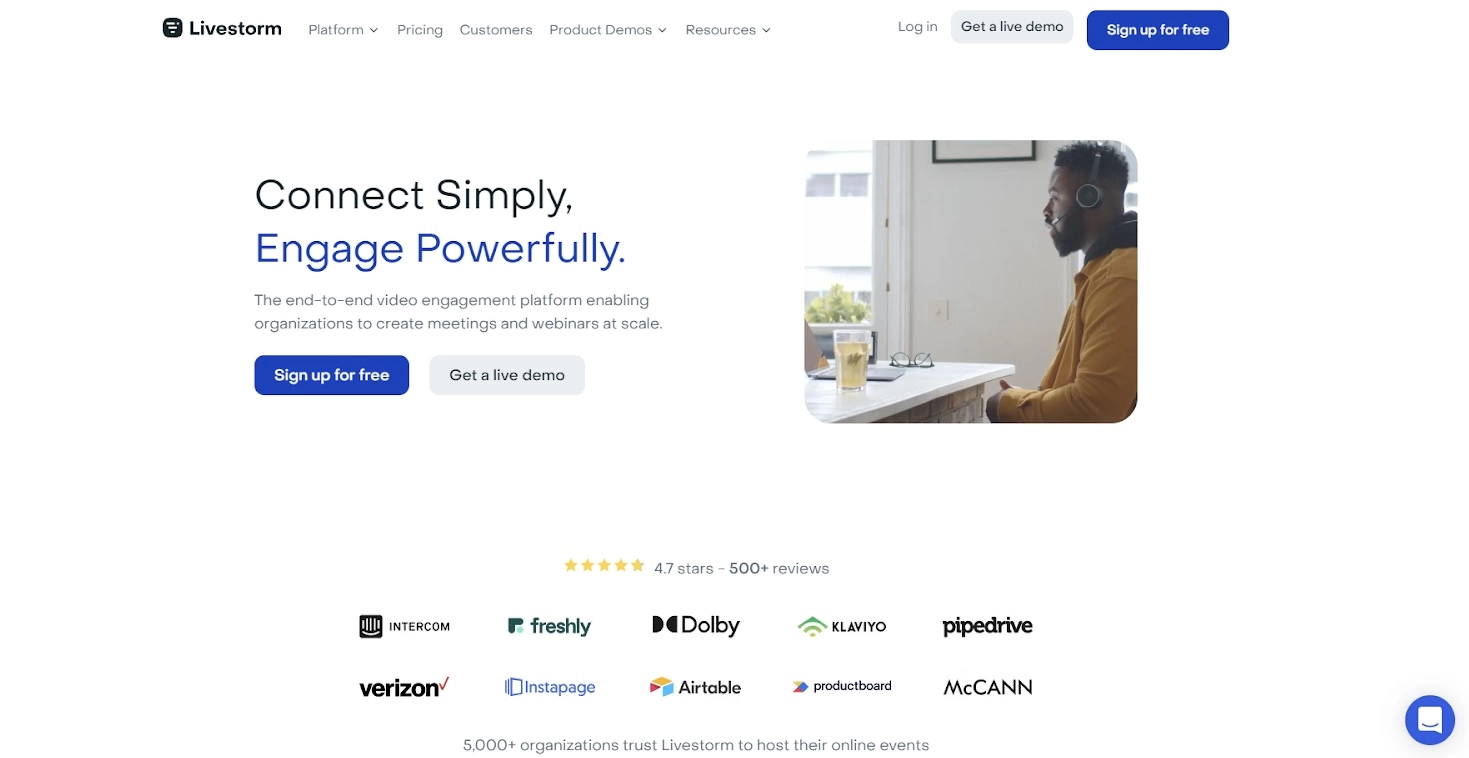 Features
Pros
Excellent for live training and product demonstrations.
Invite your coworkers so that you can work together on creating presentations.
Completely customizable branding 
Allows you to easily invite moderators and participants to join you on screen as the host.
Automate various events during your webinars, such as videos and messages, so you don't have to deal with them during the presentation.
Connect Livestorm to any of your marketing tools, such as Salesforce or HubSpot.
Cons
The host's internet connection may impact video and audio as its a browser software.
Pricing
Accessible for up to ten people on a limited plan.
$99/month for a business plan with 100 live attendees (or add-ons for more).
Custom pricing for an enterprise plan with 3,000 live participants.
GoToWebinar
GoToWebinar is a professional and dependable solution that huge businesses rely on for their online influence. It's one of the book's earliest tools, yet it's still the most appealing. The webinar room can hold up to 5,000 people, but the cost is prohibitively high.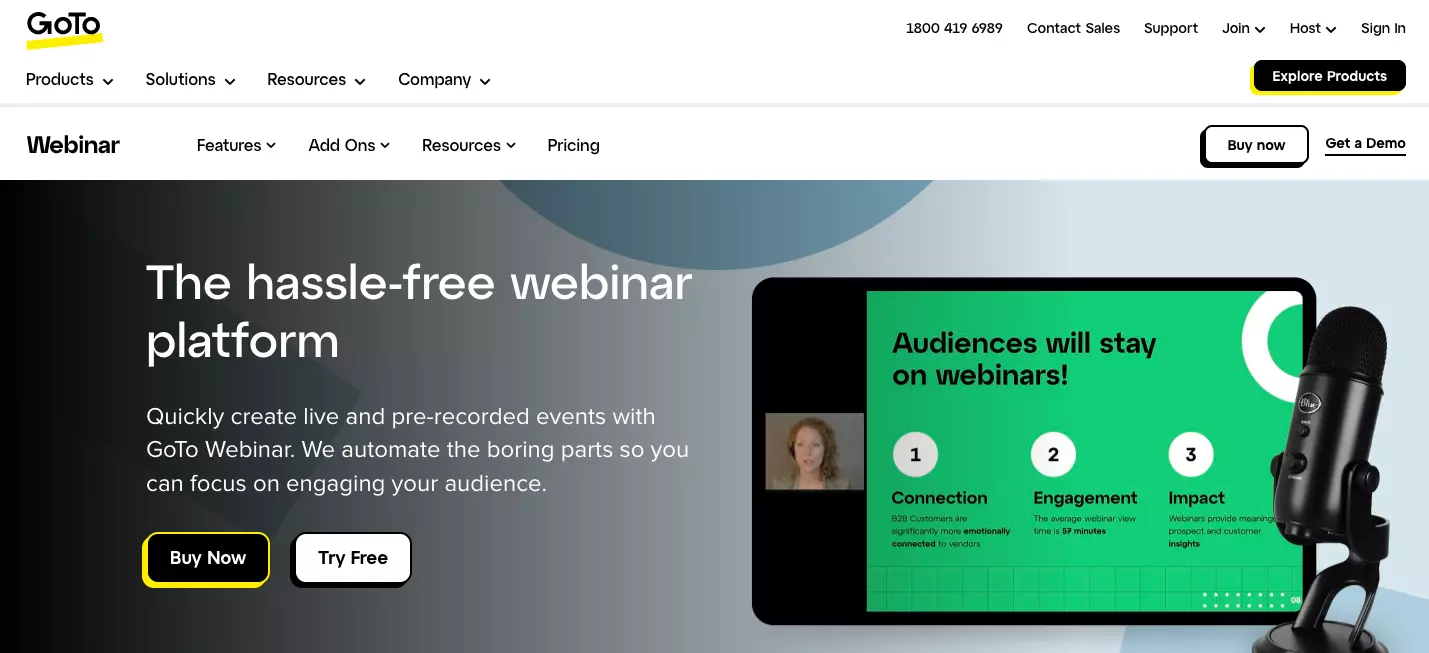 Features
Pros
Polls and surveys encourage audience participation.
High-definition video and sound
Tools for lead management and reporting
Divide your audience into breakout rooms.
Cons
The software appears to be a little out of date.
Attendees are required to download software.
Pricing
$59/month for a basic package with 100 participants.
$129/month for a standard package with 250 participants.
$249/month for a pro package with 500 participants
$499/month for a 3,000-person enterprise plan
$19/month flex plan + pay-per-event
Free trial for seven days
EverWebinar
EverWebinar is a popular tool embedded right into WebinarJam but can also be purchased independently or as part of a bundle.
EverWebinar is suitable for small and medium enterprises who want to use virtual events to create leads and increase sales.
Big brands like AppSumo, Podia, and others rely on it.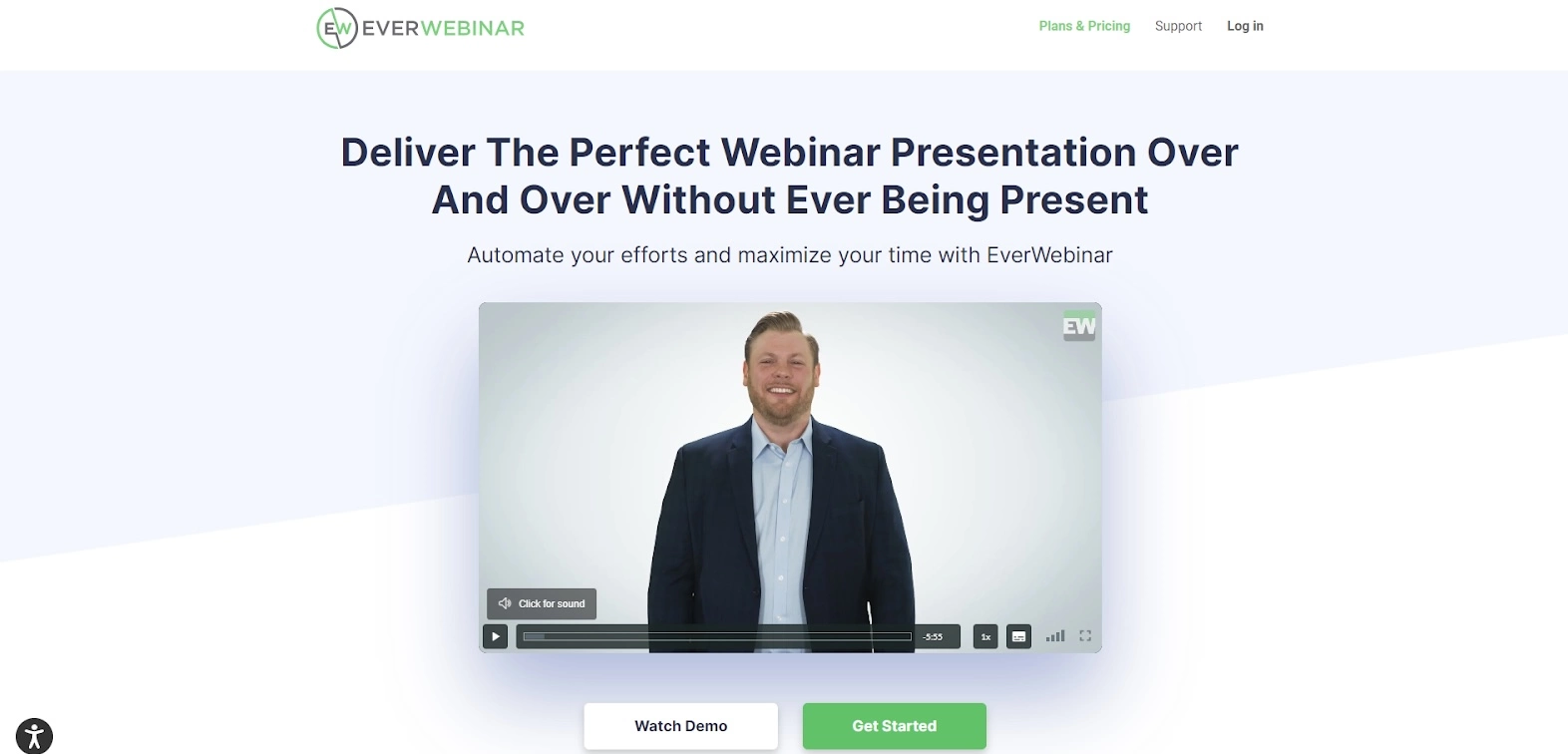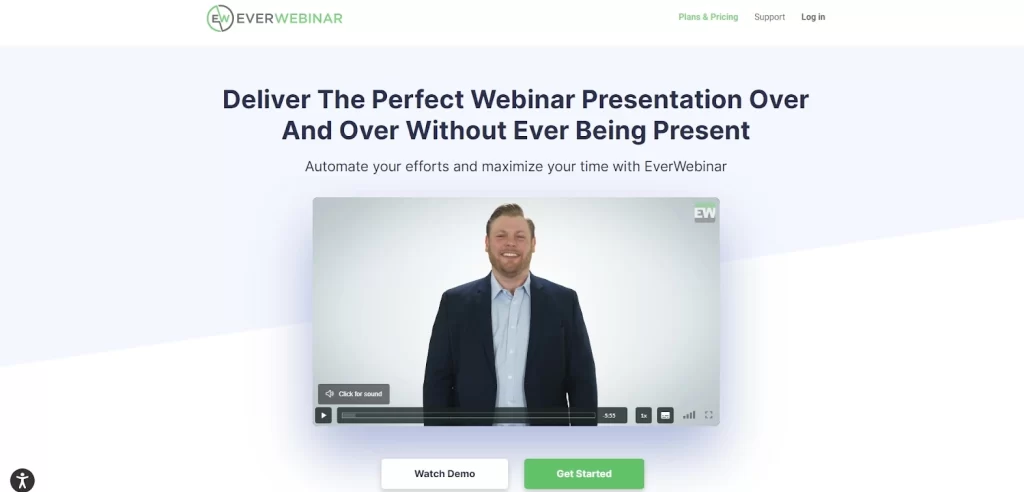 Features
Pros
It is possible to deceive the number of attendees.
Instead of using the usual chat, which sends the questions to your email, you can use the "Ask a question" option.
The intelligent webinar bot that displays your offer at the moment you specify
Live, hybrid (pre-recorded video with live chat), and automated webinars are available.
Option for powerful statistics
The purchase includes "webinar university," a comprehensive approach to creating the most effective evergreen webinars.
Cons
On mobile, a couple of users had difficulty with streaming.
If your webinar isn't compelling, you could come across as fraudulent.
Pricing
Free trial for 14 days
Monthly Plan: $99 per month
Annual Plan: $42 per month
Biennial Plan: $35 per month
GoToMeeting
GoToMeeting is a web conferencing platform that lets users host online meetings for 250 people. GoToMeeting lets you hold endless meetings with faraway colleagues in high-definition video conferencing.
Participants can join discussions using a Mac, PC, iPad, iPhone, or Android device.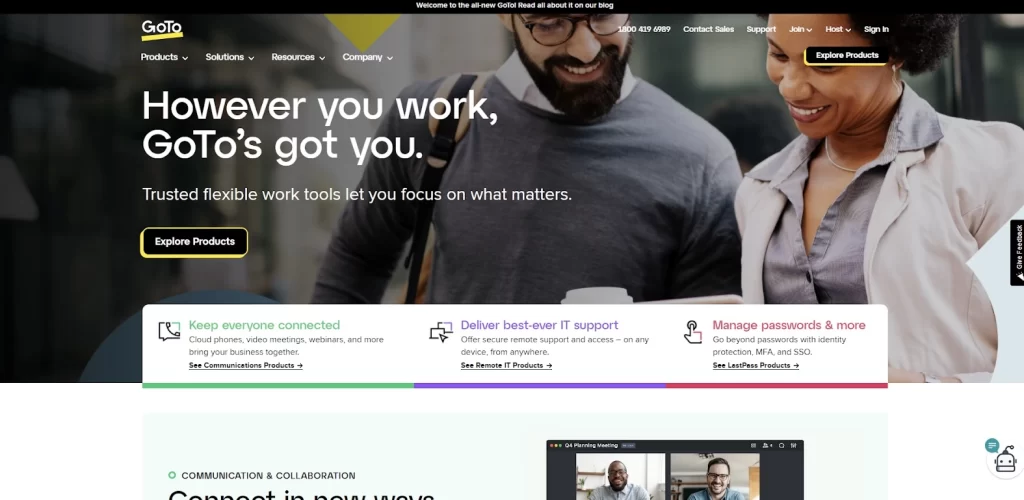 Features
Pros
It's straightforward to download and utilize (and faster)
Very simple to use (easy to share a screen)
You can have up to 26 people in your session at once.
You can talk, switch presenters, and give others keyboard control. 
Can annotate, highlight, or draw on a document 
Total audio integration, including voice over IP
Cons
It necessitates a consistent internet connection.
Getting the call-in process just right might be tricky.
Pricing
Starter: $109 per month per organizer, invoiced annually at $1,308 for 25 participants
Pro: $159 per month per organizer, payable yearly at $1,908 for 50 attendees
Plus: The organizer pays $314 per month, for a total of $3,768 per year with 200 attendees.
Zoho Meeting
Zoho Meeting is a web conferencing tool that includes video conferencing and a webinar option. Small and large enterprises will find Zoho Meeting simple to use, and it's excellent for essential remote assistance, team collaboration, application-based demonstrations, and webinars.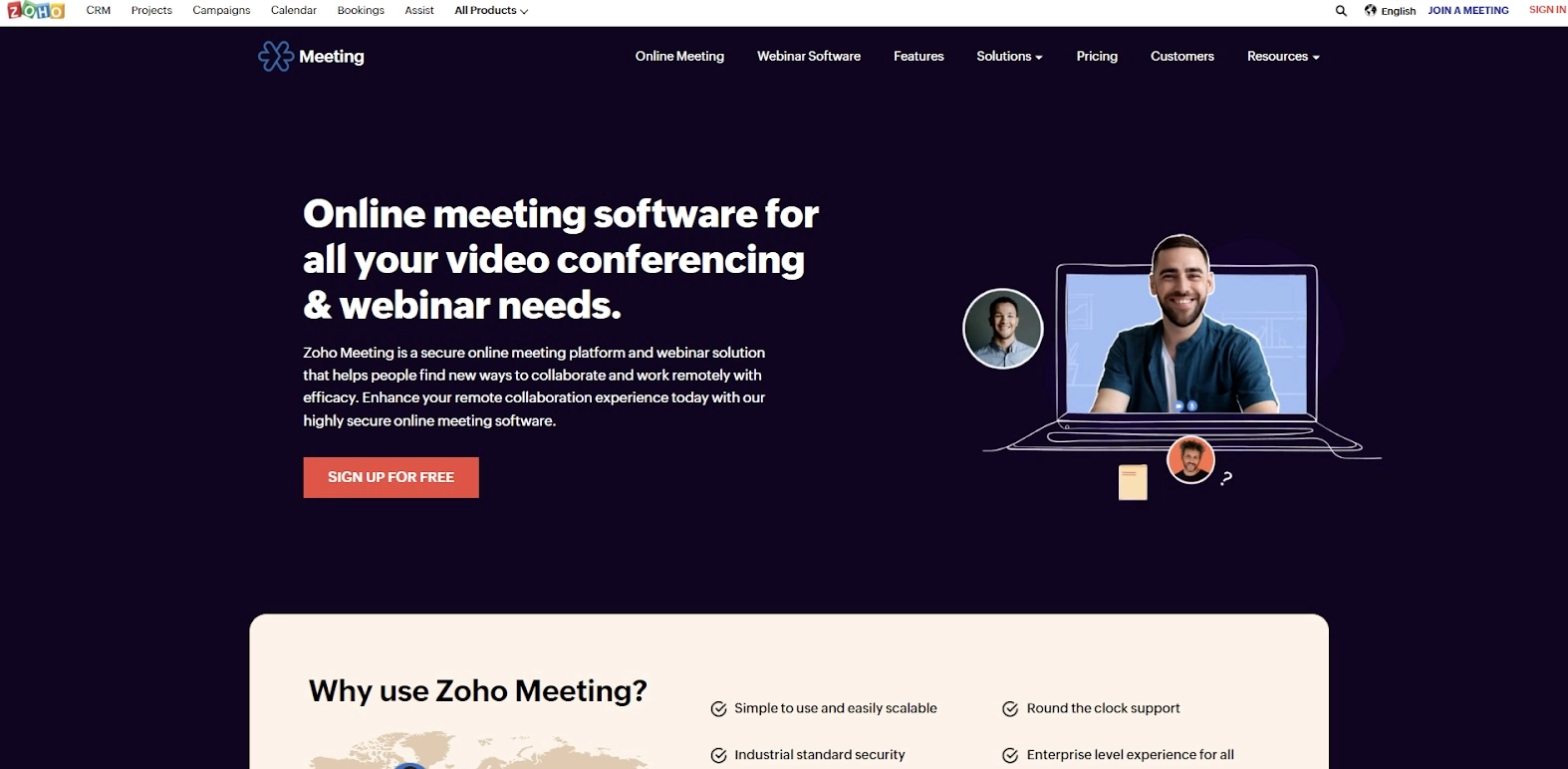 Key features
Pros
In-depth analytics
Automated email follow-up
Sharing screen 
Instant polls, Q&A, and broadcast messaging are all available.
Call-to-action tools for post-webinar
Can save up to 25 webinar recordings.
Unlimited co-organizers
There is no time limit for webinars.
User-friendly
It works on any device.
Cons
The reporting could be more detailed.
The features are too basic and straightforward.
Pricing
It starts at $16 per month for up to 25 guests and goes up to $200 per month for over 1,000 attendees!
You can access all premium features, whether you pay $16 per month or $200 per month.
Zoho also offers a 14-day free trial with no credit card required.
Zoom Video Webinar
Online meetings have become synonymous with Zoom. Zoom can also be used to host a webinar. It's free if it takes less than 40 minutes and has less than 100 participants, plus you receive a lot of promotional tools and engagement elements that other free tools don't provide.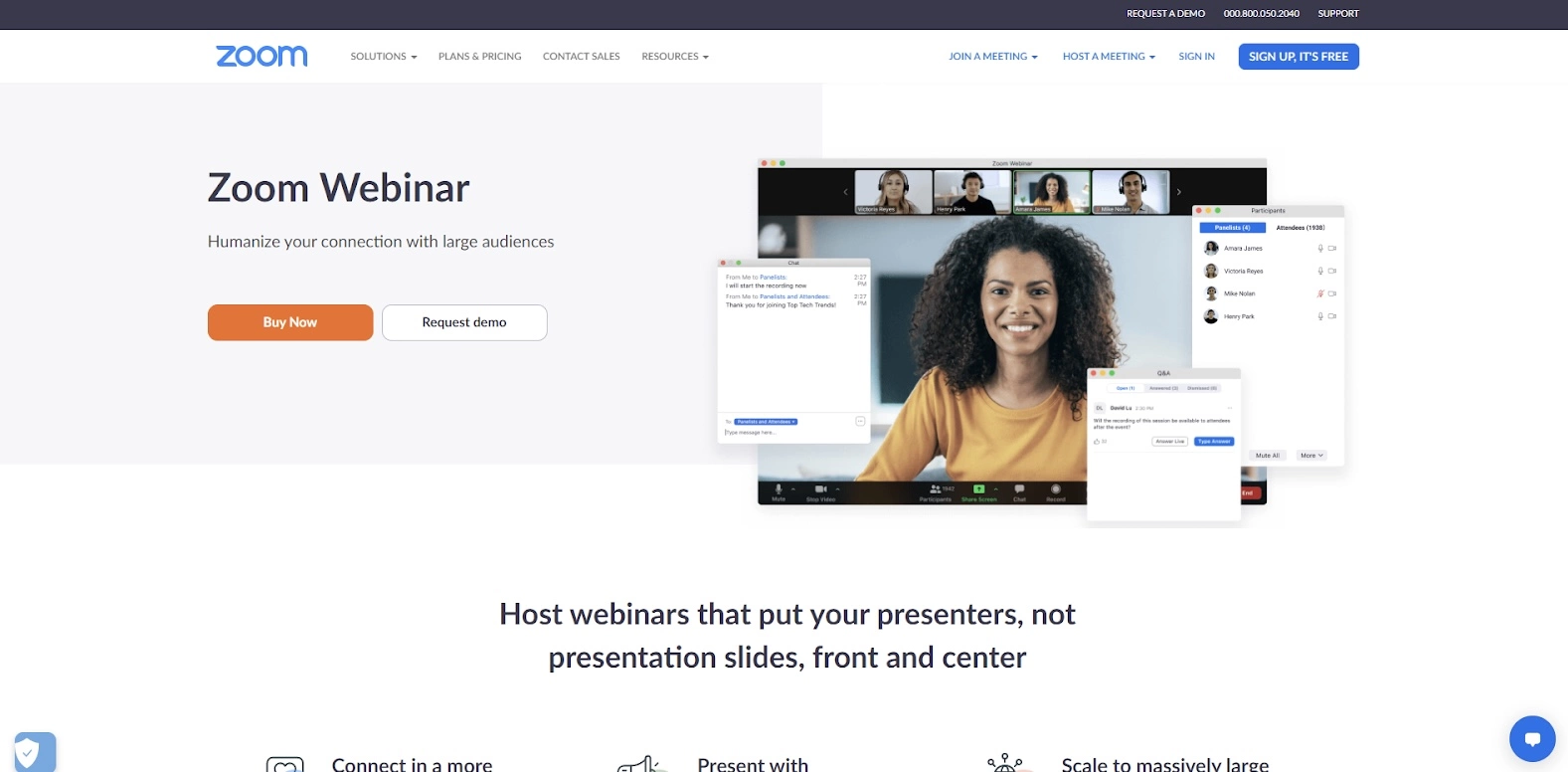 Features
Pros
Several guests can share their screens at the same time.
Free program and desktop sharing
It's compatible with all platforms and devices.
Screen sharing, hand-raising, and live chat are all interactive aspects.
Tools for developing contacts in marketing.
After the webinar, send out automatic surveys to get feedback from attendees.
Cons
The interface navigation is a little complicated.
Free meetings are limited to 40 minutes.
Pricing
Zoom Meetings offers a free plan for up to 100 people (40-minute limit)
Zoom Meetings Pro with 100 attendees: $14.99 per month
Zoom Meetings Business plan with 300 attendees: $19.99 per month
Zoom Webinar with 500 participants: $79 per month
Zoom Event with 500 guests: $99 per month
WebinarNinja
WebinarNinja is an all-in-one webinar software solution that Baremetrics and AppSumo rely on for their online presence. It includes all of the tools you'll need to host any style of the webinar, whether you're a seasoned pro or a complete beginner.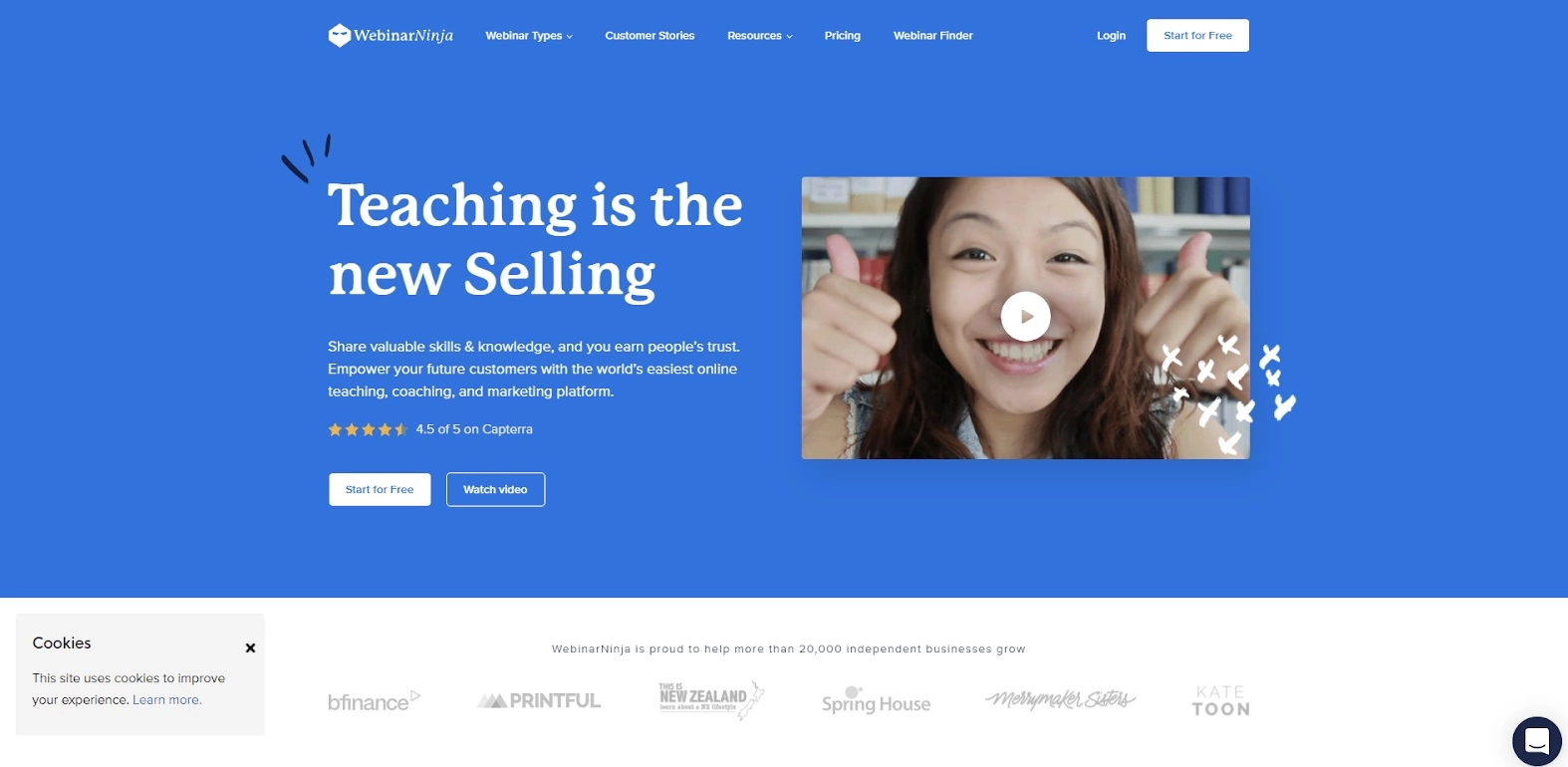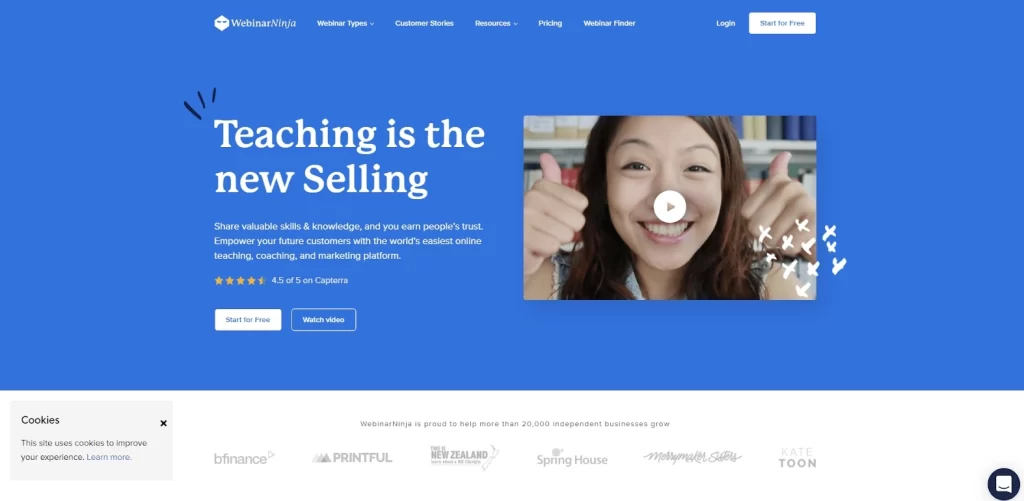 Features
Pros
Meta Ad tracking
Unlimited number of webinars
Live chat, polling, and downloadable handouts are just a few of the engagement features available.
Templates for landing pages that look great
Ability to play a previously recorded video during a live webcast
Cons
It can be tough to navigate the backend.
Longer presentations may take longer to upload.
The customer service department is slow.
Pricing
$49/month for a starter subscription with 100 live participants
$95 per month for a pro plan with 300 live participants.
$159/month for a plus plan with 500 live attendance
$249/month for a program with 1,000 live participants.
14-day trial period
EasyWebinar
ElasticWebinar is a brand-new automated webinar software on the market with a modern design. The terms "simplicity" and "sleek design" come to mind when thinking of ElasticWebinar. The automated webinar setup is quick and easy to use.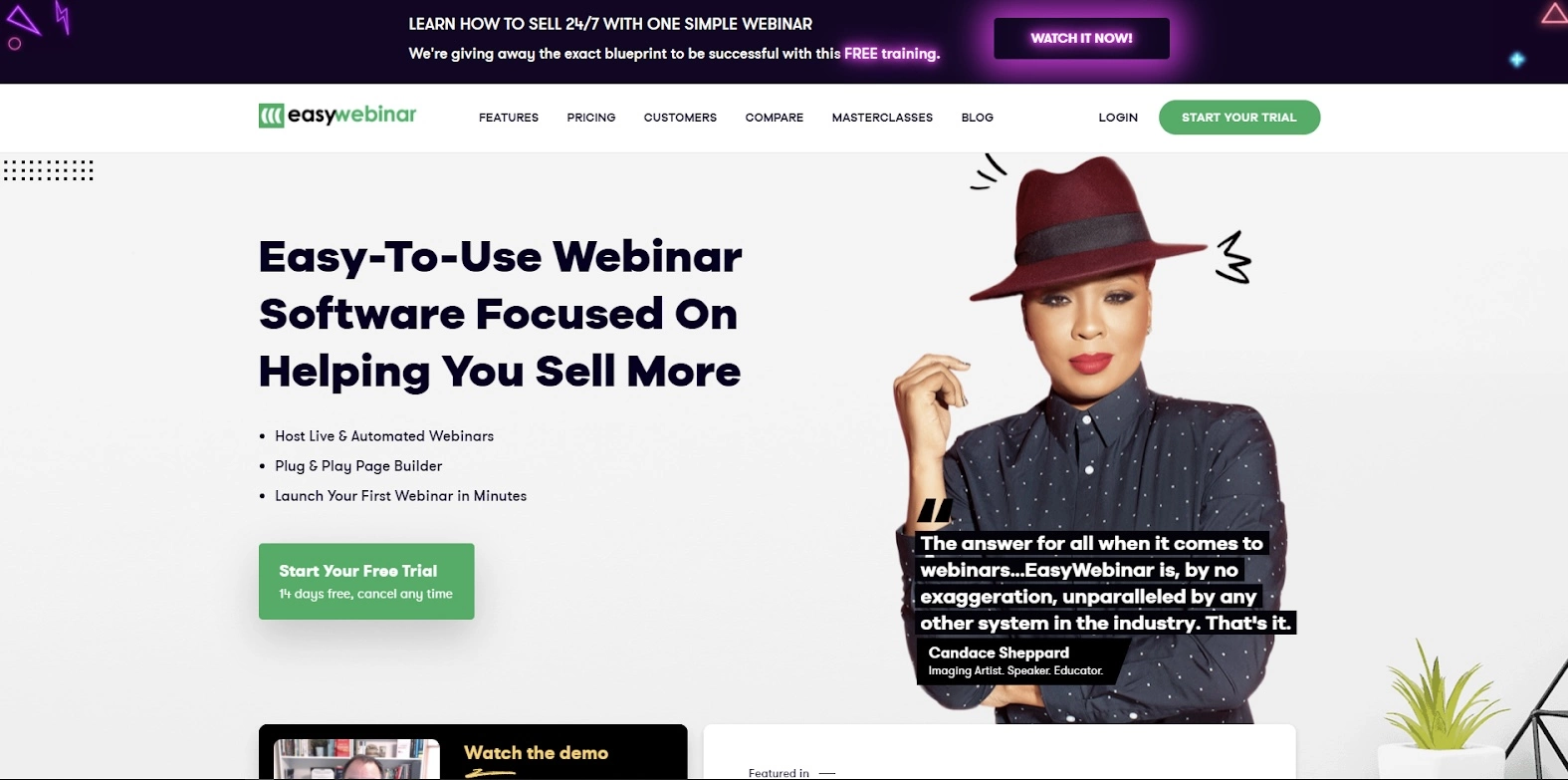 Features
Pros
The automated (evergreen) webinar includes sales funnels and statistics, making it a real sales machine.
The basic layout may accommodate up to 100 people.
There are many presenters, screen-sharing, live chat, and Q&A, among other things.
Features that are a must-have for excellent webinar software
Mailchimp, GetResponse, and Stripe are just a few software integrations available.
8,000+ consumers reported positive feedback
Live and automated webinars
Cons
Some landing page themes do not allow you to change the images.
It Offers cover Parts of chat messages.
It's challenging to find a comprehensive overview of interactions.
There is no conversion tracking on the landing page.
Pricing
Standard Plan with 100 live participants: $78 per month or $708 per year
Pro plan with 500 live participants: $129 per month or $1080 per year
Enterprise plan with 2,000 live participants: $499 per month or $4188 per year
If you register for annual billing, you'll get three months free.
The Benefits of Webinar
Webinars, as previously noted, are one of the most effective marketing channels for businesses in the digital age. The following is a detailed list of the benefits of using a webinar.
Boosting the value of a company's online content
One of the main reasons businesses should seriously consider using webinar services is that they help increase the amount of content available to relevant stakeholders online. In addition, every webinar you host enables you to address the most common problems, and questions a client, consumer, supplier, or employee might have. It contributes to constructing a vast knowledge library that is important to your firm's existing significant human assets and to coming generations of critical human assets.
In addition, some of the most recent webinar platforms provide a recording option. It allows hosts to save recordings of their presentations, including Q&A sessions. These recordings can also be turned into blog entries or Q&A pieces, which will help you expand your organization's online content and provide you with a more dynamic online presence in the long term.
Establishing Authority
People frequently flock to organizations or individuals they believe can provide the answers they seek; organizations or individuals are experts in their industry. Creating and hosting webinars that are jam-packed with insightful and essential information for your audience is one approach to establish yourself or your organization as an authority in the market you serve.
Once your audience has completed your webinars and considered them informative because they address their primary concerns and questions, they will begin to feel your corporate identity as an authority in your industry. In addition, it indicates that your brand will come up first if your target audience seeks educational content.
Wider Reach
Anyone can see Webinars in the world. It means that businesses can easily and quickly reach out to everyone globally, as long as they have access to the requisite internet-enabled gadgets.
As a result, companies are no longer confined to merely marketing their services or products to clients within their geographical reach. Still, they can also reach out beyond borders and oceans with the help of a good webinar app.
Businesses have traditionally been required to physically send officials to distant places to expand their geographical reach. These representatives finalized deals in one-on-one meetings. Webinars and video conferencing also allow virtual meetings between corporate representatives and other stakeholders without wasting time and money on unnecessary travel.
Building Trust
When done correctly, online webinars can increase brand loyalty by allowing current and future customers to engage more personally with the brand/business. How is this possible? First and foremost, webinars give companies a face by introducing a human element to them through the presenters.
Furthermore, when you continue to demonstrate your expertise, knowledge, and skills in your line of business through the insights provided in your webinar presentations, the target audience's trust in your services, goods, and brand as a whole grows dramatically.
Having a better understanding of your target audience
Businesses with a strong understanding of their target audience are more likely to develop the best products and services, boost sales, and improve over time. In addition, as more information about the target market's demands becomes available, any everyday item can be adapted or updated to satisfy those needs.
As previously said, one of the numerous benefits of webinars is that they provide organizations with direct access to a goldmine of critical information from interested participants. Additionally, through surveys and Q&A sessions during the live event, businesses may learn more about what prospects, clients, suppliers, and workers are looking for and their opinions.
Cost-Efficient Communications
One of the significant advantages of a webinar is its cost-effectiveness. For a successful online event, you'll need an internet connection, a computer, a webcam, and access to a well-designed webinar app. As a result, cost-effective operations are essential for a company's profitability to grow.
By adopting webinar solutions, businesses can save money by reducing unnecessary traveling to networking events, conferences, and one-on-one meetings.
It means that firms can do regular webinars instead of wasting money and time on a trip to meet a small number of actual or prospective suppliers or customers. It allows them to keep in direct, one-on-one contact with everyone in their network while expanding through more extensive, one-to-many marketing and sales webinars.
How to Choose the Best Webinar Platform?
Make sure that the software is user-friendly.
You don't want your webinars to go down in flames because you or your audience can't figure out how to use the tool. That is why it is pointless to invest in software with several advanced capabilities if they are challenging to comprehend.
In the end, you'll require software with a simple user interface. People don't attend a webinar to figure out complicated options and features. They need something straightforward, functional, and user-friendly.
It will also be beneficial if you consider your target audience. A young audience, for example, will be looking for mobile access. People who are less technically savvy will typically prefer a primary platform that does not require add-ons or plugins.
Consider this: if the registration is in English, will your intended audience be able to access the webinar room? Will kids see where they need to click if they wish to utilize a microphone? You must ensure that they do not become confused.
Having a budget in place is essential.
When it comes to webinar software, it's easy to get carried away. You may end up spending more than you can afford if you do not have a budget in place. You can also find yourself paying for features that you don't require.
A free plan is available on some webinar platforms. You can commence by familiarising yourself with the program before upgrading your package if necessary.
Check video and audio quality.
Your webinar software must be capable of handling high-definition video and audio. Everyone should be able to hear and see you: any extra noise, technological difficulties, or disconnections will make your webinar less professional. In addition, it will have a significant impact on audience feedback and opinions.
Presentation Dimensions
Your webinar software should be capable of handling the presentation you intend to offer to your audience. First, check to verify if the platform you'll be utilizing will display your presentation correctly – that is, that the correct dimension and size will be displayed on the screen. When it comes to presenting, each software has different options.
Putting your webinar software towards the testing process
It's essential to understand how the platform operates from the perspective of both the presenter and the audience. So, before you buy any product, try it out for free with a free trial and a free account to see what you think.
Next, you must determine whether the features and interface meet your requirements. Fortunately, almost all webinar software provides a free account, allowing you to test each platform.
Customization
Getting the correct level of personalization for an informative and entertaining webinar is a great approach to boost your brand's reputation. To accomplish so, you must ensure that your target audience can easily recognize and recall your brand.
As a result, selecting a webinar that allows you to customize your branding content makes sense.
Comparison of Best Webinar Software Platforms of 2023
| Platforms | Key Benefits |
| --- | --- |
| Demio | Provides a personalized replay page with a call-to-action button that suits your brand. |
| WebinarJam | provides the quickest and smoothest admin setups, allowing users to get up to speed quickly. |
| ClickMeeting | Provides a safe cloud storage system for video backups. |
| Livestorm | Offers audience interaction options that let you communicate with your audience. |
| GoToWebinar | Offers marketing integrations, email automation, survey and video engagement, and a simple webinar setup. |
| EverWebinar | provides features like Q&As, pop-up offers and polls, live chat simulations, and more |
| GoToMeeting | Allow users to share any application in real-time. |
| Zoho Meeting | Offers an unlimited number of web meetings and webinars. |
| Zoom Video Webinar | Allows you to broadcast a meeting to up to 50,000 people |
| WebunarNinja | Offers built-in landing pages, email reminders, with no additional software required. |
| EasyWebinar | Provides the ability to run HD ScreenSharing without any restrictions. |
Final Verdict: Best Webinar Software Platforms 2023
Whether you're a solopreneur or a global corporation with clients all over the world, webinars are a valuable marketing tool to have in your toolbox.
Finding the finest webinar software is not difficult when you have all the details and requirements. The majority of webinar platforms include impressive and easy-to-use features. It's now up to you to decide the tool that best meets your needs.
Consider the features and audience capacity of each webinar platform, as well as its effectiveness and efficiency. Before deciding on the best webinar software, you should consider your goals, required functions, and budget. Fortunately, they all come with a limited free trial time that allows you to acquire some hands-on experience before making a final decision.
Hopefully, this blog will assist you in determining the best webinar platform for your business.
FAQs
How Much Do Webinar Platforms Cost?
Various prices depending on the number of live participants and the features you demand. Fees typically range from $39 to $199 each month, though most consumers may expect to pay $129 or less per month.
How Do I Choose A Webinar Platform?
You'll want to think about the number of people attending, the features you'll require, and your budget. You should also consider whether you want the software to run in a browser or as a separate app and the user interface, customer service, and analytics.
What is the cheapest Webinar Software?
When it comes to low-cost webinar software, Demio Webinar should be your first and foremost choice.
What is the best webinar platform?
Every webinar software has some unique features. Selecting the best platform to host webinars depends on needs. This article will make your buying decision easier.
Which free platform is best for webinars?
Free plan of Zoom is good to host meetings. Meeting can be used in the form of webinar by disabling audio of all participants.