Disclosure: Some of the links in this article may be affiliate links, which can provide compensation to me at no cost to you if you decide to purchase a paid plan. We review these products after doing a lot of research, we check all features and recommend the best products only.
When we talk about growing a community or rendering a better understanding of our target audience we shift our attention towards the extra mile we want to run for our business through exclusive content.
This exclusive content could be any valuable information or experience you want to share with your audience through webinars, videos, podcasts, online courses, case studies, blogs, and many more mediums, which can help them in various ways.
Now that you have your content ready for your audience, where do you share this valuable intel or research? Just anywhere on your website where it can get lost? And this is where the Membership Sites come in handy.
A membership site, as the name suggests, is a website that offers reserved or subscribed content only for the members or the subscribers of that particular site. This content can be paid or signed up for.
Now, you might think over the lines that how is building a membership site and giving extra information is going to help me as a business? Here's why.
Having established the fact that membership sites can be helpful for a business, let's focus our attention on the platforms, plugins, and builders that can help in building, organizing, and managing this site.
A Membership platform or MMS (Membership Management Software) is a tool that aids in creating a unified platform for all the queries and data regarding the members and the events for a company in one place for easy access and workflow.
What features to look for in a Membership Site Platform?
It is really important for the interface to be user-friendly for everyone, be it the members joining or the staff setting up the platform. Ease of use determines efficiency in all the technical elements of a platform which help you navigate around the site and content.
The business will be exposing a lot of contacts and personal details such as email IDs, contact numbers, preferences, etc of the members to the membership site platform, and hence, it is crucial to understand how well the data is being secured and stored.
It is essential for the membership site to be accessible yet advanced in terms of interactive documents, payment gateways, online courses, live chats, and many other interactive widgets which can help in building an advanced featured interface.
When looking for a membership site platform it is necessary that you go through the list of integrations and compatibility with other networks for a seamless flow of work.
Many membership site platforms offer the use of drip content where you can post your content at different intervals. This helps in keeping the consistency of content on the portal and managing the content.
OUR TOP PICKS
One-click sales and marketing funnels
Website builder with marketing sequence templates and pipeline blueprints
Courses insights and drip content

Instructor-led courses and interactive learning
Offers set-ups for building your own app with a unique algorithm
Provides multi-user collaborations

Assessment of certifications and licenses
Affiliate marketing program with custom commissions and payouts analysis
Unlimited hosting of videos and files with payment plans and drip content
11 Best Membership Site Platforms 2023
Graphy – Best platform for Indian trainer and coaches
Kajabi – Best Content Marketing System
Mighty Networks – Best Community Building Platform
Podia – Best for Online Courses and Coaching
Kartra – Best for Affiliate Management System
Circle.so – Best Integrations for Communities
Hive Brite – Best RSS Feeds and Collaborations
Tribe.so – Best Space Hosting
Wild Apricot – Best Event Campaigns and Management
MemberSpace – Best Customizable Interface
GetSocial.im – Best for User Management
11 Best Membership Site Platforms of 2023
Check the complete list of our top recommendations below.
Graphy is a brand-new platform that allows creators to build an audience, monetize their abilities, and deliver live cohort-based courses. Businesses can use Graphy (previously Spayee) to build their course platform, branded online learning website, and mobile app, as well as design and sell online courses and instruct students.
Key Features:
Pros
Ability to schedule courses as you like
Provides marketing tools
Host immersive live sessions
Helps you offer Multimedia Support
Assists in launching Public Forums
Build No-Code Websites 
Can Host a Custom Domain
Cons
There is no direct integration to a local payment gateway.
Highly focuses on Indian-Market
Lack of Internal Analytics
Pricing:
Graphy offers four plans consisting of Basic, Pro, Business, and Advanced features that assist all kinds of users with all their specific needs.
| Basic $54/month | Pro $109/month | Business $182/month | Advanced $320/month |
| --- | --- | --- | --- |
| Unlimited Courses | All Basic Features | All Pro Features | All Business Features |
| Unlimited Learners | 2 Admin Accounts | 6 Admin Accounts | 15 Admin Accounts |
| Unlimited Storage | A live class with 500 users | 2 concurrent live classes with 500 users | 3 concurrent live classes with 500 users |
| Email and phone support | White-Labelled Website | Common iOS App, and white-labelled Android App | White-Labelled Android and iOS App |
| Personalized domain | Common Android and iOS app | Advanced Integrations | API Integration and Single Sign-On |
| 10,000 Active Listeners | 20,000 Active Listeners | 50,000 Active Listeners | 100,000 Active Listeners |
Kajabi
Kajabi is a unified platform for all the features co-relating to creating a community, membership site, online courses, funnels, contact listing and among others in one place for your business.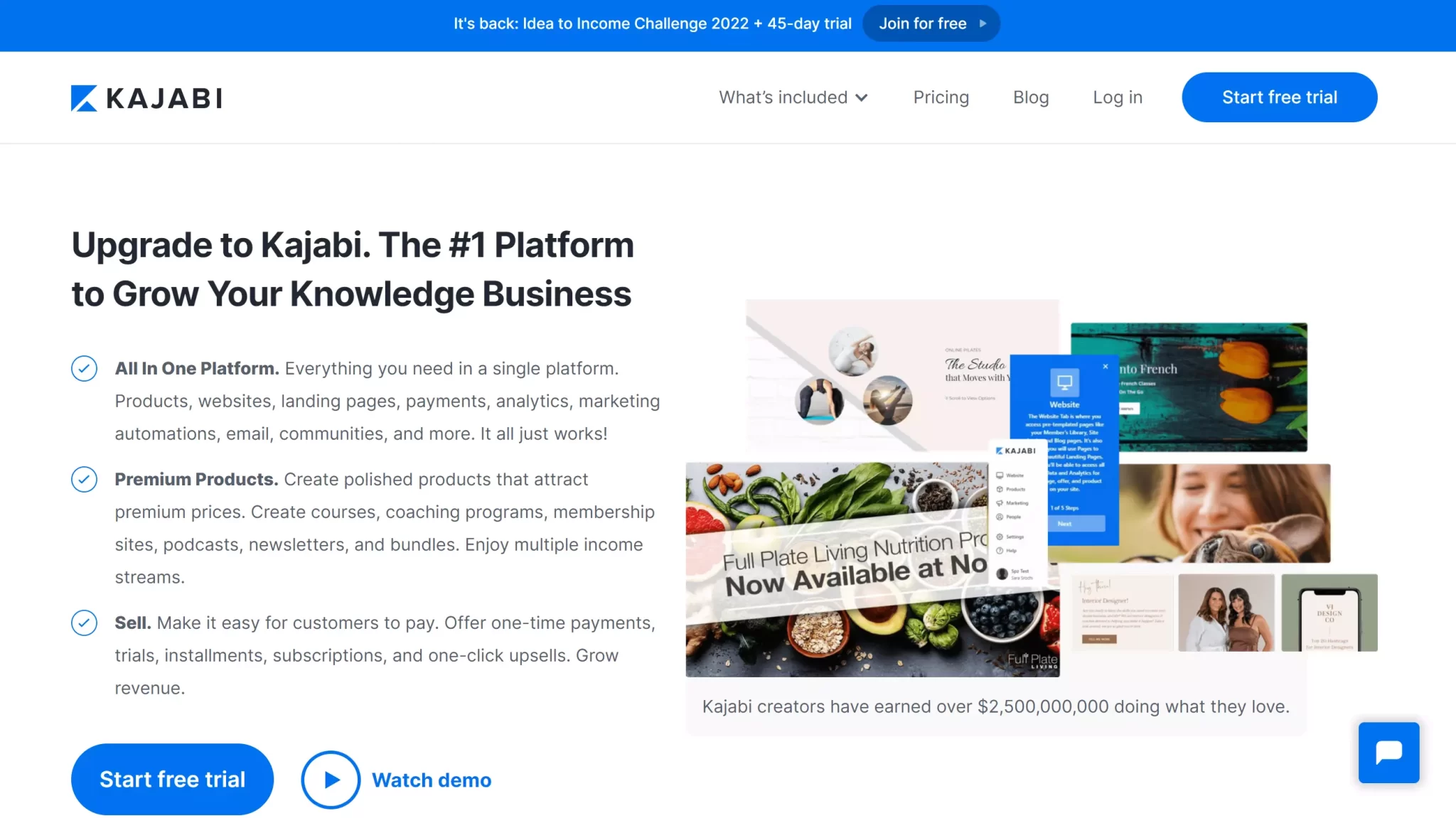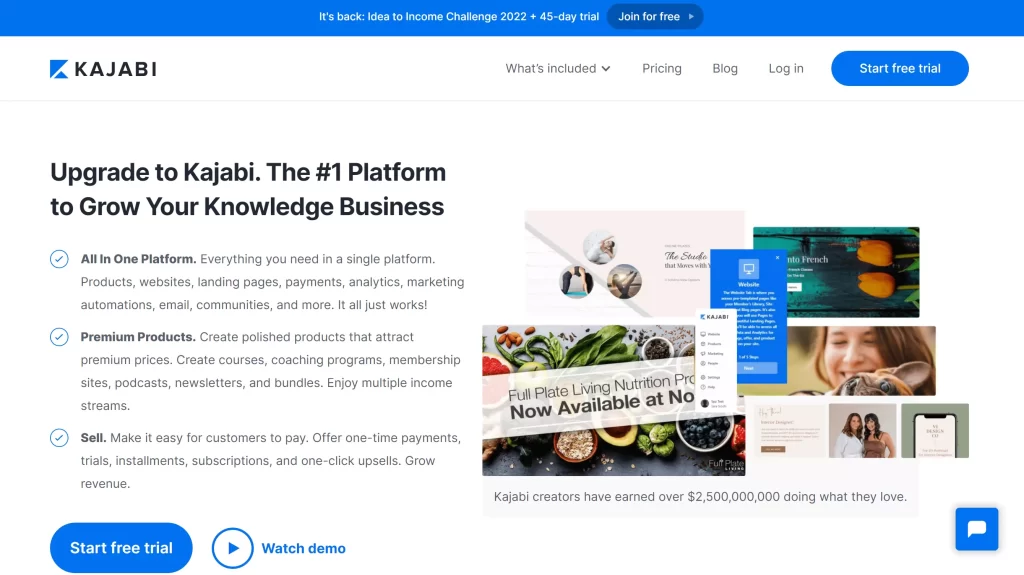 Key Features
Pros
Unlimited hosting without any limitations to storage space.
Advanced auto-scaling for fast visitor tracking and management.
Customize and embed forms for high conversion rates.
Provides drip content and course insights. 
Cons
No API Integrations
Kajabi is slightly costlier than the other platforms.
Limitations for active members with basic plans
Pricing
Kajabi offers 3 plans according to the usability of the content and number of members.
The Basic Plan: $149/month or $149/month if billed yearly for 10,000 contacts, 1 admin and 1000 active members.
The Growth Plan: $199/month or $159/month if billed yearly for 25,000 contacts, 10 admins and 10,000 active members.
The Pro Plan: $399/month or $319/month if billed yearly for 100,000 contacts, 25 admins for 3 websites, and 25,000 active members.
Mighty Networks
Mighty Network is a community-building membership site platform that offers pipelines, integrations, and automation for better member connectivity and business reporting.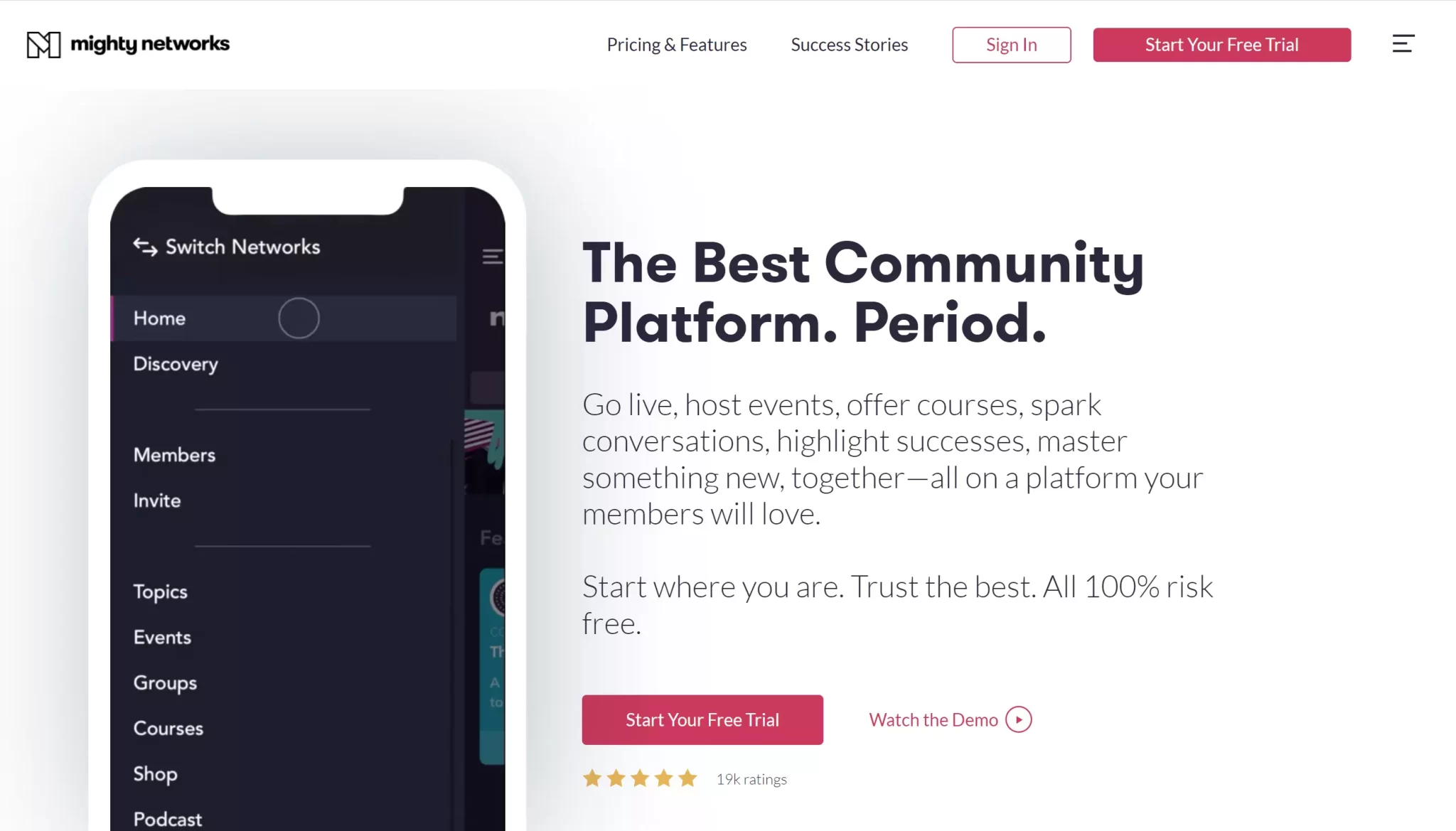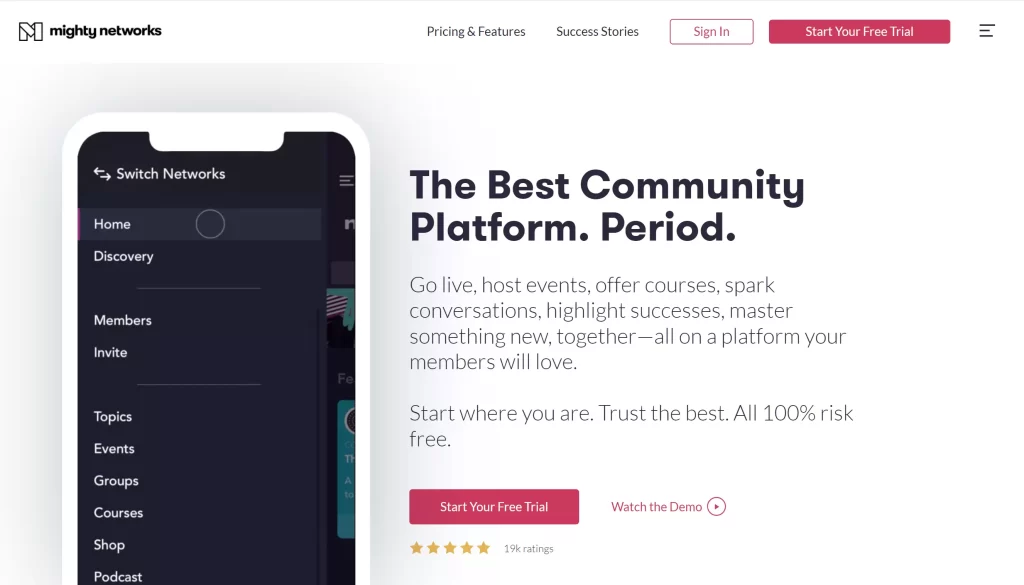 Key Features
Pros
Provides various collaboration tools.
Offers Instructor-led courses and interactive learning. 
Multi-user Collaborations.
Membership management and online forums for discussions. 
Affordable user plans. 
Cons
Lack of campaign and contact management.
Limitations on online store building.
Pricing
Mighty Networks provides three plans keeping in mind the user affordability.
The Community Plan: $39/month or $33/month if billed annually for all present features and a free trial.
The Business Plan: $119/month or $99/month if billed annually for all present features and a free trial.
Mighty Pro: The Might Pro Plan aims for big enterprises and offers you the liberty of choosing your plan and features and bills accordingly, for which you can request a demo.
Podia
Podia is an all-in-one platform for all the different sales and marketing tools, membership site platforms, website building, and community building all in one place for a business.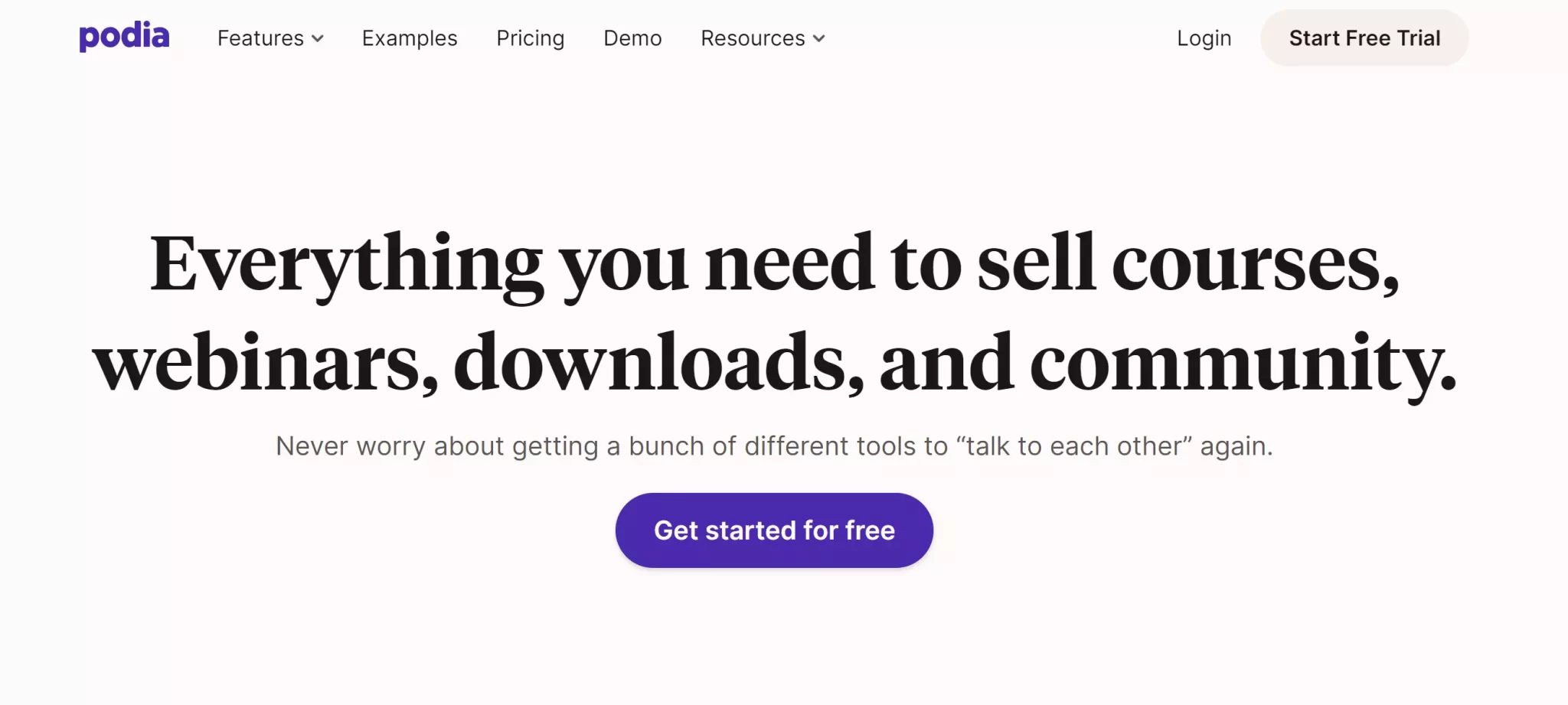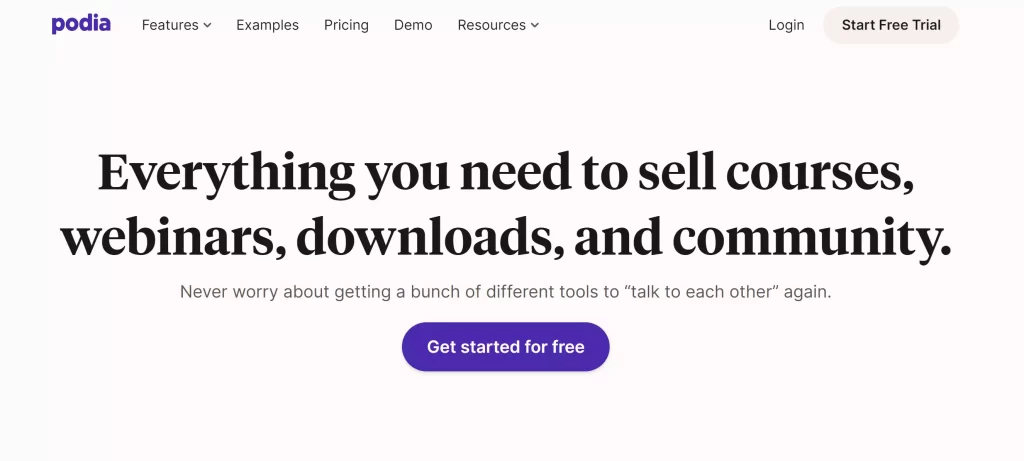 Key Features
Pros
Assessment of certification and licenses.
Built-in course authoring, publishing, and management.
Provides interactive content with learners portal.
Content library and user management.
Cons
Lack of collaboration tools
Limitation of multi-hosts and on-demand webinars.
Pricing
Podia offers three plans, each with added features as you progress towards the higher add-ons.
The Mover Plan: $39/month and $390 if billed annually.
The Shaker Plan: $89/month and $890 if billed annually.
The Earthquaker Plan: $199/month and $1990 if billed annually.
For the Mover and the Shaker, Plan to add a teammate you need to pay $20/month and with the Earthquaker Plan, you get 5 included.
Kartra
Kartra is a one-stop platform for all your required features and tools such as community builder, online interactive projects, sales and marketing funnels, among others in one place.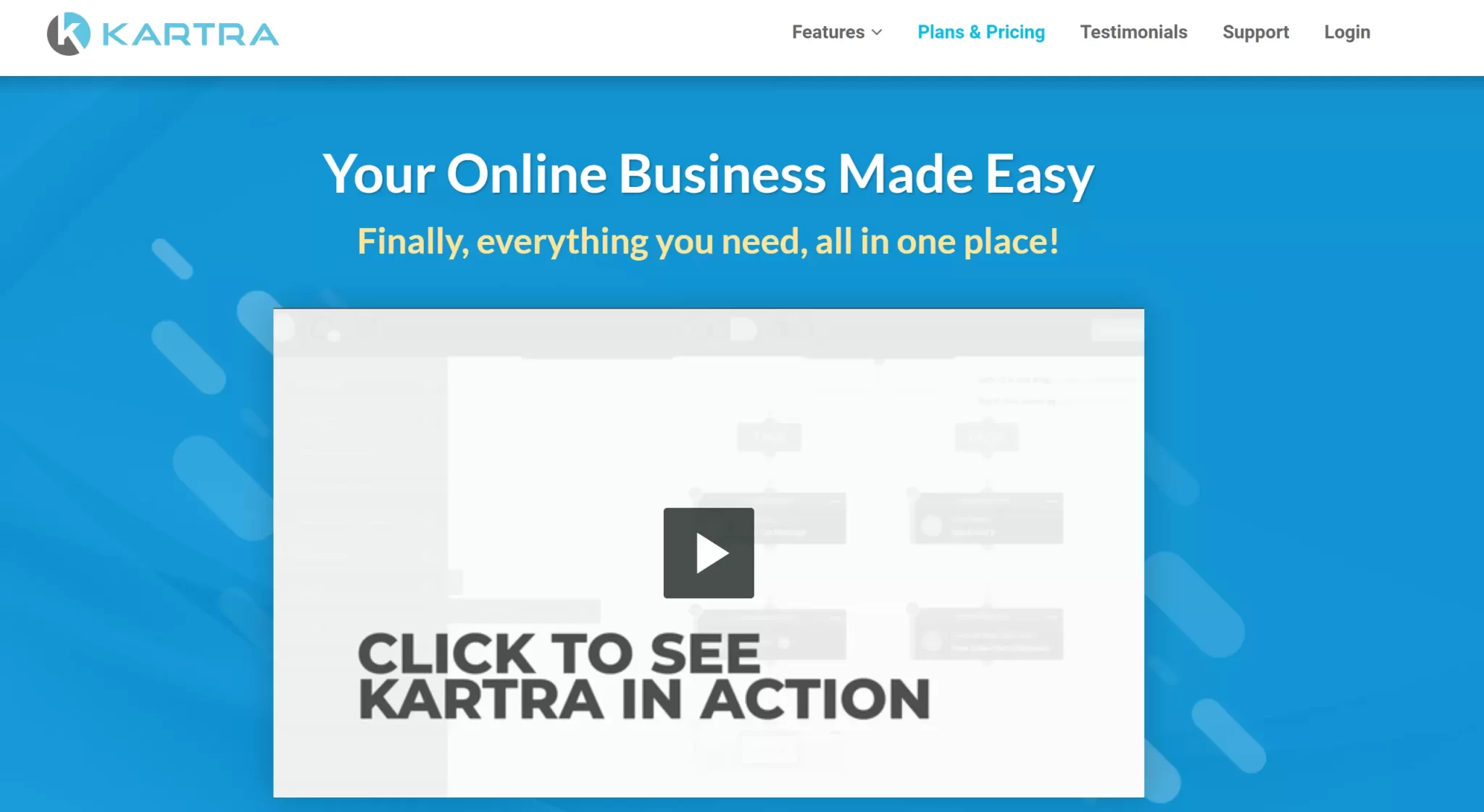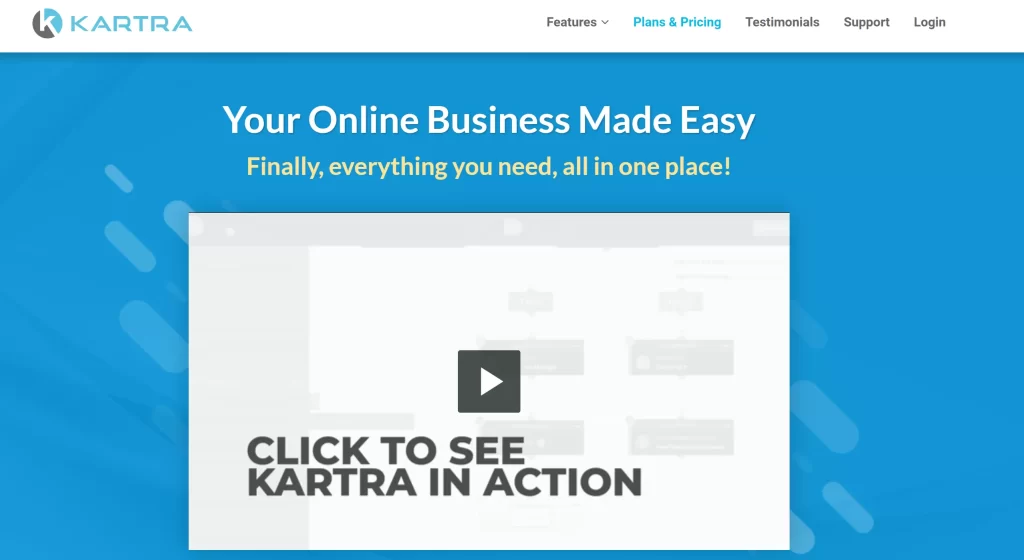 Key Features
Pros
Provides A/B Testing 
API Integrations with Kajabi, Google Calendar, Stripe, PayPal, among others.
Affiliate management and CRM services.
Campaign scheduling, tracking, and management.
Cons
Lack of multi-channel communication and live chat.
Limitations in real-time updates and pipeline management.
Pricing
Kartra provides four plans with all present features but the latter plans give you more access to unlimited features.
The Starter Plan: $99/month or $79/month if billed annually for 1 custom domain and 2,500 leads.
The Silver Plan: $199/month or $149/month if billed annually for 3 custom domains and 12,500 leads.
The Gold Plan: $299/month or $229/month if billed annually for 5 custom domains and 25,000 leads.
The Platinum Plan: $499/month or $379/month if billed annually for 10 custom domains and 50,000 leads.
Circle.so
Circle.so is a consolidated platform for building communities, membership sites, online courses and building funnels for your business in one place for efficiency of work.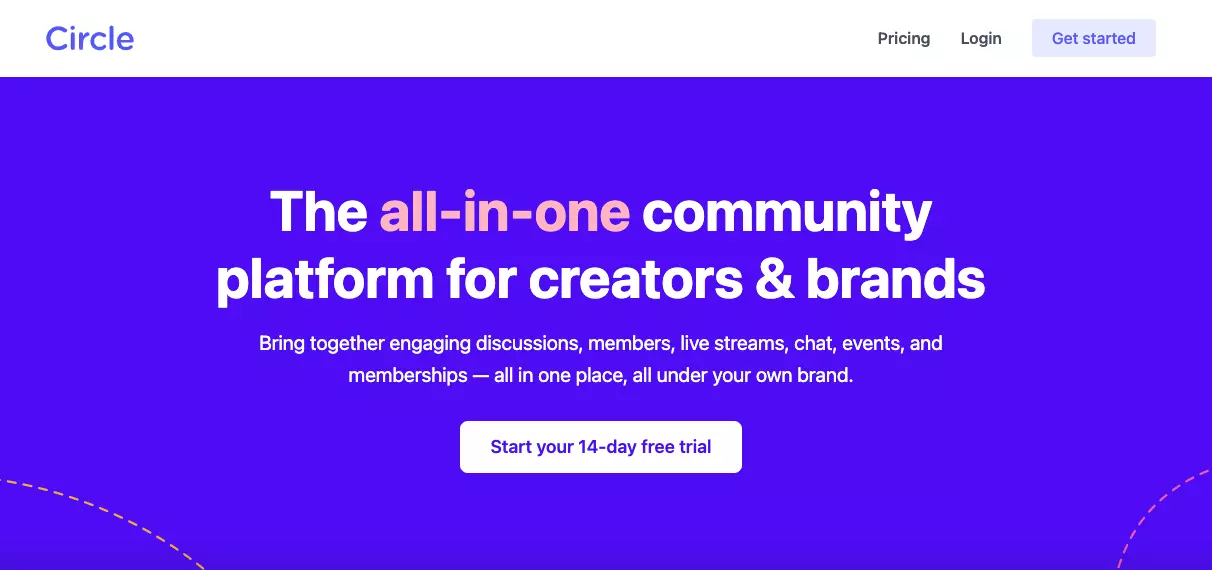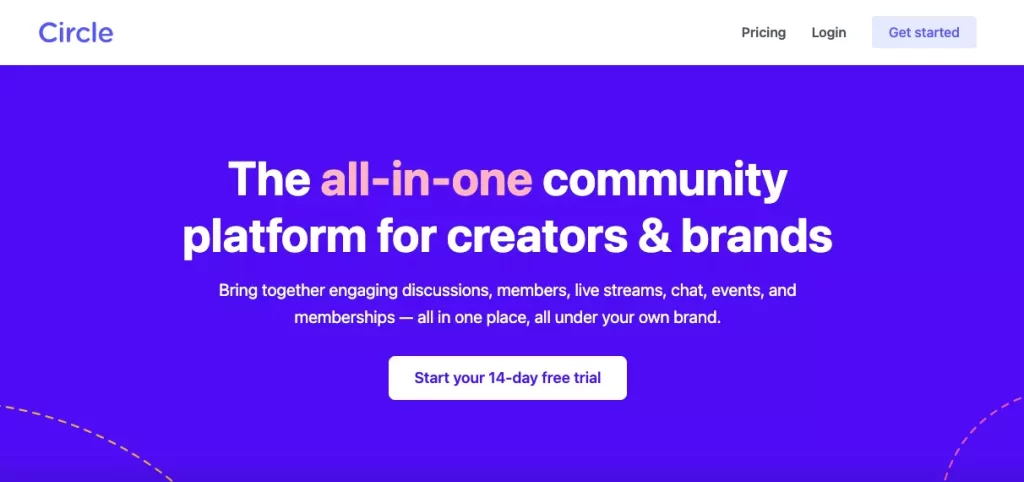 Key Features
Pros
Provides group discussions and forums for engagement.
Secure contact database and member management.
Advanced analytics of roles and permissions.
Ease in private and event spaces creation. 
Cons
Lack of real-time chat and analysis.
No multi-channel marketing.
Pricing
Circle offers three paid plans keeping in mind user affordability and utility.
The Basic Plan: $39/month for all present features.
The Professional Plan: $79/month for all present features and removing circle branding.
The Enterprise: $399 for all the present features and a few add-ons.
Hive Brite
Hive Brite provides a stationery platform for creating, organizing and managing content, marketing, and sales automation all in one place for your business.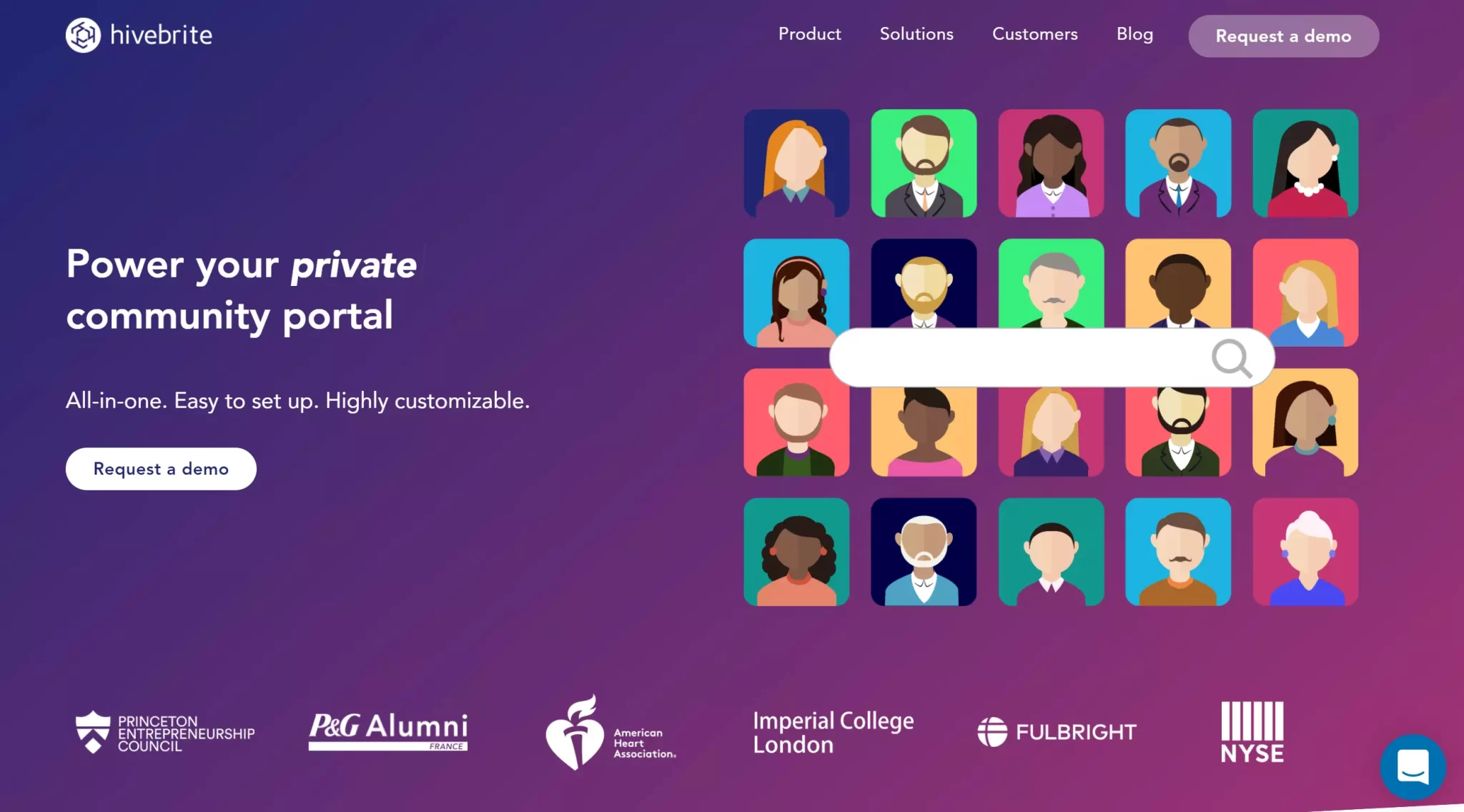 Key Features
Pros
API Integrations for easy file sharing and efficient workflow.
Ad Hoc Reporting that helps in forecasting and analytical reporting.
Provides various collaboration tools for the teams.
Provision of RSS feeds for news, jobs, etc 
Cons
Lacks a CRM system.
Limitations of the dashboard and self-service portal.
Pricing
HiveBrite runs a subscription-based model with a free trial where you can also request a demo video of 45 minutes defining all the features of the platform.
Tribe.so
Tribe.so is a community-building platform that helps start-ups and small businesses in connecting with their members and customers and creates SEO-friendly content for a high conversion rate.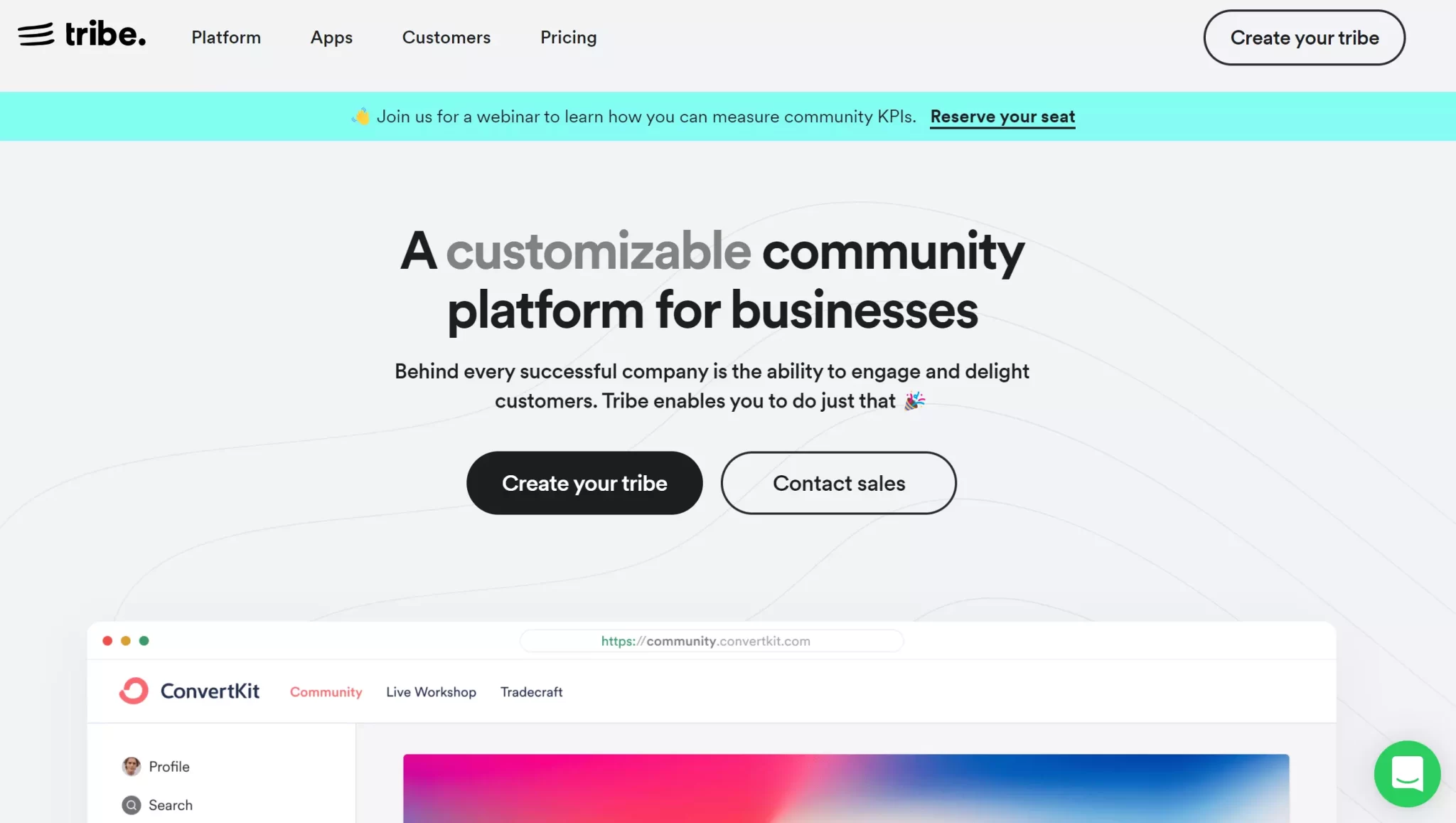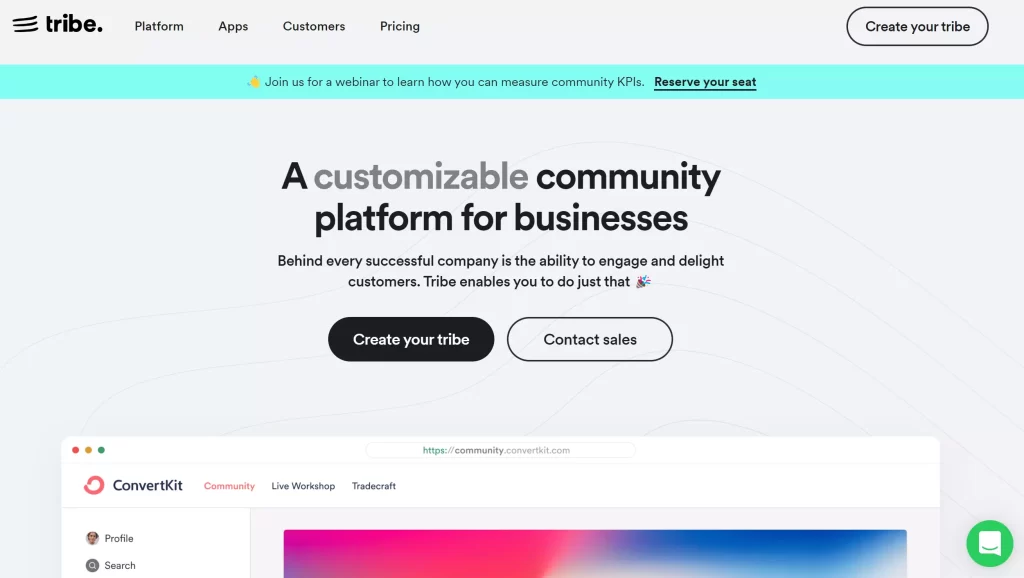 Key Features
Pros
Collaboration tools and community management.
Provides customizable branding.
Offers gamification and filtering of content.
Real-time chat and notifications.
Cons
Lack of predictive analysis.
No support for ticket routing.
Lack of auto-responders.
Pricing
Tribe offers a free plan for individuals and small communities with basic apps and tools and social community, and also offers three paid plans,
The Plus Plan: $59/month or $49/month if bullied annually for essential apps and tools.
The Premium Plan: $239/month or $199/month if billed annually for administration apps and tools.
The Enterprise Plan: This plan focuses on large businesses that need premium apps and administration tools according to their utility and are billed accordingly.
Wild Apricot
Wild Apricot is a powerful cloud software to help you automate and simplify membership tasks with a unified platform for allowing you to easily search, update, and share your database with teammates from any device.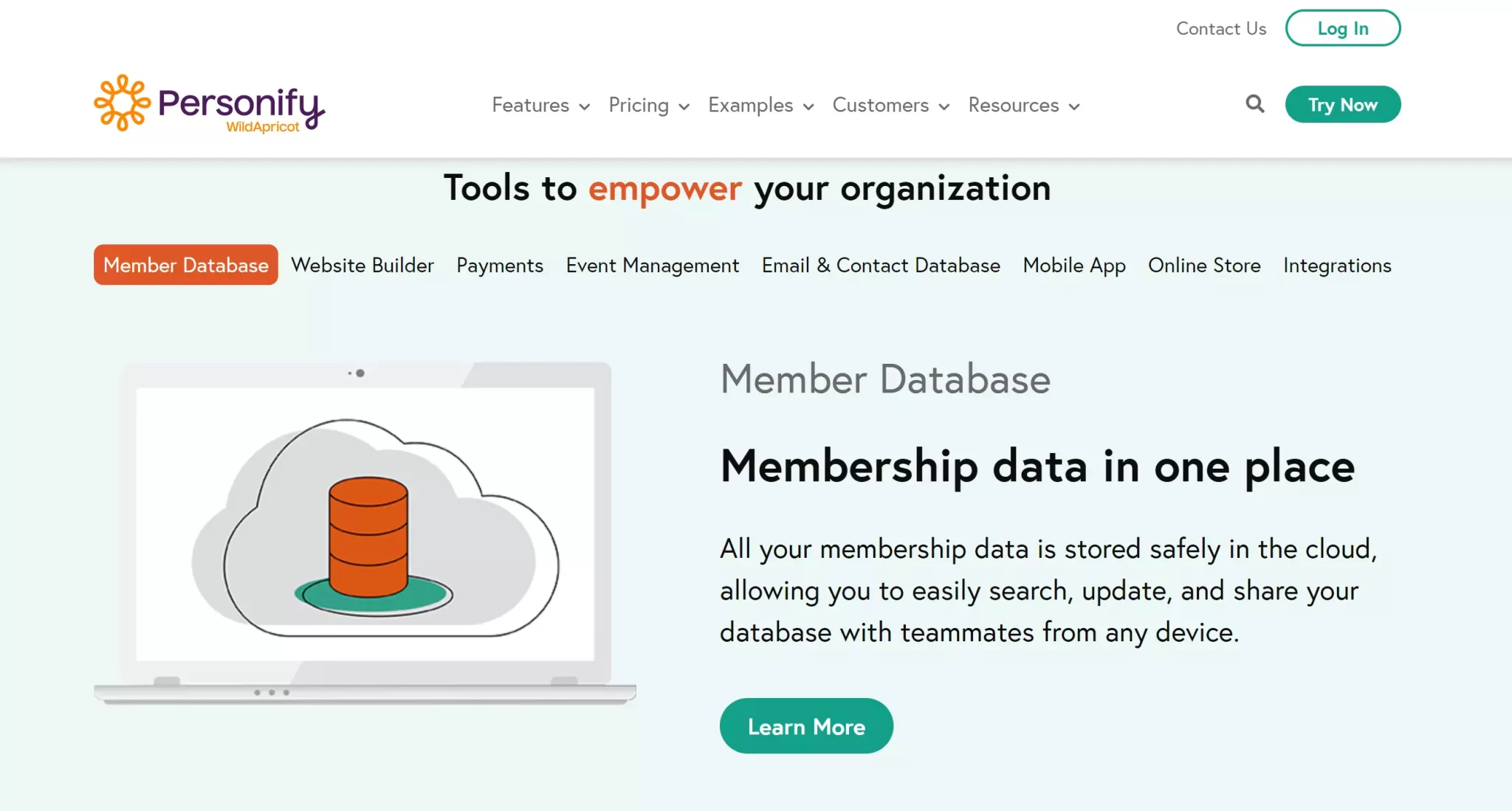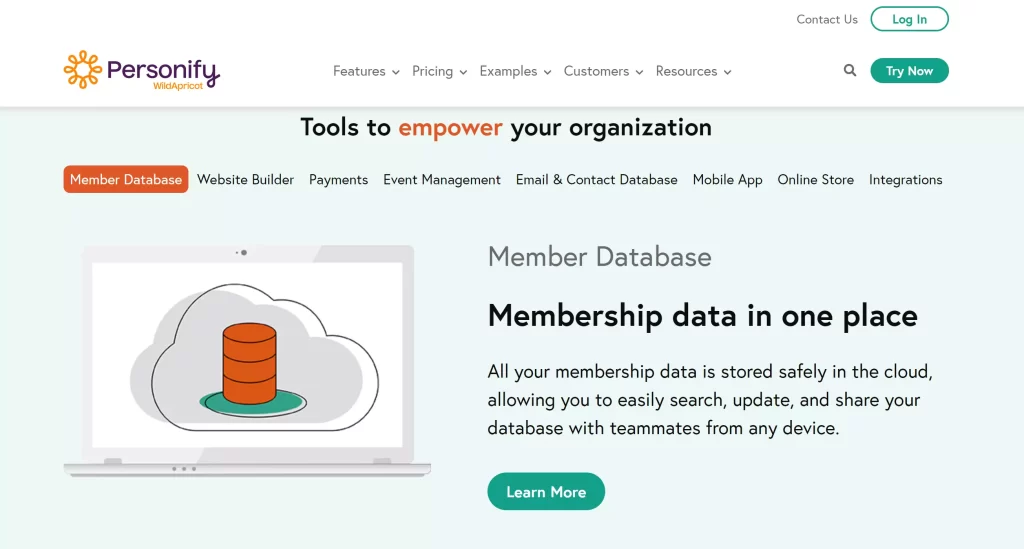 Key Features
Pros
Provides client portal and contact management.
Customizable branding, templates and forms.
Member communities and online forums.
Third-party integrations and analytical reporting.
Cons
Lack of Real-time analytics.
No CRM system and communication management.
Pricing
Wild Apricot offers the most paid plans on this list along with a free plan for 50 contacts.
| Plan | Price | Price(Pre-pay 1 year) | Price(Pre-pay 2 years) | Number of Contacts |
| --- | --- | --- | --- | --- |
| Personal | $48/month | $43.20/month | $40.80/month | 100 |
| Group | $60/month | $54/month | $51/month | 250 |
| Community | $110/month | $99/month | $93.50/month | 500 |
| Professional | $190/month | $171/month | $161.50/month | 2,000 |
| Network | $350/month | $315/month | $297.50/month | 5,000 |
| Enterprise | $420/month | $378/month | $357/month | 15,000 |
| Global | $720/month | $648/month | $612/month | 50,000 |
MemberSpace
A membership site platform that can be customized to the core and helps you in engaging and connecting with your widespread customers with a unified platform for everything at one place.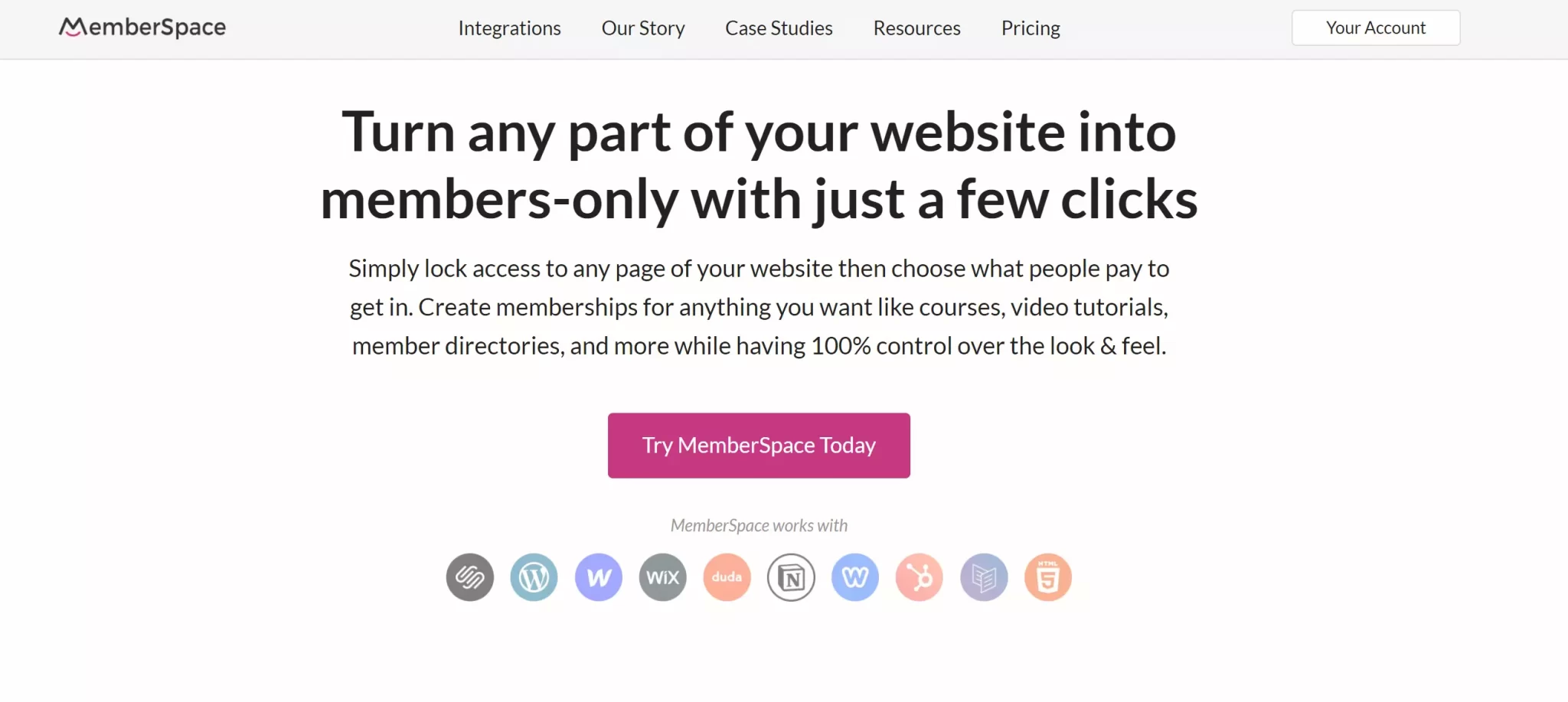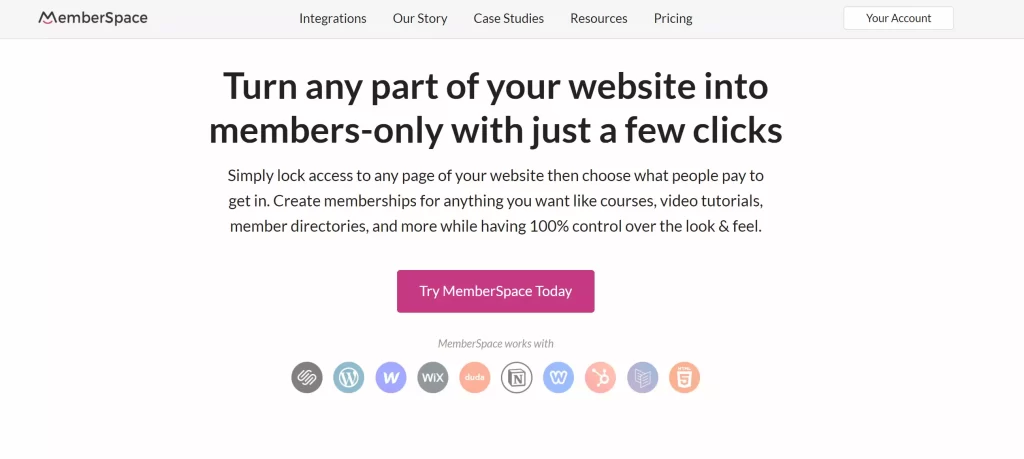 Key Features
Pros
Provides space for unlimited members.
Avails drip-out content.
The interface is mobile responsive.
Provides member invoices and analytics.
Cons
Limitations in analytical reporting.
Lack of online payment options.
Pricing
MemberSpace provides a paid plan of $29/month with 14 days free trial offers all present features with unlimited members and adds a 4% transaction fee.
GetSocial.im
GetSocial.im is a unified platform for empowering mobile app marketing and product teams with growth tools to maximize user acquisition, engagement, and retention all at one place for your business.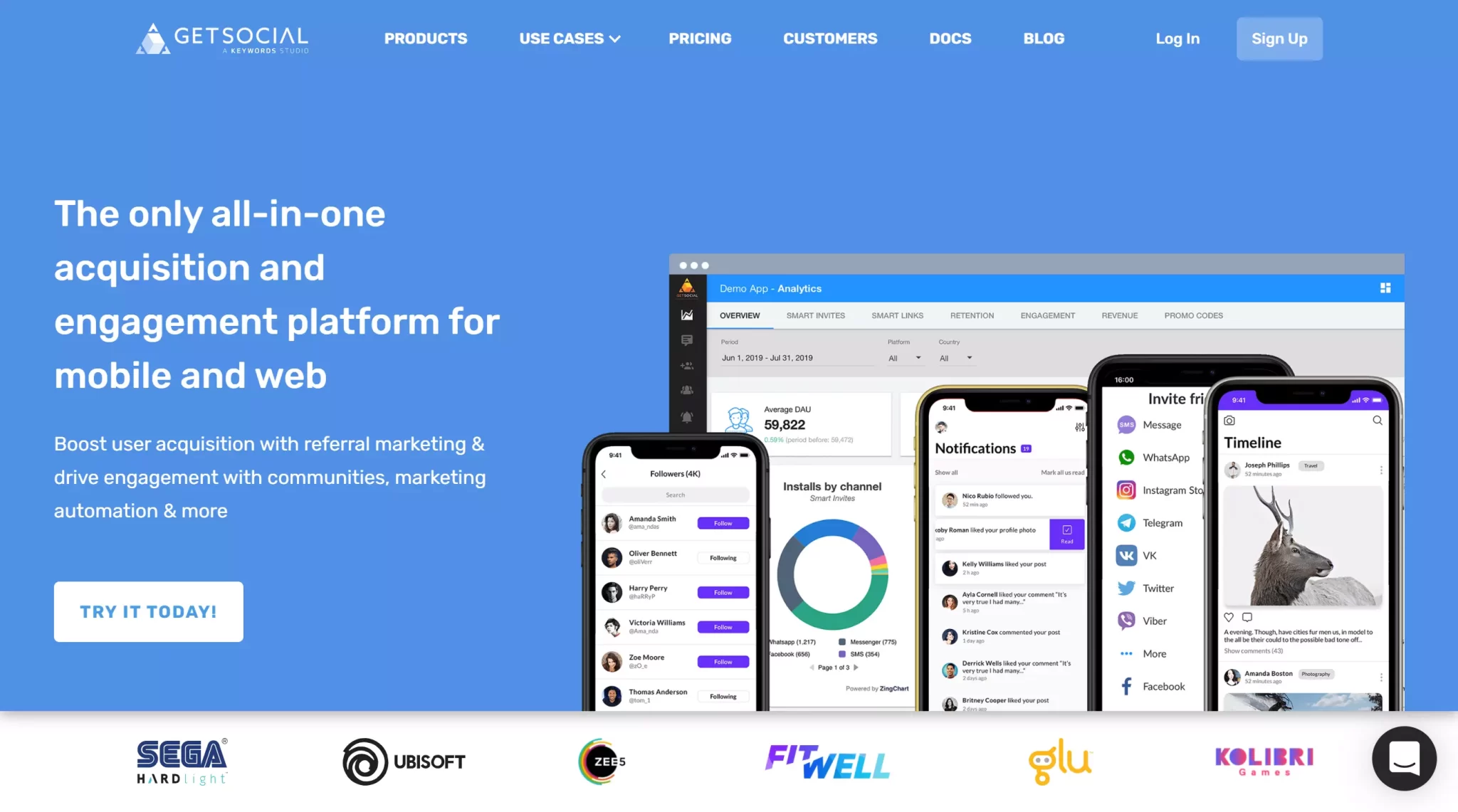 Key Features
Pros
Provides contextual deep links with powerful targeting and automation.
User-friendly and simple interface.
Data import and export and content management.
Multi-account management with performance metrics.
Cons
Lack of ROI Tracking
Limitations in landing pages and forms creation.
Lacks predictive analysis and real-time analysis. 
Pricing
GetSocial offers a different payment plan than the usual membership site platforms.
It bills on Daily Active Users or visitors of your page where up till 500 visitors the plan is free and you can use all the features but once it crosses 500 the prices are as follows for standard amounts;
5k DAU – $99
10k DAU – $199
50k DAU – $999 and so on.
DAU stands for Daily Active Users.*
Benefits of having a Membership Site Platform
Membership sites have various other attributes than just adding members-only content on a website. They provide a variety of features such as setting up of interactive documents, registration index, cloud-based data storage, payment gateways, email marketing and some even offer the website building feature.
Following are a few of the benefits of having a membership site platform;
Comparison of Top Membership Site Platforms
| Platform | Key Features |
| --- | --- |
| Kajabi | Builds one-click pipelines with sequences for better connections. |
| Mighty Networks | Helps in building an app of your own under your brand with your unique algorithm. |
| Podia | Provides assessment of certificates and licenses with a learners portal. |
| Kartra | A built-in affiliate management system that aids at giving multiple and flexible commission tiers with affiliates portals. |
| Circle.so | Provides 1000+ integrations with advanced analytics. |
| Hive Brite | Multiple collaborations with customers, investors, affiliates and co-partners. |
| Tribe.so | Extensive and flexible robust community structure for hosting events and private spaces. |
| Wild Apricot | Creating and launching events with online registration and payments and site administration. |
| MemberSpace | Builds membership sites with custom wording and styling, sign-ups and registrations. |
| GetSocial | Helps in creating user contact through user identities with custom user properties. |
FAQs
What is membership site software?
A membership site software is an all-in-one platform that aids at building online communities or memberships for sharing data and information with customers through online courses, podcasts, video content and many others.
How much does a membership site cost?
Membership sites are a customizable forum and hence, the cost can range from as low as $29/month to as high or higher than $720/month based on your feature requirements.
What should a membership site include?
A membership site aims at providing features that can enhance the customer experience for which the following are a must; member directory and management, community building, interactive online projects, and integrations with collaboration tools.
Do membership sites make money?
Yes, monetizing your membership site with a paid or subscription-based model is easily possible where the site makes $25 or higher per month by offering interactive projects and documents.