Disclosure: Some of the links in this article may be affiliate links, which can provide compensation to me at no cost to you if you decide to purchase a paid plan. We review these products after doing a lot of research, we check all features and recommend the best products only.
Are you a business with a visually appealing and interactive website but are not getting those many customers compared to the visitors on the website? Here's why.
Businesses quite often than not impose various exploration and navigation tabs on their homepage which can lead the visitors to be a little confused with all the information thrown at them at once and hence comes to the rescue, a Landing Page.
You might wonder, what a single Landing Page could do for my conversion rate? Well, it has a lot more to offer than it leads on.
A landing page is an autonomous page of a website where the visitor is directed to or "lands" on after interacting with an advertisement or an email viewed by him/her.
The landing pages are designed in order to further the interest of the visitor in the businesses' brand, product, or service. A landing page with the right elements and content can help the business grow its conversion rate.
Conversion rating refers to the numeric value of how many visitors were persuaded in becoming the customers of the business by purchasing, downloading, or registering in the brand. A landing page with a strong CTA i.e. Call to Action can also generate leads or help the business in the process of lead capture.
Lead generation or lead capture helps the business by providing visitor information and contact details such as email IDs and contact numbers with which the promotional marketing can make a conversion.
Landing Page Builders are tools that help in aligning all the different elements of a landing page for the best conversion results with the help of block builders, templates, etc.
What are the benefits of using Landing Page Builders?
Landing Page Builders are tools or SaaS software that help you create focused and engaging content for your business marketing module.
This software provides you with a range of varieties in templates, CTAs, block builders, contextually visual content, and many more under the same forum for a streamlined work system and flow.
Following are some of the few perks of having a landing page builder to assist you;
With landing page builders by your side, you don't necessarily need a development team as the software can help you generate a high-quality landing page with the in-built structure and editing tools like templates, block builders, use cases and you can even customize your own template.
As we discussed before, a visitor when exploring your landing page will definitely look for the services or features that can help him/her that we call Value Premise or Value Proposition for the visitor. Landing Page Builders help in keeping the focus of the content on the marketing of services that help in the conversion of a visitor.
A lot of business websites keep a single landing page for all their campaigns and the upcoming ones too which can create a hassle for the visitor and result in losing a potential customer. Here, landing page builders help in optimizing the marketing campaigns for the visitors by making specific post-click pages for each of the campaigns.
Our Top Picks
180+ templates for drag and drop customization
Predictive analysis of the performance of the landing page
Unlimited database collection and publishing of pages

Segmentation of page and section based on industry, campaign goals and audience
AI Content Writing Tool for a makeover of your pre-existing basic information or data
A SaaS software with a strong and effective CTA

A/B and multivariate testing to determine the performance
Collaboration Teams to smoothen the work process of reviewing and sharing
Interactive dashboard and responsive mobile base
Best Landing Page Builders to capture leads in 2023
Having discussed the fundamentals of what, how, and where of a landing page we provide you with the Best Landing Page Builders of 2023 that can not only help in conversion but also provide a better and more engaging interface for your website.
Best Landing Page Builders in 2022
Leadpages – Best Drag and Drop Builder
Unbounce – Best Advanced AI Assistance
Instapage – Best Portal for Experimentation of Content
ClickFunnels – Best Tracking System and Campaign Management
OptimizePress – Best Multi-Funnel Builder
Elementor – Best Website Kit Library with 100 Designer Website Modules
Thrive Architect – Best Lead Generation Features and Management
Lander – Best A/B Testing or Split Testing Portal
Systeme.io – Best Collaboration and Affiliation Program Management
SwipePages – Best PPC (Pay-per-Click) SEO Management
Landingi – Best Security Tracking and Management
InstaBuilder – Best Contextually Visual Presentation
#1. Leadpages
Leadpages is a platform that serves various tools for creating websites, landing pages, pop-up forms, alert bars, etc under its umbrella which in return help you build a user-friendly website and gives you a high conversion rating for your business.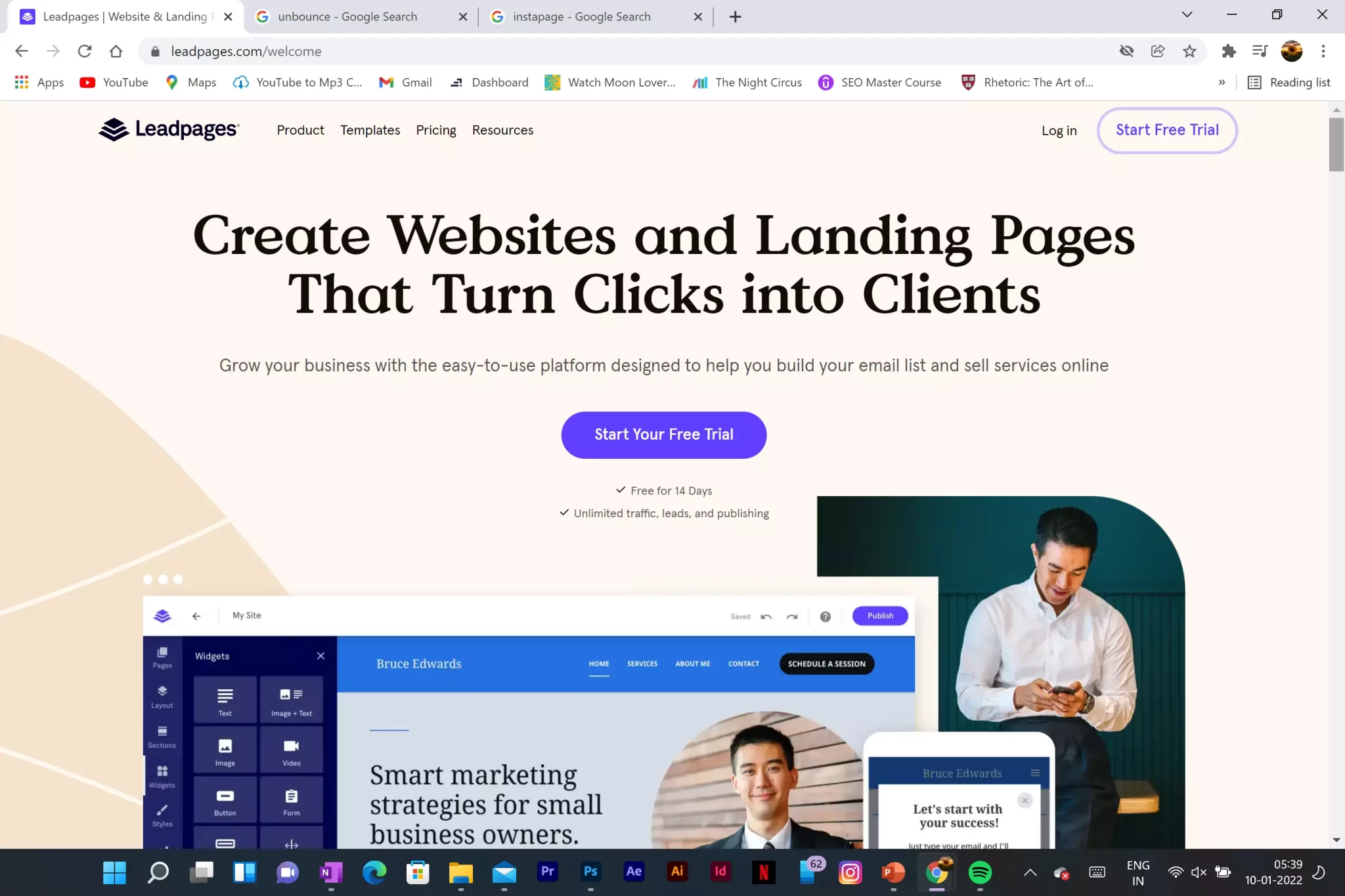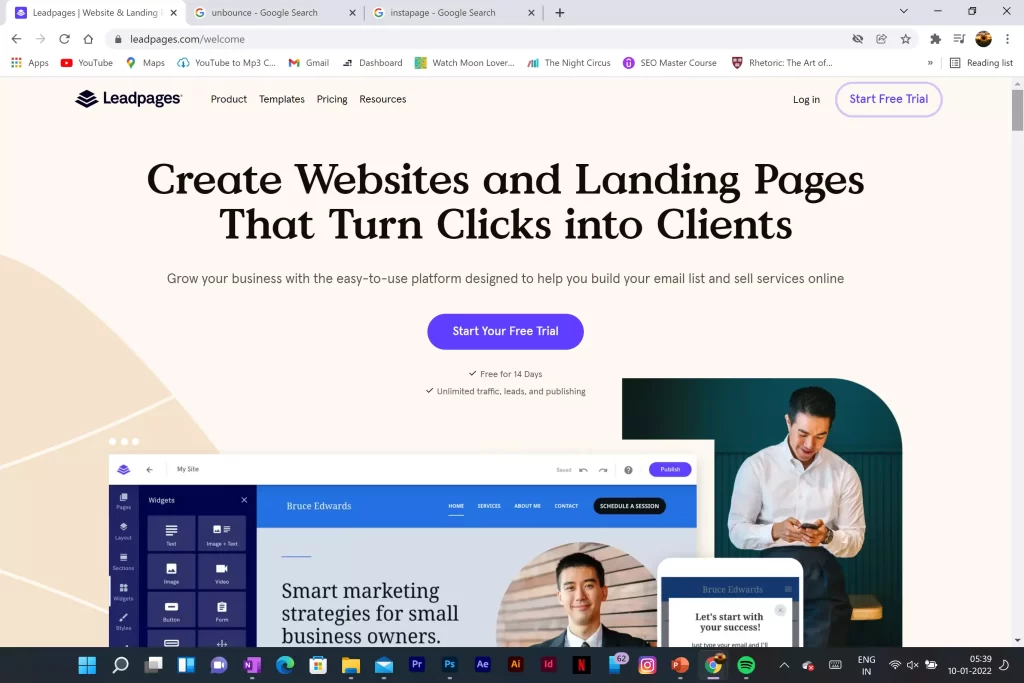 Key Features
Pros
Fast speed browsing and hosting for the user
A/B Testing and A/B Analytics for better performance
Lead generation and database collection
Cons
Lack of website analysis and management
Problems in editing tools such as sizing, alignment, spacing, and others.
Complex user interface for creating customizable templates and integrating with CR
Pricing
Leadpages offers 2 levels of plans as follows;
Standard Plan
Monthly – $49
Yearly – $37 and you save $177 on total
Pro Plan which is the most popular
Monthly – $99
Yearly – $74 and you save $300 on total
Leadpages also offers an advanced plan for enterprises that require a different and customized set of tools that are subjective.
#2. Unbounce
Unbounce is a high conversion rating platform that provides different AI tools such as Smart Builder for lead generation and ROI Tracking, Smart Copy for creating and publishing content, and Smart Traffic creates a specified and unique pathway for each visitor to its worthy landing page.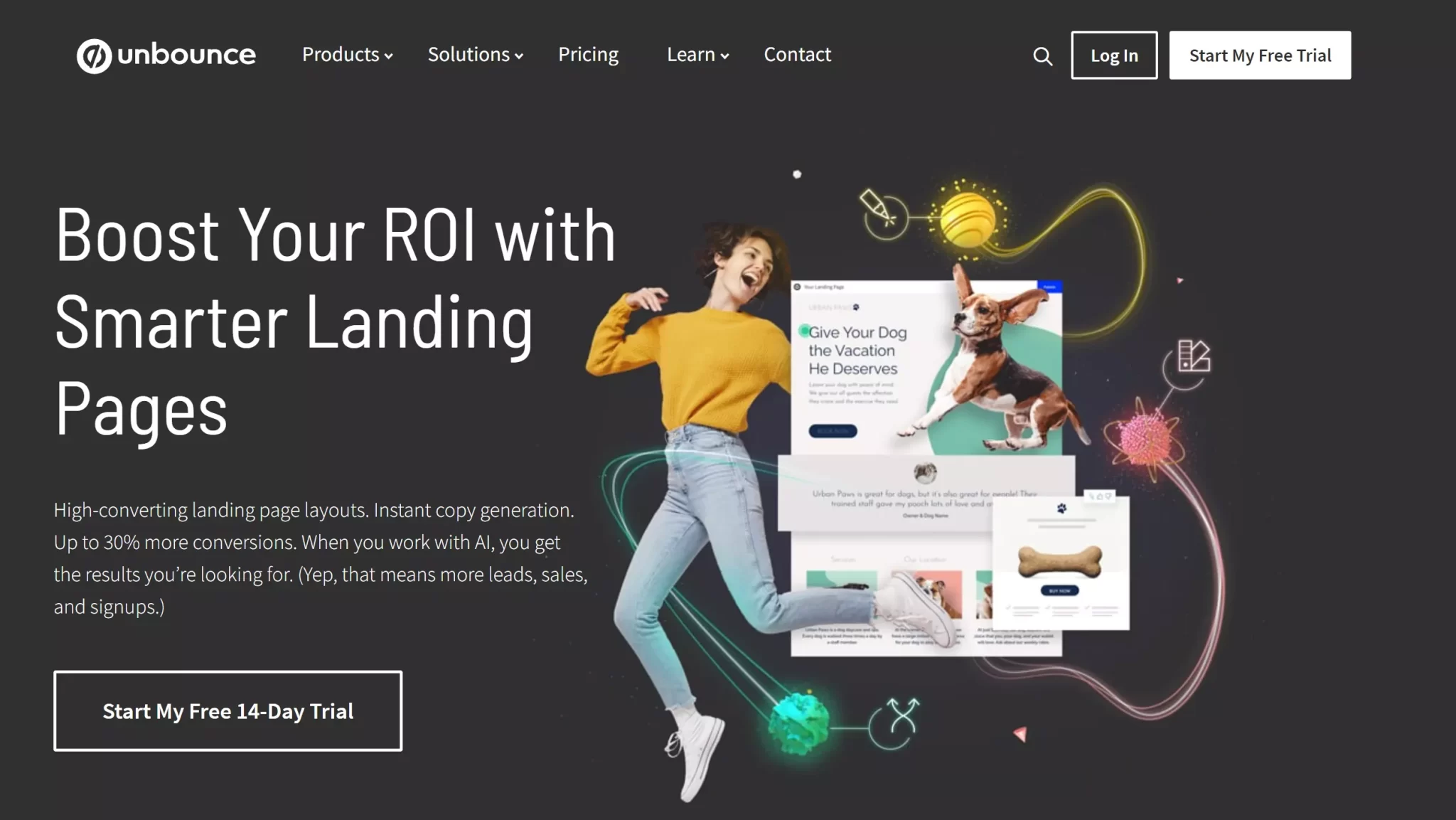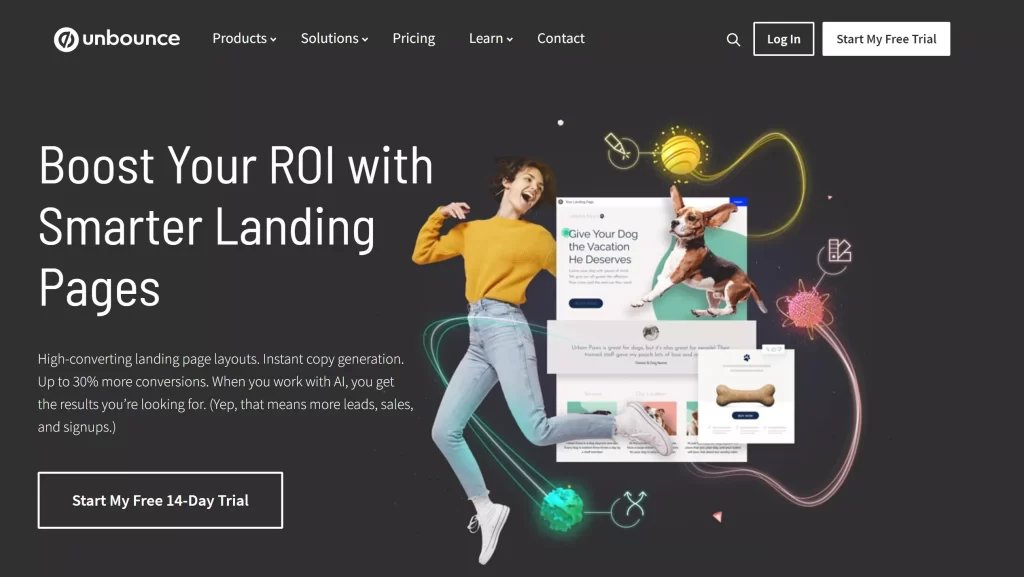 Key Features
Pros
SaaS software that provides a strong call to action and fewer distractions upfront.
Integrations with 100+marketing tools, CRM, sales automation, and others.
180+templates and customization without the complexity of coding in the creation of landing pages.
Cons
The pricing is slightly higher and the product is standalone in terms of features.
No support for a website builder
Pricing
Unbounce provides three different plans on a monthly and yearly basis for Smart Builder.
Smart Builder
Launch – $90/month and $81/month if you choose a yearly plan (10% off)
Optimize – $135/month and $122/month if you choose a yearly plan (10% off)
Accelerate – $225/month and $203/month if you choose a yearly plan (10% off)
Smart Copy
Starter Plan is a free plan to explore the basics of Smart Copy
Growth – $49/month and $25/month if you choose a yearly plan (49% off)
#3. Instapage
Instapage is an advanced platform for creating lead generation, marketing campaign building, optimizing, experimenting and analyzing the created content all under the same roof by using a user-friendly interface.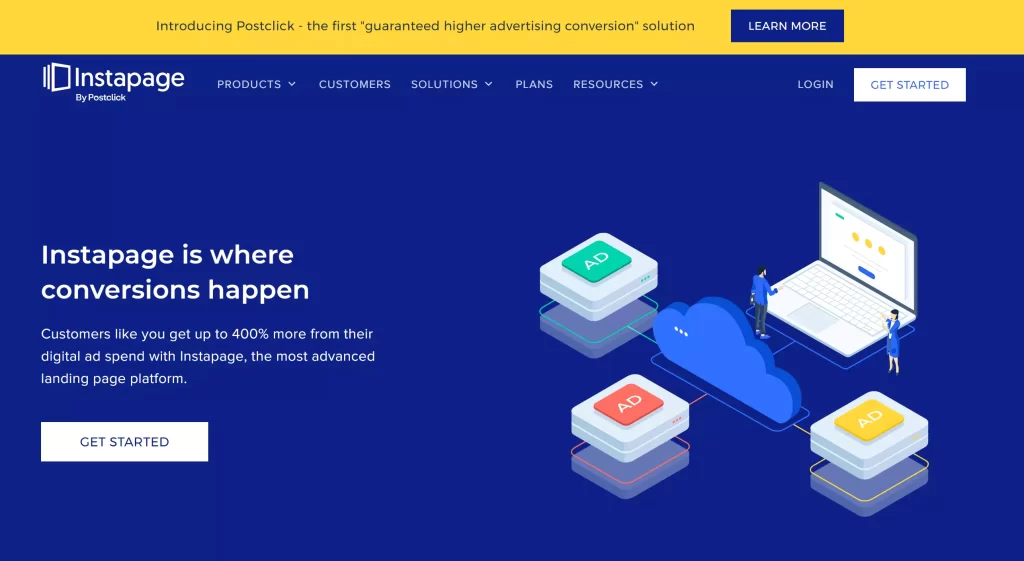 Key Features
Pros
Webinar pages, click-through pages and campaign management
Numerous integrations on the interactive dashboard and a responsive mobile base
Visitors will experience fast-loading landing pages that will save their time and generate interest
Cons
Lack of eCommerce services
Fewer interactive widgets on the panel
Instapage is comparatively pricey
Pricing
Instapage provides two plans that work according to your requirements and selection.
Business Plan
$199/month and $299/month if you choose a yearly billing. The plan consists of
Enterprise Plan is a customized, crafted and priced plan for the requirements of your business. (All above Included)
#4. ClickFunnels
ClickFunnels is a convenient spot for all your problems. As the name suggests, ClickFunnels is a sales funnel that metaphorically builds a funnel or a step-by-step sales process that can give a high conversion rate.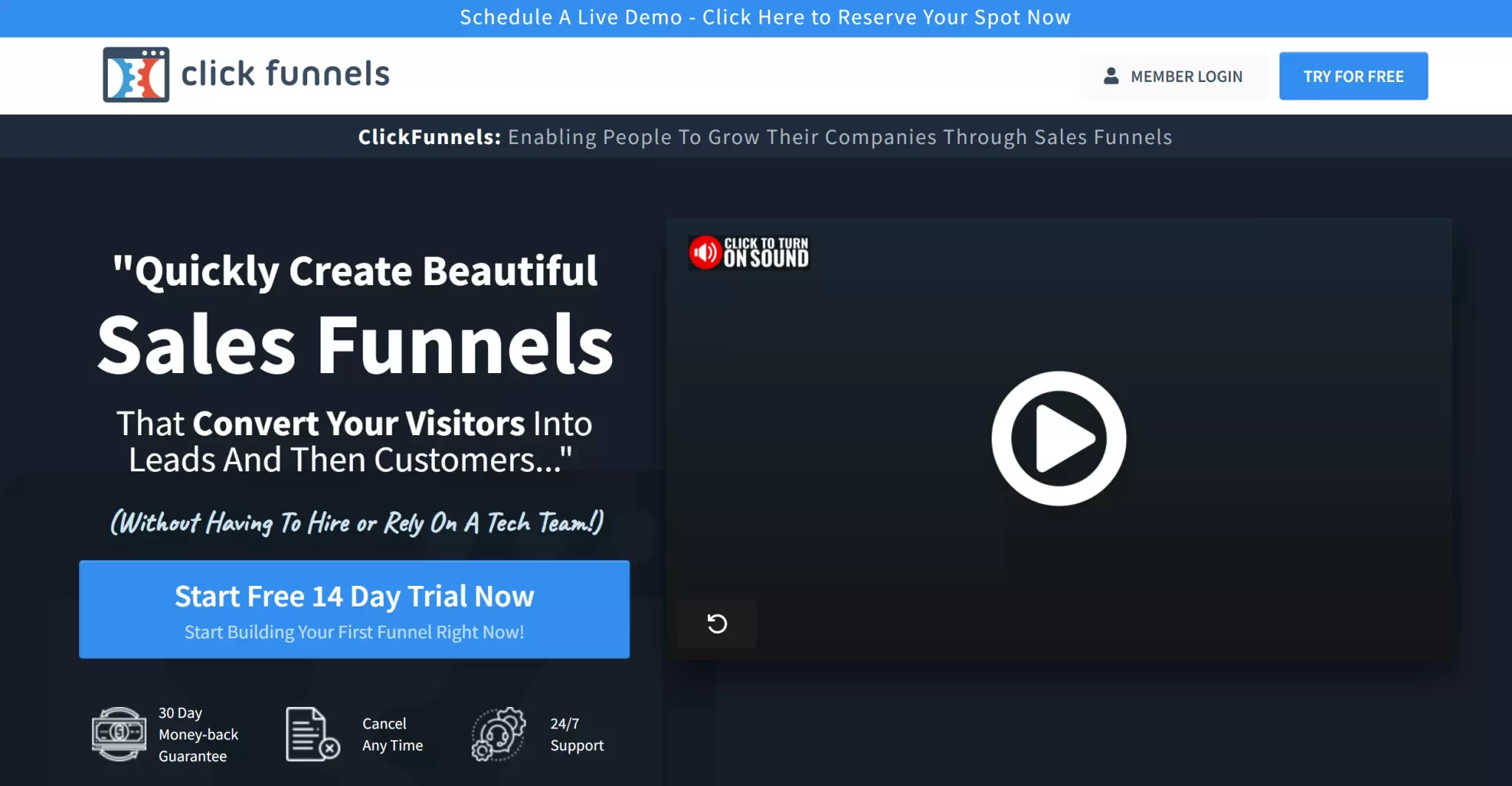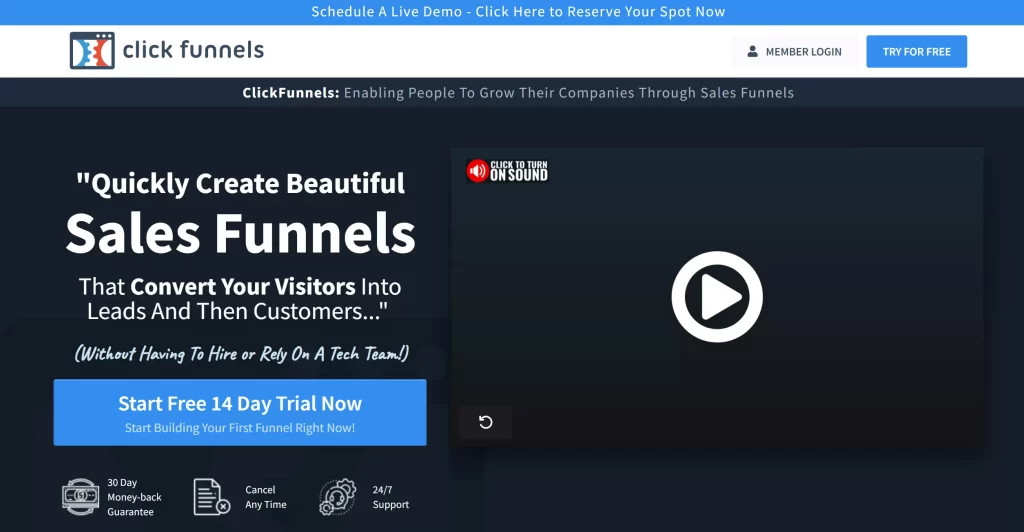 Key Features
Pros
All-in-one system management
Sales Funnel for better visitor interaction
Advanced-Data Tracking
Simple and easy interface
Cons
Limited options for customization
Higher pricing
No ownership is given to the user for the pages built
Pricing
The Basic Plan: ClickFunnels presents a plan that costs $97/month and it comes with various limitations such as 20 sale funnels/month, 100 landing pages and only 20,000 visitors/month
The Etison Suite: This plan is a pricey pack that does not limit you to any feature credit count. The Etison Suite costs $297/month
Also, ClickFunnels provides a 14 days trial and the guarantee of money back within 30 days.
#5. OptimizePress
OptimizePress is a unified platform and a plugin for WordPress that offers many services such as landing and sales page builders, marketing funnels, checkout, and payment plugins for WordPress with many integrations for efficient workflow.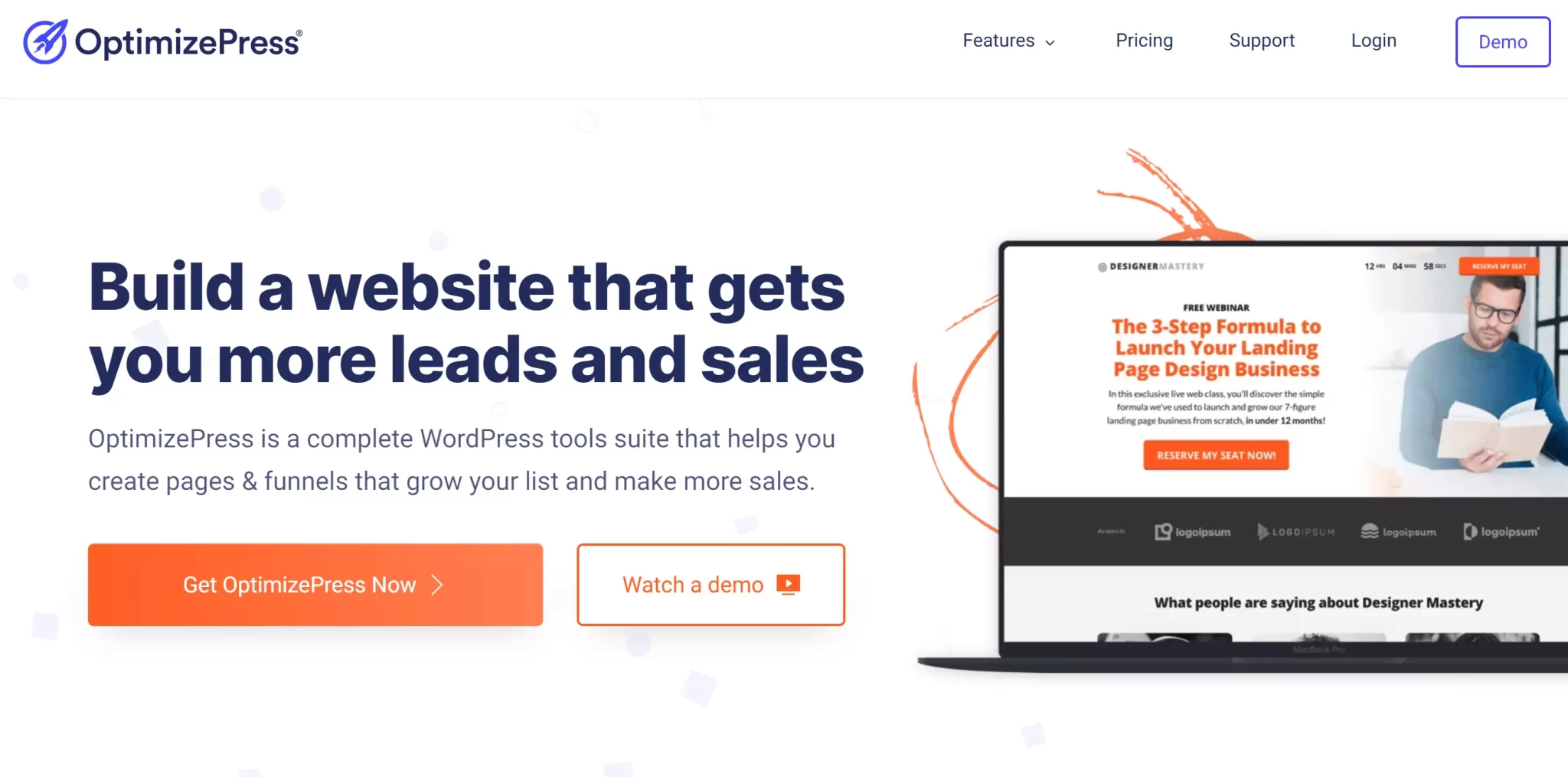 Key Features
Pros
Integration with Unsplash for 1 million+ stock images
250+ customizable templates for landing and sales page
Visual selector provides 2000+ premium licensed icons
Cons
Lacks the innovations in funnels and high conversion optimization if compared with competitors
The support team is unresponsive
Pricing
OptimizePress offers three different plans according to the utility of the user;
Essential Plan: $99/year with all present features for 1 personal site
Suite Plan: $199/year with all present features for 20 personal sites
Agency Standard Plan: $299/year with all present for 20 client sites
#6. Elementor
Elementor is a software enterprise that provides various services according to the need of the individual especially, web designers, developers, marketers, small businesses, and agencies that deal with clients that require website building.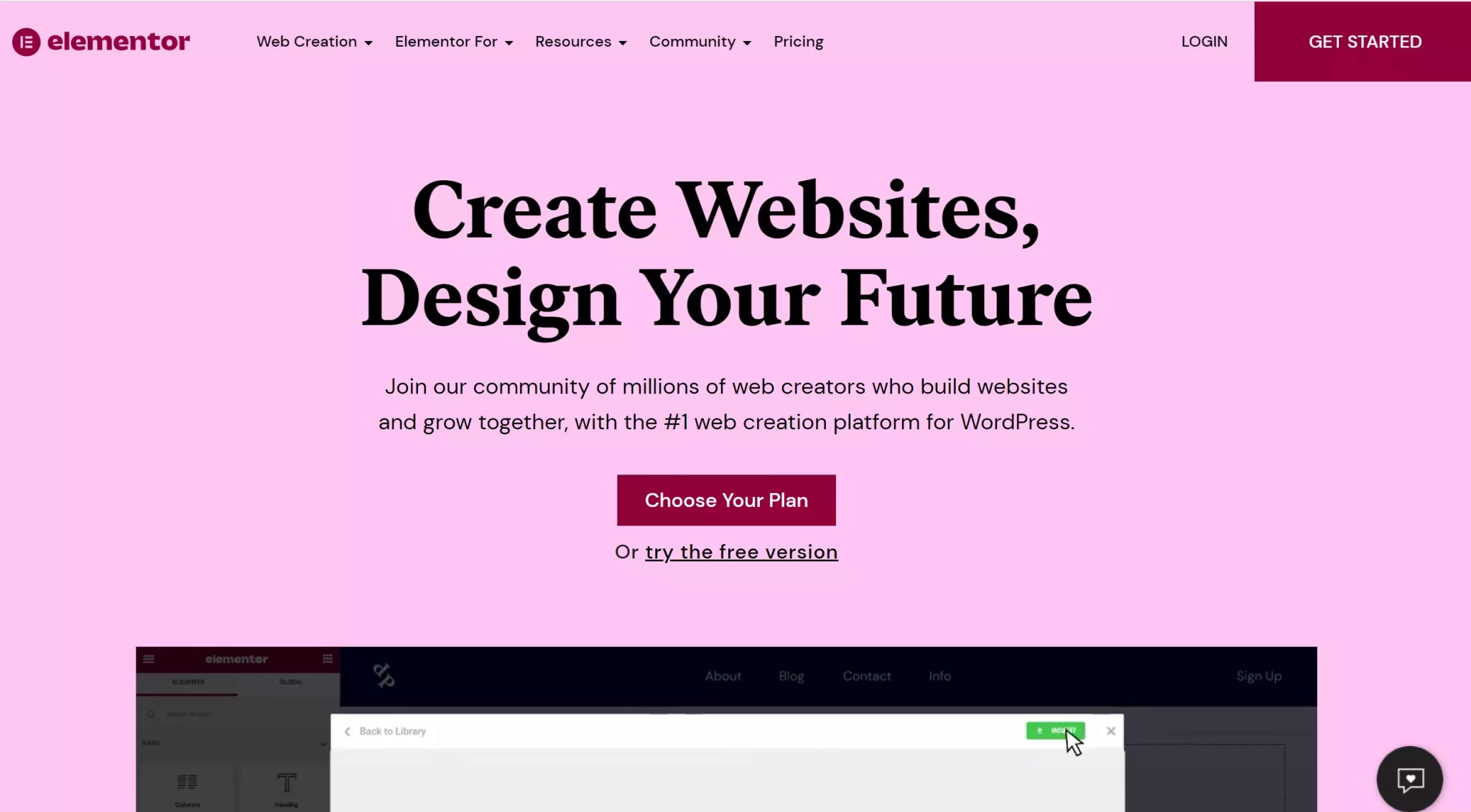 Key Features
Pros
90+ diverse set of interactive widgets
Website kit library with 100 designer website modules and themes to choose from
Powerful editing assets like 300+ templates and live editing with pixel design for your website.
Cons
Lag and site speed issues with the website
Can be complex for a beginner with all the integrations
Pricing
Elementor provides 4 different plans;
Essential Plan: $49/year for 1 website and basic features.
Expert Plan: $199/year for 25 websites with premium features.
Studio Plan: $499/year for 100 websites with premium features.
Agency Plan: $999/year for 1000 websites and all the features.
#7. Thrive Architect
Thrive Architect is a visual page and website builder and is a part of Thrive Themes Suite that helps in preparing opt-ins for your landing pages, home pages, product launch pages, sales pages and many more.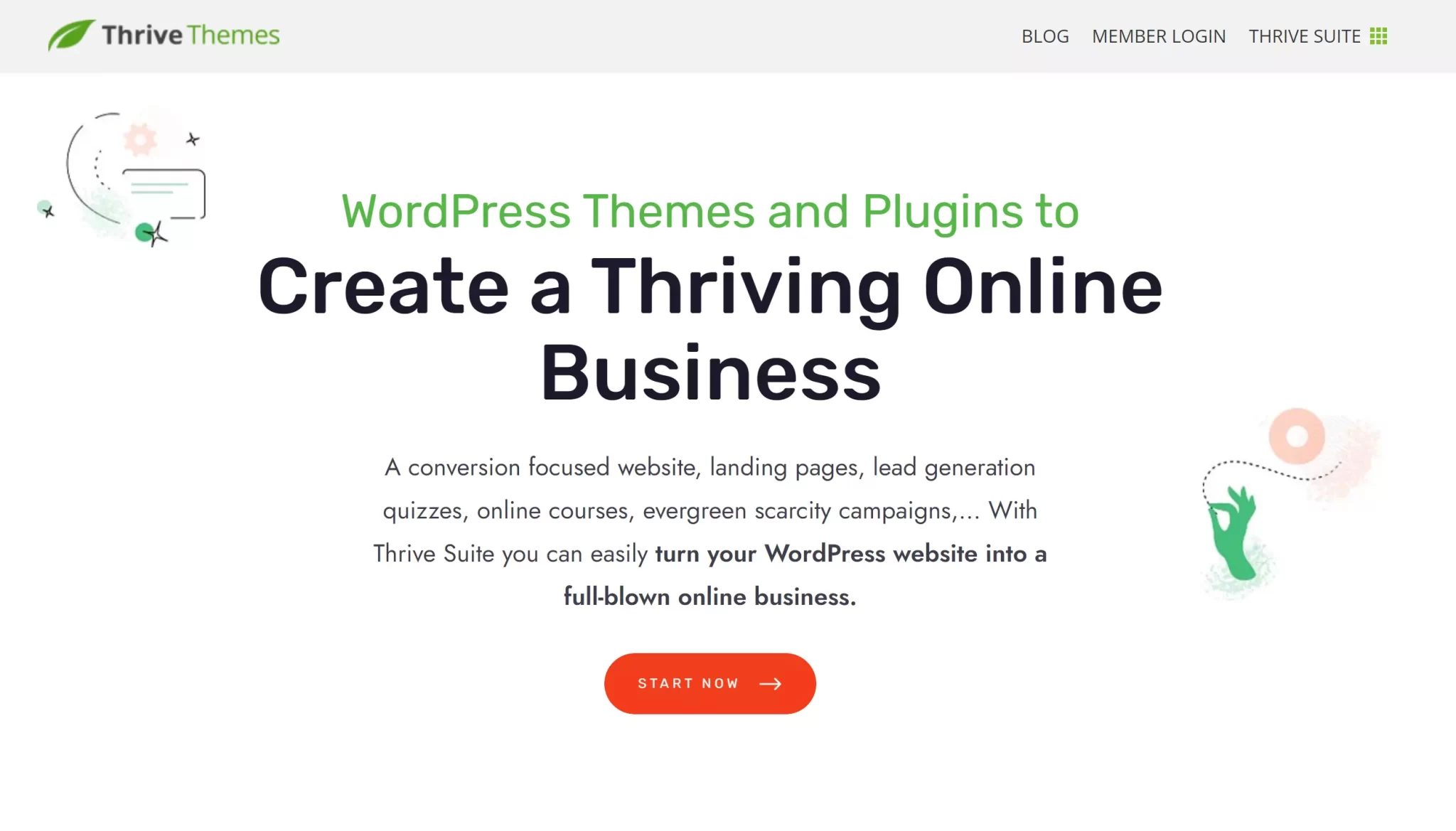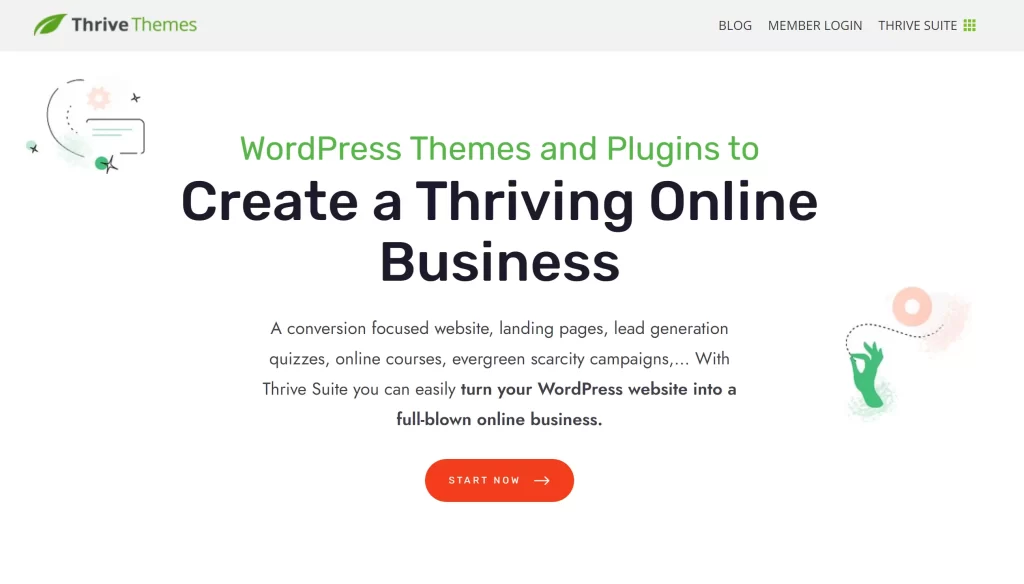 Key Features
Pros
Speed of thought drag and drop editor
Sales and marketing funnels for high conversion rate
A/B testing for better perspective and performance of the page
Cons
Not available as a standalone plugin
The mobile portal differs from the website page
While editing the tools sometimes misjudge the text for image
Pricing
Thrive offers lifetime plans at affordable prices;
Quarterly Plan (4 months): All services for $30/month billed $90 quarterly.
Yearly Plan: All services for $19/month are billed $228 yearly.
#8. Lander
Lander is a landing page builder that directs all of its focus and ideation in making the core value of a landing page the best for conversion rate with accessible editing tools and concepts.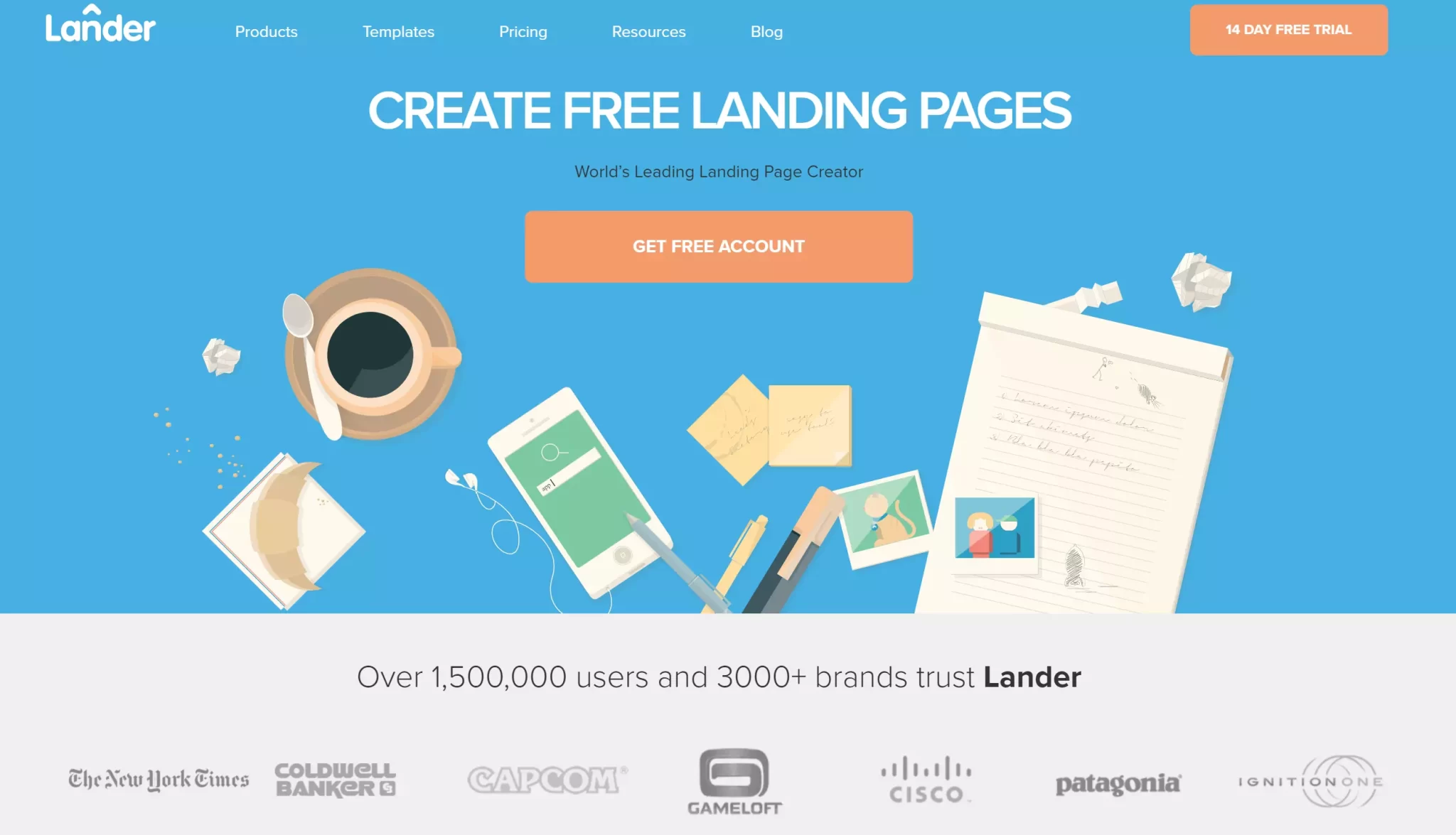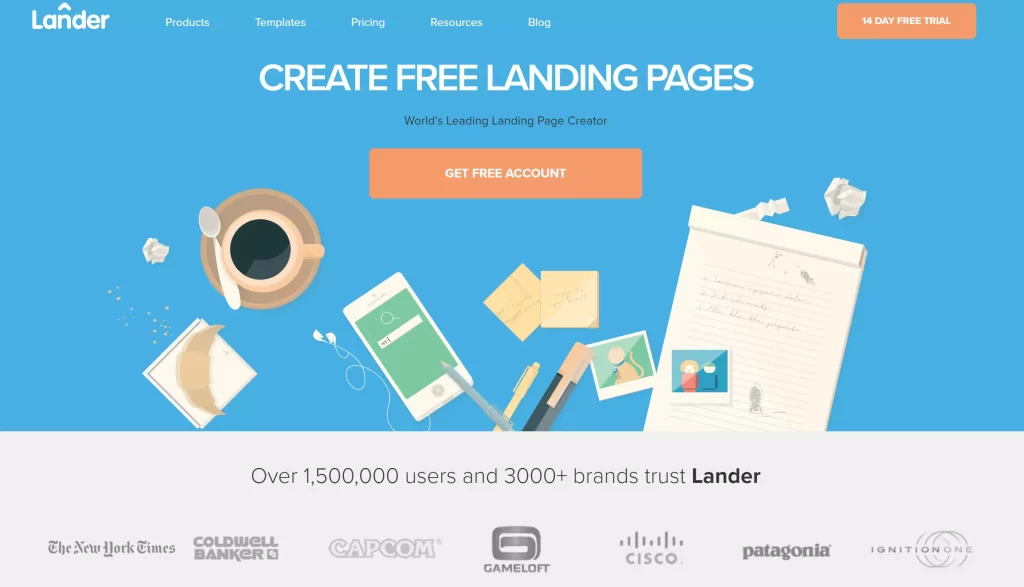 Key Features
Pros
An advanced and reliable A/B testing system
Templates for each and every service, marketing or sales
DTR gives a better perspective of lead generation and conversion rate
SSL Encryption
Auto-fill forms
Custom Code Editing
Cons
Lacks the new features and innovations which can lead to outdated tools and services 
No option for website or eCommerce building
Pricing
Lander offers two plans at affordable rates;
Basic Plan – $49/month or $16/month if billed yearly with 10 domains and 5.000 visitors/month.
Professional Plan – $99/month or $83/month if billed yearly with 30 domains and 25,000 visitors/month.
#9. Systeme.io
Systeme.io is a cooperative platform that assists in creating websites with various editing and software tools and automating conversion rates with landing page and sales page creation and maintaining marketing affiliation as well, all in one place.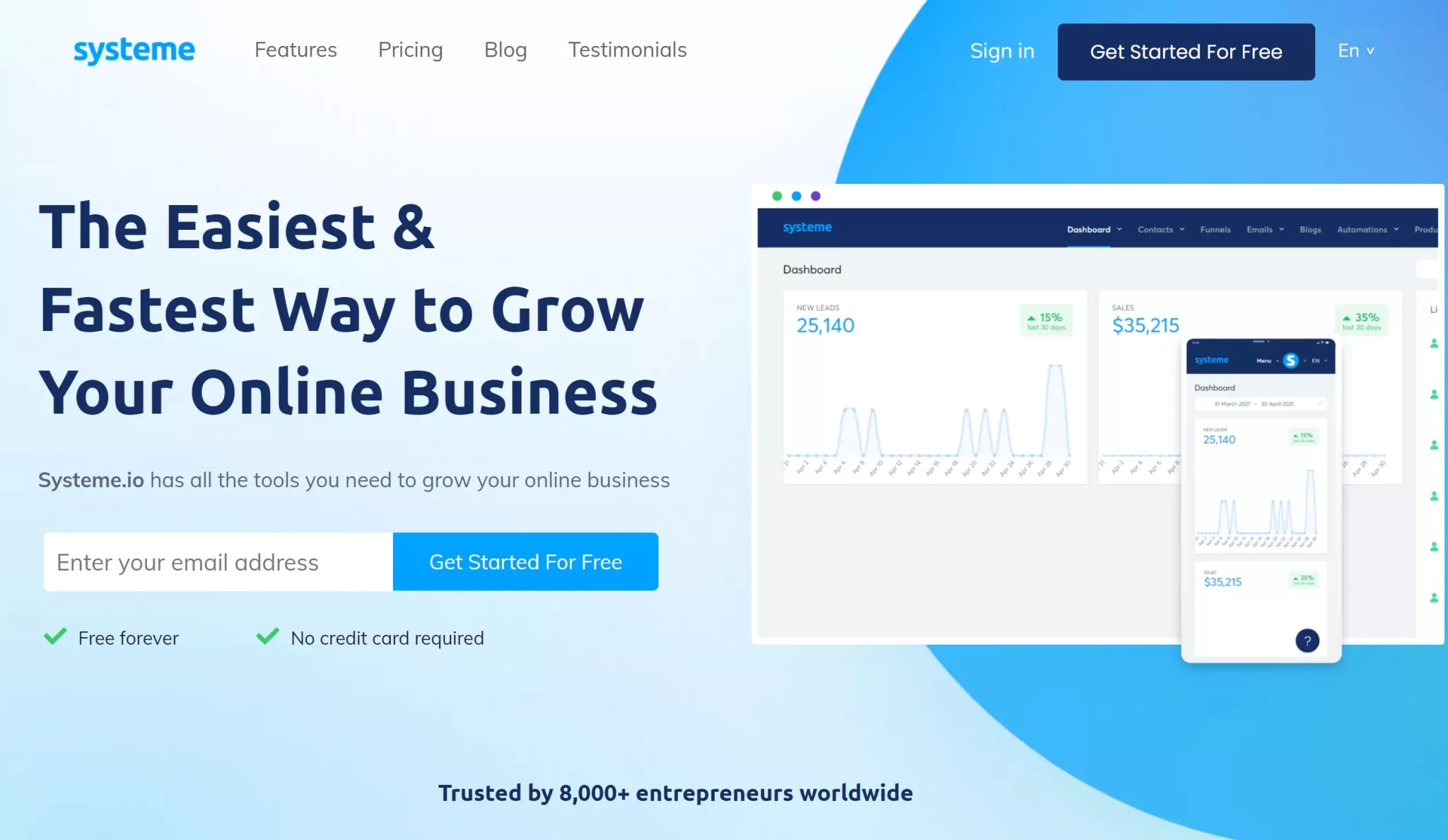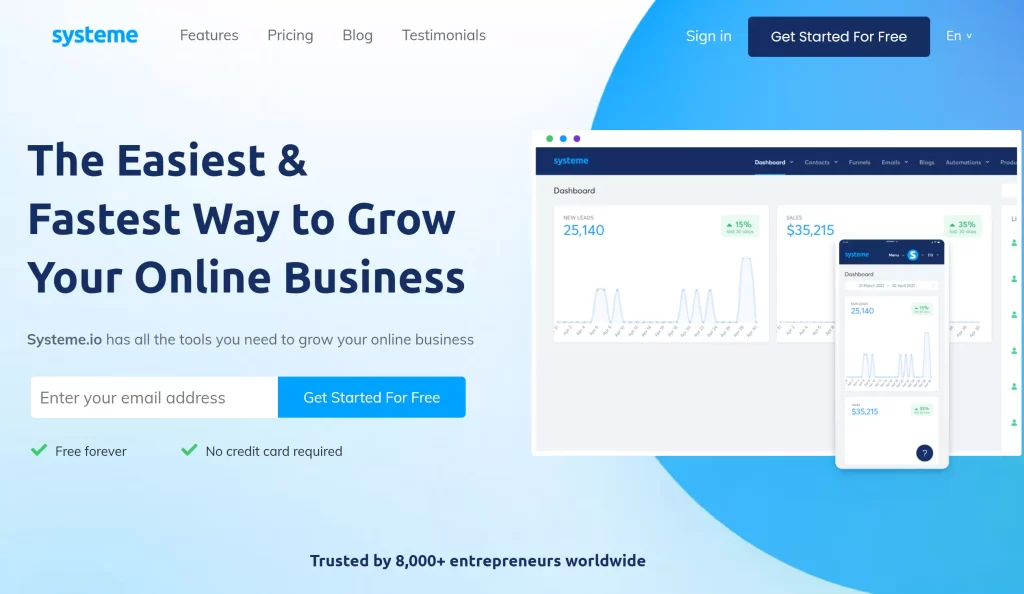 Key Features
Pros
Drag and drop editor for website building
Sales and marketing funnels for high conversion rate
Affiliation program management
Sales and Marketing Automation
Cons
Limited customization
No Third-Party Integration
Complex site navigation
Pricing
Systeme.io offers three different paid plans;
Start-up Plan – $27/month for 5k contacts and 10 funnels
Webinar Plan – $27/month for 10k contacts and 50 funnels
Enterprise Plan – $97/month for 15k contacts and no limit funnels
Free Plan – 2k contacts and 3 sales funnels/month.
#10. SwipePages
Swipepages is a landing page builder that focuses on the advanced coding of AMP (Accelerated Mobile Pages) and focuses on creating more click sales from Google Ads, Facebook Ads, and other online marketing platforms by launching various campaigns.
Key Features
Pros
Accelerated Mobile Pages
PPC SEO Management
Real-Time Editing 
Form Builder with Drag and Drop Editor
Cons
Lack of tracking options in terms of data and visitors
Lacks advanced analytics
Pricing
Swipepages offers two plans that can be billed monthly or yearly;
Start-up Plan
$39/month and $29/month if billed annually
Marketer Plan
$89/month and $59/ month if billed annually
#11. Landingi
Landingi is a full-fledged sales and marketing automation platform for individuals that need the best and premium designed block builders without the hassle of coding and delivering the best landing page builders.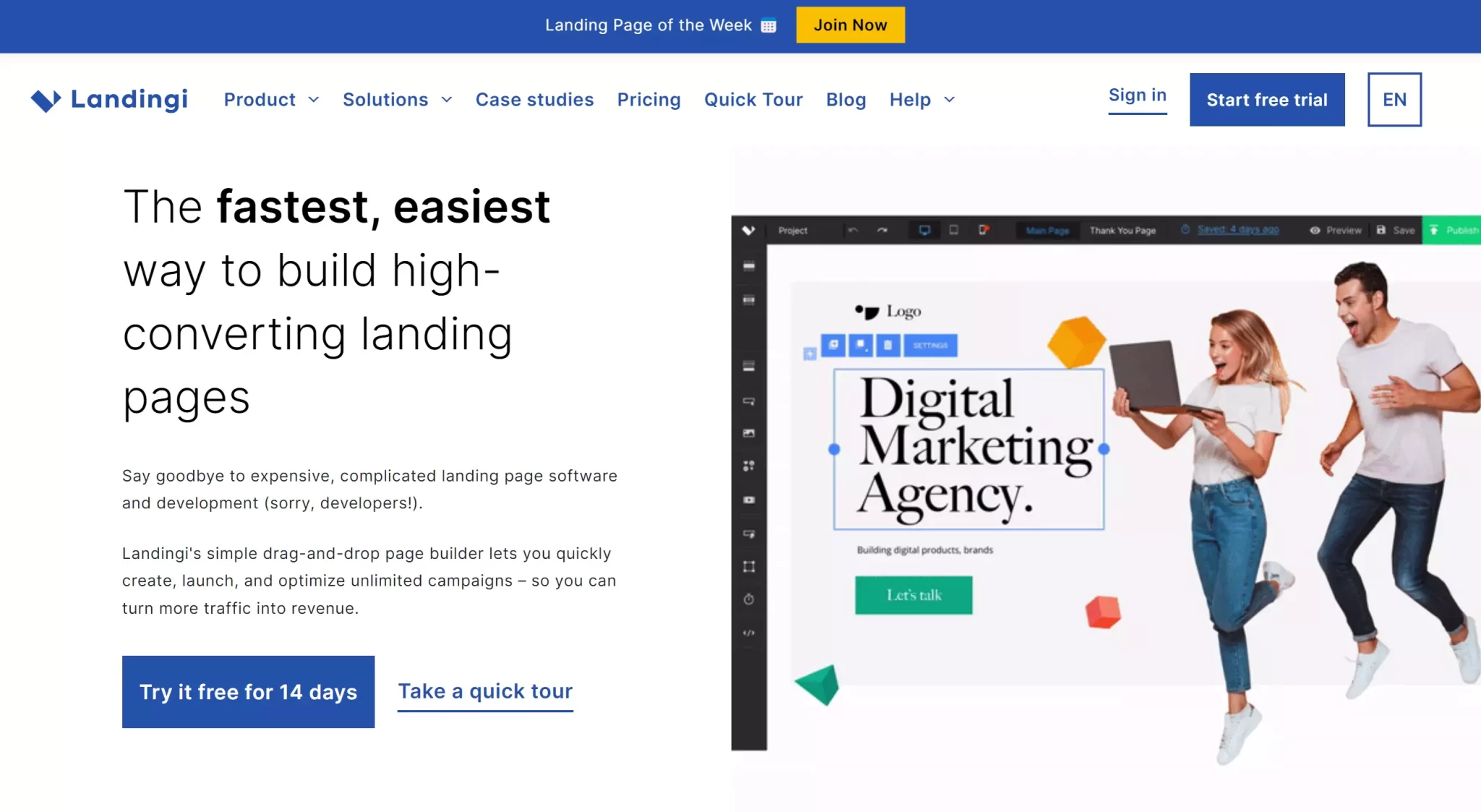 Key Features
Pros
Autoresponder for email and queries
Anti-Spam Security for preventing the overbearing risk of data
Lead Inbox and Lead Export
PageInsider AI for the predictive analysis
Cons
A higher price for the A/B Testing or Split Testing
PageInsider is available only for premium plans
Plans are a little costlier compared to other builders
Pricing
Langingi provides four different plans keeping in account the uses and required features for the users.
Core Plan: $29/month billed annually with 1 custom domain
Create Plan: $65/month billed annually with 2 custom domains
Automate Plan: $89/month billed annually with 4 custom domain and PageInsider added feature
Agency Plan: $109/month billed annually with 5 custom domain and PageInsider added feature
#12. InstaBuilder
Instabuilder is an advanced landing page builder which allows the user to design and customize their pages with the most reliable and flexible editing tools, funnels, and integrations.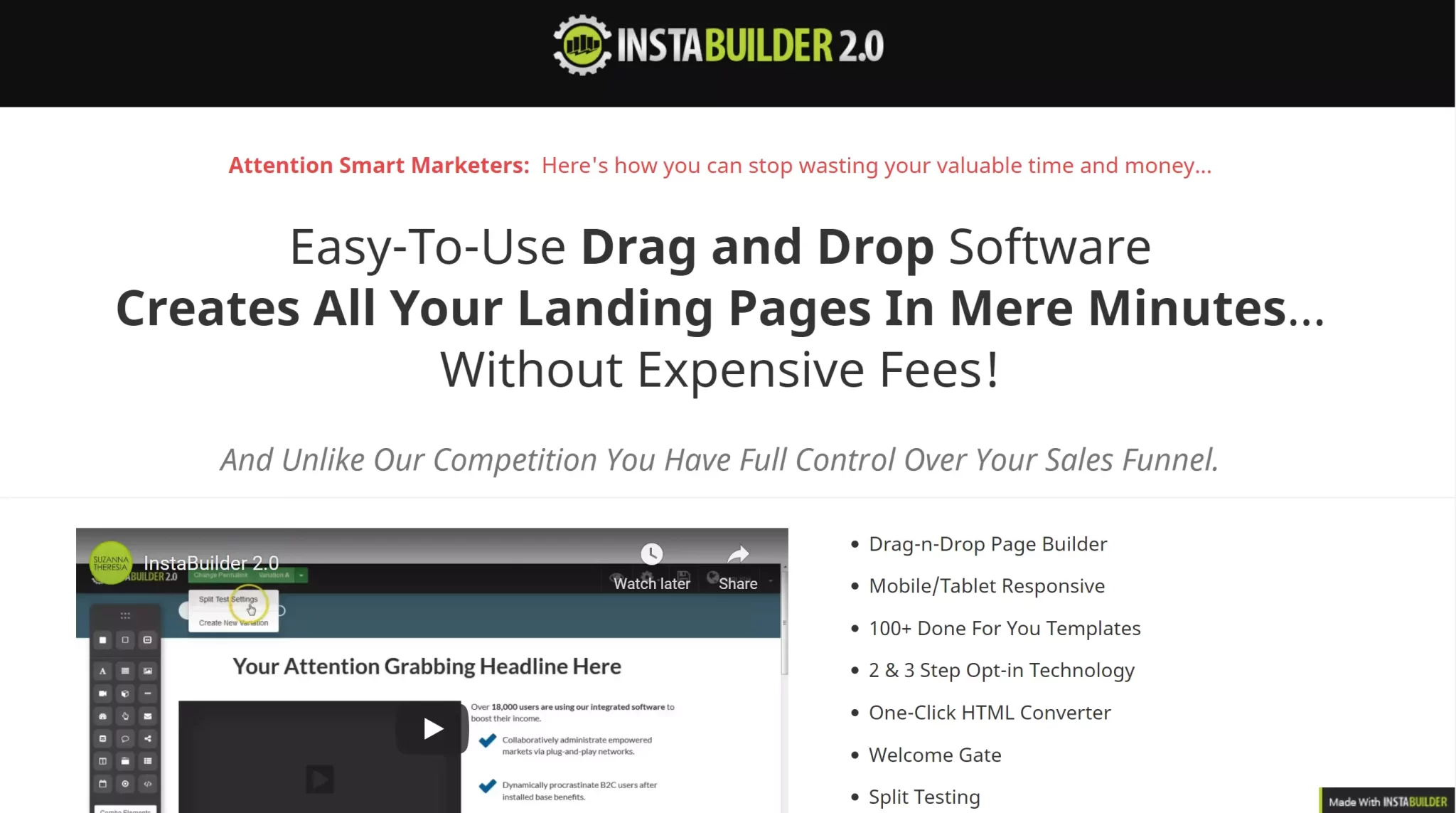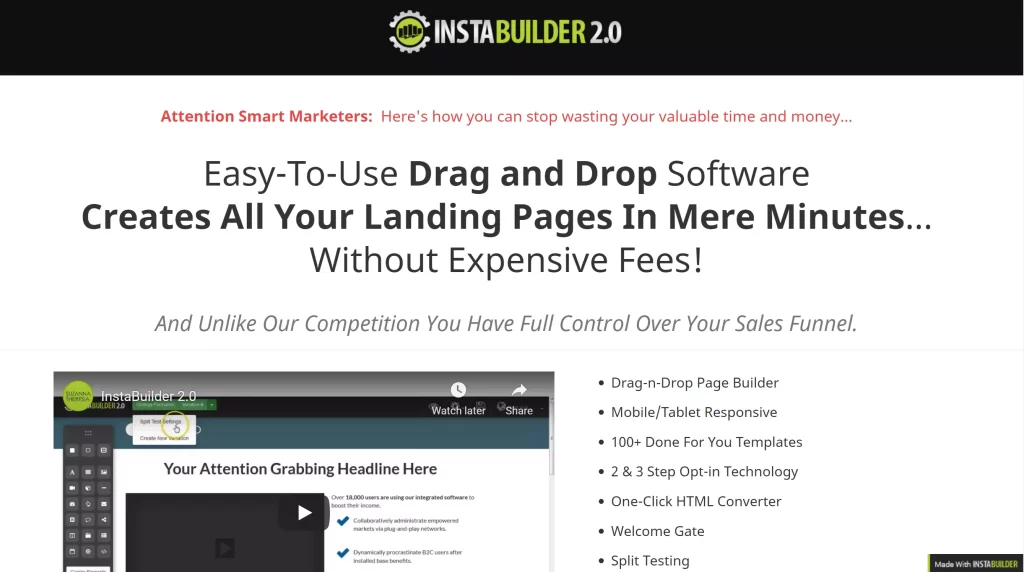 Key Features
Pros
Animation and dynamic elements for presentation
Offer HTML publishing 
Advanced SEO options and features
Integrations with autoresponders for better communication management
Cons
A little on the higher price end but it provides 60 days risk-free guarantee
Pricing
InstaBuilder has three plans that are billed only once and has no recurring billing with one year of support and update;
3-Site License Plan: $77 for one year support and update with all present features for 3 domains only.
Unlimited License Plan: $97 for one year support and update with all present features for unlimited domains.
Developers License Plan: $197 for one year support and update with all present features for unlimited domains and install client websites.
Elements of a good Landing Page
Now that we know what a landing page is, let's direct our focus to the elements or the structure of a landing page.
As we know, a landing page is a persuading or a convincing tool that can help a visitor become a potential customer for the business, and hence, it needs to have clarity of motive and value. Here are the few elements of a landing page;
What is in it for him/her (visitor) if they sign-up, purchase, or download your product or service? Basically, the value proposition.
A visitor is looking for an overview of the services or features of your product and not an in-depth report. Hence, try to keep it simple yet effective.
A visual representation of your motive and style can attract the attention of a visitor which can lead to him/her wanting to be a part of the campaign.
Call to Action is the best way to focus the attention of your visit to your product such as, "BUY NOW!", "Free Trial", "Register for free", or "DOWNLOAD IT NOW". A call of action in a tabular form with more questions and interests like the ones that B2B companies use can help in lead capture and lead generation. For example;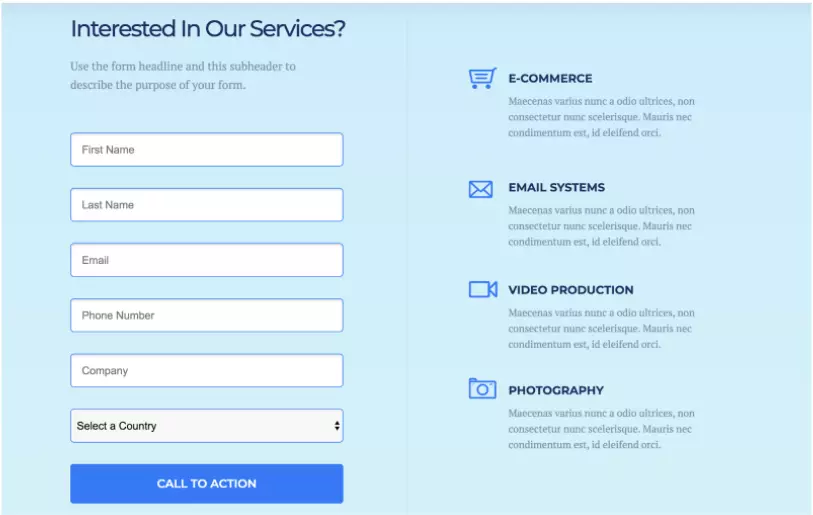 Social Proof refers to the feedback, reviews, and a number of affiliations that give your company an edge over the others when marketing the service or product. For example;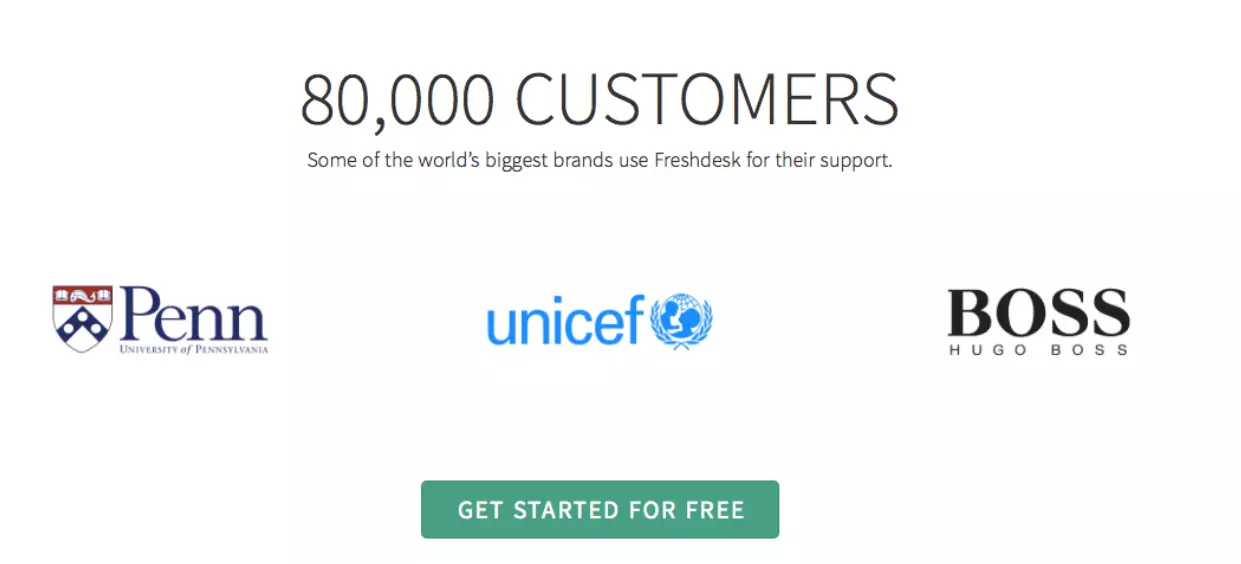 Courtesy: Freshdesk
As we've come to think of a landing page as an important part of the conversion rating, let's discuss some tools or as they're called 'builders', that can help a business grow their visitors into potential customers.
Comparison Table of Best Landing Page Builders
| Landing Page Builder | Key Benefits |
| --- | --- |
| Leadpages | 130+ drag and drop templates and 200+ pre-designed templates for the best UI experience. |
| Unbounce | 100+ marketing tools with AI assistance from Smart Builder, Smart Copy and Smart Traffic. |
| Instapage | Highly advanced portal for experimentation with heatmaps and A/B testing and multivariate testing. |
| ClickFunnels | Advanced tracking system and all-in-one system management. |
| OptimizePress | Integration with Unsplash offering 1 million+ stock images. |
| Elementor | 90+ interactive widgets for an ever-growing selection of design and layout. |
| Thrive Architect | Pre-built conversion elements of the countdown timer, customizable buttons and lead generation form integrated with email marketing. |
| Lander | DTR (Dynamic Text Replacement) to match your PPC keywords |
| Systeme.io | Affiliation Program Management to collaborate and generate sales. |
| SwipePages | AMP (Accelerated Mobile Pages) for app-like experience for the visitor. |
| Landingi | PageInsider to give a predictive analysis of what the visitor will be focusing on more. |
| InstaBuilder | Animation and 25+ dynamic elements for visual presentations. |
Final Verdict
As we've mentioned before, Landing Pages are an integral part of lead generation and conversion rates and Landing Page Builders are the medium to make it more effective and visually presentable in order to attract the attention of the visitors.
From the above list of 12 Landing Page Builders to Increase Conversion, it is a difficult task to choose the best option as every builder brings something new to the table.
So, to find the best alternative for landing page building we will be judging the builders on the following notions;
And our best candidate is Leadpages.
Leadpages provides the best customizable services for designing with 180+ templates for drag and drop editor, advanced predictive analysis, and unlimited data collection and publishing.
Check this: Best AI Content Generator Software & Tools
FAQs
Q1. Are landing pages free?
Definitely, a lot of landing page builders such as Leadpages, Unbounce, among others provide free plans that beginner developers can use to create landing pages for free.
Q2. Are landing pages effective?
Definitely, a lot of landing page builders such as Leadpages, Unbounce, among others provide free plans that beginner developers can use to create landing pages for free.
Q3. Do you need a website to have a landing page?
A landing page is a standalone post-click page that helps the visitor explore his interest in your service or product and so, no, a landing page can be separate or without a website affiliation.
Q4. Do landing pages impact SEO?
Landing pages help in visitor tracking, analyzing, and optimization of the user experience for the new visitors which can turn into potential customers. So yes, landing pages impact and enhance the SEO analysis.
Q5. How long does it take to build a landing page?
Building a landing page depends on three factors; design customization of product or service, the size of the business and data, the landing page builder you have chosen, even a free plan. The duration can take from 30 minutes to 8+ hrs according to your necessity, it's subjective.