Disclosure: Some of the links in this article may be affiliate links, which can provide compensation to me at no cost to you if you decide to purchase a paid plan. We review these products after doing a lot of research, we check all features and recommend the best products only.
It's difficult not to notice that technology continues to develop and influence business for the better at the ever-increasing pace of the digital world.
Since the business world is so competitive, entrepreneurs invest in marketing, production, customer service, and engagement.
How do you manage your marketing remotely and retain your customers? How do you collaborate with your coworkers? All the answers only have a one-stop solution, Webinars!
In 2023, webinar marketing will be one of the best ways to advertise a company and create leads.
Connecting and communicating with employees in a more remote location is more crucial than ever with the recent pandemic. As a result, finding an excellent webinar can make or break your company's performance as remote work becomes more prevalent.
Finding the proper software to host and deliver these webinars has become a new challenge. The number of webinars has increased, so determining which one is appropriate for your needs can be challenging.
Therefore today, we have with us an award-winning software, GoToMeeting!
What is GoToMeeting?
GoToMeeting is a sophisticated online conferencing system with worldwide features, making it an excellent alternative for businesses with various international sites and coworkers. The software offers a user-friendly interface, and setting up a meeting takes only a few minutes.
It is an attractive option for businesses that require a more robust alternative to Skype, Hangouts, and FaceTime. It also allows you to hold the phone during conference calls.
It works with PCs, Macbooks Pros, iOS devices, and Android mobile devices, allowing users a lot of flexibility and the ability to create and join online meetings from anywhere and at any time.
GoToMeeting is a sophisticated online conferencing system with worldwide features, making it an excellent alternative for businesses with various international sites and coworkers. The software offers a user-friendly interface, and setting up a meeting takes only a few minutes.
Pros
Unlimited Meetings
Sharing a keyboard and mouse
Simply answer a call to join the meeting — There are no codes or PINs required.
At no additional cost, you can choose between VoIP and toll-based solutions.
You can hand over control of the keyboard and mouse at any point.
The user interface is simple.
There is a free plan available.
Commuter mode.
Cons
Advanced meeting features, such as polling, are not available.
GoToWebinar is required to use the webinar capabilities.
GoToMeeting Review 2023: The Key Features
Set Up GoToMeeting
It's always been easier to get started with GoToMeeting, and it only takes three simple steps:
Video conferencing set-up
It's never been easier to start a video conference from your computer or join one from a mobile app. All you need is a webcam, microphone, headphones, and a solid Wifi setup for quality audio and visuals.
Consider what extra tools you might need now that your meeting is up and running to provide an inclusive environment for all attendees.
Would it be beneficial to have a camera that allows you and your team to have a more immersive experience? Perhaps a dedicated whiteboard camera compatible with Gotomeeting would make cooperation easier? GoToMeeting enables switching between cameras and screens simple, allowing everyone to participate.
Video Conferences
GoToMeeting also offers HD video conferencing in addition to audio calls. It allows you to organize online, face-to-face meetings for up to 25 people.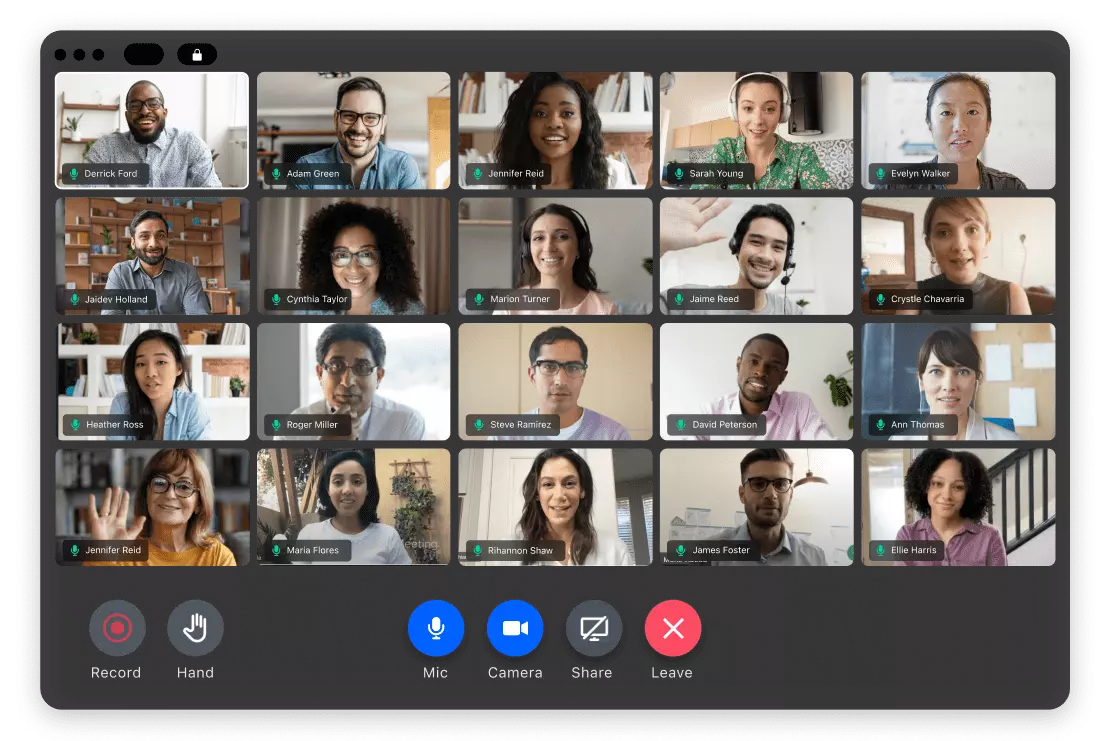 Other video conferencing solutions include confusing controls, syncing issues, and outages. With GoToMeeting, though, you won't have to worry about any of these issues.
Both desktop and mobile users can collaborate in the Cloud with this platform. Each user's bandwidth is dynamically adjusted based on their resources and hardware, ensuring a smooth experience for all parties involved.
It's simple to use the video conferencing tool. People who use the GoToMeeting desktop client can change their webcam settings. As a result, you can adjust the display format before going live.
Do you want to get off your camera without leaving or disrupting the meeting? It's no problem. GoToMeeting makes it simple to do so.
Screen Sharing
Using online screen sharing, you can share your computer screen with meeting attendees in real-time.
When graphics are essential, this is the ideal technique to improve your message. In addition, screen sharing comes in handy for brainstorming ideas, team training, presentations, and slide decks.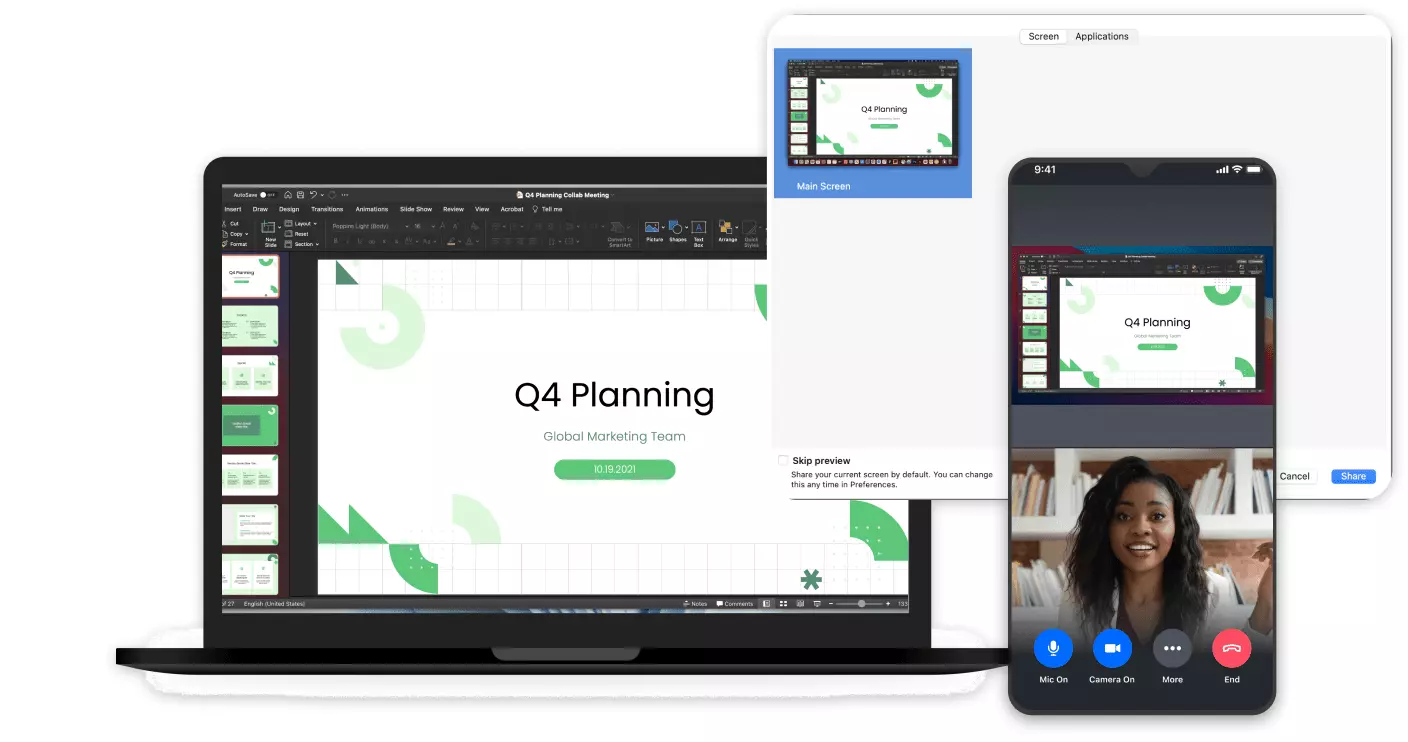 You can turn every conference call into a full-fledged presentation in seconds with screen-sharing features.
Another advantage of this feature is that it is adaptable. You have complete control over which screen you choose to share. In addition, GoToMeeting includes settings to support your needs, whether it's your entire monitor or simply a particular app.
To use screen sharing capabilities, meeting attendees do not need to download any desktop or mobile software. All Chrome web browsers support screen sharing with GoToMeeting.
It is ideal for users who work in a software-restricted environment or use an operating system that prevents them from installing the app. Unfortunately, both of these instances are frequent when it comes to corporate firewall permits.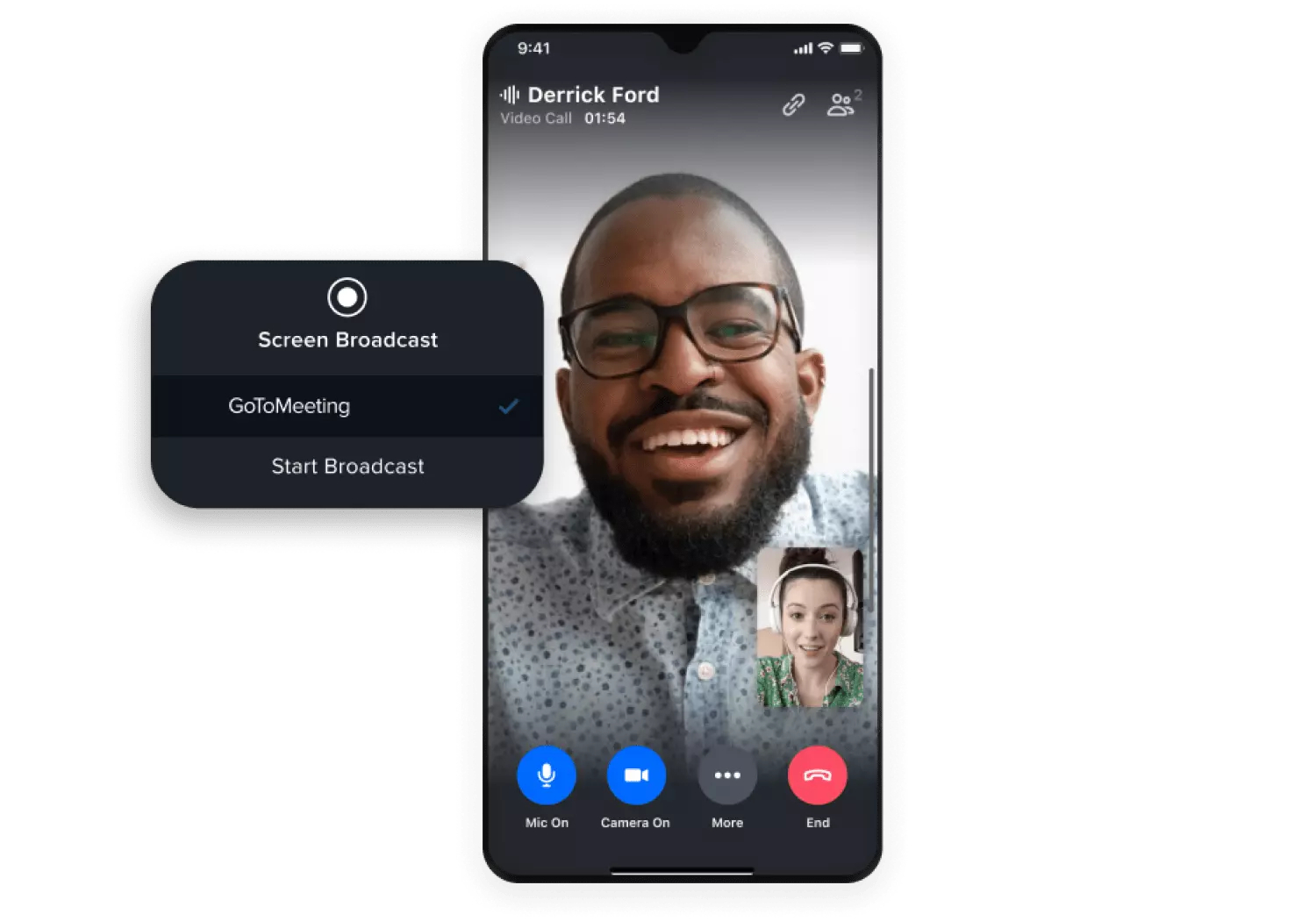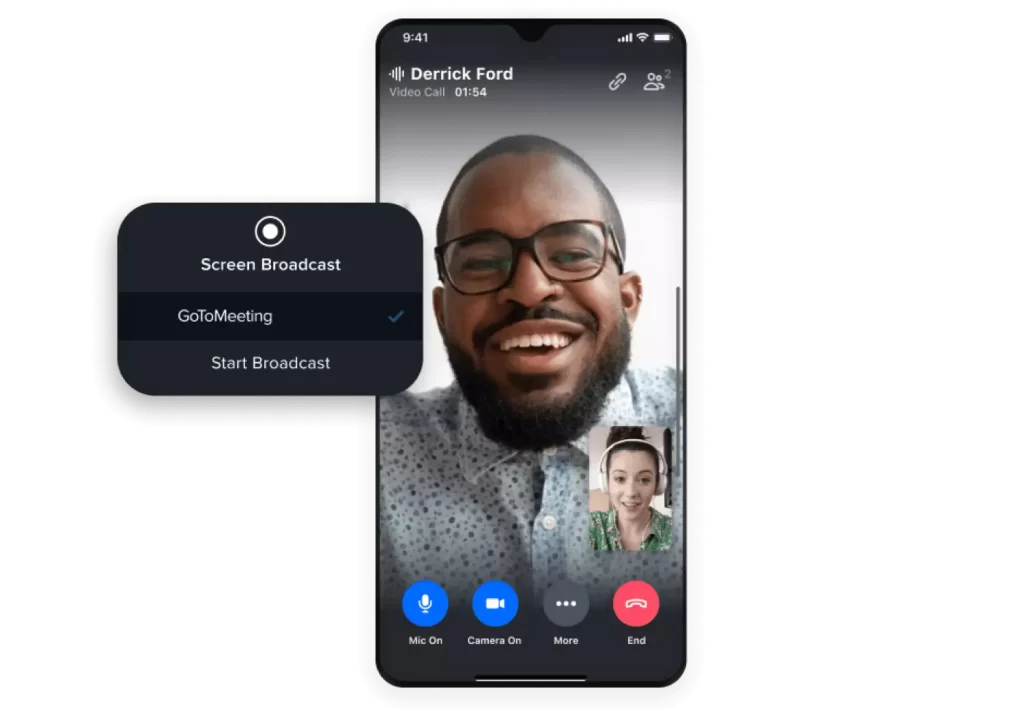 You can also share your screen using an iPhone or iPad. You'll be able to transition between iOS devices as well smoothly. For example, if a meeting is running late and you need to take a break from your computer, simply switch to your mobile device and stay in the conference.
GoToTraining
If you manage a small business, you understand the need for training solutions. Fortunately, GoToMeeting has an easy-to-use solution called GoToTraining, with over 700,000 yearly training sessions and over 3 million annual attendees.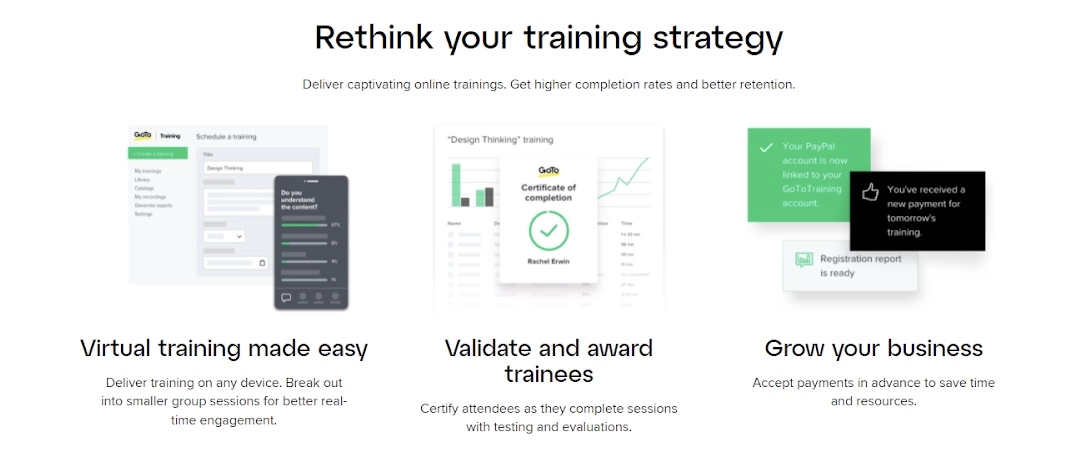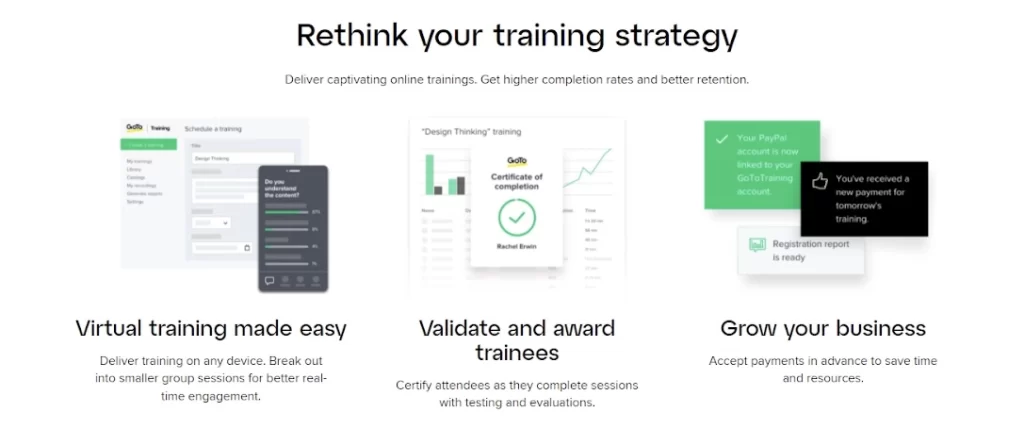 GoToTraining is a smooth solution for training employees in a remote environment. The leading online training software on the market will boost productivity and virtually engage your learners.
It was proven to enhance productivity by more than 26% in 60% of firms, making it one of the finest software extensions.
Users can expect to engage their staff through in-session interactions and breakout sessions for smaller groups when using GoToTraining. You also get complete analytics to keep track of session attendance, exam scores, and evaluations.
When you utilize GoToTraining, you receive access to a variety of powerful training features, including:
There are three pricing options available with GoToTraining:
Starter: $109 per month per organizer, invoiced annually at $1,308 for 25 participants
Pro: $159 per month per organizer, payable yearly at $1,908 for 50 attendees
Plus: Each organizer pays $314 per month, for a total of $3,768 per year with 200 attendees
Support
GoToMeeting provides phone support 24 hours a day, seven days a week. Although it only connects to a chatbot, a live chat option is also available.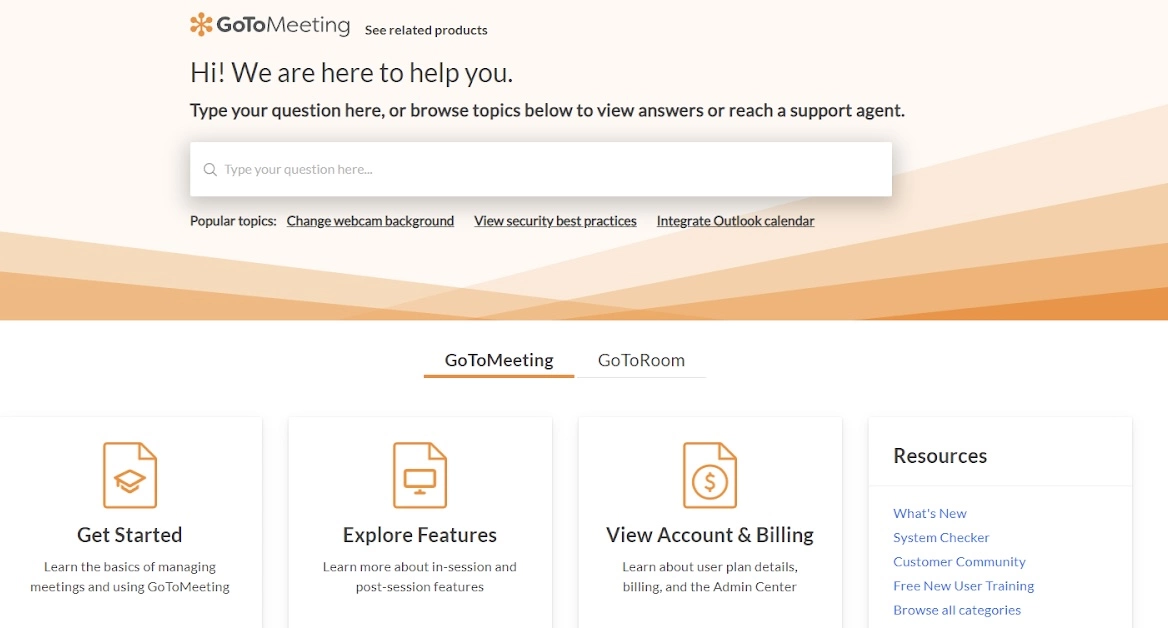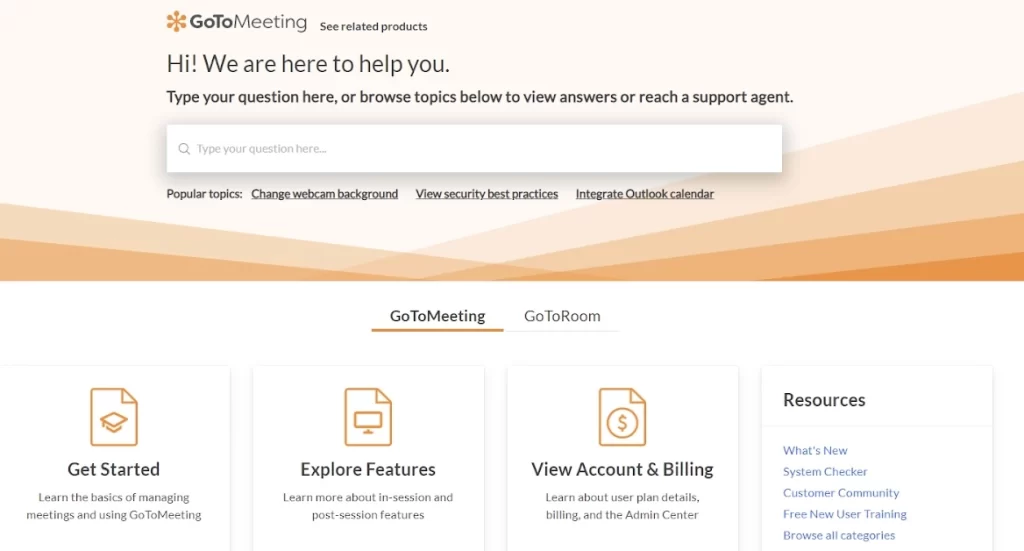 Fortunately, GoToMeeting includes a comprehensive online knowledge base where you can find solutions to most technical concerns.
Interface
GoToMeeting has desktop and mobile programs as well as a web-based interface. We discovered that all three are modern and easy to use.
You may quickly copy an invitation to your meeting room and paste it into an email from the main dashboard. You can also use a specialized online room to have a one-time meeting.
We liked that most default settings can be left alone; thus, the scheduling procedure takes only a few seconds. You may quickly password-protect your meeting, add a co-organizer, and personalize your meeting room URL, among other things.
GoToMeeting also interfaces with several popular business systems, which we enjoyed. There's also a Slack plugin that lets you start sessions right from your communications workplace, as well as a Salesforce plugin that enables you to create video meetings with customers right away.
Transcriptions and Recordings
The ability to retain data is a common issue with virtual meetings (and, to be honest, in-person meetings). It is especially true when numerous presenters and participants are in a prolonged session.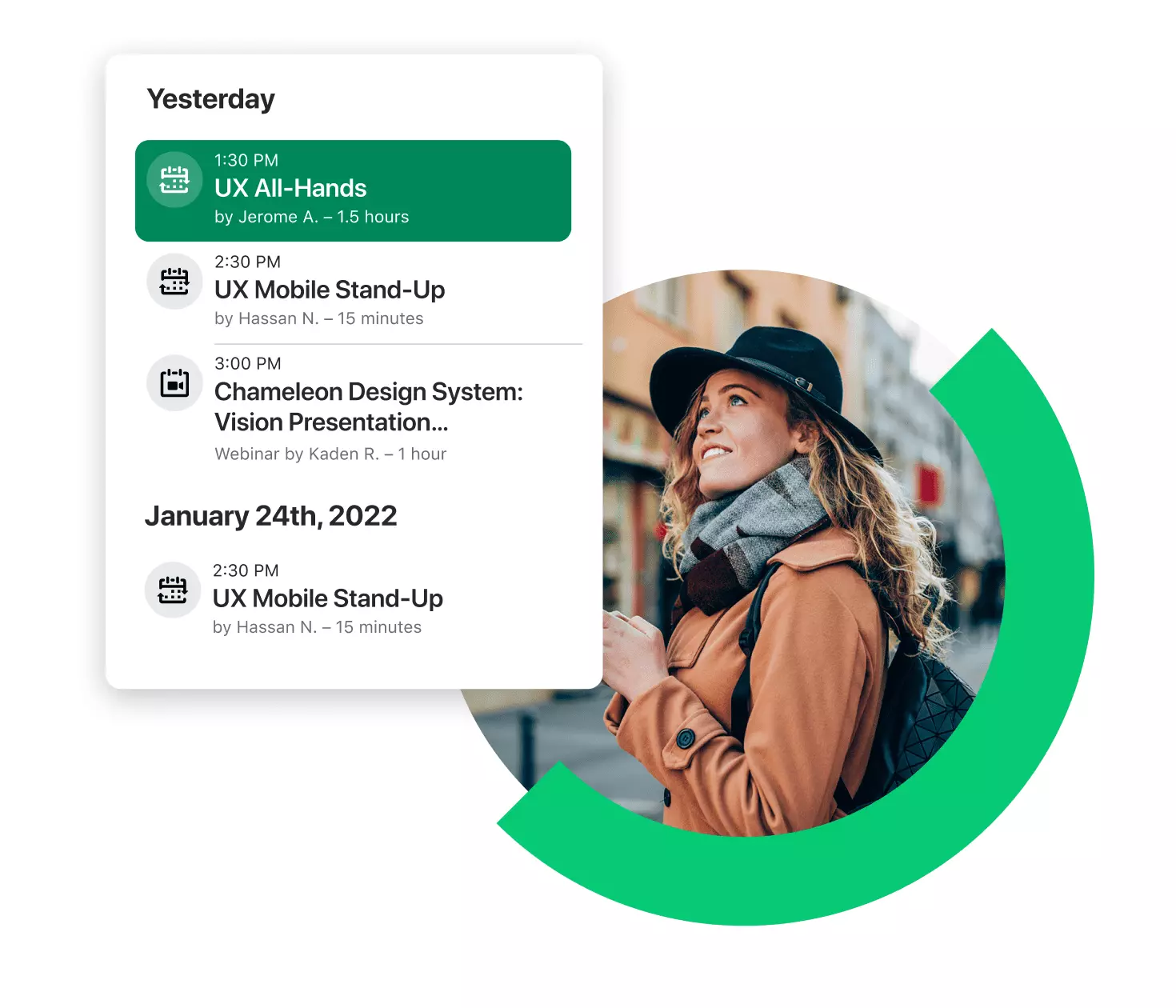 Notes made by hand are not always practicable or feasible. Fortunately, there are numerous digital technologies available to address this problem.
With transcriptions and recordings, GoToMeeting eliminates this problem. Simply click the recording button to start recording. The screen of the presenter, as well as everyone's audio, will be registered.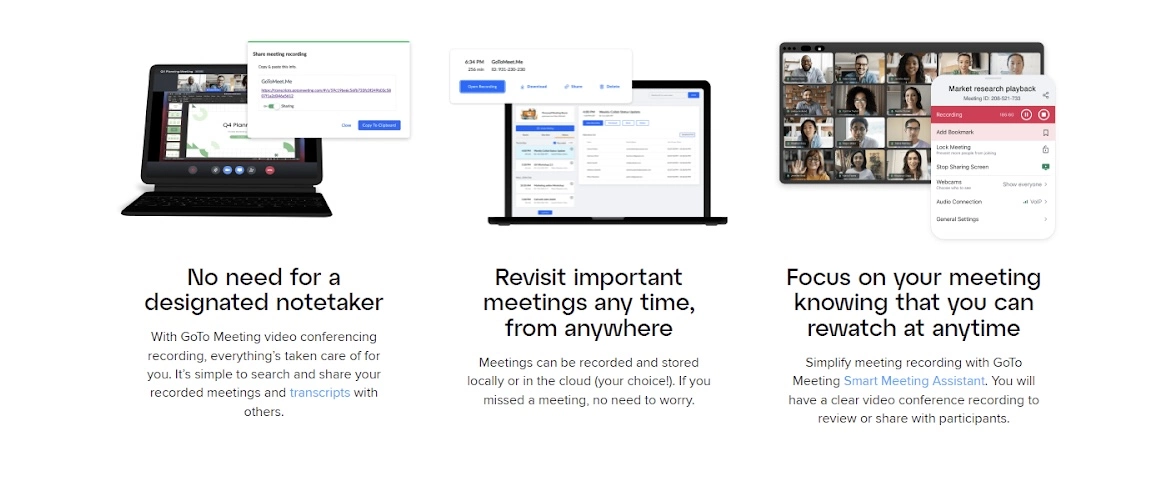 The Smart Meeting Assistant will also automatically transcribe the dialogue. As a result, you'll always have access to such transcripts.
There's no longer any necessity to assign a transcriber to your meetings. You can genuinely pay attention to what's going on instead of scrambling to write things down.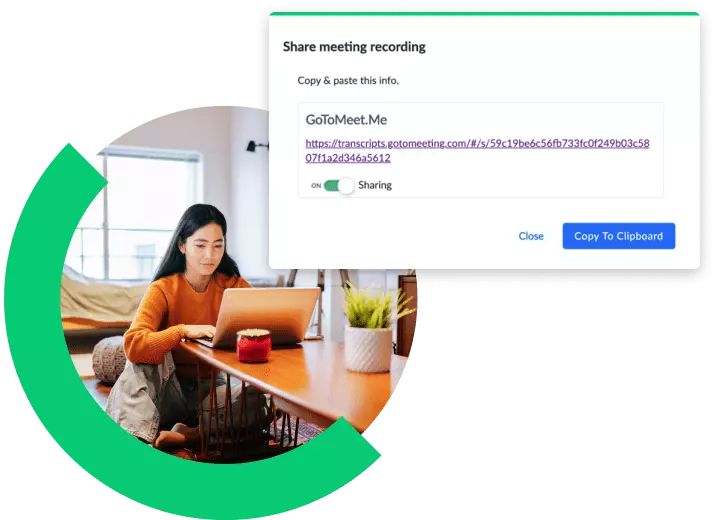 Coworkers or clients who could not join will benefit significantly from the transcriptions and recordings. In addition, they may see the meeting again whenever they want, just like they were there.
It is a valuable option for individuals who simply need to see a portion of the meeting (which may be determined by the timestamp) and gives users additional access.
Hardware Bundles
GoToMeeting comes with everything you'll need to organize high-quality meetings.
It offers cutting-edge technology with Poly and Dolby Voice. In addition, these bundles provide exceptional audio and video quality.
These ready-to-use meeting room solutions are incredibly user-friendly. It's also simple to set up. In less than 15 minutes, you may have the entire system up and running.
There's no reason to buy conference room equipment from a third-party vendor. Instead, getting top-of-the-line equipment by bundling your solution with GoToMeeting is a cost-effective approach to do it.
Ease of use
The UI of GoToMeeting isn't as clean and modern as that of other video conferencing options, but it is practical and straightforward to use.
Hosting a web-based conference using GoToMeeting is simple, and users don't need to download any software because it's web-based — but there is a desktop and mobile app available.
Meetings are quick and straightforward to join, thanks to unique meeting links. When you input the meeting ID, it automatically opens in any online browser.
The software supports English, Spanish, Chinese, French, Italian, and German.
Organizations that work with remote employees or contractors from different countries may appreciate the multilingual feature. When you choose a language, the UI changes immediately.
GoToMeeting (New Features)
GoToMeeting just unveiled a slew of new features aimed at boosting cooperation before, during, and after meetings: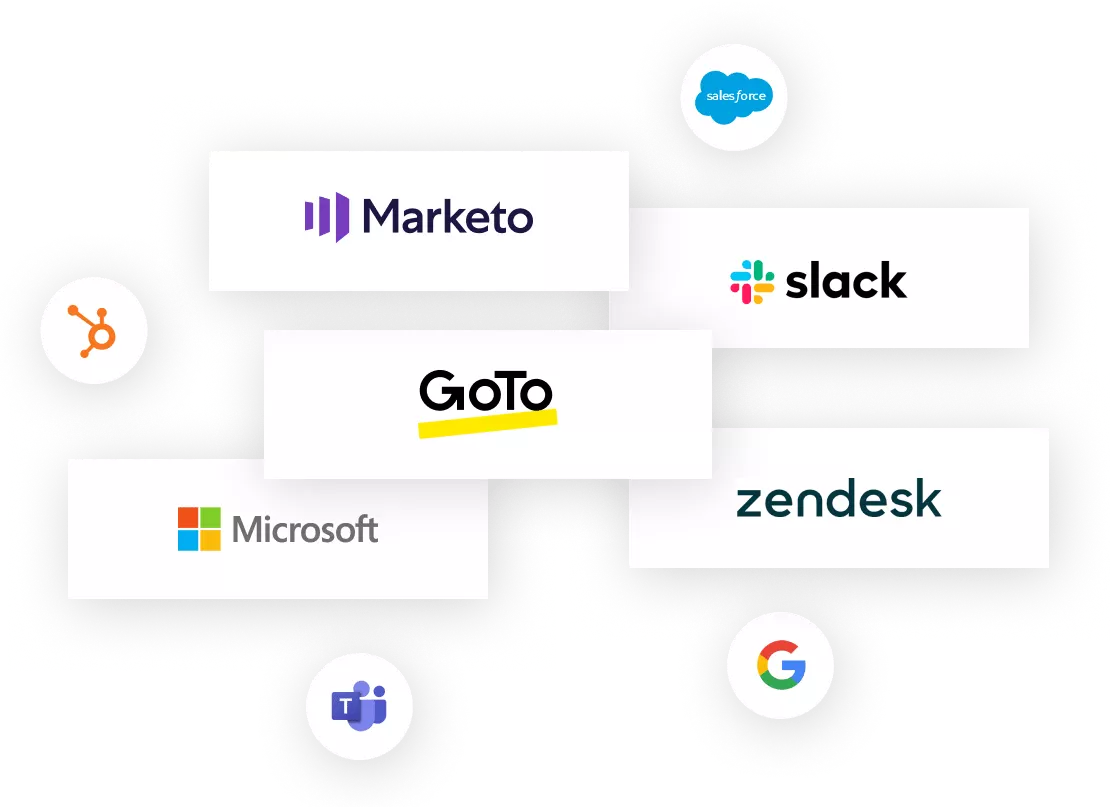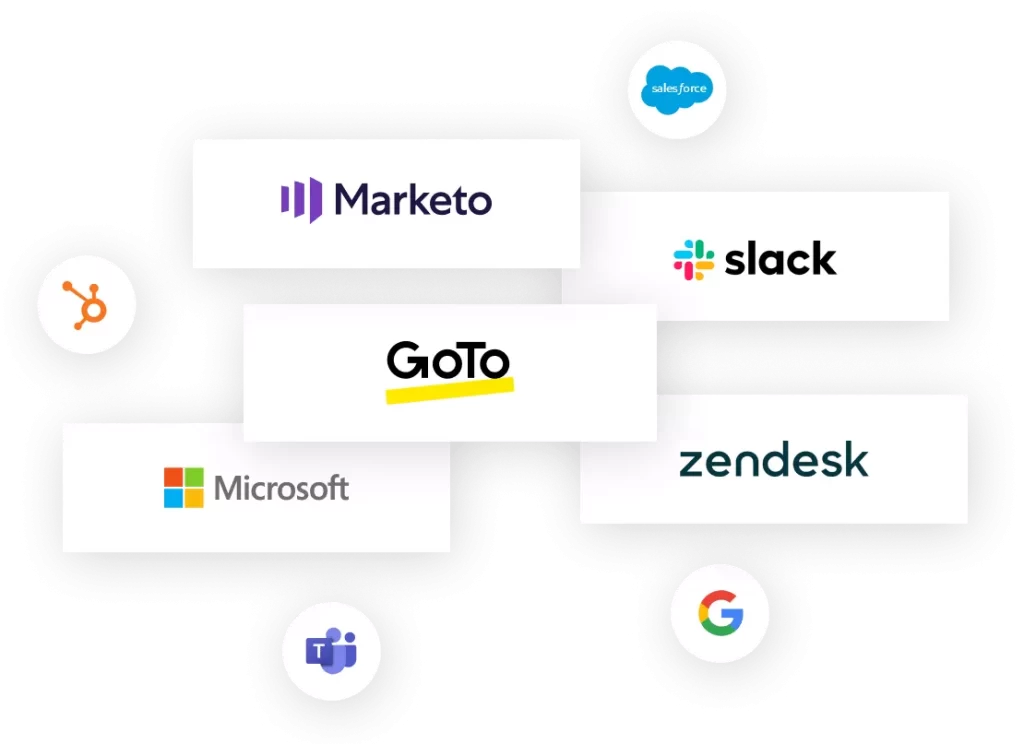 GoToMeeting App
As we all know, our smartphones are productivity tools that allow us to work from anywhere at any time. However, due to undesired distractions, network dependability, and the expense of mobile data, planning meetings on mobile devices can be frustrating.
You can relieve your frustrations with GoToMeeting's industry-leading mobile app update, which is specifically built for the most pleasing travel meeting experience available.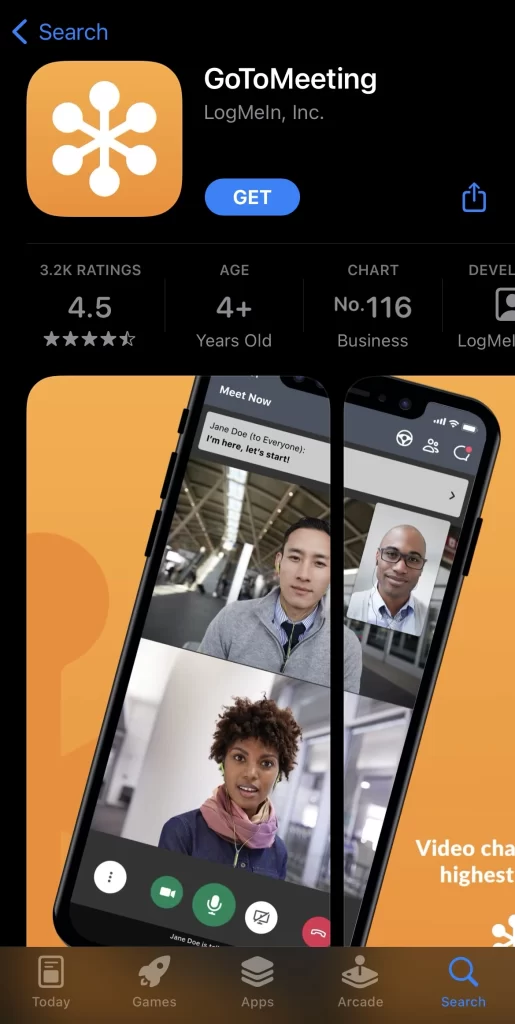 It provides a Presentation of the mode of transportation for the GoToMeeting mobile application. Advanced capabilities allow you to attend meetings and schedule meetings outside of the office with this version. In addition, you can enjoy the following advantages as a result of the more straightforward user experience:
Commuter mode is available for Android and iOS devices. So you can start with:
You can mix the simplicity of text messaging with the efficiency of your business with the GoToMeeting Messenger mobile app. It enables colleagues, partners, and customers worldwide to continue their conversations outside of typical meeting settings, regardless of where they are or what device they are using. Let's take a look at how the new app works!
Users may send a quick chat message or safely transfer files with the touch of a button. Whether the consumer is on a PC, an iOS, or an Android device, they may receive and respond to their message quickly.
The ability to send a chat to anyone is one of the most appealing features of the GoToMeeting Messenger software. If you enter a person's email address, they'll ask you to download the free GoToMeeting software, and you'll be able to communicate right away.
It implies you can establish a new line of contact with outside vendors, partners, and customers with whom you might want to engage.
Although working with a person is excellent, the GoToMeeting app recognizes that most meetings are more than one-to-one. Therefore, you can start a conversation with a group of individuals using GoToMeeting Messenger to keep the momentum going after the session finishes. Invite your most recent meeting to a group conversation and begin conversing!
If a text chat requires more than one communication (for example, how often), their email application integrates seamlessly with the GoToMeeting mobile app. A group conversation can be converted into a one-touch meeting by anyone.
The Chat transfers effortlessly to the GoToMeeting mobile app to share audio, video, and screen, and clicking the video icon in the top corner sends a meeting invitation to everyone.
Best of all, all applications are cross-platform. So, for example, your mobile email application is linked to your computer's email program.
To connect, meeting attendees do not need to be on the phone or computer. So, using your Messenger desktop app, you can start a chat, add a user to your phone, and then launch a GoToMeeting event with everyone in that group!
The GoToMeeting and GoToMeeting Messenger apps are compatible with iOS and Android phones and tablets and are accessible in the Apple and Google Play stores.
Toll-free lines in more than 50 countries are available as an option.
Although the GoToMeeting mobile app is free, you need a subscription to initiate meetings.
The mobile app is available for download during the 14-day free trial and is compatible with iOS, Windows, and Android devices.
Call Me Features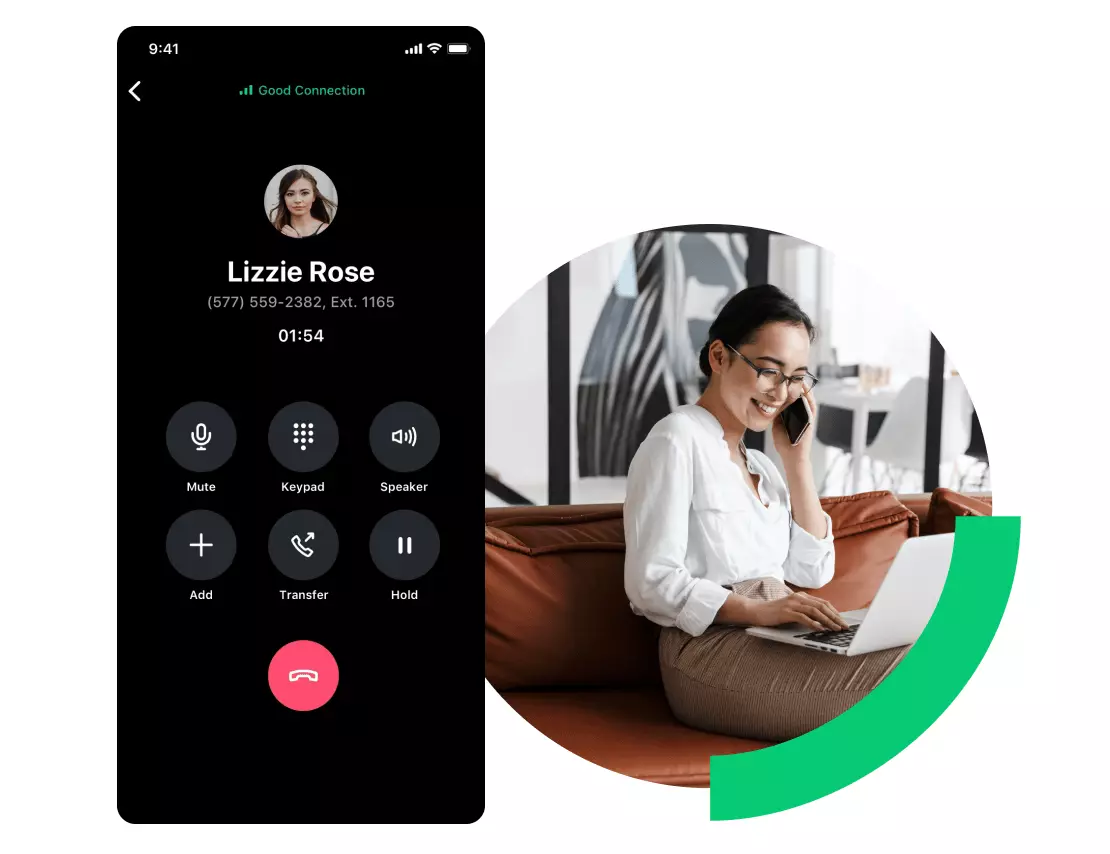 The use of access codes and audio PIN codes for dialing is now complete. Call me provides you and your subscribers with a completely secure option to participate in the conference's audio by just picking up the phone. You have to share your phone number, take the call, and that's it.
OpenVoice's GoToMeeting plans include an optional feature called Call Me. Select the service when making your purchase or later on the My Account page. Then, you pay for what you use at $ 0.08 per minute per assistance.
Do you have a phone that you use for meetings all of the time? Using GoToMeeting Call, you can save your phone number from being called at your next appointment (or another person's session). Of course, you can always switch to PC audio as a communication option.
Subscribers who register for Calling Me will not only skip the trouble of dialing, but they will also avoid being charged. Call Me is a free service for which the meeting organizer pays per minute per participant. Call Me's offer is entirely free. Learn ways to leave an incredible impression on your peers and consumers.
New InRoom Link Features
GoToMeeting InRoom Link bridges the gap between devices. Join a GoToMeeting session using your existing video conferencing room system to provide your conference team with the professional and dependable GoToMeeting experience you've come to expect.
Allow people in one room to communicate with others in another room to collaborate without using any other technology.
Most H.323 and SIP-compliant video conferencing systems, such as Polycom, Lifesize, Cisco, and others, are compatible with InRoom Link for GoToMeeting. Video your H.323 or SIP-enabled device, enter the meeting details from your GoToMeeting invitation, and the InRoom Link will instantly connect you to the conference.
You can begin if your video conferencing rooms already have H.323-compliant technology. Then, to join the meeting, dial a number.
The webcam and content are automatically shared and received by the camera and microphone in the connected conference room. As a result, GoToMeeting has improved the stability and quality of the video.
Security
With millions of individuals using GoToMeeting, including prominent corporations such as Marketo and Make-A-Wish, you'd think the software's security protections would be top-notch.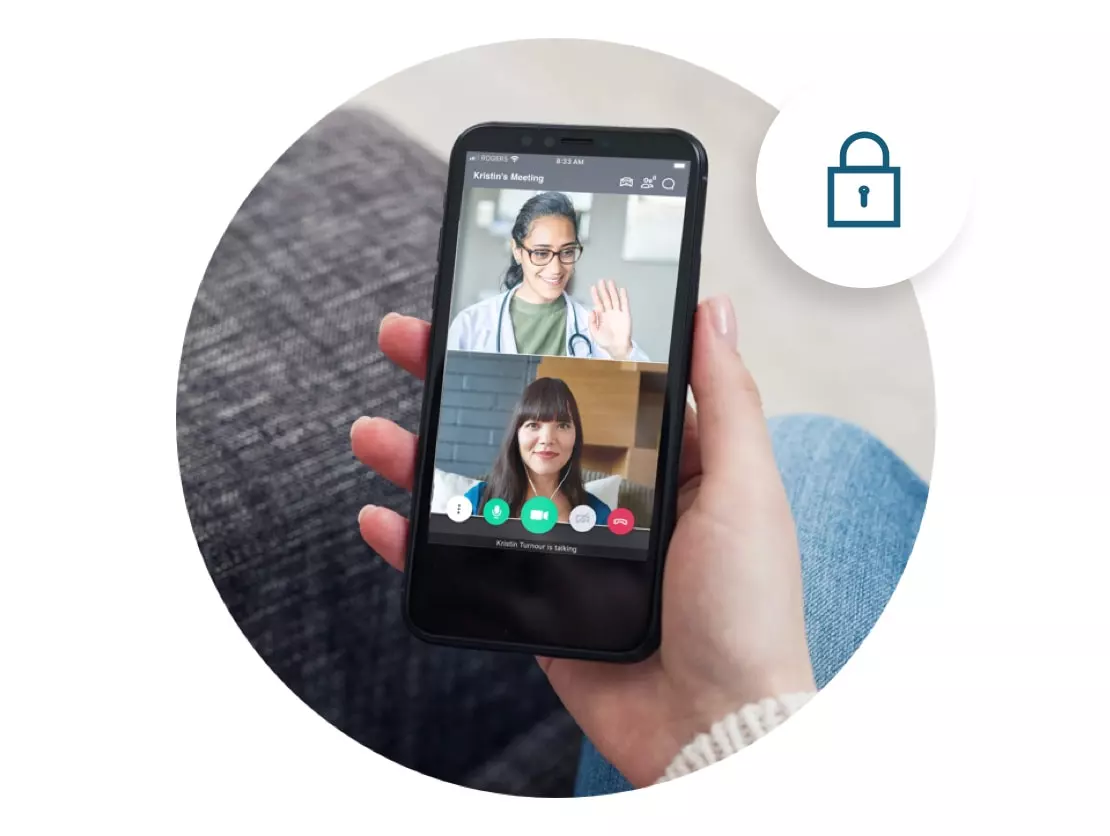 GoToMeeting has issued a comprehensive whitepaper outlining all of their security features, ensuring that your sensitive company data is safe.
"Yes, your online meetings, webinars, and training sessions are fully private and secure," according to GoToMeeting. In addition, end-to-end Secure Sockets Layer (SSL) and 128-bit Advanced Encryption Standard (AES) encryption are included in all of its systems.
Additionally, when conducting a virtual meeting, organizers have complete control over who can attend, stop the Chat, mute or ban people, and prevent participants from seeing each other.
What makes GoToMeeting stand out?
One of the essential considerations is the number of people admitted to the service, as meetings with tens, hundreds, or even thousands of people are possible.
GoToMeeting offers a variety of service levels that allow you to host video conferencing for groups of 10 to 2000 people. Up to 25 of them can be in the camera simultaneously. Of course, the host can always choose who is in front of the camera for larger meetings.
The majority of small enterprises lack a computer team to assist them in organizing video conferences anytime they want to start one. Therefore, the most acceptable videoconferencing system should be simple to operate and require little training.
It is when GoToMeeting comes in handy. The user interface in both the online version and the desktop program makes video conferencing easier to organize. You can quickly schedule, organize, participate in, and manage meetings because all buttons and links are clearly labeled. As a result, getting used to this system should be relatively straightforward.
Finally, GoToMeeting includes almost all of the video conferencing features that small businesses require to run a successful conference, including the ability to share your screen, record meetings, and automatically record transcripts.
In general, GoToMeeting fits all of the requirements for video conferencing software: it can accommodate many users, is feature-rich, and is simple to use.
When Should You Use GoToMeeting?
Video conferencing software for remote teams
GoTo Meeting is one of the top video conferencing software options because of its extensive account management capabilities, which allow you to track and troubleshoot online meetings. Diagnostic reports, security options, and usage details are accessible through the admin center. It's great for small enterprises or remote teams without full-time IT help.
Small enterprises seeking a low-cost virtual conference solution that can host a large number of people
GoTo Meeting is one of the most acceptable Zoom alternatives for hosting mid-to-large-sized meetings. Monthly pricing ranges from $12 to $16 per user per month (paid annually), making it less expensive than comparable services. In addition, its enterprise version enables up to 3,000 conference participants, but Zoom's large-meeting add-on only supports up to 1,300 attendees.
Businesses are managing sensitive data in the financial and healthcare industries.
Security safeguards abound in GoTo Meeting, ensuring worry-free video conversations. GoTo Meeting, for example, enables meeting hosts to lock meetings and dismiss attendees for secure and uninterrupted sessions. It also tops our list of the most acceptable HIPAA-compliant video conferencing options because it protects patient data completely.
Solopreneurs or remote teams who have meetings in a variety of locations
A mobile app for GoTo Meeting allows remote teams to have meetings from anywhere, regardless of distractions or bandwidth constraints. In addition, it has a commuter mode that transforms your screen into a color-coded audio/mute button and saves up to 90% bandwidth for improved call quality. As a result, GoTo Meeting earns a spot on our top Microsoft Teams alternatives with mobile conferencing features.
Benefits of using GoToMeeting
The best part of the GoToMeeting is how simple it is to use. It allows you to screen share and take notes throughout the session, making things easier.
In addition, the intelligent assistant tool, which employs machine learning to detect action items and highlights in a meeting, is also included.
The mobile app offers the same convenience as the desktop version to keep things simple.
Compared to other top-tier conference call services on the market, GoToMeeting's pricing plans outperform their competitors by a wide margin. Moreover, it's economical, starting at $12 per month per organizer. With a few outliers, such as Vast Conference, most software starts around $20.
Another excellent price feature is that GoToMeeting gives a 14-day free trial without requiring a credit card.
All users on the Business and Enterprise programs have unlimited access to call and video meeting recordings. Since other conference call services don't even offer the ability to record sessions, GoToMeeting's limitless capacity is excellent.
Meeting recording is vital for various reasons, and it's a feature to look for before using any conference call service.
Not only that, but GoToMeeting allows you to share the tape with anyone on your team, allowing them to review meeting details quickly.
Last but not least, GoToMeeting has many features that you can customize. This software contains numerous valuable capabilities that you may use efficiently on a conference call or a video meeting.
GoToMeeting is a versatile software that doesn't force its customers to add plugins or tools for a more advanced experience. Instead, you may select whether or not you want to use these capabilities at no extra cost to you or your business.
GoToMeeting Plans and Prices

GoToMeeting offers three distinct programs to suit the needs of businesses of all sizes and kinds. That's a positive thing because it signifies they're scalable and expand with your company.
We will go through all there is to know about each plan, including the price points.
GoToMeeting Professional
GoToMeeting Professional costs $12 per month per user with an annual commitment. Each user pays $14 per month on a month-to-month basis.
This subscription allows you to host up to 150 people in meetings and conference calls, which is more than adequate for small businesses.
GoToMeeting Professional includes the following features in addition to the previously mentioned HD video, audio, screen sharing, and other benefits:
You'll also have access to GoToMeeting's customer service staff, which is available 24 hours a day, seven days a week.
The admin center is a powerful and easy-to-use dashboard for controlling your calls, users, and accounts. You'll also have access to all of your meetings' diagnostic reports. In addition, it enables deeper troubleshooting by allowing you to track user performance on a per-user basis.
GoToMeeting allows you to hold endless meetings with no time limits on voice or video conversations, even the most basic package. With so many advanced features, it's challenging to find a better entry conference call package on the market.
GoToMeeting Professional does not include transcription or recording capabilities. If you want the advanced features, you'll have to upgrade.
GoToMeeting Business
GoToMeeting Business costs $16 per month per user with an annual commitment. However, if you don't want to commit to a long-term contract, you can pay $19 per user every month.
This package allows you to host calls with up to 250 participants, making it a good fit for medium to big businesses.
GoToMeeting Business includes all of the features of the Professional package, plus additional parts such as:
The meeting lock function protects your calls by adding an extra layer of security. Newcomers must wait until the meeting begins for the host to let them in.
This program uses machine learning technologies to detect meeting highlights and action items automatically.
Taking notes directly on the platform during a call or conference would also be beneficial.
"Slide to PDF," a new tool available on the Business plan, was just announced by GoToMeeting. You can automatically capture slides and create a sharable PDF with everything in chronological order during a presentation. It is simply another approach to stay organized after a meeting.
GoToMeeting Enterprise
It is an enterprise-grade solution, as the name implies, designed for larger enterprises with needs that surpass the constraints of the other plans.
As a result, GoToMeeting Enterprise's price is firm-specific. For additional users, they provide volume discounts.
To acquire a quote, you'll need to contact the GoToMeeting sales team.
Organize meetings and conference calls for up to 3,000 people. It is an excellent option for businesses with dozens of locations spread across the country or the globe.
With InRoom Link, you can connect your existing conference room system with the Enterprise package (H.323, SIP). It adds an extra layer of security for your protection.
GoToMeeting will give you a dedicated customer success manager in addition to 24/7 customer support. Custom onboarding, training, and quarterly reviews will also be available to you.
Final Thoughts: GoToMeeting Review
Overall, GoToMeeting is an exceptional conference call service provider.
They offer services for small, medium, and large businesses. The plans start at $12 per month and go up from there. They have more than just essential voice and video calling capabilities.
Even the most basic plan includes unlimited calling with no limits for up to 150 people. Other conference calling options will not provide you with as much functionality right out of the box.
The technology is also cutting-edge. It consistently uses the most up-to-date technology and provides excellent hardware bundles for organizations.
GoToMeeting has you covered whether you're holding meetings in your office conference room or on the move with your mobile device.
There is no reason you shouldn't consider buying it right now!
Alternatives
Zoom
Zoom's cloud-based platform makes virtual meetings simple even when working with distant teams worldwide.
In addition, zoom Meetings provide precise audio and video and strong screen-sharing capabilities, Chrome and Linux OS support for more flexibility, and SSL encryption to ensure secure discussions.
Zoom has a robust free plan that allows for 40-minute video conferences with up to 100 people. It will enable you to hold an unlimited number of one-on-one meetings and includes whiteboards for group discussion.
In addition, zoom offers three premium upgrades to its platform: Pro, Business, and Enterprise, which have advanced capabilities like user management, interoperability, customized meeting IDs for individual participants, phone assistance, and managed domains.
ClickMeeting is a web conferencing application that connects users regardless of their operating system, location, or time zone.
For large firms with staff spread across multiple regions, ClickMeeting is a perfect tool for interaction and coordination. Presenters and attendees may easily communicate with one another, attend meetings, deliver presentation videos, and share their screens.
One-click recording, webinar analytics, and meeting room rebranding are essential features. Through product training, demos, and visual branding, ClickMeeting's versatility and online webinars can assist your organization with lead generation and sales.
Demio
Demio is one of the most powerful webinar platforms on the market. They offer a variety of marketing tools to help you figure out which type of presenter or audience member is best suited to your goals so you can plan an event that everyone will love.
Of course, it's perfect for any campaign, but it's beneficial when working with large corporations.
KEY POINTS
Available as a stand-alone app for both iOS and Android.

Participants can join in the conference's audio by just picking up the phone.

Transcriptions & Recordings

Smart Meeting Assistant automatically transcribes the dialogue and records the webinar.

Offers secured and certified webinar rooms.
FAQs
Is GoToMeeting Offer Free Trial?
Yes, GoToMeeting offers a 14-day free trial period. You can sign up for a free trial on the company's official website.
It is legitimate software that employs robust encryption algorithms and protocols to ensure data transmission confidentiality, integrity, and authenticity.