Disclosure: Some of the links in this article may be affiliate links, which can provide compensation to me at no cost to you if you decide to purchase a paid plan. We review these products after doing a lot of research, we check all features and recommend the best products only.
Web hosting is no doubt one of the favorite affiliate marketing programs of professional bloggers.
Hosting companies pay unbelievable affiliate commissions which motivate bloggers to promote them aggressively.
Let's first understand why do they pay this much commission?
So these hosting companies use a very simple marketing technique where they give their hosting packages at a cheaper price for the first billing cycle and charge a normal price in the next cycle.
They know that once a customer starts using them, it's difficult to switch hosting from one company to another.
Having this simple marketing mindset, they pay high commissions to bloggers who promote them and very attractive prices to people who buy them.
I hope you understood the game now.
The web hosting industry is currently one of the largest industries around the globe, and it is also one that will continue to grow, with HostScore estimating it to be worth $216 billion by 2025!
Finding and enrolling in one of the best web hosting affiliate programs is a great way to make money online.
However, good products are hard to come by, and finding a program that pays well and also sells easily is a challenge in and of itself.
Not to mention, digging around the internet to find the one program that could work for you can take up a lot of time and effort that you could spend strategizing or converting.
There's no need to feel swamped though. We've got you covered!
Here's a list of the highest-paying web hosting affiliate programs out there.
Here are 15 Best Web Hosting Affiliate Programs to Monetize Your Blog
WPX hosting is the perfect option for users that want to get their site online fast.
They offer users a "done for you" service, meaning they can opt to install WordPress on their server before hand-off.
Not only does WPX provide some of the best-managed hosting services in the market, but it also features a lucrative affiliate program.
You can make between $70 and $100 per successful referral!
Affiliates get direct Skype access to an affiliate manager that can help them promote the product correctly and effectively.
They also give you premade banners and email signatures that can make your blog or social media pages stand out. You also get the opportunity to interview the CEO, Terry Kyle, and create content that boosts conversion rates.
We are using WPXHosting to run this site, so we have placed them at the top. Our company's website AffloSpark is also hosted at WPXHosting.
| | |
| --- | --- |
| Referral | Commission |
| First 25 referrals | $70 commissions per referral |
| 26 – 100 referrals | $85 commissions per referral |
| 101+ referrals | $100 commissions per referral |
SiteGround has been around since 2004, making it one of the oldest web hosting providers in the market.
It has stood the test of time for good reason. It offers aggressively priced hosting plans and now hosts over 1 million domains. They're known for their reliability and affordability, making SiteGround hosting an easy sell.
You start off by making $50 per sale, and as you make more sales, your commissions increase. You can even make $100 per sale!
The SiteGround affiliate program gives you a lot of incentive for your work. If you make more than 20 sales in a month, you will be offered a $125 commission for every sale you make.
Their performance-based commission system improves accountability and pays you well for your work every week.
| | |
| --- | --- |
| Referral | Commission |
| First 1-5 referrals | $50/sale |
| 6-10 referrals | $75/sale |
| 11-20 referrals | $100/sale |
| 21+ referrals | Custom Commissions |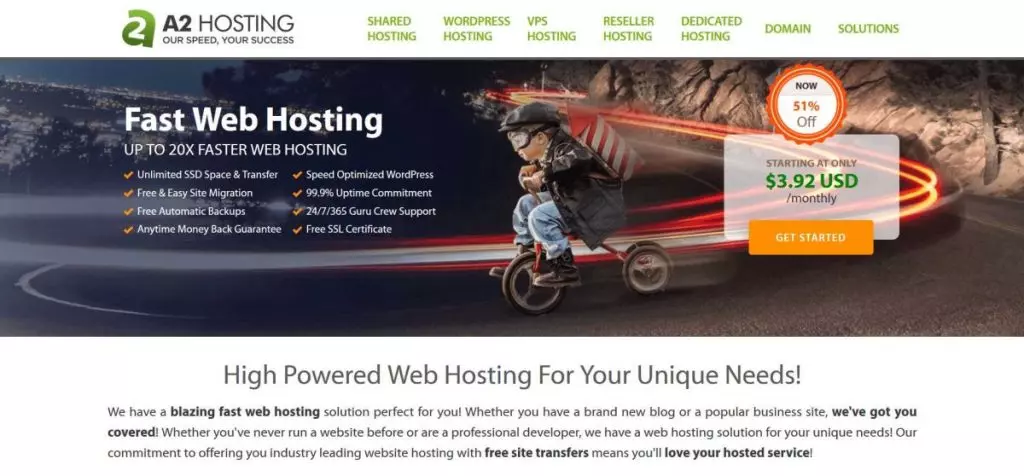 If you're in the WordPress niche, the A2Hosting affiliate program is perfect for you.
One of the biggest benefits of enrolling in their affiliate program is that they give you access to prebuilt landing pages that are A/B tested. You can use these at no cost to increase your overall affiliate commission.
The 90-day cookie duration gives you another advantage: You have a lot of time to convert a prospect into a paying customer.
A2Hosting boasts a performance-based commission system that gives high performers a chance to make up to $125 per sale!
However, for the first few sales, your commission is fixed to $55 per sale. You're paid every 15th, and the triple-redundant tracking ensures that you get paid the right amount.
| | |
| --- | --- |
| Referral | Commission |
| 1-10 referrals | $55/sale |
| 11-15 referrals | $75/sale |
| 16-20 referrals | $100/sale |
| 21+ referrals | $125/sale |
The LiquidWeb affiliate program is one of the highest-paying affiliate programs out there. You get paid a minimum of $150 for every sale you make!
They offer a range of services from VPS hosting and dedicated servers to WooComerce and WordPress-optimized servers.
Their hosting is super fast. Also, thanks to the 10 PHP workers, free site migrations, and free SSL certificates, you'll be able to market and sell it so easily.
One of the biggest selling points of LiquidWeb's hosting is that the managed WordPress and WooCommerce servers come with a built-in Beaver Builder for free.
The server also comes with all iconic WP plug-ins, Jilt abandoned cart, affiliate WP, and Glew analytics features.
| | |
| --- | --- |
| Product | CPA |
| Managed WordPress | $150 – $2,000 |
| Managed WooCommerce | $150 – $3,000 |
| VPS Hosting | $150 – $300 |
| Dedicated Hosting | $150 – $7,000 |
| Cloud Hosting | $150 – $5,000 |
If you're looking to be a part of a powerful affiliate marketing program, WP Engine's program is perfect for you.
You get a $200 minimum payout for every sale you help make. The one-link referral tracking makes earning commissions hassle-free.
You get access to a dedicated affiliate team that is ready to help you out with any technicalities. The exclusive affiliate discounts make for a good lure, and you also get access to customizable landing pages that you can use to make sales quickly.
The predesigned banners and the 180-day-long cookie duration give you two steps ahead of your competition, and if you even make five referrals per month, you can earn extra bonus commissions!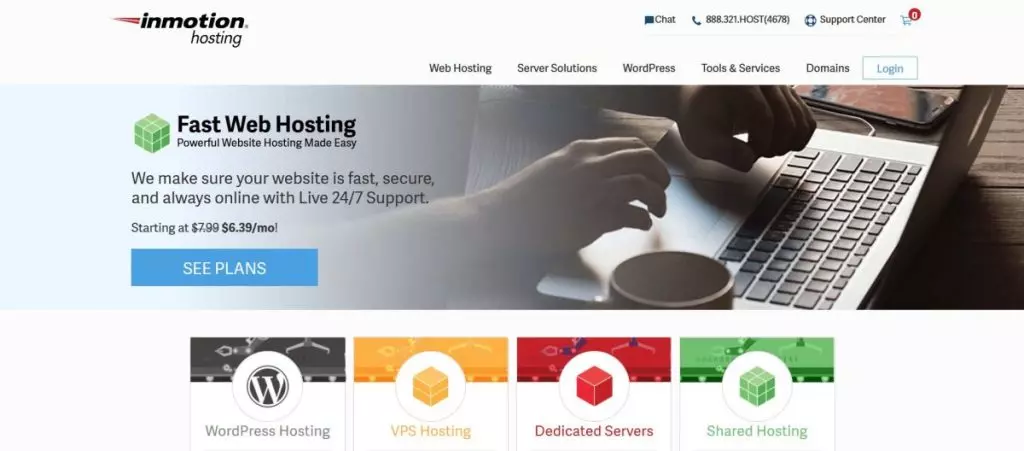 If you're looking to cater to a broad audience, InMotion will be right for you.
InMotion has a wide range of hosting plans that enable VPS hosting and WordPress hosting for great prices. You can earn unlimited commissions promoting their products!
You get a minimum commission of $50 for every sale you make, and the commission tier system enables you to get paid more if you sell more. Here's how it works:
| | |
| --- | --- |
| Referral | Commission |
| 1-10 referrals | $50/sale |
| 11-20 referrals | $80/sale |
| 21-30 referrals | $120/sale |
| 31+ referrals | Custom Commissions |
The robust marketing and tracking tools enable deep linking to any of InMotion's pages, and the custom landing pages help boost conversion rates.
Cloudways has a recurring commission structure with fantastic instant bonuses for every referral you make.
There are a lot of things that make Cloudways hosting an easy sell. The SSD-based hosting boosts performance, giving up to three times faster loading times.
The server's built-in advanced caches deliver expedited responses, and the auto-healing feature ensures that your site never goes down for more than a minute.
Breeze, the WordPress caching plug-in comes engineered in-house, providing ultrafast WordPress performance.
The slab and hybrid commission models give you the flexibility of picking between the active and passive income route—but both generate consistently great revenue.
You can estimate your earnings on their website and find out how much you can make instantly!
| | |
| --- | --- |
| Referral | Commission |
| 1-5 referrals | $50/sale |
| 6-20 referrals | $75/sale |
| 21-45 referrals | $100/sale |
| 46-80 referrals | $125/sale |
| 80+ referrals | Contact with them |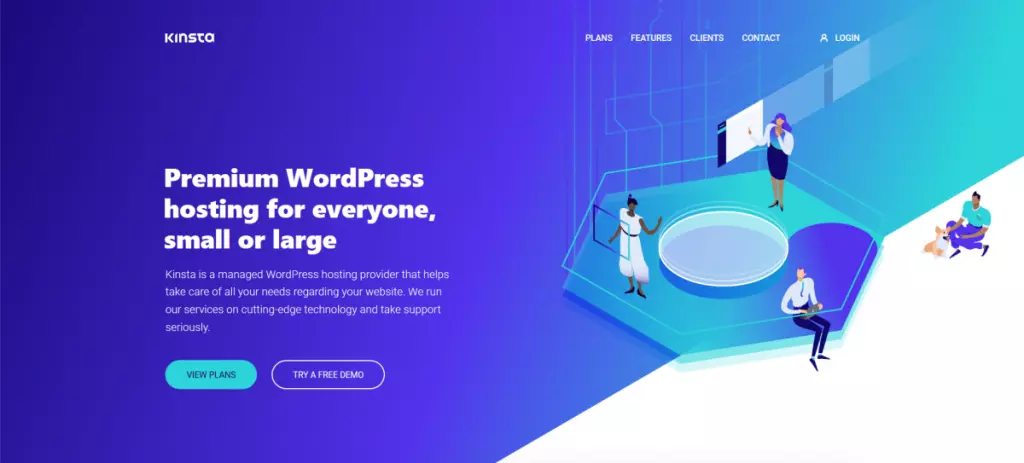 Kinsta has recently become the go-to choice for both individual bloggers and marketing agencies alike. Its popularity is owed to the high commission rates it offers.
You get paid between $50 and $500 for every sign-up you help make. Since users may not convert right away, the 60-day cookie duration enables you to retarget and nudge users into conversion.
Kinsta's churn rate is super low at 4%, and users rarely leave. This fact makes the Kinsta affiliate marketing program a lucrative option for those looking to generate passive income.
You get 10% recurring commissions as long as your customers stay with Kinsta, and since it comes with industry-leading features, selling it will be a breeze.
| | |
| --- | --- |
| Plan | Commission |
| Starter Plan | $50/sale |
| Pro Plan | $100/sale |
| Business Plan | $150/sale |
| Enterprise Plan | $500/sale |
Flywheel is a dedicated WordPress hosting solution that is perfect for marketers, bloggers, and designers alike.
It is especially preferred by creatives who are on the move because it is easy to set up, and the servers are optimized for WordPress.
The platform enables users to test out sites before putting them up, and the powerful developer tools give users full control over the look and feel of the site.
You can make up to $500 for every successful referral you make. You can also create a demo site for your client, and if they like it and buy it, your commission will be registered automatically.
GreenGeeks gives you fantastic commissions even if you make fewer sales. Unlike some other affiliate programs on this list, you earn high commissions if you make as few as six sales!
The company offers multiple hosting plans, which enables you to sell it to all users regardless of their requirements.
The WordPress hosting plan promises speed and security. The VPS hosting plan gives access to superfast SSD storage. Lastly, the reseller hosting plan enables users to manage multiple hosting accounts on their own platform.
If you were to bring in one customer a day for a month, you would earn a whopping $3,000!
The commission structure works like this:
| | |
| --- | --- |
| Sales | Commission |
| 1 sale | $50 /sale |
| 2 sales | $60 /sale |
| 3 sales | $70 /sale |
| 4 sales | $80 /sale |
| 5 sales | $90 /sale |
| 6+ sales | $100 /sale |
If you're looking to start making money fast, you should enroll in the Bluehost affiliate program.
It is free to join, and the reliable tracking system ensures that you get credit for every sale you make.
Bluehost gives you full, free access to a slew of promotional resources—including banners and ads—that improve your chances of converting visitors.
You get paid 45 days after the customer signs up. Payments are processed between the 16th of the month and the end of the month.
Bluehost also has a performance slab system—the more you sell, the more you earn!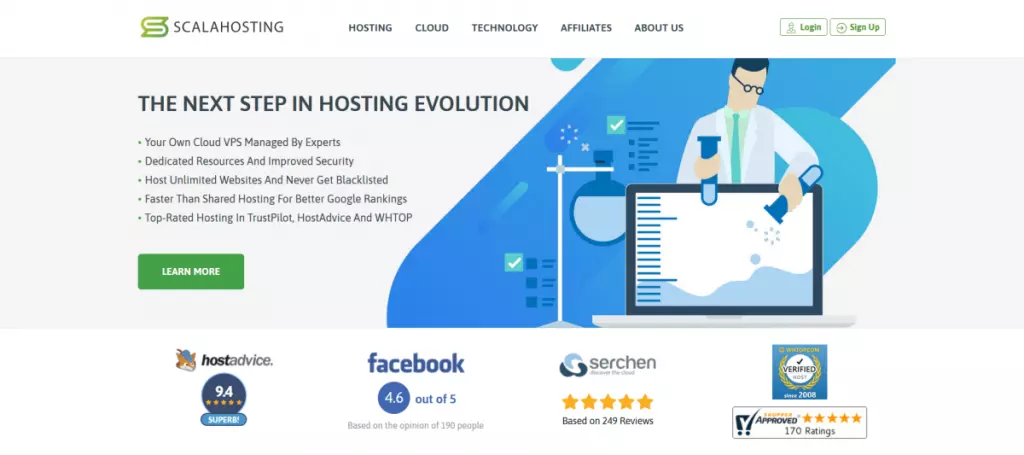 Scale Hosting comes with feature-loaded software that makes managing a website super easy.
It comes with SPanel—an all-in-one solution that makes security and backup management easy via its simple interface.
Becoming an affiliate is as easy as filling up a form, and you can earn thousands of dollars a month, making only a few sales.
Scala Hosting offers two plans: the web hosting plan and the VPS hosting plan. Selling web hosting plans fetches you anywhere from $50 to $100 per sale, whereas selling VPS hosting plans will earn you up to $200!
| | |
| --- | --- |
| Referral | Commission |
| 1-5 referrals | $50/sale |
| 6-10 referrals | $80/sale |
| 11-20 referrals | $100/sale |
| 21+ referrals | Custom Commissions |
Pressable is one of the most popular managed WordPress hosting sites that come with tools to help users create, migrate, and monetize sites with ease.
Pressable doesn't limit the user in any way, offering unlimited bandwidth and free SSL certificates. It also comes with free Jetpack premium, and malware + DDoS protection is enabled right out of the box.
Affiliates are also well taken care of, with generous commissions and custom banners or links readily available for use. You also get a $5 bonus when you sign up and take their survey!
The excellent features and aggressive pricing make Pressable an easy sell.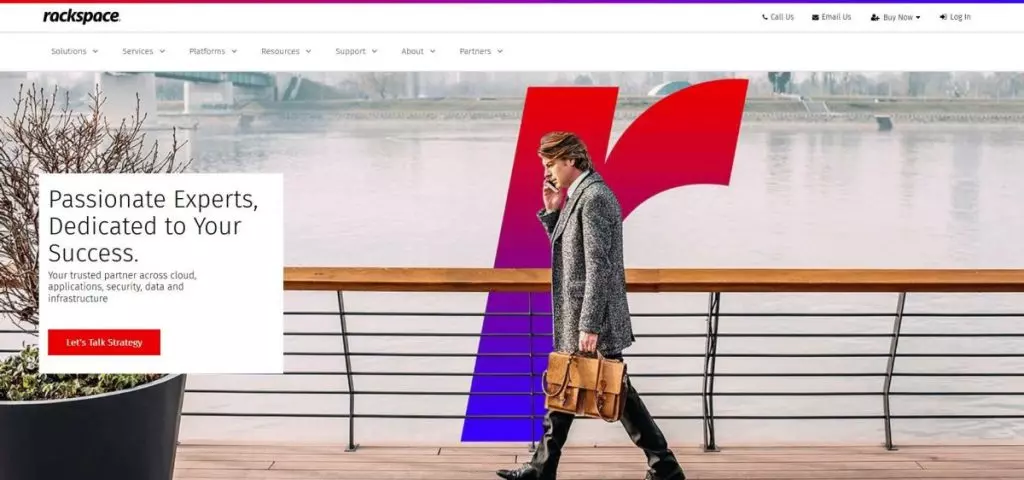 You can sell Rackspace to visitors as a public cloud service or as an email and productivity suite. Regardless of how you choose to sell it though, you'll get paid the same amount!
The email and productivity suite is an easier sell because it gives the user access to Office 365 and Hosted Exchange in addition to Rackspace email.
Rackspace gives you access to web banners and tracking links that make selling and keeping track of your earnings easy. You don't have to pay any fees or make any commitments to join their affiliate program!
Interserver offers many plans—including cloud, dedicated, and shared plans that enable you to sell it to an audience with different needs.
Their servers are optimized for fantastic WordPress and Joomla performance, and the server's unmatched speed is what makes it super popular among marketers.
You get paid large amounts per sale right from the get-go, and Interserver's comprehensive stats feature helps you keep track of your sales, payments history, and campaigns.
Quick links:
Best Web Hosting Affiliate Programs: Conclusion
With this list handy, sifting through hundreds of hosting affiliate programs is no longer necessary!
These are the best affiliate programs to make money; all you have to do is pick.
Keeping your preferences in mind as you go over this list will help you find the perfect program in minutes!.