Disclosure: Some of the links in this article may be affiliate links, which can provide compensation to me at no cost to you if you decide to purchase a paid plan. We review these products after doing a lot of research, we check all features and recommend the best products only.
Do you know without getting involved in the insurance business, you can still earn from it? The insurance business contributes a big part to the world's economy, and insurance affiliate marketing plays a significant role in the success of this industry. If you are a YouTuber, blogger, or even a social media influencer, you can have a chance to earn as an insurance affiliate.
Choosing the best insurance affiliate program is not a child's play. So, you need to educate yourself about insurance affiliate marketing for selecting the best choice for yourself.
Insurance is a big term. It does not affect a particular aspect of life and has a vast platform. People will need insurance for health, travel, automobiles, pets, households, and even life. So, from an affiliate's perspective, you can link the term with a vast group of audiences.
Even if you don't want to be a salesperson for life insurance plans, you can earn a considerable amount through affiliation. All you need is to promote the brand you have chosen for your insurance affiliate program in your blog or channel or whatever social media account you have. If your audience clicks your individual link to purchase that particular insurance plan, you will get paid!
Remember that all insurance affiliate programs are not worthy. Choose the one which you can rely on, and of course, it should match your content. Don't be sad if you are in a dilemma about what type of insurance affiliate you should be.
In this article, we have discussed the best insurance affiliate programs for you. We understand your needs and, thus, have chosen the top ones for you. Read this till the end to get the right choice.
Why is Insurance Affiliate So Popular?
Following the insurance industry, its affiliates are also getting colossal coverage these days. The most important reason behind this is the money. Just like the insurance business, the affiliates also make a lot of money in this field.
Even if you decide to join a small program with very little commission, you will end up getting a decent amount of money.
It's simple to understand that everyone needs insurance. And if they get a reference from someone they know, it would be easy for them to trust. So, Insurance Affiliate programs are opening doors and windows of opportunities for social media marketers.
The top three reasons why Insurance Affiliate is so popular are as follows.
#1 Customer Base Is Massive
As discussed above, you can gather many customers to buy from the link of your insurance affiliate program. Everyone needs insurance, and unlike other niches, you are more likely to make huge sales.
#2 Opportunity to Work with Reputable Companies
Almost every insurance company allows affiliate programs. If you sign up with the top companies, it will give them more customs, but your reputation will also increase. Your viewers will trust you more as you collaborate with big companies, and as a result, they are more likely to buy the plans you recommend. So, it's all a cyclic process.
#3 Always on The Go
Insurance affiliate marketing is never going to end on your platform. If the customers get satisfied with the service, they will again buy it through your link, and you can earn more than once through the same customers. So, it's a win-win situation!
Best Insurance Affiliate Program in 2023
You may find various Insurance affiliate proms on the internet. With the advent of technology, almost all insurance companies work with affiliates. It is confusing to choose a program in such a situation, especially with such a diverse field.
That is why we have brought to you the top ten Insurance Affiliate Programs from several niches. Selecting from the top ten options is quite an easy task than choosing from thousands of options. So, keep reading!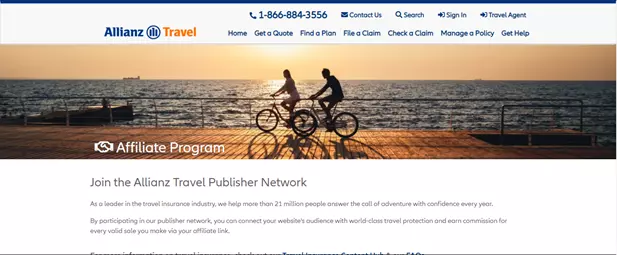 If you are a travel blogger or even your channel or page is related to travel or destinations, you can go for this program. Allianz Travel is a reputed travel insurance company with more than 20 million customers.
To help solve any travel-related concerns, the organization has formed partnerships with a number of airline companies, travel agents, and hotels. Renowned CJ Affiliates handle the affiliate program of this company.
If you want to be an insurance affiliate for this company, all you need is to sign up with them. After successful registration, they will provide you with a unique link. You will get a commission if your customers click on that link and subscribe to their insurance plan.
For each sale, you can get up to $25. Allianz travel has a 45-day cookie life. Along with that, you also get access to cross-device tracking and graphic material for your blog or channel for promoting the brand.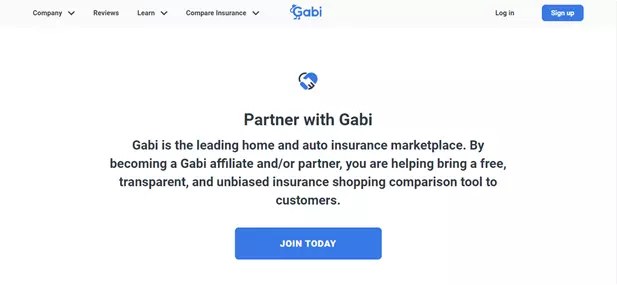 The functioning of Gabi is more like how you work as an affiliate. It is a free platform to help its customers to get the best insurance. It helps customers to save almost $961 per year.
Gabi is not an insurance company. It is partnered with several top insurance companies including, travel insurance, health insurance, automobile insurance, pet insurance, etc. Gabi earns by the commissions the partnered companies pay it.
By being an affiliate partner of Gabi, you will introduce it among thousands of your readers. Because of its top partners, you will also get good recognition on your site in return. As a result, your business will grow.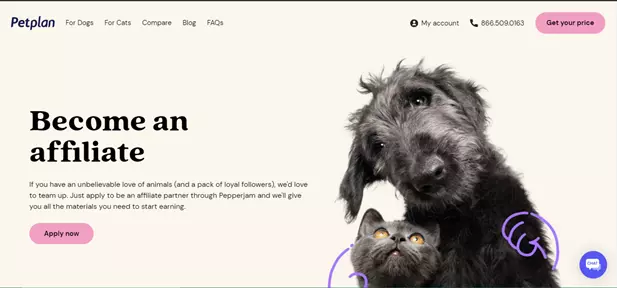 If you are a pet lover and your channel concerns your pet's diet plan or anything related to pets, you can choose this affiliate program.
PetPlan Insurance Company is a pet health insurance company. For all pet lovers, their pet's health is the top priority. Thus, PetPlan takes care of all the health-related expenses from surgeries to hydrotherapy of the pets.
If you wish to be an affiliate for this program, go to their affiliate program site and apply for affiliation. Soon after the registration, you will get a confirmation mail within 24 hours, and you are ready to go.
As an affiliate, you will get a direct deposit of monthly lead compensation payments and full-time company support. In addition, you will also get access to real-time performance tracking and ready-made banners for the company's promotion.
However, Petplan is very particular about its affiliating policies. So, you will have to strictly follow the terms and conditions of the company while making promotions.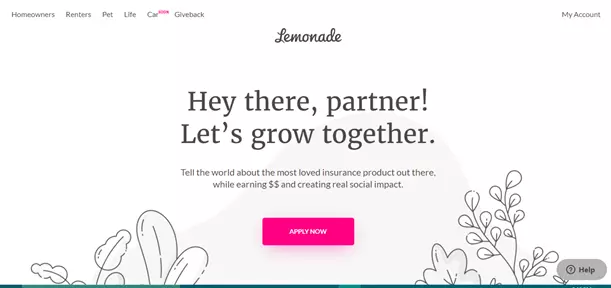 Lemonade is an overall insurance service where you can get insurance for your house, pets, cars, and life insurance. So, no matter what niche you work on, you can always consider choosing a lemonade insurance plan.
It has a 4.9-star rating in the Apple Store and has ranked top by Supermoney, Cleasurance, and others. The company uses the latest technology and procedures for insurance plans. So, you don't need to think twice about your reputation before you choose this program.
Lemonade Insurance Company considers bloggers, influencers, recognized brands, and media companies for their affiliate program. Thus, if you fall in the above category, you can be a part of it. Sign up with their program, and their team will contact you if you qualify. Once you get it, start rolling money!
The affiliates get updated reports on their campaigns and customized content to post on your accounts for promotion. With lemonade, you can earn a good number with each sale.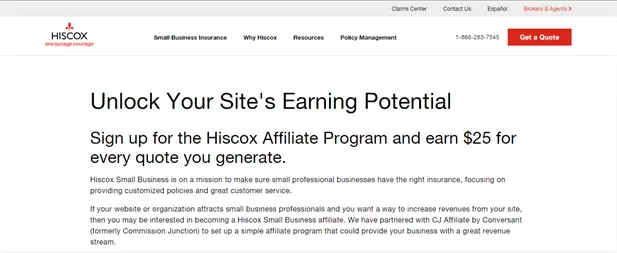 Hiscox provides insurance to small businesses. It specializes in specialty markets, such as property and casualty insurance for firms and wealthy individuals. It also provides coverage against risks such as computer hacking, kidnapping, and satellite damage, among others. If a significant amount of your audience is small business owners, this is the option for you.
You get great perks as a Hiscox affiliate. You can earn $25 for every completed quote that is traced back to you. Registration as an affiliate is straightforward, and after the process, you can download their banner and start advertising.
Hiscox also provides you with an affiliate manager to look into your issues. Moreover, the individual links they provide contain the most effortless procedure for the customers. Special incentives are also given to the top performers.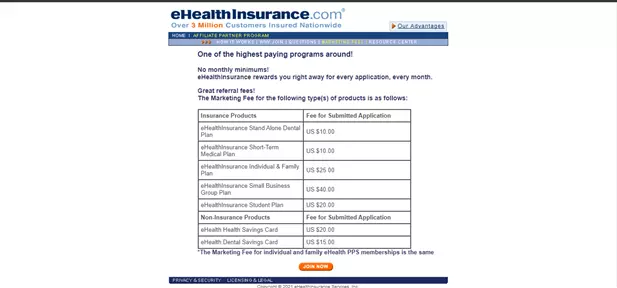 The award-winning eHealth affiliate program is an excellent way to partner with a significant online health insurance provider. Since its foundation in 1997, eHealthInsurance provided the first Internet-based sale of a health insurance policy.
eHealth provides online health insurance for individuals, families, and small businesses. The customers can examine rates, compare plans side-by-side and apply for health insurance on one site alone.
If you want to be a part of its affiliate program, you must first register as a CJ Affiliate. The commission rate at eHealth varies according to the applications.
For each Individual or Family Health Insurance Plan, the commission amount is $50. For each Short-Term Health Insurance plan, you will be paid $10, For each Student Health Insurance Plan, the commission is $20, and the Dental Health Insurance plan gives a commission amount of $10. The highest commission is for the Small Business Group Health Insurance plan, which is $75 per sale.
eHealth has the highest cookie life of 120-day. In this way, your customers are more likely to consider the policy. As a result of the company's popularity, there's a good chance you'll wind up making a lot of money from your site. So, overall, this is a pretty good deal to earn as an affiliate.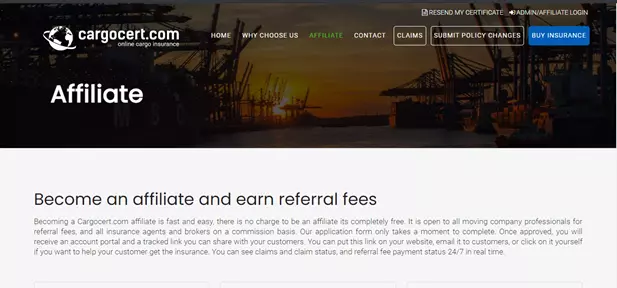 CargoCert insurance company mainly provides insurance to cargos. Be it ocean cargo, air cargo, road cargo, and rail cargo, CargoCert takes charge. Since the insurance is for bulk commodities, CargoCert provides an instant certificate to subscribers after claiming the insurance. Now, if you think your audience can be interested in these types of insurance, CargoCert is the best in this category.
CargoCert does not charge any fee for its affiliates. All you need to do is sign-up with the company. While registering, you need to answer a few fundamental questions about your business and identity. Once the registration is done, they will provide you with a tracked link and your personal account portal to track your progress and reach the affiliate support team.
You can use the link on your website or by email marketing to attract customers. Once a customer gets a certificate after subscription, you will get the referral fee. You can also share the links individually with people you think can be interested in buying the insurance plan.
The more you bring customers, the more money you earn. There is no limit to earning as a CargoCert affiliate. At the end of the month, you will get a check with your referral fees.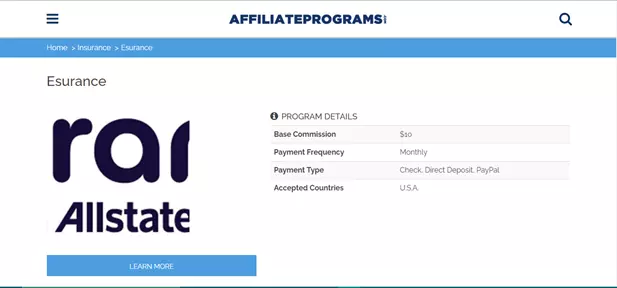 Esurance is an automobile insurance company established in 1999. Since then, they are among the top leading automobile insurance companies around the globe and is a member of the Allstate family.
It sells insurance for automobiles, homes, motorcycles, and rental vehicles directly to consumers via the internet and phone. If you make blogs and videos on automobile reviews or like, this is a good choice.
Esurance's high conversion rate can be attributed to its straightforward quote process. Just like the others, it is also a member of CJ Affiliate. You can get a chance to make $10 to $13.33 for every quote you generate.
They will also give you access to their logos, banners, and links for your promotion purpose. Moreover, partnering with such a reputable company will also enhance your business.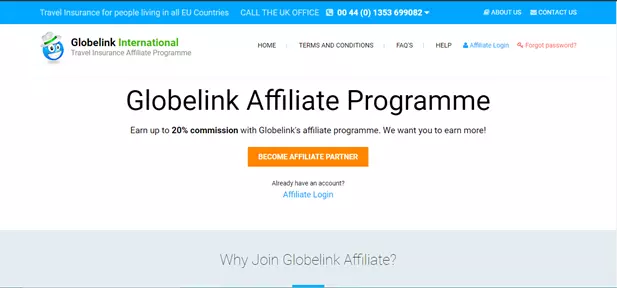 Globelink is a travel insurance company that operates from different countries as branches. You can go for this affiliate program if you are a blogger, travel agent, or even an insurance consultant.
Globelink takes good care of its affiliates and has many perks for them. The quote engine provided by the company is quick and easy and can be operated through mobile phones. It also offers customized banners for blogger affiliates.
You don't even have to make an immediate sale to earn money. You can get paid by only inducing a deal even if the customer is not immediately interested in the plan.
Globelink provides 10-20% commission per sale, and they make payments monthly. If you are a blogger, you can get easy plugins for WordPress. Globelink also organizes contests for the affiliates.

Haven Life provides life insurance programs. Its insurance procedure is easy, cheap, and dependable. Along with Life insurance plans, it also offers annuities to individuals and families.
It is a reputed and well-recognized platform. The most important reason for its popularity is its partnership with MassMutual.
FlexOffers look after this company's affiliate program and has taken charge of the signing up process for the affiliates. The commission rate is $24 per sale with numerous other perks, such as banners and customized content for your website. The cookie duration of Haven Life is 30-day.
Conclusion
Insurance is a big industry. Whether you get a big company or a small one, it doesn't matter until you make money. Even the small companies of Insurance Affiliate programs offer huge amounts of money. And of course, as discussed in the article, the sale rate is also high. So, your business is never going to stop!
But promoting the insurance company is not a child's play. You need to be experienced and must have enough knowledge about the particular niche. So, every time you select a program, study about it beforehand and try to keep it related to the content you create.
All the above strategies combined are going to help you to achieve the milestone. So, gather courage and start choosing the best for you.
Frequently Asked Questions
What is the Highest Percentage of Commission in Insurance Affiliate Program?
In insurance Affiliate Programs, the commission is generally kept fixed. But in some cases, percentages are used. If you are getting 10-30% of the sale, you are fortunate. Not more than 20-30% is offered in Insurance Affiliate Programs. The Maximum percentage is 10%. However, very few companies may give their affiliates a 20-30% commission. But however, you get into these Insurance Affiliate programs, it is always a huge amount.
How I Get Paid by Insurance Affiliate Programs? 
Mostly, the insurance companies pay their affiliates through PayPal and direct bank transfers. Both of the means are equally used among the companies. The second most used means check. Payment modes like wire transfer, Payoneer, etc., are seldom used.
Can a Beginner Start Insurance Affiliate?
Yes, beginners can start insurance affiliates. There are many companies for which there are no eligibility criteria to be an affiliate. However, the harsh truth is that the big insurance companies only select recognized influencers as their affiliate. But you don't have to worry. For your beginning years, you can work with small companies, and as you grow, you can approach the more prominent companies.