Disclosure: Some of the links in this article may be affiliate links, which can provide compensation to me at no cost to you if you decide to purchase a paid plan. We review these products after doing a lot of research, we check all features and recommend the best products only.
Caring for dogs is one of the most joyous parts of life. They provide great companionship and teach us a thing or two on how to be responsible for someone.
The number of pet dogs in the U.S. has risen to tens of millions in the last two decades, and studies report that one in ten millennials are ready to spend up to $10,000 on their dogs' care.
The demand for doggy care products is flourishing. All you need to do to make profits from it is to join dog affiliate programs and point users in the right direction.
But there are several seemingly lucrative dog affiliate programs out there, which makes picking the right one a challenge in and of itself.
Don't worry, though. I've got you covered.
In this post, I'll take you through the best dog affiliate programs in the industry.
How to Make Money with Dog Affiliate Programs
There are a ton of ways of making money affiliate marketing dog products, mainly because caring for dogs involves many different things.
Dog training is a lucrative niche, and joining a dog training affiliate program can be an excellent way to monetize a blog.
Dog toys, beds, clothing, and medication are some other products that sell very easily.
Speaking of medication, reliable dog insurance programs, local vet referrals, and excellent dog grooming products are things that dog owners are always looking for.
But that's not all you can market in this niche.
Dog tech such as tracking collars and automatic food dispensers – is super popular right now, because it enables owners to care for their dog even when they are occupied with work.
Lastly, although the 'travel with dogs' niche classifies as a cross niche, marketing hotels and products to aid people with traveling with their dog can be a great way to drive loads of traffic to your site and also convert and make profits.
Now that I've gotten some of the best approaches out of the way, let's move forward and look at the best dog products affiliate programs you can join.
Best Dog Affiliate Programs for 2023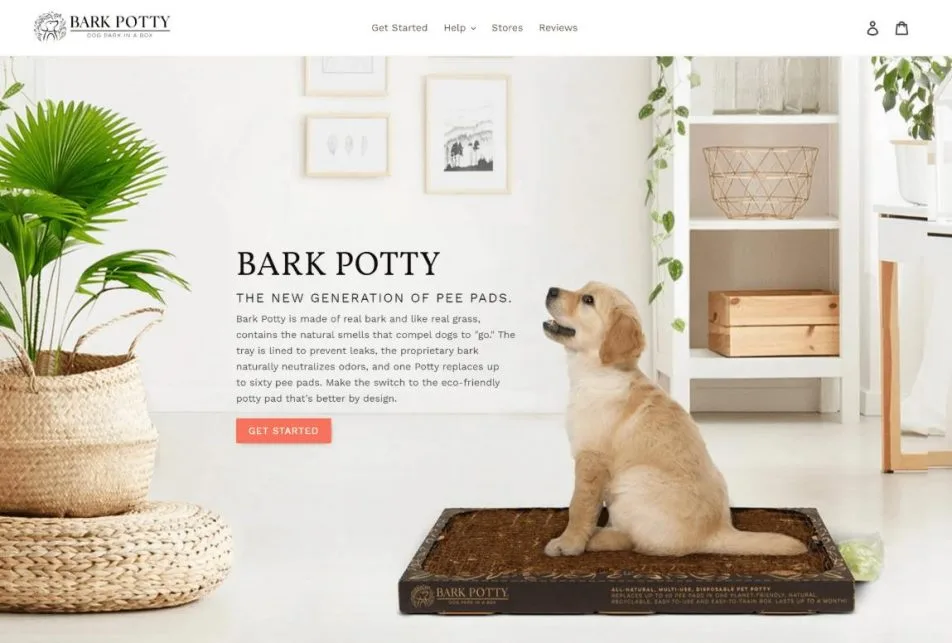 Bark Potty offers a unique and natural replacement for pee pads. The product is perfect for helping pups, and grown dogs relieve themselves when they're home.
It's both easy to use and train, and the tray is lined to prevent leaks. Bark Potty is also budget-friendly and replaces over 60 pee pads.
The convenience it offers and the money it saves make it an easy sell.
Sales
Commission
All sales
10% fixed per sale
30-day cookie duration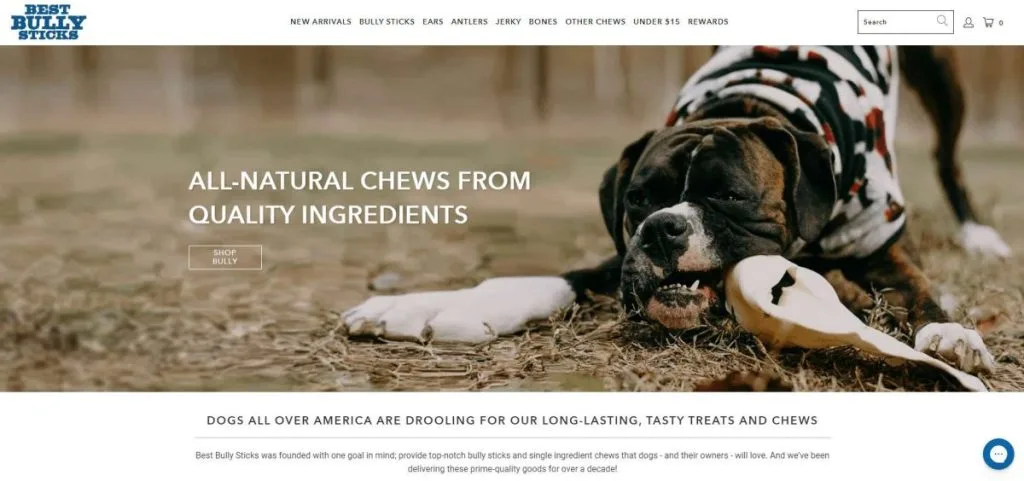 Dogs love to chew and selling dog owners 100% natural dog treats will keep owners worry-free and make you money.
Best Bully Sticks are easily digestible and do not come loaded with sugars and fat. They are some of the healthiest chew treats a dog can have.
Also, the competition for healthy dog treats is considerably low making it the perfect time to join their affiliate program.
Sales
Commission
All sales
8%
30-day cookie duration
Training products are some of the best affiliate dog products because their affiliate programs offer high commissions.
The Brain Training for Dogs affiliate program is hosted on ClickBank, and the owner of the program offers 75% commissions, which is the highest possible commission on ClickBank.
If you work smart to convert your visitors, you could generate five-figure profits every month with ease.
Sales
Commission
All sales
75%
60-day cookie duration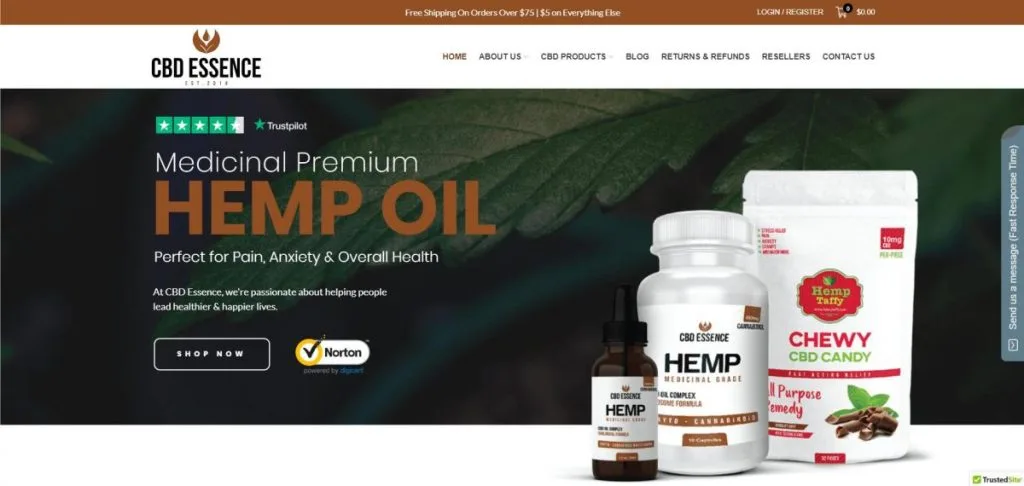 CBD Essence has a vast range of products, including CBD edible hemp oil dog lick. It helps dogs stay calm when it rains or when they're at the vet.
The company also offers hemp oil-infused dog biscuits, which can give shy dogs a confidence boost.
Marketing effective medicinal products that help dogs keep their composure should be a breeze.
Sales
Commission
All sales
20% – 40% commission (varies by product)
180-day cookie duration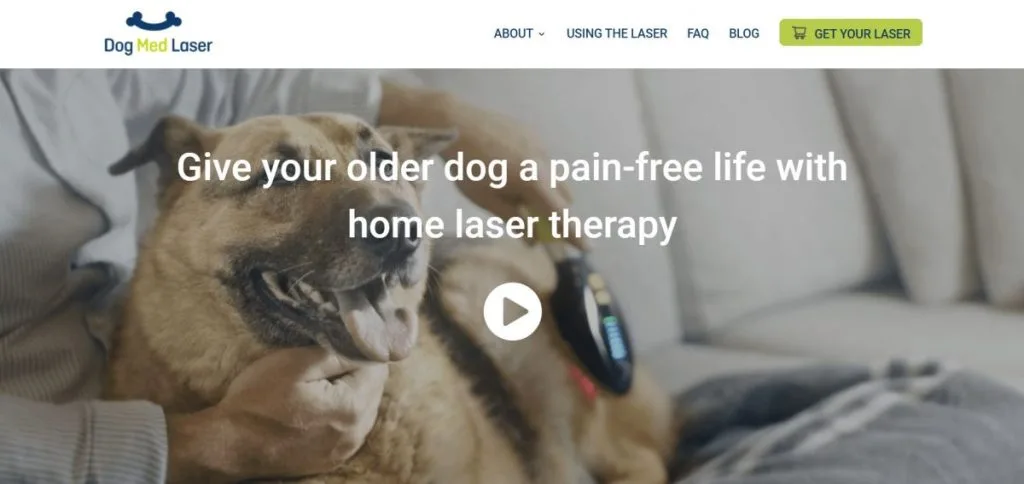 Older dogs suffer from one problem more than any other: joint pain. And while pain medication can help dogs, they have severe side effects.
The Dog Med Laser is the perfect alternative to pain medication since it has no side effects, providing dog owners with a safe way to give their dogs relief from pain.
Users can "brush" their dog with the laser, which feels like a pleasant massage to the dog, relieving pain in the process.
Sales
Commission
All sales
10% per sale
30-day cookie duration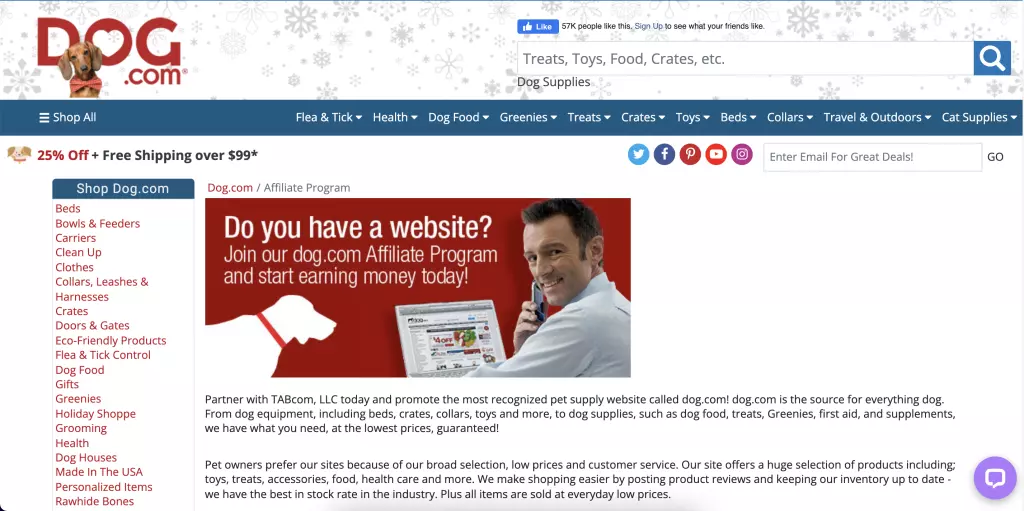 Dog.com is the go-to dog equipment and supplies online store. They have everything from dog food and treats to beds and crates for sale on their website.
The company guarantees the lowest prices online, and its affiliate program supplies its affiliates with promotion codes and offers frequently.
Their excellent prices and attractive offers are the main reason why you should join their dog affiliate program.
But since they have a closed network, they do not reveal earning potentials and commission rates.
Sales
Commission
All sales
Undisclosed
Undisclosed cookie duration
Unlike other companies on this list, DoggieMerch does not make products for dog's use.
The company enables dog owners to create customized merch things like puzzles, mugs, and pillows.
Marketing services like DoggieMerch can prove to be tricky, but their high commission rates make it worth the trouble.
Sales
Commission
All sales
30%
90-day cookie duration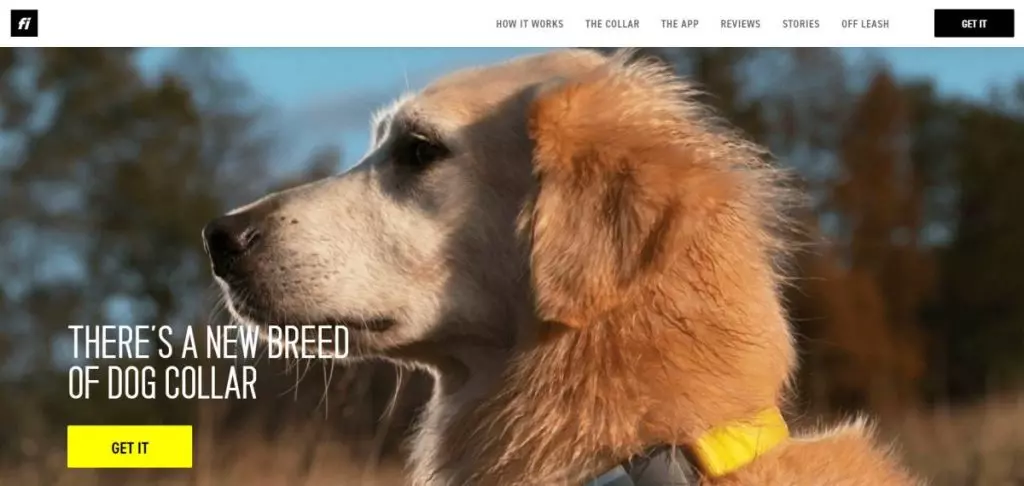 The Fi Smart Dog Collar is stylish and comfortable and gives dog owners peace of mind knowing that they can track their dogs via GPS if they run off when they see an open door.
The collar also enables dog owners to monitor their dog's activity when they're not home.
Their EPC is well above average at $179, and the high commissions make it one of the best paying dog affiliate programs.
Sales
Commission
All sales
20%
45-day cookie duration
FitBark offers some of the best GPS dog trackers on the market. They're small, light, affordable, and fit all dogs regardless of breed or size.
Since their average order size is $100, and they offer a baseline 12% commission, joining their program can be a great place to start for affiliate marketing beginners.
Sales
Commission
All sales
12% baseline; higher-volume affiliate eligible for higher commissions
60-day cookie duration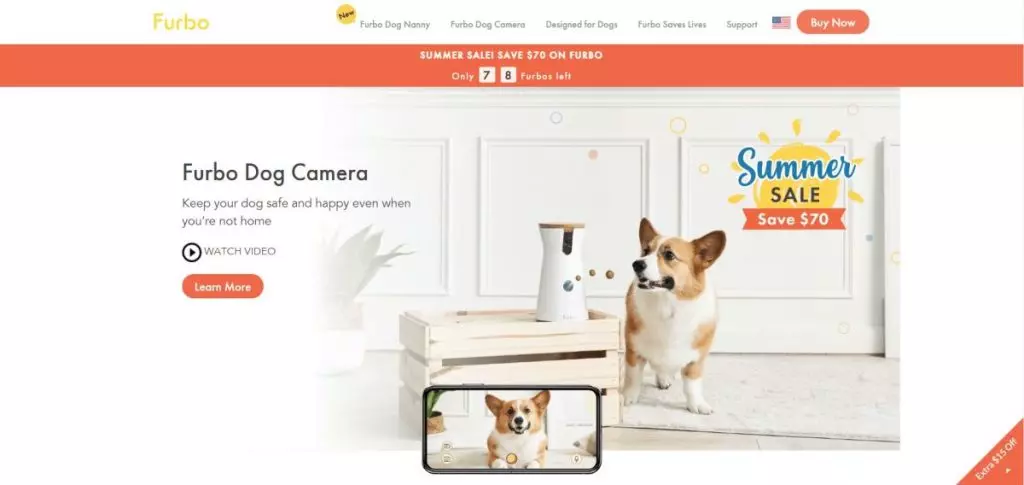 Furbo is super easy to sell because it helps dog owners connect with their dogs when they're out and about. Owners can see and speak to their dog regardless of where they are, and they can also toss treats for their dog to enjoy.
Furbo also has an app that gives owners activity alerts when the Furbo detects barking or playing.
Sales
Commission
All sales
5%
30-day cookie duration
Organic pet products are trendy at the moment, which means there couldn't be a better time to connect your audience to King Kanine.
The company offers a range of organic, CBD-based products for dogs, including oils, shampoos, and balms.
In addition to these standard offerings, King Kanine also offers pet bed sprays, mite management sprays, de-shedding tools, and CBD-infused dog treats that help maintain your dog's dental health and also help them keep calm during their visit to the vet.
Sales
Commission
All sales
15%
30-day cookie duration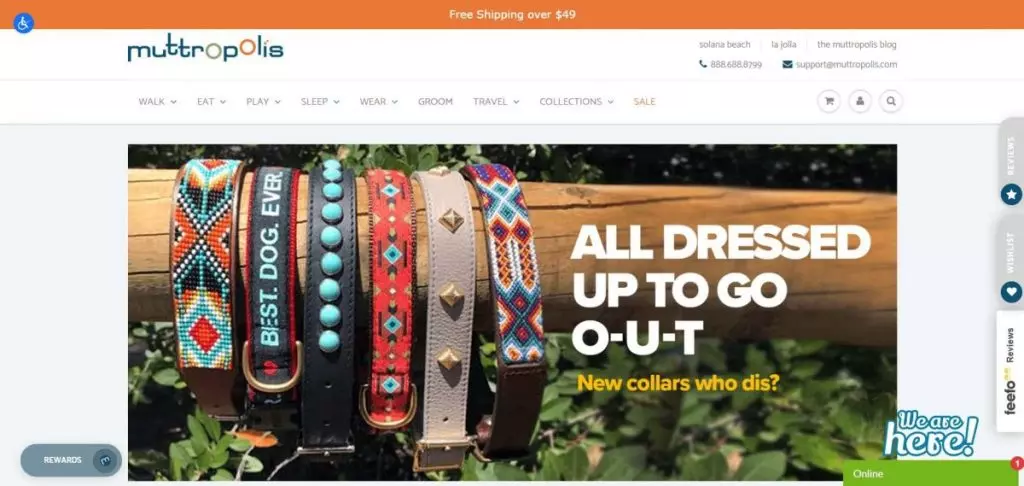 Muttropolis is an online marketplace that offers an extensive selection of attractive and functional pet products. The company provides a vast range of doggy bedding, bowls, carriers, dog collars, and also dog clothing.
Since they also offer high commissions for sales, their affiliate program is the best dog clothes affiliate program around.
In addition to canine couture, they also sell all-natural food and treats.
Sales
Commission
All sales
12%
120-day cookie duration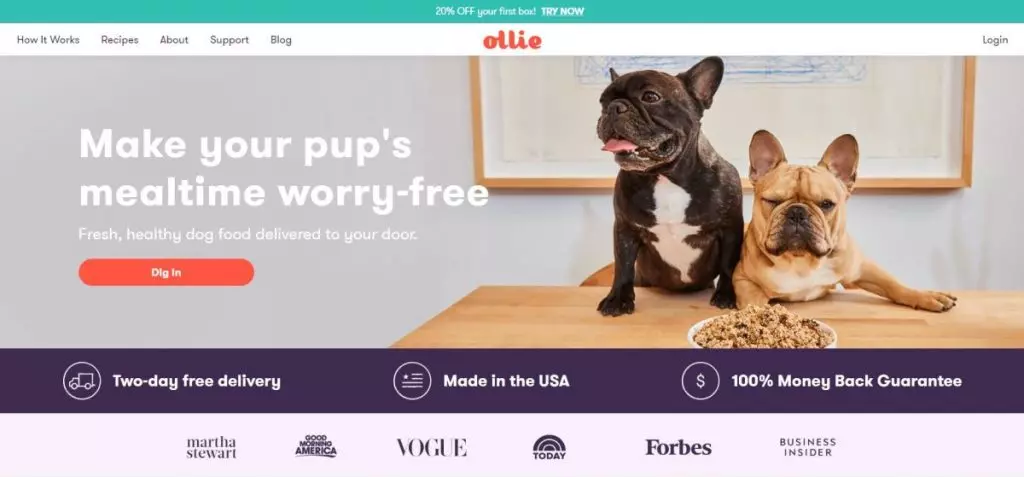 If uniqueness is your primary lookout when picking affiliate programs, you must sign up for Ollie's dog food affiliate program.
Unlike other companies on this list, Ollie is a subscription service that enables dog owners to tailor meals for their dogs, depending on their breed, age, and weight.
Owners can opt-in to receive boxes of food every month, ensuring that they never have to worry about running out of dog food.
Sales
Commission
All sales
$60 flat
30-day cookie duration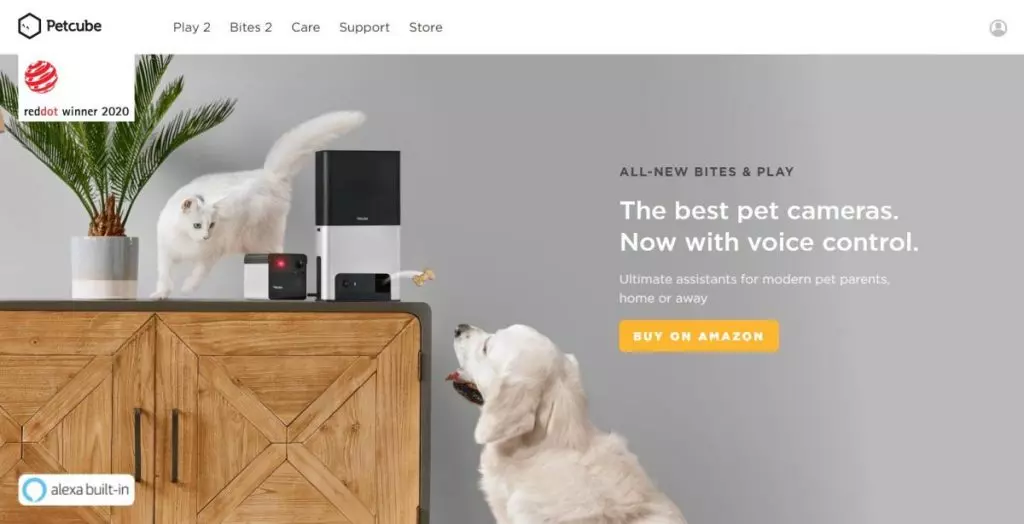 Petcube offers two interactive pet cams: Petcube Bites and Petcube Play. With the Bites variant, dog owners can treat their dogs regardless of where they are.
The Play variant gives owners access to a safe laser toy that they can use to play with their dog.
The company competes with Furbo and offers better commissions than its competitor, making the Petcube dog affiliate program the better out of the two.
Sales
Commission
Sales in the first month
15%
Sales after the first month
10%
Sales via deal/coupon sites
5%
60-day cookie duration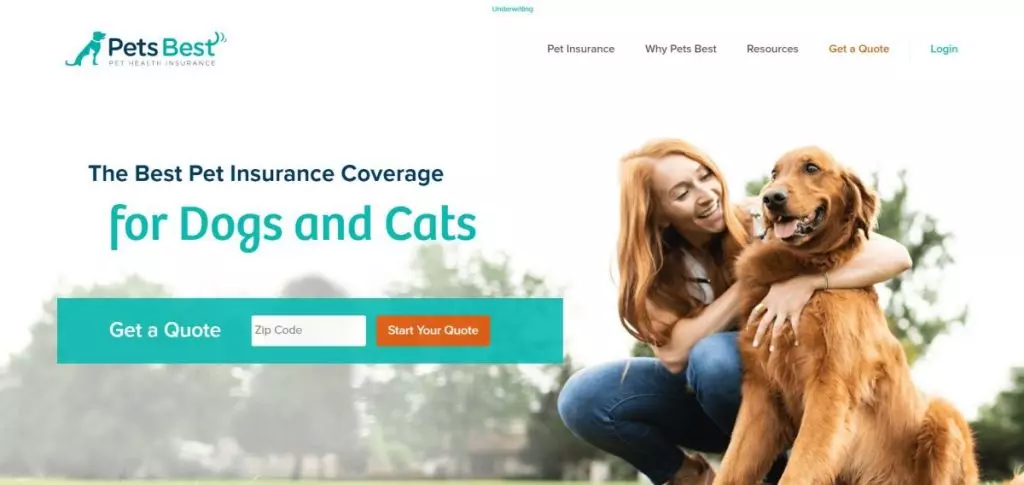 The pet insurance industry is one of the fastest-growing pet-related industries. It grows at double-digit rates every year.
Tapping into the growing marketing with Pets Best Insurance can be an excellent way to monetize a blog.
The company offers reliable online and phone tracking software and gives affiliates access to a host of promotional tools.
One downside is that they have a closed network and establish commission rates based on the volume and quality of leads you drive.
Sales
Commission
All sales
Set in real-time
90-day cookie duration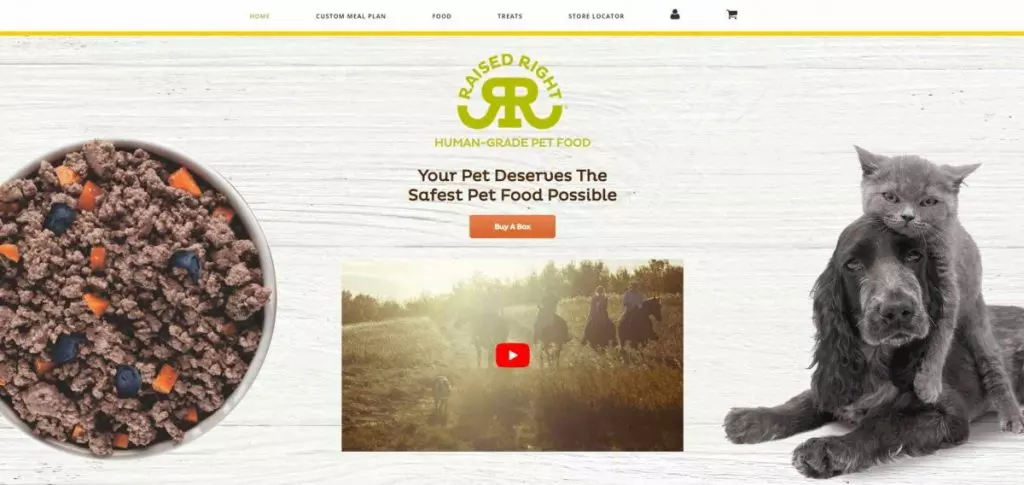 Feeding dogs home-cooked meals isn't always possible, and a majority of dog owners remained concerned with the ingredients of store-bought dog food.
Raised Right offers the perfect solution: the company home delivers home-cooked-style dog food made out of human-grade ingredients.
The company is meticulous and does not make compromises. They enable users to track the sources of the ingredients of the food, and all of their sources are FDA approved.
Sales
Commission
All sales
10%
15-day cookie duration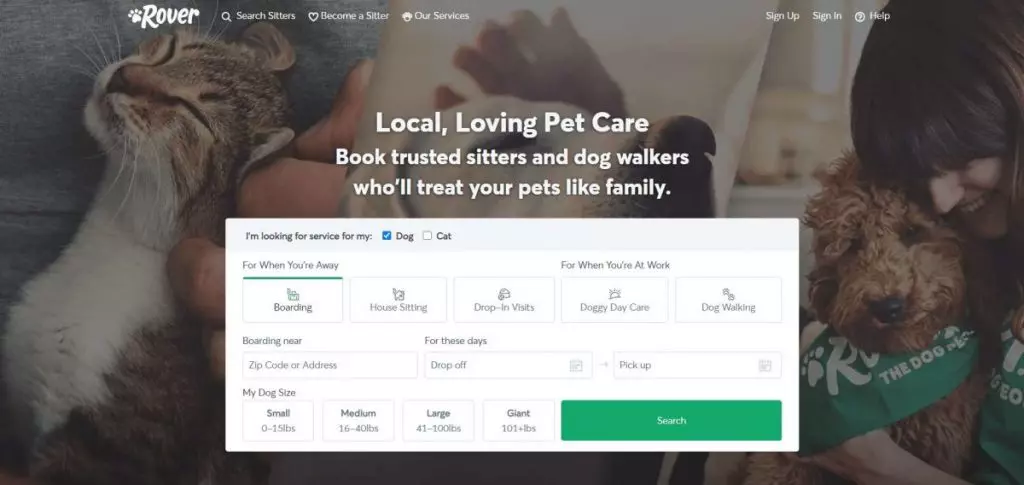 Rover boasts the largest network of pet sitters and dog walkers, both of which are continually in high demand.
Coupling the affiliate program with the right marketing strategy could drive four and even five-figure profits every month.
You could also market their house sitting, doggy daycare, and drop-in visit services, all of which have persistent demand stream, and make money that way.
Sales
Commission
First Booking
15%
Store sales
5%
30-day cookie duration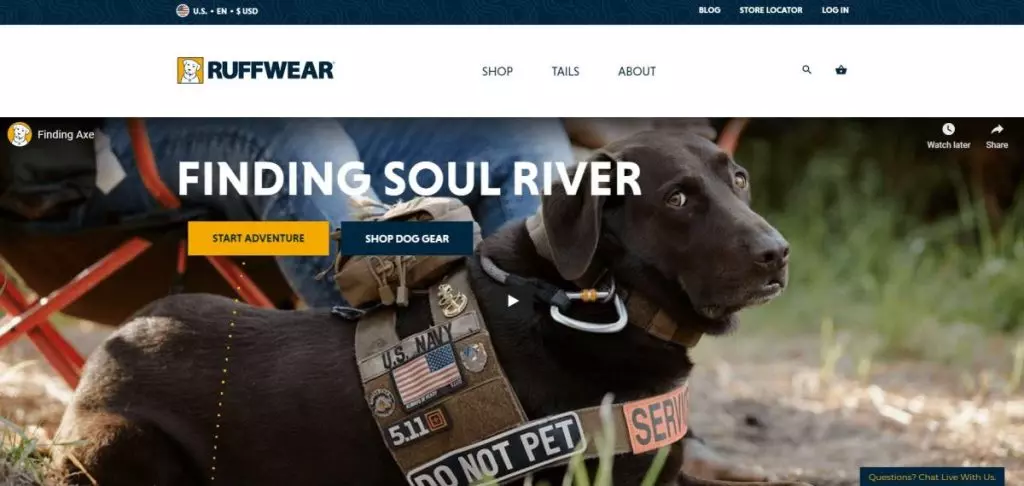 Dog performance gear is a micro-niche market that requires proper positioning and expertise to target. But with its low competition, taking a gander can reap excellent results.
Ruffwear designs performance dog gear that enables dog owners to seek adventure with their dogs without needing to worry about their safety.
The website's average order value hovers around the $85 mark, and their decent commission rates make joining the program worth your while.
Sales
Commission
All sales
8%
30-day cookie duration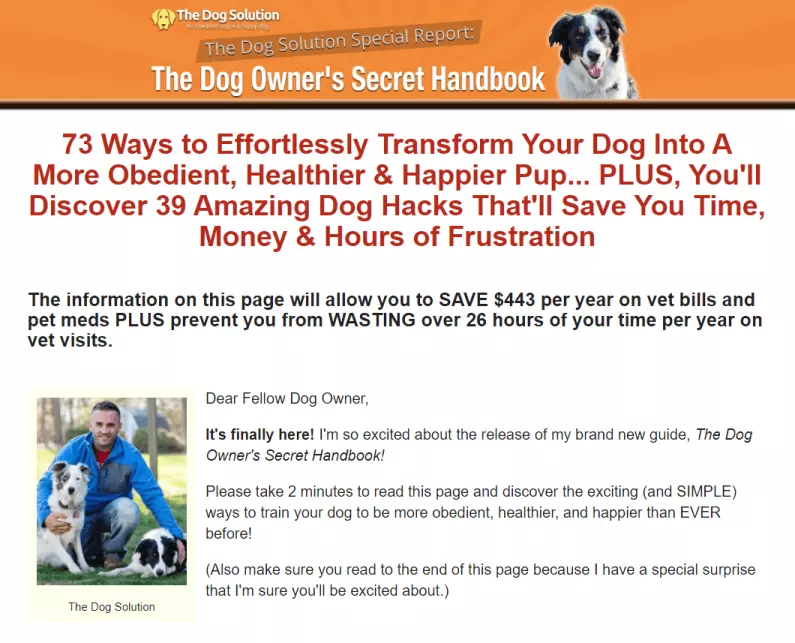 Selling dog training handbooks can be ludicrously easy, but getting your hands on something as polished as The Dog Solution handbook makes it even easier.
You can take advantage of the entire dog solution funnel with a dog training affiliate program and earn as much as $49.20 per sale.
Another perk of joining The Dog Solution affiliate program is the beautiful presell pages you get your hands on.
These pages virtually do the selling for you.
Sales
Commission
All sales
75%
Undisclosed cookie duration
The company has partnered with several top dog equipment brands and gives visitors access to all of their best products.
But This Dog's Life only offers commissions on its own brands' products, which are premium quality dental powder and dental sticks.
They are cheap and enable quick and easy cleaning of a dog's teeth.
The promotion codes and coupons that come as a part of the dog affiliate program make selling these essential dog health supplies easier than it already is.
Sales
Commission
This Dog's Life Dental Line
10%
30-day cookie duration
Train Pet Dog is a super unique eLearning portal that gives users access to courses and learning material to help train their dogs.
The website has an old-fashioned design, but that doesn't make it any less informative or useful.
Selling subscriptions to a younger audience can prove to be a challenge, but they offer industry-leading commission rates and share up to 85% of their profits for every member you help join.
Sales
Commission
Membership site
80%
Ebooks
80%
Elite Dog Owner's Club
25% recurring
Affiliate referrals
5%
10-year cookie duration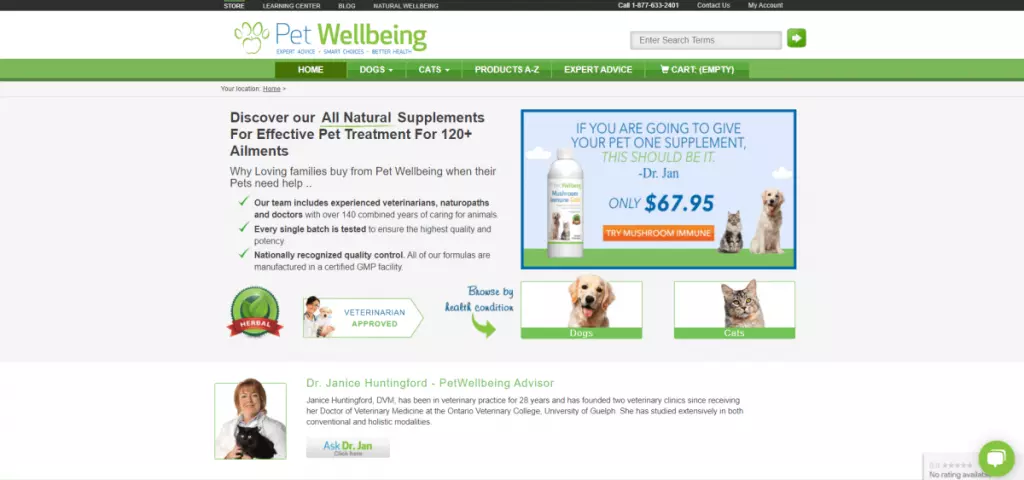 Quality dog medication that is also affordable can be difficult to find. However, Pet Wellbeing offers just that, and the medication is delivered right to the owner's doorstep.
The company provides supplements and medications to treat over 120 different pet ailments.
Pet Wellbeing also has a high average conversion rate of 7.2%, which, coupled with their industry-standard commission rate, makes it a super lucrative dog affiliate program every marketer must join.
Sales
Commission
All sales
10%
60-day cookie duration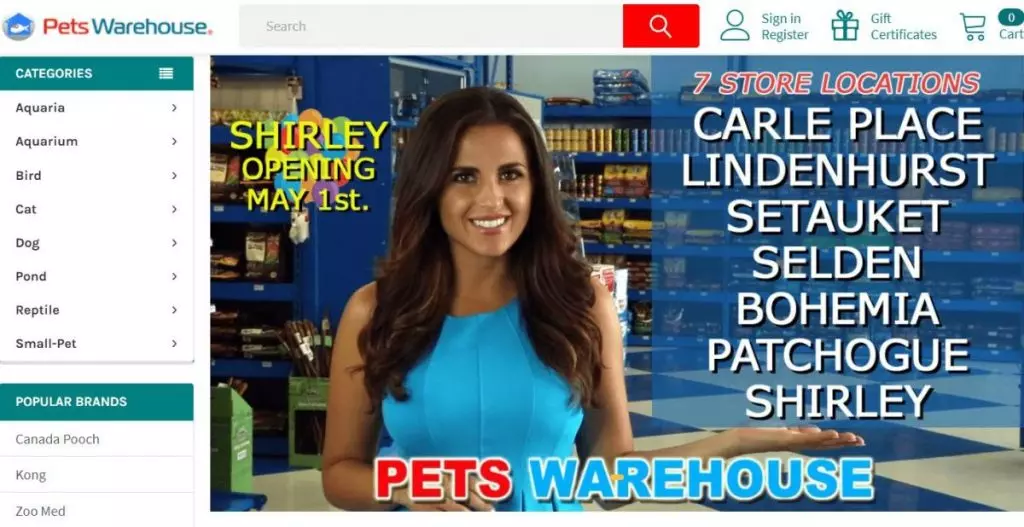 The company's name is no exaggeration – they have everything a dog owner would ever need to purchase at great prices.
Pets Warehouse opened in 1974 in New York and has since seen a lot of growth and expansion.
Affiliates are pampered – you get high commissions and regular access to excellent affiliate promotions that can help you convert bigger chunks of your traffic.
Sales
Commission
All sales
8%
10-day cookie duration
Downtown Pet supply offers everything from leashes and collars to treats and rewards, all with free shipping.
They have a below-average commission rate, making their program good for only those blogs that attract a lot of traffic.
Sales
Commission
All sales
7%
30-day cookie duration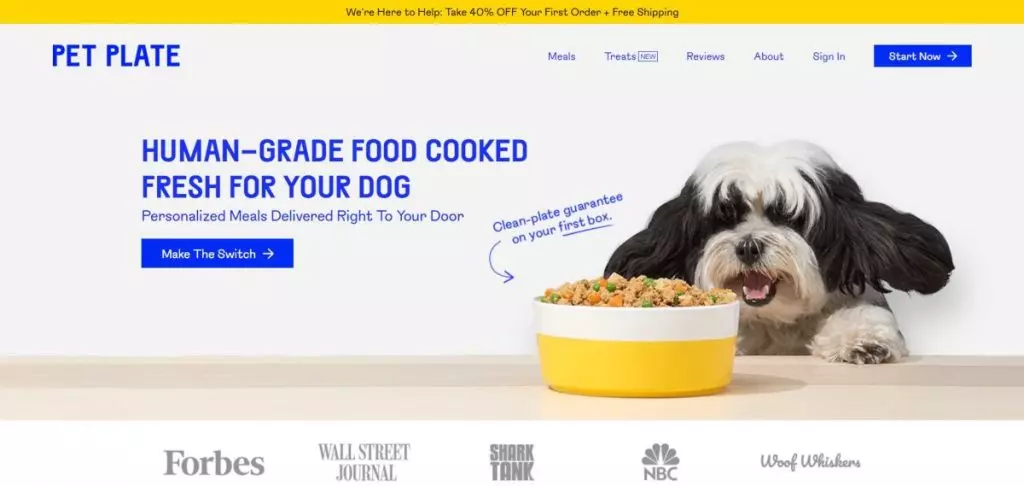 All the ingredients at Pet Plate are procured from USDA and cooked at a USDA facility, which means that dog owners can have the peace of mind that their dog is devouring safe, human-grade food when they order from the website.
Knowing this fact, marketing Pet Plate subscriptions should be easy.
Sales
Commission
All sales
$25
30-day cookie duration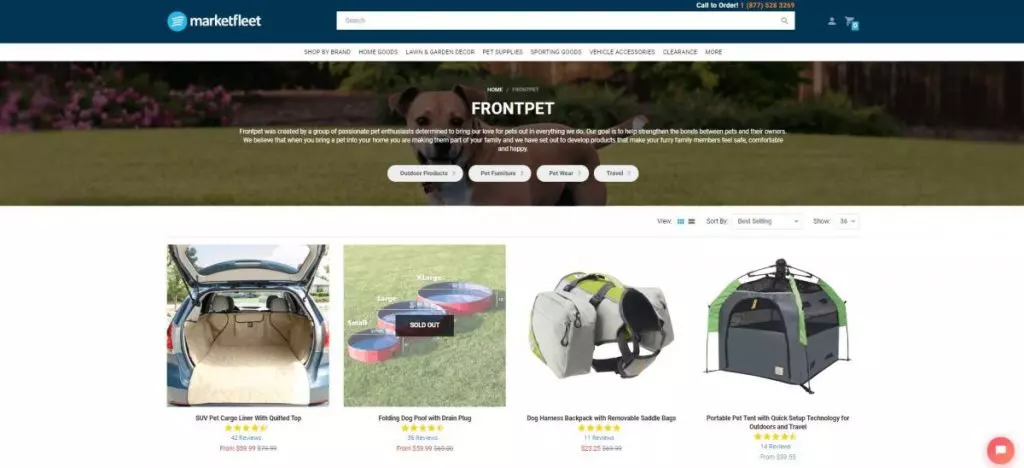 Frontpet is a niche marketplace that gives dog owners access to tons of affordable products and accessories.
The material they offer and the special offers they give access to make selling products super easy.
Sales
Commission
All sales
5%-15% (product dependent)
15-day cookie duration
In addition to fully organic supplements that keep dogs healthy, the company also offers flea and tick maintenance products, calming sprays, and vitamins.
Affiliates get access to top-notch marketing material that makes converting quicker and easier.
Sales
Commission
All sales
8%
15-day cookie duration
BarkBox is a subscription box service, but rather than food, the company sends out affordable toys and treats every month.
Both toys and treats are tested for safety, and since the subscription is affordable, marketing should be a breeze.
Sales
Commission
All sales
Undisclosed
Undisclosed cookie duration
Being the industry leader in selling CBD pet treats, partnering up with HolistaPet virtually guarantees earnings
They approve you in under 24 hours, after which you can market their 100% organic CBD products and make profits.
Sales
Commission
All sales
25% – 40% depending on product
30-day cookie duration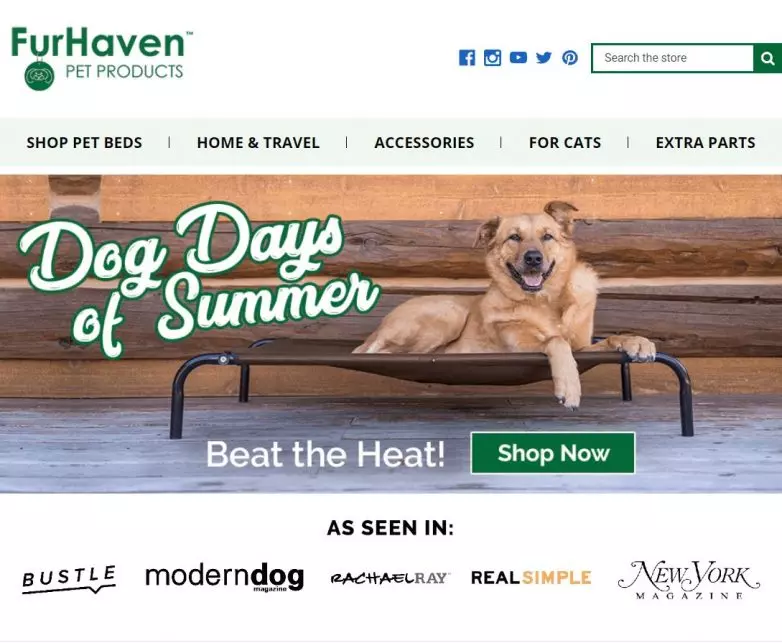 The company sells some of the most luxurious dog beds available on the market. It also sells orthopedic beds for older dogs.
They have a 9.26% conversion rate and share 10% of the profit you help make, which makes the FurHaven dog affiliate program a must-join for dog affiliates.
Sales
Commission
All sales
10%
30-day cookie duration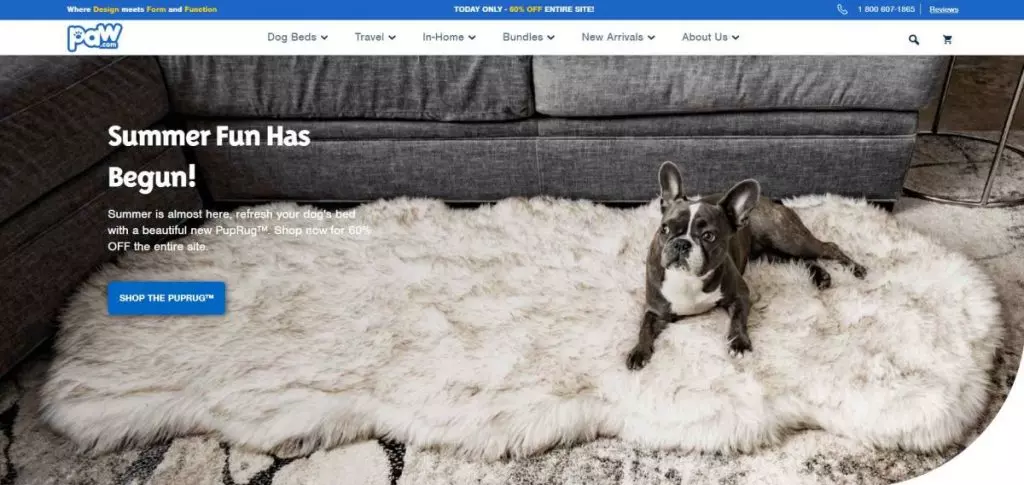 Paw.com's classic PupRug, waterproof throw blanket, and back seat dog car cover are products that sell themselves.
Showing off their quality is the only thing you will need to do to earn high commissions.
Sales
Commission
All sales
20%
30-day cookie duration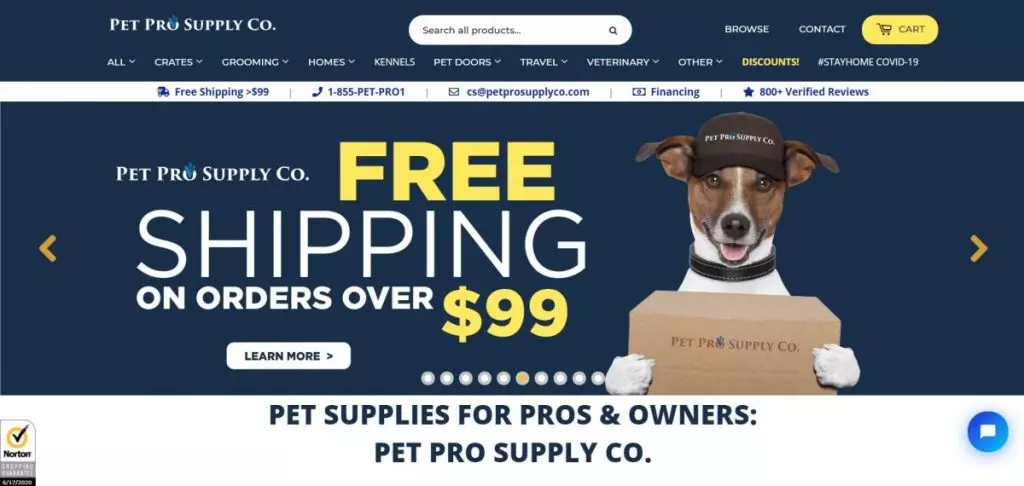 Although the company offers lower commission rates, their average cart value is super high at $700.
Selling their premium dog care products is both easy and profitable.
Sales
Commission
All sales
4%
15-day cookie duration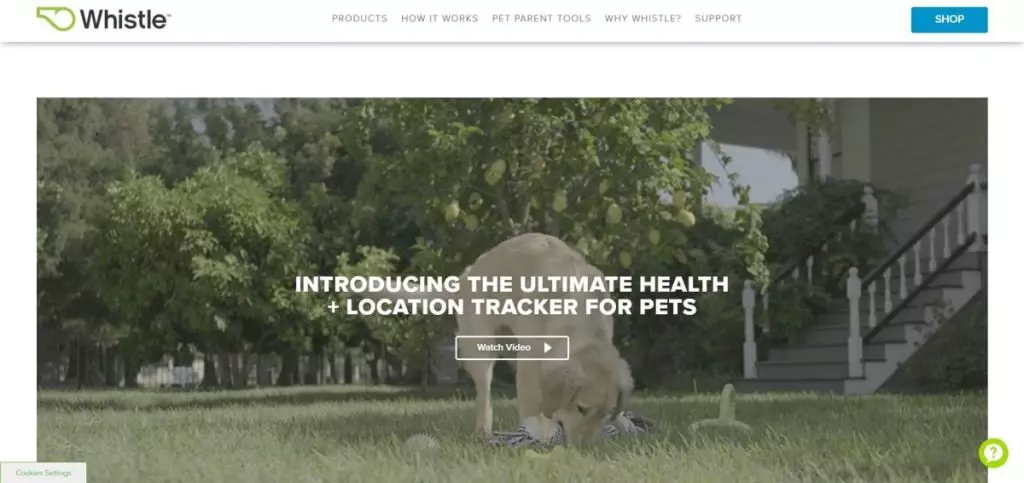 Whistle offers excellent dog health + location-tracking collars that keep their average cart value well over $100.
While they are easy to sell, the high commissions and performance-based incentives give all the more reason to join their affiliate program.
Affiliate
Commission
New affiliates
10%
High performers
20%
Shelter partners
50%
30-day cookie duration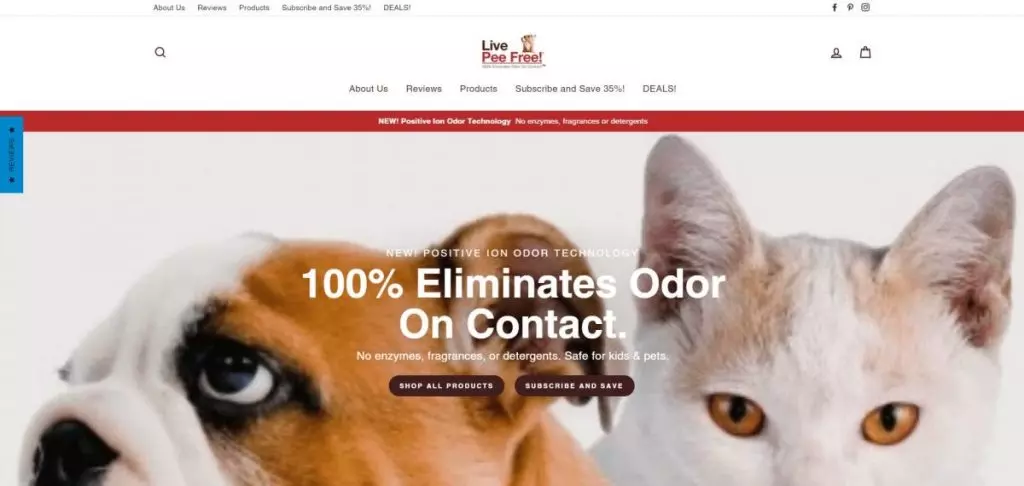 Live Pee Free offers odor technology that's both safe to use and over ten times more effective in eliminating urine smells than other fragrance brands.
Marketing should be effortless –the 30% commission is as good as yours.
Sales
Commission
All sales
30%
90-day cookie duration
Marketing the family-owned pet food company should be super easy, considering that they take special care and only use high-quality ingredients for dog food.
They also sell supplements and treats, all of which are cooked in-house.
Sales
Commission
All sales
10%
90-day cookie duration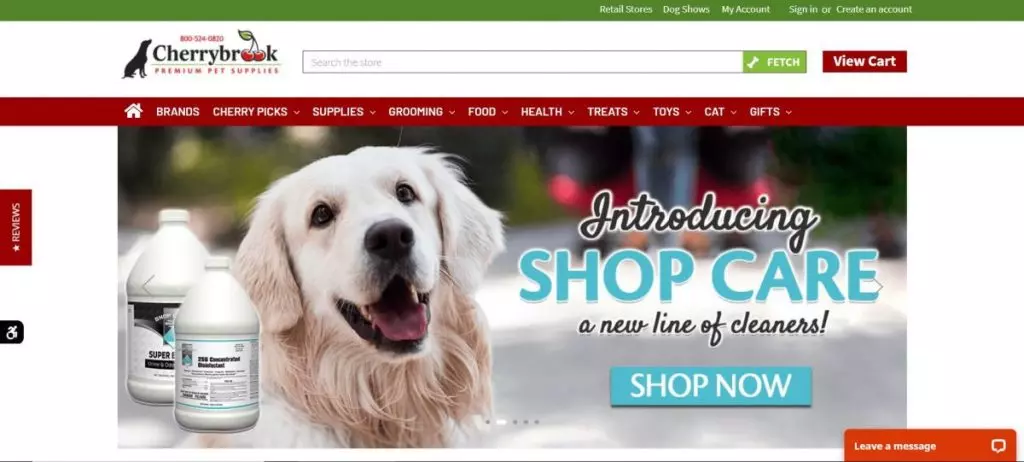 Cherrybrook has a 50+ year history of serving dog owners, and they now offer over 13,000 products, including breed-specific food and supplies.
Their low pricing and excellent incentives make it a must-join for any affiliate.
Sales
Commission
Under $5000
6%
Between $5000 and $10000
10%
Over $10000
12%
45-day cookie duration
Conclusion
And with that, you're acquainted with the industry's most lucrative dog affiliate programs.
All that's left for you to do is choose the right ones.
If you already run a blog, make sure you don't shift niches completely and target sub-niches and cross-niches that relate to your blog.
Also, along with niche feasibility, keep in mind your earning goals and target the programs that you think will bring you the most profits.
Having set preferences and plotting a general strategy will help with long-term goals. If you are working on other niche markets, we have an affiliate program for Music, Credit Card Affiliate programs, Fitness Affiliate programs, Real-Estate Affiliate programs, Gaming Affiliate programs, Makeup & Fashion Affiliate programs.