Disclosure: Some of the links in this article may be affiliate links, which can provide compensation to me at no cost to you if you decide to purchase a paid plan. We review these products after doing a lot of research, we check all features and recommend the best products only.
The cryptocurrency industry is worth $237.1 billion as of 2019. While the number is not surprising considering the scale of the industry, what is surprising is that the industry value was $128.78 billion in 2018.
The value approximately doubled in a year and will continue to grow rapidly with a CAGR of 32% till 2024.
Additionally, with new technologies, cryptocurrencies, and exchanges popping up by the minute, it is the perfect time to tap into the industry.
Joining cryptocurrency affiliate programs is bound to make you money: the majority of people have not invested in cryptocurrencies yet.
The potential to convert is massive
In this post, I will run you through the best crypto affiliate programs that will help you make the most out of the industry's potential.
Ways to Make Money with Cryptocurrency Affiliate Marketing
While most of the crypto affiliate programs require you to market a specific exchange, there are several other types of affiliate marketing programs in the cryptocurrency niche.
Marketing cryptocurrency mining hardware is an excellent way of making high commissions in the niche. Different hardware works well with different currencies, so there's potential to target and rank in micro-niches.
Another super popular way of making commissions is by marketing cryptocurrency courses. There's an abundance of excellent courses in the market, and updated versions come out all the time, making marketing a lot easier.
Regardless of what type of program you choose to market, though, you will make high commissions.
Top 35 Cryptocurrency Affiliate Programs in 2020.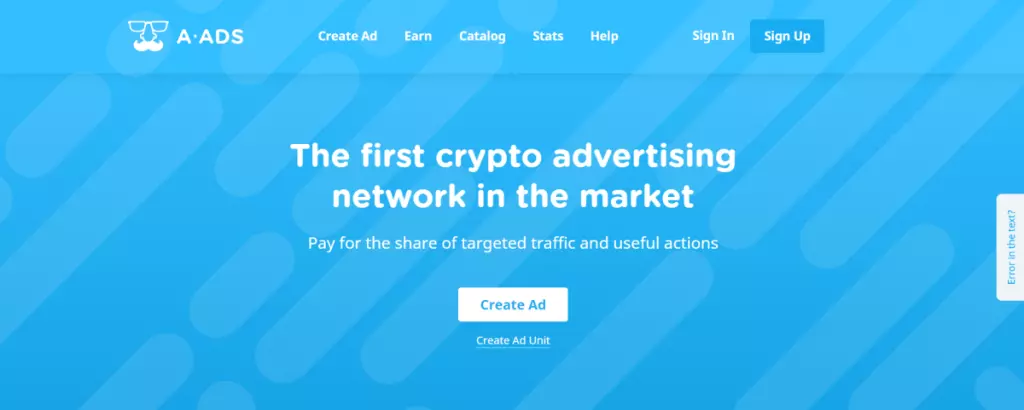 A-Ads is an advertising network that caters to the cryptocurrency niche. Advertisers in the cryptocurrency niche can pay for impressions and clicks.
It is perfect for beginner crypto affiliates because their low fees make marketing their services easy.
For each advertiser you join, you will get paid 50% of the company's fee (~10% of advertiser spendings) for six months.
| | |
| --- | --- |
| Invites | Commission |
| All invites | 50% of advertising fees for six months |
Mobile wallets are super trendy at the moment, which makes marketing the Abra mobile wallet easier than ever.
The app is beautiful and intuitive, and users can purchase over 30 cryptocurrencies from their phone using a credit card.
| | |
| --- | --- |
| Action | Commission |
| Joined user deposits $5 to Abra | $25 flat |
| User exchanges crypto | 0.75% of exchange total |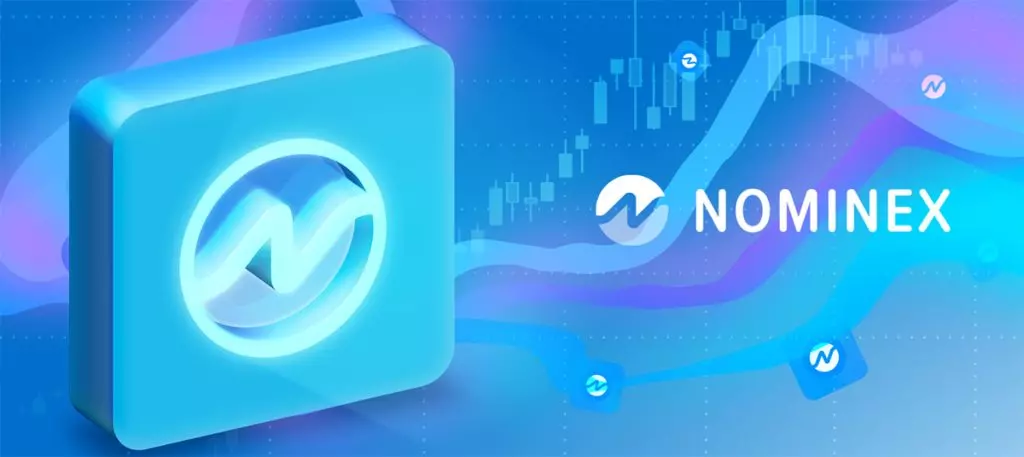 The reward system consists of team stacking bonuses and bonuses from your partners' expenses. The benefit of the bonus depends on the level, and the level on the number of staked NMX. The higher the partner level, the higher the bonus.
The maximum number of tokens will be distributed in the first 2 weeks. This is done to reward early adopters and early stakers. 490,000 NMX will be distributed in the first 2 weeks! More than in the next 2 months. Up to 40,000 NMX per day will be allocated as part of the promotional pool. After that, the number of distributed tokens will gradually decrease. These 40,000 NMX will be allocated to:
1. Personal Staking Pool – Earn your share of the daily NMX pool on personal staking (profit only depends on personal staking). Staking is based on the BSC blockchain. All the rules are written in a smart contract.
Extra bonus pool – staking on the Nominex platform. All rules are declared and implemented in the Nominex business logic, centrally. Comprises:
2. Bonus pool for staking period – Receive an additional bonus of up to 20% depending on the time of continuous staking.
3. Bonus pool for direct referrals – Receive from 5 to 20% of excess income from daily farming of your direct referrals.
4. Bonus pool for team staking – at 00 UTC, the exchange determines the weak team and credits up to 20% bonus from the aggregate tokens farmed by your weak team, as well as + 100% to your team staking income by increasing the partner level to the maximum.
The project is organized into different levels of bonuses. The partner packages are very intriguing, and they become better and better with more funds introduced to the liquidity pool.
How to participate
Onboarding is simple and quick, as it can be done within 30 seconds.
All you need to do is register on the exchange and verify your email address. After that, go to the affiliate panel and get your referral link. Copy it and share it to everyone you know. As soon as someone registers via your link, they will appear in your affiliate panel.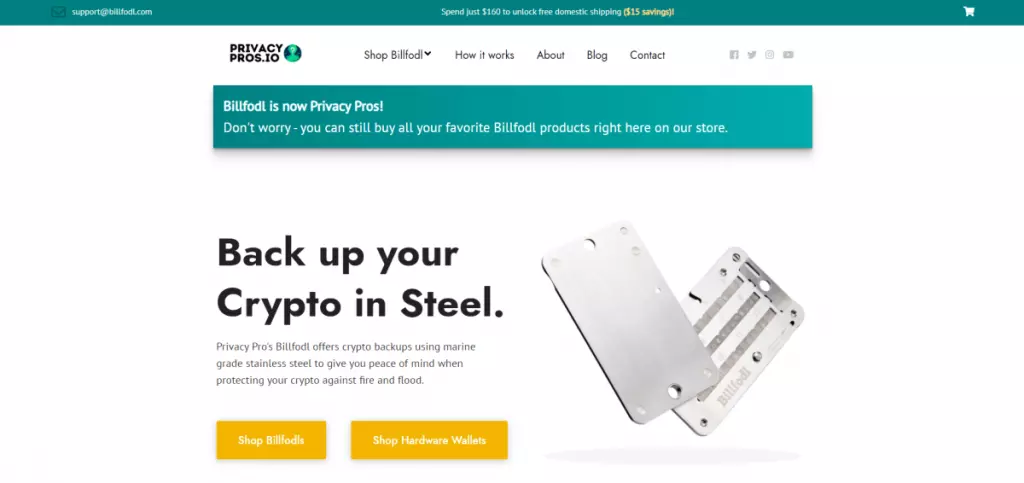 Marketing a virtually indestructible cryptocurrency wallet should be a breeze. Knowing that the wallet can survive a jet fuel fire should give traders a lot of peace.
The solid selling points and affordable pricing make up for the mid-range commissions offered.
| | |
| --- | --- |
| Sales Tier | Commission |
| All sales | 15% |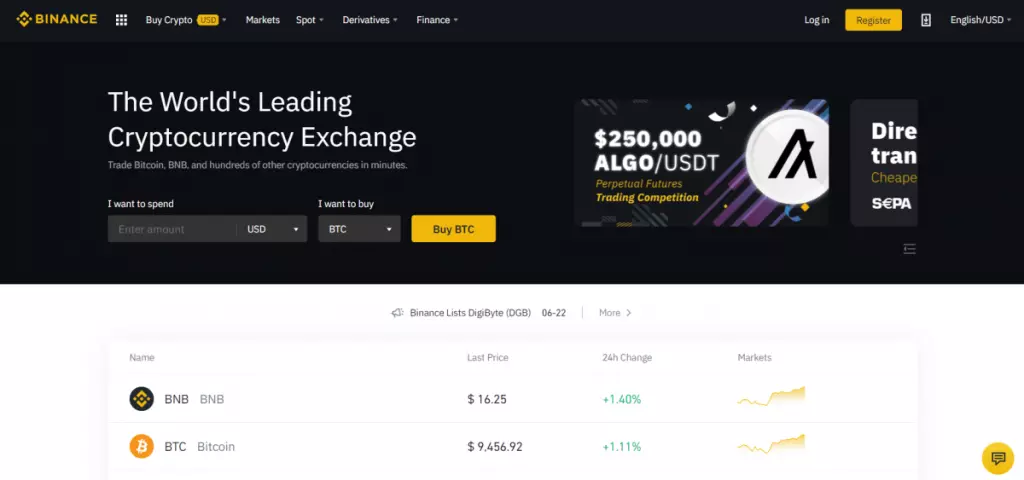 Binance is a leading cryptocurrency exchange that gives traders access to every major cryptocurrency in the market.
Its reputation makes users nudging users into conversion a breeze. The high commission rates make it a cryptocurrency affiliate program every cryptocurrency affiliate must join.
| | |
| --- | --- |
| Marketer Bracket | Commission |
| Individual with <1000 sales | 40% |
| Individual with >1000 sales | 50% |
| Business/media organization | 50% (instantly) |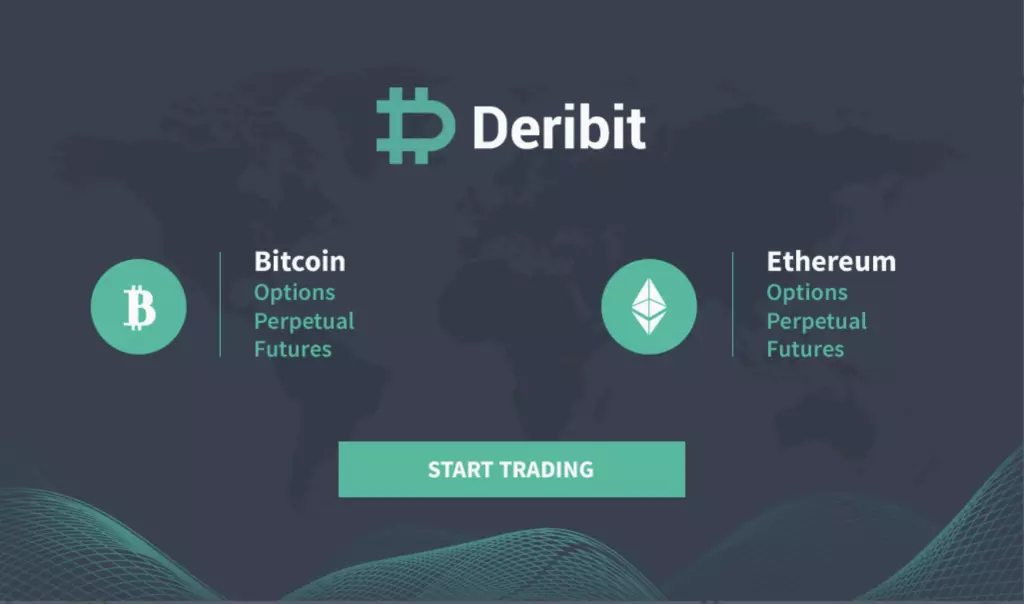 Although Deribit is a relatively new trading portal (founded in 2016), the platforms' low fees and intuitive design make it perfect for traders new and old.
Its high commission rates for Bitcoin purchases make it one of the best bitcoin exchange affiliate programs out there. The platform also enables Ethereum trading.
The fact that it offers prolonged commission periods makes it a must-join for any marketer in the niche.
| | |
| --- | --- |
| Period | Commission |
| First six months of joining | 20% |
| After six months of joining | 10% |
| Joining with discount code | 10% (for six months only) |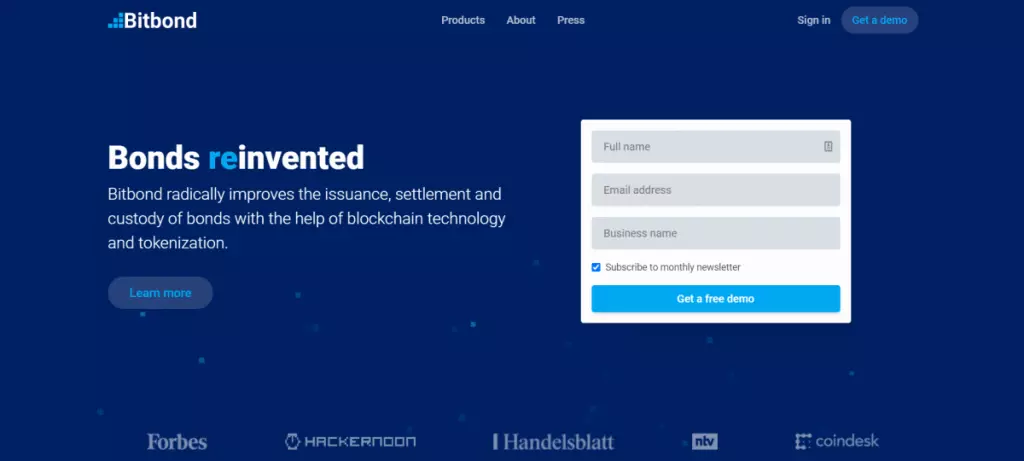 Lending and borrowing are made a lot faster and easier with Bitbond. The platform speeds up the issuance, custody, and settlement of bonds; but the twist is the funds are transferred in the form of cryptocurrencies.
To earn commissions, you must convert your visitors into investors in the platform's STO.
| | |
| --- | --- |
| Action | Commission |
| STO investment | 5% of investment |
#8. Bitcoin Mining
Connecting with hardware companies like Parallel Miner is a great way to earn commissions in the niche. The company sells pre-built mining rigs, PCs, GPUs, and all other components a miner may need.
You can also connect with cloud mining companies like CCG Mining and make a commission by converting your visitors into paying customers.
| | |
| --- | --- |
| Company | Commission |
| Parallel Miner | 5% |
| CCG Mining | 6% |
If you're looking to make lifetime commissions for every user you convert, BitMEX is right for you.
BitMEX is a Bitcoin exchange that is explicitly designed for use by experienced cryptocurrency traders.
Commissions rates are decent, and you are paid a lifetime for the users you join. The robust commission structure makes it one of the best Bitcoin affiliate programs there are.
| | |
| --- | --- |
| User Trade Value | Commission |
| <1000 XBT | 10% |
| >1000 XBT | 15% |
| >10000 XBT | 20% |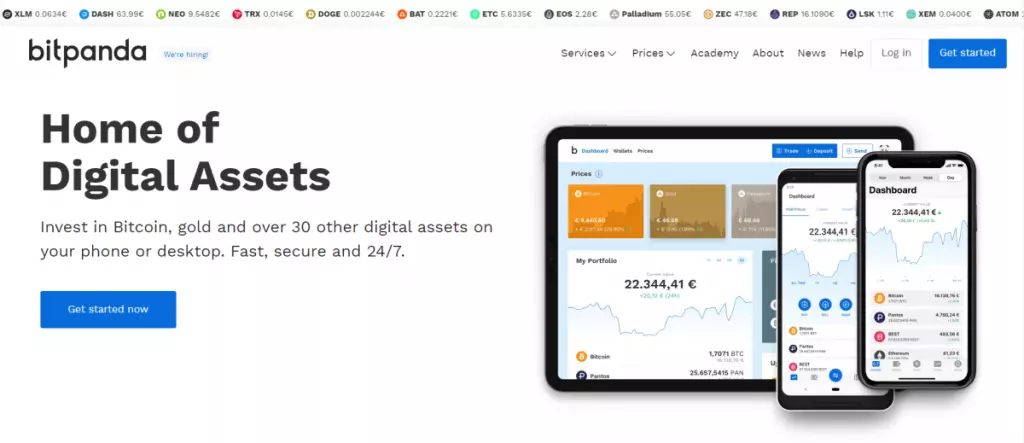 Bitpanda enables the purchase of cryptocurrencies from both desktop and mobile, and its excellent security features and fast support make it perfect for beginner crypto traders.
The high commissions and the 30-day cookie window make it the perfect cryptocurrency affiliate program for all affiliates regardless of reach and skill level.
| | |
| --- | --- |
| Referrals | Commission |
| All referrals | 20% revenue share |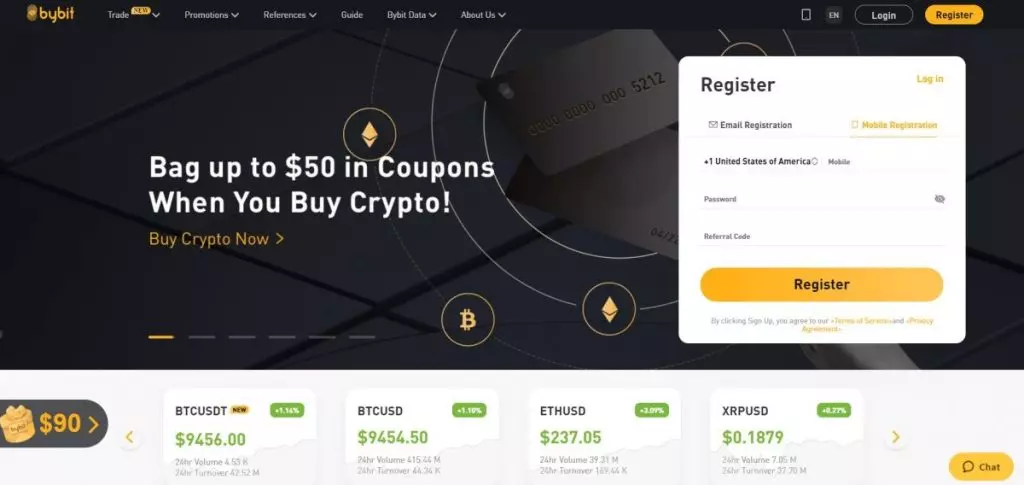 If you're looking to connect with a fast-growing cryptocurrency trading platform to maximize influence and profits, you can sign up for Bybits's crypto affiliate program.
The platform has an extraordinary conversion rate of 60%+, meaning one in every two users you register will make you money.
In addition to referring traders, you can also join other affiliates and receive a cut of every transaction they help make. It is one of the best crypto referral programs around.
| | |
| --- | --- |
| User Type | Commission |
| Trader | Up to 30% (set by the company) |
| Affiliate | 10% |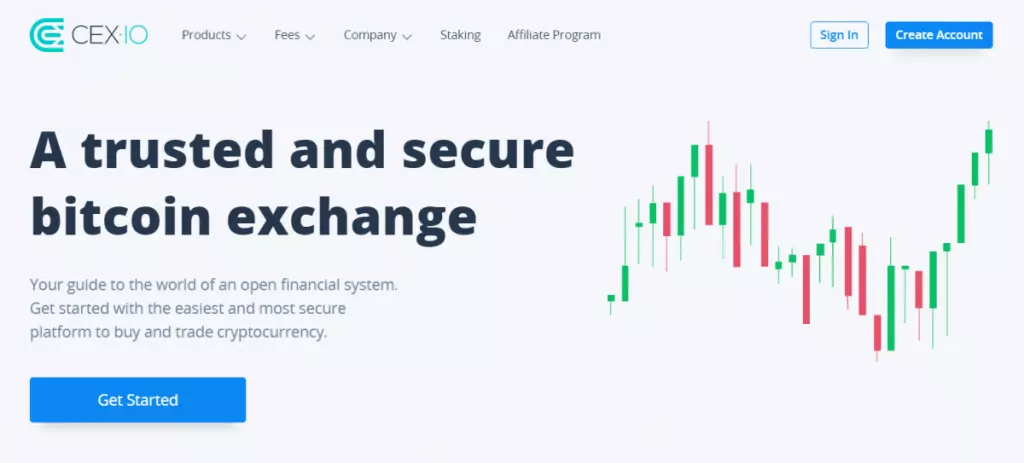 Exchanges that are both easy to use and charge lower fees are hard to come by. But Cex.io happens to have both traits, and also offers some of the best commissions in the industry.
The exchange garnered a customer base of over 3 million users since its launch back in 2013 and has never lost a customer's funds, which explains its impeccable reputation.
| | |
| --- | --- |
| Referrals | Commission |
| All referrals | 30% (all exchange transactions) |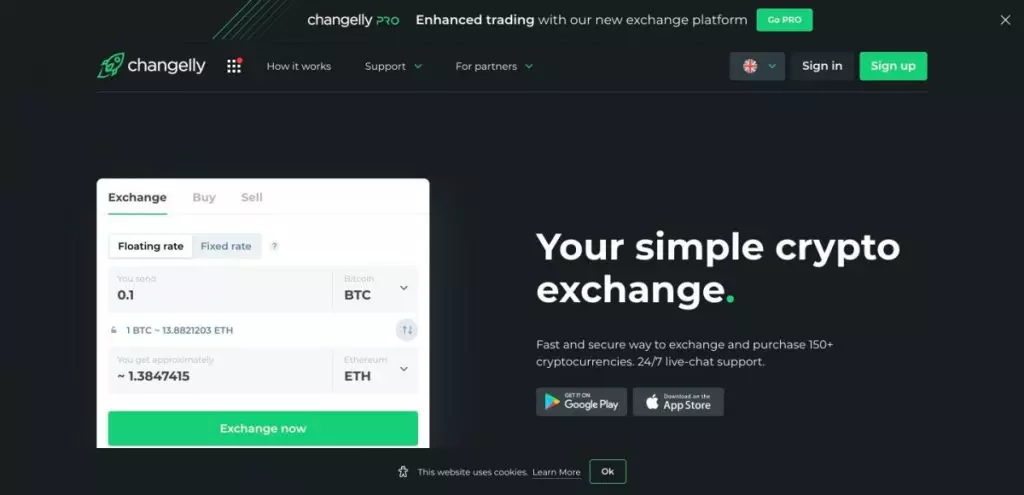 Although Changelly is a relatively new exchange, it is popular among traders because it offers secure and momentary access to over 198 cryptocurrencies.
The portal has a modern and voguish interface, and the exchange providers traders some of the lowest fees in the industry.
Becoming a Changelly affiliate enables you to get 50% of the revenue for each transaction from every user you refer to.
You are paid in Bitcoin, which is another benefit of Changelly's affiliate program.
| | |
| --- | --- |
| Referrals | Commission |
| All referrals | 50% of revenue |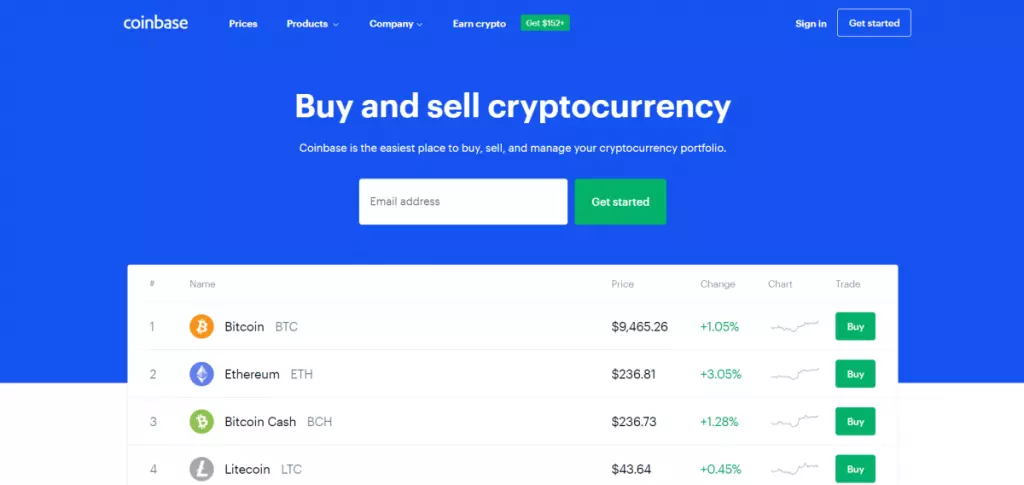 Coinbase is a crypto brokerage that also offers a wallet that users can store their cryptocurrencies in. Crypto wallet affiliate programs that pay as well as the Coinbase affiliate program are hard to find.
In addition to affiliate links, the platform also supplies ad banners that you can use on your website.
| | |
| --- | --- |
| Referrals | Commission |
| All referrals | 50% of transaction fees for the first three months |
Coinhouse boasts an ingenious three-tier pricing structure enabling traders of all skill levels to invest in cryptocurrencies.
The Classic tier is the free tier, and the Premium and Platinum tiers give users access to reduced fees, premium investment advisory, and tailor-made support.
The excellent commission rates and the top-tier marketing material they supply make it a cryptocurrency affiliate program affiliates can easily leverage for profits.
| | |
| --- | --- |
| Referral Type | Commission |
| Free "Classic" user | 35% commission |
| Premium user | €50 fixed |

Professional traders need premium portfolio management tools to make the most of the trading opportunities. Crypto traders are no different.
Coinigy gives traders access to over 45 exchanges across all devices, and the service also enables 24/7 exchange portfolio monitoring.
Selling it to traders should be a breeze, but partaking in the crypto exchange affiliate program requires you to create an account and generate a link from under its referral program menu.
| | |
| --- | --- |
| Referrals | Commission |
| All referrals | $15 flat |

If you're looking to convert crypto traders from all across the globe for commissions, the Coinmama cryptocurrency affiliate program is right for you.
Joining the program is easy, and enables you to convert visitors from any of the supported 190 countries.
You will get a chunk of every transaction your referrals make for the lifetime of their account.
| | |
| --- | --- |
| Referral Type | Commission |
| All referrals | 15% lifetime commissions |
In addition to enabling users to quickly and security trade Bitcoin and Ethereum, the leading Canadian platform also allows purchasing gold.
Signing up to the cryptocurrency affiliate program and getting your referral code is as simple as submitting your email address on their website.
| | |
| --- | --- |
| Referral Type | Commission |
| All referrals | Up to 45% (set by the company) |
Selling advanced cryptocurrency products to beginner traders can be difficult. However, an affordable automated crypto trading bot should be an easy sell to traders at any skill level.
Copying traders and managing exchange accounts are made easy, and the platform enables users to manage their portfolios for over a hundred different cryptocurrencies.
| | |
| --- | --- |
| Commission Slabs (Monthly) | Commission |
| <$500 in commissions | 10% |
| >$500 in commissions | 12.5% |
| >$1000 in commissions | 15% |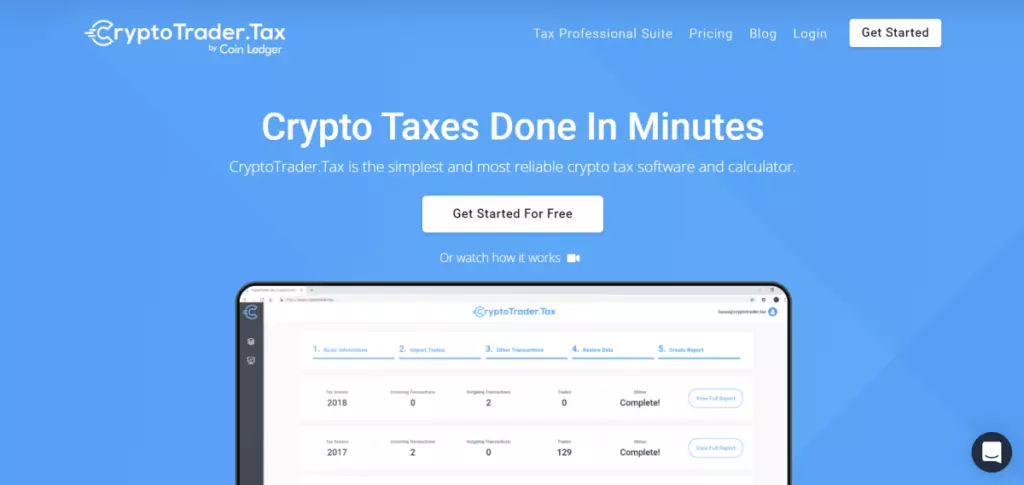 Traders know how complicated filing taxes can get when they trade with cryptocurrencies.
CryptoTrader.Tax makes calculating how much the trader owes as simple as uploading the trading documents.
| | |
| --- | --- |
| Sales Tier | Commission |
| All reports | 25% of report value (lifetime) |
While consumers may know eToro from their viral advertising campaigns, in the affiliate world, they are known for their high commissions.
Since the platform enables CFD trading, it is ideal for professional traders.
While affiliates can make massive commissions, the commission plans are based on CPA and differ from partner to partner.
| | |
| --- | --- |
| Sales Tier | Commission |
| All sales | CPA-based |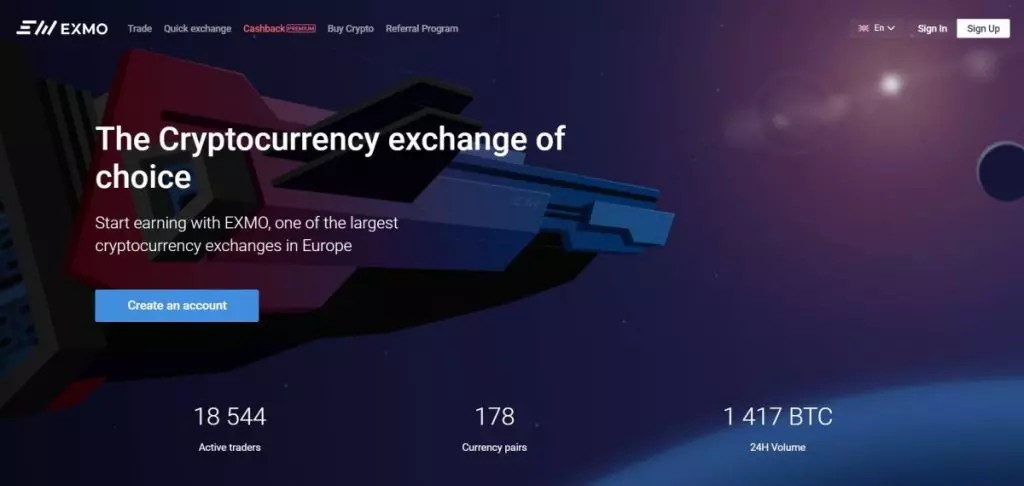 Exmo has one of the industry's best cryptocurrency affiliate programs, not only because it offers high commissions, but also because it makes marketing super easy.
Affiliates get access to beautiful ad banners, and their news blog offers marketing material regularly.
| | |
| --- | --- |
| Trades | Commission |
| All exchange transactions | 25% of Exmo fees |
Indacoin is a global platform that enables users to purchase any of the hundreds of cryptocurrencies they offer from their debit or credit card.
The company promises the best commission rates in the industry, but since their affiliate network is closed, there is no information about how much money you can make.
| | |
| --- | --- |
| Referrals | Commission |
| All referrals | Undisclosed |
Crypto traders feel the need to have a secure cold-storage wallet for their cryptocurrencies. KeepKey offers the exact solution they need.
KeepKey works with multiple cryptocurrencies, and users are not limited to storing crypto of one kind.
The secure wallet software and the straightforward recovery process are excellent selling points, and the reasonable price only makes it easier to sell.
| | |
| --- | --- |
| Sales Tier | Commission |
| All sales | 25% |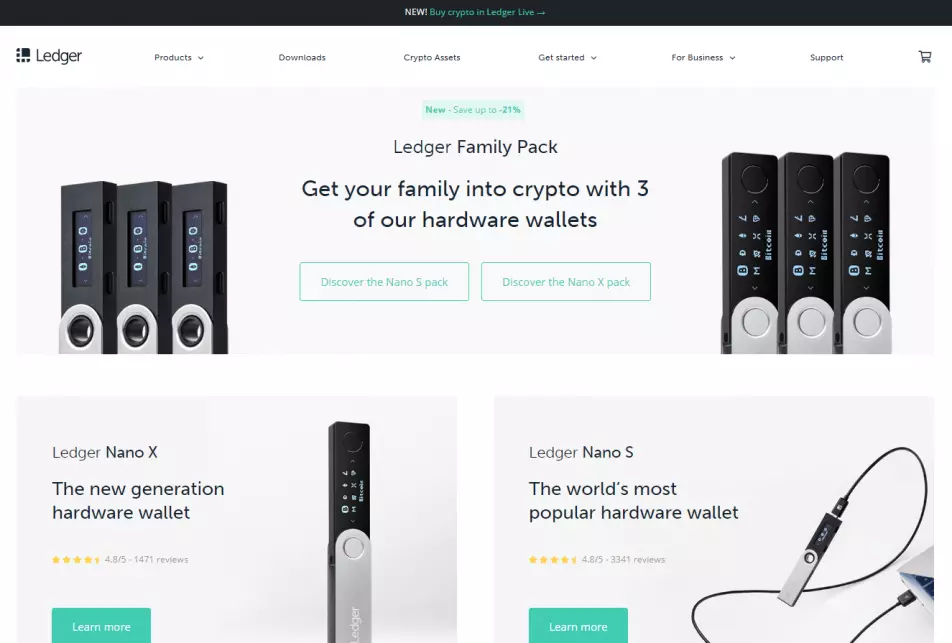 Ledger makes some of the most premium hardware security wallets available. The products' appeal and the company's reputation are often the only things you need to make sales.
The wallets work with over 100 crypto applications, and traders can use it on the move by connecting it to their phones.
In addition to offering decent commissions, the company helps boost conversion rates by giving access to striking banners and informative links and videos.
| | |
| --- | --- |
| Product | Commission |
| All products | 10% |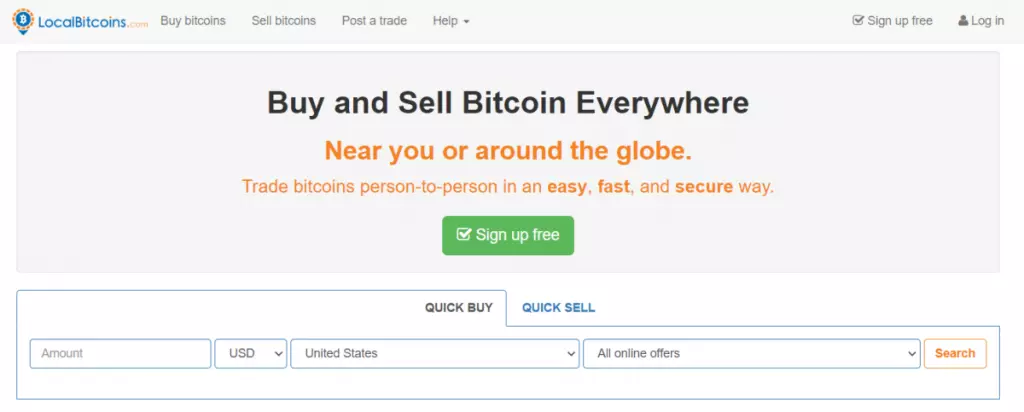 LocalBitcoins enables users from across 248 countries to buy and sell Bitcoins for cash.
The website does not act as an exchange; it is local Bitcoins that are traded, and the site is only a portal that enables partaking in these transactions.
LocalBitcoins understands that P2P Bitcoin transactions involve a small amount of risk to carry out, and the company balances out the risk using an escrow wallet.
The convenience the portal offers makes it an easy sell. Since the affiliate program enables you to earn high commissions regardless of location, the program is a winner in my book.
| | |
| --- | --- |
| Referrals | Commission |
| All referred users | 20% share of fees for 12 months |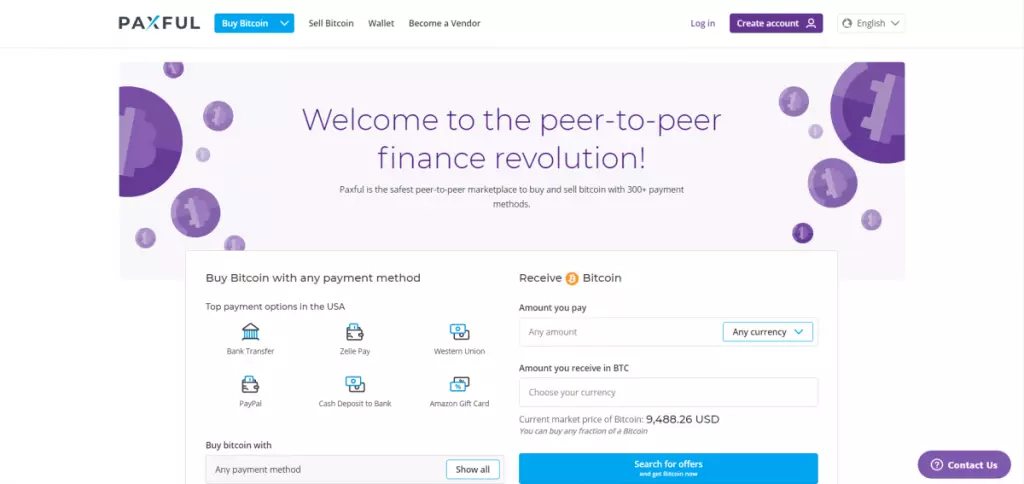 Marketing a leading peer-to-peer cryptocurrency marketplace is a sure-shot way of making profits.
Although the portal only allows the purchase and sale of Bitcoin, it stands out because it offers its users over 300 ways to pay for it.
Joining the cryptocurrency affiliate program is lucrative. You get paid when your invites make transactions, and also when their invites make transactions.
| | |
| --- | --- |
| Purchases | Commission |
| Purchases from direct referrals | 50% of the escrow fee |
| Purchases from referrals of referrals | 10% of the escrow fee |
CFDs are risky, but professional traders use them all the time. Plus500 is a platform that enables users to trade CFDs on cryptocurrencies.
For you to make a commission, a visitor must deposit funds to their Plus500 account.
The company supplies its affiliates with a host of marketing tools, such as the Smart Link tool that serves up a suitable landing page to the user from your link automatically.
In addition to display creatives, you get access to banners, buttons, and widgets that boost conversion on all devices.
| | |
| --- | --- |
| Accounts | Commission |
| All accounts | Up to $800 (set by the company) |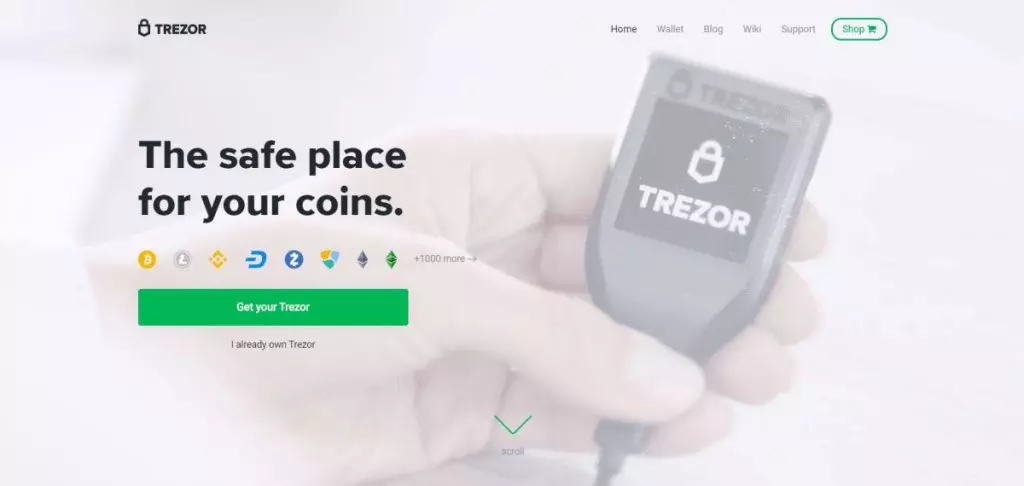 If you're looking for a product that makes you high commissions and also sells easy, you must join the Trezor affiliate program.
The hardware wallet supports over 1300 different cryptocurrencies and enables users to check their balance and approve purchases quickly.
The wallets are pricey, but they sell extremely well, especially in the EU. The high prices, coupled with the excellent commission rates, make their program a must-join.
| | |
| --- | --- |
| Product | Commission |
| All products | 12% – 15% |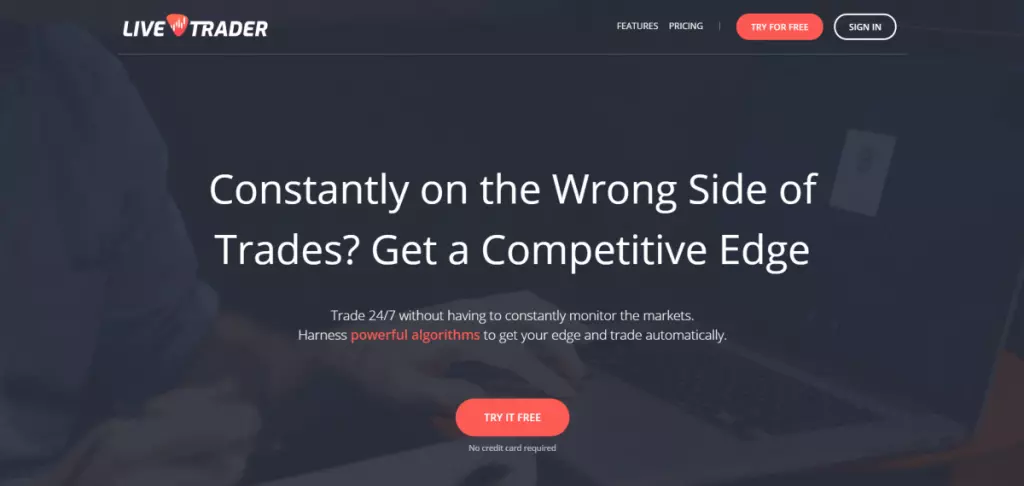 Building and perfecting trading strategies can take years. But beginner traders can boost their profits using bots like LiveTrader.
It enables users to trade while they sleep, and the alert features allow users to keep track of their bots' moves.
Traders can build strategies using technical indicators effortlessly, or even use the tried-and-tested strategies available on LiveTrader's marketplace.
Users can also simulate the results of their strategies with ease, and since the platform works perfectly with all exchanges, meaning users won't need to switch accounts or products.
| | |
| --- | --- |
| Sales Tier | Commission |
| All sales | 30% lifetime recurring |
The main reason behind the rise of cryptocurrencies is that they filled the need for decentralized currencies.
Wirex bridges the gap between the idea of decentralized currencies and the reality of fiat money. Users can configure Wirex cards to work with various cryptocurrencies, and use the card anywhere they accept Visa.
| | |
| --- | --- |
| Action | Commission |
| The user buys $100 worth of crypto | $5 |
| The user uses Wirex card in-store | $5 |
While other platforms can take days to credit Bitcoins to wallets, xCoins makes it possible for users to purchase Bitcoins instantly.
Users can pay for Bitcoin via PayPal, and also get their hands on it using credit cards.
70% of the company's customers continually use their platform to purchase Bitcoins. Since the platform pays lifetime recurring commissions, you can create a steady stream of income if you market aggressively.
| | |
| --- | --- |
| Action | Commission |
| Purchase | 50% of transaction fees |

Coindirect boasts competitive pricing and promises the lack of hidden fees. Users can trade over 4o different cryptocurrencies and can pay for transactions via bank transfer, SEPA transfer, credit card, and even mobile money.
Regardless of if you refer a buyer or a seller, you will get paid the same commission. However, since sellers have a better trading volume, joining sellers is an excellent idea.
The platform pays its affiliates daily, and affiliates earn lifetime commissions. Joining the Coindirect cryptocurrency affiliate program enables you to wake up more in your account every morning.
| | |
| --- | --- |
| Referral type | Commission |
| Buyer | 20% lifetime recurring |
| Seller | 20% lifetime recurring |
KuCoin is widely adopted. So much so that one in four cryptocurrency holders globally use the service.
Users can trade on the move using mobile apps, and the portal has several order types for traders with all kinds of risk appetites.
Users can purchase and hold their currency, invest in futures, and also lend out their cryptocurrency for interest using KuCoin.
Like many other programs on the list, KuCoin's affiliate program also pays out lifetime recurring commissions.
| | |
| --- | --- |
| Referral Tier | Commission |
| A-level invitee | 20% of transaction fees |
| B-level invitee | 12% of transaction fees |
| C-level invitee | 8% of transaction fees |
Cloud mining is a relatively new service that enables users to make profits without needing to invest in and maintain expensive equipment.
The service offers different plans, and the plans connect users to mining pools. Profits from pool mining are shared depending on the mining power the users paid for.
HashFlare has a conversion rate of 26%, and it offers excellent promotional material that helps boost conversion rates further.
While commission rates are low, the high conversion rate and lifetime recurring commissions more than makeup for it.
| | |
| --- | --- |
| Sales Tier | Commission |
| All purchases | 10% |

AvaTrade's' partner network, AvaPartners, has paid out over $250,000,000 to affiliates over its 14 years in the industry. It is one of the biggest crypto affiliate networks in existence.
The platform enables secure crypto trading, which is a selling point in and of itself. It also supplies affiliates with a host of marketing and tracking tools that make crypto affiliate marketing easy.
They have a closed partner network, and details of commission are only disclosed to approved partners.
| | |
| --- | --- |
| Affiliate Program | Commission |
| CPA | Undisclosed |
| Dynamic CPA | Undisclosed |
| RevShare | Undisclosed |
| Master Affiliate | Undisclosed |
And with that, you're acquainted with the top cryptocurrency affiliate programs in the industry.
All you need to do is set commission goals and marketing preferences before glancing over the list one more time.
You will find the perfect programs to join in minutes.