Disclosure: Some of the links in this article may be affiliate links, which can provide compensation to me at no cost to you if you decide to purchase a paid plan. We review these products after doing a lot of research, we check all features and recommend the best products only.
There's no doubt that you can make a decent amount of money with the real estate industry– at the very least.
With internet use booming and 92% of all real estate buyers looking for both sound advice and good real estate online, affiliate marketing in real estate niches is an excellent way to make money.
The value of the real estate industry as a whole is $268 trillion, which is not surprising if you think about it.
But couple that reality with the fact that 5.3 million homes were sold in the US in the last year alone, and you see the opportunity of making a fortune joining real estate affiliate programs.
And I'm here to help you seize that opportunity.
Although there are several real estate affiliate programs, good ones are too few and too far between.
I've hand-curated a list of the best real estate affiliate programs in the industry, but before I give you a rundown, let me briefly walk you through the different types of programs and layout the possible niches you could target.
Types of Real Estate Affiliate Programs
One of the more common tasks for affiliate marketers in the real estate niche is to sell a piece of land.
But marketing commercial spaces can be a lot easier. Commercial real estate includes retail stores, offices, malls, restaurants, hotels, and even photo editing services to make your property look amazing. With a few good pictures and a solid description, generating leads should be a breeze.
Industrial real estate affiliate marketing programs fetch massive commissions, but they also require smart marketing. You will be in direct contact with distributors and must sell factories and warehouses.
Residential real estate is a niche many are familiar with – marketing houses and apartments is a little easier and also fetches excellent commissions.
These are the four niches that come under the real estate affiliate programs umbrella directly.
There are also affiliate marketing programs that require you to find clients for firms that provide financing and mortgages for real estate buyers.
Real estate management companies and companies that fix and upkeep properties also pay high commissions for affiliates that bring them, clients.
Top 21 Real Estate Affiliate Programs in 2023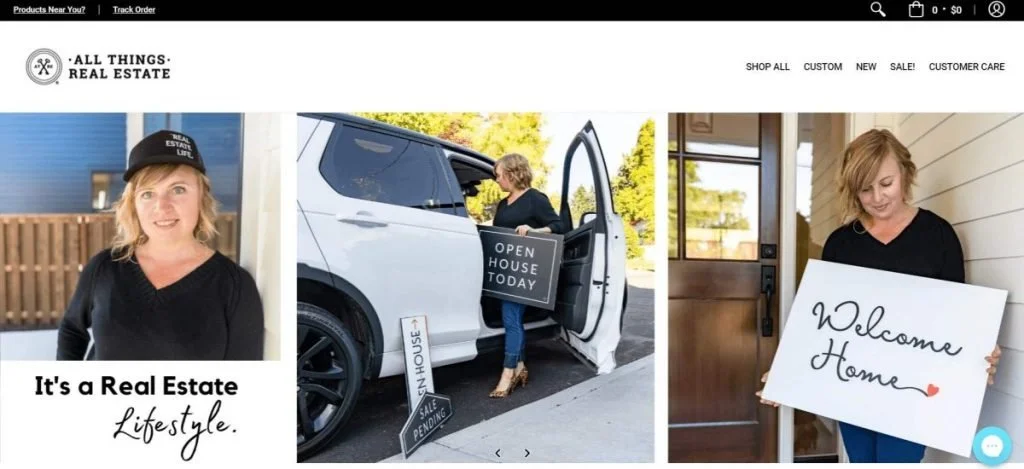 Realtors stay hip and require accessories and signs to make their offices feel professional yet welcoming. Accessories can also make properties look attractive.
All Things Real Estate supplies professionally designed accessories like bottle tags and key tags. The company also provides striking banners, flags, directionals, yard signs, and shoe signs.
While they also provide high-quality journals and stationery for realtors, the company specializes in top-of-the-line apparel that looks amazing and sells great.
| | |
| --- | --- |
| Sales Tier | Commission |
| All sales | 15% |
| Cookie Duration | 30 Days |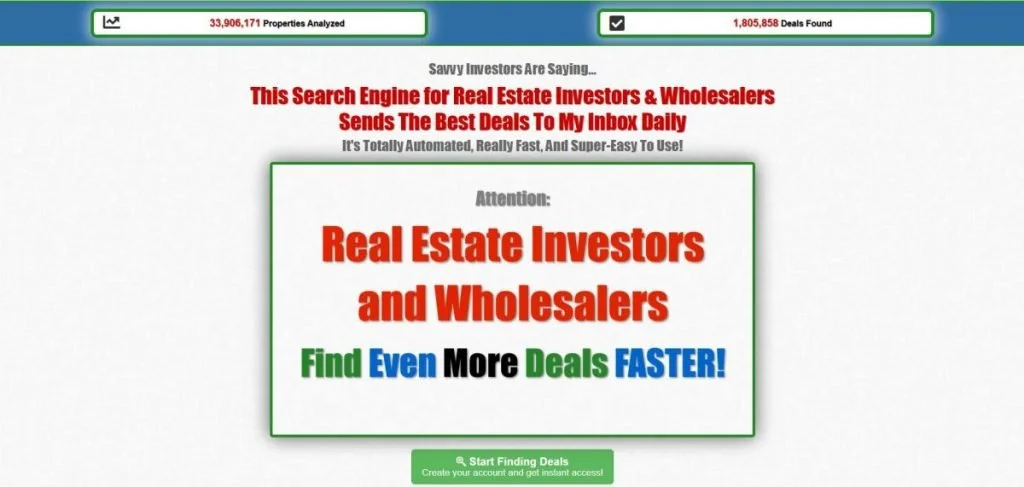 Supplying a solution to an annoying problem is the best way to make profits in marketing. In real estate affiliate marketing, BirdDogBot happens to be a solution investors and realtors didn't know they needed.
BirdDogBot is a search engine that enables users to drastically cut down on the time it takes to find real estate worth their attention.
It works by enabling users to specify exactly what they're looking for – from the area right down to the profit potential – and have a curated list of real estate that fits the criteria delivered to their inbox every day.
Sales Tier
Commission
All sales
50% recurring
Undisclosed cookie duration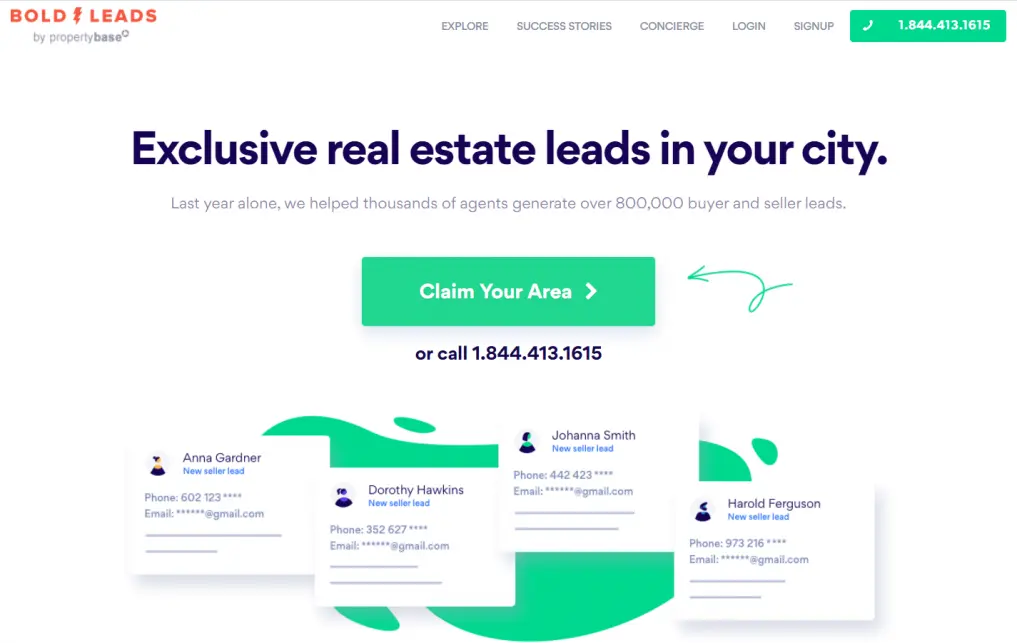 BoldLeads is another software as a service company that helps realtors find buyers in their city.
Marketing tools and CRM come integrated into the suite, and BoldLeads also helps with conversions with its 40 landing page templates.
The software is also designed to help real estate firms find sellers and get the best deals on all types of real estate.
Users don't even need to set anything up – the company does it for them, and fast!
The company pays its affiliates a flat fee for every customer they refer to. The commission is recurring, meaning for every month the customer you refer to stays with the company, you get paid your cut.
Sales Tier
Commission
All sales
$20 flat
Undisclosed cookie duration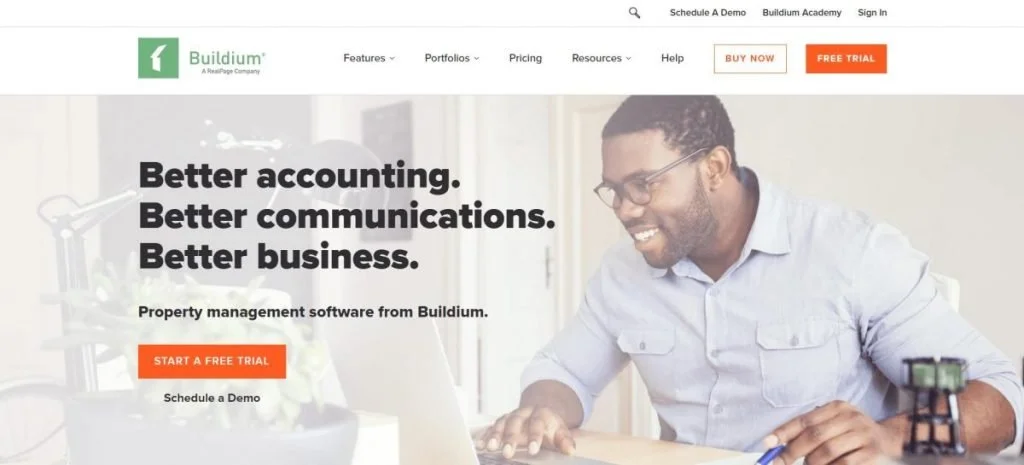 Real estate investors and landlords rely on property management companies to handle the legwork for them.
Buildium offers a much smarter and cheaper solution – they offer software that handles everything from the collection of payments to tax filings.
It can help investors manage their properties themselves. The suite aids in converting existing leads into buyers and renters. It also enables investors to connect to more leads.
The suite boasts a selection of educational posts and videos that teach new investors about the ins and outs of the business.
The excellent commissions and the flourishing demand for smarter solutions like Buildium make it a real estate investment affiliate program every affiliate must join.
| | |
| --- | --- |
| Sales Tier | Commission |
| All sales | 25% recurring |
| Cookie Duration | 60 Days |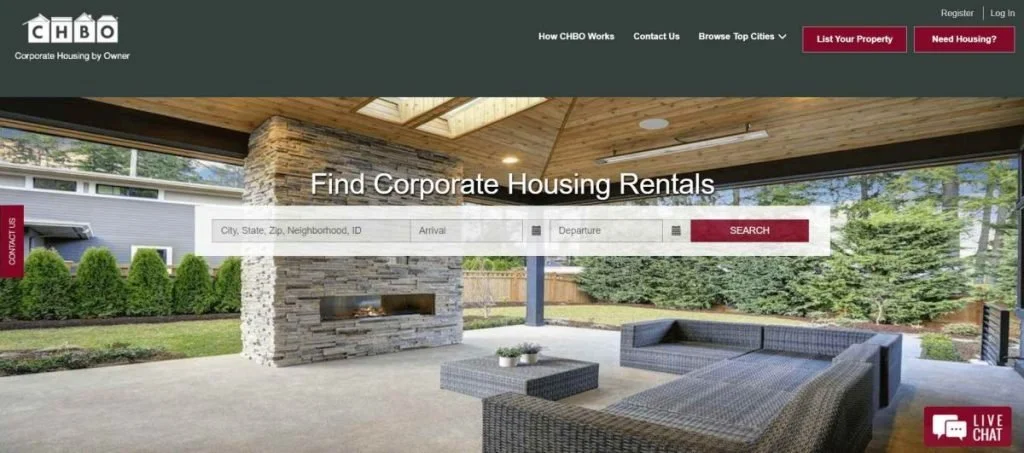 If you're looking to tap into the real estate market directly, helping CHBO rent out their real estate can be a great way to do it.
The company specializes in furnished rentals and targets traveling professionals in need of a short-term home.
You get to work with a large inventory of condos, townhomes, single-family homes, and several other estates in suburban and downtown areas.
To earn a commission, you must convert a visitor into a paying renter for them.
The company also pays affiliates commissions for connecting them with house owners looking to rent out their property.
Sales Tier
Commission
Approved booking requests
2% – 3% (varies by property)
New listing by owner
$40 flat
Undisclosed cookie duration
DealCheck was first launched in 2015 and has since grown to become one of the most relied-on tools by agents and investors alike.
The tool enables users to import property data from public records, make financial analysis reports and make projections, and compare the asking price to recent sales made in the area to help get the best deal.
In addition to offering a compelling product, DealCheck provides some of the best commission rates in the industry, making their affiliate program a must-join.
| | |
| --- | --- |
| Sales Tier | Commission |
| All sales | 30% recurring |
| Cookie Duration | 90 Days |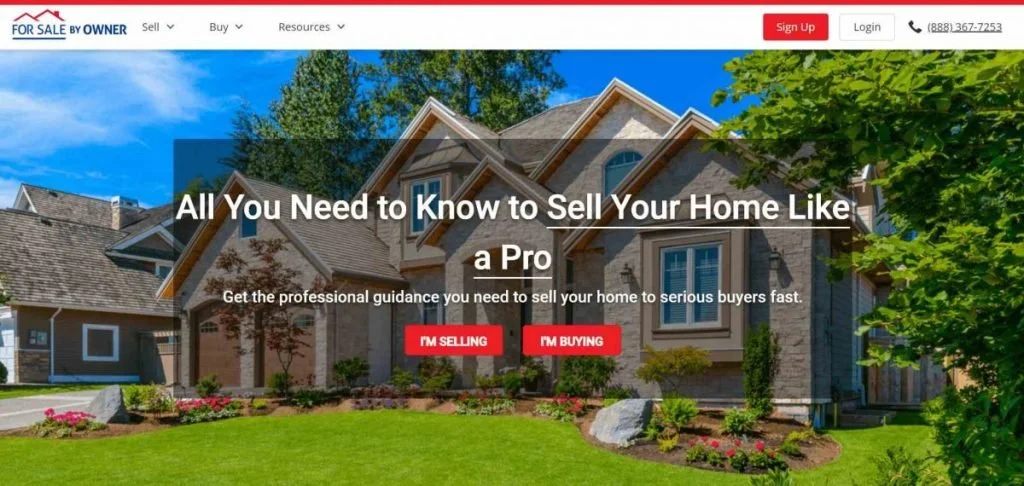 Homeowners pay real estate agents 5%, sometimes even 6% commissions to help sell their home.
For Sale By Owner enables homeowners to sell their house for a lot cheaper.
Although they allow users to list their house for free on their website, their $399 plan gives owners access to a home listing coordinator that helps with selling their home.
Twenty-five professional photos of the home, a yard sign, all the legal forms, and a legal review of the title all come included with the plan.
The more homeowners you join, the more you get paid.
Sales Tier
Commission
All sales
20% (approximately $80)
Undisclosed cookie duration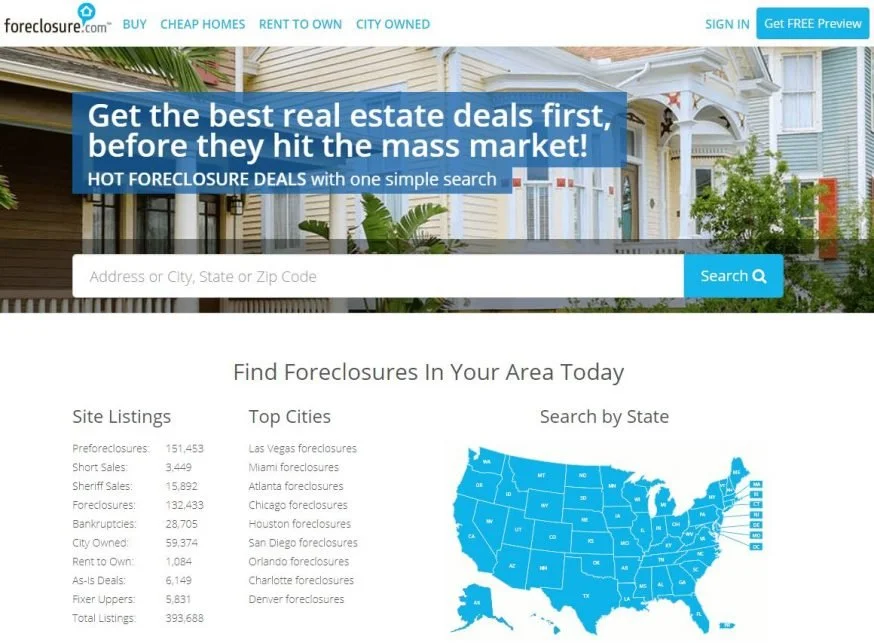 Foreclosure is a membership site that gives members access to a frequently updated list of foreclosures across the US.
Their membership fee is $9.95, and every visitor you convert fetches you a 25% commission.
While they have a polished and professional website that has all the features and filters that can help buyers find the right property, making it your primary affiliate program isn't recommended. The earning potential is low.
But marketing their membership on the sidelines is an excellent idea.
| | |
| --- | --- |
| Sales Tier | Commission |
| All sales | 25% |
| Cookie Duration | 6 Months |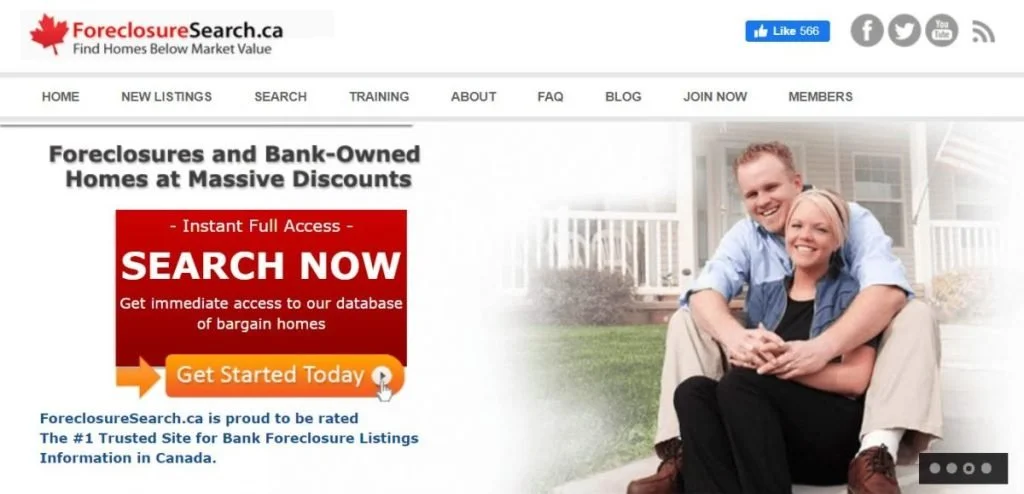 Like Foreclosure, ForeclosureSearch is also a membership website that enables users to find foreclosed properties.
While the company only lists foreclosed property in Canada, they pay affiliates exceptionally well.
They have a 75% commission rate, which is unheard of in this niche. If you perform well, they increase commission rates to 95%.
The company website has industry-standard conversion rates of between 2% and 3%, and they also have their own dashboard that offers real-time statistics about commissions earned.
ForeclosureSearch supplies banners, text ads and links, and also full-fledged articles that you can use free of cost to market their subscription.
| | |
| --- | --- |
| Sales Tier | Commission |
| New marketers | 75% (recurring) |
| 50 signups in one month | 85% (recurring) |
| 100 signups in one month | 95% (recurring) |
| Cookie Duration | 30 Days |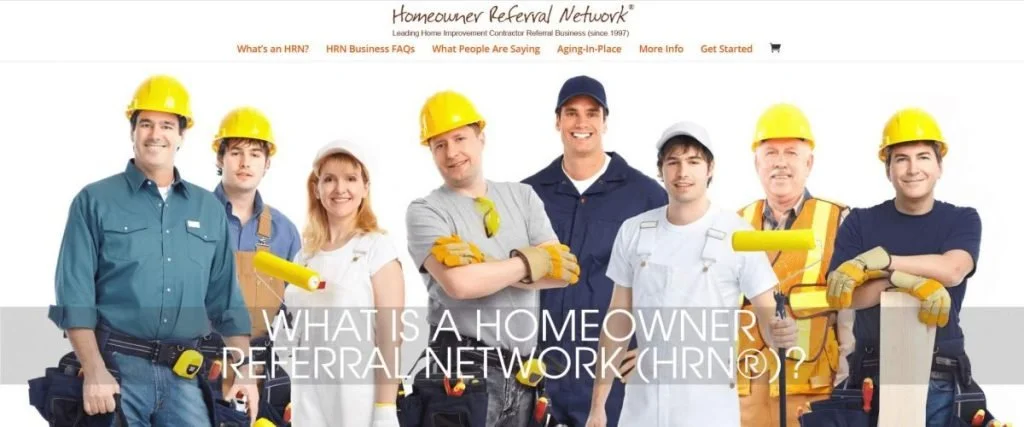 The network connects homeowners to local contractors that remodel, repair, or renovate their homes.
It is not a real estate affiliate program per se since you're not selling an estate or helping rent homes. But if you think about it, there are more homeowners than sellers, and you'll be tapping into a bigger market.
All you will need to do is recommend a contractor to a homeowner to earn a huge commission.
| | |
| --- | --- |
| Sales Tier | Commission |
| All sales | $100 – $325 |
| Cookie Duration | 30 Days |

HomeAway specializes in vacation rentals – the company has over 2 million of them listed.
Marketing their rentals is a breeze because they only connect with partners that have beautiful homes in exotic locations.
Monetizing a blog is as easy as integrating their listings with your website, and they offer third-party tracking and reporting features that help keep track of your earnings.
While the program does have its perks, before you join their program, you will need to give the company all of your details, including the details about how much traffic you generate each month.
You can only start earning after you get approved.
| | |
| --- | --- |
| Sales Tier | Commission |
| Referring to new renter | 3% |
| Referring to new owner | $20 |
| Cookie Duration | 60 Days |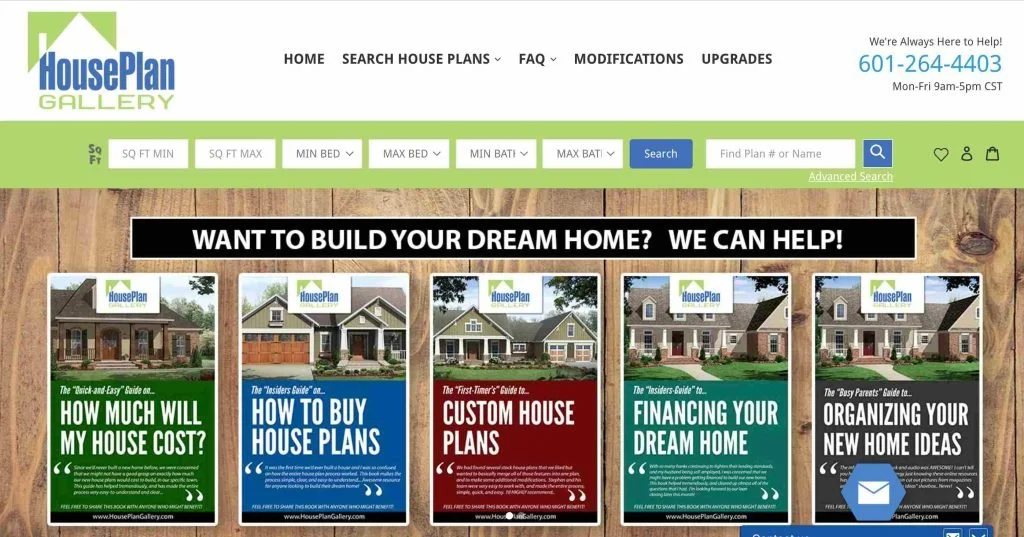 Millions of people move every year, and a good percentage of them require professionally designed house plans.
House Plan Gallery offers house plans that are both functional and beautiful.
Since audiences in the real estate niche typically have higher intent for purchase, selling the plans for their dream home should be easy.
Most plans sell for over $1000, and since you get a 20%, you'll make $200 per sale on average.
| | |
| --- | --- |
| Sales Tier | Commission |
| All sales | 20% |
| Cookie Duration | 1 Year |
Generating leads is one of the most challenging parts of the real estate business. But with software like LeadsBridge handy, generating leads becomes a lot easier.
Realtors and investment firms that use digital marketing techniques can vastly improve workflows and generate leads quicker with LeadsBridge.
The tons of marketing material and the excellent commissions are just some of the best perks of this real estate affiliate program.
The company also provides a polished dashboard that helps you keep track of payment data and your monthly click-throughs.
| | |
| --- | --- |
| Sales Tier | Commission |
| All sales | 20% |
| Newsletter subscriber/booked a demo | Company-set flat rate |
| Cookie Duration | 90 Days |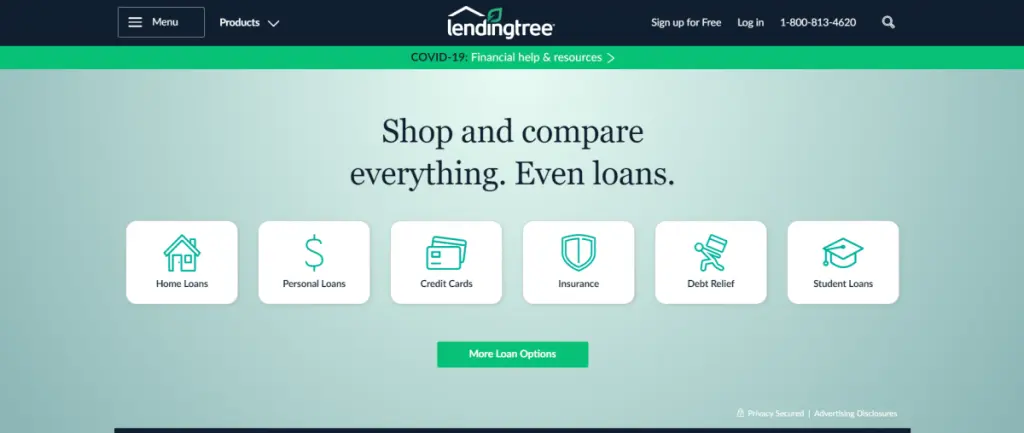 If there's one thing someone buying a home needs, it is a good loan.
LendingTree boasts a massive network of lenders, one of the biggest in the US, and gives its users a platform to compare loan offers.
Users must fill out a form with all of their details and their requirement. The more leads you drive, the more you get paid.
Your commissions depend on the quality of the lead. The quality is determined by the details and the requirements the lead enters in the form.
| | |
| --- | --- |
| Lead Tier | Commission |
| All leads | $1 – $70 |
| Cookie Duration | 14 Days |

Becoming a top-notch real estate agent requires training, which is precisely what Lex Levinrad provides.
He is a real estate expert and has worked in the industry for almost two decades, and via his company, Distressed Real Estate Institute, he shares his knowledge and experience in the form of course programs.
The company offers a slew of banners and other marketing material that will do the selling for you.
All you have to do is put them up on your blog, and you get paid half of the profits you help make.
| | |
| --- | --- |
| Program | Commission |
| All programs (except coaching) | 50% |
| Cookie Duration | 180 Days |
Property MOB offers real estate coaching for wholesalers looking to up their game, and also provides a CRM service and a virtual assistant service.
While their coaching program and virtual assistant service require a one-time purchase, using their CRM requires users to get a monthly subscription.
| | |
| --- | --- |
| Sales Tier | Commission |
| Coaching programs & VA service | 25% |
| CRM | 25% monthly recurring |
| Cookie Duration | 30 Days |

Real Estate Affiliates work on different models. It is a company that connects webmasters and marketers to affiliate programs that go best with the content they create.
Most of their programs, including real estate affiliate programs, offer a commission rate of up to 25%.
Connecting with the company can be an excellent way of joining high commission programs, but since you know nothing about the product or its price beforehand, you cannot anticipate earnings.
| | |
| --- | --- |
| Affiliate model | Commission |
| Cost per action | Flat fee set by the company |
| Cost per lead | Flat fee set by the company |
| Revenue share | Up to 25% |
| Cookie Duration | 30 Days |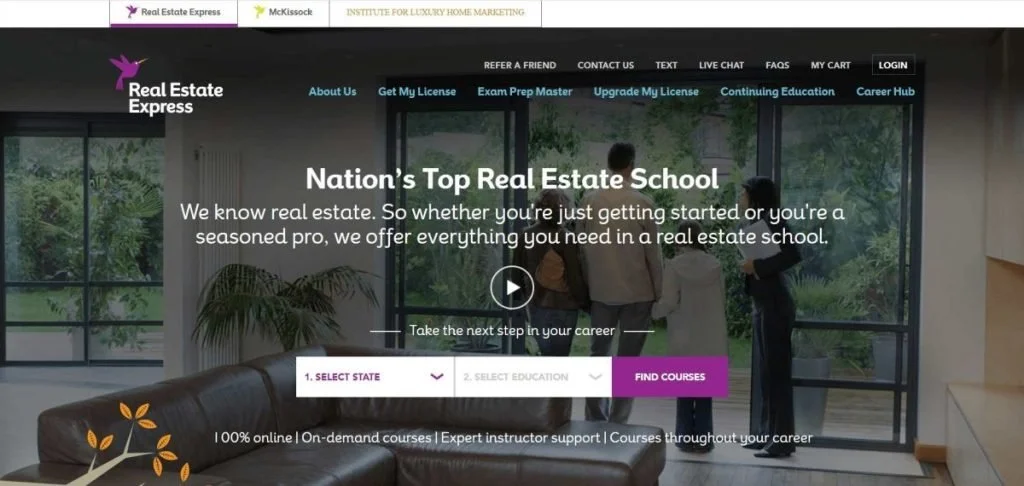 Real Estate Express has one of the most polished portals and business models on this list. They offer real estate training courses, and they have different materials curated according to the requirements of each state.
The company updates its website, courses, and certifications frequently, meaning the students you enroll are guaranteed to have the best experience.
| | |
| --- | --- |
| Sales Tier | Commission |
| All sales | 20% |
| Cookie Duration | 100 Days |
Realtor.com is perhaps the best-known real estate website in the industry, enabling users all across the US to find homes to buy and rent.
The website also enables users to gauge the value of a home according to its location and specifications.
Affiliates do not get paid to convert. All you need to do to make money is forward them leads.
Profit potentials are low, but the company's reputation makes for higher click-through rates, making their banners and links excellent to market on the sidelines.
Lead Tiers
Commission
All leads
$5 flat
Undisclosed cookie duration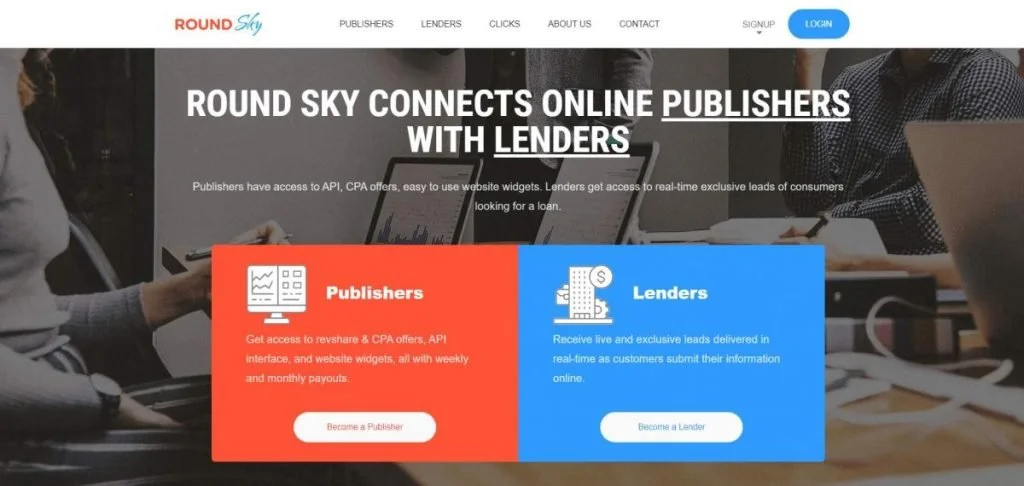 Signing up to an affiliate program that offers everything you need to make profits can make marketing both easier and faster.
Round Sky is a platform that connects affiliates to lenders. You can make money via a cost-per-action model that requires you to convert visitors into prospects from your real estate website.
The platform also offers revenue-sharing models that give you a lot of creative freedom and enable you to earn as much as you convert.
Regardless of what model you pick, you can be sure that you're getting paid industry-leading rates.
Sales Tier
Commission
All sales
Up to $230
Undisclosed cookie duration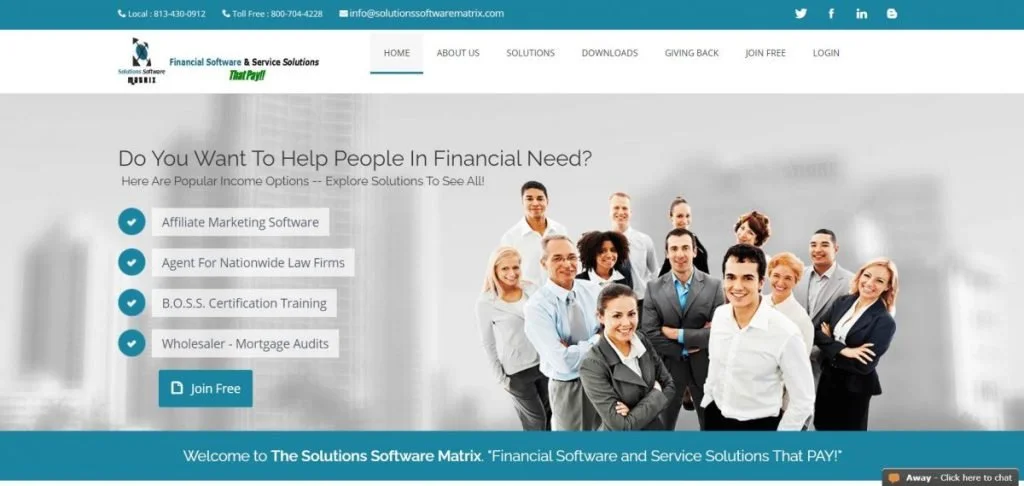 Solutions Software Matrix has a nationwide network of lawyers that focus on helping mitigate residential and industrial mortgage loans.
However, the company also offers polished software that can help affiliate marketers tap into the real estate industry for profits.
The software's monthly retail prices range from $14.99 to $149.99, and you get roughly half of that per sale you help make.
Their MODTRACKER software goes for $499, and marketing it to the right audience will fetch you $200 per conversion.
The company offers its affiliates additional benefits: free landing pages, and tons of material, and courses that give you insights about the functioning of the real estate world.
Product
Commission
Affiliate marketing software
45% (70% for high volume affiliates)
MODTRACKER software
40% (approximately $200)
Undisclosed cookie duration
Quick Links
Pros of Real Estate Affiliate Marketing
Cons of Real Estate Affiliate Marketing
Another glance over my list is all you need to narrow down and find the perfect real estate affiliate programs to join.
But knowing what you're in for is just as important as finding the programs to sign up to.
Before you glance over the list one more time, make sure you weigh out the pros and cons and understand what it takes to earn the high commissions the programs offer.
Competition is considerably higher, and you will need to toil for months, or maybe even over a year, to see some success.
Setting expectations accordingly and preparing yourself and your brand accordingly will fast track your journey to profits.