Disclosure: Some of the links in this article may be affiliate links, which can provide compensation to me at no cost to you if you decide to purchase a paid plan. We review these products after doing a lot of research, we check all features and recommend the best products only.
Affiliate marketing for hotels can make you a lot of money. Here are some stats about the hotel industry for perspective:
Approximately 148 million hotel bookings are made every year online. In 2017, hotel bookings generated $567 billion, and in 2018, the industry's value crossed the $600 billion mark.
The stats show that the intent to spend already exists (and is growing), and reveals the potential of generating profits by pointing users in the right direction and joining hotel affiliate programs.
The hotel industry has come to a standstill due to COVID-19, but it is set to make a strong comeback. It couldn't be a better time to transition into a hotel booking affiliate niche.
One of the best things about the hotel industry is that it connects you to other industries. Regardless of whether people travel for business or pleasure, they require many other services.
Travel and sightseeing, car rentals, travel accessories like backpacks – there's a lot you can sell on the sidelines to someone looking for a nice hotel. But these are things that have an immediate connection to the hotel industry.
You can tap into more niche markets like travel with babies or pets and generate profits from affiliate marketing products in these niches.
You could also tap into the medical tourism niche and help people find the right hotels and products, helping them on their trip and recovery.
In this post, I'll run you through the best hotel affiliate marketing programs that you can leverage to make money fast.
Best Hotel Affiliate Programs in 2023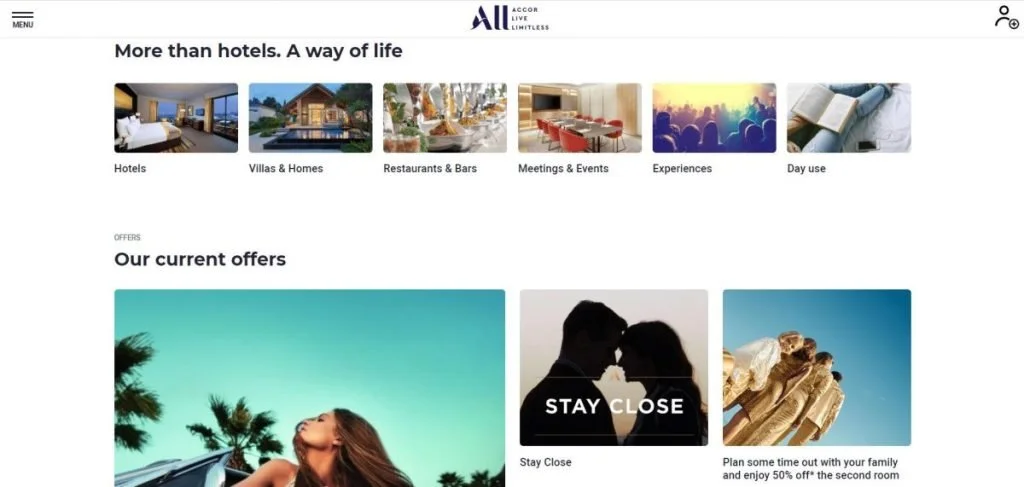 Accor owns over 22 of the hotel industry's most well-known brands, including Ibis, Mercure, and Novotel.
They have over 4,200 hotels spread across 95 countries, but one of the best parts about the group is that they have hotels on all parts of the scale – from economy to luxury.
They boast an impressive average conversion rate of 5.4%, which is higher than what many eCommerce websites offer. The average order value is £177, enabling you to earn an average of £13 on every sale you make.
There couldn't be a better program to join if you're looking to start affiliate marketing hotels.
Hotel Tier
Commission
Luxury
3%
Upscale
10%
Midscale
8%
Economy
4.5%
Budget
2%
7-day cookie duration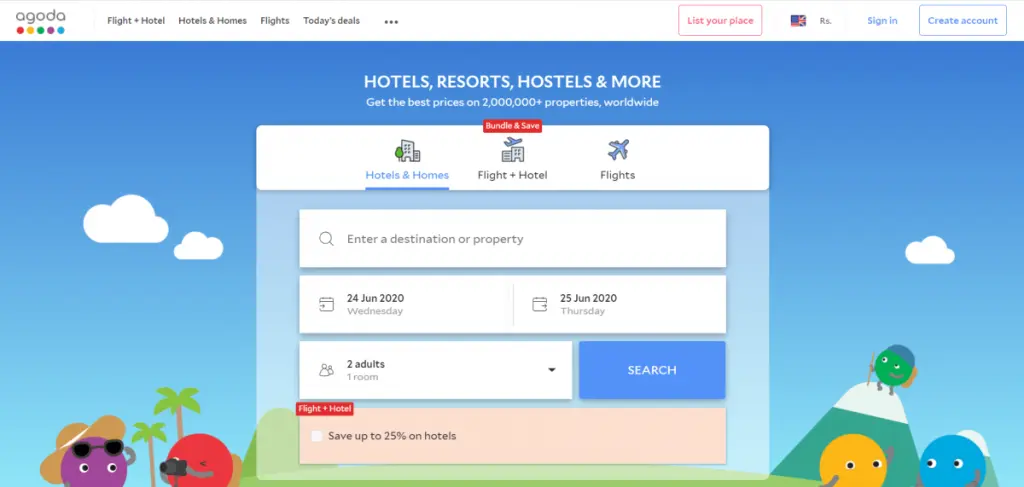 Agoda is a travel site that helps customers book hotels and flights, and also rent homes. From an affiliate's perspective, you get access to over two million properties you can market.
Joining the Agoda affiliate program is as easy as signing up on their website and giving them your details. They offer easy-to-integrate promotional tools that help you convert visitors to paying customers.
Agoda's website, application, and promotions all come in 38 different languages. These enable you to make an authentic connection with local audiences and convert more easily.
Tracking your performance and earnings is also made easy with Agoda's slick dashboard, and their support team is always available to help you with your questions.
The high commission rates make the Agoda affiliate program one of the finest hotel affiliate programs in the industry.
Bookings
Commission rate
Less than 50 bookings
4%
Between 50 and 99 bookings
4.5%
Between 100 and 199 bookings
5%
Between 200 and 999 bookings
6%
More than 999 bookings
7%
One-day cookie duration
Avani is one of the biggest hotel-and-resort chains in the Asia Pacific, Middle East, and Africa regions.
Their program can be the perfect hotel booking affiliate program for you if you run a travel site.
They have some of the most modern and stylish hotels in the most exotic locations, making for easy sales.
The program pays well, offering $53.63 earnings per click on average, and with their online reviews revealing the staff's dedication to customer service, driving sales becomes that much easier.
Bookings
Commission rate
All bookings
5%
30-day cookie duration
With 13 properties across seven destinations, BlueBay may be considered one of the smaller business hotels.
But presuming is a mistake because BlueBay's average order value is $1120.
All of their hotels have between a 3- and a 5-star rating, and they have four well-differentiated brands that target different customers.
You can drive sales with ease using the promotional codes they supply, and with their high commission rates, a well-positioned blog can generate five and six-figure revenues.
BlueBay also gives affiliates a dedicated account manager, who will assist you with your queries and help resolve issues.
Bookings
Commission rate
All bookings
6%
30-day cookie duration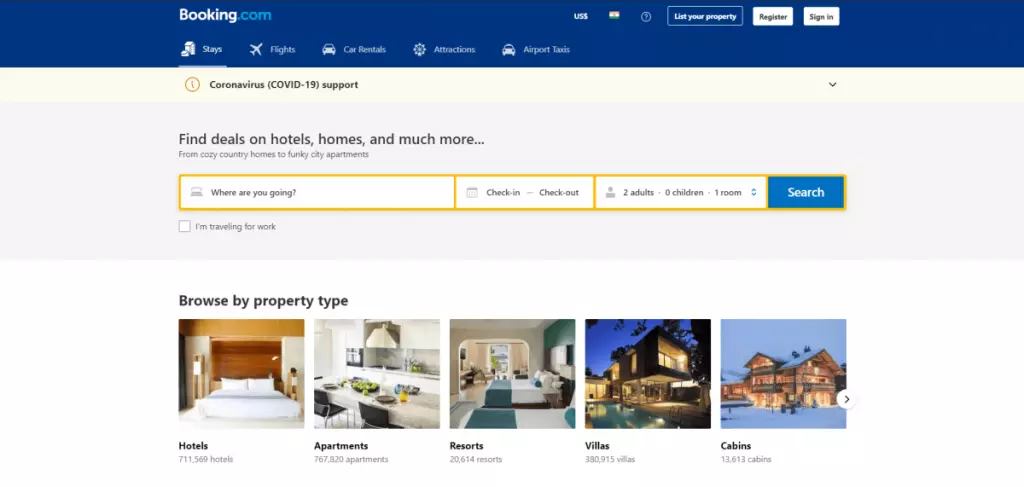 The Booking.com affiliate program can be a great place to start if you're looking to become a hotel affiliate.
They have one of the largest selections of accommodations online, with over 29 million bookable rooms spread across two and a half million properties.
They also have thousands of resorts listed on their website, making the affiliate program one of the best resort affiliate programs on this list.
The average reservation price is $257, and with their commission rates on par with industry standards, making a decent sum of money as an affiliate marketing beginner should be easy.
Bookings
Commission rate
All bookings
4%
No cookie tracking, in-session transactions only commissionable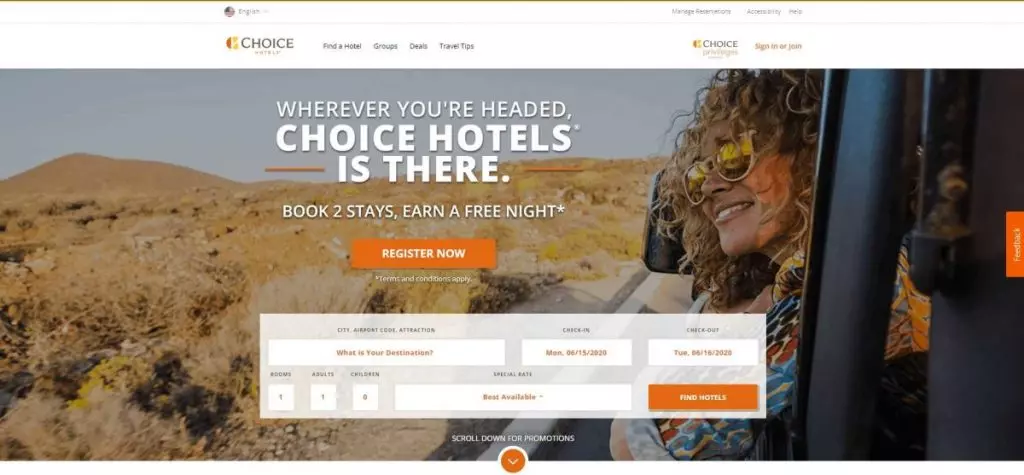 Joining Choice Hotels' affiliate program is one of the best ways of leveraging your connection with your audience.
What makes the program one of the finest hotel affiliate programs is the company's lowest price guarantee. Your audience is guaranteed to book hotels at the best prices online, and if they find a better deal, they get a $50 gift card.
They own over 7,000 hotels across 40 countries, and their different brands ensure that your audience finds a hotel at the price they're looking for.
Choice Hotels' selection of banners and links makes marketing a lot easier, which is another perk of joining their program.
Bookings
Commission rate
All bookings
5%
7-day cookie duration
Europe is one of the world's hottest travel destinations, and if you're looking to tap into its travel market, there couldn't be a better program to do it with than Derby Hotel's affiliate program.
The Derby Hotels Group has over 20 properties and offers more than 1,200 rooms in European capitals such as Madrid, Paris, London, and Barcelona.
The group is committed to preserving its cultural heritage. Most of their luxury hotels were previously emblematic buildings. No wonder the average order value is $887!
Putting some pictures on your hotel affiliate website is often the only thing you need to do to drive sales.
Bookings
Commission rate
All bookings
6%
30-day cookie duration
Expedia is one of the most popular travel booking websites globally. They attract over 60 million visitors to their website each month and generate billions of dollars in bookings each year ($39.4 billion generated in 2013!).
They have a superior inventory, and booking rates are negotiated directly with hotels, meaning your audience will get the best prices on the hotels they book.
Although their commission rates are slightly lower than the industry standard, the traffic the brand drives more than makes up for it.
Bookings
Commission rate
All bookings
Between 2% and 6% – varies from hotel to hotel
7-day cookie duration
If you're looking for a hotel affiliate program that offers high commissions and also offers easy-to-market hotels, you must sign up for the Hotels.com affiliate program.
They are partnered with over 800,000 hotels across 16,000 destinations, making the company's hotel catalogs one of the biggest in the industry.
The vast selection of hotels combined with the high average order value of $250 is what makes the company's affiliate program stand out as one of the best hotel booking affiliate programs there are.
Users
Commission rate
Welcome Rewards program users
3.2%
All other users
6.4%
30-day cookie duration
The way the HotelsCombined affiliate program works is different from how other affiliate programs work.
HotelsCombined affiliate commissions are paid based on the leads you generate for them. They follow a cost-per-click model, meaning regardless of whether a visitor converts or not, you get paid for the traffic you drive.
But the program has its pitfalls –HotelsCombined affiliate commission rates are not fixed, and the amount you're paid depends on the quality of leads you drive.
Regardless of that, however, becoming a HotelsCombined affiliate is an easy way to monetize your traffic.
Hotels
Commission rate
No bookings needed – traffic-based payment
No fixed commission rate – payouts per click vary between $0.50 and $2
365-day cookie duration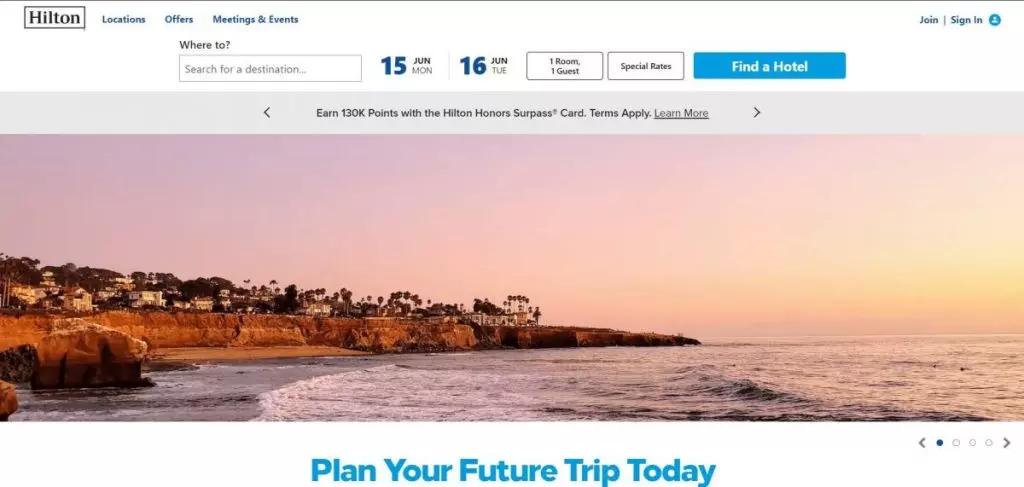 The Hilton group has 16 unique brands, each of which targets different customers. Their hotels are spread across 113 countries.
With over 5,600 hotels and 775,000 rooms available, there is a lot of room for an affiliate marketer to convert.
The industry-standard affiliate rates, combined with the group's devotion to providing every customer with a satisfactory stay, make their hotel affiliate program stand out.
Hotels
Commission rate
Hotels in Europe, the Middle East, and the Asia Pacific
6%
Hotels in America
4%
7-day cookie duration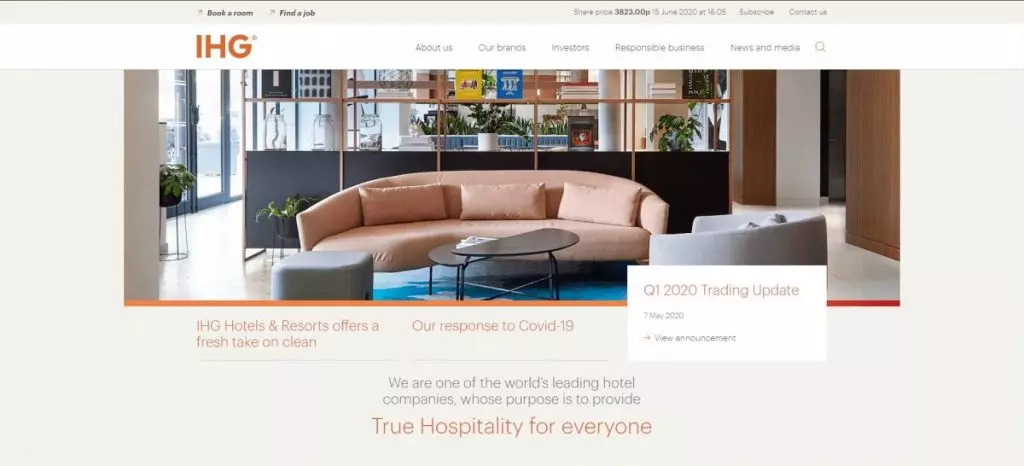 Joining the InterContinental Hotel Group affiliate program is one of the best ways to profit from a hotel booking affiliate website.
The group has a vast network of over 5,700 hotels, and also has a high average booking value of $265.
Their high average booking value combined with the massive volume of marketing opportunities they supply makes up for their slightly lower commission rates.
Hotels
Commission rate
All hotels
3% baseline + performance incentives
14-day cookie duration
The Marriott Hotel affiliate program is one of the most lucrative hotel affiliate programs in the industry.
They have one of the most formidable networks of hotels, with over 7,000 hotels spread across 131 countries.
The Marriott affiliate program is great to be a part of because it is both easy to sell and offers excellent commission rates.
Bookings
Commission rate
Hotel stays
4%-6% depending on the brand
Vacation packages
3%
7-day cookie duration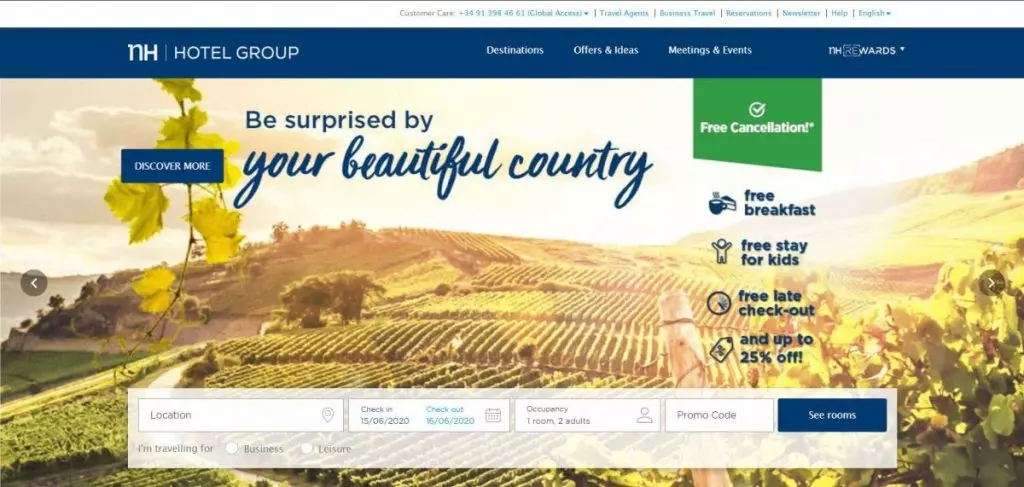 NH Hotel Group's affiliate program is perfect for you if you're hunting for an affiliate program that offers the best rates in the industry.
In addition to offering the best commissions in the industry, since their chain of 350 world-class hotels is spread across the most exotic locations in 28 countries, they are easy to market.
They offer material like dynamic banners and mini search engines in seven different languages and also have an incentive program for affiliates.
Bookings
Commission rate
Bookings in the first three months of joining
12%
Bookings after three months of joining
10%
30-day cookie duration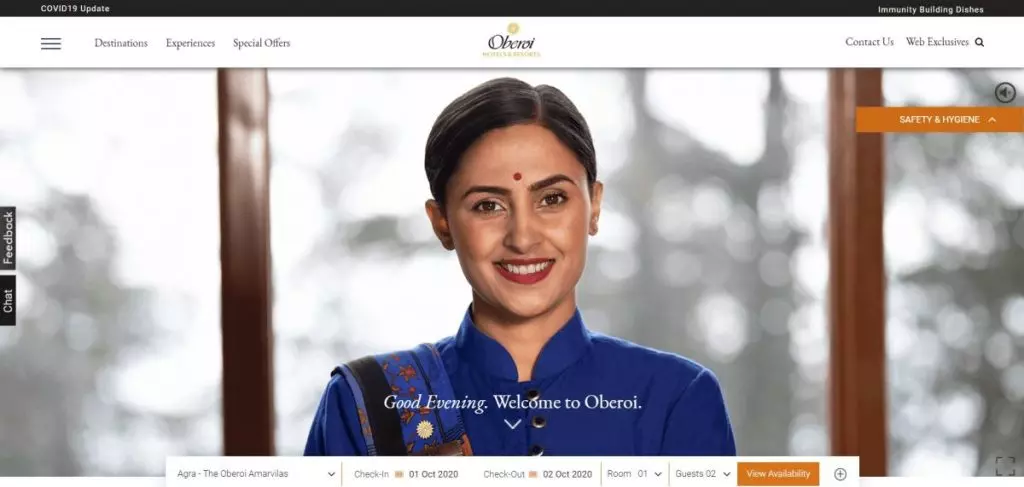 While Oberoi Hotels and Resorts have a relatively smaller chain, they have been voted as the World's Best Hotel Brand for two years in a row.
Promoting their hotels can be a reliable source of revenue.
Their average order value is $1579, which far exceeds industry standards, and they also offer high commission rates, making their program a must-join for any hotel affiliate.
Bookings
Commission rate
All bookings
6%
30-day cookie duration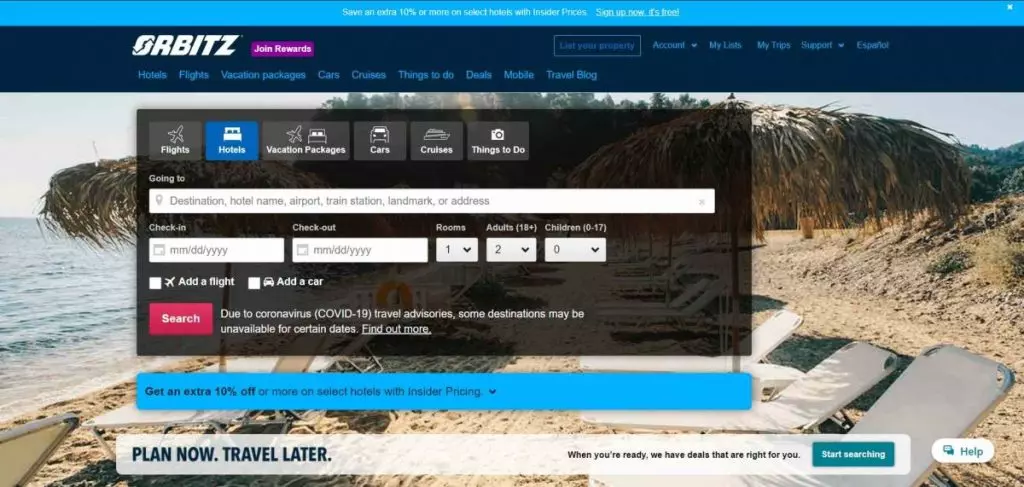 Orbitz is one of the leading travel websites in the United States. In addition to offering an extensive catalog of hotels, they also help users book everything from flight tickets to cruises.
The company gives you timely access to promotions and newsletters that you can leverage to convert your audience and generate profits.
Bookings
Commission rate
Air
$3.00 flat
Car
$4.00 flat
Retail Hotel
3%
Merchant Hotel
6%
Merchant Hotel (w/ Promo Code)
2%
Activities
5%
Packages –
4%
Packages (w/ Promo Code)
2%
Cruise
$30.00 flat
7-day cookie duration
Offering your audience deeply discounted bookings is one of the best ways to drive traffic and earn money marketing.
Priceline is available worldwide and offers a deeply discounted inventory with up to 60% savings.
You can earn commissions by marketing hotels, flights, cruises, vacation packages, and rental cars on Priceline.
Bookings
Commission rate
Hotel
5%
Cruise
3%
Flight
4%
30-day cookie duration
Pet-friendly hotels are trending right now, and Red Roof Inns are the perfect hotels to market in the pet travel niche.
You get access to beautiful banners, text links, exclusive promotions, coupons, and discount offers that help you make sakes fast.
Top affiliates get excellent incentives!
Bookings
Commission rate
All bookings
3%
30-day cookie duration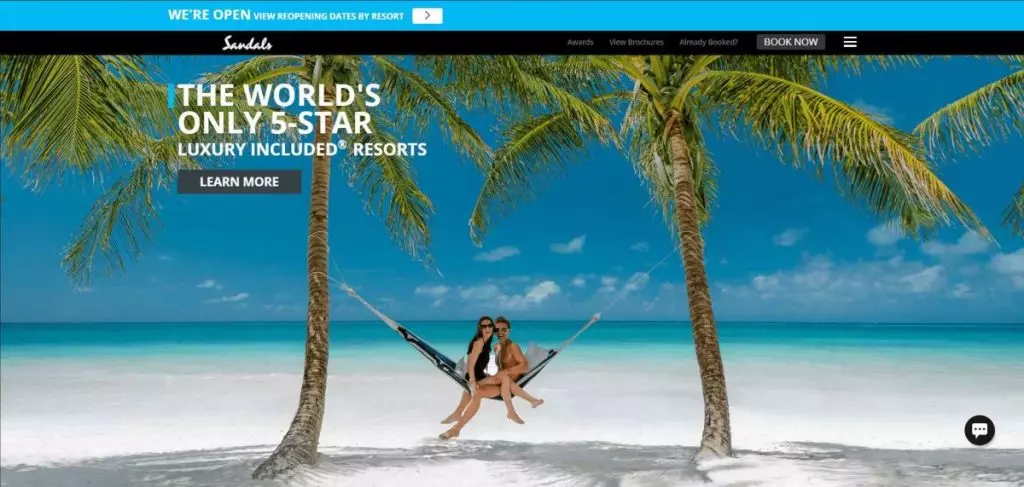 Sandals is a chain of 5-star luxury resorts, and each of their 16 resorts sits on the stunning beaches of the Caribbean.
Marketing a resort stay in a gorgeous location like the Caribbean should be easy. Their high $137.99 EPC makes the Sandals affiliate program the best resort affiliate program on this list.
Bookings
Commission rate
All bookings
4% + incentives (including free trips)
60-day cookie duration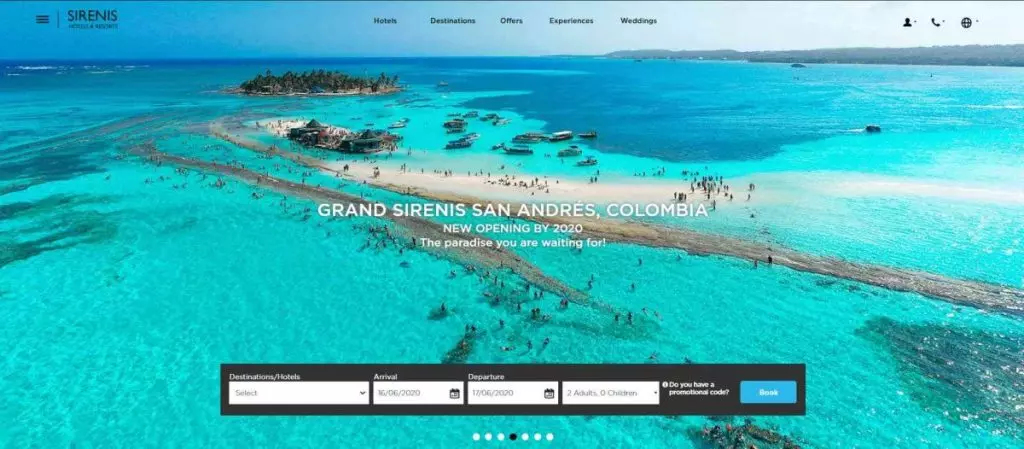 Sirenis is a family-run chain of hotels and resorts. They currently run eight hotels and have multiple new projects under development.
All of their projects are located in exotic locations, making them the perfect place for family getaways and vacations with friends.
Their average booking value is extraordinarily high at 1,400 euros, making their affiliate plan a must-join for any hotel affiliate.
Bookings
Commission rate
All bookings
6%
30-day cookie duration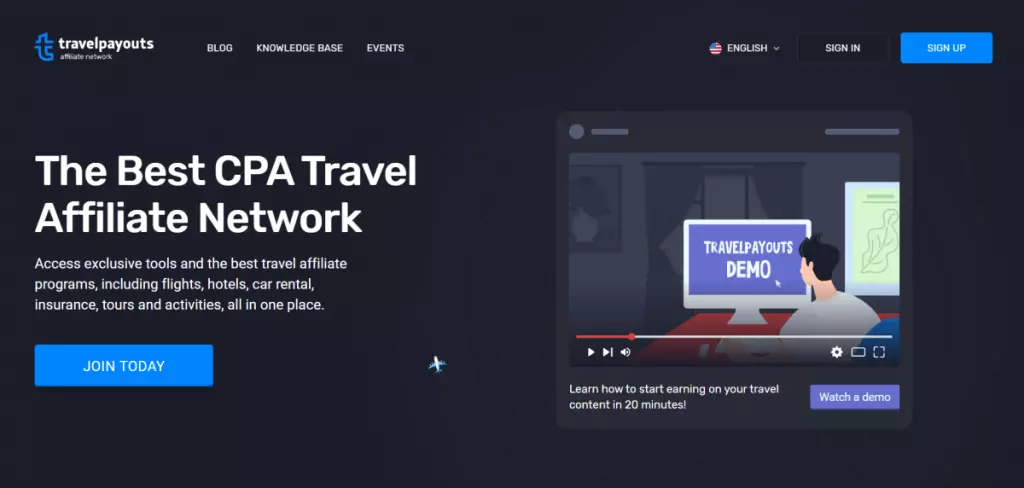 The Travelpayouts affiliate program offers both: marketing tools and high commissions for converting.
In addition to banners and text links, which are standard marketing material, Travelpayouts also offers search forms, white-label features, an API, and a plugin for WordPress.
The company shares 60%-70% of their revenue from traffic, and since the average cart value is $400, your average earnings per sale hover around the $30 mark.
Bookings
Commission rate
Hotel bookings
60%-70% (hotel dependent)
Flight bookings
1.2 – 1.4%
30-day cookie duration
Travelocity is a feature-loaded travel portal that can help users plan their entire trip without leaving the website.
Their EPC is $94, which is slightly lower than the industry standard, but if you market a trip just right, you can double that figure.
You can sign up for their affiliate program for free and start converting and earning money right away.
Bookings
Commission rate
Hotel bookings
8%
Hotel bookings (with promo code)
3% – 6%
Vacation packages
3%
Car rental
2%
Cruise bookings
$30 flat
Flight booking
$3 flat
45-day cookie duration
If you're an experienced affiliate and are confident that you can sell rental homes without much hassle – the TurnKey Vacation Rental affiliate program can bring you big payouts.
The company offers premier vacation rentals in some of the most desirable locations in the U.S.
It also offers some of the best commission rates in the industry, but keep in mind that the market for vacation rentals is a lot smaller than the market for hotels. To get bigger payouts, you will need to implement smart and aggressive marketing.
Commission
Commission rate
Sale commission
5%
Lead commission
$50
30-day cookie duration
Special Accommodation Programs
Hotel affiliate programs are not the only way you can make money in affiliate marketing for the hotel industry. You can also join special accommodation programs and earn money that way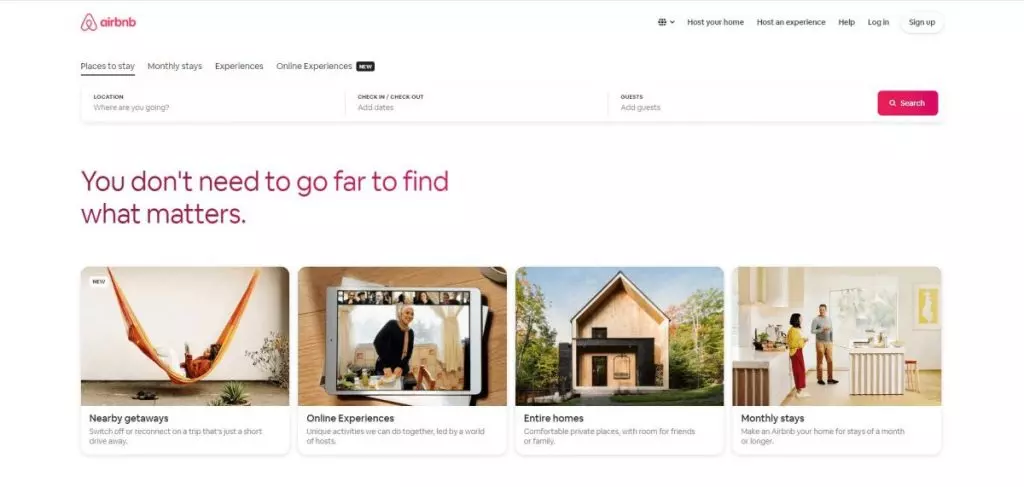 Airbnb offers two affiliate programs: one where you must refer guests, and one where you must refer hosts.
They have a closed affiliate network, and only websites, blogs, and applications that attract upwards of a million views per month are allowed to join their network.
No details of the commission structure are revealed outside of the network.
HomeAway boasts a massive catalog of rental homes, with over 2 million total entries across 190 countries.
You can earn a 3% commission for attracting guests and a $20 commission for every new listing you refer to on HomeAway.
Bookings
Commission rate
Referring guests
3%
Referring new listing
$20
60-day cookie duration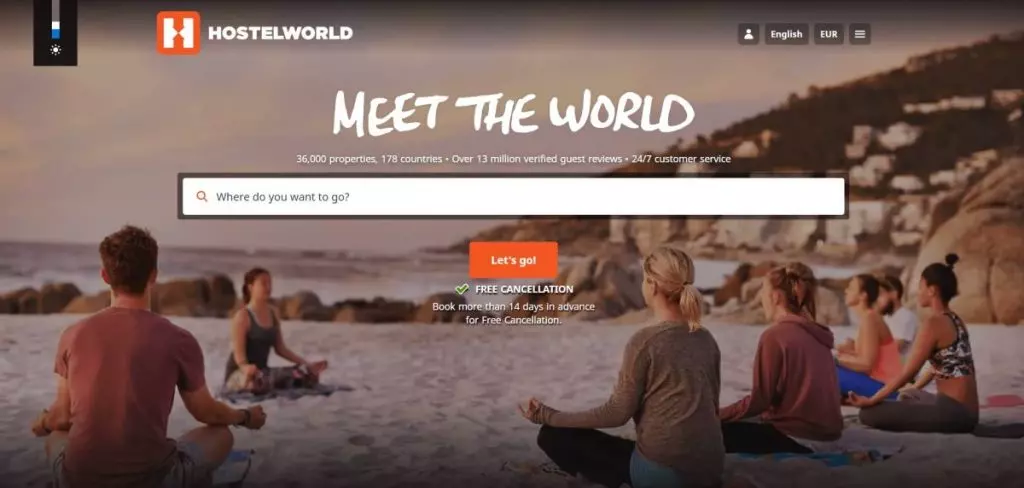 Hostelworld specializes in hostels and budget accommodation properties, and they have over 36,000 listed properties spread across 180 countries.
They have a lot more to offer other than just hostels. You can also find guesthouses, budget hostels, apartments, and campsites on their website and market them for high commissions.
Marketing material is offered in 19 different languages, and the high commission rates make up for the platforms' relatively smaller property catalog.
Hostels
Commission rate
All hostels
40%
30-day cookie duration
Best Ways to Make Money with Hotel Affiliate Programs
Don't be afraid to test out different affiliate programs and embrace testing out different strategies. This will help you maximize profits by helping you find the programs that fetch you higher returns.
Whenever possible, work with hotels for promotions directly. The commission rates are higher, and you typically also get better incentives.
Lastly, but most importantly, you must pay close attention to track.
Networks sometimes don't count conversions and clicks, which leads to you getting paid less than what you earned.
Always track your links from your end and compare your tracking reports with the affiliate networks' tracking reports.
It will help ensure that you get paid the full amount and that there is no confusion.
Also, if there are different tiers in the network's commission structure, or if you work with a team, it is best practice to use link tracking software.
Quick Links:
Best Hotel Affiliate Programs: Conclusion
And with that, you've learned how to generate profits using hotel affiliate programs, and also know about the best hotel affiliate programs out there.
All that's left for you to do is pick the right program to sign up for.
In addition to your earning goals, you must also keep content feasibility in mind when picking affiliate programs.
Having preferences and constraints in mind when picking affiliate programs ensures that you choose the right program and makes the selection process a lot easier.