Disclosure: Some of the links in this article may be affiliate links, which can provide compensation to me at no cost to you if you decide to purchase a paid plan. We review these products after doing a lot of research, we check all features and recommend the best products only.
Are you a faith blogger looking for affiliate programs? You might be thinking you don't have many choices to do affiliate marketing, but Christian affiliate marketing is just the right one for you.
Have you not heard about it yet? Well, you must. Christians constitute 31% of the world's population, and they spend almost 2.5% of their annual income on church programs or congregations. So with the right Christian Affiliate Programs, you would introduce your audience to Christian products and services they don't even know exist.
No matter how long you are in the blogging industry, you must be familiar with the term affiliate marketing and how it can help you boost your income. We understand that you are a faith blogger, and your sole purpose is to acknowledge your audience with religious teachings and advice.
If you are just beginning and looking to build an affiliate website from scratch, here is a beginner guide on how to start a Affiliate Website with Minimal investment.
But let's accept the fact that only blogging cannot fulfill all your financial needs. Even if you are a well-recognized blogger, you would have to rely on some other source of income to get going. However, you might not want to betray your audience by promoting the wrong products; as a result, you don't do sales activity.
So, is Christian affiliate marketing the same as sales? Affiliate marketing is promoting products you know are good and earning money in exchange. Through Christian affiliate marketing, you can promote the products which you naturally use in your content.
Yet, for this, you need to select Christian affiliate programs wisely. For your convenience, we have brought you the top 10 Christian affiliate programs. But before that, let's understand what Cristian affiliate marketing is.
What Is Christian Affiliate Marketing?
We know that affiliate marketing has several niches. So, among these, one is Christian Affiliate Marketing. It is no different from any other affiliate marketing. To put it in simpler words, affiliate marketing is a way of earning commissions for promoting a company's products or services on your website or channel and resulting in a sale.
However, Christian affiliate marketing focuses specifically on Christian companies selling Christianity-related products like books, hymns, suits, etc. Christian Affiliate marketing is a vast niche in itself and you typically promote things that would be appealing to a Christian audience. Just like Christian Affiliate Program, you can find an affiliate programs for any niche.
So, all you will do is to serve the needs of your audience through your affiliate links. This way, your audience gets what they need, and you can make money ethically through Christian affiliate marketing.
Now arises the question, what does your audience need?
First, of course, because the affiliate program you are going to choose is for your audience. So before selecting a Christian affiliate program, study your audience and discover their needs. Then, once you get an idea of their requirement, you can easily choose a Christian affiliate program suitable to your content and audience.
But still, if you don't know which Christian affiliate program you should go for, keep reading this article. Now, let's understand the features of some of the best Christian affiliate programs. There are also some high ticket affiliate programs that can make more money for you.
10 Best Christian Affiliate Programs in 2023
When choosing a Christian affiliate program, you must look for its stand-out features. The best affiliate program is one that gives quality products at a reasonable price, has a good customer review, provides you with links, banners, and an affiliate support team, and most importantly, has a fair commission rate.
Below mentioned is the list of the top 10 Christian affiliate programs for you following the above features.
1. Church Source
The main aim of Church Source is to help the churchmen and clergies to find religious books and DVDs. They sell items ideal for pastors and bishops related to Christian academics and for the average Christ-followers. These items include books of well-known authors and even accessible versions of the Bible.
Even though these commodities are available in local markets, Church Source acts as a hub of most Christianity-related books. Their website is easy to use, and the books have been divided into categories for the ease of the customers. Church Source also has ebooks in their store.
With a 90-days return policy, Church Source is one of the most loved Christian online bookstores in America. Moreover, their average order value is over $100. So, you can get a good commission by associating with its affiliate program.
As a Church Source affiliate, you will earn a 10% commission per sale which is a great deal. In addition, Church Source uses ShareASale for its affiliate platform. So, you may also keep track of your sales, commissions, and earnings. It has a 60-day cookie life which is enormous as compared to other affiliate programs. The payment is also quick through direct bank deposit, check, or wire transfer.
Church Source is a trustable platform and has a huge customer base. Therefore, you can blindly trust its products for your audience.
2. Ivy Robes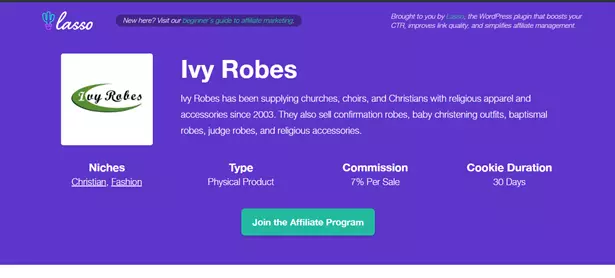 Ivy Robes are quite an old player in the game of business. They have been supplying church attires to choirs, churches, and Christians since 2003. IvyRobes is not only a business website but is a brand in itself. It does not buy the clothing and accessories from other brands but manufactures them in-house. So, you can be assured of the quality.
Their products include confirmation, judge, baptismal, baby christening outfits, and other religious accessories. Its international shipping options and wholesale prices have made it even more popular among Christians from all over the world.
So, if you have international Christian audiences or audiences interested in Christian clothing, you must go for Ivy Robe's affiliate program. Even though its commission rate is 7% for each sale, it has a very high average order value of $200.
Therefore, you can earn almost $14 on each sale. Moreover, it has an EPC of $81.67 with a cookie duration of 30 days.
Overall, your faith audience will be more than happy to get the service of Ivy Robes through you.
3. eHarmony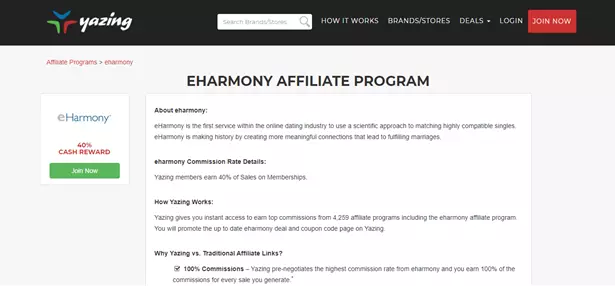 eHarmony is the largest Christian online dating service. But are you surprised why it is offering a Christian affiliate program? Well, because in Christianity, many believe in getting a life partner of the same faith. And thus, eHarmony helps them.
It has thousands of happy customers, and over 2 million have found their love through this site. In addition, it has numerous features like compatibility checks and video dates, making it one of the most millennial-friendly dating sites.
eHarmony has an EPC of $93.33 and instant payouts. It has a 45-day cookie duration. So overall, along with its customers, it is also fair with its affiliates. With eHarmony, you can get a chance to earn 20-50% commission per sale according to the purchase your audience makes. The higher the plan, the higher you get paid.
4. Christian Book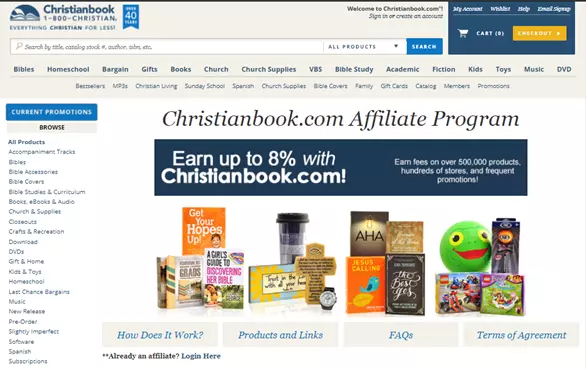 Christian Book is another amazing online book store that focuses on selling Christian faith books online. It has numerous categories of books from suspense to mythology, all Christian.
Even though it is more famous for books, it also sells Bible accessories, ebooks, audiobooks, church supplies, DVDs, gifts, origami crafts, and many more. It is also associated with Christian orphanages and encourages its customers to sponsor homeless children.
As an affiliate, you can enjoy many advantages. Christian Book keeps introducing new features to help the affiliate to earn more. With more than 500k products, you will get numerous opportunities for promotion. Moreover, if you affiliate with such a big company, your personal business will also enhance.
For payout, you need to surpass the threshold amount of $25 through sales. This is not very tough as Christian Books are quite famous among Christians and they have a wide range of products. Payments are made monthly through checks, and you get all the materials, including links, banners, and customized content for promotion.
5. Bible Belles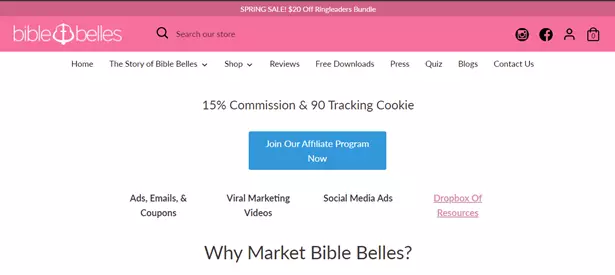 Bible Belles basically sell their own book series online. Its main aim is to show girls their position in the Bible from a female's perspective and empower them. In addition, they make books and other resources that connect girls to scripture.
Bible Belles wants the next generation of female leaders to be empowered through faith-strengthening, character building, and confidence training to realize their worth for the welfare of others and the glory of God.
But why Bible Belles? It has an apparent reason. The modern world focuses on empowering women and making them independent. Irrespective of faith, this is a universal need these days.
So, if your audience includes young women with baby girls or even a newly started family, these are the books they will need because it's high time and no modern parents want their kid to read and learn from Cinderella and Rapunzel. So you can have good chances to earn in this niche.
Bible Belles has a decent 15% commission per bundle sale and 90 tracking cookies. In addition, its affiliate support is very active and helps you with banners and personalized content. So, all in all, it can bring you good money with a bit of hard work.
6. PureFlix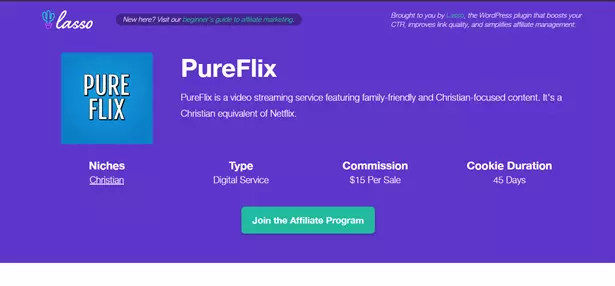 The popularity of Netflix does not even need a mention. But have you ever imagined a Netflix which only has faith-related shows, documentaries, and movies? PureFlix is precisely that. Getting inspiration from Netflix, it is almost a replica of Netflix, just with a particular category of shows.
This is not only good for Christians but also for those who are interested to know about Christianity through movies and TV shows. So, even if you are someone who didn't intend to know about Christian affiliate programs but are here, PureFlix is for you. Also, it is suitable for children to watch, considering the exposure they are getting these days.
PureFlix is no less than any other streaming site and has different categories to watch on PC and android, including movies, documentaries, hobby channels, fitness shows, cartoons, and sports.
As an affiliate, you get $2 for every free subscriber. Next, if they get a monthly subscription, you will earn an extra commission of $8, and for an annual subscription, $15. The company has a good EPC of $18 and has a long 45-day cookie life. In addition, they provide banners and customized content for promotion.
7. The 7 Sisters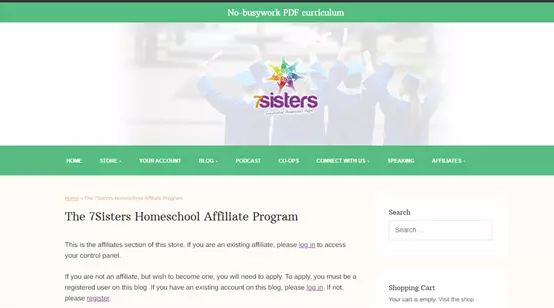 The 7sisters homeschool provides study guides for homeschool graduates. Seven female figures operate the company; therefore, the name 7sisters. It gives the subject and discipline-wise online study materials and curriculums. Moreover, the customers get expert advice from 20+ year veteran homeschool moms.
As an affiliate, you will get a 40% commission per curriculum sale and 90 days of cookie life. They also give access to a personalized dashboard to every affiliate. The dashboard contains material for promotion and your work progress.
The most exciting part of this program is that you can get a chance to guest post on the blog of 7sisters which means your website will get even more exposure. So, it's a win-win situation.
8. S&S Worldwide
S&S Worldwide is one of the oldest known family-run businesses in the world. Right 1906, it has witnessed wars, partitions, and whatnot. They are major suppliers of learning products, novelty supplies, educational supplies, arts and craft supplies, sports equipment, games, and parties to families, kids, and schools.
The online website of S&S Worldwide contains a separate space for Christian products, which means your audience can comfortably shop the products they need. In addition, the company claims to feature more than 1000 products on its website. So, it has something for everyone.
With an average order value of $120, S&S Worldwide gives a 7% commission to its affiliates per sale. So, you get approximately $8 per sale, which is not that bad. But overall, if you manage to make 100 sales, you can earn up to $178.
Their cookie duration is only 14 days, but the affiliate manager can negotiate with you if you manage to be on the top list.
9. ChristianCafe.com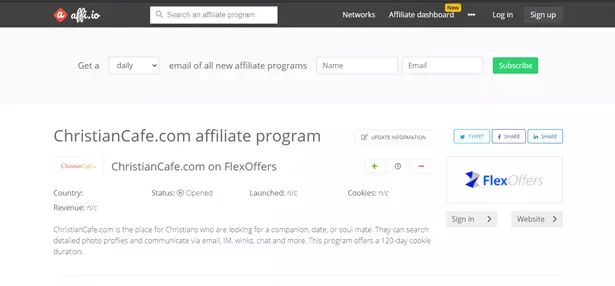 Christian Café is another dating website for Christians and is managed by Christians itself. It has existed as one of the top hitching sites since 1999. It has got many good reviews from Christian singles all over the globe, and over 25,000 users have got hitched through this site.
The fascinating feature of Christian Café is it allows a ten-day trial when you can email other members and even chat with them over the text.
Apart from being user-friendly, it also provides the best schemes to its affiliates. So, if the program is suiting your niche, definitely go for it. It gives a 40% commission per sale with a 140-day cookie duration.
It also provides banners, customized advertisements, and links to track your progress.
Furthermore, they make sure that you get paid for each sale through your link. In addition, they also practice a fast payout process. Christian Café Affiliate program is among the best Christian affiliate programs on the internet.
10. DaySpring Affiliate Program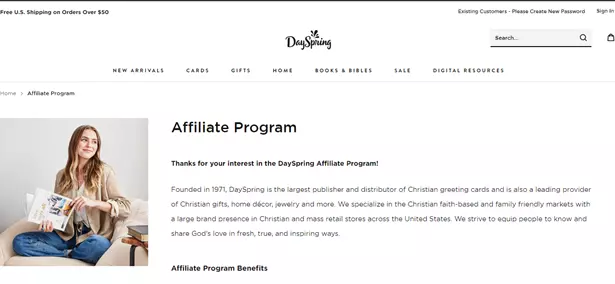 Sharing greeting cards is one of the holy rituals in Christians. So, DaySpring took this opportunity for their business. The company is the biggest supplier of greeting cards in North America.
DaySpring got recognition in 1971 when they first printed a Christmas card for a commercial workshop. For it, they received massive feedback, and that is when they decided to open the company.
Since then, they are on the top list in supplying all types of Christian greeting cards, wedding cards, journaling bibles, occasion cards, and everything else. In addition, they manufacture other Christian gifts, including home décor items, table cloth, clothing, jewelry, and everything aesthetic.
So, if you are willing to be an affiliate for this company, you get a wide range of products for your audience to promote. Moreover, DaySpring is a subsidiary of Hallmark and not going to disappear soon.
They provide a 13% commission with every sale. This is huge for products like greeting cards and home décor. But yes, this is the truth. And most interestingly, on average, DaySpring links have an EPC (earning per click) of $31 with a 30-day cookie life. Considering all these features, this brand is a must-try!
These are some of the best Christian Affiliate Programs you can use to promote affiliate products to the Christian community. Apart from that, you can see these affiliate programs for bloggers that give you a wider vision beyond one community or group of people.
Best Christian Affiliate Program: Conclusion
If you are Christian and you are making ethical money, there is no sin in it. Christian Affiliate Marketing is just a way to help your audience reach the products they desire to buy. And in this process, you get to earn money.
However, it can be tough to get good affiliate programs in this niche. So now we expect we have made it easy for you. So sit on your chair, make a plan, take a good program and start earning!
Christian Affiliate Program: Frequently Asked Questions
What are Christian Affiliate Programs?
Christian affiliate programs are just like any other affiliate programs but are inclined towards selling Christian products and services from predominantly Christian companies. These affiliate programs are taken by bloggers or content creators who make content related to faith and Christianity.
How Much Traffic Do I Need for Christian Affiliate Program?
There is no specific traffic needed for Christian Affiliate Program. A minimum recognition is required as an eligibility criterion to be an affiliate. However, some companies offer their affiliate programs to only famous bloggers and influencers.
What to Look for before Applying for the Christian Affiliate Program?
Before applying for a Christian affiliate program, you must understand your audience's needs. Then, once you get the idea, select the program accordingly. Also, before choosing a particular program, don't forget to compare it with the others and make sure that they are fair with their affiliates.