Disclosure: Some of the links in this article may be affiliate links, which can provide compensation to me at no cost to you if you decide to purchase a paid plan. We review these products after doing a lot of research, we check all features and recommend the best products only.
Whether you've never done any affiliate marketing before or have had some success with it already, finding reliable platforms to make high commissions with is a struggle you must overcome.
In this post, I will give you the lowdown on how to do ClickBank affiliate marketing in 2023.
When the average Joe thinks "affiliate marketing," Amazon is the first platform that comes to mind. And for good reason.
Amazon has a global reach and supplies all sorts of products to customers. While the high reach is advantageous for affiliate marketers, the Amazon Affiliate program doesn't pay high commissions. The company's commissions top out at 9%.
While many try their hand at affiliate marketing Amazon products, most marketers never see a big cheque from Amazon.
It's a 20-year-old affiliate marketing platform that holds the title of the 87th largest Internet retailer in North America.
What's more enticing is that Click Bank affiliates get a 70% commission for selling most products.
The platform is relied upon by over 200 million customers across 190 countries, a testament to ClickBank's trustworthiness.
The best part? It makes getting your piece of the 13-billion-dollar affiliate marketing pie easy.
This guide will teach you how to do ClickBank affiliate marketing in 2023.
What Is ClickBank Affiliate Program?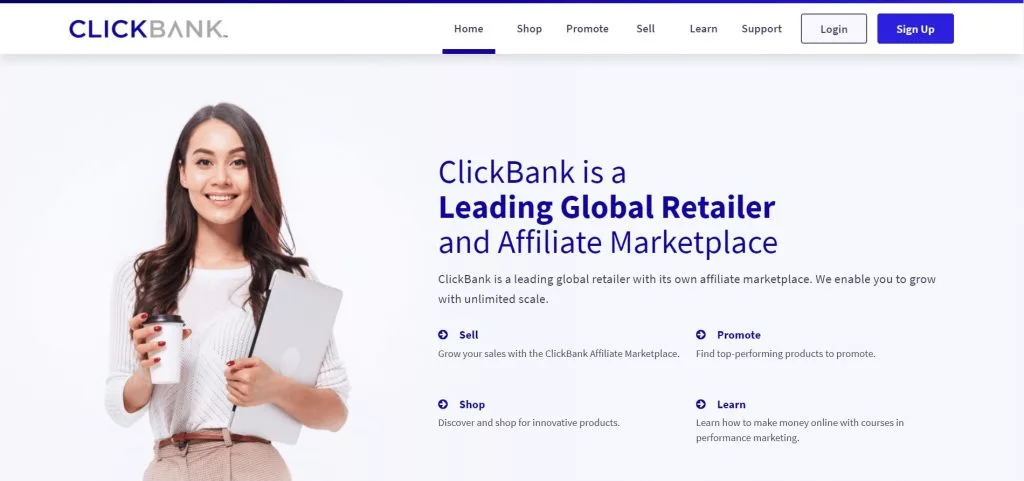 ClickBank's affiliate program could become a source of earning a full-time income for you just like it has for many marketers. But before getting into how, let's take a look at the company's background.
History
ClickBank had a very humble beginning. The company was founded in 1998 in a garage in San Diego, California, by Tim and Elleen Barber.
The company's long-standing history in affiliate marketing makes it one of the most reliable platforms to join for online affiliate marketing.
Current Statistics
Over its two decades in the industry, the company has garnered a large client base. Here are some staggering statistics about the ClickBank affiliate marketplace:
Both novices and seasoned affiliate marketers will be able to make good money after joining the ClickBank affiliate program.
How It Works
Businesses that sell products sign up on the platform and add their products to the ClickBank affiliate marketplace.
The platform will take care of finding the affiliates and selling the product for the business. ClickBank also helps the business set up an e-commerce portal.
ClickBank charges these vendors a small sign-up fee. This is done to keep low-quality vendors off the platform. Vendors are also charged $1 + 7.5% of every product ClickBank helps them sell.
Affiliate marketers do not need to pay any fee to join the platform. There is no screening process either.
Anyone with the knowledge can get into ClickBank affiliate marketing, create unique affiliate links, and start driving traffic and sales to make money.
The earnings of the affiliate marketer are updated on their dashboard in real-time.
How To Do ClickBank Affiliate Marketing From Scratch
1. Make A ClickBank Affiliate Sign Up
Signing up for a free account on ClickBank is quite easy to do. Here's a step-by-step guide to help.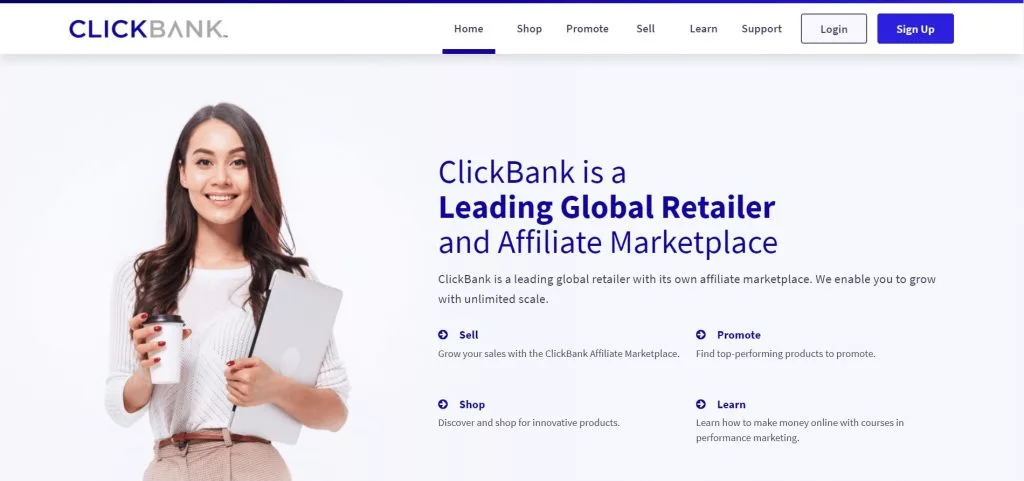 To sign up on ClickBank, visit https://www.clickbank.com/ and click on the "Sign Up" button on the top right corner of the webpage.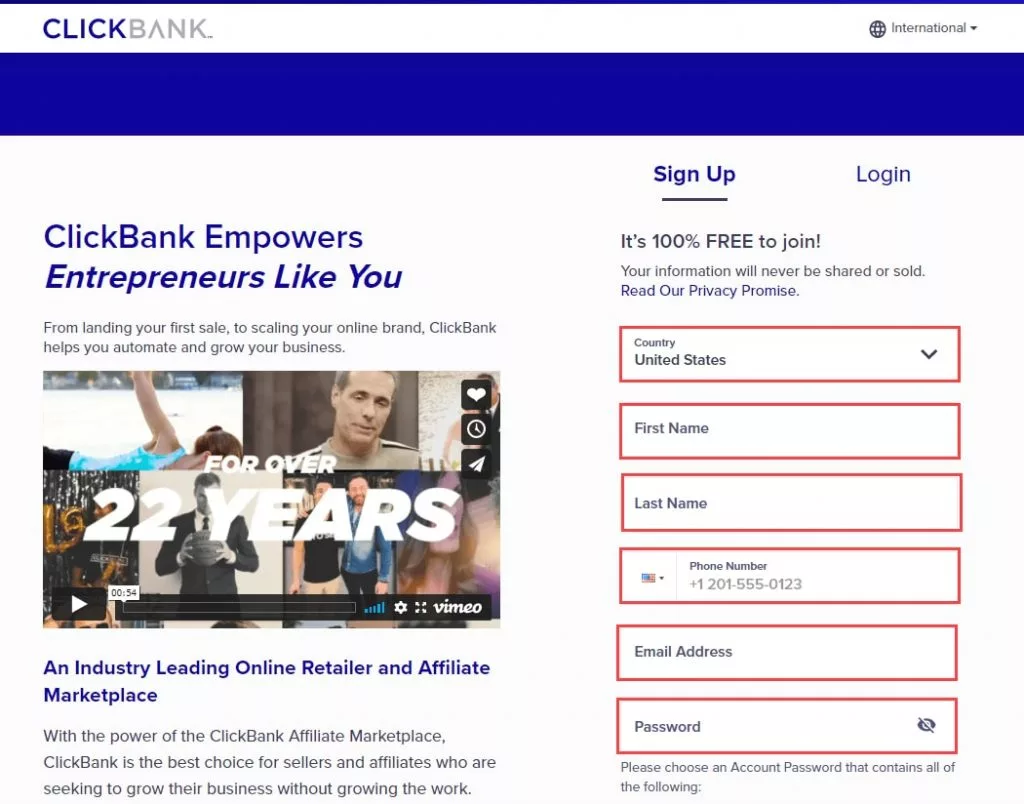 You'll be redirected to the account creation page. Here, you must enter the necessary information on the account creation form for ClickBank affiliate sign-up.
After you enter your name, phone number, and email address, you must set a password.
After filling out the form, you will need to click on the "Continue to Terms and Conditions" button to access the document.
You can either scroll all the way down or hit the "Go to bottom" link on the top-right corner of the pop-up and click on the "Agree to Terms and Conditions" button.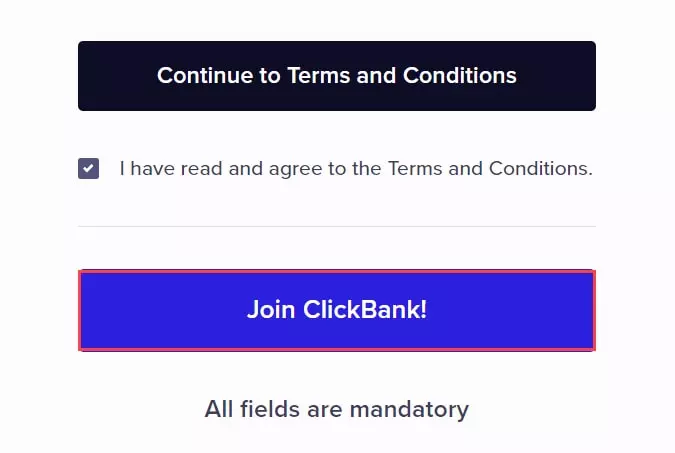 To officially create an account on the ClickBank affiliate marketplace, you must click on the "Join ClickBank" button.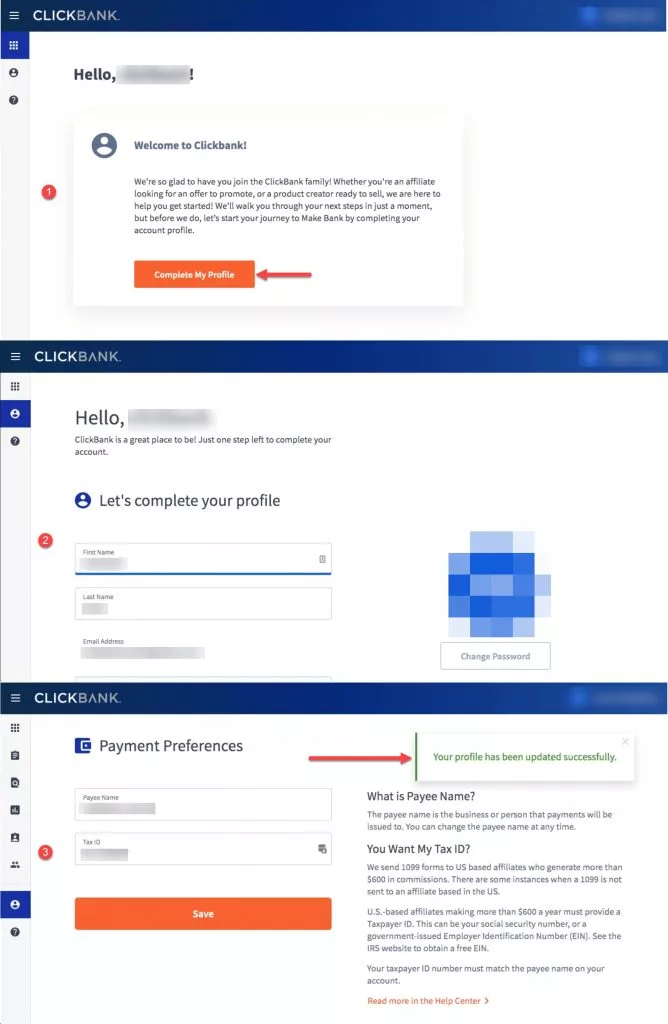 Your ClickBank affiliate account isn't ready to use just yet. You must complete your profile before you can use the account.
You can do this by clicking on the "Complete My Profile" button that appears after you first make your account.
If you accidentally close the page, you can click on the "Profile" button on the left panel to complete your profile.
You must then fill in your address, payee name, tax ID, and optionally a recovery email.
To complete your profile, click the "Save" button, and the website will notify you that your profile has been updated successfully.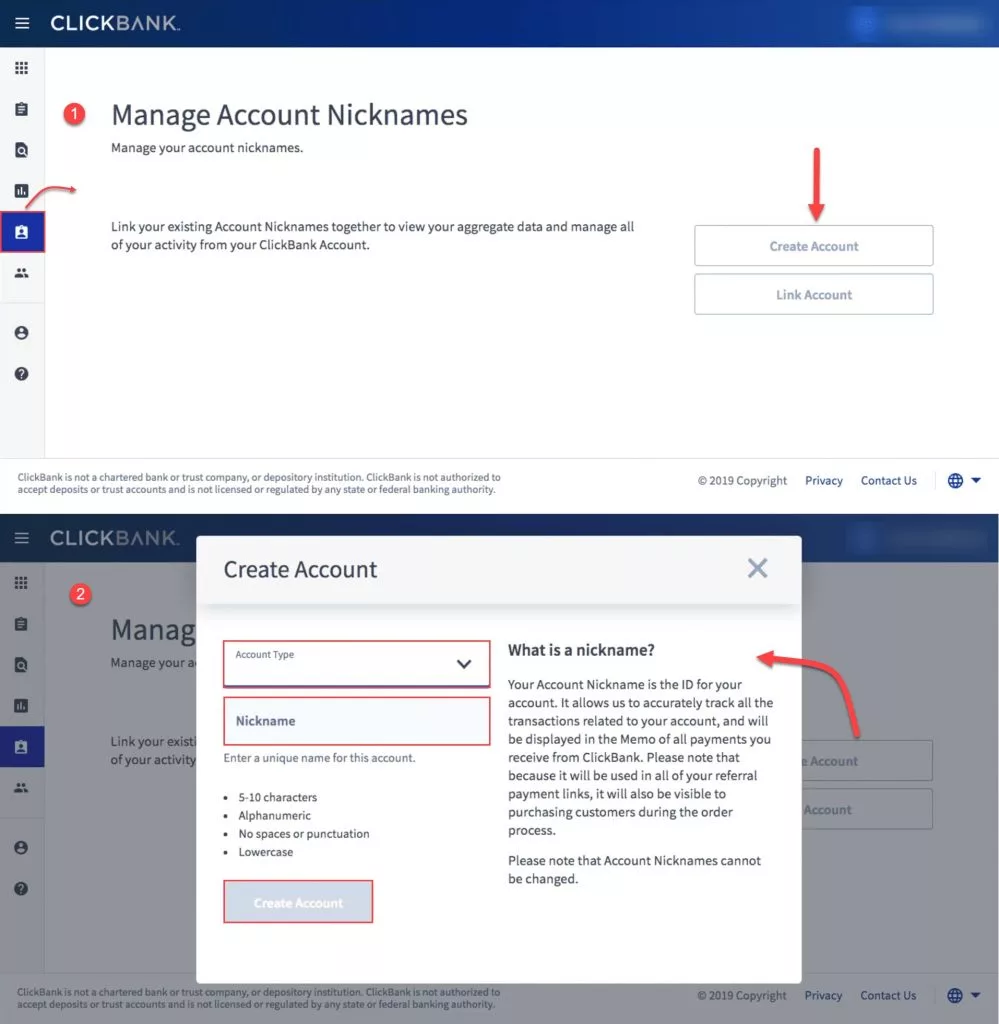 Before you can start online affiliate marketing with the ClickBank affiliate program, you must set up an affiliate account.
To do this:
Click on the "Accounts" tab on the panel on the left side of the page. You will then see the "Manage Account Nicknames" page.
Next, click on the "Create Account" button to open the account creation dialog box. You will see the "Account Type" drop-down with a couple of options. The different account types give you access to different ClickBank features:
Find and click the "Affiliate" option, and set a nickname for that account. Then hit the "Create Account" button to finalize your affiliate account.
ClickBank allows users to make multiple accounts, enabling affiliates to maintain separate accounts for promoting different products.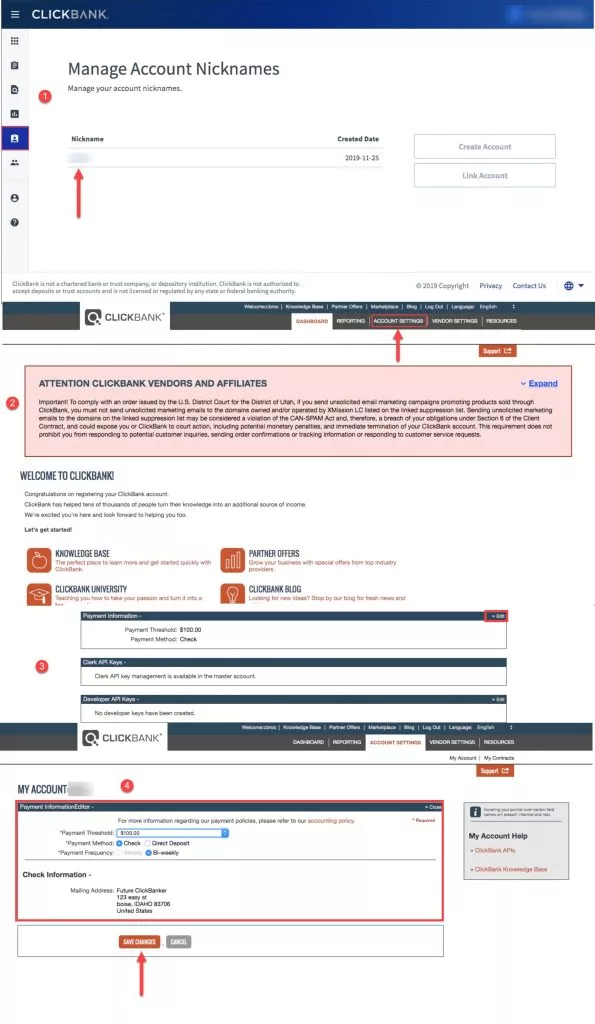 Clicking on your account's nickname on the "Manage Account Nicknames" page will redirect you to the operational portion of ClickBank.
Once you see the new page, click on the "Account Settings" tab on the horizontal navigation bar.
You will now see the "My Account" page. Here you can edit a variety of details connected to the account nickname.
Scroll down and locate the "Payment Information" section. Then, click on the "Edit" button on the top right corner of the box.
You will now see the "Payment Information Editor" page. You can update the account's payment details here.
And with that, the ClickBank affiliate sign-up process is complete. Your ClickBank marketing account is fully set up and ready to make money.
2. Understand How the ClickBank Program and Platform Works
Know the Meaning of Terminologies
The Filters and Attributes Section
Learning about the available filters and attributes is critical before starting ClickBank affiliate marketing. It enables you to find the right products to market quickly.
You can access filters and attributes on the left side of the listing results page.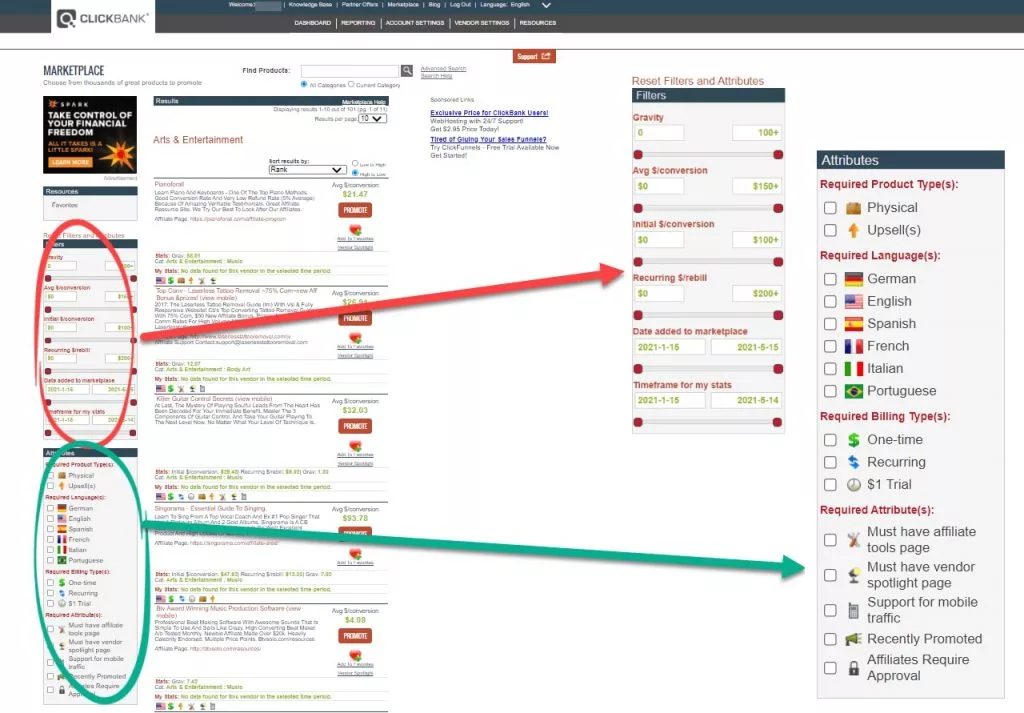 The attributes that you can filter results with include:
Other Terms
3. Choose Products on the ClickBank Affiliate Marketplace
Choosing the right product is critical for success in ClickBank marketing. You can use the many filter options provided on the left side of the results listing page to find the perfect product to market.
There are so many profitable niches out there but you must have the knowledge of that niche so that you can align with your audience and sell the products easily.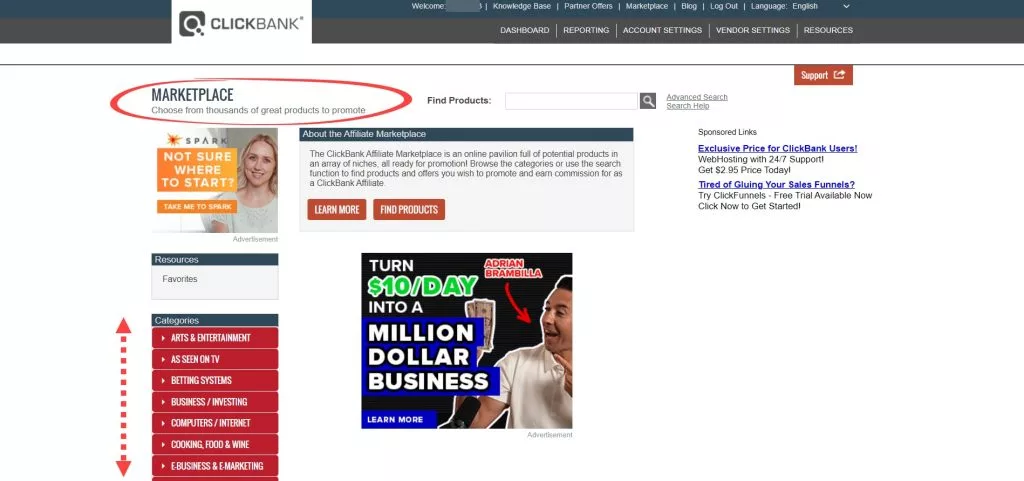 4. Examine the Quality of Products
The best way to examine the quality of products is to look for feedback on the product on the internet.
Every product has some negative feedback, but finding another product is the right move if you find customer sentiment to be excessively negative.
If you're struggling to find the right ClickBank affiliate program and product, get into the mindset of finding what you would buy yourself. If you would buy a product, you will find a way to make others buy it.
5. Obtain Affiliate Marketing Links
Obtaining ClickBank marketing links, or "hoplinks," as the platform likes to call them, is quite easy.
When you find a product that you want to try marketing on the marketplace, click on the "Promote" button next to it.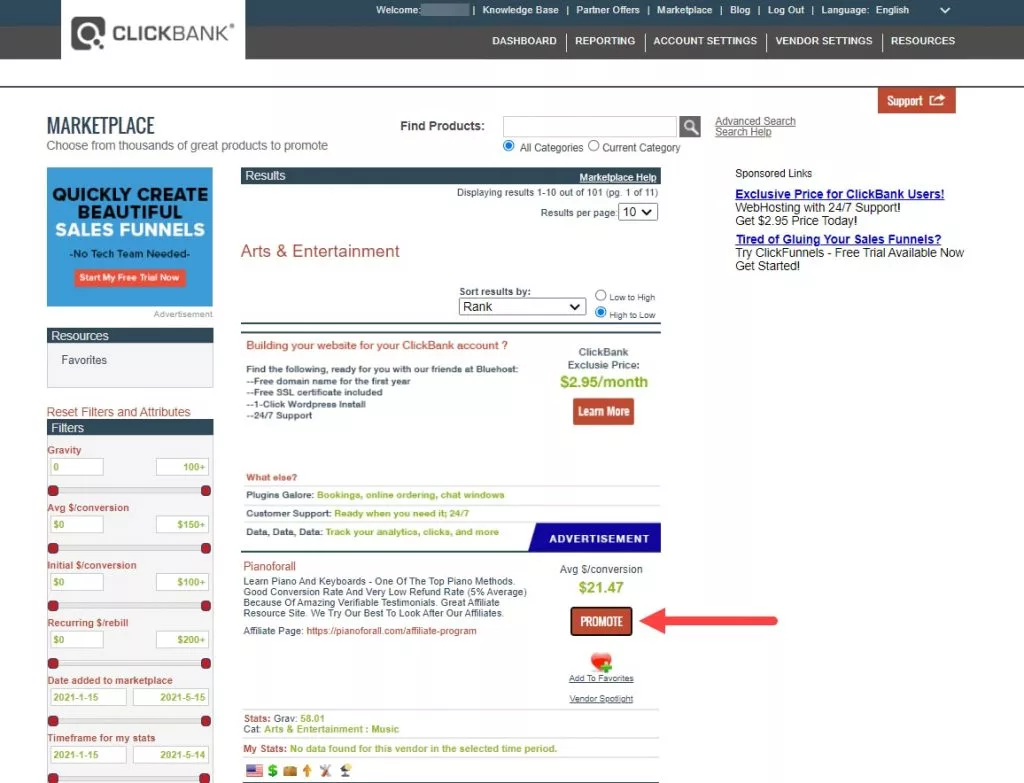 After you click on it, a new window will pop up, notifying you of the commission rate and prompting you to enter your nickname and tracking ID.
Post entering the right details, click the "Generate Hoplinks" button to obtain the online affiliate marketing links.
6. Promoting Your Affiliate Links
One of the best things about ClickBank marketing is that you don't have to make a blog and keep writing content for it to use the links and make money.
You could use any of the following means to promote your online affiliate marketing links:
Email lists:
A report by the Data & Marketing Association revealed that every dollar spent on email marketing reaps a return of $42. If you have an email list, promoting your ClickBank affiliate program links on it is an excellent idea.
Either you can build your own email list from scratch by creating some relevant lead magnets or your can use the platforms like Udimi where you can use someone's email list to promote your affiliate offers.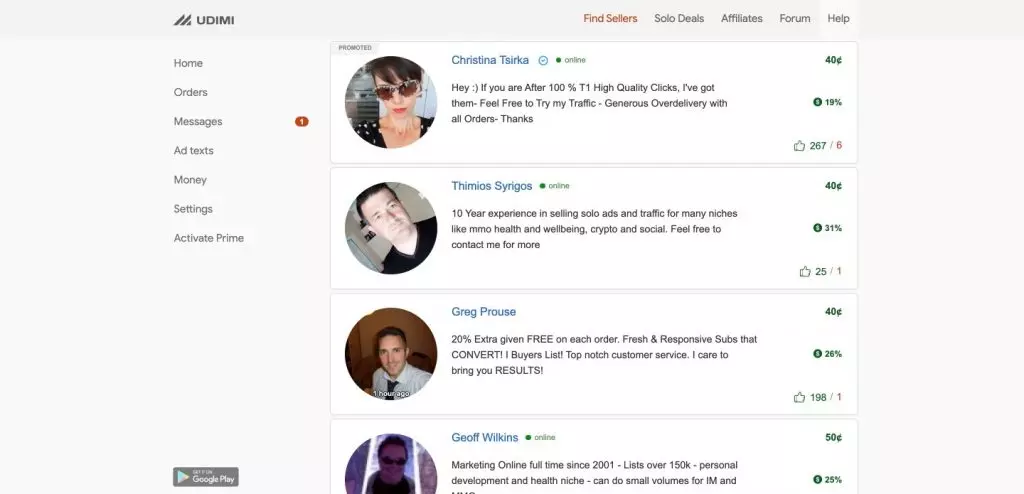 Pinterest
The image-sharing social media platform can prove the perfect spot to promote products in some niches.
Here are some of the examples where marketers are promoting ClickBank products with ease.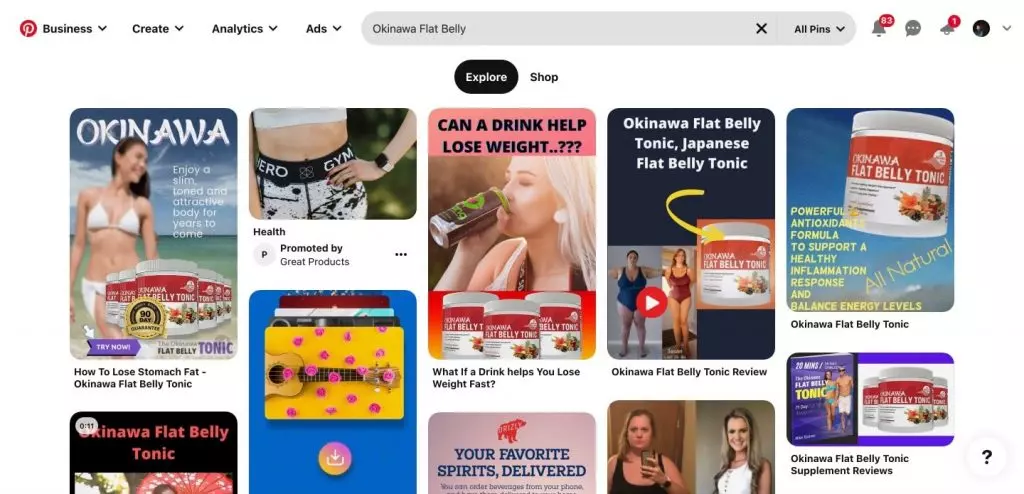 Just decide the product, create some graphics and you can promote them on Pinterest.
Facebook Ads
Running Facebook ads is a proven formula for selling products faster. Facebook gives you the freedom to target your audience easily.
You can show your ads to someone who is married, and have a car, and do frequent international travel.
With such a laser targeting options, you can create compelling ads and sell the products.
You can use spy tools like PowerAdSpy and find the winning ads to get the ideas.
Google Ads
Running a Google Ads campaign may seem like an advanced tactic but can work well for serious ClickBank marketing.
Many of the ClickBank advertisers allow brand bidding i.e you can run ads directly on their own brand name.
Here are 2 hot offers of ClickBank and you can see the number of Ads.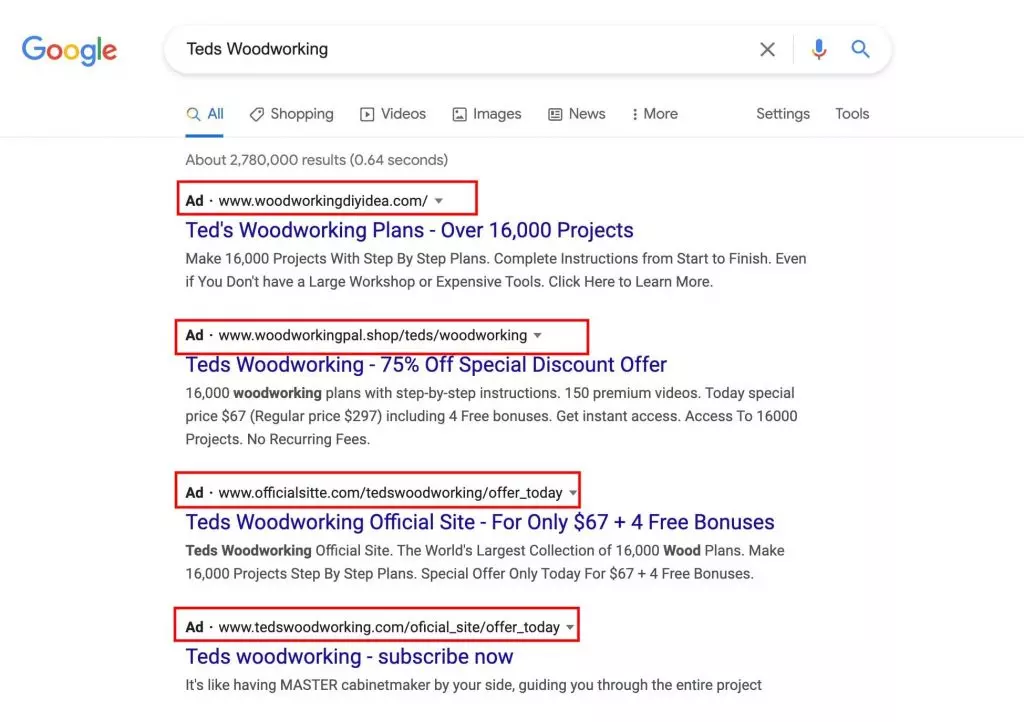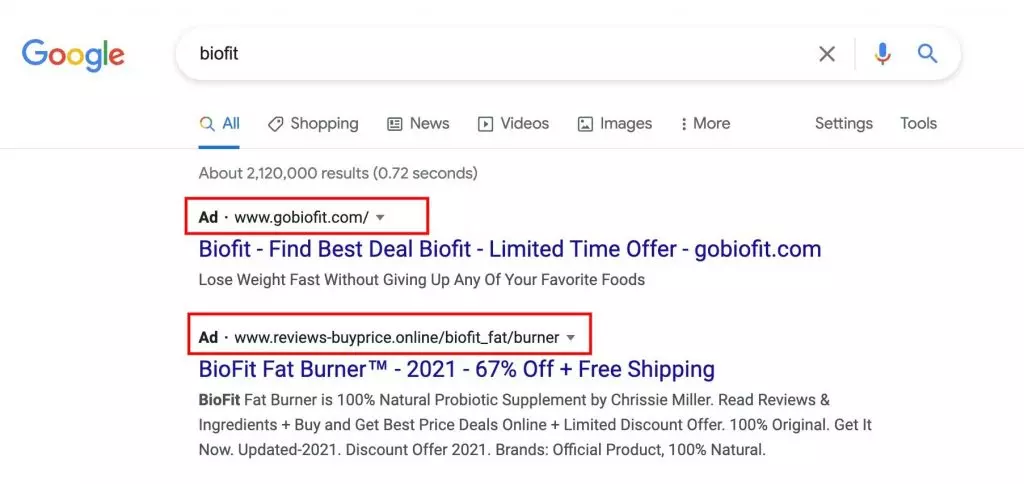 Native Ads
These are ads that users that search for relevant terms will see on YouTube, Gmail, and the Google app. Running native ads is a great way to target users that are already interested in what you're selling.
Anstrex is a great tool to spy good ads.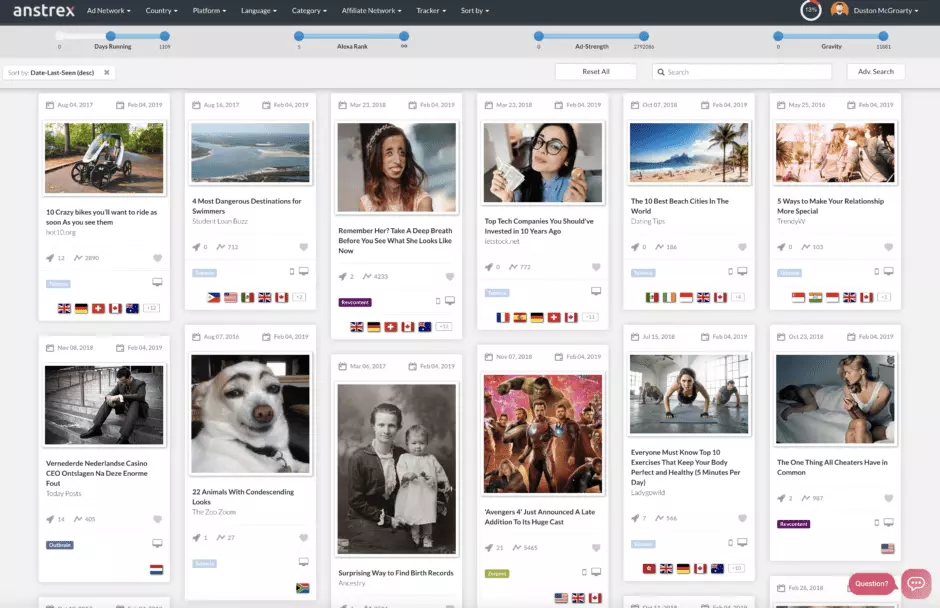 Reddit
If you find a subreddit related to your niche, you could paste a link to a landing page or relevant blog post that points to a landing page to drive traffic and make sales.
Your Website
Putting up ClickBank marketing links on your website or blog is a great way to direct traffic and makes sales, granted it has a decent volume of regular traffic.
You can either create a video by reviewing the product or create a relevant video where you can promote the products easily.
YouTube Channel
If you have a YouTube channel in a niche or are prepared to put in the work to make one, using relevant ClickBank marketing links could be a great way to make money.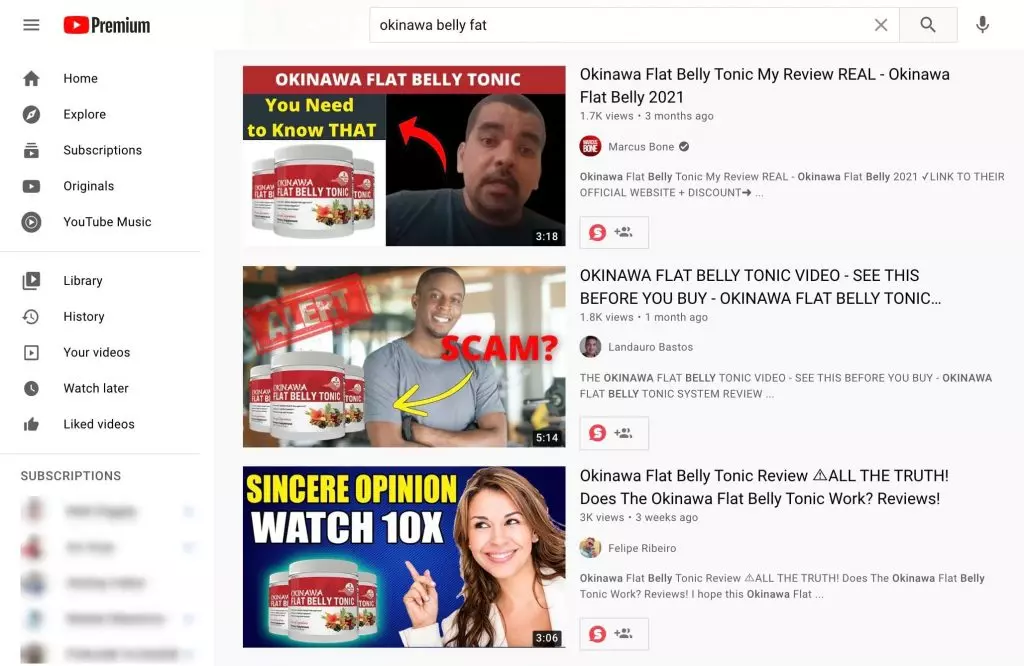 7. Withdraw Your Commissions from ClickBank
By default, ClickBank pays its affiliates via paper check. You can choose to receive your check on a weekly or bi-weekly basis, granted you meet the payment threshold you set.
The company pays all affiliates on Wednesdays.
Payment thresholds can be set between $10 and $1,000,000. You can change your payment frequency and threshold by visiting the "Payment Information" section under the "My Account" page.
Those enrolled in a ClickBank affiliate program can choose to receive payment by direct deposit, wire transfer, and Payoneer, too.
After you log in, navigate to the "My Account" page and go to the "Payment Information" section. Select the Direct Deposit radial button to change the payment method.
Fill in all the required details, save your changes, and you're good to go.
You will receive a confirmation email, and you must click on the link in it to confirm the change in payment method.
To get paid via wire transfer, you must navigate to the "Submit a Request" page and get in touch with a ClickBank representative.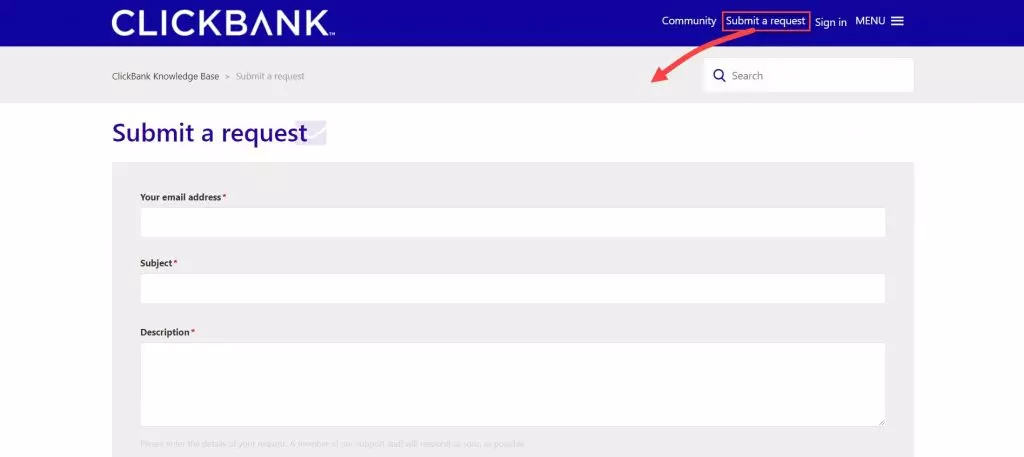 Bear in mind that while you can get paid via wire transfer on request and won't have to wait for Wednesday, it costs $35 to have ClickBank make you a wire transfer.
After you make a Payoneer account, you can change the payment method to Payoneer using the same radial button on the "Payment Information" page.
ClickBank Affiliate Marketplace Vs. Other Affiliate Programs
Huge Selection of Products
Affiliates on ClickBank get access to a selection of over 21000 products spread across over 270 categories. You can find the perfect product to market for the niche you're interested to market in the most.
Easy and Intuitive
The ClickBank affiliate sign up process is simple, and the interface is neat and intuitive. You'll never need to look hard to find a specific setting for your affiliate account.
High Product Commissions
You could earn as much as 70% of the product's price in commissions when online affiliate marketing with ClickBank.
Quick & Convenient Payouts
You can choose to get paid instantly via a wire transfer or wait till Wednesday for your payment to come through.
FAQs
While some doubt the platform because their efforts didn't translate to results, ClickBank is not a scam. Traffic sources, content quality, and competitor effort are only some of the many factors that affect affiliate marketing results. Just because ClickBank affiliate marketing didn't work out for someone else does not mean it won't work for anybody.
Is ClickBank affiliate worth it?
The high commissions undoubtedly make becoming a ClickBank affiliate worth it.
What's the Advantages and Disadvantages of ClickBank?
Pros
High commission rates
60-day cookies
Offers recurring commissions
Frequent payouts
Cons
Old-looking dashboard
More bogus products than good ones
Conclusion
Now that you know everything there is to know about affiliate marketing with ClickBank, all that's left for you to do is sign up and start making money.
I hope you enjoyed this informational article. I tried to cover everything related to how to do Clickbank affiliate marketing but still you face any problem please let me know in the comment section.