Disclosure: Some of the links in this article may be affiliate links, which can provide compensation to me at no cost to you if you decide to purchase a paid plan. We review these products after doing a lot of research, we check all features and recommend the best products only.
Affiliate marketing is just another form of marketing. Companies are doing marketing for ages and they have made a fortune by doing the right marketing, and by serving to the right audience.
The only different is – they did it offline and we are doing it online.
Only the medium has changed but the fundamentals are exactly same.
Serving to the right audience, understanding the human psychology, understanding buying behavior and persuading the people to buy are some of the basic fundamentals which are not going to change in the future.
So rather than shooting in the dark and waiting for the best affiliate marketing book would be a complete waste of time.
When I started affiliate marketing back in 2014, it was at a very nascent stage.
So I decided to pick some of the best marketing books, because I knew the fact that it's just a form of marketing and if I understand the basic fundamentals, I would start improving day by day.
Best Books to Improve Your Affiliate Marketing Skills
Here are some of my favorite books which you can pick and read.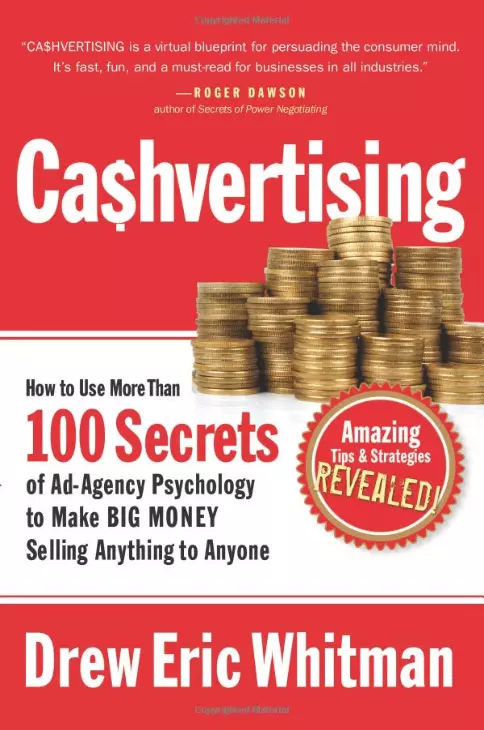 I bought this book in 2015, and read the most powerful methods in this book. This book is now one of my favorite books.
I was lucky to meet the author of this book in Barcelona, Spain and I attended his 60-minute live workshop.
In his book, Drew Eric Whitman turns you from a clueless reader to an advertising psychology expert.
The book does this by revealing the simple yet often unnoticed fact that people care about what a product does for them.
Ca$hvertising reveals the "Lifeforce 8" which are the desires that humans are wired to respond to, and also explains the several foundational principles of consumer psychology.
Learning to write persuasive copy is one of the most critical parts of successful affiliate marketing. No matter how good the product is, unless you can persuade a reader to buy it in ten lines (often less!), it won't sell.
The book also teaches you how you use fear to motivate a reader to purchase a product, which is one of the fundamental tactics of copywriting.
Drew beautifully describes the Transtheoretical Model that helps you understand the stages of consumer knowledge. Learning about it can help you turn an uninterested prospect into a regular buyer.
It is one of the top-rated affiliate marketing books – and for good reason. It teaches you psychology and shows you how to use it to your benefit in roughly 200 pages.
The book covers tactics that will make your copy persuasive and boost conversion.
It is short, easy to read, and supplies powerful insights, making it one of the best books to improve your affiliate marketing skills.
This book is mind-blowing.
The way Dan has explained the marketing concepts by doing live experiments in one of the best schools in the world like Harvard University, Stanford University is unbelievable.
Predictably Irrational also covers consumer behavior, but the books' approach is fundamentally different than Ca$hvertising.
Dan Ariely's New York Times Bestseller supplies insight into how consumers think and explains how consumers genuinely believe that they behave in rational ways.
The book then explains how these behaviors – buying decisions in specific – are neither random nor senseless. They are predictably irrational.
You will learn how the brain is wired to compare, and with Dan's many examples, understand how you can sell better leveraging this fact.
The book also teaches you that consumers feel an urge to avoid losses whenever possible and that your product only sells if the consumer sees it in context.
Towards the end of the book, Dan teaches you how you can gain more control over your decision-making, and highlights some psychological traps to which you fall prey.
It gives you a ton of insights that you can apply to improve your affiliate marketing strategy. No wonder it is among the top 10 marketing books on Amazon!
The nitty-gritty details of consumer behavior are highlighted in this 300-page book.
Familiarizing yourself with the consumer's mindset can help you position a product better and write a better copy.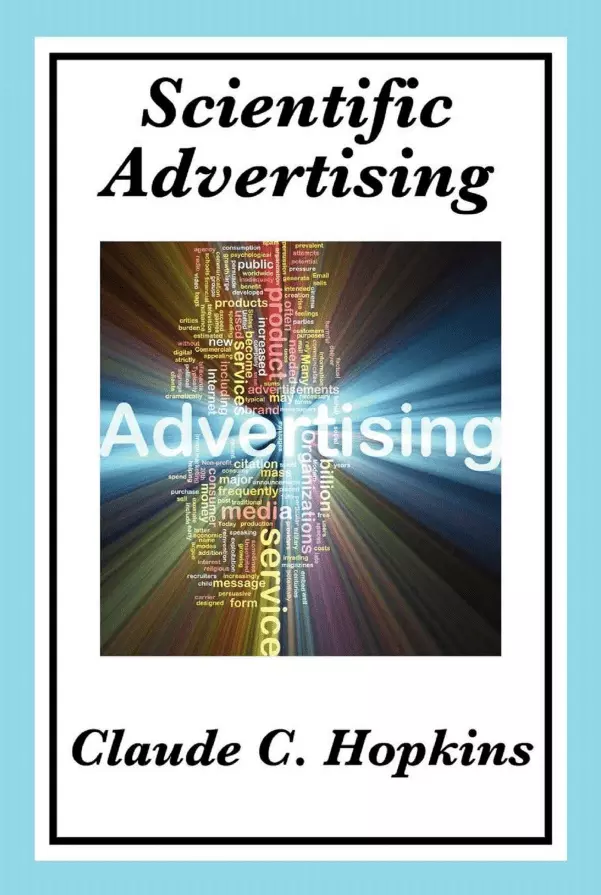 The book was written in 1923 – it is almost a century old. But the insights Claude Hopkins supplies still are very relevant, in fact, more so after internet marketing became a possibility.
Scientific Advertising is short – only around a hundred pages, but it is filled with hard facts that will make your copy a lot better.
Claude reminds you that the only reason for advertising is to make sales, and explains why guesswork in advertising can be a costly mistake.
You learn how big of a difference the right headline can make in sales and how to write a good headline.
The book teaches you the importance of being specific when advertising. Writing a copy with specific facts leaves a lasting impression on the reader. It will also help you understand why targeting a specific audience serves a lot better than targeting a general audience.
The book is packed with powerful insights and techniques – and I'd expected nothing less from the father of advertising.
Copywriting is part art, part science. Claude Hopkins will supply scientific insights and teach you how to control your artistry for better sales.
Chances are, you've heard of this book before.
Robert B. Cialdini's international bestseller helps you learn about the principles of persuasion.
The book is bound to help you write a better copy. Furthermore, the masterful author also teaches you how to identify the psychological tendencies of persuasion, which can protect you from being misled in your personal life.
It is a classic behavioral economics book, and while the examples used in the book may feel dated, the core principles retain their value.
Dr. Cialdini uses the evidence-based research that he conducted over 35 years to break down how influence works. The book highlights six mental shortcuts that you can use to persuade a prospect into making a purchase.
While it doesn't directly help you write a better copy, it teaches you the most effective ways to sell, which can help you improve your overall marketing strategy. It is one of the best books to improve your affiliate marketing skills.
The 300-page book teaches you the six universal principles of influence, all of which are backed by research.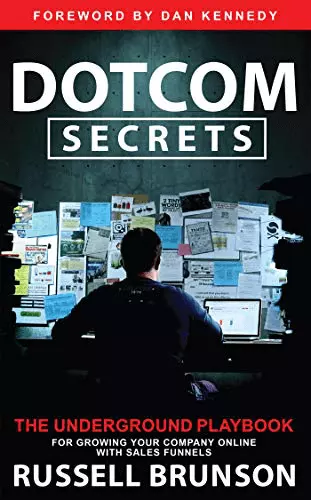 One of my friends recommended this book to me in 2017.
I ordered it immediately and started getting myself immersed in the learning.
Russell's fundamentals are billion-dollar fundamentals. The way he explained the funnels, the steps, the psychology of buyers, everything in this book is a complete game-changer.
In fact, I have made my own funnels by getting the ideas from this book.
Russell Brunson is an internet marketing expert and the co-founder of ClickFunnels. In Dotcom Secrets, he touches on how you can drive more traffic to your website and goes into detail about how you can make more sales.
The book first explains the importance of having an established value ladder for your site and teaches you how to build an effective sales funnel.
Russell also explains which email you should send at what stage of the funnel. He even gives you his scripts to help you maximize conversion.
The third chapter of the book is filled with details about funnels – including the different types, and details about which funnel works best in what circumstances.
Every marketer realizes how important offers and discounts are to conversion. Russell sheds light on the different types of offers and supplies expertly crafted email scripts that you can use in conjunction with discounts to increase conversion.
The last chapter of the book is insightful, but many readers report that since Russell explains the workings of ClickFunnels in it, the book ends up feeling like a sales pitch in the end.
But is that a bad thing? I think not.
You will learn to boost traffic and sales on your affiliate marketing website using funnels, value ladders, and email marketing.
Unlike Dotcom Secrets, Russell Brunson dives deeper into the mindset of a business owner and explains the critical workings of online businesses.
As I told, I was so much impressed by Russell and I implemented the funnels in my system. So I ordered his second book to get more insights about funnels.
At the beginning of the book, Russell delves into the mindset needed to build and run a successful business. He then guides you through finding your market, your niche, and carving out a spot in the ecosystem.
You will learn to build and sell information products, and then learn to leverage them to grow your existing company.
While the book supplies a lot of excellent insight and teaches you a fair bit about growing your business, many readers agree that there is not a lot of original content in the book.
Don't get me wrong, though – you will learn concepts, principles, and strategies that will hone your affiliate marketing skills.
If you're a beginner or novice affiliate marketer, the blueprint to marketing success that Russell lays out in his book can be invaluable.
You get a roadmap to building a successful online business.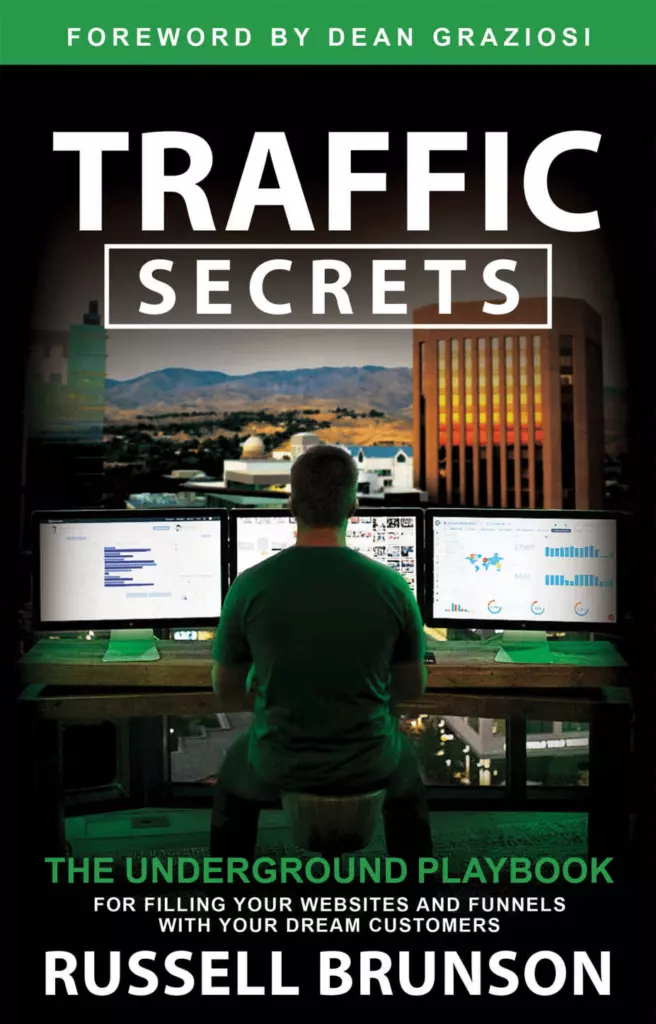 In his latest book, Russell Brunson aids you in finding your dream customers and getting them to buy products from your website.
He teaches you to create an avatar for the customer, and create a dialog with them to connect with them on a deeper level.
You will learn how to nudge your dream customers – not only into visiting your website but also subscribing to your email list. You will primarily be taught to attract traffic, both organically and inorganically using the "Dream 100."
Russell then dives back into sales funnels, and explains how filling your funnels is not as difficult as it seems. He reveals a handful of techniques that you can use to boost traffic and inevitably sales.
In the final parts of the book, the author gives you a crash course on growth hacking and teaches you how to convert traffic from your "Dream 100" into email subscribers.
By the end of the book, you will know how to make your site more discoverable and build and maintain a consistent stream of traffic.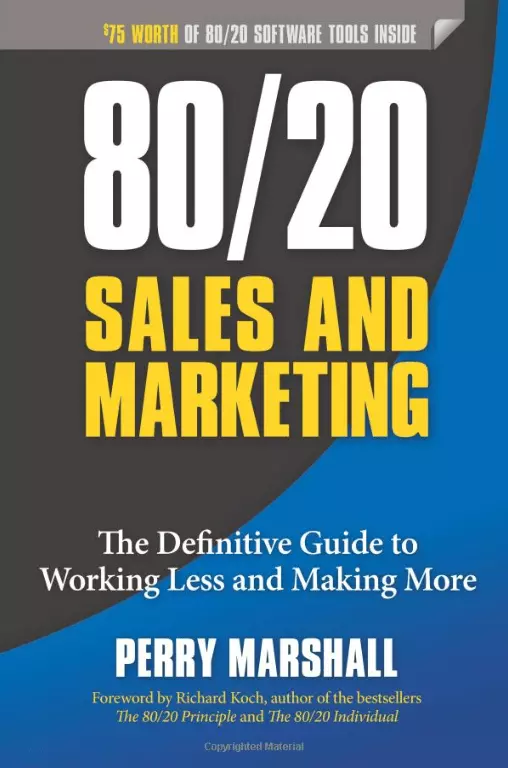 Perry Marshall guarantees that the 80/20 rule can demolish any sales and advertising problem. The 200-page book has zero fluff, gets right to the point, and teaches you how to work less and make more money.
By the fifth page, you will have learned to apply 80/20² and 80/20³ to boost profits 10- and 100-fold.
The 80/20 rule was first coined by Italian economist Vilfredo Pareto, which is why it is also called the Pareto principle.
Perry helps you understand how the principle applies to running an online business. The book will teach you to manage money and employee time with the 80/20 rule expertly.
You will also learn how to create a sales funnel with only a piece of paper, a pen, and a cheat sheet.
But that's not even the best part of the book.
Perry teaches you how to write a sales message, identify your USP, and expand your website's outreach using tools like AdWords and email marketing in a specific order.
The mastery with which the author condenses massive amounts of marketing advice into roughly 200 pages makes it one of the best books to improve your affiliate marketing skills.
You will learn how to apply the Pareto principle and use marketing tools to boost both traffic and sales.
Tim Ferriss's The 4-Hour Work Week is often the first book most affiliates read. It's not hard to see why.
The New York Times bestseller defines the new rich and helps readers free themselves from the shackles of the 9-to-5.
I read this book in 2013 and this book changed the way I used to think.
This book just opens your mind about the online world, freelancing, working from home, and a new culture in which we are living right now.
The book briefly touches on the 80/20 rule and helps you find the essential perspective and mindset needed for the dot com lifestyle. Tim then asks you to validate all your business ideas and tells you why it is critical to long-term success.
Going remote and working for yourself are some of the fundamentals of the new rich, and once you adopt the lifestyle, Tim will teach you to make the most of it and boost your income.
While the book isn't strictly about affiliate marketing, it does help you make marketing for a living easier by suppling helpful techniques and insights.
You will learn why being effective, not efficient, is critical to success, and how you can find and run the right business for a better life.
This book has the power to change your life completely.
Everything you see around you was once an idea. The plane, car, bulb, electricity, and almost everything were once an idea. But someone behind that idea was thinking so big that he/she created the magic.
You have the power to do the same magic of you start thinking big.
If you would ask me to pick one book from this list of 10 books, I would highly recommend picking this book first.
It is one of the most popular personal development books out there. But what makes it a must-read is David Schwartz's almost poetic way of delivering advice.
One of the most important keys to success with affiliate marketing is staying consistent and facing your financial fears, and the book covers a lot more than just that.
The book is relatively short at 300 pages, but the value it packs has helped tons of affiliates believe in their skill and attract success.
You will learn why belief is just as crucial as marketing skills and how you can cultivate it.
With that, you're acquainted with the best books to improve your affiliate marketing skills.
These reads will not only make you a better marketer but are bound to make you happier in your personal life.
Enjoy!