Disclosure: Some of the links in this article may be affiliate links, which can provide compensation to me at no cost to you if you decide to purchase a paid plan. We review these products after doing a lot of research, we check all features and recommend the best products only.
The affiliate marketing industry's worth is a whopping $12 Billion.
If you are a blogger, not dipping your hands in the affiliate marketing water can effectively cut you off from making a good income from your blog.
But doing a rough google search will make you realize that there are tons of affiliate programs that you can promote as a blogger.
These varied options can lead you to a path of wasting your hours exploring the 8th page of search engine results. To make your job easy, we have compiled a list of ten fantastic affiliate marketing programs that you can trust upon.
What should You Look for in An Affiliate Program?
Choosing anything among a bunch of options can be challenging.
By using a checklist of preferences, you can narrow down among the options given.
While we all have different tastes and preferences, there are few things that everyone should check out to get the best out of an affiliate program.
1. It should Offer You Resources and Tools
A good affiliate program will offer you help in the form of banner images, testimonials, guides to set up, and other creatives that you can make use of. These can come in handy when you are trying to run a marketing campaign.
2. Proper Analytics Tool
In blogging, like in any other business, it is important to keep tabs on progress, especially in the form of numbers.
With the help of analytics tools, you can see how your marketing campaign is working whether people are buying the product or not, how many people are clicking on the ads, etc.
3. Good Cookie Life
The cookie life is essentially a period when you will get a commission for every purchase your referral makes.
For example, if the cookie life is set to 24 hours, you will get a commission on every purchase that happens within the 24-hour time window through the link that you have provided. But you won't get any commission for any purchase that takes place after that.
Other essential things that you should look out for
Now that you know what to look for and what makes an affiliate program good let's jump right into the list.
Here are 20 Best Affiliate Programs for Bloggers in 2023
Almost everyone knows about SemRush, mainly digital marketers. They have made a name for themselves through the brilliant SEO services they provide.
SemRush has its affiliate program, BeRush. Since SemRush is a subscription-based model, you get paid based on that. You get a 40% recurring commission on a referral's subscription, which lasts for a lifetime. This roughly translates up to $160 per month/per referral.
To top it off, they also offer you a 10-year cookie life. Cookie life means for that specific amount of time when there's a link between the affiliate and the visitor.
For every new thing the visitor buys, the affiliate will get paid within that time window only. This time window is tracked through a file called cookie stored on the visitor's computer.
Even if your referral canceled his or her subscription but then went on to repurchase it within ten years from the first date of subscribing, you will still get a commission.

It would be the logical step for a company with the most extensive product offerings to have an associated affiliated program.
You can promote a large and diverse number of products from Amazon. From electronics to food, the list is never ending. The only thing that can make you confuse is that Amazon offers commissions at slabs, i.e. it offers from 1-10% commission on different products.
So you might want to research a bit and find out which one gives you more profit and promote it accordingly.
One reason why you should use Amazon Affiliates is that people trust the company. It can happen that when you want your users to purchase something, they might get discouraged paying to websites they hear for the first time.
This is where the brand Amazon works very well. They have worked very hard to build trust.
Amazon also has an Amazon Influencer Program for people with large followings on social media channels. Along with the affiliates program benefits, you get your own Amazon page to recommend products.
HubSpot is a service that aims to make organizations streamline their processes and grow efficiently. You should keep HubSpot at the top because it offers you one of the best affiliate pay-outs.
They offer different type of products, and accordingly, you will have various slabs of commissions
Starter ($250)
Professional ($500)
Enterprise ($1000)
Mind-blown?
Here's more. This slab is based on individual products. If the user decided to buy more products, such as the Enterprise suite, you get up to $3000.
After you join their affiliate program, they offer you banners, copy examples, and videos to better market the product. One can quickly get in touch with the affiliate team ready to help you at every corner.

Dropshipping has been the buzzword for a new niche to look out for in the past 2-3 years. In dropshipping, you display the product on the website.
But you don't have it in stock. Once the user buys the product, you order it from a 3rd party website and ship it to their address.
For such websites, you need website builders which are both easy-to-use and gives you customizability options, which Shopify offers.
It gets better for the affiliates. You get a 200% commission on monthly subscriptions (up to $2400). If the referral purchases a Shopify Pro account, you get a $2000 bounty!
Shopify undoubtedly pays you handsomely for every sale you drive, but the only drawback is that it can be a very niche market to whom you can pitch your product.
But as an affiliate of Shopify, they provide you with materials and support to promote their products.
AffiliateBooster Affiliate Program
The last year has made websites like Coursera popular. No longer can students go to schools and colleges more and more folks are relying on websites like Coursera to sharpen their skills.
Coursera provides tens of hundreds of courses that you can promote as an affiliate. It is powered by the Linkshare network and offers affiliates between 20% to 45% commissions. They also offer you bonuses if your performance is good.
The courses are priced between $29 and $99. Coursera also provides you with banners and a weekly newsletter to help you choose products and promote properly.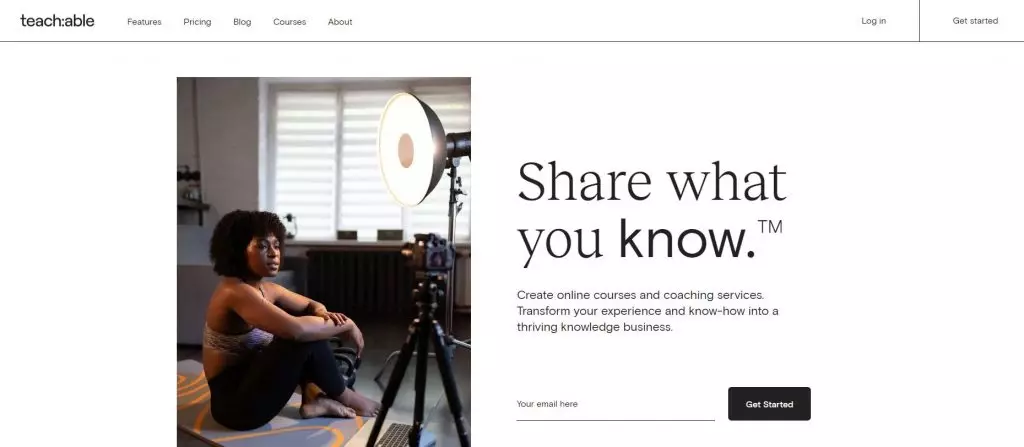 On the flip side of the coin, you have teachable which helps you to create online courses. It's an excellent service, endorsed by industry giants like Pat Flynn.
Over 186k courses have been made using Teachable, so it has been backed by many users who have made courses in domains such as cooking, sports, etc.
Their commission program is a recurring one, offering you a 30% commission on plans ranging from $29 to $499 per month. So, at best, you can expect up to $150 for each sale per month.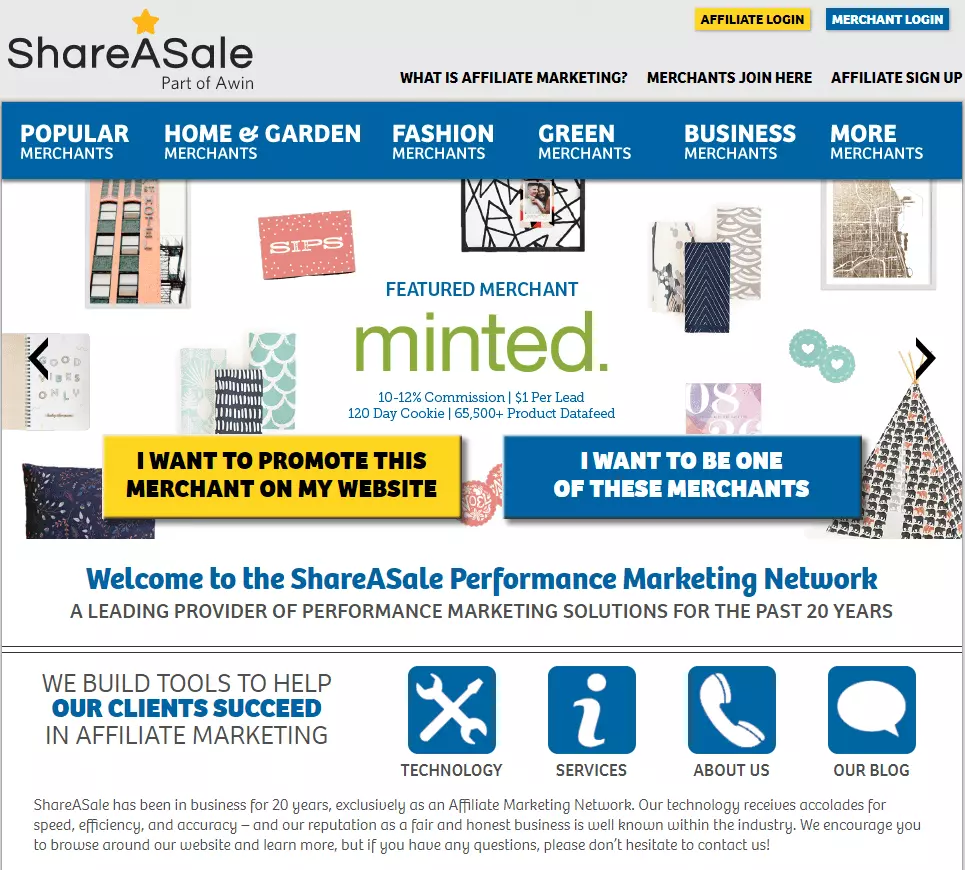 Share-A-Sale is a very well-known affiliate network trusted by many. Like the Amazon affiliate program, it houses merchants, small or big, with over 4000 merchants selling different digital and physical products.
You have to apply to each merchant individually. With the help of a dashboard, you can track different merchants, statistics, and links.
When it comes to promoting, on the digital side, you can promote WordPress themes and plugins. On the physical front, you can promote products from big brands such as Reebok.
It offers you many products from which you can find at least one to promote on your website.
Another worthwhile affiliate network is CJ Affiliate, formerly known as Commission Junction. It has over 2500+ merchants selling both digital and physical products.
Some of these companies include Grammarly, GoPro, and Office Depot.
Like Share-A-Sale, you get a dashboard from where you can easily control your links and keep track of the sales. Although the dashboard is comparatively more challenging to use than Share-a-sale, you can easily master it with time.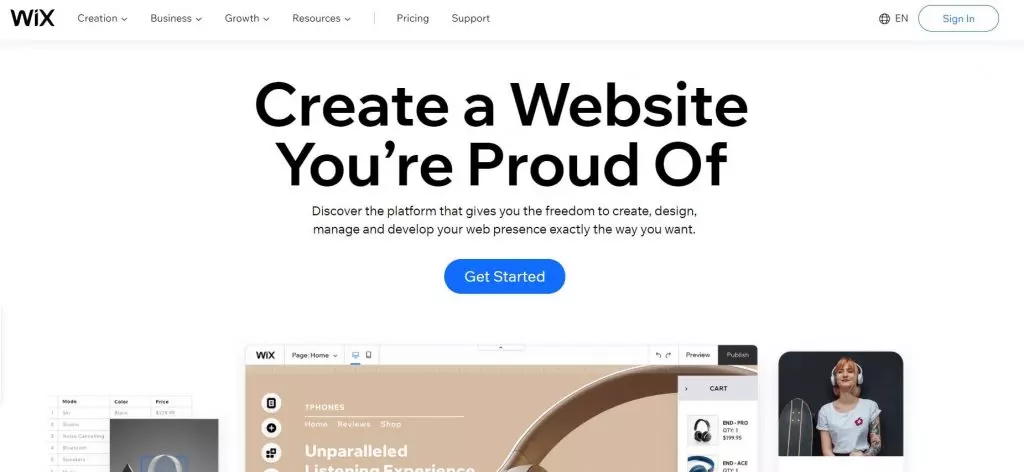 You must have come across Wix's advertisement on YouTube. They are a popular website building service that offers handsome commissions on the sale.
For every Wix Premium subscription, you get $100. Usually, some of the affiliate programs have restrictions on the number of people you can refer to this is not the case with Wix.
They also provide you with banners and other content to help you get sales.
One drawback of Wix is that you can't withdraw money into your bank account unless you get a minimum of $300 sales per month. All of your earnings will stay in your Wix account before you hit that sales target.
If you are getting good traffic across a well-paying demographic, you should consider Wix as an option.
LeadPages helps you build stunning-looking landing pages which are easy to customize. Landing pages help you collect information about your users and increase the conversion rates as well. For that purpose, LeadPages are highly rated.
Like others, LeadPages also offers its affiliate program. The only drawback is that you can only work as an affiliate if you are a LeadPages user.
In a way, they are making sure that people who have tried the product are genuinely recommending it to others.
They offer you recurring lifetime commissions of up to 50% per referral. The membership starts from $25 to $200.
You get all the pre-requisites, such as banner and sidebar images. They also run special campaigns, under which you get big bonuses for earning a selected number of new referrals within a period.
It is an online service that helps you with your email marketing. Big and small companies use it to increase their customers using forms, drip campaigns, and landing pages.
Although the product is targeted towards existing users of ConvertKit, anyone can join the affiliate program of theirs.
The commission rate is lifelong 30% commissions for every referral-paying customer. Their plans cost between $29 to $2000+ per month. So, it has a lucrative money-making potential.
AffiliateBooster Affiliate Program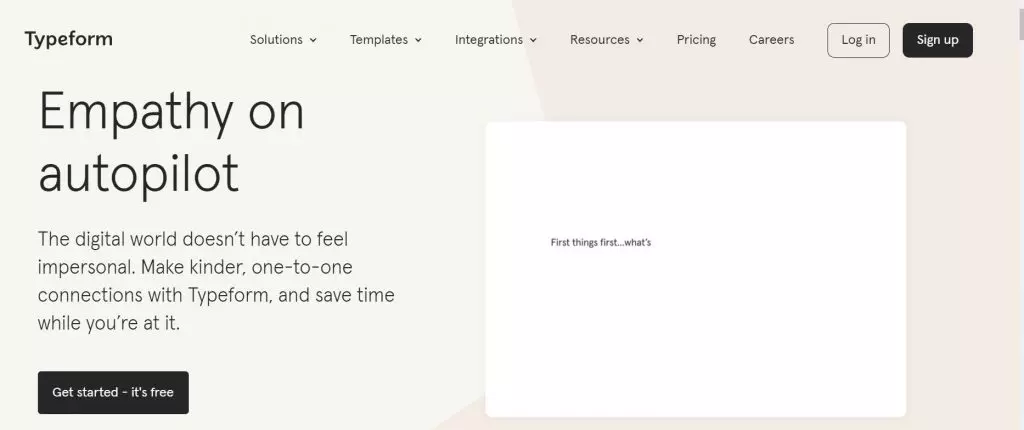 Typeform helps you create beautiful looking forms and surveys that can help you understand your customer behavior. They are one of the best when it comes to making contact forms and user satisfaction surveys and might come in handy to your website.
We say this because, unlike others, they don't offer you a commission. Instead, you get a 10% discount on your subscription. So, if you manage to get ten referrals, your entire subscription will be free.
Even if you do not manage to get ten referrals, let's say only get one referral. In that case, the discount you get (i.e., 10%) will be applied to your subscription for a lifetime.
It is primarily an email marketing tool, but it offers other advanced functionalities as well. You can create Facebook and Instagram ads, automate your email marketing campaigns and send follow-up emails to your customers.
From their side, you get all guides, banner images, and a customer support team to promote the product. Because of their services, big companies like Shopify and WordPress make use of Constant Contact.
For each referral who signs up for a free trial, you get $5. And, if your referral becomes a customer of Constant Contact, you get $105.
Fiver is a marketplace of gigs. If you want a content writer, graphic editor, or videographer, you can find it here.
You can mainly promote two types of products: Fiverr CPA and Fiverr Hybrid. Under Fiverr CPA, they have a slab of commissions for different services ranging from $15-$50. Then there's Fiverr Pro under Fiverr Pro, which gives you a flat commission of $150.
Under Fiverr Hybrid, you get a fixed $10 for the first gig that the referral purchases. After that, if your user buys any other gigs within the next year, you will get a 10% commission on that.
Then there's also Fiverr learn where they teach you how to write, graphic design, etc. which offers you a flat 30% commission on every order.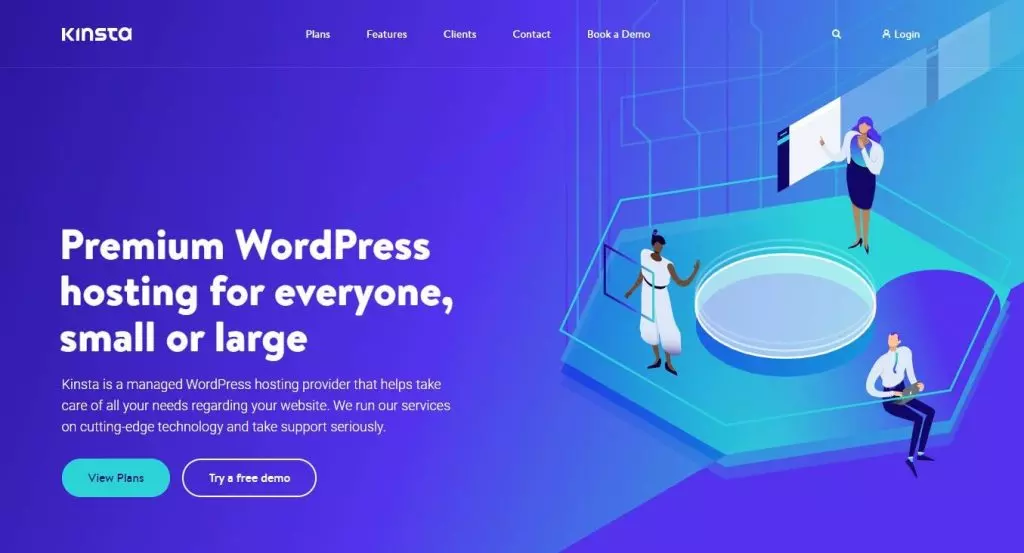 Kinsta is a WordPress hosting platform, which is undoubtedly one of the most popular ones you can get your hands on.
It was started by many WordPress developers who thought they could do things differently and provide a hosting service that is better than the other offerings.
They have different plans and accordingly have different commissions:
Starter: $30
Pro: $100
Business: $150
Enterprise: $500
On top of that, you get a recurring 10% commission per month for the subscription your referral has chosen. Considering Kinsta has a good retainability rate, you can earn a good amount over a long period.
Bluehost has been a player in the hosting business for a very long time. It provides you reliant and efficient services when it comes to hosting your website. That's the reason why Bluehost powers more than 2 million websites worldwide.
One of the best things about promoting Bluehost can give you anywhere between $65 to $130 per sale, a handsome figure.
Other services like a dashboard to keep track of links and dedicated support staff is provided. And, you can sign up for it for free.
HostGator offers you web hosting and website building tools by which you can quickly build websites in minutes. They were one of the first ones in hosting, providing hosting services since 2002.
They have a tiered pay-out system at minimum, if you can provide them with 1-5 signups, you get $65 per sale. At maximum, if you can provide them with more than 21 signups, you get $125 per sale.
WP Engine powers a good number of websites, and a good reason for that is that you can build fast loading websites in minutes with it.
Their affiliate program is run on the Share-A-Sale network. You can get $200 or 100% of the referral's first-month payment, whichever is higher, as a commission for promoting their plans. 
One thing that makes them stand out is promoting their affiliate programs to other affiliates, and you can get a commission as well! In that case, you will get $50 per referral.

Aweber is a well-known email autoresponder used extensively by companies big or small for their email campaigns. It has earned a good name for its service, being in business since 1998.
As an affiliate, you have two ways to earn money
Through CJ affiliate (the one we mentioned earlier), you can get up to $300.
Through their program, which offers you 30% monthly commission for a lifetime. They have plans ranging from $20 to $150 per month.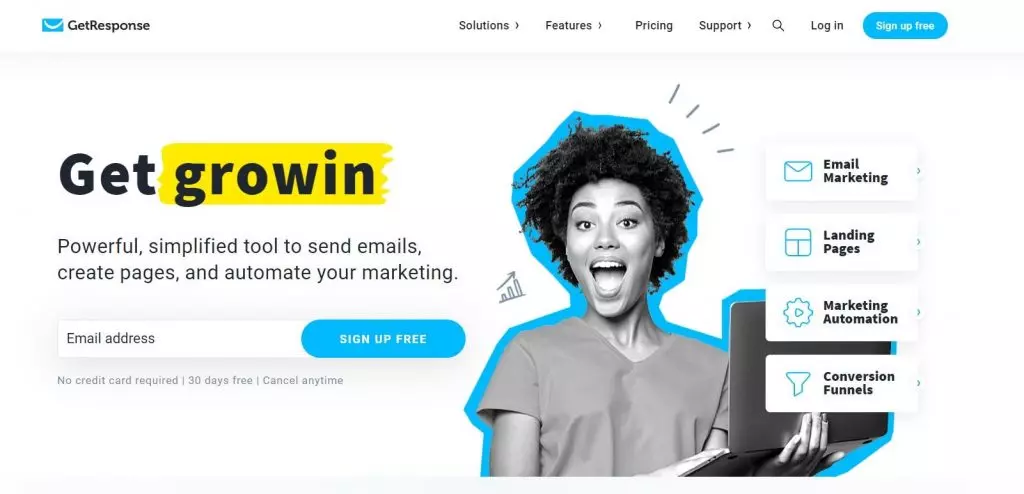 GetResponse is similar to Aweber, as it helps you do email marketing, create landing pages, etc. It also works as a CRM tool, which can come in handy to retain your customers in the long term.
It has two options for getting commissions
Through CJ Affiliate, you $135 per sale.
Through their program, which offers a 33% recurring commission monthly. Plans range from $15 to $1200, so you can make a good amount of money every month.
21. Bold Desk
BoldDesk is an exceptional cloud-based customer service software that performs outstanding customer service operations. It has powerful help desk features, such as a ticketing system, knowledge base software, generative AI-powered features, canned responses, CSAT surveys, workflow automation, and SLA management.
These capabilities enable support teams to execute their tasks effortlessly and automate their manual, repetitive tasks. BoldDesk is your assurance of achieving a 100% customer satisfaction rate and delivering an exceptional customer experience!
Commission Rate: 30% for the next 12 months upon client subscription
Cookie Duration: 90 days
 Best Feature: Ticketing System and Knowledge Base Software
Signup: BoldDesk Affiliate Program
Conclusion
I hope you enjoyed Best Affiliate Programs for Bloggers. Now is all left to you. You can pick two to three best affiliate programs that you like do a little bit of research by yourself sign up for that affiliate program and start earning.
If you facing any problem regarding any affiliate program, you can ask me in the comment section. I will answer every comment.
AffiliateBooster Affiliate Program