Disclosure: Some of the links in this article may be affiliate links, which can provide compensation to me at no cost to you if you decide to purchase a paid plan. We review these products after doing a lot of research, we check all features and recommend the best products only.
Within the last few years, the idea of traditional education has shifted dramatically. Being physically present in a classroom is no longer the only way to learn – at least, not with the growth of the internet and new technologies.
Nowadays, as long as you have access to the internet, you can gain a quality education anytime and wherever you choose. As a result, we've reached a new era: the revolution of online education. Many experts have started launching their courses online and online learning platforms are getting popular.
Digitalized courses are one of the most effective ways to build your product and earn money while you sleep. But, of course, if you are expertise in a specific field, you should create your online course and profit.
However, if you want to share your skills and get in on the action but aren't sure where to begin or what the ideal software option for creating an online course is, then this article can assist you in achieving your goals.
We hope to shed some light on that for you with this Thrive Apprentice review.
What is Thrive Apprentice?
Thrive Apprentice is a WordPress LMS plugin for creating clean, easy, organized, and adaptable online courses and modules. It's a good course builder for making quick and easy online courses with a lot of responsiveness, engagement, and interactivity.
Growing up online, Thrive Apprentice is similar to having a personal instructor or coach.
The Thrive Apprentice add-on is part of the Thrive Themes plugin suite. This plugin allows you to build digital courses and serves as a learning management system.
Thrive Apprentice can be purchased separately or as part of a subscription package that includes:

Thrive Apprentice is a WordPress LMS plugin for creating clean, easy, organized, and adaptable online courses and modules.
Product Verdict
Pros
Thrive Architect allows you to create your courses with as much customization as you like.
 Make as many courses as you want.
It's easy to use, unlike a Learndash, which is more complicated and bulky.
With Thrive Leads integration, you can quickly sign up a user for your courses.
With their new SendOwl integration, you can accept money and secure your courses without using a membership plugin!
SendOwl also has some beautiful features built-in, such as an affiliate network and built-in upsells/ abandoned cart.
It is a standalone option; it is straightforward and will work with any theme.
Cons
The SendOwl integration is incredibly promising; however, it is still in the early stages of development and requires some refinement.
There isn't a built-in payment system.
Only works with three membership plugins and one third-party sales platform, SendOwl.
How does Thrive Apprentice work?
How to Install & Configure Thrive Apprentice on Your WordPress Site
Before you can begin working on your course, you'll need to install the Thrive Apprentice plugin on your site. You'll need to buy a Thrive Suite plan and install the Thrive Product Manager to do so.
Then, in your WordPress dashboard, go to the Product Manager. It will lead you to a page to activate and manage the Thrive items you want to utilize.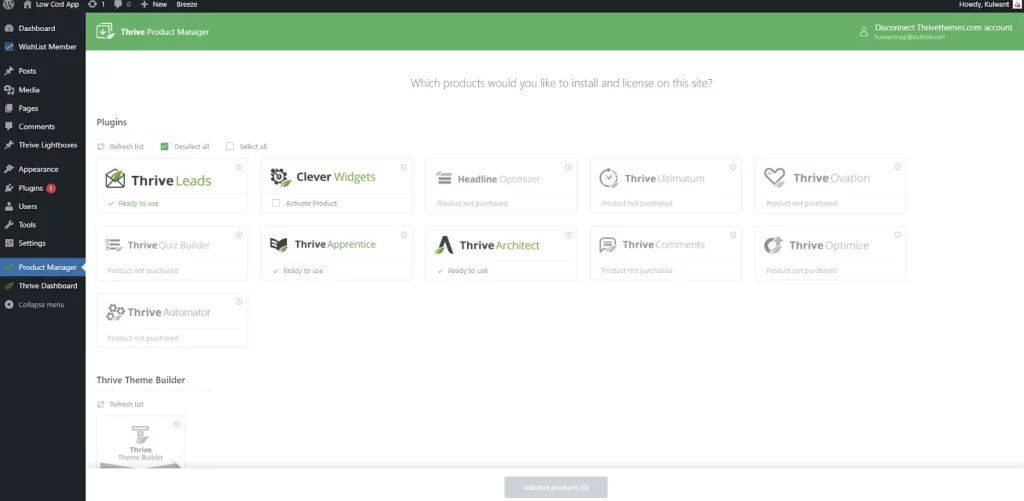 Check the box next to Thrive that says "Install Product," then click the "Install Product" button at the bottom of the screen. If you wish to put quizzes on your courses, you'll also need to install the Thrive Quiz Builder.
Steps to Use Thrive Apprentice to Create a Course
Go to your Thrive dashboard and select 'Apprentice Dashboard' to create your first course.


It will send you to a page where you can see your courses and get to the essential aspects of Thrive Apprentice. Then, select 'Add New Course' from the drop-down menu.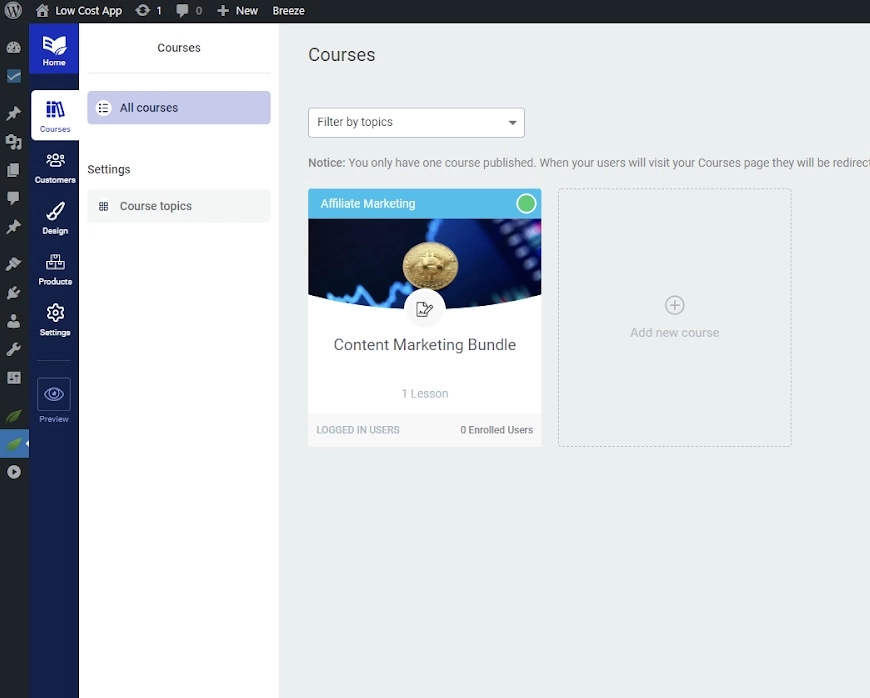 It will bring up the course builder. You can edit some significant parts of your course in the first area, where you can add a suitable title in a box across the top and customize some critical aspects of your course: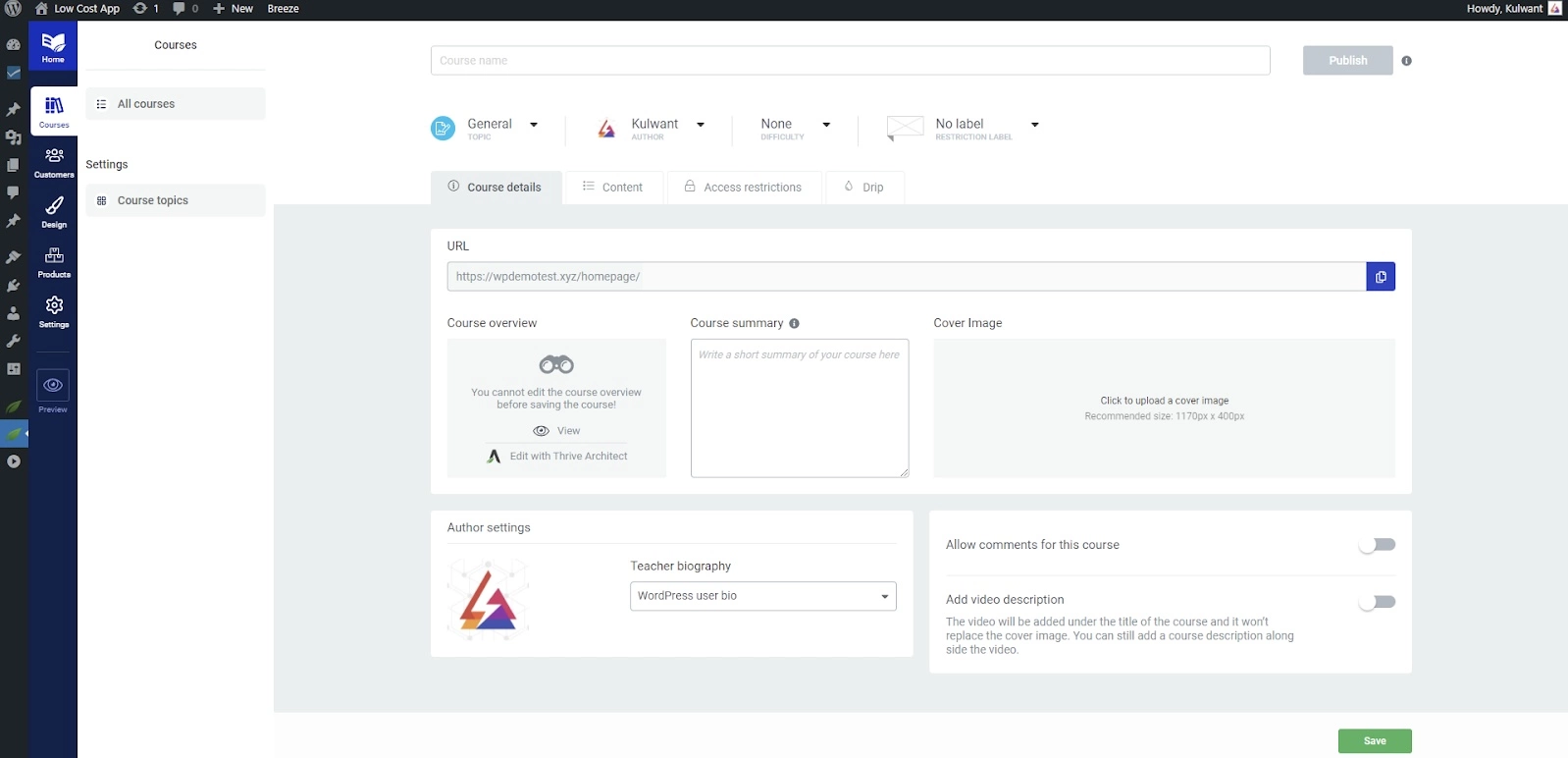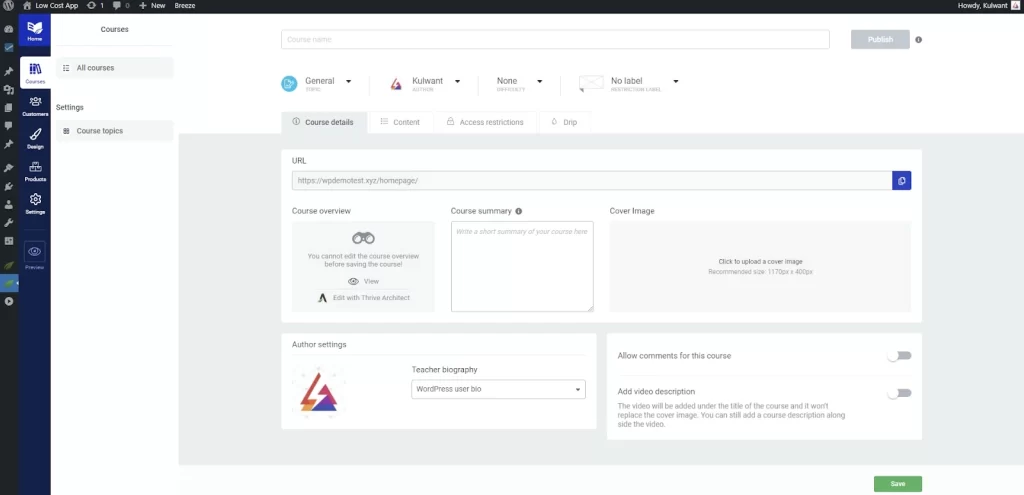 You can browse, organize, and add to your course outline in the' Content' section. It's worth noting that Thrive Apprentice allows you to manage your lessons into modules for better course structure.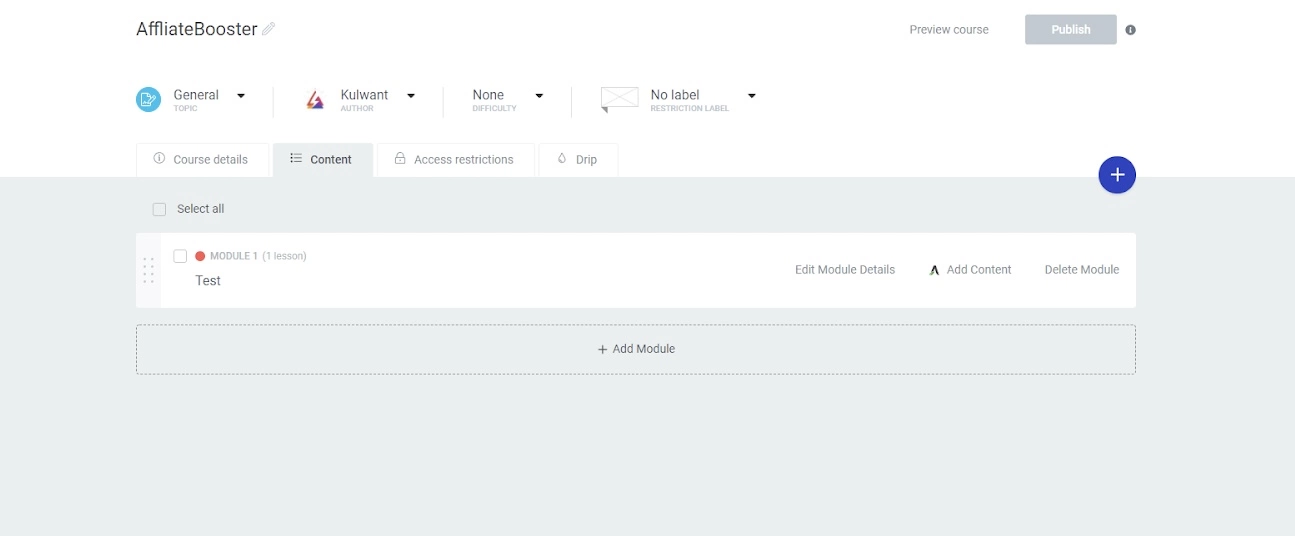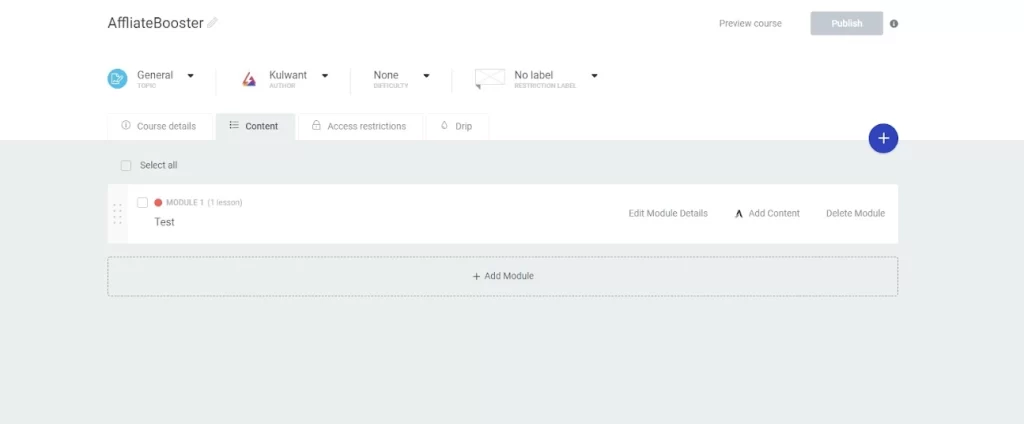 Access Restrictions
The course builder's 'Access Restrictions' section can control who access the course. For example, you can restrict access to Thrive Apprentice based on two sorts of criteria:
Thrive Apprentice also organizes courses into three categories: 'No Registration Required,' 'Subscribers Only,' and 'Premium Course.' But, again, this is just a visual aid; it doesn't change the permissions.
Adding Lessons to Your Course
You're ready to learn how to design a course using Thrive Apprentice once you've set up your access restrictions and course description. To get started, go to the course builder's 'Content' section and select 'Add Module,' which will open a box where you can customize the module's title, URL, and summary.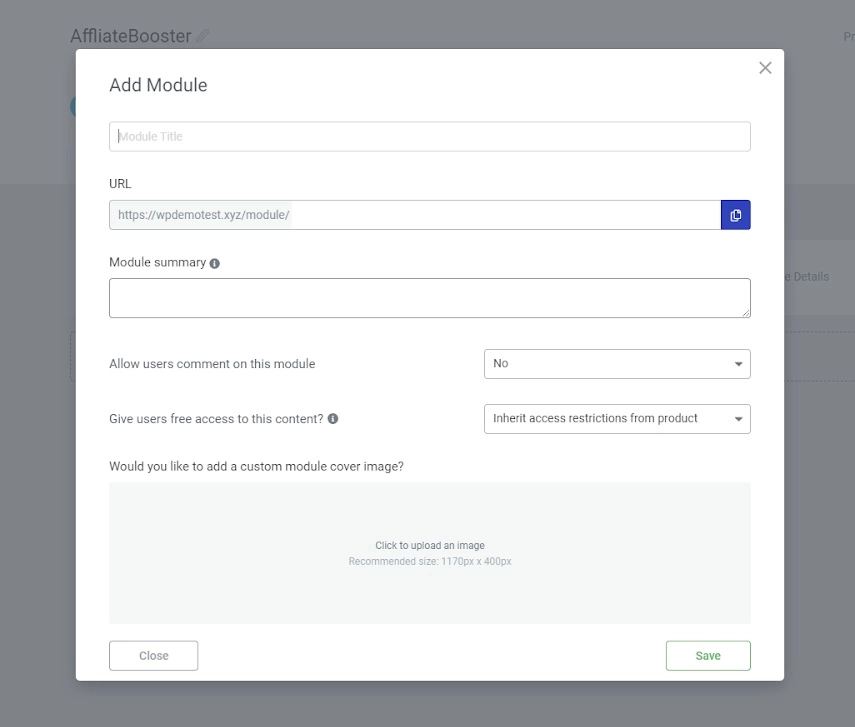 Then, click over your new module's listing and click the pencil icon to show a list of lessons and icons for adding lessons and chapters.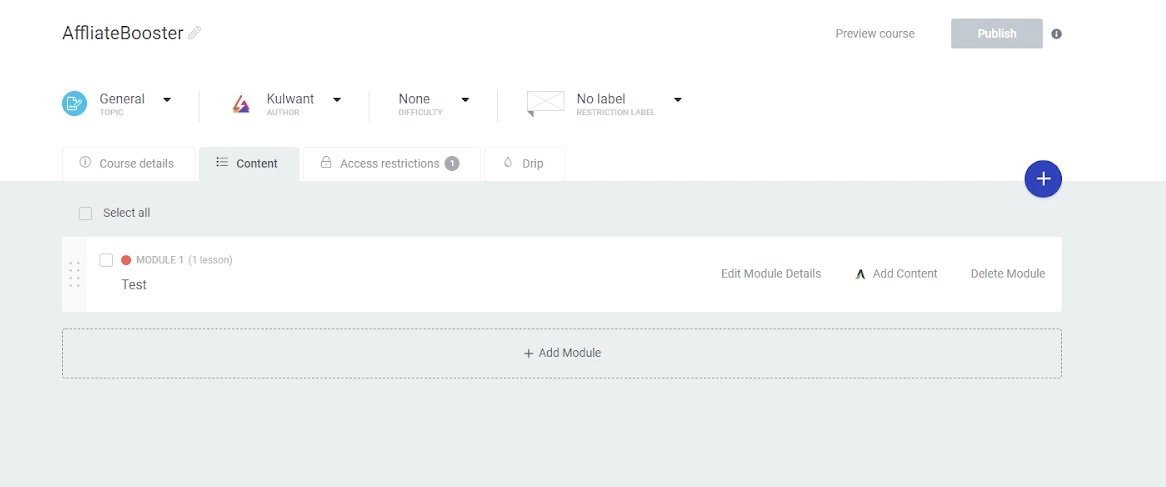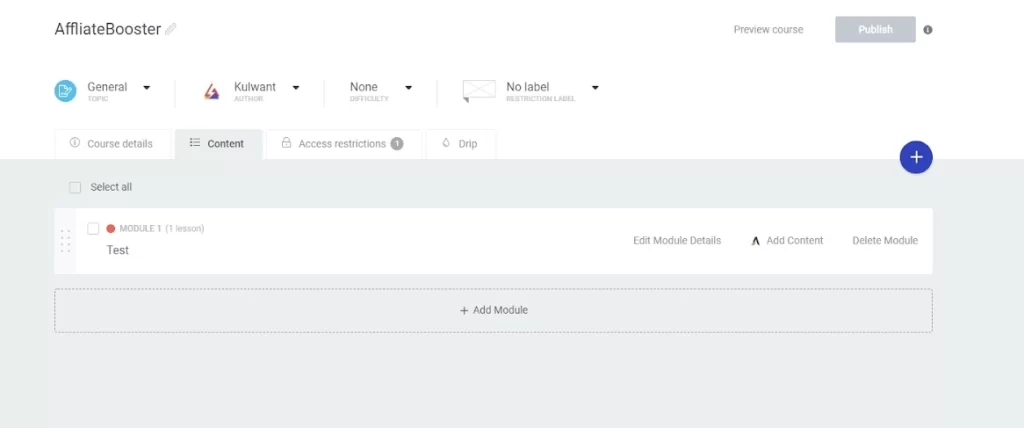 By selecting 'Add Lesson,' you may assign the lesson a title, URL, and synopsis. Then, with your cursor hovered over the lesson's listing, click the 'Edit' link that appears.
It launches the Thrive Architect page builder and takes you to your lesson. The page will be formatted as a lesson, with a headline that includes the lesson number and the author photo/bio of the course instructor.
Unfortunately, this hideous blue bar is also included in the default layout:


We like the idea of putting the course topic at the top of the page; however, this bar is far too long and without any relevant information or industry. It only serves to divert attention from the lesson's main point.
There's also no easy method to remove it or add images or more information. We just found information about customizing the topic color and icon in the Thrive Apprentice's 'Course Topics' area after scanning the support database. There is no way to make the bar smaller, as far as We can determine; however, it does appear smaller on mobile devices.
However, the rest of the page-building procedure is simple and offers several customization choices. A long list of blocks appears when you click the '+' in the left sidebar, including standard WordPress blocks, custom blocks from other plugins, and a few Thrive Integrations.

With the same technology, you may drag and drop items into the lesson area, reorganizing them as needed.
Editing Blocks
By clicking on a particular content block, you'll see a sidebar appear on the left side of the page with all of the block's setting options. For most blocks, there are numerous setting choices. Even a simple text block can be altered in several different ways.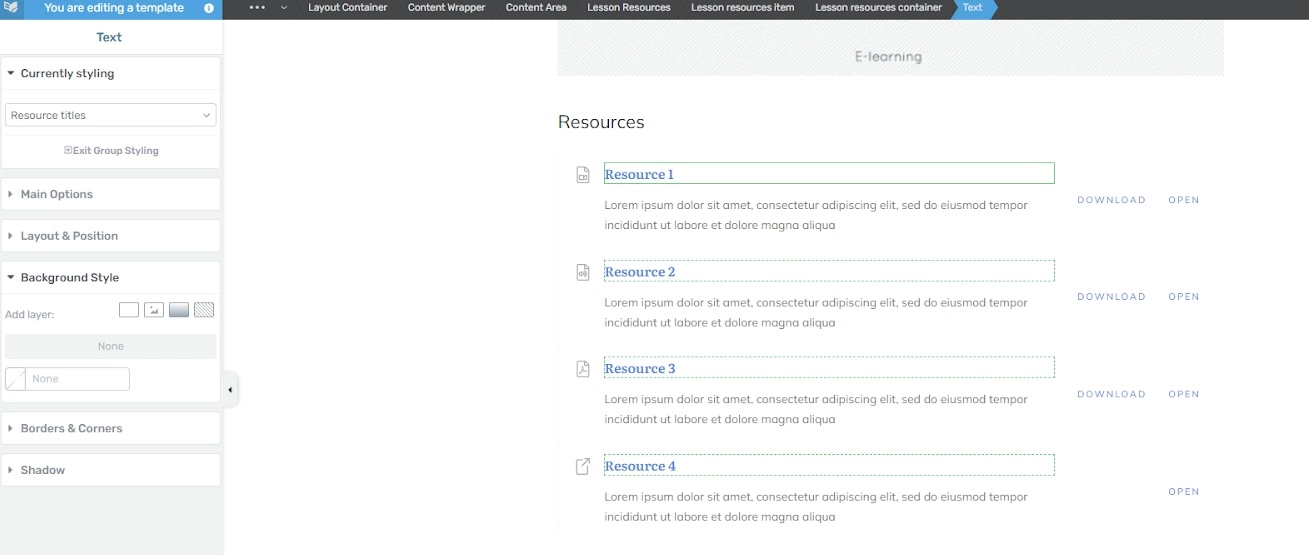 Basic choices, like alignment, are also available in a bar across the top of the page. This placement is a little strange at first, but it's not too difficult to adjust later.
Open the left sidebar, click the arrow next to the 'Save Work' option, and choose 'Save and Preview' once you're ready with the content of your lesson. It provides you a chance to see how the page will appear to visitors.
Setting your course up for sale.
When writing this Thrive Themes Apprentice review, one of the first things we observed was that the plugin lacks built-in payment processing. Instead, Thrive Apprentice works with several other checkout tools and membership plugins:
Check out the official Thrive Apprentice guide to choose whether to utilize a checkout tool or a membership plugin if you don't have one installed or aren't sure which is the best option.
Return to the main section of the course builder and click on the 'Access restrictions' page, then toggle on the 'Restrict access' option if you already have one or more of these plugins installed. It will open a new window to limit access based on various factors, such as whether or not someone is logged in.
At the bottom of the webpage, you will get the plugins that can be used to restrict access and handle payments. To open a box with more setting choices, click the arrow beside each listing.
How to Use Thrive Quiz Builder to Add Quizzes to Your Course
Now that we've covered the fundamentals of course creation, let's look at how to use the Thrive Quiz Builder to add quizzes.
Go to the Product Manager and install the Thrive Quiz Builder to get started. You could access the Quiz Manager through the Product Manager if you installed this plugin simultaneously as Thrive Apprentice. Next, you will be redirected to a window where you can create and view quizzes.
Click 'Add New Quiz,' then select a quiz topic from the drop-down menu. Because you're making a quiz for your course, you'll probably want to continue with 'Build from Scratch.'
Next, you can configure your quiz's three attributes.
Once you've selected your quiz type, the quiz builder will open a module with further options for building your quiz. Select the 'Manage' button in the 'Questions' box to access the quiz builder.
Then, in the top left corner, select 'Add Question.' It will redirect a dialogue box where you have to choose the question you want to ask. Create multiple-choice and open-ended questions with Thrive Apprentice.
You'll be able to customize the question, potential answers, and correct answers. Questions will be displayed in an outlined format similar to your course outline as you add them.
It makes reading the quiz at a glance simple. You also have an option to rearrange the order of the questions at any time using drag-and-drop technology.
Return to the quiz builder and click the 'Manage' button in the 'Results' section to open Thrive Architect to the results page template once you've completed adding questions. This template is already quite appealing, but it's also completely customizable.
If you're happy with the content, it's time to add the quiz to your course! To do so, return to the main configuration page for this quiz and look for the shortcode box. To copy the shortcode to your clipboard, click the 'Copy' button next to it.
Then, in Thrive Apprentice, open your course and add a lesson to it as usual, then open the lesson in Thrive Architect. Scroll down until you reach the Thrive Integrations section of the blocks menu, then select 'Quiz.'
It will bring up a block with a drop-down menu that lists all your quizzes. You'll see that there are no options for modifying the quiz display; it can only be done in the Quiz Builder.
Thrive Apprentice Review 2023 – The Key Features
Thrive Apprentice stands out from other online course builders thanks to its simple, advanced, and highly configurable capabilities. Here are all of Thrive Apprentice's features in detail, so you can see what great things you can accomplish with it.
Drag and Drop Builder
The difficulty with most course builders and LMS building software is that it is technical and requires the user to have some coding and programming knowledge.
That is something you may or may not have as a tutor. Thrive Apprentice rolled out the possibility of not having technological expertise becoming a problem. It simply eliminated the technical aspects and created itself using a basic drag-and-drop builder, making creating courses as simple as picking items up from the floor and arranging them in an orderly and logical manner.
Beautiful templates and a thorough setup wizard are included in the application for your convenience. So choose your templates, launch the setup wizard, and begin designing your courses by dragging and dropping different parts like headers, footers, course blocks, and other elements into their appropriate pages.
It's that simple and easy!
Visual Editor
You're stuck with their cheesy designs and pre-set frameworks with other LMS software. Unfortunately, Thrive Apprentice isn't one of those tools.
Thrive Apprentice has pre-designed templates, but the Thrive Apprentice Visual Editor allows you to customize them completely. Thanks to the visual editing features, bringing your course vision to life on the screen is no longer a dream. Instead, you can quickly alter the pre-designed templates and themes to create exciting courses with compelling themes like Thrive Theme Builder and interactive elements that are exactly how you want them to be.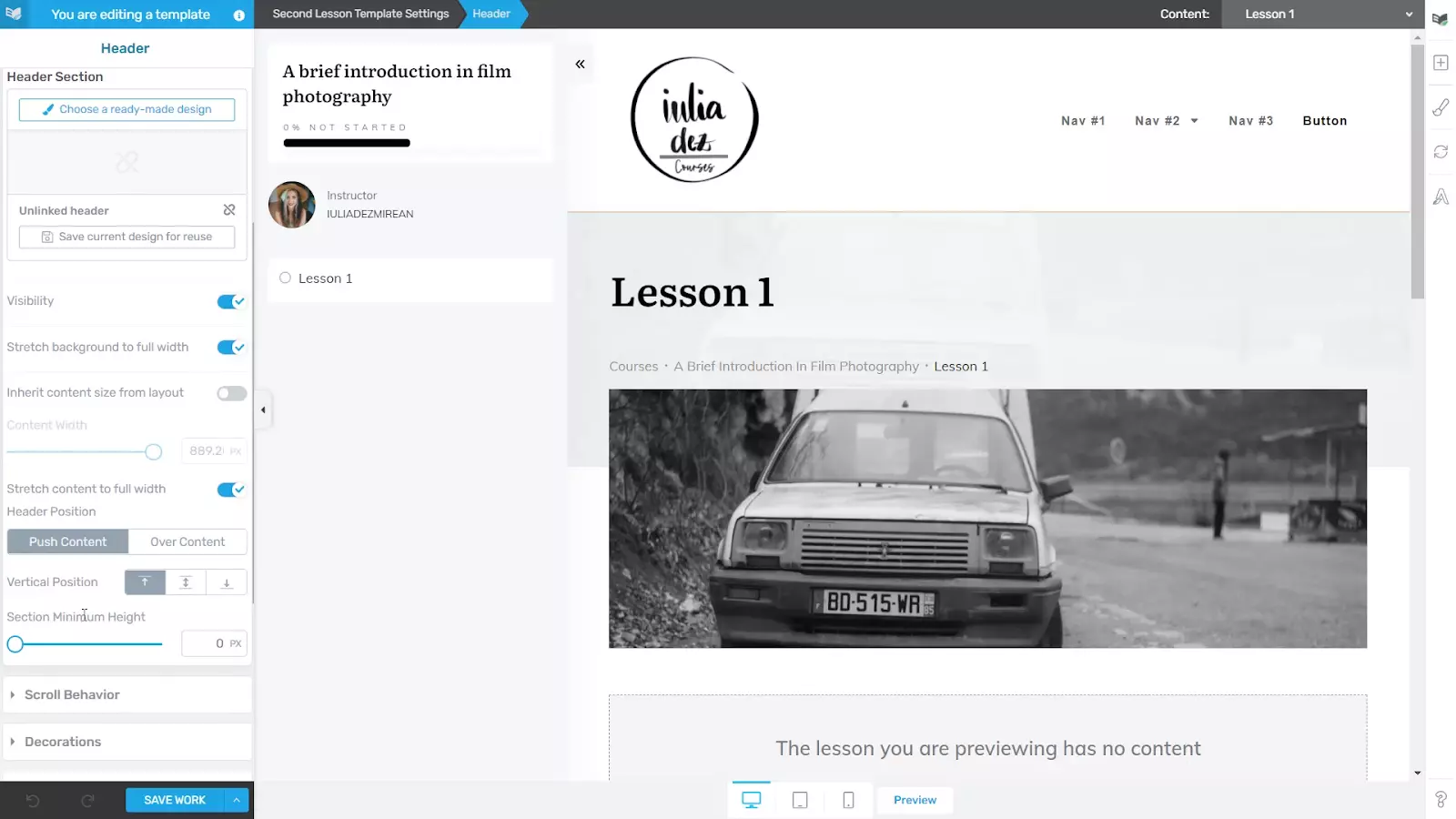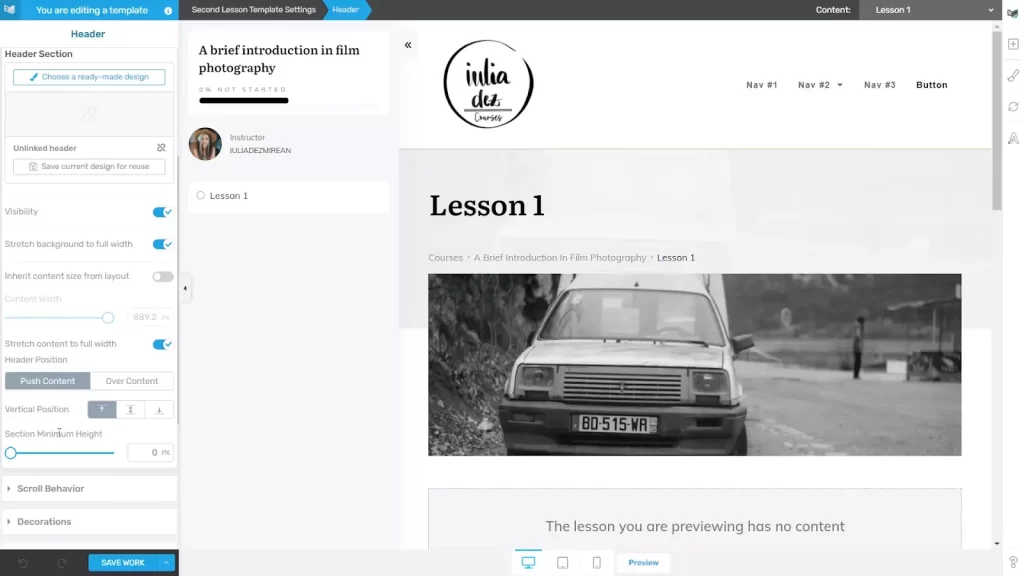 Your Thrive Apprentice account gives you the freedom to do whatever you want. Your course will appear precisely how you want it to, starting with the login page.
You don't have to give your learners monotonous login and registration pages when you use Thrive Apprentice; instead, you can modify them for an appealing and fascinating design and set the bar high for your courses straight from that page.
Thrive Apprentice Visual Editor's range of qualities editing and customization skills. This environment also makes your courses more easily valuable, and you'll notice that more and more students are enrolling in and enjoying the well-informed classes and engaging learning environment you've established for them.
Dynamic Labels
The primary goal of designing courses is to sell them and create knowledgeable and enjoyable learning experiences. It is where the Dynamic Labels come in handy.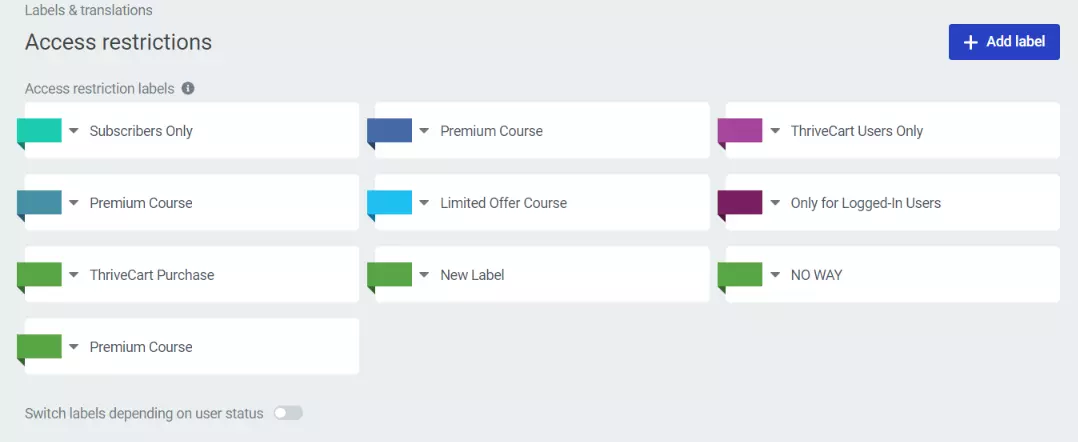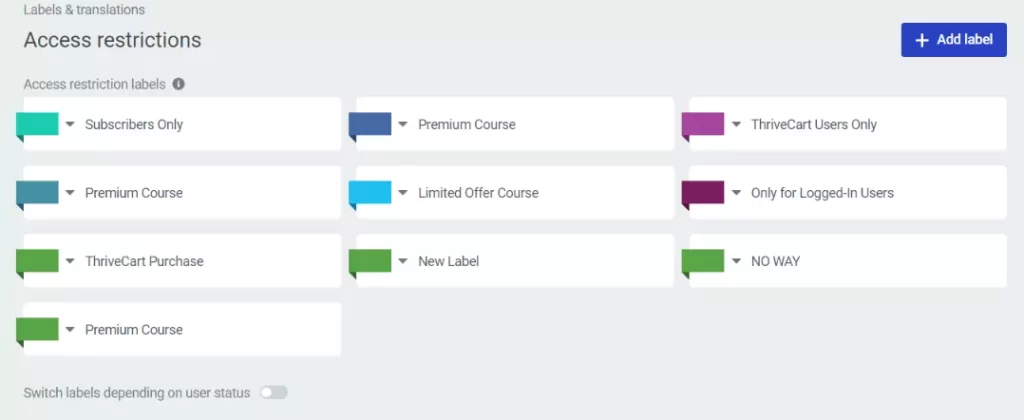 You may use Dynamic Labels to present your current and potential learners with the course status and progress in an innovative way.
You can inquire about the course completion status of existing students and encourage them by showing them how far they've progressed and how far they still have to go. You can also show them courses they haven't subscribed to or taken yet, but that will benefit them.
You can use dynamic labels to show your best-selling courses to potential students, and you can help them make a more educated purchasing decision by consulting the educators themselves.
Furthermore, if a learner clicks on a premium course, the dynamic labels will automatically redirect the learner to the course's selling pages.
All of this contributes to improved learning experiences and increases your courses' revenues.
Content Duplication and Assembling
Do you find it challenging to keep all of your course materials in one place? That's not a problem with Thrive Apprentice. You may combine all of your content for a comprehensive course using the same drag-and-drop builder that helped you start generating systems and course listings. In addition, you can use this feature of drag and drop builder to combine course lessons, chapters, and modules into a single course outline structure and even reorder the assembled content to your liking and effort.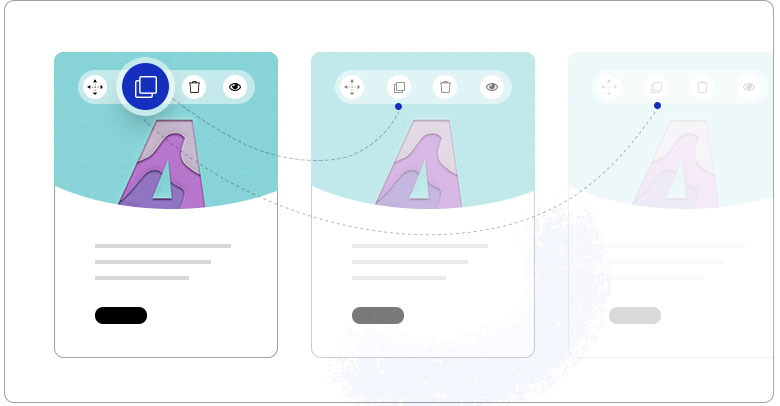 Furthermore, you will never have to repeat creating courses for the same content. But on the other hand, you may find yourself needing to make multiple courses with the same structure, style, and material regularly. So, instead of starting from scratch, why not clone from an existing class?
With the Thrive Apprentice Course Cloning tool, you may create an entirely new course with only one mouse click. Now, you just have to make the necessary changes to the new system. Then, you can have your way around the room, giddy with delight at having saved so much time and work.
Duplicating your course is one thing; having someone else copy it is quite another. That will never happen with Thrive Apprentice. Your data and material are safe and secure with Thrive Apprentice, and you have complete control over them. To avoid duplication or infringement, you can restrict access to your courses and content as necessary.
Unlimited Course Creation
You'll never be limited in your course creation with Thrive Apprentice. You can build as many courses as you want and categorize them according to your choices and needs.
Do you want to offer free courses? Do you want to include premium courses? Then, thrive Apprentice is the way to go!
You can even duplicate the courses and categorize them according to your tastes and requirements. For example, there may be courses where you offer some lessons for free and then charge for future classes after you upgrade to premium.
With all of these capabilities, you have virtually limitless options for producing courses, which leads to scalability and exponential growth for your company.
Customer Lists
Do you have existing platforms for your courses, but they're not providing you with as much value as you'd like? Then, you should consider transferring those courses to Thrive Apprentice! It's simple to import existing courses and their students into Thrive Apprentice.
Export a CSV file of learners from your current platform and import it into Thrive Apprentice using the Customer List Feature. You can not only import whole client lists, but you can also offer or restrict access to courses to students based on their grades.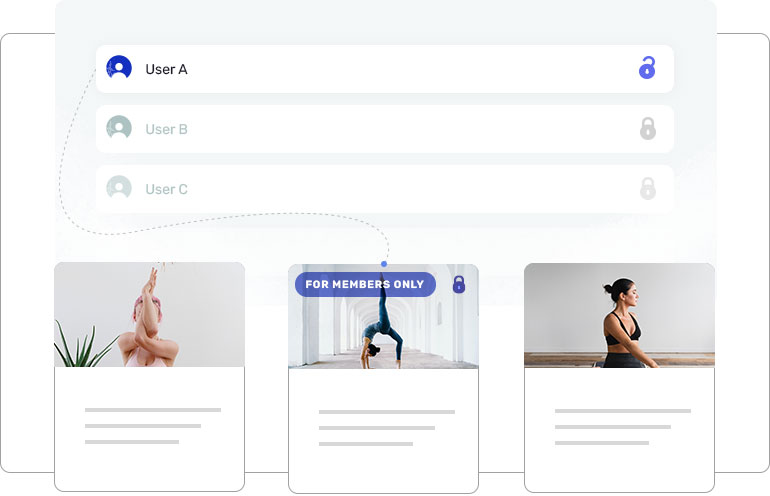 Course Bundles and API Integration
You'll want to make sure you're selling your courses well after you've built them. Again, this is simple using Thrive Apprentice's smooth API integration capabilities.
You can quickly sell your courses using Thrive Apprentice when you combine it with platforms like WooCommerce, SendOwl, and ThriveCart.
They also provide a lot of integrations: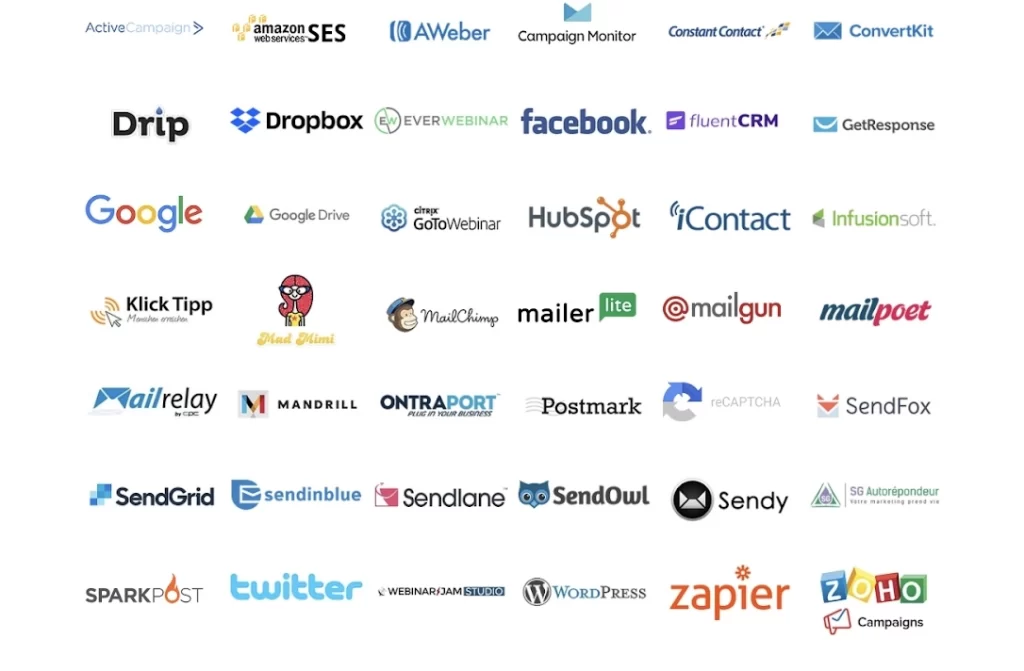 Furthermore, integrating relevant courses and delivering them as a course bundle can help you increase course sales.
MultiLingual Functionalities
Many students choose to study in their native language. So, just because your course is in a language they don't speak or understand, does that mean it won't sell to them? With Thrive Apprentice, there's no way.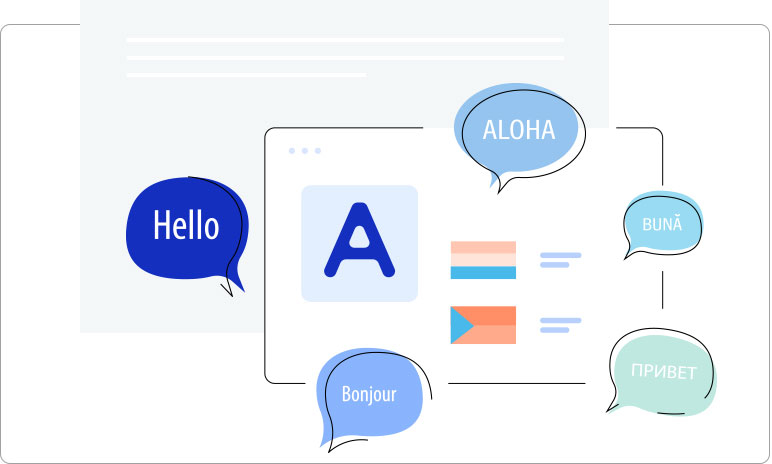 Thrive Apprentice is multi-lingual. So, regardless of which language you produced your course in, it will sell because it is translation-ready. In addition, thrive Apprentice has multi-lingual capabilities, allowing you to develop classes in any language and even convert them to several languages.
As a result, there's always versatility, and you can satisfy a wide range of learning goals and requirements. So, those are all the features and functions that Thrive Apprentice offers. With that in mind, it's easy to see how Thrive Apprentice may be your go-to content creation program.
Thrive Video Content
Video-based learning has been popular in the online learning environment because of its benefits, such as its simplicity and a high degree of engagement. As a result, videos are all the trend these days, and they can help you improve your relationship with your members while also changing the way they study.
Video captures a student's attention better than any other kind of instruction. As a result, this learning model is available on-demand across all platforms. In addition, data demonstrate that the human brain can digest video 60,000 times faster than text.
Your students are likely to remember 10% of what they read, 65% of what they hear, and 95% of what they see on video. Therefore, educational videos are no longer an option; they are a need. As a result, Thrive Apprentice has made video integration on websites simple by allowing customers to use third-party software to incorporate videos into their course sites seamlessly.
Drip-fed Content
Drip-fed content is an integral part of the online learning environment. They aren't overwhelmed by vast course content thanks to a drip-feeding mechanism. It is essentially a method of delivering course content in chunks on predefined dates or intervals.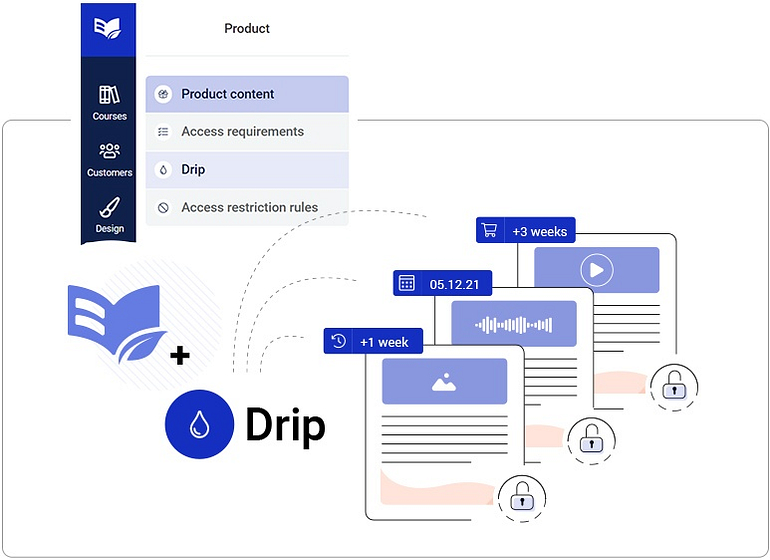 There is no native drip-fed content feature in Thrive Apprentice. Even so, you may take advantage of this feature by connecting the course builder with SendOwl.
Pricing Plans
If you're interested in purchasing the Thrive Apprentice plugin, you may join the Thrive Suite subscription to access all of Thrive Themes' tools and features.
Becoming a member is preferable if you currently have a business and market every element.
You can select between two pricing options: Thrive Suite or Thrive Agency.
Both options are billed annually and have full access to all features. In addition, you can install the plugins on up to 25 sites with Thrive Membership, which costs $19 per month.
The Thrive Agency plan costs $49 a month and allows you to install it on up to 50 sites.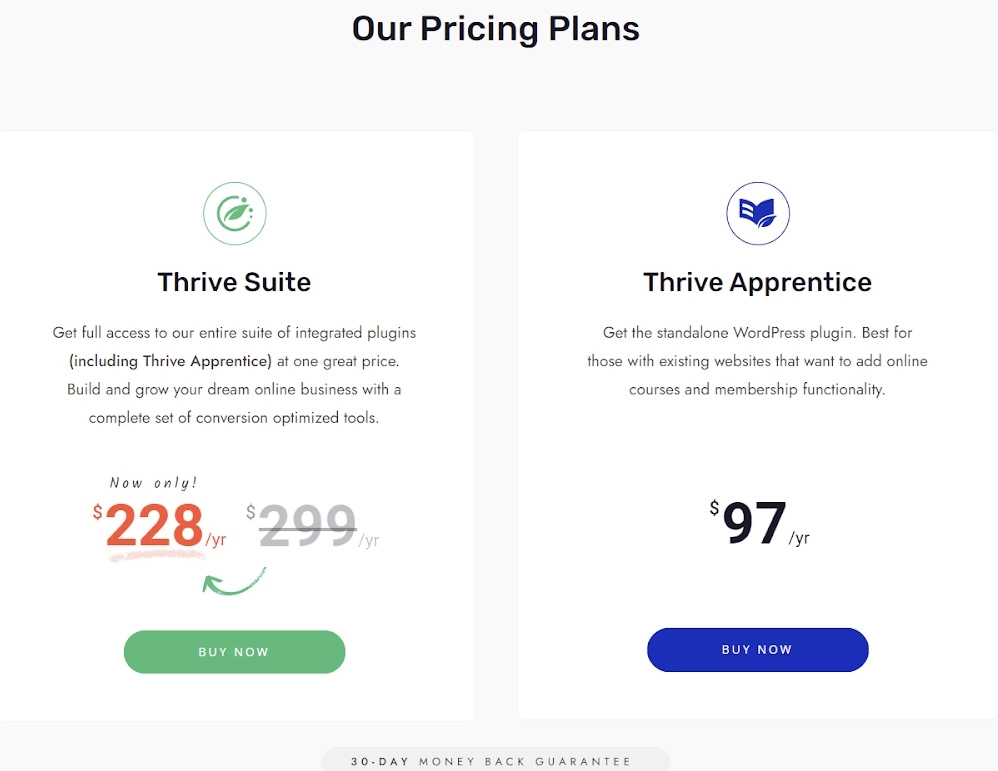 Thrive Apprentice Benefits
You could discover various online education platforms and learning management systems to take online courses, programs, and certificates as the education sector progressed and things moved to the virtual world. Thrive Apprentice is one platform on which you can rely. The advantages of Thrive Apprentice are as follows.
With all of these advantages, adopting the Thrive Apprentice course creation software is a sure bet for success.
Thrive Themes Vs. Competitors
There is a lot of competition on the market for WordPress page builders. Also, there are many other alternatives available to you, ranging from themes and landing pages to plugins and front-end page builders. Each of these is entirely trustworthy and has its own set of distinguishing characteristics.
Thrive Themes vs. Divi
Elegant Themes is one of Thrive Themes' primary competitors. These organizations have similar backgrounds, having started as theme builders before expanding into customized plugins and more advanced solutions that suit a broader range of needs.
As one of Thrive Themes' key competitors, Elegant Themes offers two main alternatives that directly compete with Thrive tools: Divi, their page builder, and Bloom, their opt-in form plugin.
The Divi Builder is a professionally designed page builder with premium functionality. However, while the Divi builder shines in many areas and provides unique capabilities, it is not as user-friendly as Thrive Architect.
Thrive Architect may be installed into your WordPress site to assist you in creating pages of your design. Unfortunately, these programs have comparable characteristics, making it tough to choose the best.
Bloom, their opt-in form plugin, performs a lot of the same things as Thrive Leads, although Thrive Leads has more flexibility and customization possibilities.
Elegant Themes, like Thrive Themes, provides a yearly subscription for $89, compared to $228 for Thrive Themes.
Thrive Themes vs. OptimizePress
The Thrive Architect/Thrive Theme Builder and OptimizePress capabilities are very similar. However, Thrive Themes and OptimizePress vary in that Thrive Themes works with numerous plugins while OptimizePress only works with one.
Using a single plugin allows you to manage everything from a single dashboard, but it also disables many features that aren't in use.
That's why Thrive Themes wins this category since its suite of tools allows you to pick and select which add-ons or plugins you wish to utilize, resulting in a faster-loading website.
OptimizePress offers a large user base of people who desire to create beautiful websites. In addition, Thrive Themes serves marketers that seek to convert website visitors into customers or leads.
OptimizePress offers a drag-and-drop builder that is both flexible and intuitive. Sign-ups, newsletters, and sales are just a few aspects that the page builder tool has recently updated to help enhance conversions. It also includes advanced capabilities and modules for creating sales funnels.
You may choose from over 300-page themes, and the platform allows you to sell anything you can think of, from digital products to seminars and more. OptimizePress also interfaces with most leading third-party lead generation, email marketing, and CRM applications, plugins, and services.
One of the most common complaints regarding OptimizePress is that uninstalling it later is quite challenging.
Furthermore, Thrive Themes' low pricing of $19/month for all features and 25 websites is more cost-effective than OptimizePress, which costs $99/year for a single site license.
Thrive Themes vs. Elementor
Thrive Architect and Thrive Theme Builder are highly similar to Elementor. It's a fantastic tool for creating your entire theme.
Elementor's Pro edition costs $49 a year, and while this is a good deal, Thrive Themes offers a much better deal when you combine the membership with all other marketing tools.
You can construct an excellent WordPress website with Elementor, but Thrive's theme builder offers a lot of the same features as Elementor – plus, it comes with a full suite of marketing tools.
Thrive excels in offering built-in, marketing-friendly items, whereas Elementor shines in the latest design trends. Therefore, it could be a suitable replacement for Elementor if you acquire the Thrive Architect and Thrive Theme Builder combo (which comes with the subscription).
Additionally, Elementor's pop-ups lack A/B testing, analytics, and other features, whereas Thrive offers detailed reporting, multi-state opt-in forms, asset distribution tools, and much more.
Thrive Themes vs. Leadpages
Leadpages is a cloud-based application that works similarly to ClickFunnels. It's lightning-quick, has a simple user interface, and provides an excellent overall user experience. Landing page creation and lead generation are two of the platform's primary capabilities.
Leadpages recently launched "Leadpages Checkouts," enabling you to accept Stripe payments. Unfortunately, this is not feasible with Thrive Themes unless you interact with third-party payment systems.
In terms of page builders, Thrive Themes includes a lot of capabilities that Leadpages doesn't, such as advanced scarcity marketing, quizzes, A/B testing, reporting features, and more.
Furthermore, Leadpages costs $48 per month, whereas Thrive Themes Membership costs $19 per month for the full capabilities.
As you can see, any of them would be a terrific alternative, but in terms of features, they don't stack up.
We still recommend the Thrive Membership since it offers the best value for money of any of these tools.
None of them offers the same set of features as Thrive Membership.
Instead, you receive access to all of the tools you need to create high-converting website pages, convert visitors into leads, and pay customers for a nominal monthly membership price.
Final Verdict: Is Thrive Apprentice Worth the Investment?
Thrive Apprentice is the way to go if you're a solo entrepreneur looking to create some great courses that will be taught and delivered in a visually appealing environment with the highest levels of security and safety and excellent user experiences.
The Thrive Apprentice plugin isn't a membership site. Instead, thrive suite is a comprehensive toolkit for starting and growing an online business. It has more templates, integrations, and features available.
Thrive Apprentice is a solid plugin with an easy-to-use framework for the most part.
The product is incredible and will take online learning to new heights.
We hope this review has given you a thorough understanding of the plugin, and you're now ready to use it to design and sell your courses online.
Check this: 10 Best Online Course Platforms
FAQs
Which is is best LMS: Thrive Apprentice Vs. LearnDash Vs. Teachable?
If you haven't heard, this market already has two fantastic products: LearnDash and Teachable. They're doing well and have some great features. But, as we have previously stated, Thrive Apprentice is created just for WordPress users. And this is where this plugin outperforms both.
Is Thrive Apprentice a WordPress theme?
Thrive Apprentice WordPress plugin works with any theme. That means you won't have to re-design your entire website or go through the trouble of creating a new one to host your online course.
Is Thrive Apprentice also a membership plugin?
The Thrive Apprentice is not a membership plugin.