Disclosure: Some of the links in this article may be affiliate links, which can provide compensation to me at no cost to you if you decide to purchase a paid plan. We review these products after doing a lot of research, we check all features and recommend the best products only.
How to promote your blog? Is sharing on social media the best way to garner the customer's attention, or should you invest in your SEO?
If you're someone who is creating fantastic content for your users and not getting enough engagement, this question might be only your mind. However, you're not alone.
It's one job to create content as per your audience's likes carefully and an altogether different task to promote it on various platforms.
Not many bloggers can get the desired engagement despite putting all their efforts into the content.
Wondering why?
It turns out that they are not doing enough to highlight their content in their customer's eyes.
Marketing leader, entrepreneur, and author Joseph Jaffe suggests spending 90 percent of your time promoting a blog that was written in the remaining 10 percent time.
Blog promotion is the backbone of your content strategy. Let's talk about some of the popular ways you can draw more exposure to your content. Take a look below to find an exhaustive list of blog promotion strategies.
Top 10+ Ways to Promote your Blog in 2023
1. SEO
Working on your SEO is fundamental to the success of your blog. This should include your technical and non-technical SEO.
Optimizing your site for search engines ensures that your readers have a smooth experience while browsing it. At the same time, search engines are able to find and index your website.
To work on your technical SEO, make sure you select a reliable web host, work on reducing your website loading time, obtain an SSL security certification and finally manage links more efficiently.
Similarly, choose industry-specific keywords to target in your blog. By selecting the right keywords, you can increase your ranking chances, increase traffic, and be found by the user on a search engine.
2. Offline Promotion
Offline promotion is another way to promote your blog. One of the best ways you can do it is by printing your web address on your business cards or flyers.
Another way is to leverage word-of-mouth marketing by first offering value to the users. If you've got the budget, you can also invest in advertising and PR.
3. Social Media Marketing (SMM)
Social media is one of the best platforms to promote your content. It has readers from all walks of life. All you have to do is reach out to them with your content.
Take a look below at some of the popular strategies to promote your blogs on various social media platforms.
How to Promote Your Website on Facebook?
On Facebook, you can either promote your blog organically or boost them. Create a regular posting schedule at the best time and day for your industry.
Then use captivating headlines to catch your reader's attention. Make sure you write engaging one-liners that entice your users to click on your blog links.
Similarly, use attractive images, ask questions and shorten your blog link to catch your reader's eye.
How to Promote Your Blogs on Twitter?
On Twitter, it is best that you write crisp copies, tag influencers, and always include an image to get noticed. You can also run ad campaigns with relevant hashtags.
Moment marketing is another way of promoting your blog where you leverage a trending hashtag and relate your post to it.
How to Market Your Website on YouTube?
Remember that Youtube is a publishing platform. So, to promote your blogs, you'll need to create attractive intro videos. Add links to your video page and optimize your profile by adding the relevant keywords.
You'll need a full-proof video strategy to leverage Youtube to promote your blogs.
How to Make Your Blog Popular via TikTok?
Start by increasing your follower base through consistent video content in your niche. Understand what goes viral by engaging with the community.
Then mention your blogs once you start getting a bit of an audience.
How to Promote Blogs on Instagram?
Instagram can be a great channel to promote your blogs. While it doesn't let you post links explicitly, you can use images to catch your reader's attention and then take them to your bio to drive traffic.
How to Get Your Blog Noticed via LinkedIn?
The first thing you need to do is create a branded profile and start building connections. Look for people in your niche and share links to your blogs, short LinkedIn posts, etc., to drive engagement.
Make sure you stay active and join relevant groups to help people with your content and drive traffic.
4. SEM
While your SEO efforts will take some time to improve your SERP rankings, you can leverage Search Engine Marketing to highlight your content to your audience.
In this, you use paid marketing techniques such as ads to promote your content.
5. Influencers
Find out the influencers in your industry and partner with them to promote your content. Since social media influencers have a good audience base, you can leverage their reputation in exchange for a small amount of monetary compensation.
6. Mainstream Media
While traditional approaches have started declining, you can still leverage newspaper, television ads, radio broadcasts, etc., to promote your blogs.
7. Email Lists
Emails are a powerful tool to promote your blog. Build an email list by asking your online visitors to leave their email ids for more engaging content.
Alternatively, you can also purchase email lists through agencies. Create campaigns and send your blog posts directly to your reader's inbox.
8. Forums
One way to increase your blog traffic is to leverage online forums. First, find a relevant forum to your industry and then either initiate a new discussion or participate in existing ones.
Add links to your blogs and website wherever you need to offer a solution or a more detailed description.
Finding the Right Forums
To find the right forum, google your industry-specific keywords followed by 'Forums.' For example if you're in the food business based in the USA, type "USA food + forum".
Similarly, you can follow hashtags and check out common links on social media to look for niche forums.
Promoting Your Blogs on Forums
Make sure you read the guidelines well before you start posting on any forum. For example, on Reddit, when you post something, users decide whether it is relevant to the community.
Take a look below at how McDonald's performs promotes its brand on the platform.


Even though not all of these communities are officially recognized by McDonald's, they still have members who are contributing to the discussion and ultimately promoting the brand online.
In another example, Burger King utilized Quora to spark conversations about their brand.
The fast-food giant started liking people's tweets from years ago, knowing that this would initiate a discussion about their brand on forums like Quora.
This step was timed with a new product launch, making it a huge success.
9. Outreach Marketing
Like it sounds, outreach marketing is a technique to reach out to individuals and organizations with common interests to fulfill your marketing goals.
This type of promotion mutually benefits the parties involved. Some of the most popular tools available online help in creating outreach connections quite easily.
10. Online Directories
You can submit your content to online directories to promote them. Just like offline, online directories help people find your website and navigate to your content easily.
These are business-specific directories, so make sure you opt for the right one. Some of the popular directories are.
11. Guest Posting
Guest posting can help you leverage a reputed blog's traffic by offering their readers valuable content. Make sure you add links to your content to direct readers to your blog.
Posting on relevant websites in your niche can help you get relevant traffic and enhance your reputation.
12. Offering Free Exclusive Products on Your Website
Customers love freebies! If you're in a rush to increase your blog traffic, you can offer freebies to your readers to get their attention.
Once they're on your website, make sure you let them know you produce amazon content they'll love too.
13. Google Local Business
Google helps promote local businesses when they add information related to their location on Google's Business Profile. In other words, the search engine will help you find your customers near your geographical location hassle-free.
14. Paid Ads
Even if you start organically, investing in paid ads is a good idea considering the growing market competition. You can leverage the following mediums for paid advertising and promote your blog easily.
People click on ads and sponsored posts if the content is something they find interesting.
Tips on How to Promote Your Blogs
Now that you know the best ways to promote your blog let's help you with some proven tips to drive more engagement with your content.
1. Focus on Quality
So, if your customer is a healthcare reader, make sure you write about scientifically accurate and trending topics, considering the changing scenario of healthcare around the world.
Make sure you develop quality content as readers recognize fluff quite easily. Especially with the growing competition, it has become vital to drive customer loyalty by focusing on quality content.
This practice also helps you establish yourself as a thought leader in your niche.
2. Have a Signature Style
With the ease of access to the Internet and growing digital opportunities, almost every brand runs a blog today.
The question is, why should a reader come back to yours?
That's where having a signature style helps. If you have a way of creating content on your blog that is uniquely yours, your customers will find it engaging. Moreover, it gives your customers a hook to remember you.
Be it starting the introduction with a joke, creating an impression with the GIFs, or having a section in your content just for statistics, you've got to stand out with your style!
3. Build Social Proof
In the ever-increasing market competition, it is crucial to building customer loyalty. Having said this, you need to think about the ways you'll convince your customer to come back to your blog.
Creating quality content is one aspect, but why should the customer listen to you?
After all, every brand puts its best efforts into marketing itself.
So, the best thing you can do to make your customers stay help them find what other readers have to say about your blog. That's social proof.
For example, if you are browsing a blog and find other readers from the industry writing positive reviews about it, you'd want to continue reading it. Leverage this fact by adding social proof to your content.
4. Engage Leads with Blog Content
You might be in an industry where you're selling physical products. You might be sourcing the products from the best suppliers yet fail to drive traffic to your website or store.
In such situations, a smart way to garner engagement is to create a blog section on your website. For example, if you're selling scarves, write a blog about '5 Fun Ways to Tie in Scarf in Summer'.
This tactic works because you're creating content that tries to solve one of the customer's problems and helps them find something useful.
5. Develop a Content Strategy and Posting Schedule
Don't forget to develop a robust content strategy before you start writing blogs. When you're new to a niche, it is best to study your competitors and analyze industry trends.
Then, discover what you want to achieve from your content. This will help you get started with creating blogs that the readers prefer.
Another important thing to keep in mind is the posting schedule. Make sure you have a definite posting schedule whether you're posting blogs or social media content.
You can also look at the best days and timings for posting in your industry that will help you get the engagement your content deserves.
6. Make Your Content Shareable
Don't forget to add a sharing option to your blog. When readers like something, they want to share it with their friends and peers. Notice how videos or images go viral.
Adding an option to share your content creates more opportunities to bring in more readers and increase blog traffic. Additionally, it also helps establish social proof on your blog when you mention that X users shared your content.
There are various content sharing options for Facebook, Instagram, WhatsApp, Telegram, Emails, etc., that you can include on your website.
7. Don't Neglect the Comments Section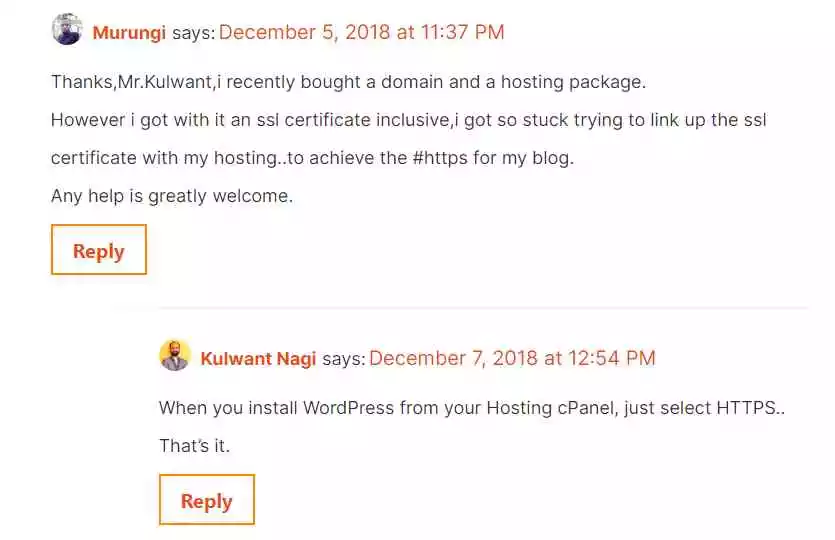 You've probably noticed how blogs have a comment section at the bottom. Most content creators choose to neglect it and carry on posting their content.
Little do people realize that it is an excellent way to nurture relationships with your reader. If a reader leaves a comment asking about a feature, agreeing or disagreeing with a point, appreciating you, etc., leverage this opportunity to build engagement.
In simple terms, respond to your comments actively as it helps demonstrate that you're serious about your reader's opinions. Even if you get a negative comment, ask your reader for suggestions to help them serve better.
8. Use Videos
Videos are a superhit formula to engage your readers in today's world. The popularity of this content type is even pushing social media platforms to come up with dedicated tabs where customers can watch uninterrupted videos.
For example, Facebook has a dedicated video section where it only offers you video content suggestions. Instagram has Reels and IGTV.
Then there's TikTok, the king of all video platforms. Try to use video in your content to help build an emotional connection with your audience and catch their eye almost instantly.
9. Leverage Internal Linking
One of the best ways to promote your content is to link it internally with your other content. So, let's say you have a blog that is getting good engagement and traffic online.
When you link some of your other content to this blog, you increase the likelihood of a reader clicking on them.
In other words, you're reducing your bounce rate and engaging the customer with more and more of your content. Make sure you add links and references to other content that are relatable to each other.
10. Create a Responsive Design
A responsive design goes a long way in building a reader base for your blog. With smartphones becoming excessively popular, customers love to open websites on their handheld devices.
Even though the screen size is smaller, mobile phones are becoming the customer's preferred choice of device. As a blog owner, make sure your blog design is responsive for any device and loads easily.
You don't want your content running out of the screen or your pages taking minutes to load.
Check this: 20 Best WordPress Plugins for Affiliate Marketers
Frequently Asked Questions on How to Promote Blogs Online
Conclusion
Promoting your blog online is one of the most important things you should be doing. Because regardless of your efforts and content quality, nothing makes sense unless you have readers read it.
While social media is one of the best platforms to maximize your content reach, make sure you also focus on SEO that helps drive organic traffic.
Similarly, try some promotional platforms for your content that your competitors might be missing out on. But, first, create a strategy for every platform and stay consistent with posting to receive helpful insights.
We understand you might have several questions about promoting your blog online. Let's take a look at some of the popular ones.