Disclosure: Some of the links in this article may be affiliate links, which can provide compensation to me at no cost to you if you decide to purchase a paid plan. We review these products after doing a lot of research, we check all features and recommend the best products only.
Back in the days of the radio, we streamed audio programs through the different channels found on the various frequencies of the radio. The programs soon replaced these programs with video and audio on television, but audio radio channels weren't obsolete and were still running throughout the world, with much less popularity.
Audio programs expanded from there, bringing their relevance back in the form of audiobooks, with book enthusiasts popularizing this format. Audio programs came back to general popularity after the creation of podcasts, with the podcasts feeling quite similar to the audio programs of the old days.
Like radio programs, a podcast is an audio file that we broadcast through the internet through different channels such as Spotify, YouTube, Google Podcasts, and Apple Podcasts. Podcasts can be about almost anything to everything, from a story being narrated to podcasters simply talking, which is why podcasts are so popular amongst ordinary people.
Unlike radio programs, podcasts aren't just accessible by ordinary people but can be made by anyone. Not a lot of extra resources are required, though having such can increase the general quality of the podcast. So the question remains, how to start a podcast for free?
Why start a podcast?
There are many reasons to start a podcast. Podcasts are a great way to connect with an audience and build a following, and they're also an excellent platform for sharing knowledge and expertise.
All you need is a microphone and some essential recording equipment. Finally, podcasts are a great way to promote your business or brand, and a podcast is a perfect vehicle for getting your message out there if you have something to say.
Podcasting Myths
There are also a few myths about podcasting that need to be dispelled.
Type of Podcasts
Given that there are currently more than 85k active podcasts available for download, we understand if the market appears to be a little crowded to you. But, how are you expected to stand out in a world with many podcasts?
There's no need to break a sweat. Even if the volume of podcasts is always increasing, this does not imply you have to keep competing with them all. No matter how mundane a general audience finds your profession, you can always discover a niche audience hungry for your material with the appropriate method.
Finding the ideal podcast format is the first step toward building a podcast that resonates with the target audience. There'll always be space to store your touch on these eight major podcast types:
1. Storytelling Podcast
Storytelling and investigative podcasts are popular among podcast listeners because they provide immersive experiences. One or many hosts can use each podcast session to deliver a whole tale or a segment of a longer story in this way.
2. Interview Podcast
Each episode of an interview podcast usually features one or two hosts chatting with one or more guests. The guest delivers expert knowledge and views on a certain topic, industry, or theme in this manner.
3. Solo Podcast
This is a pretty frequent podcast format. It's adopted by those who want to impart specific knowledge. There isn't a lot of hype or preparation. All you have to do is speak into a microphone. Because it is so straightforward, many novice podcasters begin with this format. All you'll need is a mic and some free video editor to get started.
4. Conversational Podcast
This podcast style entails two persons having a straightforward dialogue and having a good connection with one another. However, unlike an interview podcast, these two persons are also hosts.
In many circumstances, each host will have a distinct role in the discussion. For example, one might report a tidbit of news while the other offers an analysis of humor. One might impart lessons, while the additional shares personal anecdotes.
5. Theatre Podcast
These fictional stories, also known as Completely fictitious Storytelling podcast format, are told in different instances, similar to dramatized television. A single voice narrates some of the stories. Others employ a cast of many performers, soundtracks, and other audio features. These podcasts, like television shows, use suspense, climaxes, and plot twists to convey their story.
This is an excellent structure for writers who enjoy creating characters, stories, and fictional universes. This style may be ideal for you if you enjoy writing novels or making films. Some fiction writers read their stories aloud, as if they were audio novels, and then broadcast them as podcast episodes.
6. Repurposed Podcast
When you repurpose content, you take something that already exists and changes it so that you.
You can get real worth out of it. You can modify it by adding to it, splitting it up, or transferring it to another medium. For example, some bloggers simply repurpose previously written content into a podcast for an audio engagement.
A religious institution, for example, may make their regular sermon into a digital download podcast. A narrator could record and distribute his or her talks. A comedian may make recordings of his stand-up routines available for download.
7. Hybrid Podcast
Podcasts are an extremely adaptable media. To develop your style, mix and match the basic patterns from this list. A podcaster with knowledge in a certain topic area, for example, can broadcast a monologue-style podcast and interview guests on occasion.
On the other hand, the mic panel program might break each episode into pieces, with a spot for the primary host to deliver a monologue.
Things To Do to Start a Successful Podcast
Let's look at what you need to start a successful podcast.
The first thing you need is a great idea. Who is your target audience? What can you bring to the table?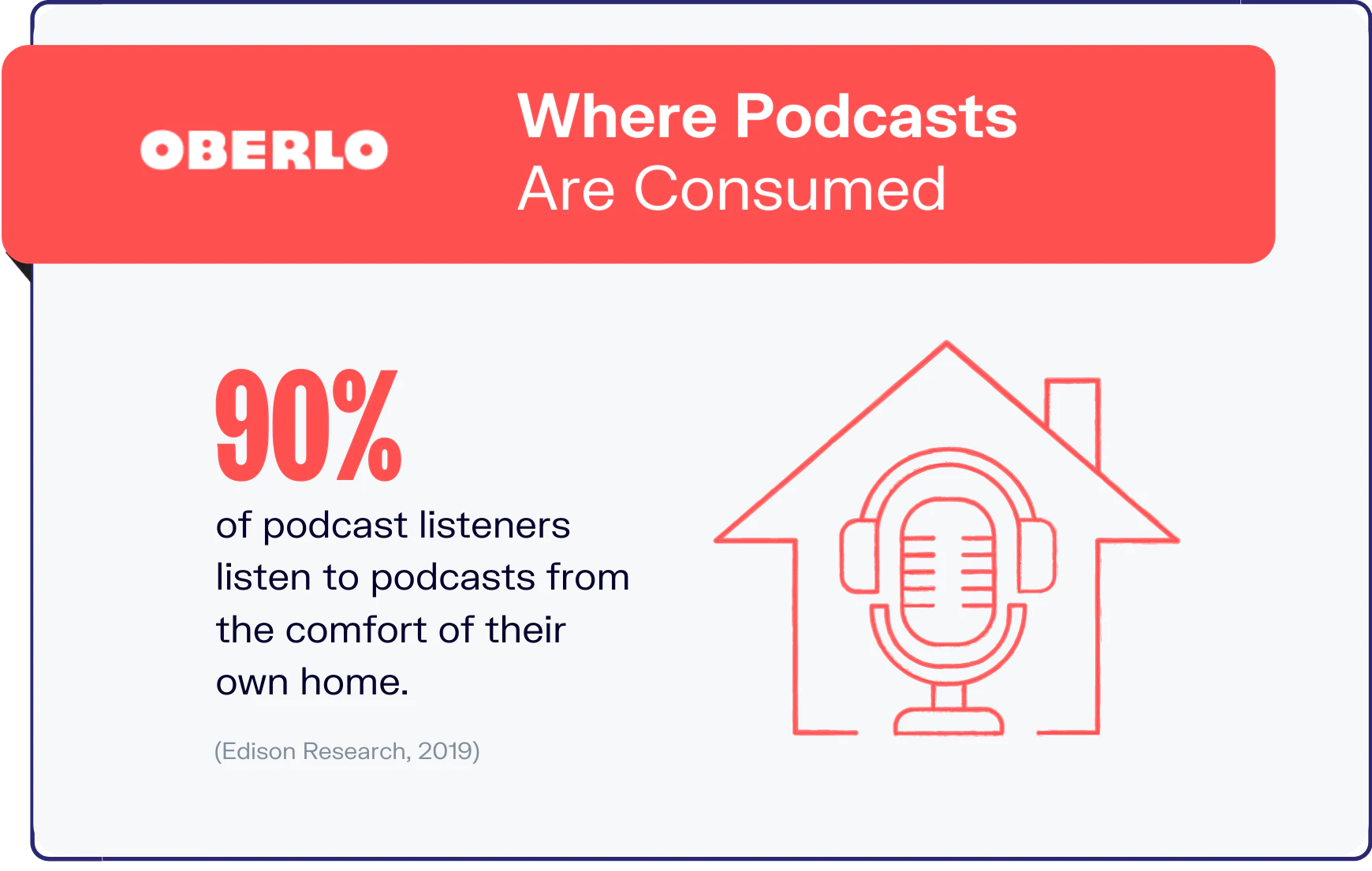 Source: Oberlo
What is podcast hosting, and why is it needed?
Podcast hosting is a type of web hosting that allows podcasters to store and distribute their podcast media files. This service comes with features such as bandwidth and storage space, allowing your listeners to download your media content directly from the host's website.
There are several different hosting services available today, each with its own set of pros and cons. Some of the most popular services include Libsyn, Blubrry, and Podbean. The key advantage to using a podcast hosting service is that it will help you reach a wider audience and make your content more accessible.
Additionally, many of these services also offer analytics tools, which can help you track your podcast's progress and gauge its popularity.
How To Start A Podcast On Spotify
Spotify is one of the largest audio streaming markets globally and has around three hundred million regular users. Therefore, if someone is planning on starting a podcast, putting it on Spotify is an intelligent move as from there, it'll get widespread exposure.
But unlike videos on YouTube, we cannot upload podcasts directly on Spotify. It is because Spotify doesn't now host podcasts on its platform. Make sure one of the aggregator partners of Spotify, such as Anchor, Buzzsprout, Simplecast, and Acast, is hosting the podcast.
Here's how to start a podcast with no audience on Spotify through Anchor –
Download the Anchor app or go to anchor. FM.
Create an account on the platform and upload the first podcast episode.
Add a title, description, channel art, and other required details.
Tap on Publish Now.
Fill out the further required details and click on Publish My Podcast.
Check the distribution status of the podcast and wait for the podcast to get approved by Spotify. It usually takes a few hours or a day.
Once the podcast appears on Spotify, the following episodes will appear on the platform within 10 minutes of upload.
Source: Castos
A user who hasn't uploaded their podcast to any of the aggregator partners of Spotify can still have their podcast stream on Spotify with a few extra steps. For that, they need an RSS feed for their podcast, which includes –
Once you meet all these criteria, proceed with the following steps to upload the podcast on Spotify –
Copy the RSS feed of the podcast.
Create an account on Spotify for Podcasters and log in.
Click Get Started.
Paste the link to the podcast's RSS feed.
Spotify will send a verification email to the address in the RSS feed. Copy the 8-digit code from the email and paste it into the submit form.
Add the info about the podcast, such as category, language, and country.
Submit the info after carefully reviewing
Spotify will show the podcast's Spotify URL, and the podcast will show on the app after a few hours.
Where Spotify is for Android, Apple Music and Apple Podcasts are for iPhone users. When creating a podcast, we recommend you have the podcast up on multiple platforms to get more and more exposure. We cannot directly upload podcasts to Apple Podcasts. Here are the steps.
First, create a podcast and upload it to a podcast hosting service, preferably free. A few free podcast services are Podbean, SoundCloud, and LibSyn.
Once about three podcast episodes are up and running, check the requirements for submission on Apple Podcasts.
Download iTunes and create a new account for the podcast exclusively.
Submit the podcast on iTunes Connect.
Review the information on the podcast and then click on the iTunes Store tab.
Scroll to the bottom of the page and click on the Podcasts link under Explore. Click Submit A Podcast.
After logging in and entering the RSS feed URL, a feed preview will load if there are no validation errors. In case a few errors show up, fix them.
Once the feed validation is complete, click the submit button and wait for the approval, which takes 24 hours and two weeks.
After waiting, Apple will approve the podcast.
Source: Buzzsprout
How To Create A Podcast On Youtube
Unlike Spotify and Apple Podcasts, YouTube is a video streaming and sharing service. Podcasters mainly use YouTube to promote their podcasts available on other audio streaming services instead of YouTube being the primary platform for the podcast. Therefore, YouTube especially creates video podcasts, though we can still upload audio podcasts on YouTube. We can upload podcasts on YouTube the same way as other videos, though the uploader must ensure they provide links to the platforms where the audience can listen to podcasts.
To upload a podcast on YouTube, first decide on the podcast's format, such as audio-only, video podcast, or any other form. Once chosen, we should follow the following steps to upload the episodes –
Make sure YouTube supports the video file extension of the podcast.
Log in to the YouTube podcast account.
Click on the video icon on the top right side of the screen, next to the user icon, messages, apps, and notifications.
Click Upload Video.
Click on Select Files To Upload and find the video files to be uploaded.
Choose the privacy settings (optional).
Add video description and provide links to the other platforms where the podcast is available.
Google is one of the most, if not the most, ubiquitous brands of all time, with its products being available to everyone everywhere. Where Spotify is for Android and Apple Podcasts is for iPhone, Google Podcasts is for everyone. Creators should have their podcasts available on Google Podcasts if they wish to upload them on multiple platforms.
Check whether the RSS feed and the podcasting website meet the criteria of Google Podcasts.
Copy the RSS feed of the podcast, which is available on a different podcast hosting service.
Log in on Google and go to Google Podcast Manager.
Submit the RSS feed URL to Google Podcasts.
Wait for Google to index the RSS feed, which can take a few hours to a few days.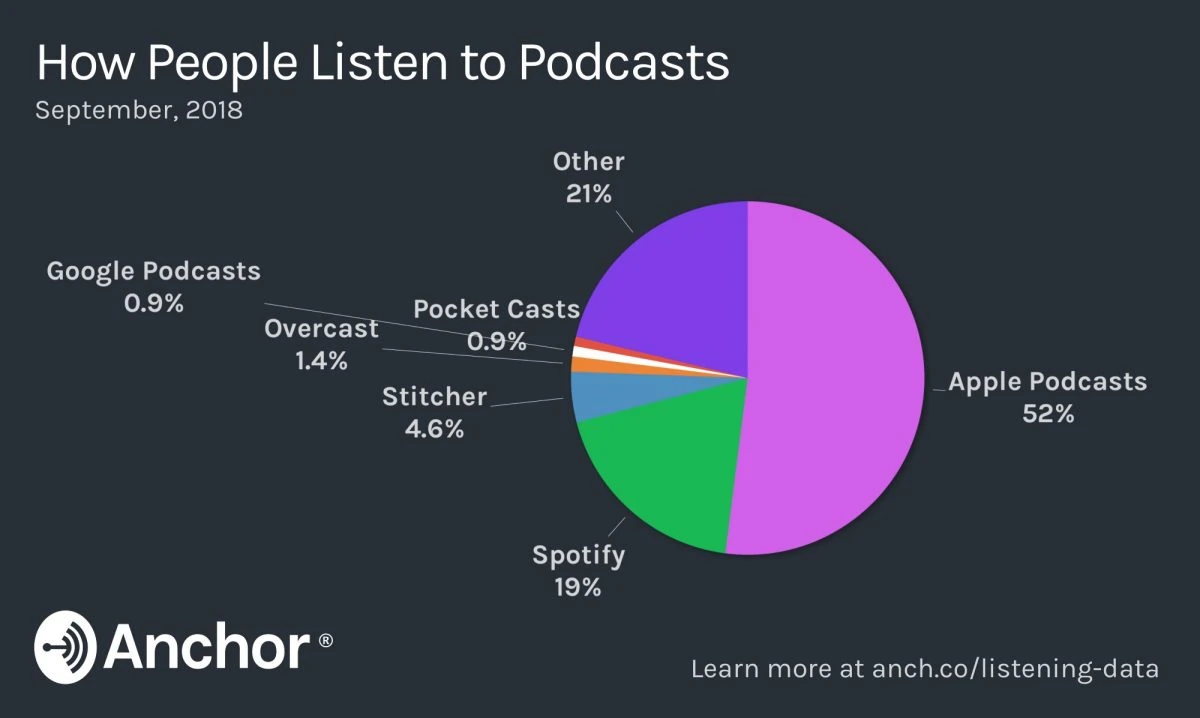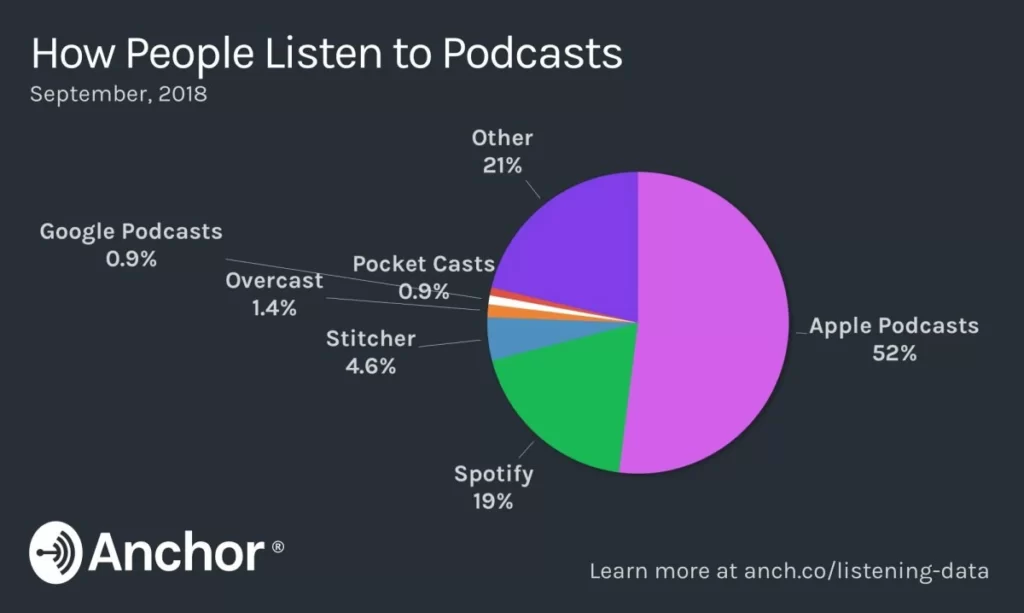 Source: Soundguys.com
How To Create A Podcast For Free On SoundCloud
SoundCloud is used less as the primary platform for podcasts and more as a step with which we can upload the podcasts on other platforms such as Spotify, Apple Podcasts, and Google Podcasts. we can upload podcasts on SoundCloud with the following steps –
Create a separate account on SoundCloud that is exclusive to the podcast.
Complete the profile information of the SoundCloud account, such as adding a profile image, podcast description, and links to the podcast on other platforms, if any.
Select a category and language for the podcast, and select the Contains Explicit Content box if the podcast contains any explicit content.
Adjust the additional information if needed, such as allowing SoundCloud to display the email address associated with the podcast or adding a custom author's name.
Upload the podcast episodes on SoundCloud.
Revenue Generating Methods for Podcast Owners
The podcast service allows users to download the file to a personal device to listen to at a time of their choosing. People today are very fond of listening to podcasts in their leisure. If the content is good, it can result in
How to start a podcast with no audience?
How to start a podcast with no audience? It takes courage to start something without the guarantee of a single audience. But it is said that everything is possible when one has zeal and determination.
To start a podcast with no existing audience, one needs to build a listener profile, define problems that we will solve, and, most importantly, the podcast should satisfy the listener's expectations. It is also appropriate to collaborate with authorities who can introduce the individual to a broader audience.
The individual will have to make assumptions regarding the audience, use judgment, observe the competition, and look for creative ways to promote the content. The final step in starting a podcast is promoting your show, so people know it exists! The best way to do this is by using social media, email marketing, and word-of-mouth. You can also submit your show to popular podcast directories like iTunes and Stitcher.
How to start a podcast and make money?
How to start a podcast and make money is a question that often comes into the mind of a person interested in this field. Starting a podcast is not a very big deal, and what matters is how much revenue an individual can generate through his content. There are two strategies used in today's world to generate revenue from a podcast.
The first and most popular strategy is direct monetization. Direct monetization means that the podcast is the thing being sold, and we can generate the profit from creating original content or a relaunched. The second strategy is indirect monetization. It involves using the podcast serves as a vehicle for promoting products and creating demand.
Look for donations
One of the easiest ways to monetize a podcast directly is by asking for donations. Many fans eagerly donate some amount of money to their favorite podcasters to enable them to continue their journey.
Look for sponsorships
It is also an easy and familiar way to monetize a podcast. The podcasters need to set up a deal with a trustworthy and reliable sponsor.
Paid membership tiers
Creating paid membership tiers is yet another popular method to make paid membership tiers wherein listeners can pay to access exclusive content, private Facebook groups, or podcast swags.
Join an advertising network
Many advertising networks like AdvertiseCast, Midroll, and Podgrid act as mediators between the podcaster and the sponsor. They help in the efficient promotion of the podcast.
Create and sell premium episodes
This method targets audiences fond of listening to the podcaster's content. As such, there are chances that they will pay for premium content.
How to start a podcast and make money by monetizing indirectly?
Create and sell physical products
When the audience is fond of a podcast, there is a high chance that they will buy merchandise related to the show. The podcasters could sell T-shirts, mugs, and stickers that can help them connect with the show even outside the digital world.
Speak in front of the public
It takes courage to speak in front of many crowds, but it will be valuable when the podcaster himself will connect to his fans and share his stories and experiences.
Sell mastermind slots
A mastermind is a small group of people who support one another towards a common goal. They offer education, brainstorming, and accountability to help the podcaster stay on track.
Sell information products
An information product is a type of content that people buy to learn new things. It can be a template, guide, or ebook that helps solve any significant issue the listener's faces.
We can conclude that making money from a podcast is not extraordinary, and it requires that the podcaster knows about the right strategies and implements them as per the situation.
FAQs
Podcasts are digital audio files usually available for download via the internet. They are similar to radio shows but can be downloaded and played on demand, making them convenient for busy listeners.
How can podcasts help businesses?
Podcasts offer businesses a dynamic and engaging way to reach their target audiences. We can use them to build brand awareness, generate leads, and even close sales.
What are the benefits of podcasts for businesses?
Podcasts offer businesses several advantages, including reaching a larger audience, creating more engaging content, and boosting SEO efforts.
How do businesses create podcasts?
There are a few different ways to produce podcasts. The most popular method is to record audio files and then upload them to a hosting platform, such as iTunes or SoundCloud.
How much does it cost to start a podcast?
The cost of starting a podcast varies depending on the production methods used. However, it is generally a relatively affordable marketing strategy for businesses.
Conclusion
Once you've got your podcast up and running, it's time to start thinking about ways to grow your audience. It can include releasing new episodes regularly, promoting your show through social media and email marketing, and submitting your performance to popular podcast directories.
So there you have it: a complete guide to starting a podcast. We hope this guide has helped get you started with your new podcast! Just remember to start small and be consistent, and you'll be on your way to building a successful show in no time.