Disclosure: Some of the links in this article may be affiliate links, which can provide compensation to me at no cost to you if you decide to purchase a paid plan. We review these products after doing a lot of research, we check all features and recommend the best products only.
"Helium 10 review" and "Helium 10 coupon" these terms are getting very popular as this tool is growing.
It's no surprise that eCommerce continues to grow and thrive. People are becoming aware of the importance of online shopping, primarily due to the Covid-19 emergency we are facing.
At this point, selling your products online has become a fantastic deal due to the large user base. But, at the same time, choosing the right platform to sell your product is also very important.
Amazon is undoubtedly one of the most incredible marketplaces, with over 197 million users and millions of products for sale. So, naturally, one of the most effective ways to make money is to sell your company's products on Amazon. Top marketers have a wealth of winning tactics, and we understand that newcomers will struggle to sell their good products on Amazon.
But that shouldn't stop you from accomplishing things.
Are you trying to turn your company into a six-figure business but aren't sure how to get started? Then, we bring it to you – Helium 10 Review.

Helium 10 is an Amazon eCommerce suite of tools for managing and selling products, finding keywords, identifying trends, optimizing listings, streamlining advertising campaigns, and more.
Pros
Assists with inventory security
Alerts for Product Monitoring and Hijacking
The most expensive tier of Helium 10 grants you access to high-quality workshops.
Allows Competitors Spying
You can use tools like the Amazon data analyzer and the URL builder for free.
It makes customer success a priority
Analytical precision
All handy tools in one place
Cons
The starter plans have several limitations.
The tool may be tough to use for beginners.
Support tickets are the only means of customer service available.
Price: $19.50/month (with our coupon)
Benefits of Helium 10
Don't worry; this isn't the end; you can accomplish much more with this tool. You can easily do hijacking and product monitoring alerts, inventory protection, keyword Index Checker, and many other things with the aid of this application to help you achieve your Amazon goals and make the most significant profit possible.
Helium 10 Review 2023: The Key Features
The interface is simple enough for a newbie to understand. So let's look at each of its features and see what they have to offer.
Let's explore each of the Helium 10 Tools.
1) Black Box- Product Hunt Tool
The product hunt tool, also known as a product research tool, can assist sellers in quickly identifying winning and profitable products to sell depending on any niche.
It is one of the most powerful tools. It can genuinely give exceptional results based on various parameters that you can specify to get back exactly what your customers want.
Spend less time and effort researching every category on Amazon to identify the most profitable things to sell. Then, you can easily use this product hunt tool to locate successful products and increase your return on investment.
In a total of 12 countries, Black Box is available.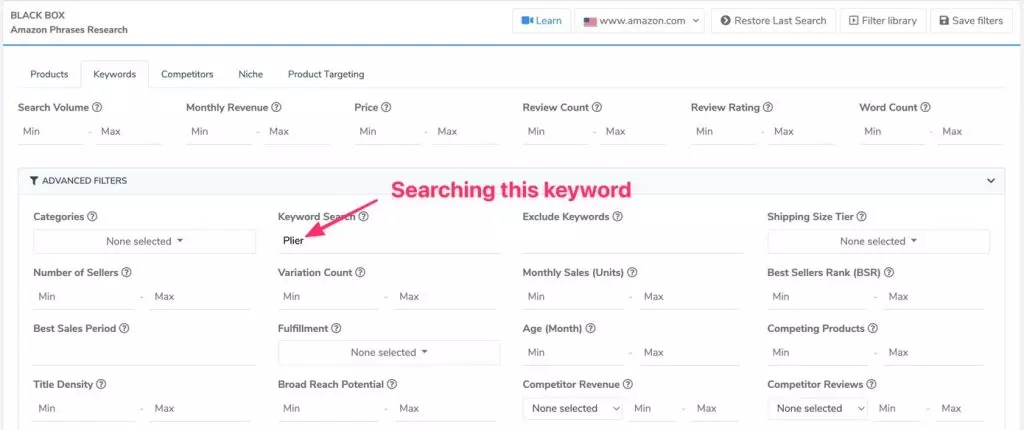 We opened this product in a new tab to check more data and here is the screenshot of options when you have Helium 10 Chrome extension installed.
How Can Black Box Assist You In Choosing The Best Products?
Are you browsing Amazon for all of your following best-selling products?
BlackBox (Amazon Product Research) tool that you can find right inside the Helium 10 Chrome Extension. So when you browse Amazon, it will genuinely help you gain an eye view of a market.
This tool identifies the single most critical metric for Amazon seller sourcing decisions. Gather all the necessary information about a market with a high opportunity and even higher future growth potential.
3) Magnet- Powerful Keyword Research Tool

The Magnet is one of the most lucrative keywords research tools on the market today. Many successful Amazon sellers use this tool to find the best keywords for their products. You'll also save time by not switching between various applications to get the best keywords.
Type a seed keyword into Magnet, and it will automatically generate a list of the most relevant and related search phrases in a matter of seconds.
By implementing the Magnet Keyword Research Tool into your Amazon SEO Process, you can now rank for the most profitable search phrases and create more sales.
You can easily find the most profitable and best keywords using this tool, which you can then add in the front end and back end of your Amazon Product Page. Take advantage of this newly discovered gold mine of keywords for your Amazon Products Page, and you will undoubtedly see a spike in traffic and sales.
How Can Magnet Assist You With Keyword Research?
4) Cerebro- Reverse Product Lookup
Cerebro is a highly profitable tool that is also crucial for keyword research. Input a product's ASIN, and you'll get helpful information in seconds.
Cerebro is a fantastic tool for discovering your competitor's keyword strategy, and it is one of the most popular tools. Enter an ASIN, and you will be presented with hundreds of thousands of keyword recommendations in a matter of seconds.
For instance, you can get all of your helpful information here, which typically includes broader and exact search traffic, the volume of competing products, and competitors who are actively advertising for specific phrases.
Use the must-have Reverse ASIN Lookup Tool, which most successful Amazon FBA Sellers utilize.
How Can Cerebro Assist You?
Special Discount
ABOOSTER50 – 50% Discount on First Month
ABOOSTER10 – 10% Discount Every Month.
5) Frankenstein- Powerful Amazon Keyword Processor
Frankenstein is one of the world's most powerful Amazon keyword processors. This tool allows you to extract hundreds of keywords in a matter of seconds and add them to your cash-generating keyword lists.
Anyone can efficiently process many perfect keywords for your product pages or backend keywords by simply running de-duplication filters, deleting unwanted characters, and sorting the keywords. It can help you sell a lot of stuff if you have a lot of traffic.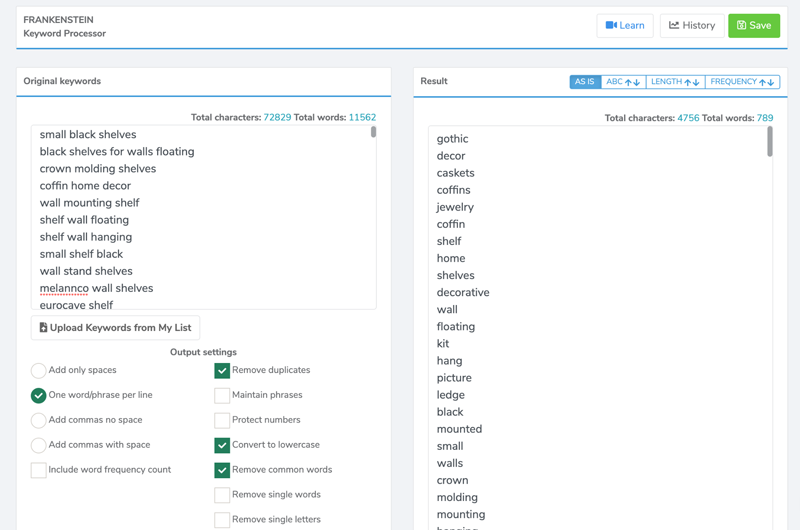 How Can Frankenstein Assist You?
6) Scribbles- Keyword List Optimisation
This tool allows all sellers to directly upload the refined and best keyword to their Amazon Seller Central front end and back end, ensuring that their listings are entirely optimized.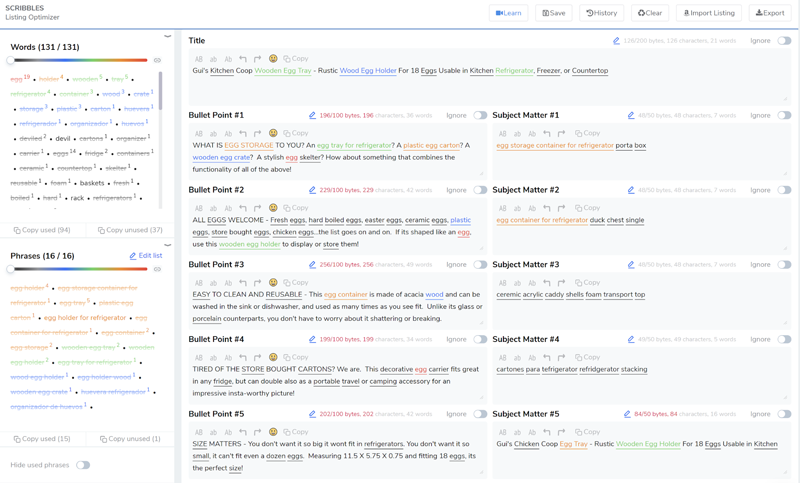 Furthermore, utilizing the best keywords will attract more people to the product listing and encourage more purchases. Finally, if you're selling products across various categories, Scribbles lets you change the text field lengths so that you can use the tools independent of character restrictions.
How Can Scribbles Assist You?
7) Keyword Tracker- Product Rank Tracking
It's critical to understand what works and doesn't when selling on Amazon. This software helps you keep track of the changes you've made to your promotions and marketing efforts.

With that, you can quickly see those changes affected your product listing and where it ranks for specific keywords. This tool can also help you learn more about your competition by showing you where your items rank for particular keywords and phrases.
How Can a Keyword Tracker Assist You?
8) Index Checker- Amazon Keyword Index Checker
This tool enables all sellers to quickly determine which of their backend and frontend keyword phrases are commonly indexed by Amazon and which are not.
It's also possible that some poor keywords aren't appropriate for your product pages, so enter the rivals' ASINs and see what keywords they rank for and what keywords they don't rank for to be more effective.
How Can Index Checker Assist You?
9) Inventory Protector- Guard Against Scammers
We all know that running promotions is critical to your Amazon success and increases people's likelihood of buying from you. However, this tool blocks all Amazon shoppers from using this tactic to reduce their traffic.
You can regulate all of the maximum order quantities for your entire FBA inventory through their simple and easy-to-use dashboard. To avoid exceeding the maximum order quantity, find the things you enjoy most.
Without a doubt, you can safeguard your inventory from being oversold during your next offer by using an Inventory Protector.
How does the FBA Product Inventory Assist You?
10) Refund Genie- The Inventory Reimbursement Finder
You may be eligible for an Amazon Seller Refund if you have lost or damaged FBA inventory. Yes, you may now complete that task with the assistance of Refund Genie.
Refund Genie effortlessly locates your Amazon-reimbursable stuff that has been misplaced or destroyed. Now you may have all the specific records that can be promptly prepared so that you can easily collect what you own and you can recoup your losses.
How does Refund Genie Assist You?
11) Misspellinator- Keyword Misspelling Extractor
We all know that misspelling is one of the most underrated techniques to boost listing sales. By simply including the most common misspellings, people type directly into the search box in your product back end; you can quickly achieve great heights in sales and rankings.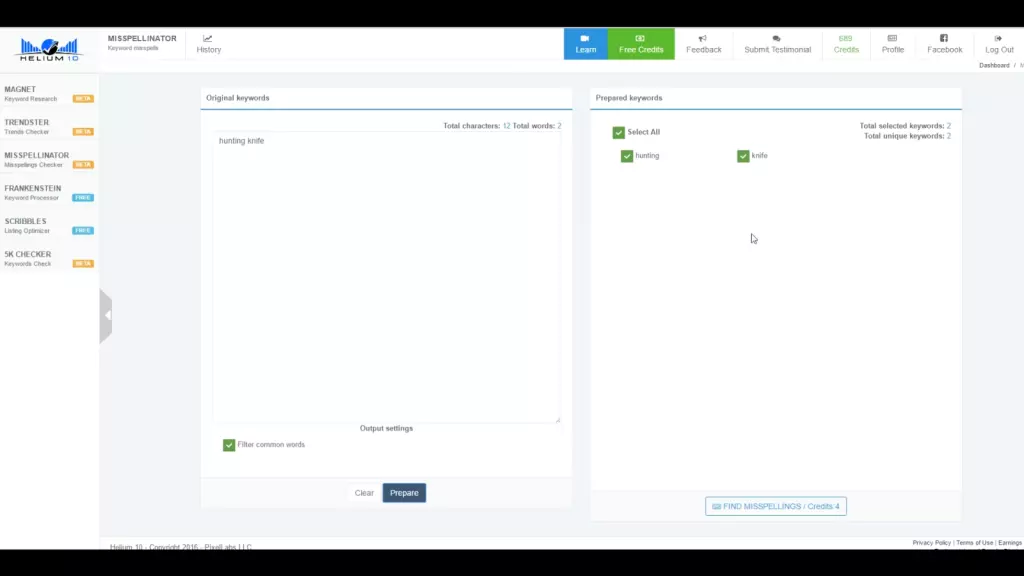 However, this tool enables you to immediately identify the most common misspellings for your keywords, allowing you to profit from your errors. In addition, you can use this tool to benefit from misspellings to sell more Amazon FBA products.
How Can Misspellinator Assist You?
12) Listing Health Score
Helium 10 chrome extension gives you freedom to check the health of any listing just by opening any product on Amazon.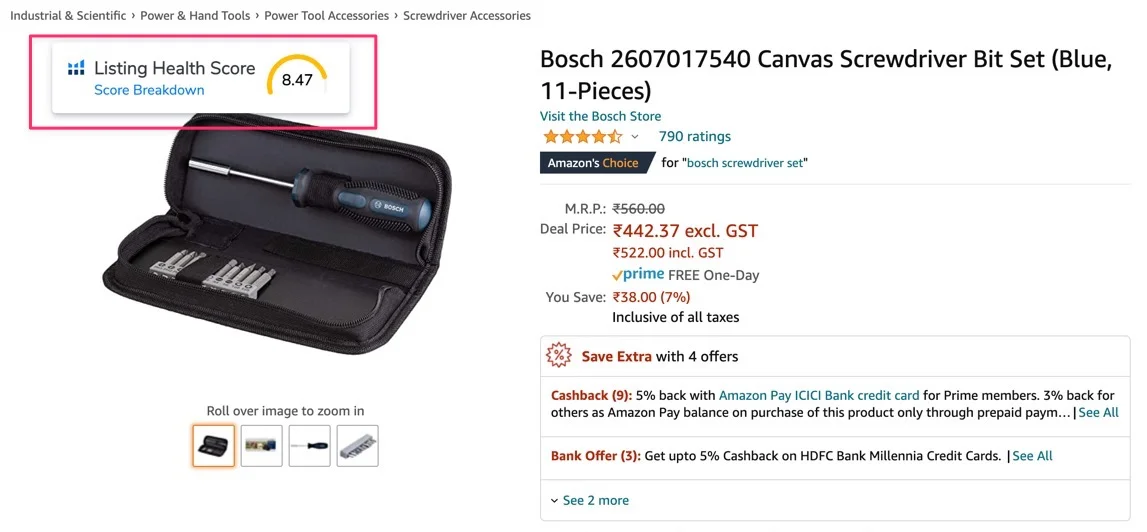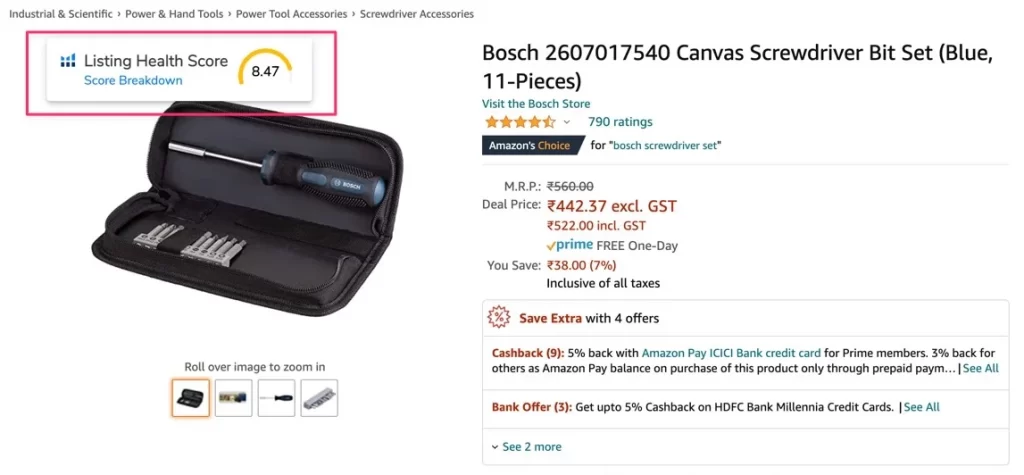 By clicking on Score Breakdown, it shows the following data.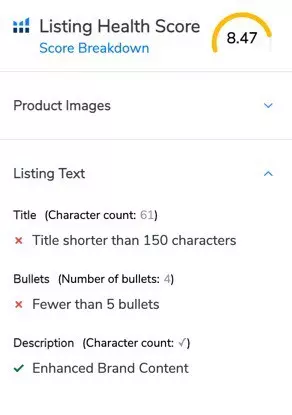 This gave us the idea that this listing is not optimized to get maximum traction. Now we can fix these errors while uploading our products and stand out by making Amazon algorithm happy.
13) Chrome Extention
Chrome extension makes your research easier by giving all important options just in one click.
Just by clicking on Xray, I got these options in my browser itself.
and here is the screenshot after clicking on Profitability Calculator.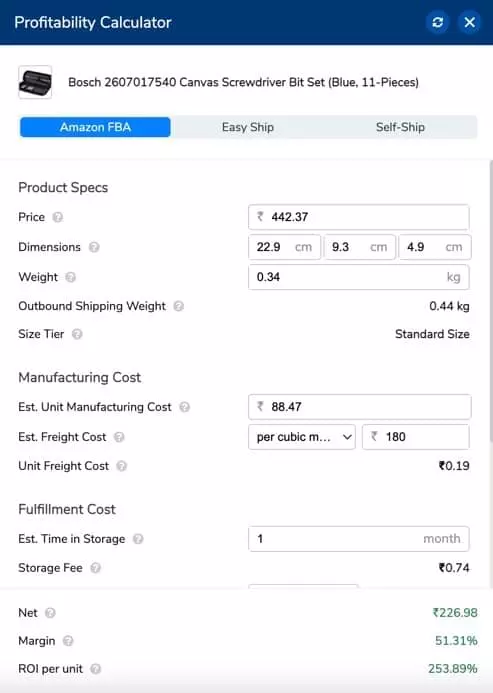 15) Calculators
Such an incredible feature to figure out the pricing of your products.
Just open any product on Amazon which you want to sell and it will show the data just below the product.
Helium 10 Pricing Plans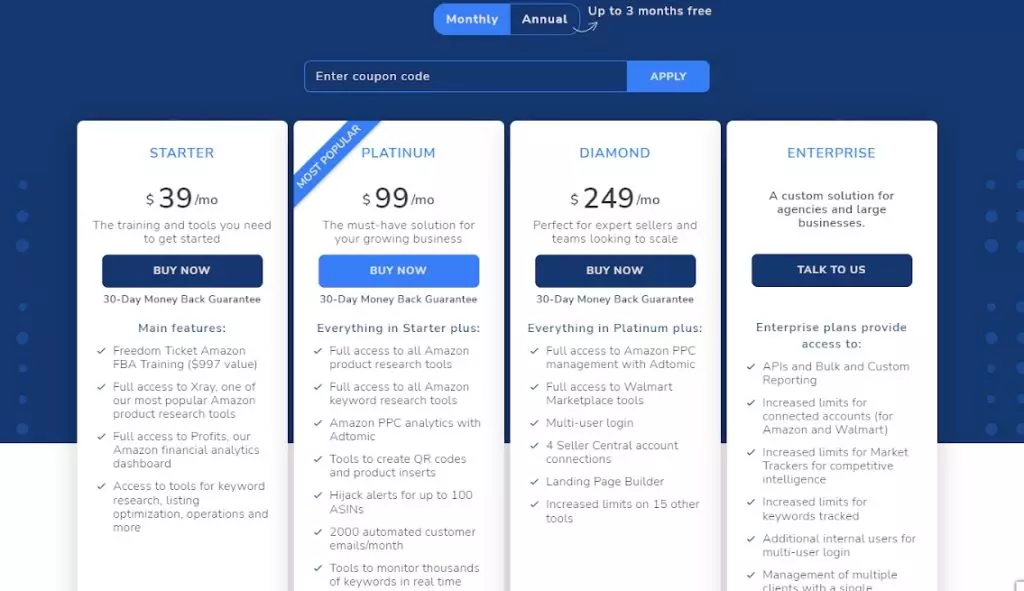 Helium 10 has four base plans and three booster plans, with the following prices:
Starter Plan costs $39 per month
Helium 10's starter plan is a perfect choice if you are just starting your business.
The Platinum Plan costs $99 per month.
The Platinum Plan is ideal for newcomers as it provides all of the essential features that light-volume sellers require. In addition, you'll only have to spend $970 a year if you pay it annually.
The Diamond Plan costs $249 per month.
The Diamond Plan is designed for more experienced Amazon sellers who want to expand their business. It includes increased limits and capabilities.
The Elite Plan costs $397 per month.
The Elite Plan is Helium 10's top tier, and it offers plenty of extras like training, workshops, high-level networking, and full access to all features and tools.
When you take the annual plan, you get various discounts. So do check and give it a try.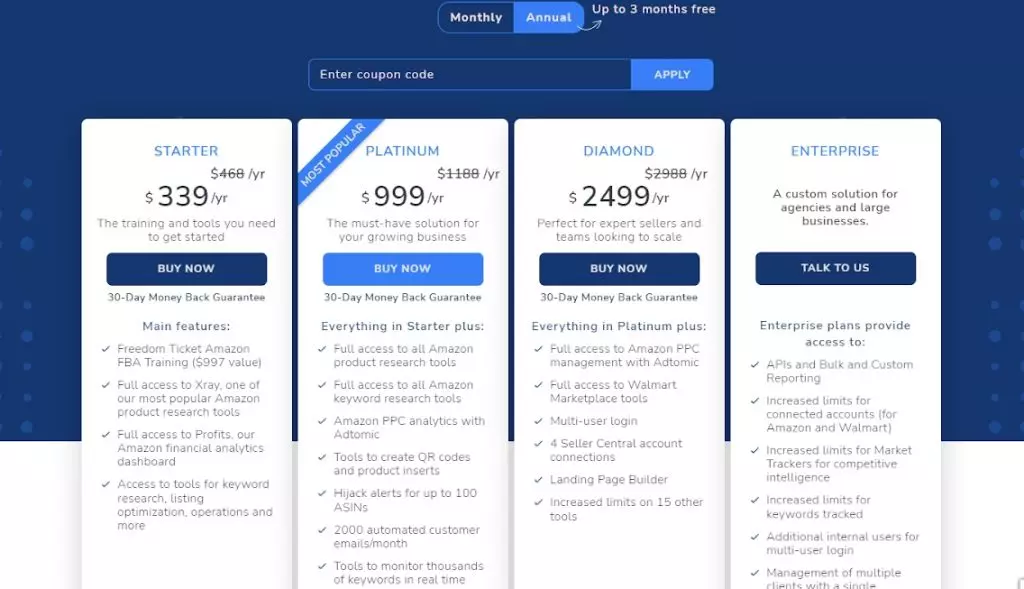 How To Claim Your Helium 10 Discount Coupon Code:
The following are the steps you can take to get your discount:
Special Discount
ABOOSTER50 – 50% Discount on First Month
ABOOSTER10 – 10% Discount Every Month.


After you've applied the Helium 10 coupon code, go ahead and purchase the Platinum or Diamond plan by clicking Buy Now.
After sifting through various Amazon FBA software and platforms, we've discovered Helium 10, a one-stop solution for Amazon FBA.
Helium 10 is a tool that all Amazon FBA sellers highly regard.
Helium 10 Vs. Jungle Scout
Helium 10 and Jungle Scout both provide several useful features that might assist you in selling on Amazon. Jungle Scout offers free services like Opportunity Finder, whereas Helium 10 features X-Ray and Black box. Magnet from Helium 10 outperforms Jungle Scout's Keyword Scout.
Jungle Scout is the most excellent option for product research for beginners, while Helium 10 is Amazon's top-performing seller tool.
The most successful product testing method for newcomers is Jungle Scout.
Helium 10 has features that Jungle Scout lacks.
Jungle Scout has features that Helium 10 lacks.
By far, the most extensive and valuable tool is Helium 10. It performs all of the functions of Jungle Scout, but much better. Helium 10 is a must-have if you want to have a large and successful FBA business.
On the other hand, Jungle Scout is a user-friendly application with exceptional product research skills. However, if you're serious about Amazon, we recommend Helium 10.
Final Verdict: Should You Get Helium 10?
This service has all of the important features and tools which are required to do all kinds of product research and make your listing better.
You can do keyword research, improve the listing and use the sales estimator feature to find out your profitability.
Giving it a try would be a good move as this investment of going to increase your business for sure.
We hope this Helium 10 Review has helped you better understand the tool.
Special Discount
ABOOSTER50 – 50% Discount on First Month
ABOOSTER10 – 10% Discount Every Month.
FAQ
What is the price of helium 10? 
Monthly billing ranges from FREE to $397.
Jungle Scout vs. Helium 10: Which Amazon Seller Tool is Better? 
Choosing between these two platforms can be challenging because they perform the same functions with minor differences. But, on the other hand, Jungle Scout is worth a shot if you're a newcomer searching for a one-stop shop or Amazon FBA.
How To Claim Your Helium 10 FREE Trial? 
It's simple to sign up for the Helium 10 free plan. To get started, go to https://www.helium10.com/. Then, click the "Sign Up For Free" option on the top right-hand side of the website.
Can I use Helium 10 on multiple devices?
Elite members can add five more people to their Helium 10 account, while Diamond members can add three more.
Can I pause my Helium 10 subscription? 
Yes, You have the option of suspending your account for one, three, or six months.
How do I get Helium 10 for free?
Helium 10 is not available for free. However, most Helium 10's tools are available in a limited, free edition. As a result, as soon as you feel comfortable with this tool, you should upgrade to one of the three premium plans.