Disclosure: Some of the links in this article may be affiliate links, which can provide compensation to me at no cost to you if you decide to purchase a paid plan. We review these products after doing a lot of research, we check all features and recommend the best products only.
There are many ways of making money online, but most of the reliable methods require you to get involved with eCommerce in some capacity. You could make your product and sell it or sell a service, but there's also a way to make money without having to sell something that you made.
Introducing Affiliate Marketing.
Customer Acquisition Security company CHEQ estimates that the Affiliate Marketing industry is worth $15 billion. And getting a piece of this billion-dollar pie isn't very complicated. All you have to do is join an affiliate network and begin promoting products.
Per the latest analysis by Datanyze, Amazon's affiliate network has a 45.80% market share. It's not hard to see why Amazon dominates – customers make it out to be a reliable way of buying anything they like, and the affiliates follow where the customers go.
But what are the requirements for becoming an Amazon affiliate? How much commission can you make with the Amazon Associate program? And how to become an Amazon affiliate?
We answer those questions and more in this post.
What is Affiliate Marketing?
Affiliate marketing involves three parties: the affiliate network, the affiliate marketer, and the customer. The marketer signs up to the network (Amazon, CJ, ShareASale for example) and begins promoting products on their website, social media pages, or YouTube channel. Affiliates can use all three mediums to promote products if they choose to.
Affiliates promote these products using special links that the network provides. These are called affiliate links and help the network track clicks and sales back to the affiliate.
When a website or social media page visitor navigates to the product page using the affiliate's link and makes a purchase, the marketer gets paid from the sale's profits.
Essentially, what it means to become an Amazon affiliate is to promote products effectively by building a website, social media page, or YouTube channel. There are no limits to how much money you could make in affiliate marketing.
What is Amazon Affiliate Program?
The Amazon Associates affiliate program is a free-to-join program open to website owners, social media influencers, and YouTubers. When you join the amazon affiliate program, you make a percentage commission (officially called a "referral fee") on every product you help sell with your affiliate link.
Affiliate marketing offers several benefits to both the merchants and the affiliates.
Through affiliate marketing, merchants get their products in front of millions of eyeballs in a short period. Further, merchants don't have to pay exorbitant prices for the exposure and subsequent sales, making it an effective tactic for boosting sales.
On the other hand, affiliate marketers get the advantage of becoming involved in the eCommerce industry without crafting a product themselves. It's also a great way for bloggers and influencers to monetize their websites and keep creating content that they are passionate about.
How Does the Amazon Affiliate Program Works?
Affiliate links are the linchpin of affiliate marketing for Amazon. These connect the customer to the affiliate, affiliate marketing network, and merchant. Learning how to use Amazon affiliate links is one of the first things you'll need to do after you become an Amazon affiliate.
Here's a simple breakdown of how the Amazon affiliate program works:
1. Website owners and influencers visit the Amazon Associates homepage and sign up for the program.
2. The affiliates provide the company with the details of their site or social media profile. They must complete all the on-screen instructions to sign up.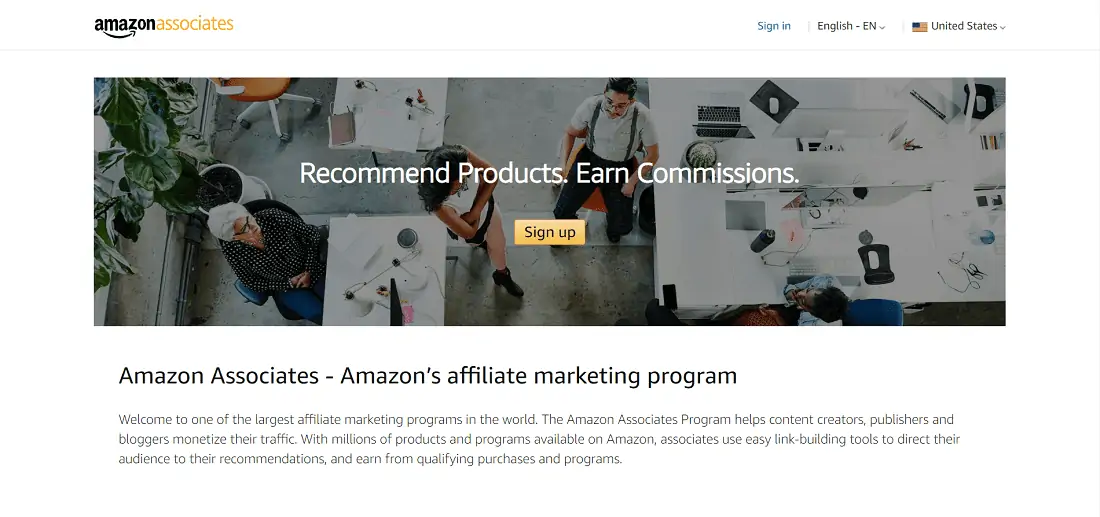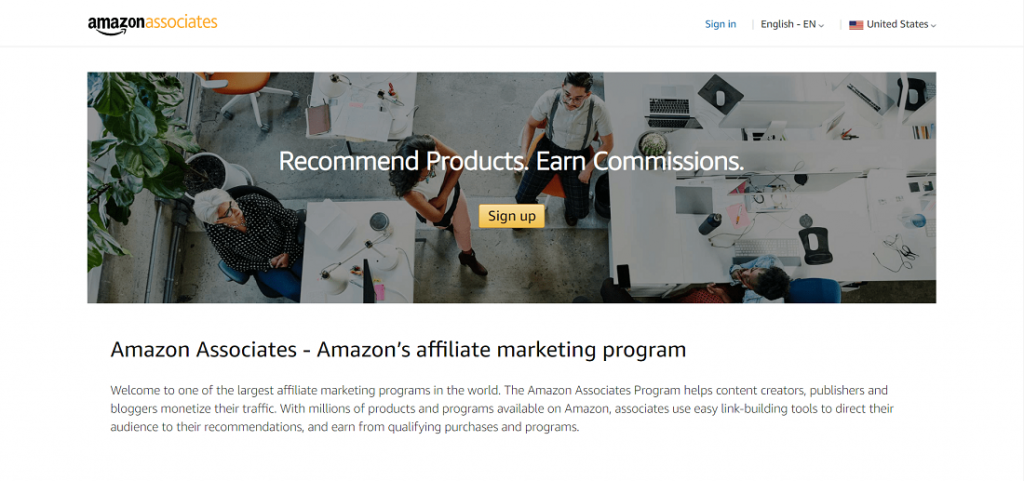 Amazon assigns a unique Associate ID to the affiliate
3. After the application is approved (typically instantly), the affiliates can create affiliate links using the Amazon website.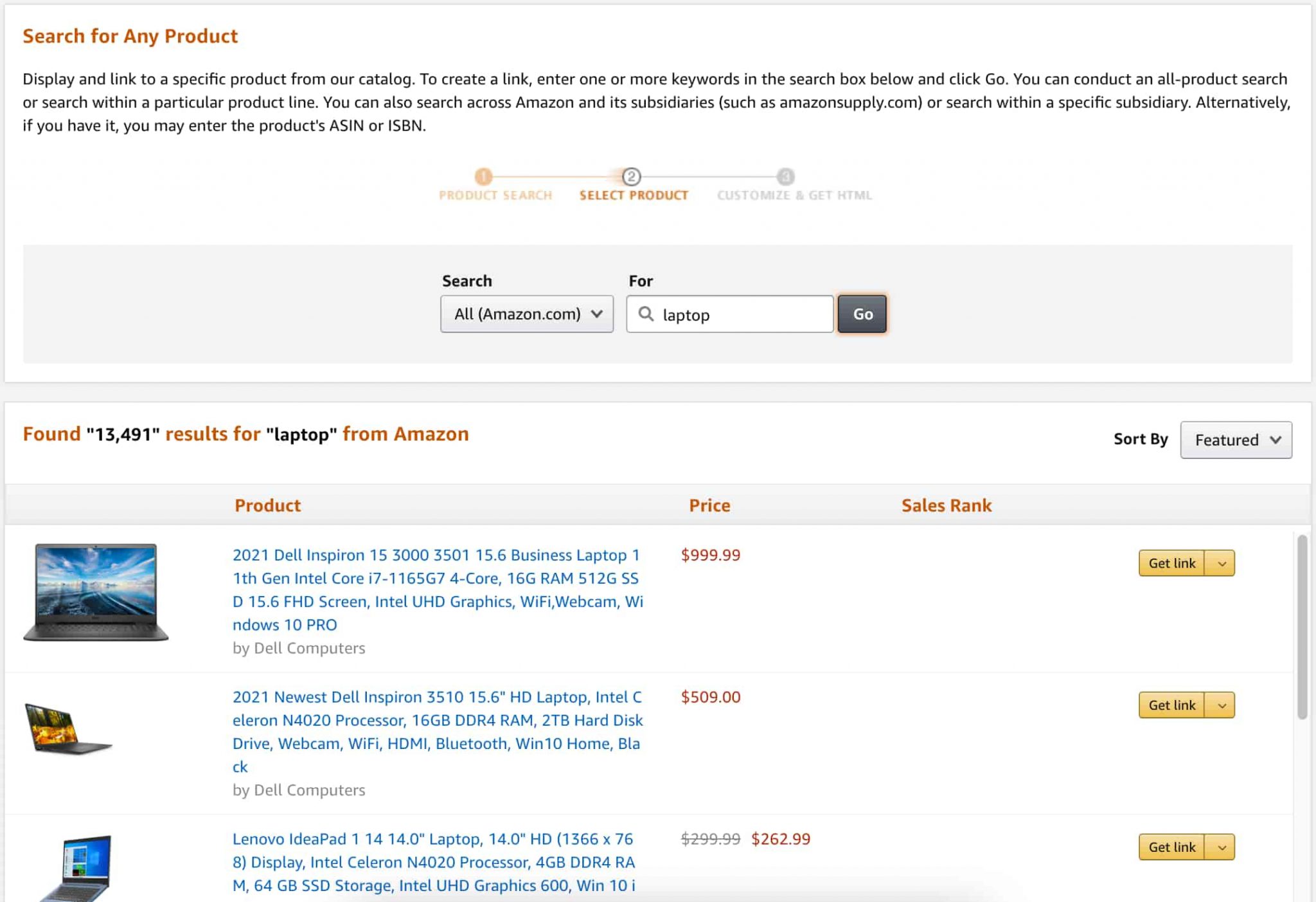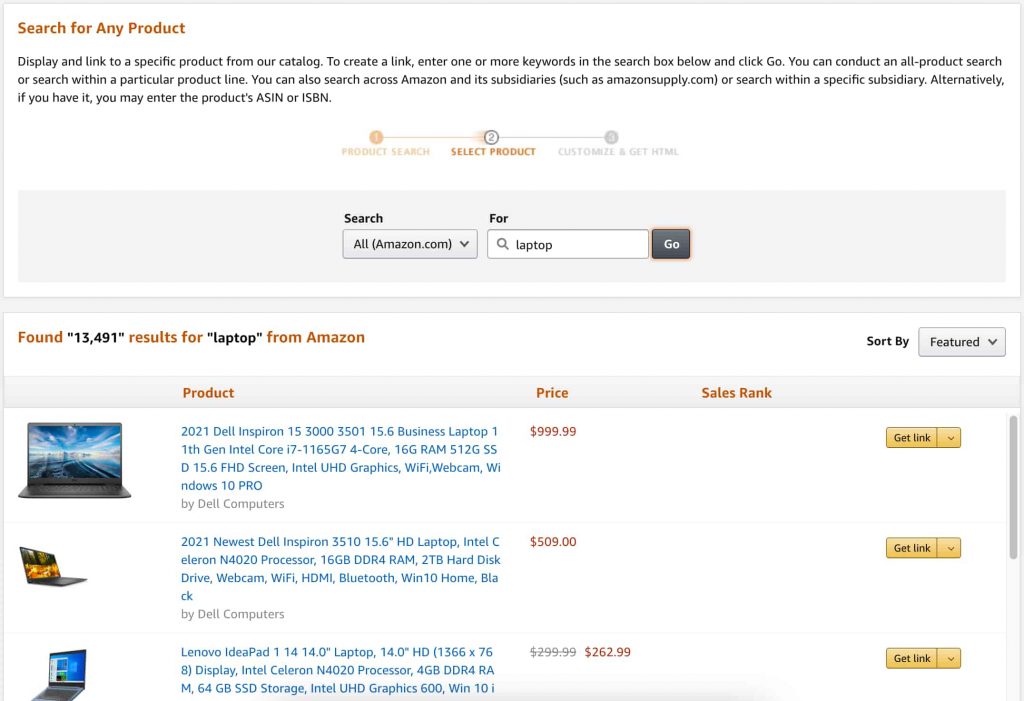 4. These links can be posted on the affiliate's blog posts, social media pages, and YouTube channels.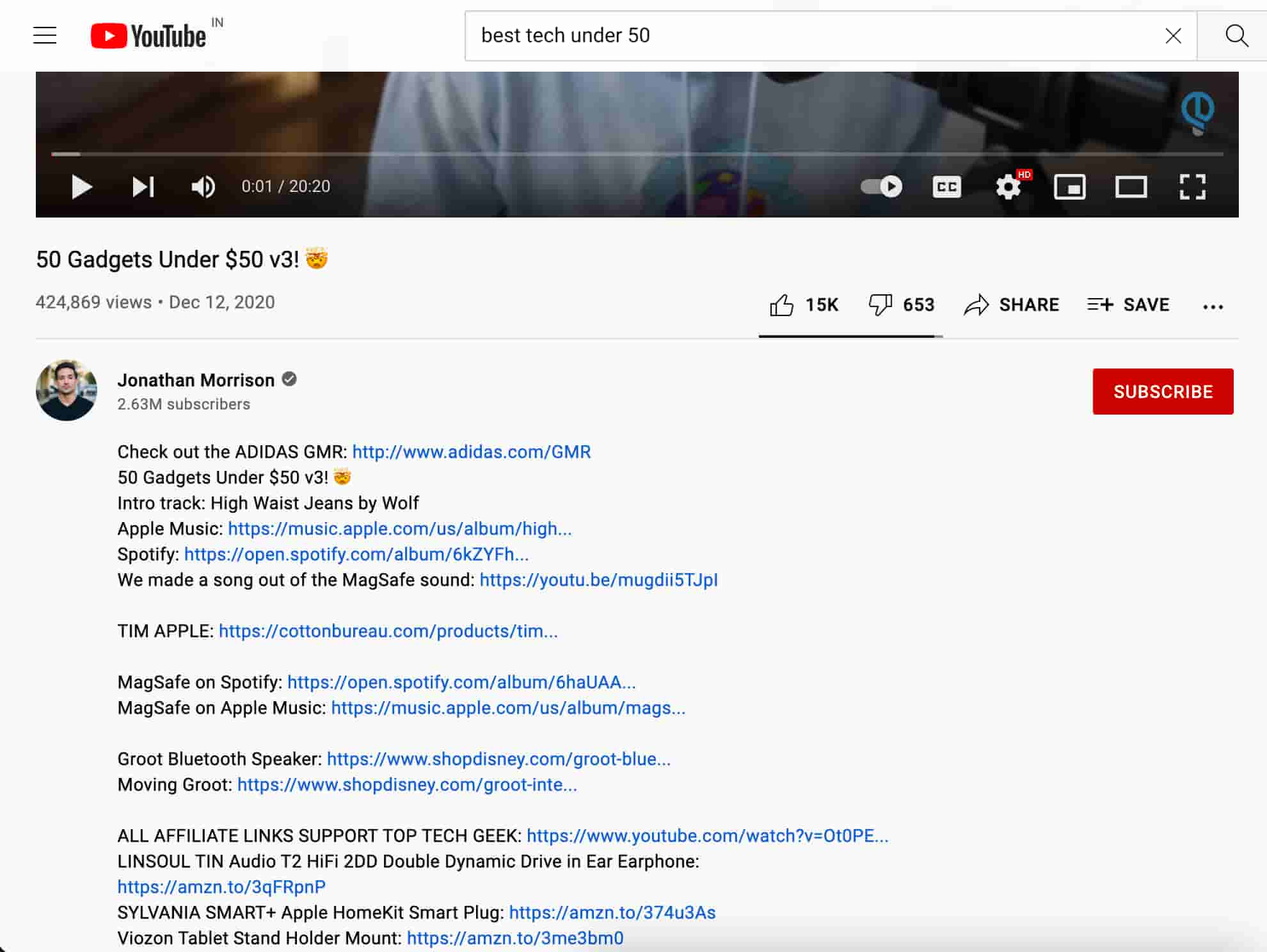 5. When a visitor uses the link to purchase on Amazon, the affiliate gets a commission for helping drive the sale.
6. The tracking ID you will be assigned will look something like this: youraccountname-20.
So, when you generate an affiliate link, your affiliate ID will get added to the product link, like so:
One of the biggest advantages of affiliate marketing Amazon is that the customer does not have to buy the product you recommend. If a customer visits the site through your product link and ends up buying another product, you will still earn a commission.
Here is a detailed guide on Affiliate Links and how to create one for your blog or Youtube Channel.
Amazon's cookie is active for 24 hours, so any purchase the customer makes 24 hours after clicking on your link will be credited to you. If the visitor buys something from Amazon three days after visiting your link, you won't earn a commission.
But it's important to note that if a visitor adds something to their cart after clicking on your link, the cookie will last for 90 days. In other words, you will earn commissions for the item in the user's cart even if they purchase it 90 days after clicking on your link.
Not every affiliate network offers this advantage, and this feature is one of the many reasons why the Amazon Associates affiliate program is a popular choice amongst affiliates.
What is the Commission Structure of Amazon Affiliate?
Now that you understand how to be an Amazon affiliate, the next step is to understand how much you stand to earn.
The commission rates vary across product categories. You can find the commission rates for all product categories on the Associates Program Standard Commission Income Statement page.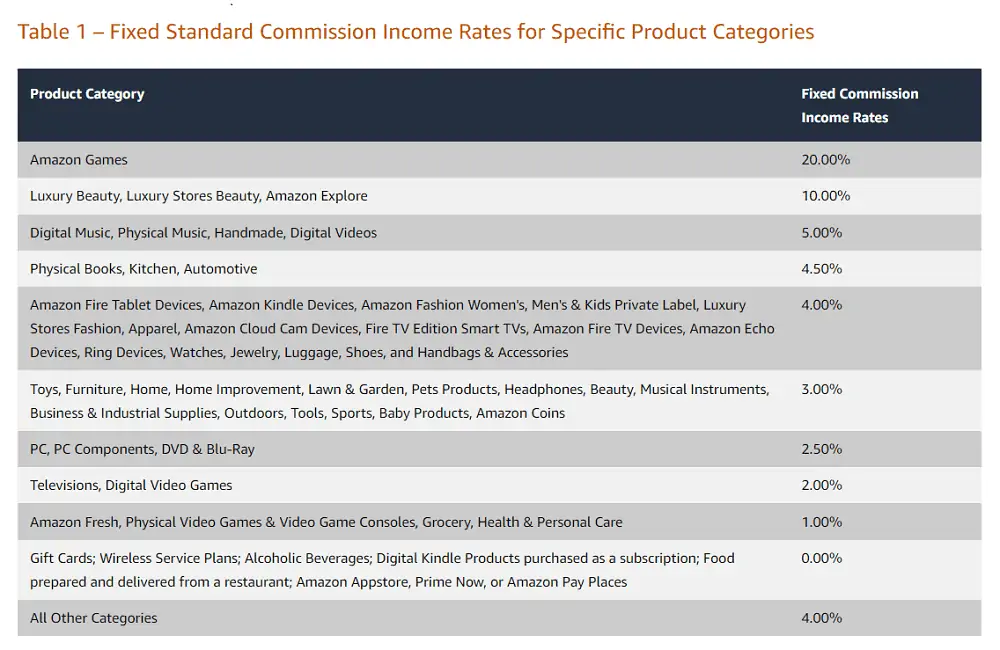 For instance, the commissions for PC components are 2.50%, but if you promote luxury beauty items, you will earn a 10% commission.
You must remember that high commissions don't always translate to big profits. For instance, helping sell a $12.99 luxury beauty care product will earn you a $2.99 commission.
But you could make a larger $25 commission promoting and selling a thousand-dollar PC component.
However, you must remember that you will need to market these products better than most existing affiliates in the niche to drive sales. Further, the market for something like PC components may not be as large as the market for luxury beauty products.
This makes picking the right niche and products to promote critical to your success as an affiliate marketer. Make sure you know what the commission rates are for the product category you choose to promote.
It's also a good idea to estimate the number of monthly sales and calculate the commissions you could earn before you begin marketing. Expect the numbers to dwindle for the first few months since it takes time for any website, YouTube channel, or social media page to gain traction.
Setting goals and working towards them while keeping track of your investments will help you get through the first few months. Making profits consistently with affiliate marketing takes time and persistence.
What are the Requirements/Eligibility for Amazon Affiliate?
Regardless of whether you want to learn how to become an Amazon affiliate to monetize a passion project or make extra income, you will need to follow the company's guidelines. If you fail to comply with Amazon's guidelines, you may be banned from the affiliate network. One of Amazon's guidelines says you cannot use Amazon Images in your blog post. API integration is not included in this.
If you want to use Amazon Images, make sure you read our blog post on how to use Amazon Images in Affiliate Blog Post.
Most Amazon Associate program rules are in place to ensure the ethical promotion of products. The guidelines also help ensure that no affiliate gets unfair advantages over another.
The company has many guidelines in place, and you can read through all of the company's requirements on the Associate's Program Policies page under the Participation Requirements section.
Some of the guidelines you must bear in mind include:
Affiliates must disclose that they are eligible to earn from their recommendations on their site or in their communication.
The claims affiliates make about the products cannot be false or deceptive.
Affiliates cannot refer to the price of the products on their page or in their communication since prices often change.
Affiliates must not use Amazon affiliate links to promote products offline, in eBooks, or via email.
Using link shorteners is not allowed.
How to Promote Amazon Products to Make Money?
Applying for the Amazon Associate program and learning how to become an Amazon affiliate is the easy part. It's figuring out which products to promote and how to promote them effectively that's challenging.
Here are a few tips to get started with making money from affiliate marketing Amazon:
1. Find the Right Niche for Your Site
If you already have a site, and you discuss everything from home improvement to skin products and novel writing on it, signing up for the Amazon Associates affiliate program isn't right for that site.
For you to make the most out of the Amazon affiliate program, find one micro niche for your site and stick to it. Doing this helps the site looks authoritative – since all of your posts will be in the same niche, you will look like an expert. Here is how to create Affiliate Site with a Minimum investment.
Being passionate about the niche you pick helps, but you must also consider how much competition the niche has already. If the competition is too high, affiliate marketing in that niche won't be worth it.
2. Learn About Search Engine Optimization
Blogging consistently, writing useful content, and optimizing your site for search engines are at the core of affiliate marketing Amazon.
Posting one blog a week is ideal, but quality matters more than quantity. For example, your site may drive more sales if you post two well-researched posts a month. But posting eight articles that aren't very informative may not get you anywhere.
The bottom line is that you have to figure out how to drive more traffic to your site. No traffic means no clicks, which means no sales and no commissions.
Besides learning SEO and building a content marketing strategy, you could also invest in paid ads on social media platforms and Google. But bear in mind that buying traffic will only work in the short term.
If you don't focus on SEO, no visitors will ever reach your site organically, and the traffic will stop flowing the moment you stop paying for the ad.
3. Post on Social Media Platforms and YouTube
Leveraging social media to attract more attention to the content you create is a reliable strategy for driving traffic to your site.
Starting a YouTube channel and putting out video content is also a great strategy that pays off well for many influencers.
Experimenting with new content formats, gauging the audience response, and improving on what works is the only way to make it big with affiliate marketing.
Is the Amazon Affiliate Program Good?
The idea of making money by simply linking to products on Amazon can make affiliate marketing Amazon seem like a no-brainer.
While the program offers some great advantages, weighing out the pros and cons is the only way to determine if the program is right for you.
Pros
You can apply to the Amazon Associate program and become an Amazon affiliate in a matter of minutes.
An estimated 50% of all online sales happen through Amazon. The company is trusted by customers worldwide, which helps Amazon affiliates look more credible than affiliates on other networks.
Amazon has a product catalog of over three billion items, not counting products like Prime Video that the company offers. So regardless of which niche you pick, finding products to promote shouldn't be much hassle.
Affiliates make a commission on any product the visitor buys within 24 hours of clicking their link.
Cons
Amazon offers extremely low commissions for products in some categories. For instance, the commission rate for video games is 1%.
The Associate's Program Operating Agreement is updated frequently and can be difficult to understand. If affiliates don't stay up to date with the requirements, they may lose commissions.
You will need to create a site with content suitable for affiliate marketing, which takes a lot of time and persistent effort.
Best Amazon Affiliate Program Alternatives
While Amazon is the biggest online retailer, it is only one of many affiliate networks that offer affiliates the opportunity to make money promoting products.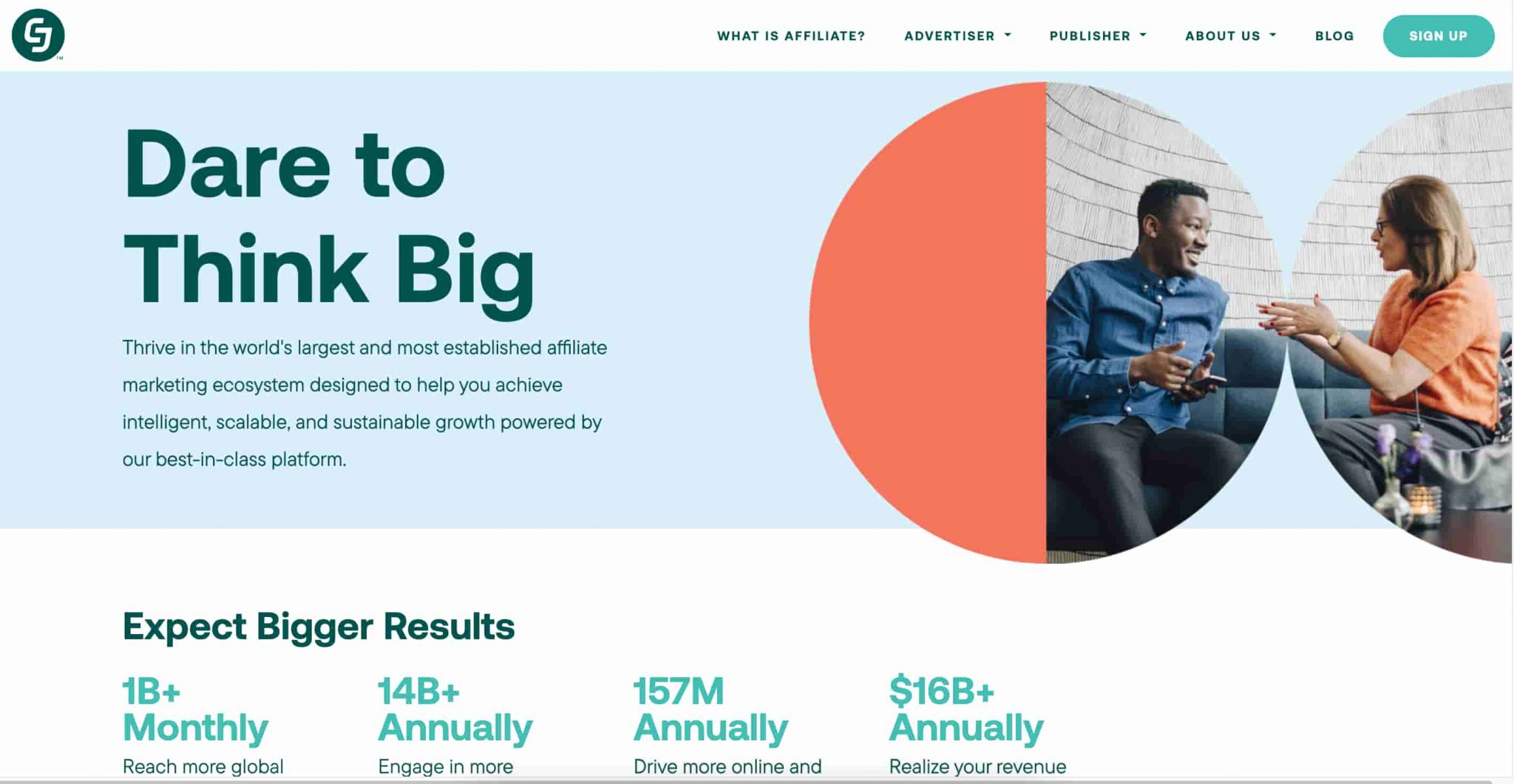 Affiliate networks like ShareASale, CJ Affiliate, Click Bank, eBay, Flipkart and Rakuten are worth looking at if you don't want to become an Amazon affiliate. Other than that, you can also sign up for direct brand affiliates like Logitech Affiliate, Adobe Affiliate, Razer Affiliate, etc.
Amazon Affiliate Program: Frequently Asked Questions
Do you have any questions regarding Amazon Affiliate Program, check some of them below.
Everything You Wanted to Know About Amazon Affiliate: Conclusion
Now that you know how to become an amazon affiliate, you should begin by finding a niche and getting a website up and running. Or, if you prefer, create a social media page or a YouTube channel, and make content that attracts visitors and viewers.
You can then apply for the Amazon Associate program and begin using affiliate links to drive sales and make commissions.